New Rolex Daytona 2016 – What Changed?
Iconic Chronograph
One of the most talked about watches this year is without a doubt the new Rolex Daytona 2016 model, with black Cerachrom bezel. But what is all the fuzz about? Let me try to explain this to you in this article, about the Rolex Daytona 2016 model, some of its predecessors and perhaps, about dreams.
Truth to be told, I do not own a Rolex Daytona and I never actually did. My Fratello Watches colleagues Gerard, Bert and Michael do own Daytonas, from vintage to new, and I have tried the previous model (reference 116520) more than once. I love the watch, both vintage models and the new (let's say after 1988) models. It is one of the most iconic chronographs and only few things have changed since its introduction in 1963. I mean, the watch has grown in size and was equipped with a self-winding movement, but holding a brand new Rolex Daytona 2016 next to one of the first references from the 1960's will immediately make clear that they are related.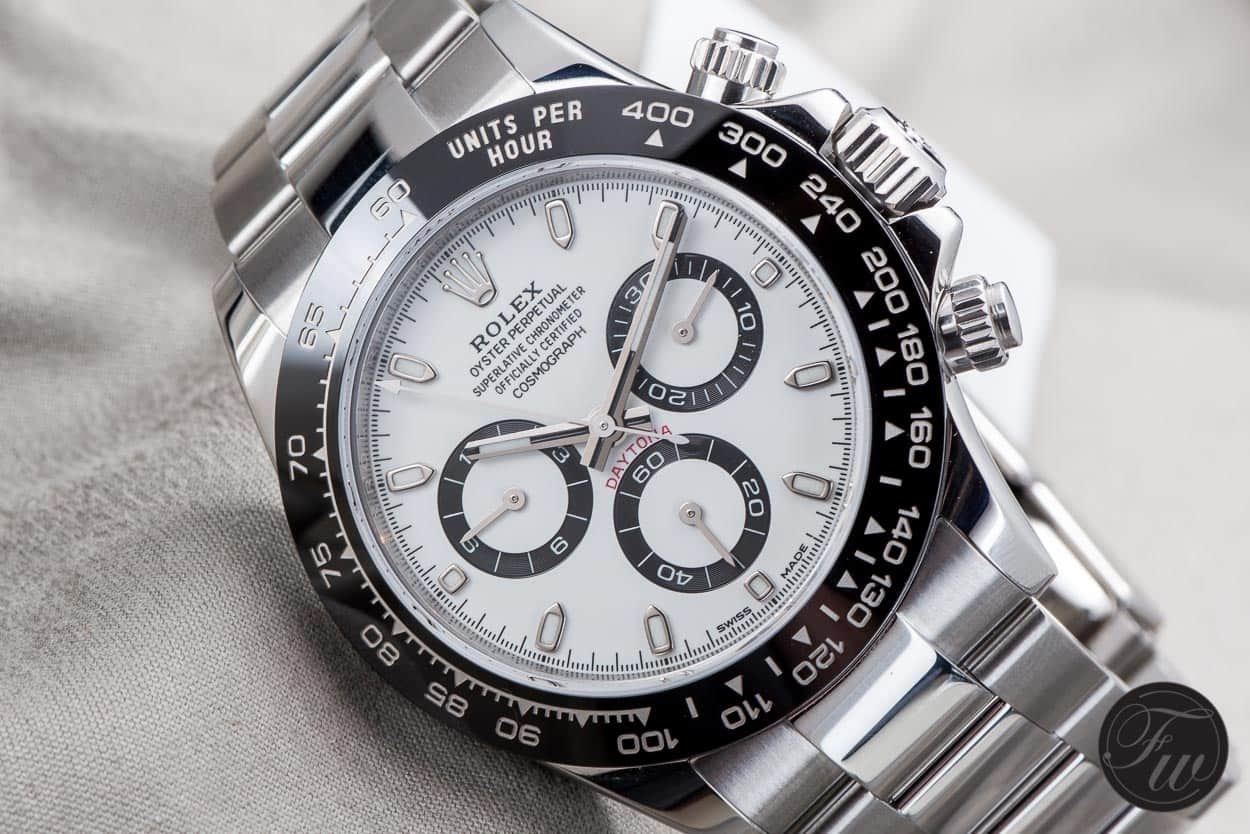 Rolex Daytona 2016 – I want one
So I do not own a Rolex Daytona, but that's not because I don't want to own one. The new Rolex Daytona 2016 model has made the urge even bigger to be honest with you. When I was – much – younger, I used to joke with one of my roommates that all I needed when I was old (and that meant being around 35 years old) was a Riva boat and a Rolex Daytona. Neither did happen actually but the Daytona was actually a few times within a very short reach, but I never pulled the trigger on one.
"Don't call it a comeback, I've been here for years." – LL Cool J
Black or White
The Rolex Daytona 2016 model that was shown to us during our appointment in Basel re-ignited that urge for this iconic model though. The white dial version with the black ceramic 'Cerachrom' bezel just looks fantastic in my opinion, the black rings around the sub dials make it remind you of those Paul Newman models from the past. In the past, the choice between the black dial and the white dial was a huge hassle for many people out there, some just bought both. Based on some data we have on watches, it seems that the demand was really 50/50 for those models. Today, there seems to be a very strong preference for the white dial version, but let's see how that will evolve in the future.
Rolex Daytona 116500 versus 116520
So, what did Rolex actually change about the new Daytona reference 116500 that it seems to be re-living its earlier glory once more? For starters, the fact that there is a new Daytona can already be seen as exciting. Rolex collectors and enthusiasts have been waiting for this moment for years. In 2013, 50 years after the introduction of the very first Rolex Daytona, people already expected a new and modernized version of this iconic chronograph. "It will have a ceramic case, it will have a panda-dial, it will be 42mm", I've heard it all in the weeks before BaselWorld 2013. Instead, Rolex decided to surprise each and everyone of us with a platinum case Rolex Daytona reference 116506 (read our in-depth article here), equipped with a brown ceramic bezel and a blue dial.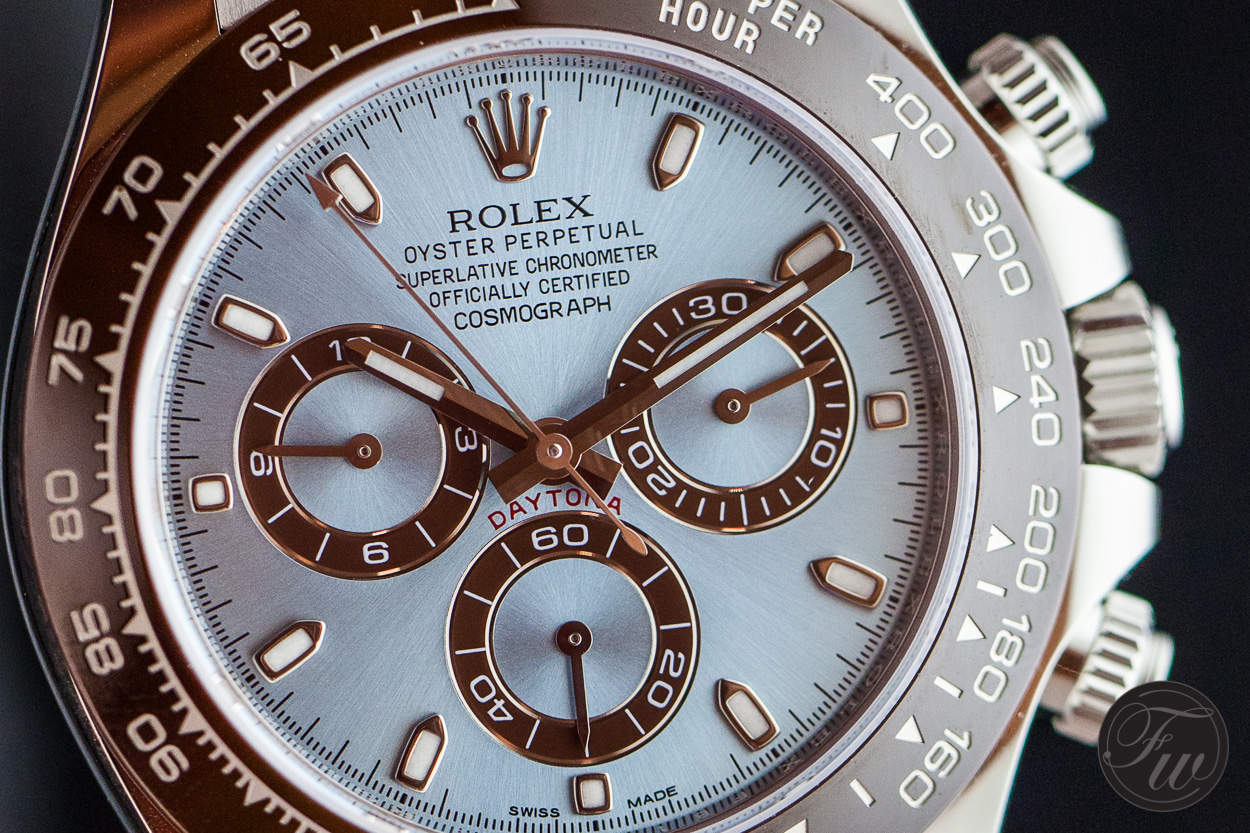 Vintage Influence
The case shape, dimensions and movement did not change in 2013. Now, in 2016, it was more or less a given fact that Rolex would come up with a new Daytona. The sneak previews and teasers Rolex showed on their website and Instagram account gave away a bit too much I guess. Or perhaps that was on purpose of course, I can't imagine that there is much left to coincidence at this Geneva watch manufacturer.
So when BaselWorld opened its doors, many people – like every year – just ran (and I mean ran!) to the Rolex booth to see the new watches on the displays. If you want to see a bunch of journalists and watch enthusiasts try to run faster than Usain Bolt, you need to come to BaselWorld next year for sure.
The Rolex Daytona 2016 models, both (black and white) have reference 116500LN, remind us about the Rolex Daytona watches that were made between 1988 and 2000. These watches, reference 16520's, were the first Daytonas to have automatic movements. Before 1988, Rolex used hand-wound Valjoux based calibers. These watches were much smaller, like the reference 6240 below from the 1960's, with a diameter of approx. 37mm.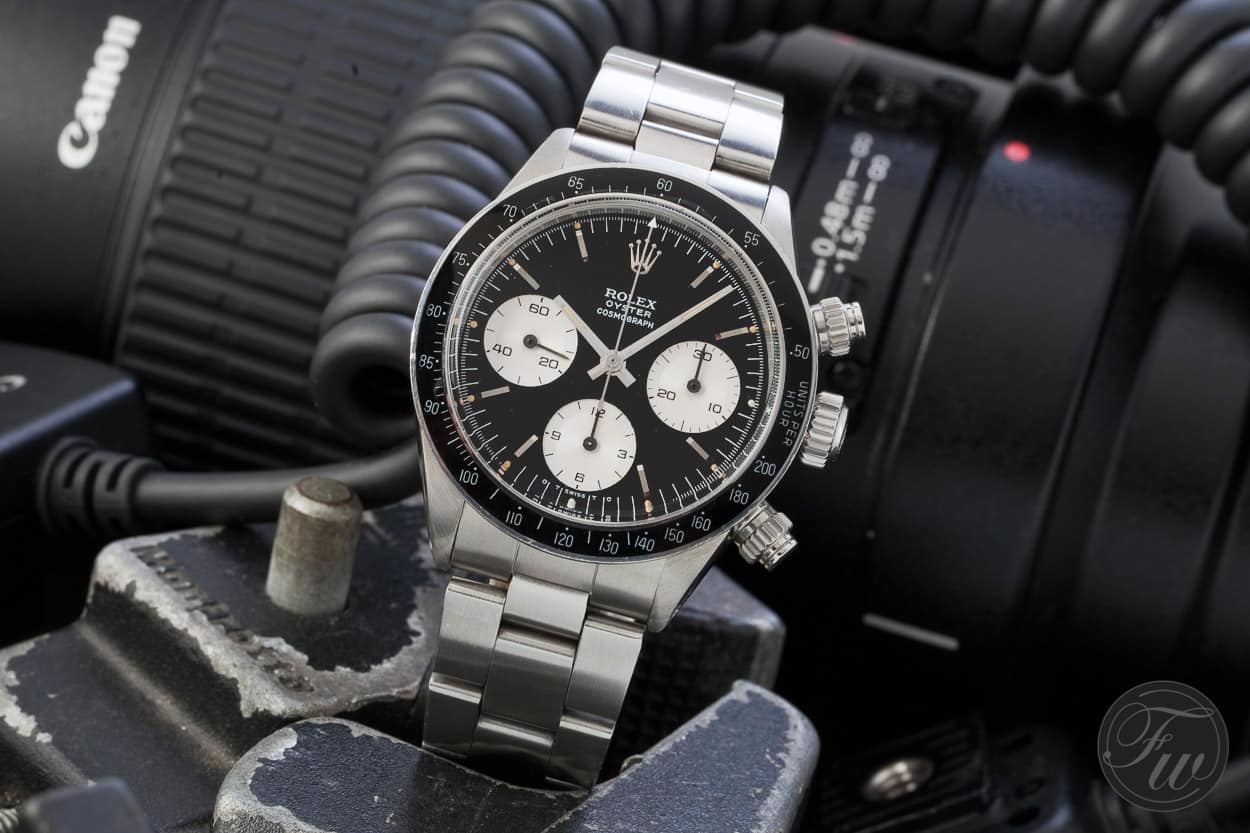 Daytona Self-Winding Movements
These smaller hand-wound Daytona models with screw-down pushers underwent quite a big update in 1988: a 40mm case, crown guards, beefier lugs and of course a different movement. This movement, caliber 4030, was based on a Zenith El Primero high-beat movement, but heavily modified by Rolex to meet their strict requirements. In 2000, Rolex introduced their own in-house chronograph movement caliber 4130 and the reference number changed to 116520. The difference between the Rolex Daytona 16520 and 116520 can be identified very easily from the outside, the Zenith based movement has the chronograph hour recorder at 6 o'clock while the in-house movement version has the hour recorder located at 9 o'clock.
Many people will say that the new Rolex Daytona 2016 models are very close to the models of that period (1988-2000), mainly due to the rings around the sub dials. As can be seen below.
So as far as aesthetics go, the new Rolex Daytona 2016 watches look similar to the reference 16520 models. However, after a closer inspection, the lay-out of the dial is of course difference due to the movement and it has a ceramic bezel of course. In terms of technical features, the Rolex Daytona 2016 watches are closer to the predecessor model, the reference 116520 watches.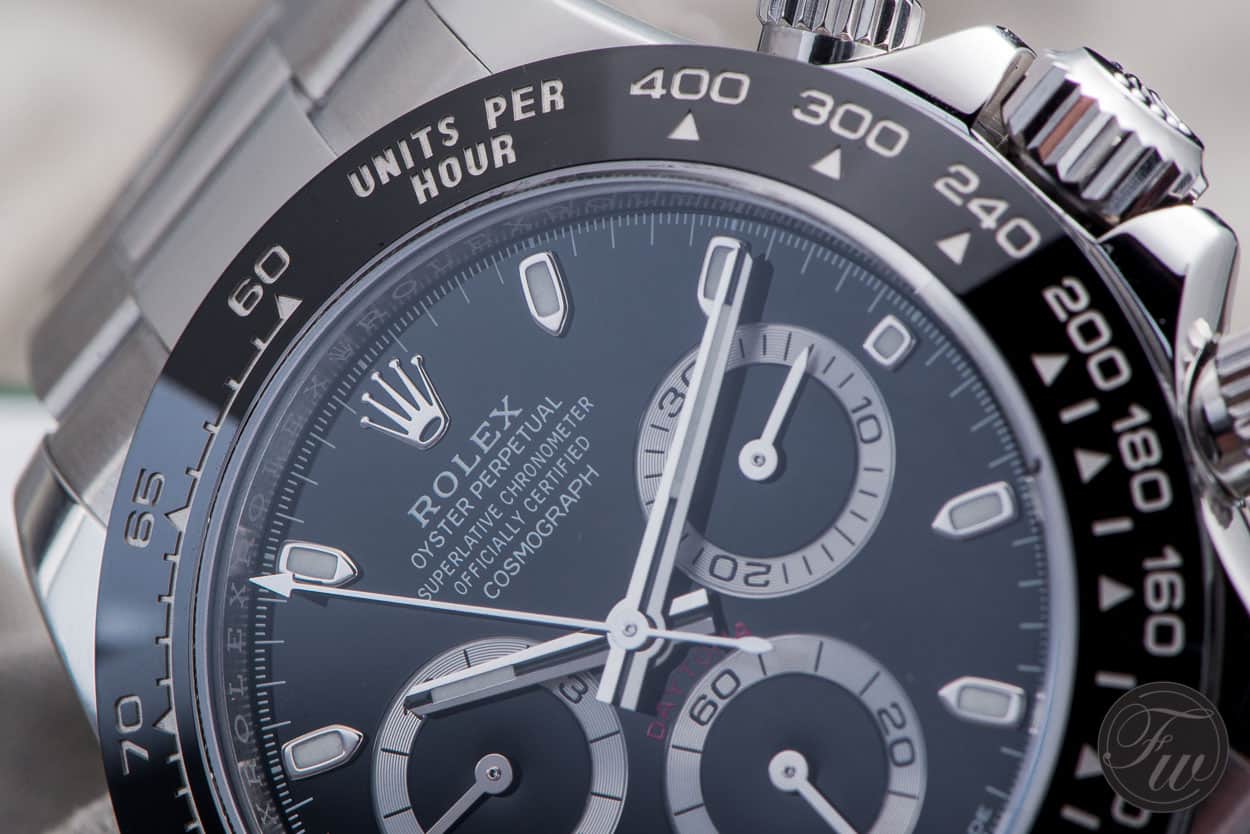 More Strict Than COSC
The caliber 4130 chronograph column-wheel movement has been introduced by Rolex – as I wrote earlier – in 2000, but it underwent some changes along the road. The movement uses a Paramagnetic blue Parachrom hairspring and has been adjusted to run between -2 and +2 seconds a day on average. While this movement has been certified as 'chronometer' by COSC to run between -4 and +6 seconds a day in five different positions and three different temperatures, Rolex decided to use more strict requirements for their watches. You have to know that COSC only tests the movements, not the entire watches. Rolex receives the chronometer certified caliber 4130 movements back from COSC and assembles them into the Rolex Daytona watches. After assembly (or casing, as it is called) Rolex makes sure that the deviation stays within the -2 and +2 seconds range. Furthermore, Rolex gives a warranty for 5 years on all of their watches. This includes warranty on the performance of the watch. If the watch runs without the specification of +2/-2 seconds a day, any service center or authorized dealer can correct this. Free of charge.
Efficient Design
Caliber 4130 has a power reserve of 72 hours. When this movement was designed, the developers were able to reduce the number of components for the chronograph mechanism by 60%. This extra free space made it possible for Rolex to use a larger mainspring to increase the power reserve. Also, the movement has been constructed in such way, that the mainspring can be replaced without having to disassemble to entire movement.
Small Changes – Big Impact
But all these specifications aren't new for the Rolex Daytona 2016 watches. Oh no. The changes are [only] on the exterior: the dial and Cerachrom bezel. How an update like this can move an entire watch community is just astonishing, but on the other hand, the watch received an entirely different look because of the black bezel. As I wrote before, it reminds me more of the 1960's Rolex Cosmograph Daytona reference 6240 because of these small changes. It probably does for many, as the craze is back with this Rolex Daytona 2016 watch. I've been told the waiting lists are becoming longer every day, even though the watch is being delivered to some countries already. Retailers take the usual sharky attitude towards people who want to buy one, by only offering them for sale if you also take that full gold Day-Date or gold ladies model as well. If you are lucky, that is. Some don't blame them for this attitude, but I personally do and I would refrain from buying these type of retailers at all, now and in the future.
Rolex Daytona 2016 – Price and Availability
In any case, I am bitten by the Daytona bug as well [again] and this new Rolex Daytona 2016 model with white dial is something I simply can't get out of my head. The list price is approx €11.300 Euro, which is roughly about €500 Euro more expensive than its predecessor. The real issue is being able to get one, for now. I am willing to wait a bit of course, but I am afraid I will also be facing some annual price increases in the near future. So if you want one, make sure to get on the waiting list at your authorized dealer as fast as possible and hopefully being able to dodge an annual increase or two.
The good thing is, that I am 100% certain on this one that I need the white dial version. Which one would you pick?
More information via Rolex.com