Not Small Enough: Watches At 36mm And Under From IWC, Grand Seiko, Rolex, Cartier, And More
How small is too small?
Watches at 39mm in diameter have been dubbed the "Goldilocks" of watch sizes. Really, 39mm is the perfect medium size for a watch for most wrists. And then, sizes typically only go up from there. Well, 39mm can't be "medium" if there aren't "small" watches balancing out one end of the spectrum. The watch industry and community have become more comfortable with smaller watches as we swing back from the large-watch extreme of some years ago. Here we've compiled a solid collection of watches measuring 36mm and smaller that are perfect when the "one-size-fits-all" is still too big for your tastes. And who knows? Maybe all of our tastes could use some adjusting toward the smaller sizes.
Jorg recently put together a list of watches perfect for smaller wrists. Having a smaller wrist myself, I quite enjoyed it. His selections were spot on, but his list focused only on watches smaller than 40mm in diameter — "Goldilocks" size. However, I've been looking for truly small watches, even on my already-slim wrist. There used to be a time not so long ago when burly, hairy-armed, chain-smoking manly men wore delicate, svelte 34mm manual-wound dress watches for every occasion (never mind silly things like shock or water resistance). The concept that small watches aren't manly is a contemporary sentiment and one that I'm happy to do away with. Attaching a sense of masculinity to the size of your jewelry isn't manly. Think about it. So join me for a long but nowhere-near-exhaustive list of watches that measure 36mm and smaller for every wrist, no matter its size, manliness, or lack thereof.
Rolex Explorer
Of course, I have to start with a widely beloved 36mm representative of the genre. The Rolex Explorer has seen many iterations since its introduction over a half-century ago. But Rolex has done well bringing it back to more traditional dimensions when the times merited it. With the latest iteration, Rolex has shown us that one of the most capable time-only watches (in both specs and public perception) can look good and perform excellently in a timeless, reserved size.
Mike Stockton wrote about the two-toned Rolex Explorer (ref. 124273) not long after it was released at Watches and Wonders 2021. As he eloquently puts it, any Rolex Explorer not 36mm in diameter is awkward. The watch just "works" at 36mm. With 100 meters of water resistance and caliber 3230 with ±2 seconds daily tolerances, anti-magnetism, and 70 hours power reserve, the 36mm Rolex Explorer is almost every bit as capable as that Submariner you're not taking diving. It also looks good with everything and will easily disappear under a cuff, a plus if you're using long sleeves as theft prevention. At €10,600 and the usual Rolex wait-time shenanigans, the gold-and-steel Explorer is easily the most difficult to attain on this list.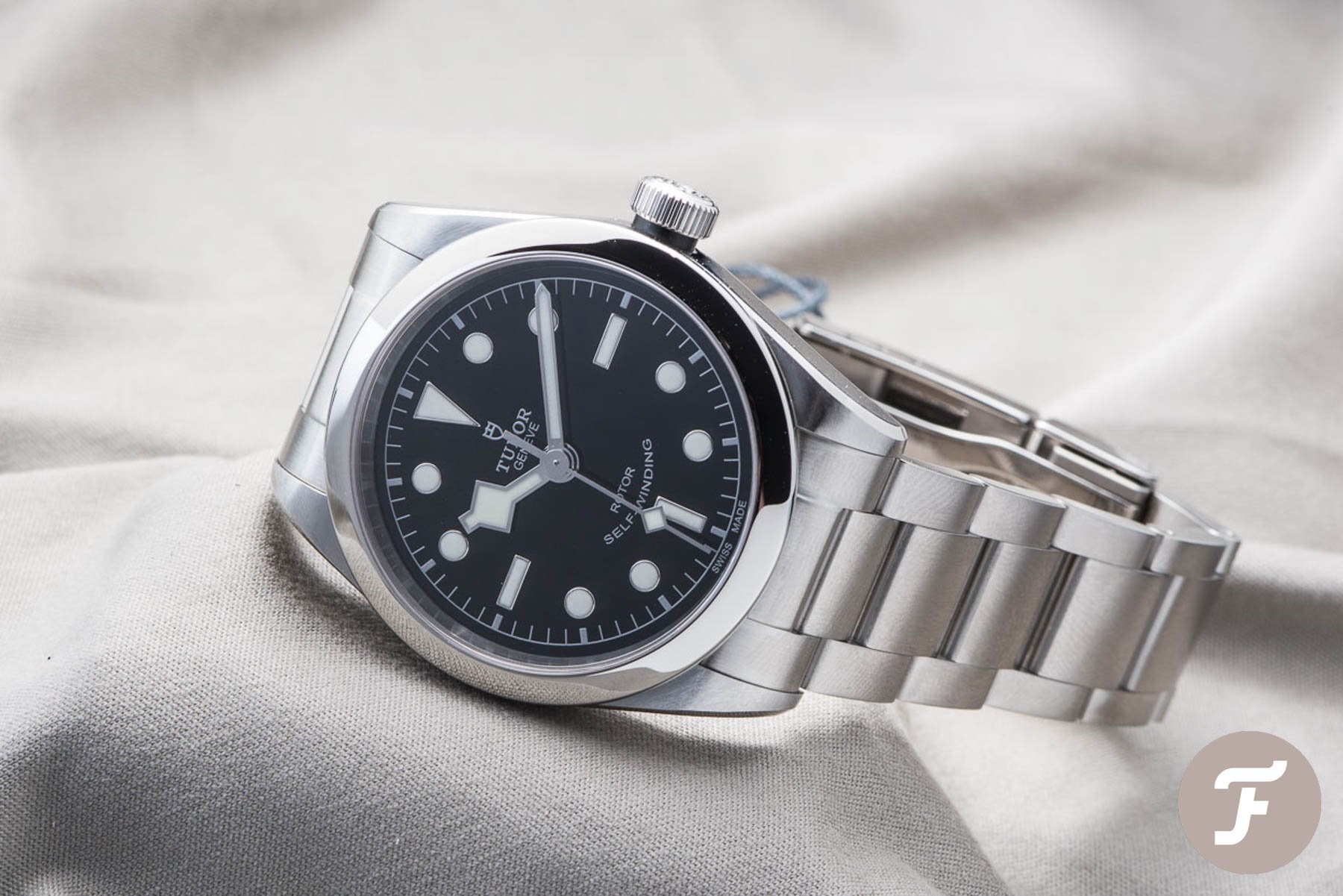 Tudor Black Bay 36
Rolex provides a well-known and well-liked workaround for its general unavailability — Tudor. The 36mm Rolex Explorer is not exempt from getting a more accessible, Tudor-flavored semi-equivalent in the Black Bay 36 (ref. m79500-0007). Rob actually made the case that the Tudor Black Bay 36 is the better watch of the two. The Tudor really stands on its own here and presents a value-proposition option from a reputable Swiss luxury brand.
As the name suggests, it's 36mm in diameter. I opted for the steel version, as I honestly feel that Tudor hasn't quite nailed its two-tone gold-and-steel designs yet. But there is a gold-and-steel version available. In steel, however, the Tudor Black Bay 36 is much less expensive than all of the watches we're comparing it against at €2,880. This gets you a handsome watch in black livery, Tudor's unique hands, and Swiss workhorse time-telling with the Calibre T600. This is Tudor's rendition of either an ETA 2824-2 or Sellita SW200-1, with a standard 38 hours of power reserve. The Black Bay 36 even upstages the Explorer with a water resistance of 150 meters.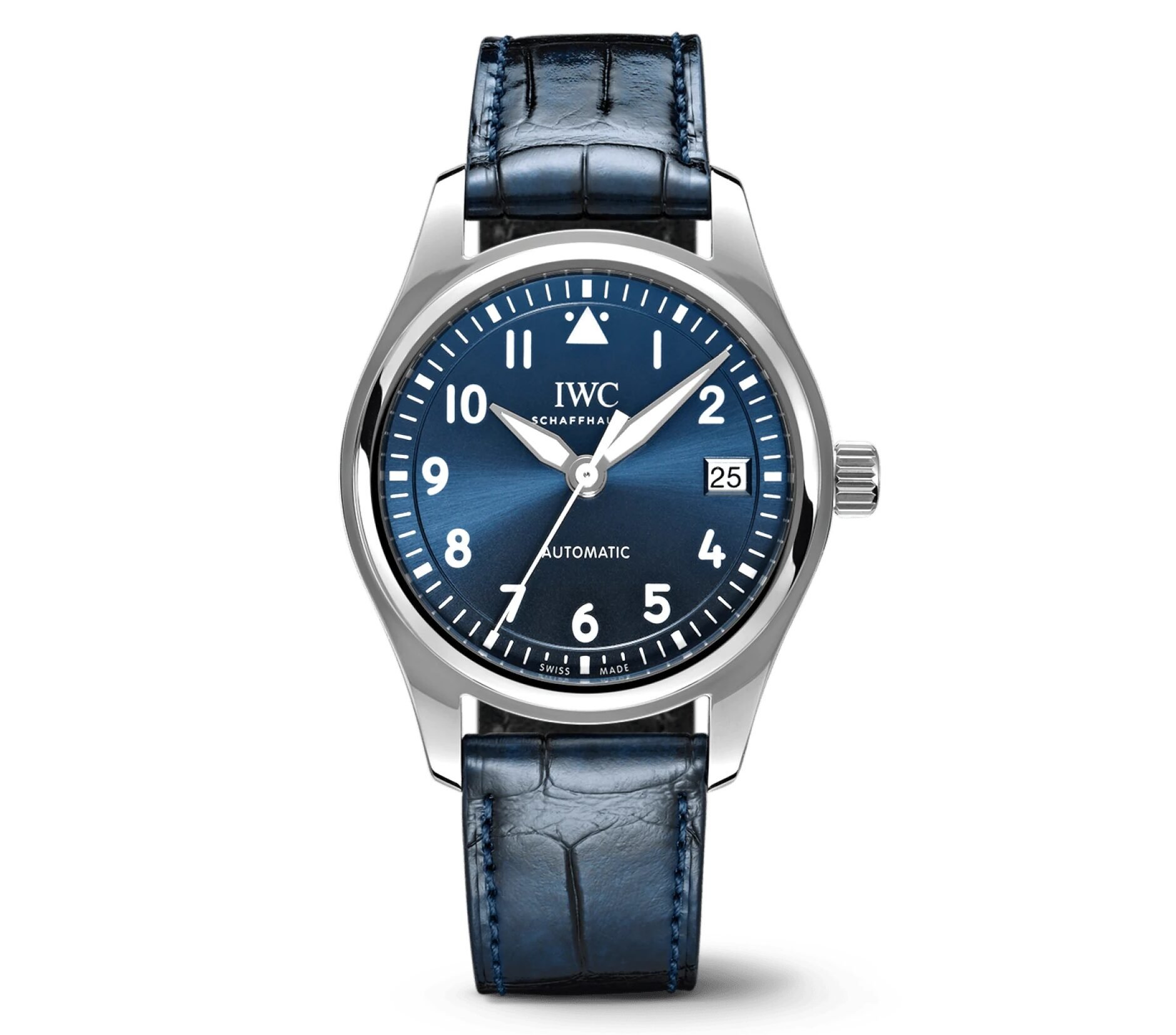 IWC Pilot's Watch Automatic 36
IWC takes the small-tool-watch challenge and passes it with flying colors as well. Pun intended, considering the Pilot's Watch Automatic 36 (ref. IW324008) is a pilot's watch. Present on the metallic blue dial is a familiar Flieger design with wide sword hands and a triangle at 12 o'clock. The 36mm IWC Pilot's Watch is the first watch on our list to feature a date, a plus or minus depending on your tastes. It comes on a matching blue alligator strap.
Another feature that points to its aviation heritage (or actual application) is heightened magnetic resistance with the soft iron inner shielding. Water resistance is slightly better than the Flieger standard at 60 meters. Interestingly, IWC lists resistance to rapid drops in pressure as well, a feature shared by perhaps more robust tool watches, notably those from Sinn. These are features one would not necessarily expect or even look for in a sub-38mm watch, but IWC has maintained tool-watch legitimacy in a model that measures much smaller than its typical pilot's watches. The 35111 Calibre (base Sellita SW300-1) provides 42 hours of power reserve at 4Hz. In stainless steel with the aforementioned leather strap, the IWC Pilot's Watch Automatic 36 costs €5,150.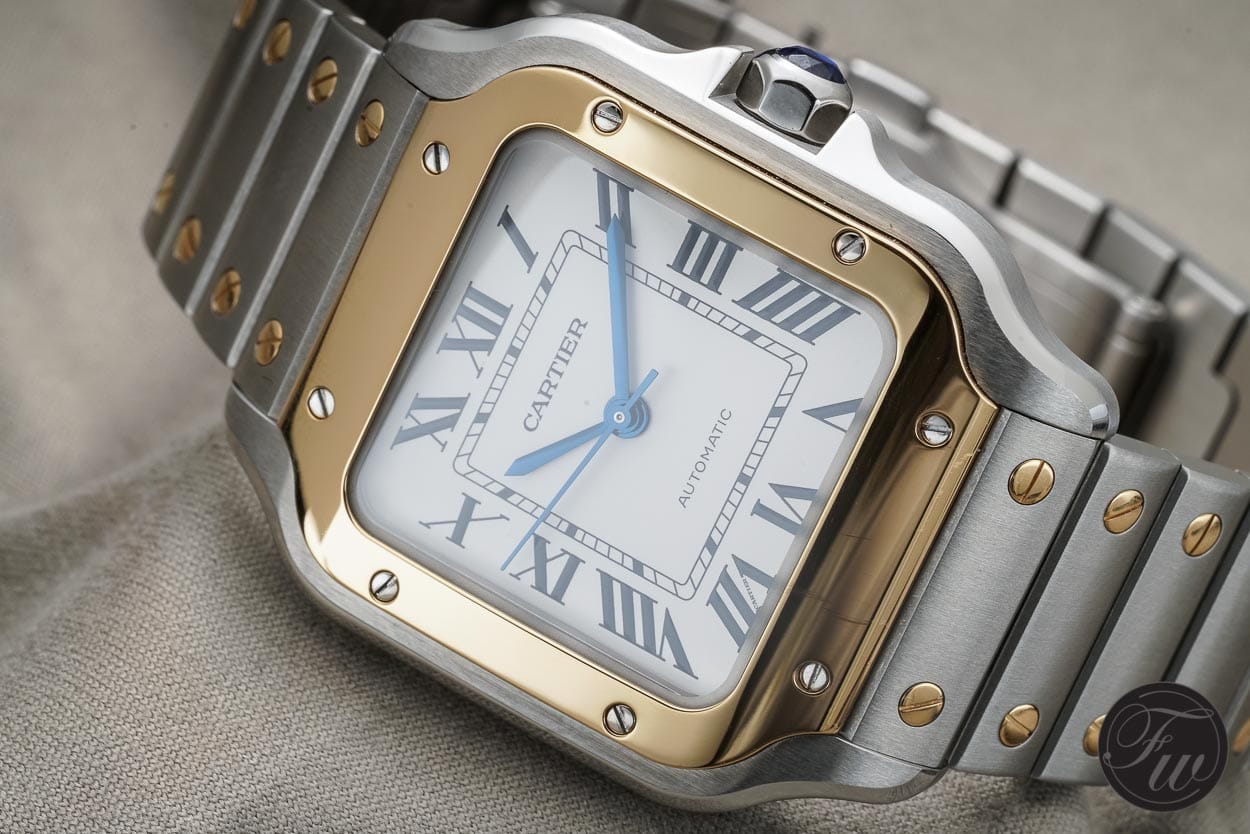 Cartier Santos de Cartier Medium
The Santos has been getting a lot of love recently at Fratello. It's not over yet, as I intend for it to make an appearance in an upcoming collection of watches meeting certain requirements. RJ wrote about the Santos de Cartier's return to the market in a piece that he himself labeled as "opinionated". "Opinion" — and strong ones at that — seem to follow any mention of the Santos de Cartier. More recently, Lex wrote an inflammatory piece claiming that a Cartier does everything a Rolex does. A week later, RJ and Daan had a Sunday Morning Showdown between the Rolex Datejust and Cartier Santos.
Cartier offers a level of class and capability with the Santos that's adequately mirrored in the Rolex Explorer.
I'm of the persuasion that the Santos in gold and steel and medium size (ref. W2SA0016) is to Cartier as the two-tone Explorer is to Rolex. Thus, I'd say that as watches, they're directly comparable to each other. Now, I won't go as far as to say which is better; I'll leave that for other articles and the comments. But Cartier offers a level of class and capability with the Santos that's adequately mirrored in the Rolex Explorer. True, the actual specs of the calibers can't compare; Rolex clearly wins there. Cartier's in-house 1847 MC caliber only provides 42 hours of power reserve, though it does have an element of magnetic resistance. But when you factor in availability, well… what's the saying? A Cartier on the wrist is worth more than two Rolexes on a waitlist. At 35.1mm wide and with 100 meters of water resistance, this steel-and-gold no-date automatic square with its own special history is just as special as any Rolex Explorer. Especially at €10,200 ready to leave on your wrist from your authorized dealer of choice.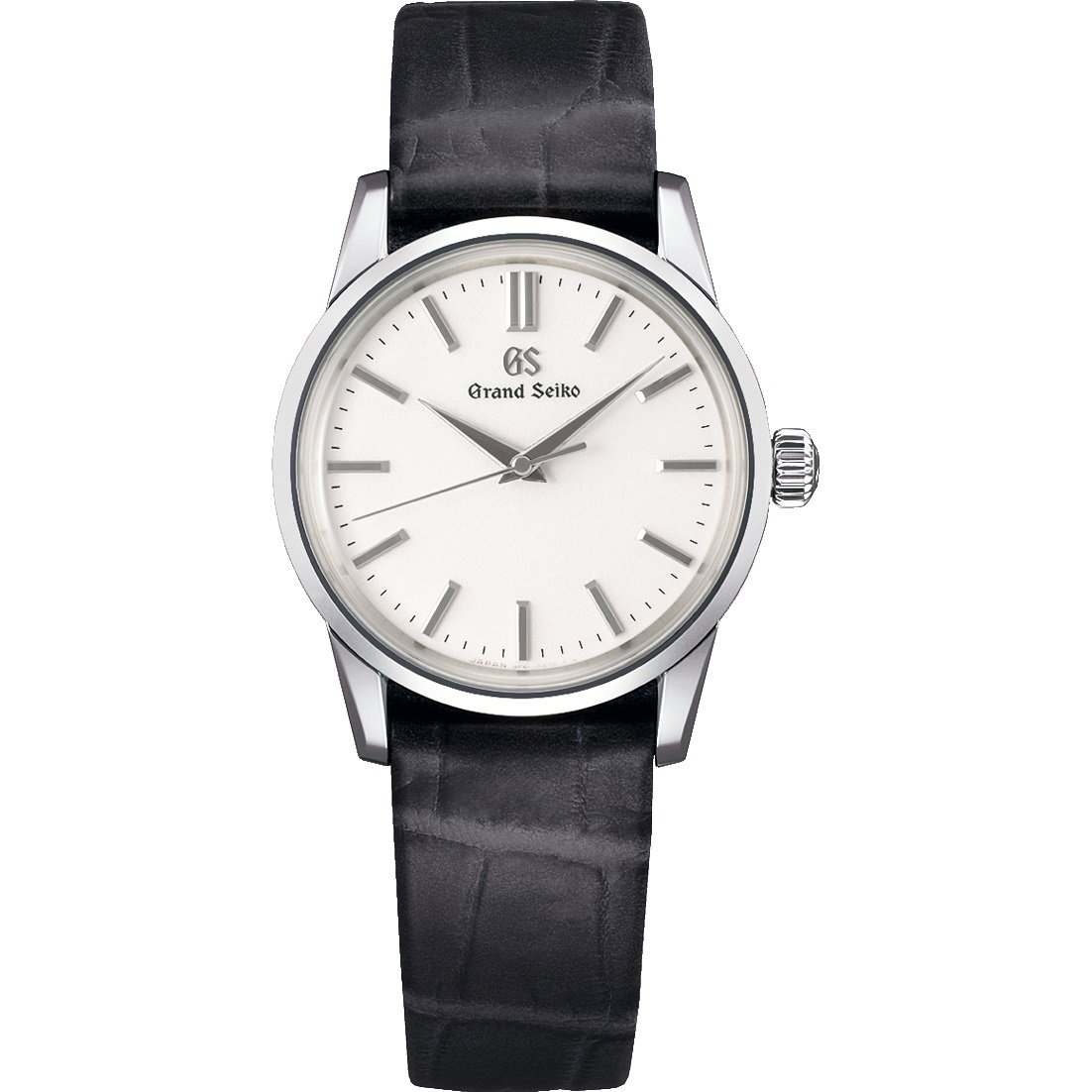 Grand Seiko SBGX347
Grand Seiko takes a departure from the sport/tool watches we've looked at so far. Nice as they are, they can't touch Grand Seiko's SBGX347 in simple, refined elegance. At 34mm in diameter and only 10mm thick, the SBGX347 is truly a dress watch. There's no date window, and the dial architecture is kept as clean as possible with the logo and "Grand Seiko" as the only words. The cream-colored dial with the stainless steel case and black crocodile strap make for a very quiet, simple, and elegant watch. The loudest element may be the abrupt ticking of the seconds hand.
Because the SBGX347 is a quartz-driven piece, utilizing Grand Seiko's 9F61 caliber, accurate to ±10 seconds per year. The battery lasts three years, the longest power reserve we've seen so far. This is a watch that isn't meant to be fussed over, nor is it fussy. True to its nature, water resistance is 30 meters, but even if it had higher water resistance, a watch like this has no business swimming. And unlike the cheap quartz movements found in bargain-bins at department stores around the world, the 9F61 is fully serviceable by Grand Seiko, making the SBGX347 truly an heirloom-worthy piece. At €3,500, it's not a bad deal for a watch that'll look good and keep ticking for another 100 years.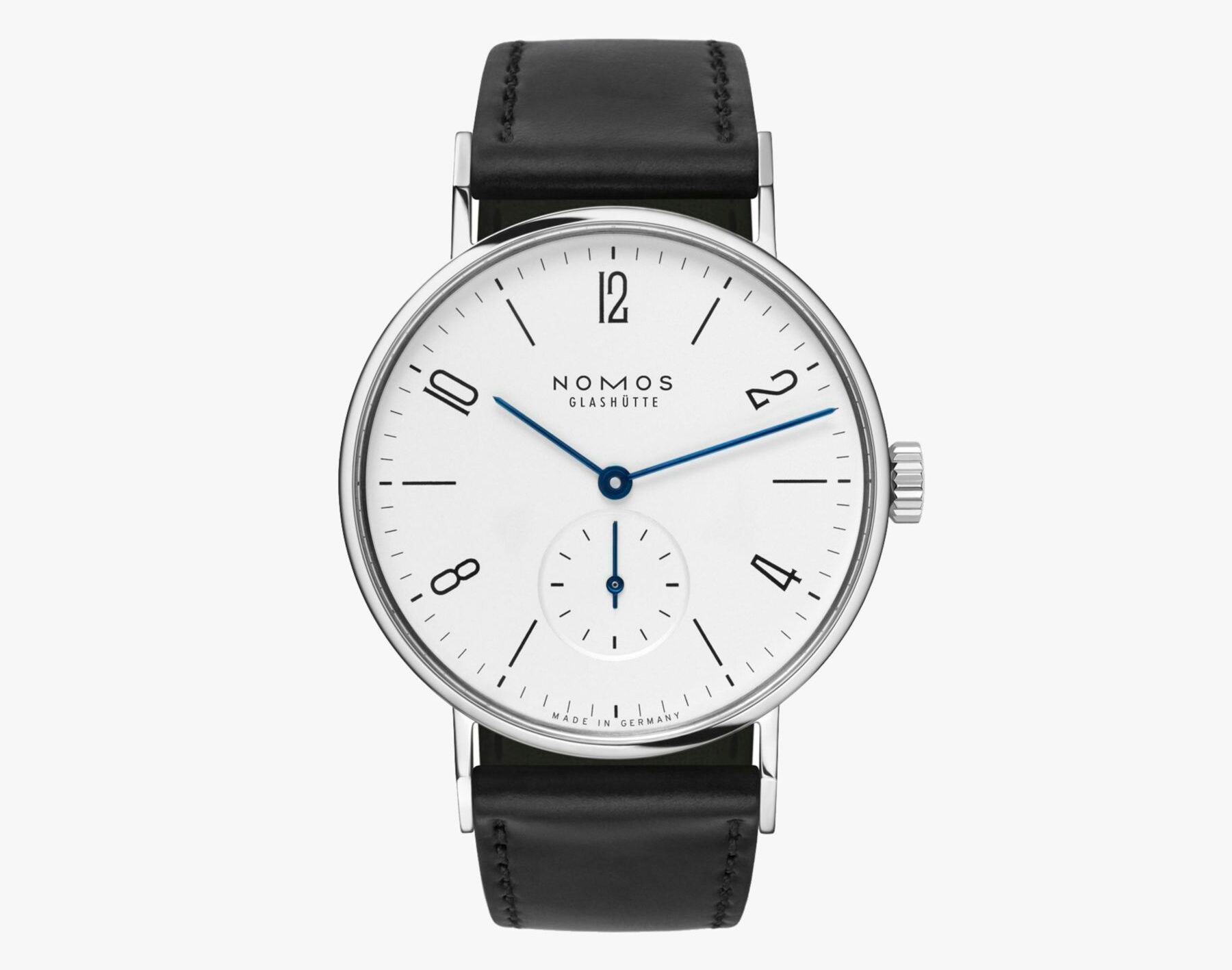 NOMOS Tangente Ref. 139
The NOMOS Tangente Ref. 139 is a German equivalent to Grand Seiko's SPGX347. It's small at 35mm in diameter and an impressive 6.6mm tall. It has barely any water resistance to speak of (3 ATM). But mostly, it's a clean, elegant steel dress watch on a black strap that would look good 50 years ago or 50 years from now. The Bauhaus design that is paramount to the NOMOS design language is what cements this Tangente firmly in Germany, beyond it being made there. Blued stick hands point to equally minimal indices. The recessed seconds sub-dial is the only "flair" that NOMOS affords this Tangente. The lugs are long, as is the norm for the brand, putting the tip-to-tip measurement at 45mm.
Inside the Tangente Ref. 139 is the brand's in-house Alpha caliber. This is a simple yet elegant hand-wound movement with a power reserve of 43 hours. NOMOS thankfully makes the Alpha visible through the exhibition case back. For a sharp-looking dress watch with an in-house caliber, it's impressive that NOMOS makes it available for €1,660.
Junghans Max Bill Handaufzug
Junghans is another German brand with a connection to Bauhaus design, though its current catalog spans a lot of design re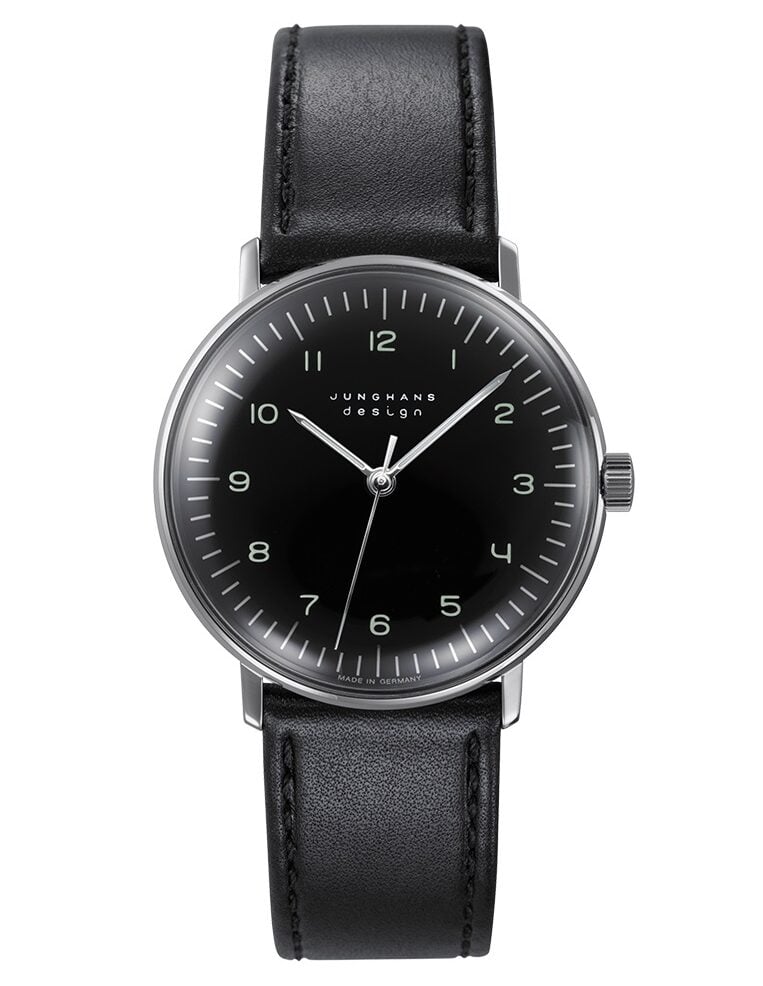 ferences. The Max Bill Handaufzug (ref. 27/3702.02) is clearly traditional Junghans Bauhaus. Swiss designer Max Bill designed a line of watches with Junghans in 1961. The watches that Junghans still produces with the "Max Bill" label have essentially remained unchanged since then, including the dimensions. The Max Bill Handaufzug (which means "hand-winding") is only 34mm in diameter and 9mm in height.
Inside that small case is the J805.1 caliber based on an ETA 2801-2. As the watch's name indicates, it's hand-wound. It has a power reserve of 42 hours. Now, the Junghans Max Bill Handaufzug in black on a black leather strap costs €865. This is quite the value proposition when you consider you get a dress watch with solid design provenance, a Swiss manual movement, and surprising water resistance of 50 meters (though, again, this isn't a watch for the pool). I think best of all is the quirky über-domed sapphire crystal, which certainly adds to the height but also the uniqueness of the watch.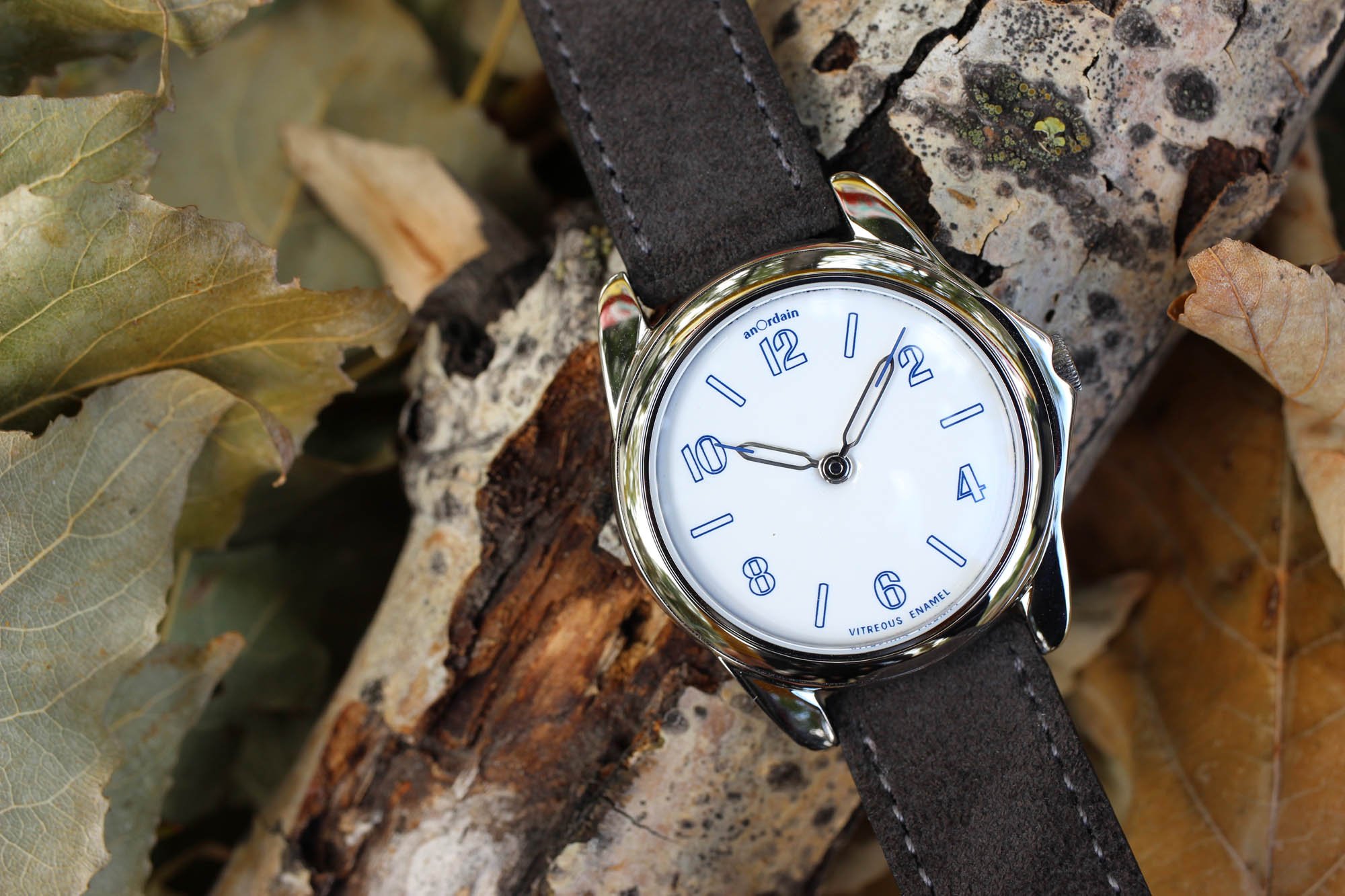 anOrdain Medium Model 2
If these little dress watches with their Bauhaus design are too austere for you, the anOrdain Model 2 should be a welcome reprieve. The brand has had a booming start as far as younger watch companies go. Its watches are now only available through a waitlist, though as many on Fratello's payroll have noted, the quality is worth the wait. Indeed, Tomas Rosputinsky wrote a love letter about the Medium Model 2 in White and Blue. And no wonder — the thing is stunning. The white enamel dial has a deep, wet quality exacerbated by the sloped crater of the enamel near the center. The blue numerals and hand tips over the white enamel impart a Blue Willow China vibe.
The Medium case size is 36mm. The case has a bubbly field-watch feeling to it with rounded transitions and crown guards and a convex bezel. As Tomas points out in his review, the crown guards are asymmetrical from top to bottom, allowing the index finger more grip underneath the crown for hand-winding the movement. Inside is a Sellita SW210-1 hand-winding movement with 42 hours of power reserve. With 50 meters of water resistance, the Model 2 could serve as a fun daily beater. At £1,700, the biggest woe about attaining any of anOrdain's watches right now is the waitlist. But Fratello thinks it's worth it. Oh, and if the blue-and-white combo isn't your deal, anOrdain's Medium Model 2 comes in three other quirky yet gorgeous color combinations.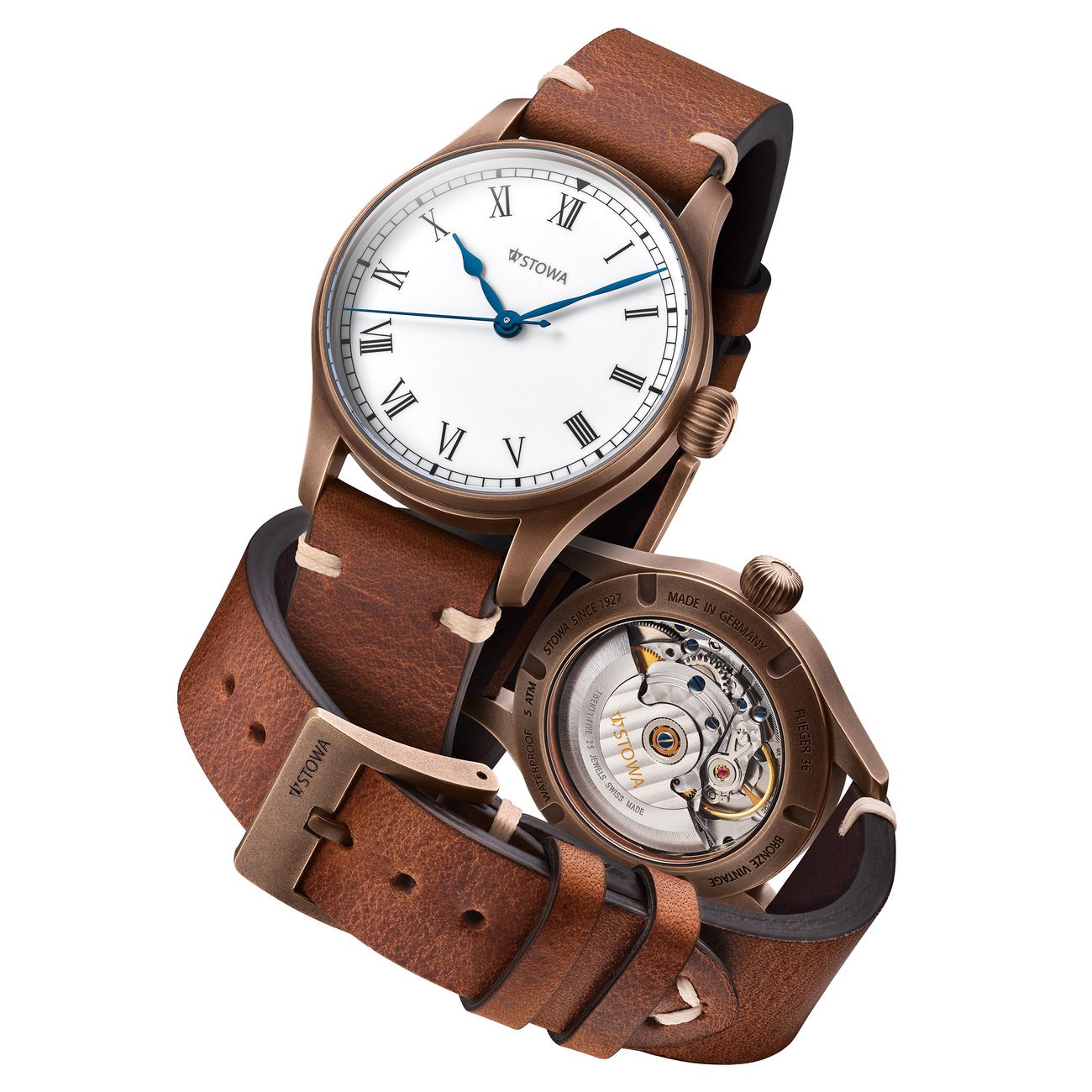 Stowa Marine Classic 36 Bronze
German watchmaker Stowa strikes a happy balance between anOrdain's quirk and the other German watches we've featured so far. Although, with its 36mm bronze case, this Marine Classic 36 is plenty quirky itself. Stowa's Marine line follows a fairly standard recipe of blued steel spade hands, white (or sometimes silver) dial, and either Roman or Arabic numerals in black. The Marine Classic 36 Bronze is no different, though the use of bronze for the case seems absolutely radical for such a usually reserved line.
Stowa is all about options as well. Certain aspects within a given model — case material, dimensions, and water resistance — remain standard. But even with such an arguably unique watch as the 36 Bronze, Stowa gives the consumer choices. You can select either a date or no-date version, a white or sterling silver dial, Arabic or Roman numerals, and between two levels of automatic movement or a top-grade hand-wound movement. If it were up to me, I'd pair that aged bronze case with the silver dial, no date, Roman numerals, and the top-grade hand-wound Sellita SW215-1. I choose hand winding mostly as an excuse to wind that bronze onion crown every day. Any option of the watch has 5 atm of water resistance. As I would build it, the Stowa Marine Classic 36 Bronze costs €1,270. Not bad for being bronze and uniquely yours (or mine in this case).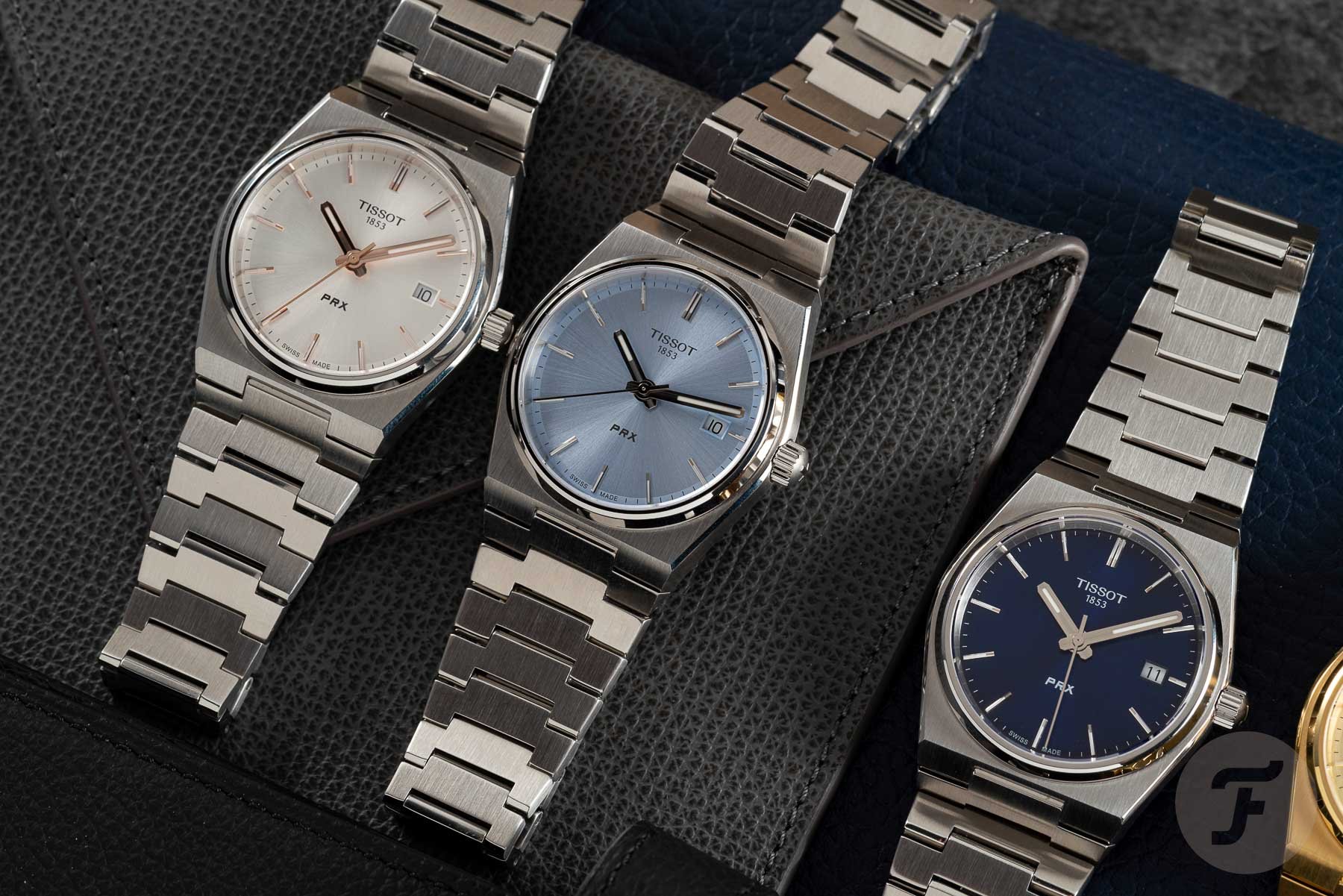 Tissot PRX 35
Stowa's Marine line is notably traditional in design. That's not going to work if that's not your thing. Tissot brings us into the future (or at least 1970) with the PRX 35. The PRX is now an established fan favorite within the retro integrated-bracelet-watch genre. It helps that it costs significantly less than many of the other options available. But the PRX in 35mm diameter is not as well known. Thomas Van Straaten (there are a lot of Thomases here, I know) wrote a hands-on review of the PRX 35 line and did a good job iterating that these watches are for anybody who likes them.
They're compact, hug the wrist with their integrated bracelets, and come in some fun colors. Unfortunately, the only movement option is currently quartz (ETA F05.115), but Tissot really is leaning into its PRX line. We may see other movement options in the future. Water resistance is a rugged 100 meters with a sapphire crystal over the many different colored dials. The double-pushbutton butterfly clasp is a rare nicety on a watch that costs €375. If retro and small is your vibe, it's hard to do any better than the Tissot PRX 35.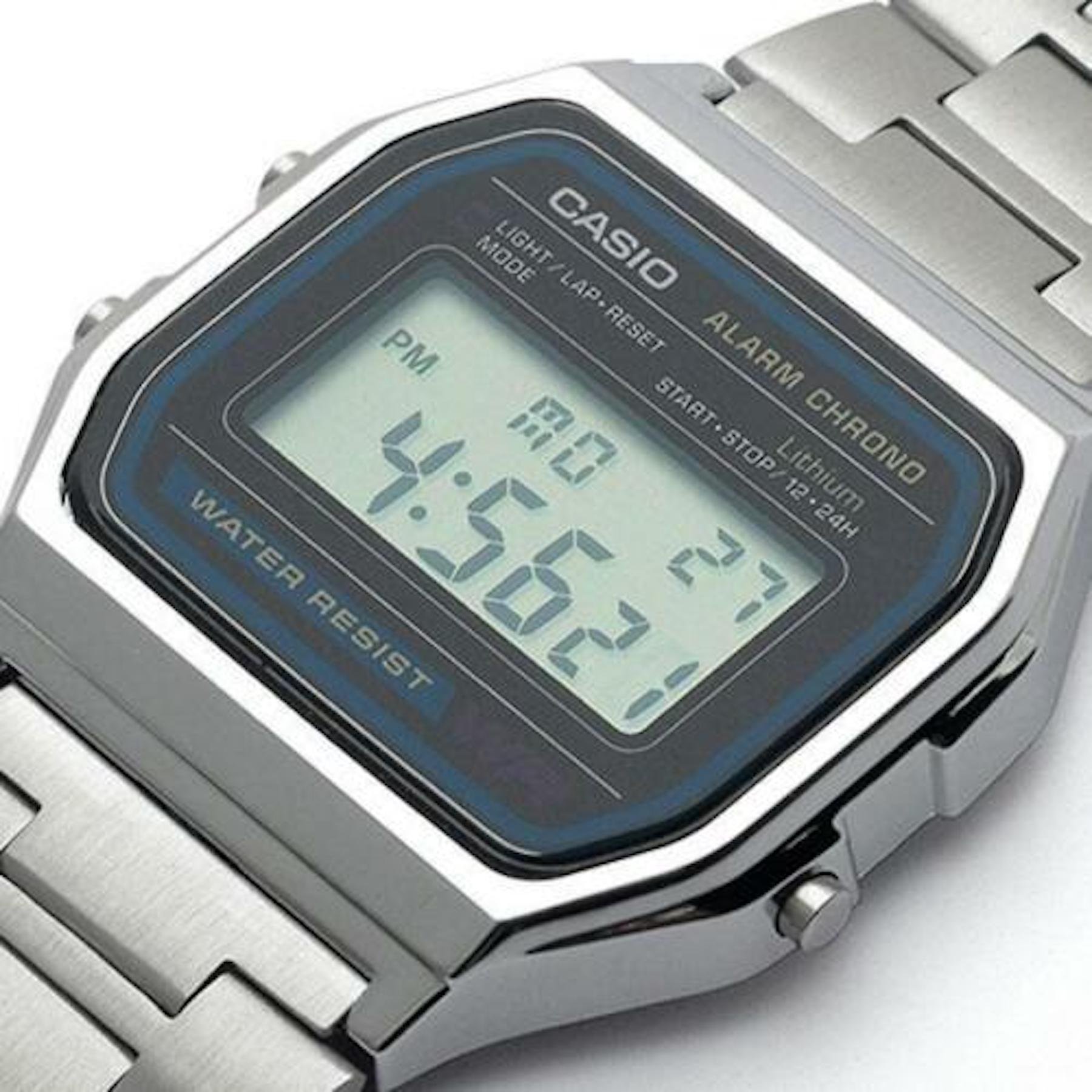 Casio A158WA-1
Of course, one certainly can do better, especially if the Tissot's €375 is still too much, or you're wondering why it doesn't have an alarm and stopwatch. Enter the Casio A158WA-1 — a small, cheap, retro, and more capable than any watch on this list.
"That's not fair!" someone is undoubtedly smash-typing into the comments box immediately after reading the previous sentence. But if we allow quartz watches like the Grand Seiko SBGX347 and Tissot PRX on this list of watches, there's no reason not to allow the Casio A158WA-1. Half joke/half serious value proposition among watch enthusiasts, I can proudly claim that the A158WA-1 has been my go-to for the past 10 years when I felt the need for a small watch. With date, alarm, stopwatch, and backlight, there's nothing more you could want — except perhaps a bigger watch (it's only 33mm across), a mechanical movement, and/or better water resistance. Because water resistance on this Casio is rated at a measly "splash resistant". However, having owned mine for a decade with no issue (or battery change), and with the A158WA-1 only costing around €25, ruin or replacement has never been an issue for me.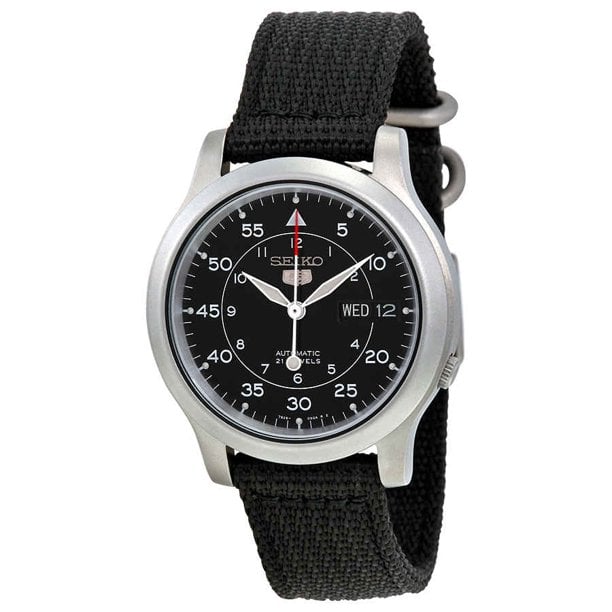 Seiko 5 SNK809
If affordable, small Japanese watches are your thing but you can't bring yourself to stoop to quartz or (heaven forbid) a digital screen, Seiko has you covered. The discontinued Seiko 5 SNK809 is one of a few options of an automatic watch that surprises everyone (and surpasses expectations) by coming in at under €100 from many online dealers. The SNK809 has a day/date window and recessed crown, though, with only 30 meters of water resistance, it looks a lot more rugged than it actually is. Inside is Seiko's in-house 7S26. Lacking from this movement is hand-winding, hacking seconds, or even decent accuracy (+40/-20 seconds per day). But it gets the job done if the job is telling time as a small, automatic, affordable watch.
Now, I must confess that I've cheated a bit with the Seiko 5 SNK809. It measures 37mm in diameter. I know, I know, that's positively huge. But hear me out: if you have really large wrists, it will wear like a 36mm watch. I promise. I had to include it, though, because the Seiko 5 line is part of watch history, and the SNK809 is a unique watch in what it does and how it looks for its truly incredible price.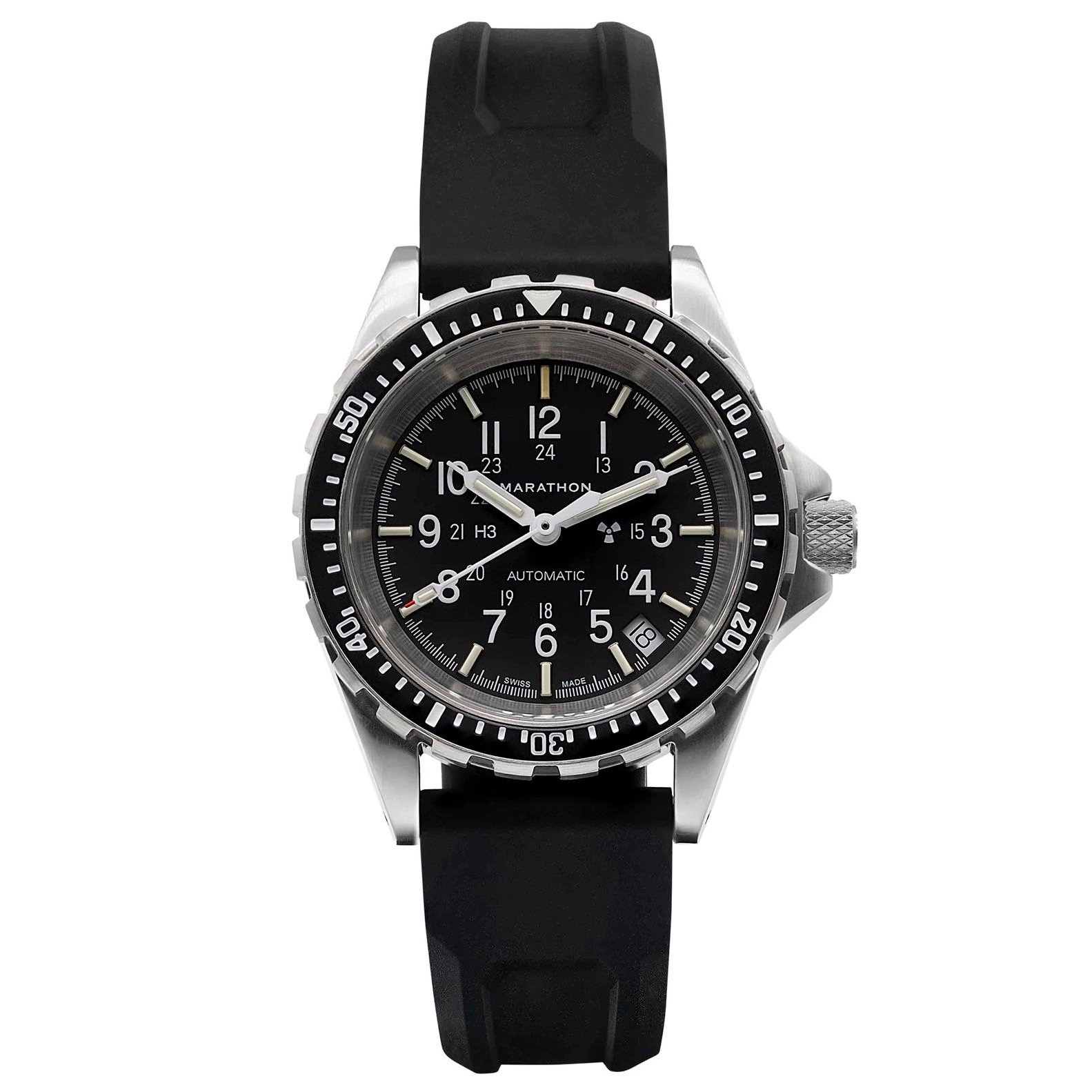 Marathon MSAR Medium Diver's Automatic
If you can't forgive me for that extra millimeter, allow me to add one bonus watch that really is 36mm in diameter — the Marathon MSAR Medium Diver's Automatic (NATO Stock Number (NSN): 6645-01-697-4204). This really is kind of an insane watch. Marathon is one of a few companies still actively producing watches for standard military issue, and the overbuilt cases are a sign of Marathon's commitment to completing the mission. But, to Marathon's credit, the brand makes its dive watches in three different sizes. The smallest size is 36mm in diameter.
There's no fitting that thing under a cuff. All door frames beware of this wrist hammer. Marathon builds its dive watches tank-tough, no matter the size.
Think (and look) back to all of the other watches featured in this article. Now look at your wrist and imagine the 36mm wide, 14mm tall, miniature hockey puck of a watch that is the MSAR sitting on top of it. There's no fitting that thing under a cuff. All door frames beware of this wrist hammer. Marathon builds its dive watches tank-tough, no matter the size. The screw-down crown and 300 meters of water resistance in the MSAR are testaments to that. So too are the tritium tubes set at every hour and on the hands. Inside is Marathon's "M2" movement, which is Marathon's way of saying that they don't know whether inside will be an ETA 2824-2 or a Sellita SW200-1. All this costs a mere €935. So wear it in good health, 'cause the damn thing will sure as hell outlive you.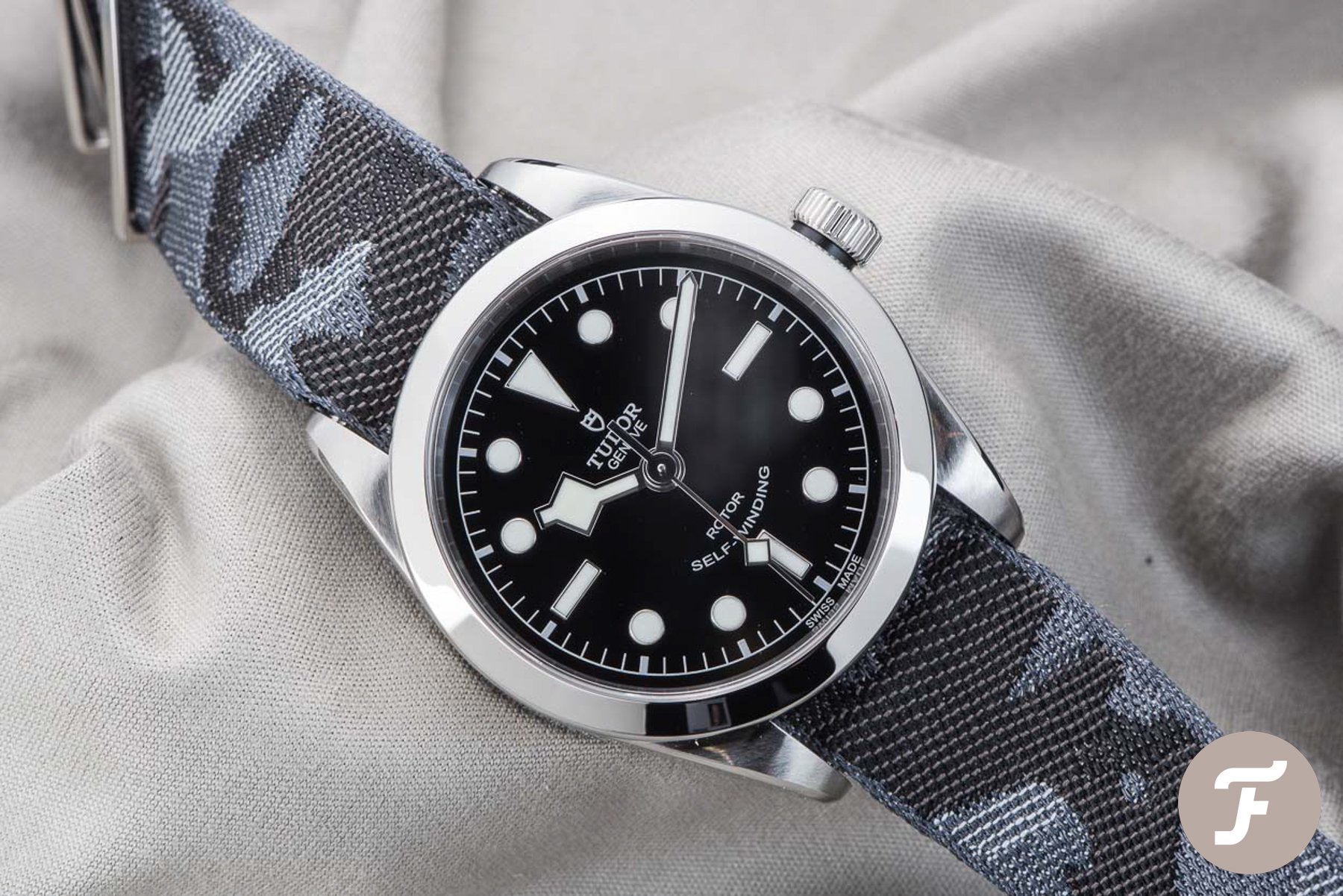 The world is ready for small watches
That is an exhausting but not exhaustive list of watches 36mm and smaller that are available on the market today. Which is your favorite? What watches did I miss? Let us know in the comments below. Are you down with the Small Watch Club (SWC) or are you forever going to be compensating with >45mm wrist clocks? I kid. I love watches of any size. But it seems (and I hope) that the industry and the market are ready and shifting towards small watches. I say we're ready.