Omega Flightmaster 910 — Ode To An Icon 
And why I cannot take it off my wrist
Way before the Speedmaster, my very first Omega chronograph was a caliber 1040. It was the gold-plated Seamaster ref. 176.005, the watch that many call the "Jedi". Well, it is neither a Jedi nor a "flat Jedi", but that's a story for another day. That Seamaster was the watch that spawned my interest in 1970s Omega chronographs. Many years and a good few purchases later, last year, I landed this Flightmaster 910. What happened before and since then is what this article is about.
Don't worry; it will not be a sentimental ode. To be honest, I just needed a catchy title. Yet, one thing is for sure — I'm pleasantly surprised by how much I love this watch. When I take it out of the box, it won't leave my wrist for many days. So why not collect my thoughts and try to understand why that is?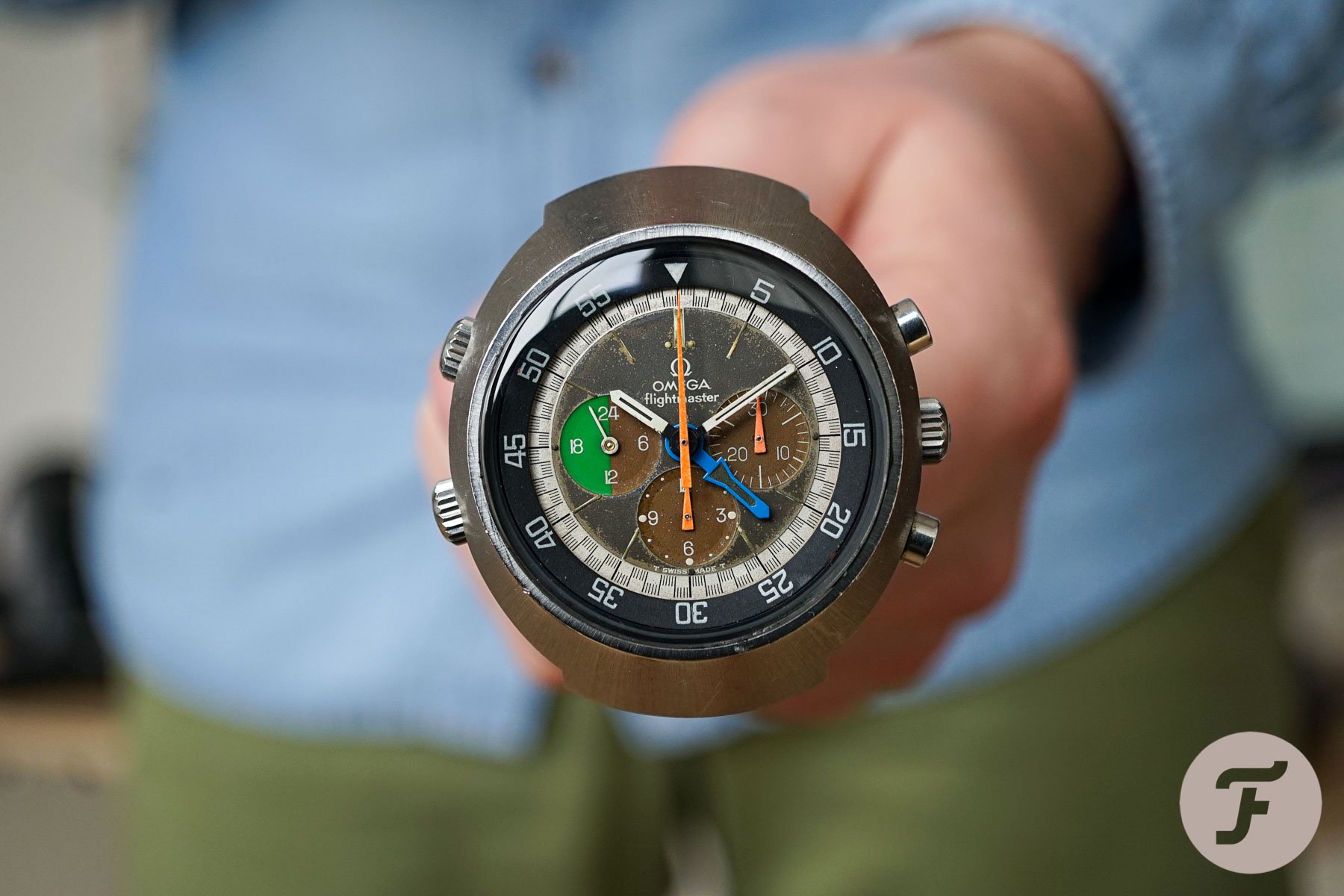 The bigger, the better
Let's go back to 2008 when the gold-plated Omega Seamaster 176.005 landed in my collection. My daily stomping ground was WatchUSeek's Omega forum, and the watch community then was so different than it is today. I spent hours on that forum reading old (and new) threads, learning about watches, and dreaming about owning them. For the time being, I was happy with my Seamaster, but my appetite for knowledge kept on growing. First, I learned about the other 176.XXX references; the real "Jedi", the "Big Blue", the 176.007, and so on. It was the period when you make up a timeline in your head and try to position the models you learn about on that X-axis. Along the line, you get to know other models, of course, watches with different complications and calibers. The one common denominator is that they are all big.
The 70s were the days.
For some reason, most of the watches I love came from the late 1960s and early to mid-1970s. My vintage Speedies are from '67 onwards. My GMT is also from 1967, and my favorite Omega chronographs (the Mark II, the 176.007, or the Flightmaster) are all early-'70s pieces. Please don't ask me why. I cannot tell you. That era just speaks to me. The shapes and size, the bold designs, the uncommon complications, and the colors all attract me. Wait a second. Let's look at the Flightmaster for a moment. Shape? Check. Bold design? Check. Uncommon complications? Check. Colorfulness? Check. It seems that the watch has everything I love about this era. And trust me, I've had my fair share of '70s love. In my collector's "career," I've owned the following watches — the Speedmaster Mark II, Mark III, Mark IV, Seamaster Chronostop, Memomatic, 176.007, and the Chrono-Quartz.
Don't get me wrong. I'm not bragging. I'm merely trying to explain where my admiration for these beautiful watches comes from. After my initial interest, as I evolved as a collector, my taste and interests changed. It was some sort of a been-there-done-that type of thing, meaning those pieces did not interest me as much as before. I turned to other brands (enter Angelus), refined my taste, and expanded my collection in different directions. The Flightmaster was always on my radar, but I never pulled the trigger. Truth be told, I have not seen many in the wild either, not even at watch get-togethers. The closest I got to them, aside from seeing them in display at the Omega Museum, was at Gerard's old watch shop. Yes, at one point in his life, G-Pops owned a very cool watch shop in The Hauge.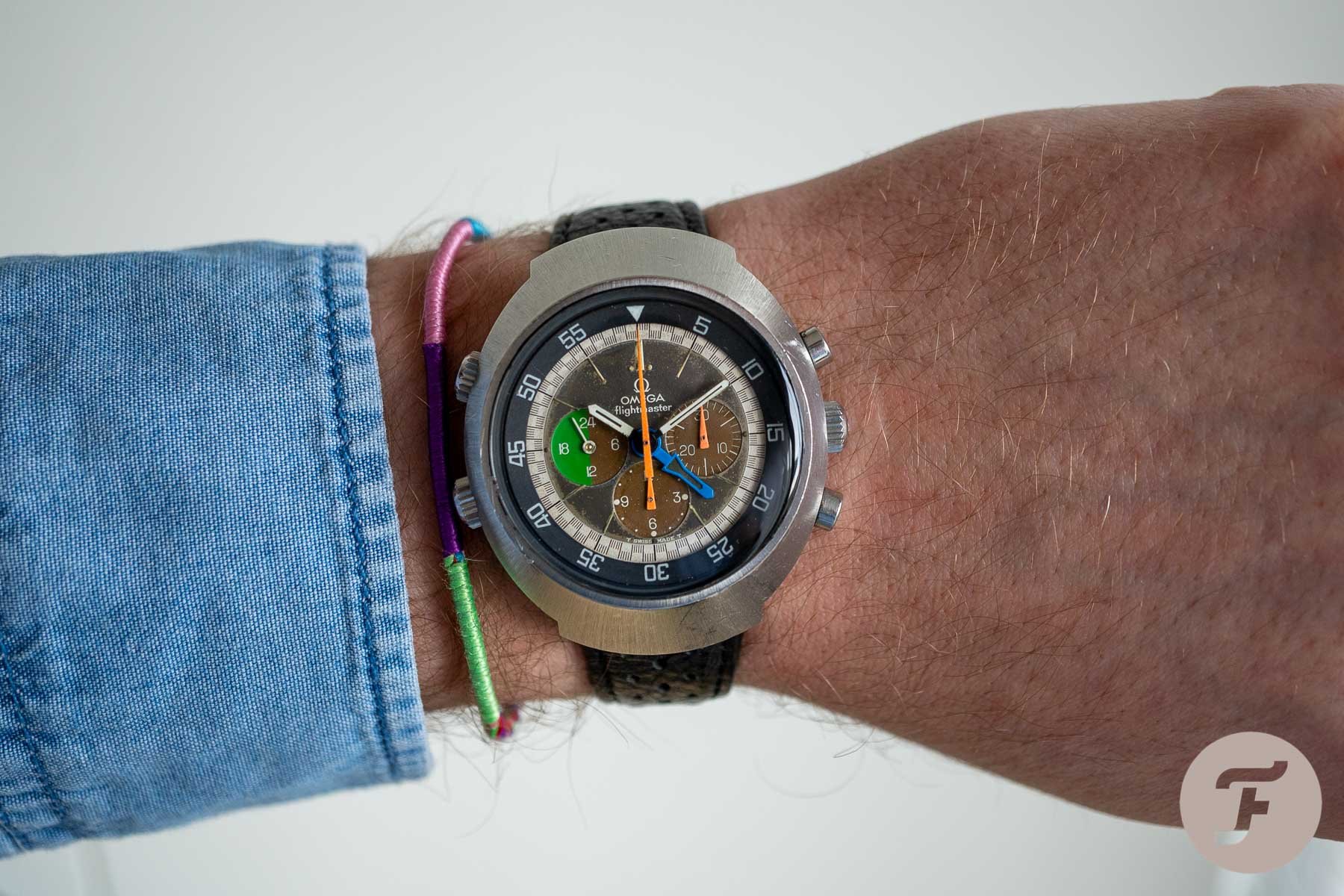 That shop in Holland
In that shop, he pulled out this epic box (briefcase) full of watches including a Flightmaster or two. The year was 2014, and I had just joined Fratello a few months before that. It was my first trip "with" Fratello, and I visited the guys for the first time. It was the release of the first Moonwatch Only book. The day after the event, I still had a bunch of time before my plane, so RJ dropped me off at Gerard's shop and asked him to babysit me until it was time to leave. G2 was still a gracious host, showed me around, told me stories, and last but not least popped that case open. I think this might have been the first time I saw a Flightmaster in real life. A seed was planted in my brain that day.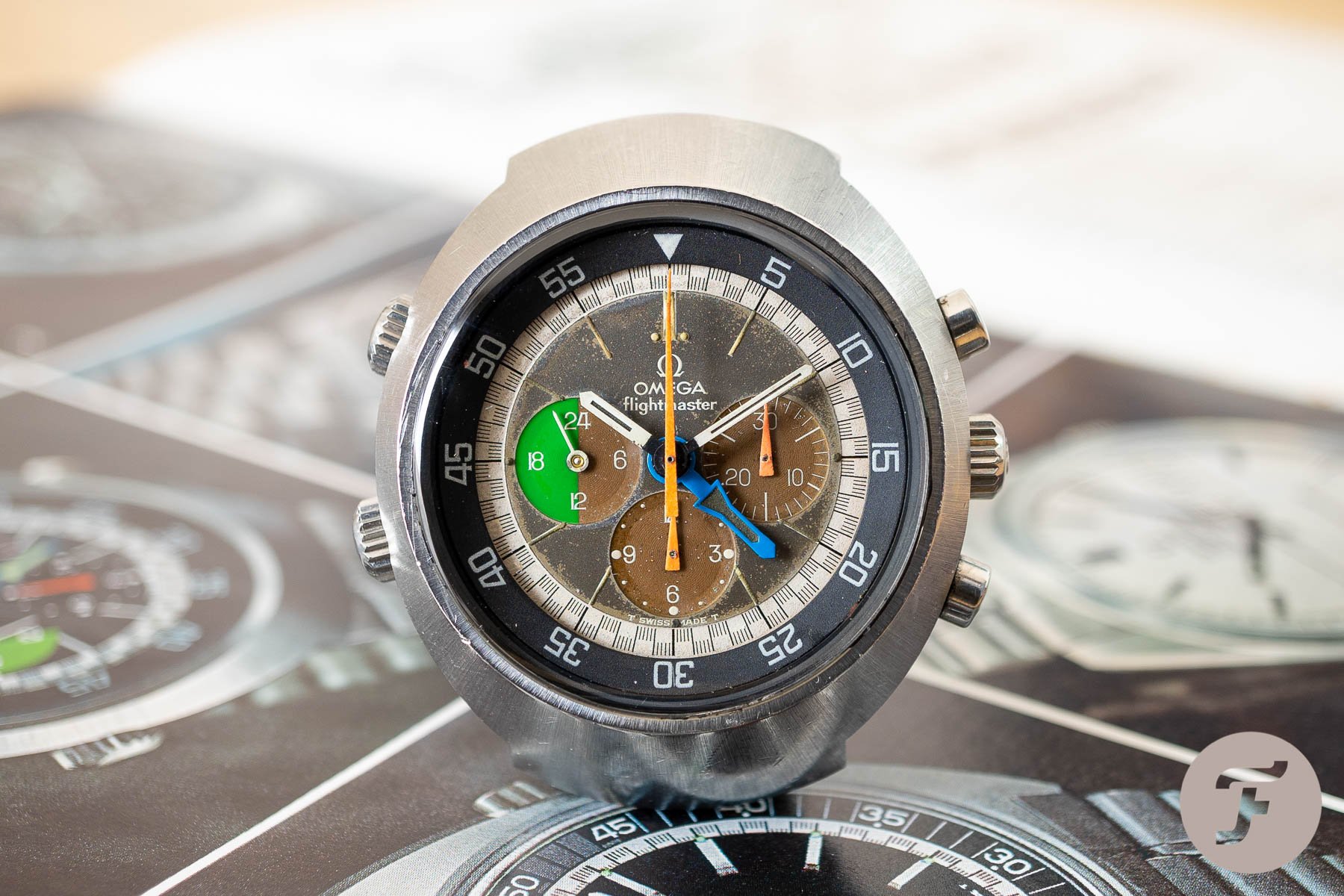 One cold January morning
Fast-forward to January 2018, I'm at a coffee shop in Karlsruhe, Germany with Mr. Time 4A Pint, Chris Mann. This time, I'm babysitting him until his plane leaves, and the guy is wearing his Flightmaster. If you follow Time 4A Pint or know Chris, you also know he has a thing for these watches. Having bought them all up, he is probably also why you cannot find one. Well, I'm joking, but Chris's love for Flighties is well documented. We are sipping our coffees and talking about watches when he turns to me and says, "Dude, you need one of these," and hands me his reference 910. And just like that, the seed from four years earlier starts to bloom. I like the watch, love its size and the domed crystal. The sleeping cell is now active, and I need a Flightmaster.
What is a Flightmaster anyway?
You could write a book about this model, that's how interesting it is. And you know what? The guys that brought you Moonwatch Only already did. Sadly, I don't have it (yet), but this article is not about technicalities, dial versions, and handsets. What you need to know is that Omega introduced the Flightmaster in 1969. The aim was to create a hand-wound chronograph for pilots and intercontinental travelers. The first reference, my watch, was the 145.013. Then in 1971, Omega brought three more models to the market, references 145.0026, 145.0036, and the solid gold BA 345.0801. The steel models from 1971 had caliber 911 in them, while the first, just like the gold models, housed the Omega caliber 910. All four timepieces are manual-wind, and all have internal bezels and blue second-timezone hands. The 910 has a 24-hour indicator and a much slimmer case than the other two. The profile of the case is probably the reason I love mine.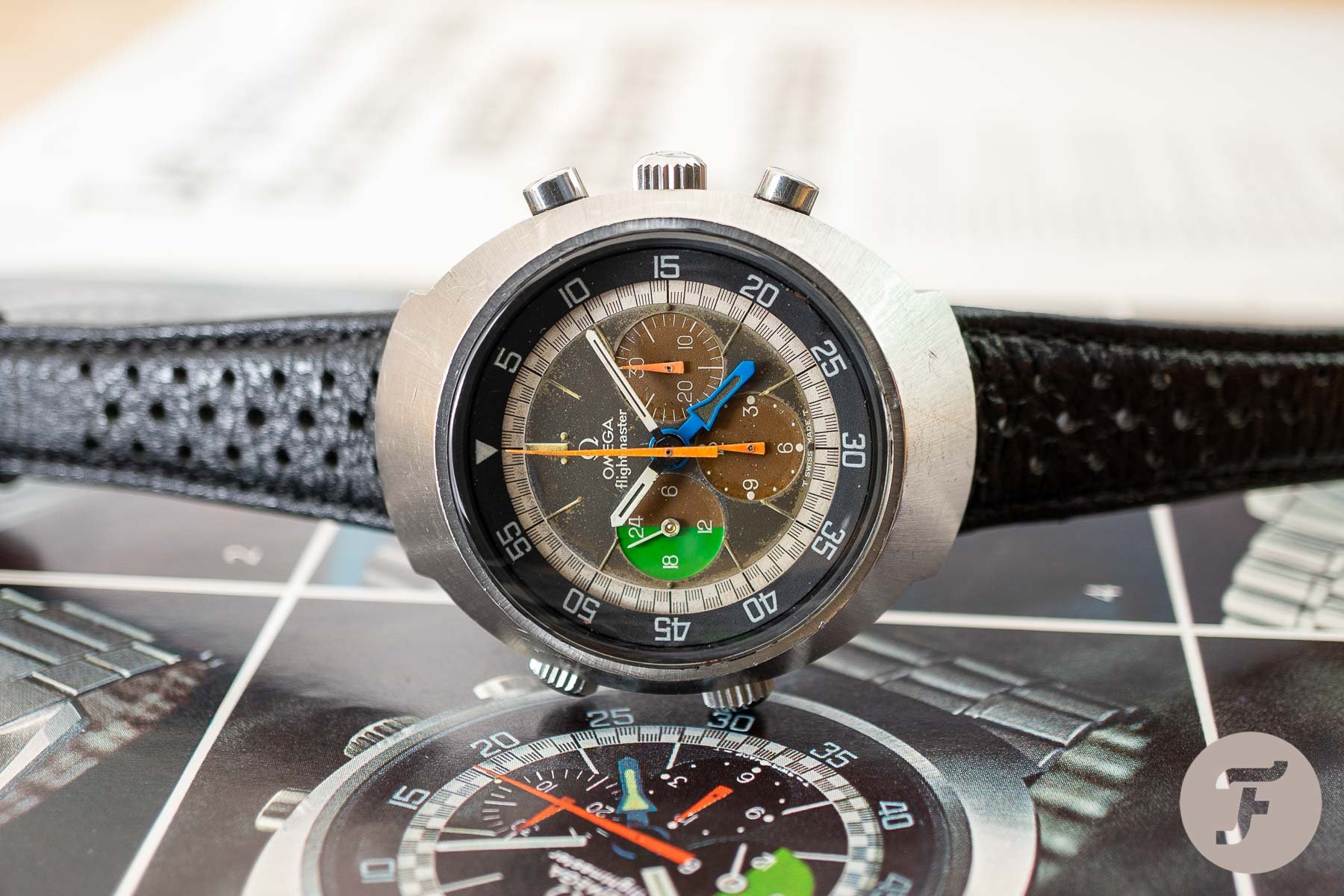 Size matters
The 145.013 was not my first Flightmaster. A few years ago, an opportunity presented itself, and I pulled the trigger on a second-generation Flighty. For whatever reason, however, I could not bond with the watch. I must admit that by this time, all my chunky '70s Omegas were either sold or remained in the watch box and barely made a comeback to my wrist. So after a brief liaison, the watch had to go. Yet, Chris's slim-case 910 was still in my head. Not too long after the 145.0036, I found a 145.013 on eBay from the US. The watch was banged up, the sub-dials had developed an even brown (some may call it "chocolate") patina, and the hands were faded as well.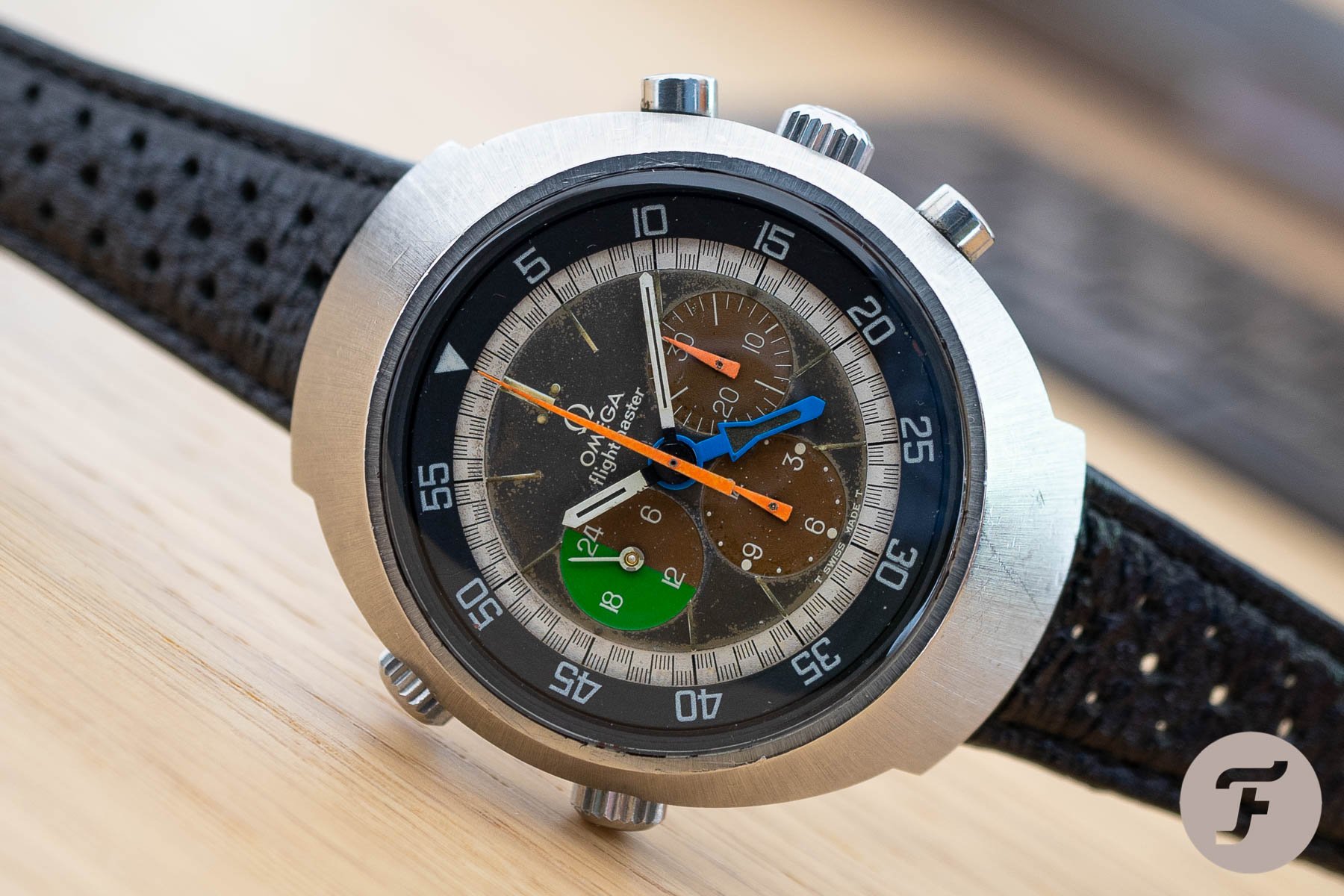 I didn't care too much as I was not on the market for a pristine example. My goal was to try and see if I'd enjoy this 910 better than I did the 911. In the end, I managed to get it for a fair price on its original bracelet. I must admit that I'm not the biggest fan of these on a bracelet, so eventually, it ended up on a Corfam-style leather strap. If you bought the Flightmaster on a strap back in the day, it would have come on something similar. Now, this combo was a match made in heaven for me. I wore the watch for days, and often, weeks on end. While the case looks huge, interestingly enough, it is not much larger or thicker than a Speedy Pro. There's about a millimeter difference between the two, to the advantage of the Flightmaster.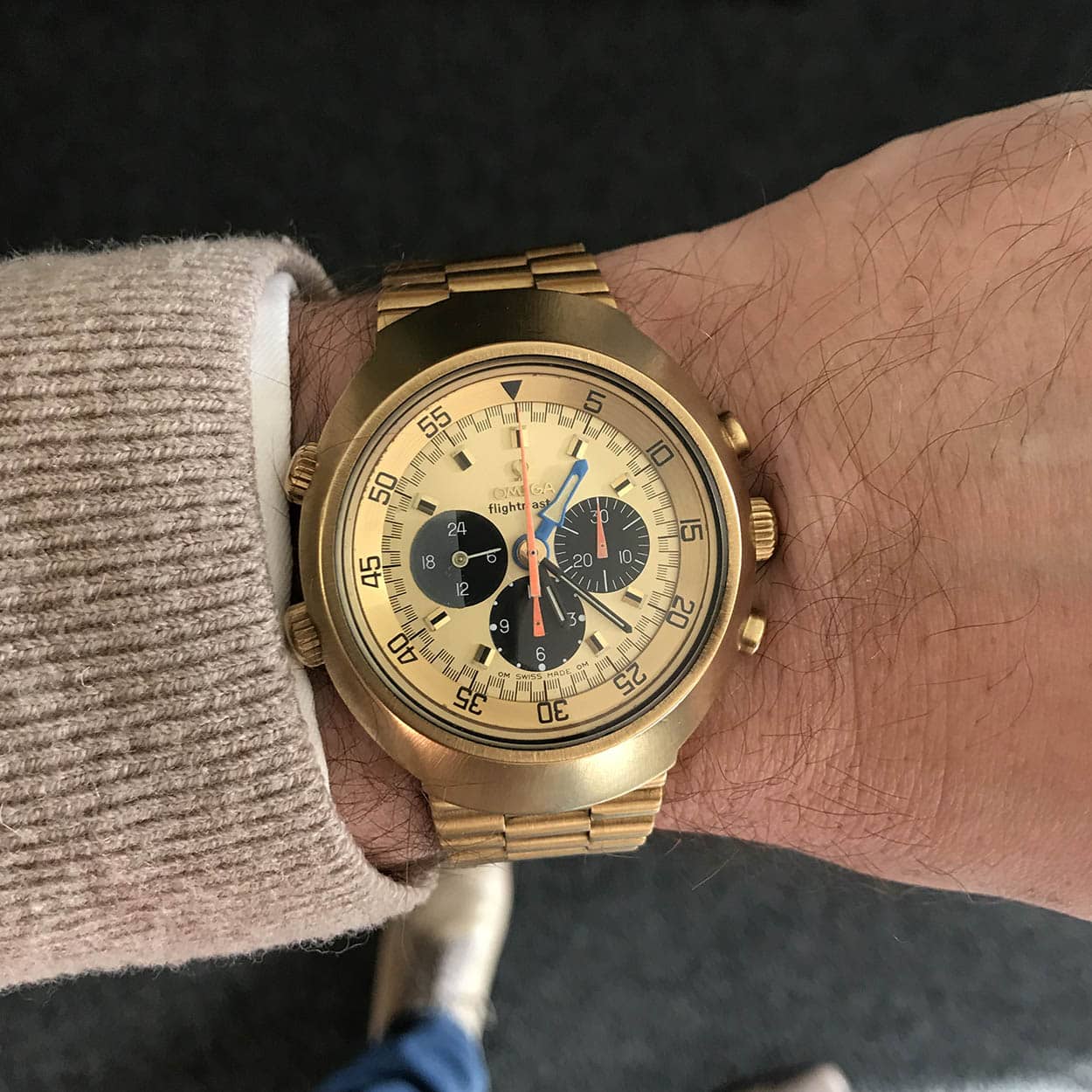 Hardly a Fratello favorite
Despite its size, history, looks, and usability, the Flightmaster is not a favored timepiece in the Fratello camp. I find it a bit odd given the fact that most of us are Speedy fans. If you are a Speedmaster guy and like vintage watches, you might also dig other models from the brand. Still, aside from Gerard, as far as I know, I'm the only one rocking a Flightmaster. RJ has his funky Speedmaster 125, and Mike is a proud PloProf owner. So Gerard and I are not the only ones loving this era in Omega's watch design. Granted, my wrist is large, so the watch looks good on me, but it's not about size. It's a matter of taste, and if you can pull it off. If Mike can rock a PloProf with his baby wrist, I am sure you can wear a Flightmaster with pride. I know I do.