Speedy Tuesday – Hands-On With The Omega Speedmaster CK2998 Reference 311.33.40.30.02.001
It was the first time that we actually received a couple of requests to feature this CK2998 on Speedy Tuesday. I already mentioned the Omega Speedmaster CK2998 in this article from a few weeks ago, but that was before BaselWorld started and we didn't had the opportunity to play with the watch.
Although the watch has been sold out (to retailers) already and I've read a couple of remarks on Instagram, Facebook and forums that people hope it will be the same 'good investment' as the Speedmaster Professional Silver Snoopy Award from last year, I definitely believe there are some important differences that need to be mentioned.
However, let's have a look at the Omega Speedmaster CK2998 and its history first.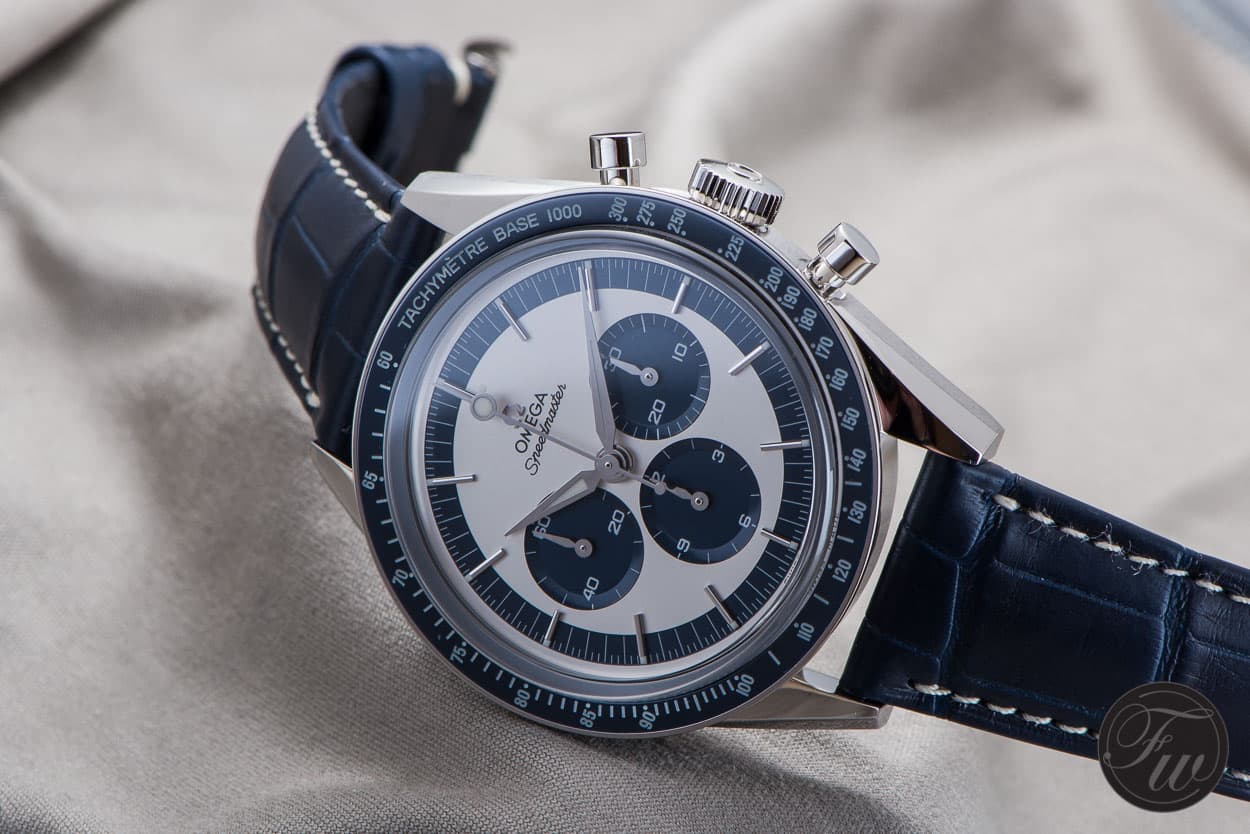 Omega Speedmaster CK2998 – Second Generation of Speedmasters
As you all know, the Speedmaster was introduced in 1957, together with the Seamaster 300 and Railmaster. Three 'professional' watches by Omega. For diving, for racing/sports and people who work around or near magnetic fields like engineers. For racing and sports in general, Omega came up with the Speedmaster. No signs of orbital use yet.
The 1957 model is the Speedmaster with reference CK2915 which had a couple of variants. Most famous are the ones with stainless steel bezel and the characteristic broad arrow hands. In 1959, the CK2915-3 (-3 indicates a specific version or upgrade) suddenly had a black bezel and alpha hands. Some CK2915-3 came actually with broad arrow hands, but I assume that was some 'stock' stuff that Omega kept using.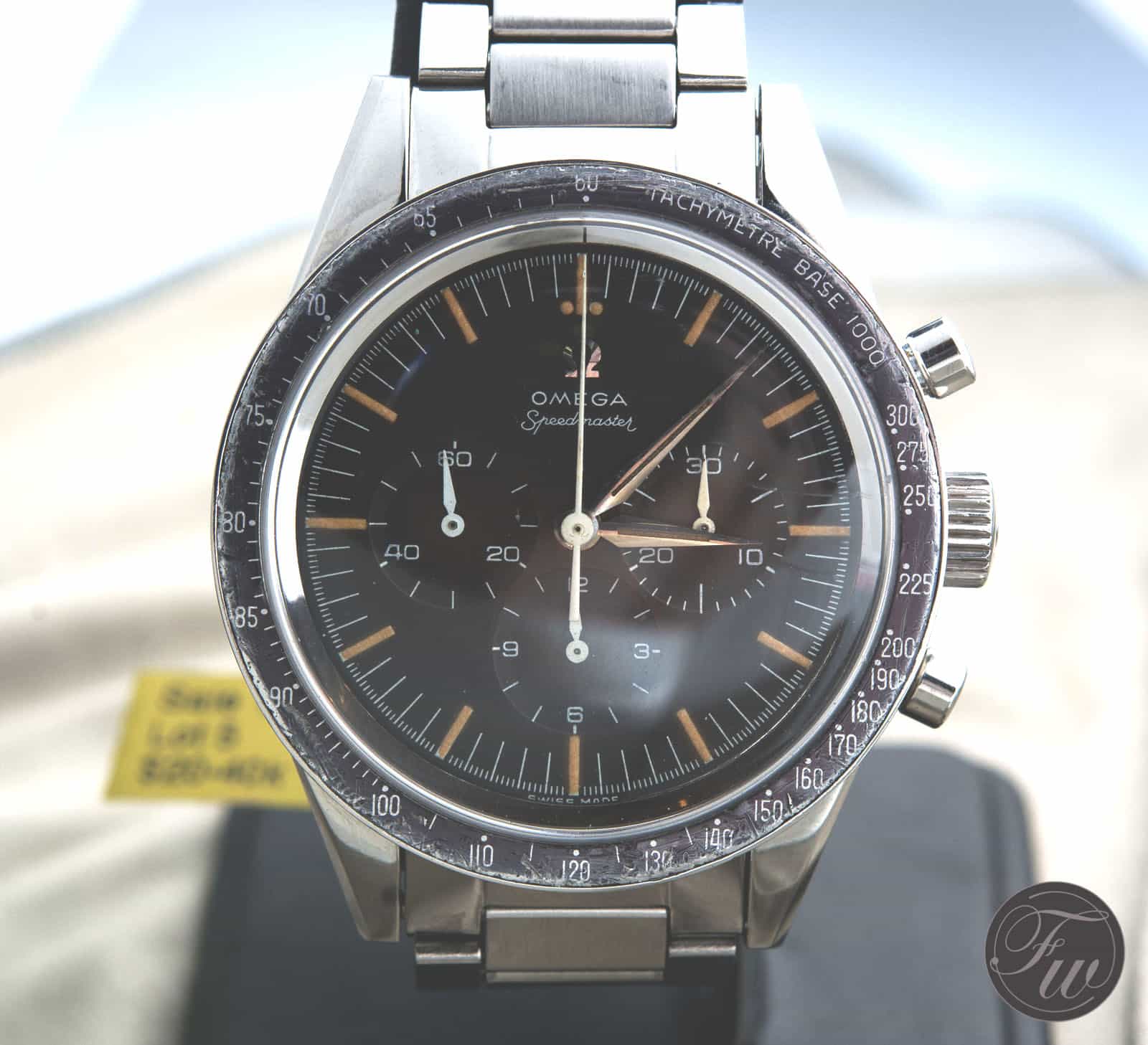 In 1959, the CK2915-3 reference was replaced by the second generation of Speedmaster watches, the CK2998. The Omega Speedmaster CK2998 was actually the first Omega in space, on the wrist of astronaut Wally Schirra during the Sigma 7 mission in October 1962. 50 years later, Omega did a tribute to that CK2998, with the 'First Omega in Space' Speedmaster and last year one in Sedna gold.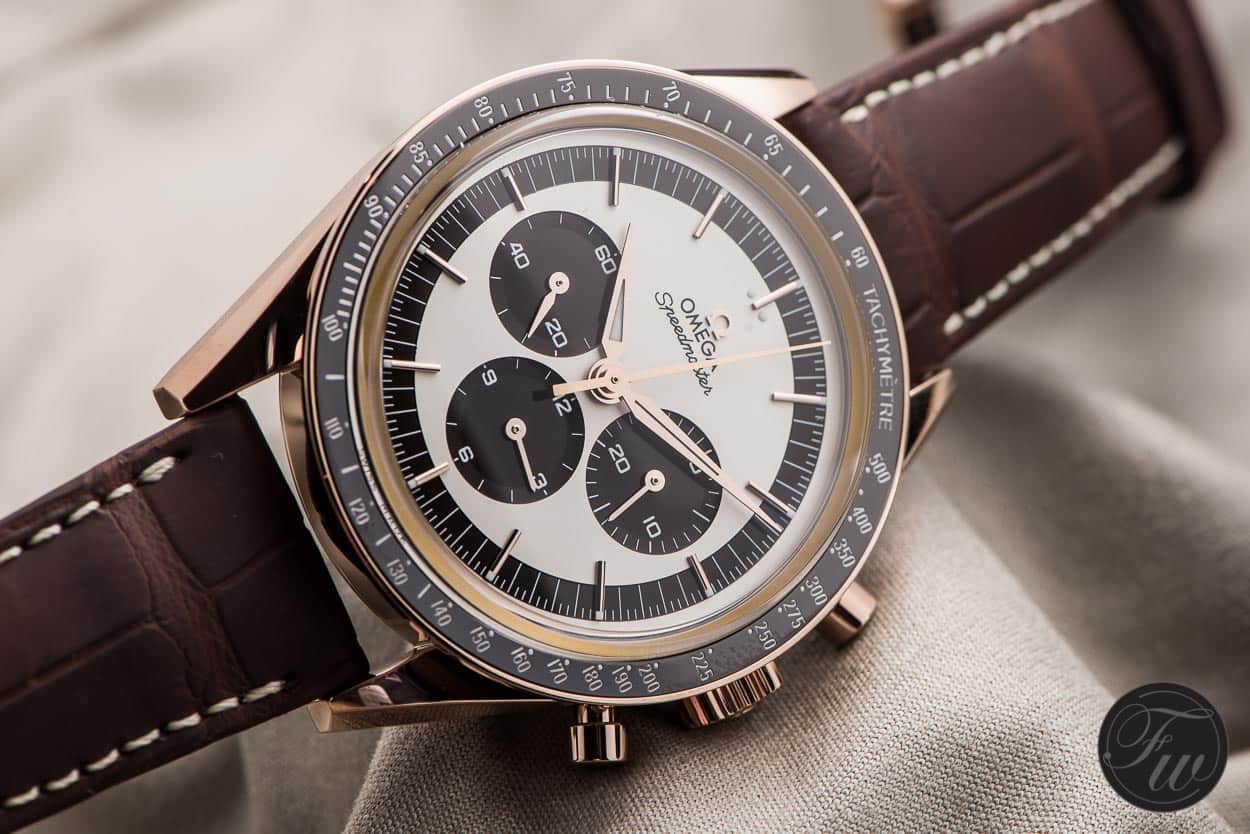 The original Omega Speedmaster CK2998 was in production from 1959 till 1962 and for only a few months, the reference coding system changed at Omega and they used 105.002 as a new indicator for the CK2998.
Now, the Omega Speedmaster CK2998 is a very sought-after watch and the market value on these watches have seen a very steep increase over the last 2-3 years. For me it is the holy grail Speedmaster (I am not so much in favor of the CK2915 design wise), but prices have risen to such a level that it has become impossible to get one under $20.000USD in a good (and wearable) condition. And with all the original parts, that is.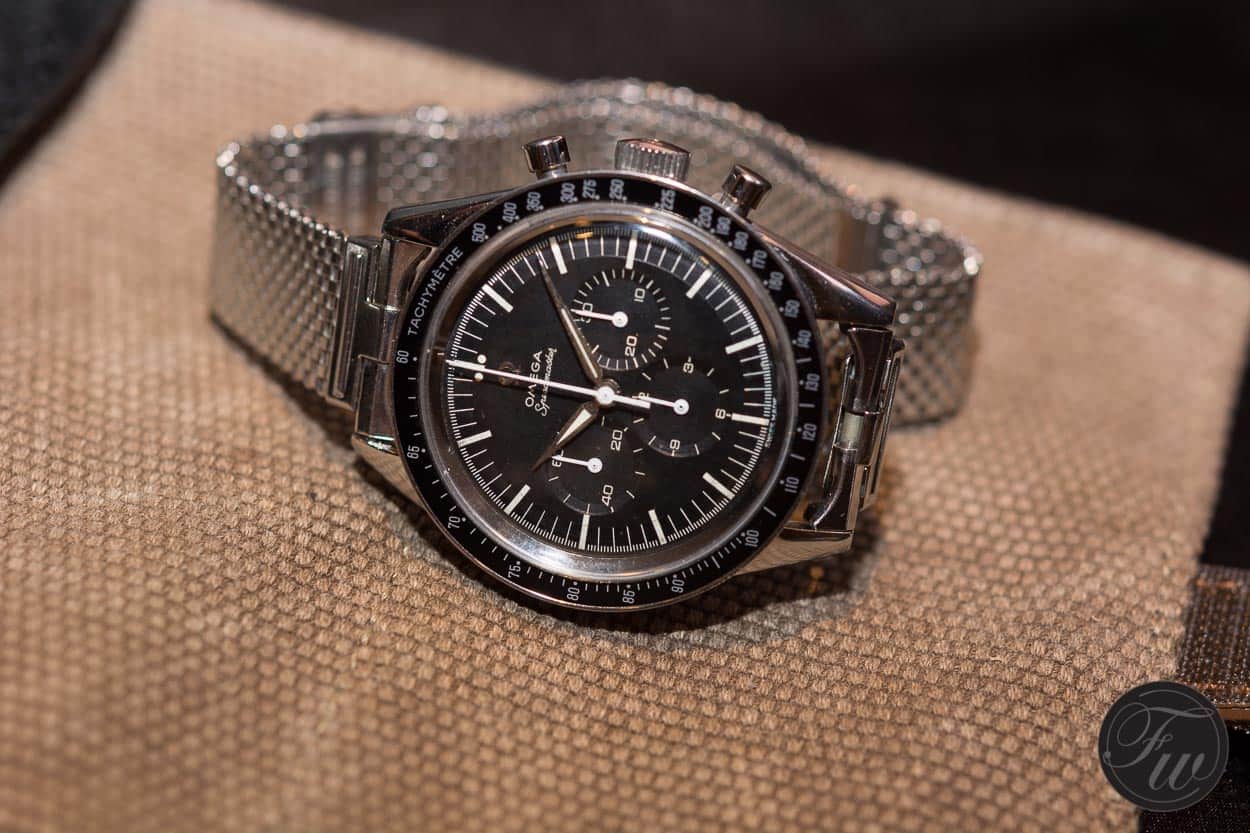 There are a number of CK2998 variations (-1 to -4 and -61 and -62 indicators after the reference number) that will show different configurations, mainly regarding hands. These watches inspired Omega to come up with the new limited edition Speedmaster CK2998.
Omega Speedmaster CK2998 – Tribute
Omega refers to the Speedmaster "CK2998" as an updated model for a new generation of fans. That is basically what it is. People who love the look of the reference CK2998 but want something more modern, like Omega did with the re-editon of the Speedmaster Mark II Co-Axial for example. The "CK2998" will be a perfect watch for everyday wear, while you can imagine what a bit of damage or wear will do on the value of the Omega Speedmaster CK2998 from somewhere between 1959 till 1962.
I don't believe that people will buy the "CK2998" because the original CK2998 watches are price around $20,000.- and beyond. It is a different type of customer, although there will always be exceptions to it. Same goes for Speedmaster purists though. People who buy the Moonwatch variations, from the CK2915, CK2998, 105.003, 145/105.012 and onwards are probably more interested in the 'real deal'. To each his or her own of course!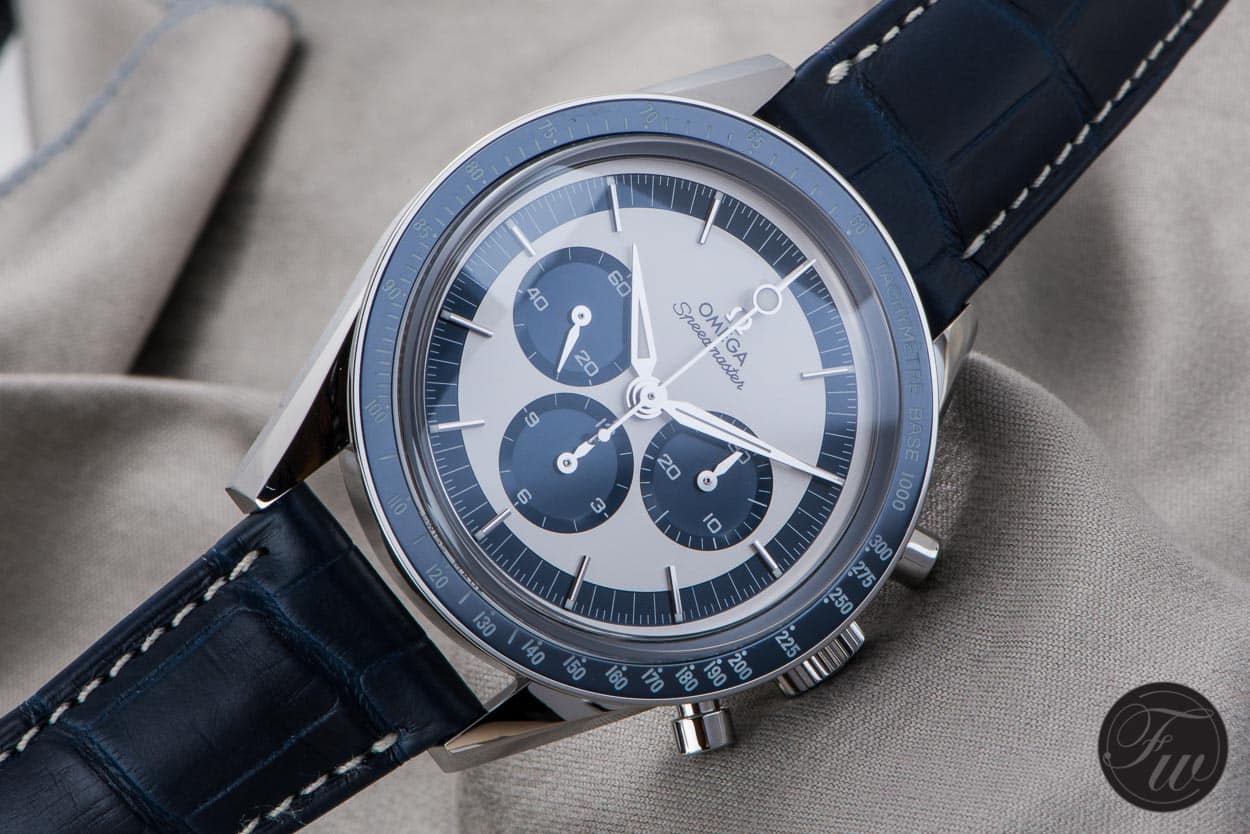 Let's have a look at the watch. The first thing to notice is the use of colors. Blue ceramic bezel and blue sub dials combined with a white dial and silvery alpha hands and a lollipop second hand. The dial has a blue outer ring with the minute track and applied hour markers. Furthermore, the Omega logo is applied to the dial instead of printed like the regular 'Moonwatch'. On the front, there is a sapphire crystal.
The watch case measures 39.7mm and is therefor a bit smaller than the 42mm Speedmaster Professional. The case is influenced by the straight-lug models like the original CK2998 (and CK2915 and later 105.003), there are no crown guards. The back of the watch has a big embossed seahorse and engraved with the CK2998 reference, the fact that it is a Limited Edition and the unique number of the watch.
Yes, this will be a limited edition with only 2998 pieces in total. It is a bit of an Omega thing to use the number of pieces equal to the year of the watch (or mission). Last year we've seen the Silvery Snoopy Award (belonging to the Apollo 13 mission in 1970) limited to 1970 pieces, the year before that there was the Apollo XI limited edition limited to 1969 pieces and so on.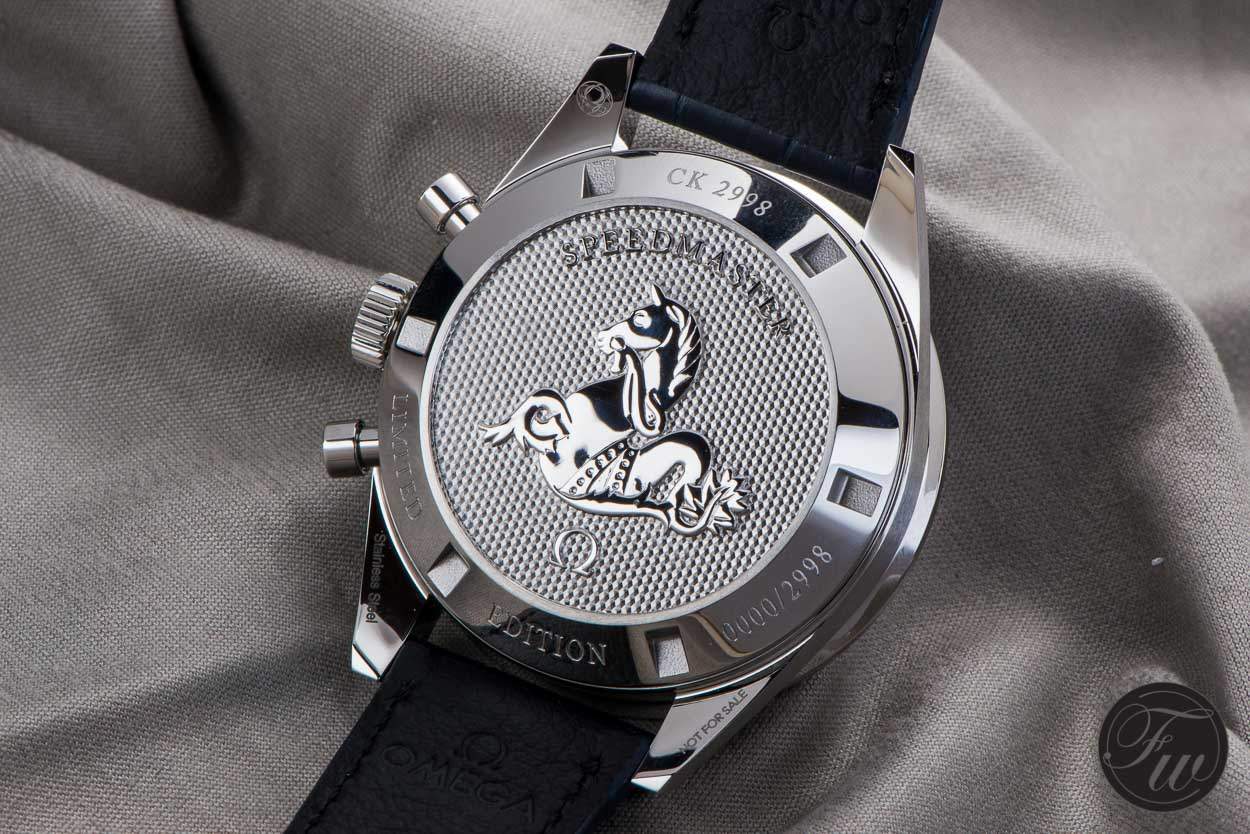 The Omega Speedmaster CK2998 reference 311.33.40.30.02.001 uses the same movement as in the Speedmaster Professional, the Lemania based caliber 1861. This hand-wound movement has been used for Speedmasters since 1968, be it in various executions (started with the caliber 861). A very reliable and solid movement that also was used in the 145.022 watch that was being tested and re-certified for NASA's Space Shuttle missions in 1978 (the first Space Shuttle mission was in 1981). The original Omega Speedmaster CK2998 had the Lemania based caliber 321 as you know, a column-wheel chronograph.
Some collectors complain that Omega isn't using a re-produced caliber 321, but the license for using that Lemania movement is currently with Breguet and Hayek doesn't seem to release it for use by Omega. At least that is the rumor. It would be awesome to have the caliber 321 back again in hand-wound Speedmasters, be it with a Co-Axial movement (as long as Omega doesn't print that on the dial of the 'Moonwatch'). It would be worth the 'price upgrade' for many collectors I think.
Anyway, the Lemania based Omega caliber 1861 has a fine track record and I've yet to come across real complaints about it from buyers.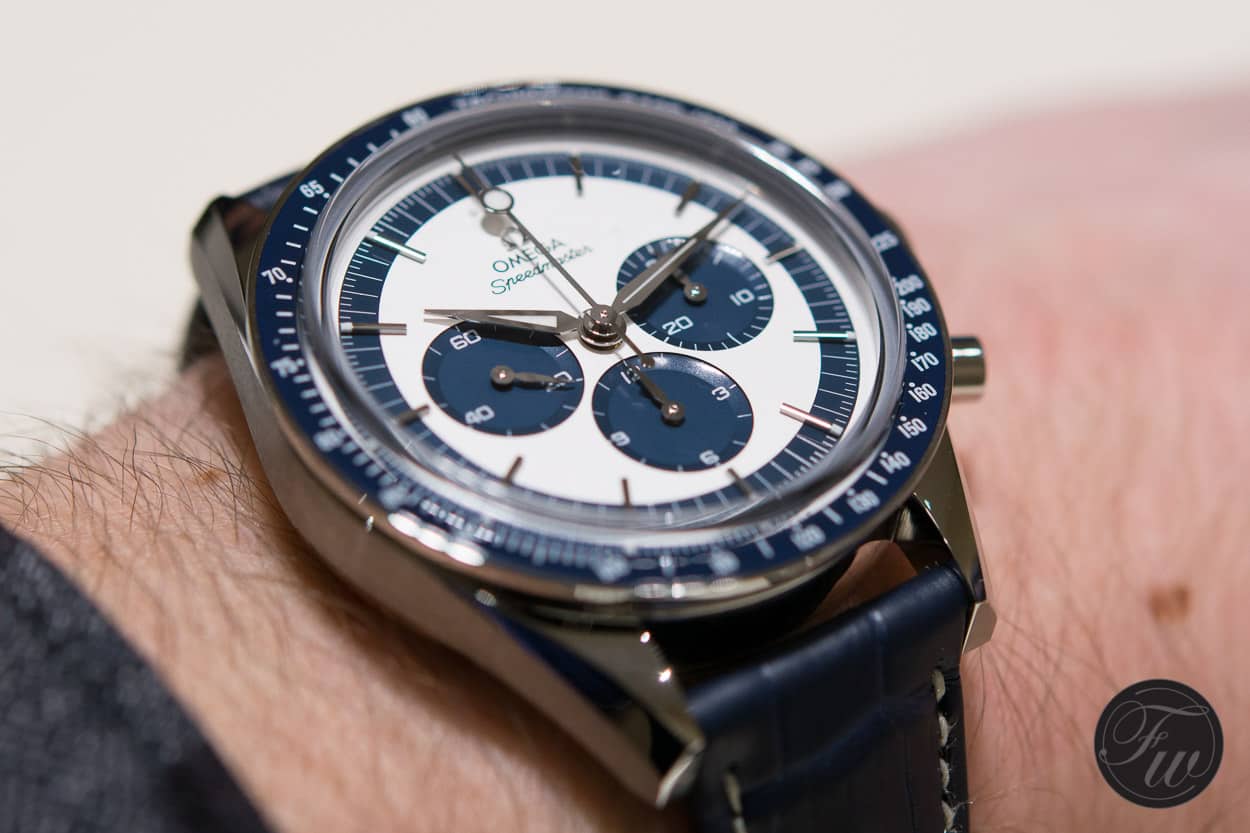 The "CK2998" comes with a blue strap that matches perfectly to the blue accents on the watch, as well as nice white stitching.
As you can see on the picture above, the watch actually wears relatively big despite the very modest size of 39.7mm. It would definitely fit me, and I have fairly big wrists as well it would fit Michael Stockton, who has baby sized wrists. It is a perfect 'in between sized' chronograph, matching the size of the original CK2998.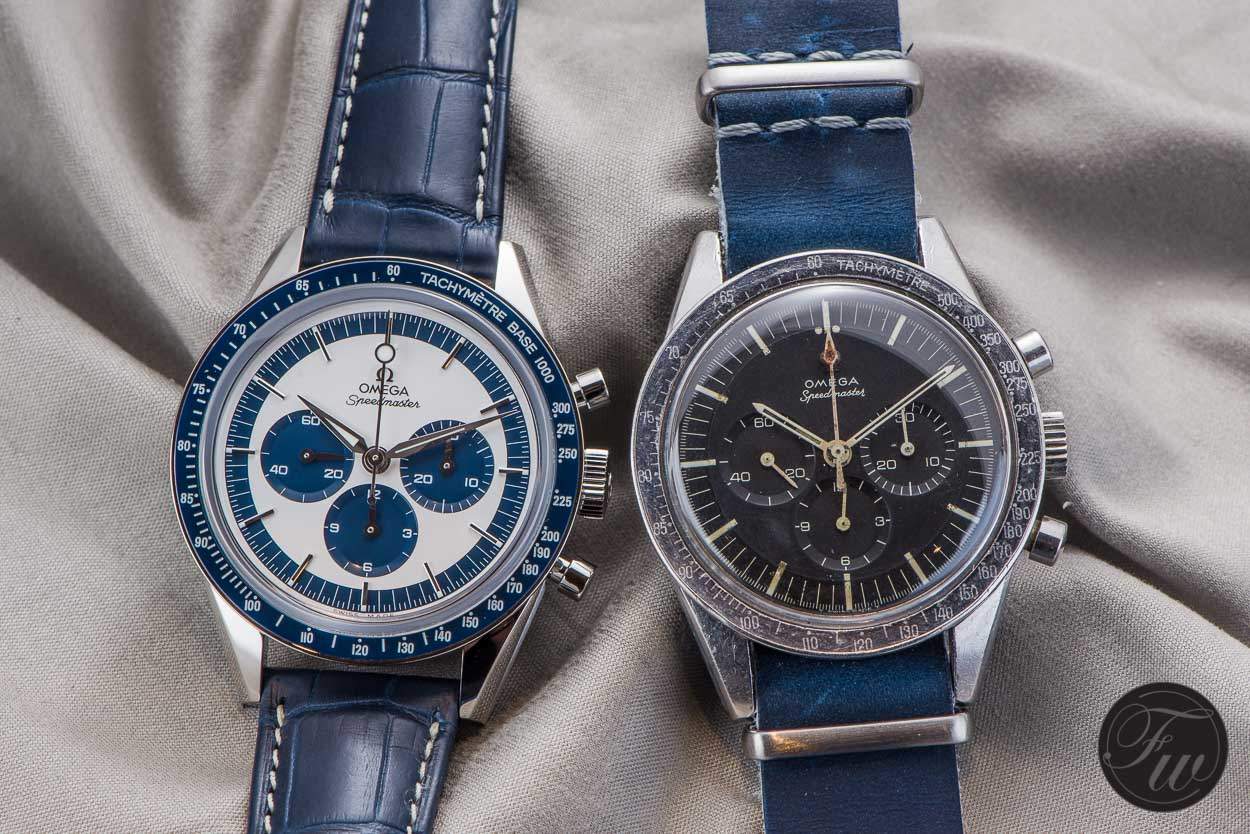 Above you actually see the Omega Speedmaster CK2998 next to a Speedmaster 105.003 'Ed White' (same size), both straight lug models (19mm between the lugs).
Sold Out
Omega reported that the Omega Speedmaster CK2998 is sold out already. This means however, that all 2998 pieces have been ordered by Omega retailers and boutiques. It does not mean actual sales. This phrase "it has been sold out in one day" during Basel is something I've heard more often, but can be confusing. But it does show that retailers have high hopes for this watch, like the Snoopy last year. A Speedmaster Pro Limited Edition that fetches phenomenal prices on the market right now (12-13K Euro) as it is really sold out, to consumers. Same for the Apollo XI limited from 2014, that fetches between 8-10K Euro these days.
However, a few things are different here. A limited edition is not a guarantee for steep increase on value. The Apollo XVII and Apollo-Soyuz with meteorite for example, are nice watches for sure, but they are either still in stock or easy to get on the pre-owned market. The meteorite Apollo-Soyuz model from 2009 for example, is relatively easy to get (even new!) as the list price was quite high for a modern Speedmaster (€6900 Euro). The Apollo XVII has to deal with another problem, the design. It is so 'awkward' with the silver coin as dial and printed logo on the crystal, that there are only a few fans around of that model. It is available for under list price on the market, even new.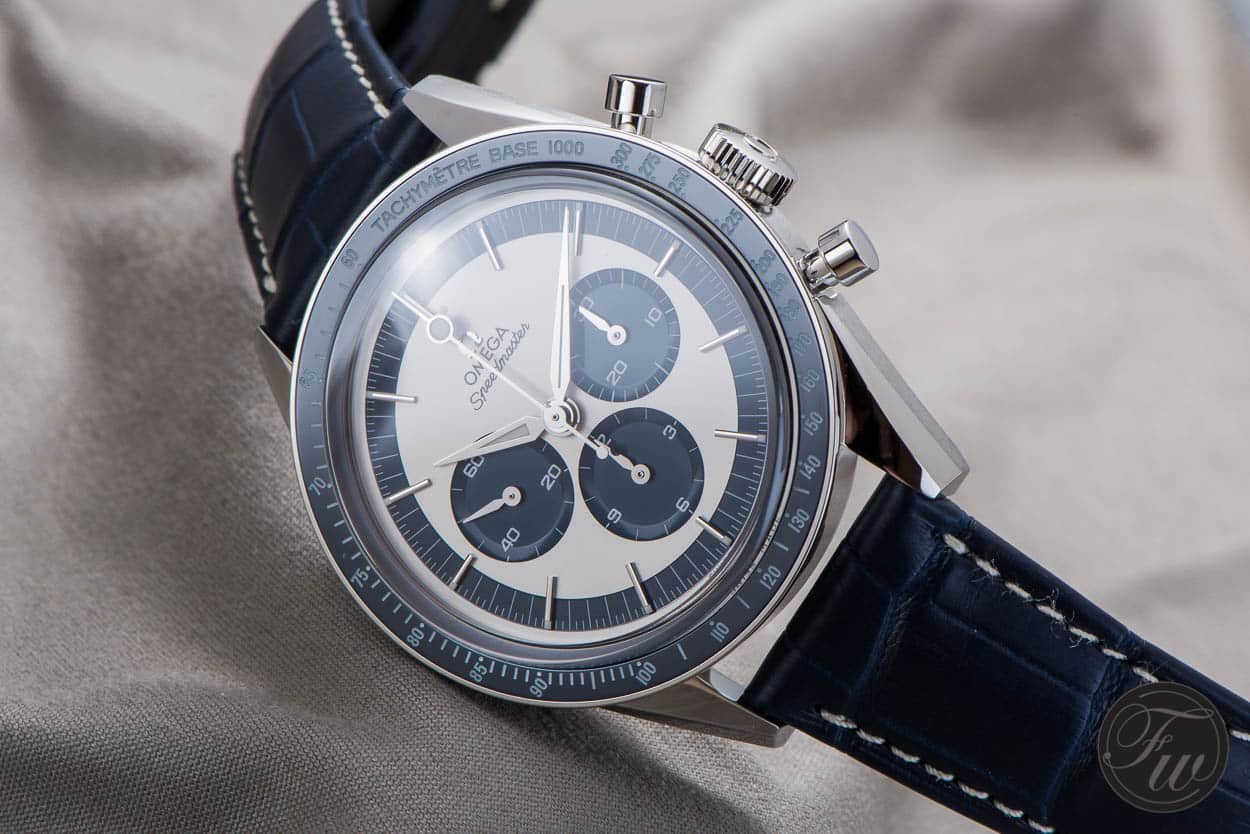 So not every mission piece or commemorative model is bound to be a 'good investment'. I hate to talk about investments, as you should buy what you like and don't gamble on these watches to increase in value, but that's what I hear how people look at the Omega Speedmaster CK2998 a bit, hoping that it will be as successful as the two previous limited edition models and make a quick buck.
Another point is that the new Speedmaster CK2998 is not really a "Moonwatch", the use of a sapphire crystal isn't that uncommon, but the case back and fact that it is more or less a 'tribute' of the CK2998 makes it a bit 'awkward' in the line of Speedmaster 'Moonwatch' models. It is also not a 'Professional' (the original CK2998 wasn't either). Also the '57 Replica (they really called it replica!) that was introduced in 1997 (and also part of the big white mission cases) also haven't seen much 'increase' in value while it was only in production for a couple of years. It was what it was, a re-edition of the original CK2915 but in a normal 'Professional' 42mm case and with the Lemania 1861. Probably that makes the new CK2998 also nice, but it is not really in the line of Moonwatch models, as it is a modern variation on a vintage model or a new modern Speedmaster influenced with design elements from something in the past. While the Snoopy is also a bit awkward with a white dial, enamel & silver caseback and ceramic bezel, it is still being regarded as a 'Professional' and has the luck that is commemorates a NASA mission.
This might sound a bit negative here and there, but it really is a nice watch. A perfect watch for every day use and a perfect addition to your watch collection, whether those are vintage or new (Speedmaster) watches. I wouldn't mind owning it, or the Sedna gold edition of last year for that reason, but I would much rather spend it on a Speedmaster Professional as that fits my own collection of Speedmasters (new, vintage and limiteds) much better.
The Omega Speedmaster CK2998 311.33.40.30.02.001 will be available per July 2016 and has a list price of 5400 CHF (including sales tax). More information can be found on the official Omega website.