Oris Big Crown Pointer Date Movember Edition 2018 Review
We reported about the Oris Movember Edition 2018 before, but our focus was mainly on the good cause it supports, not the watch. I assume you also want to know about the watch, not only the cause it supports. So we requested a Big Crown Pointer Date Movement Edition 2018 for a review, and here it is.
Oris Movember Edition 2018
This watch goes by the name of 'Movember Edition 2018', but in fact, I am looking at a Big Crown Pointer Date model with some tweaks. As I wrote in the past, compared to the 'standard' Big Crown Pointer Date in 40mm, this Movember Edition has rose gold coloured hands (4N) and a matching gilt minute track on the dial. The writing is also in this gold colour where-as the Arabic numerals are white. Just to compare, the standard original Oris Big Crown Pointer Date watch has steel hands, a white minute track and green-ish Arabic numerals. But instead of focusing on the differences between the regular Oris Big Crown Pointer Date, let's have a look at this specific Movember Edition 2018.
The full reference number for this Oris Movember Edition 2018 is  01 754 7741 4037-Set LS. It comes in a really nice set: a leather pouch with canvas inside, with space for two watches, or one watch and an additional strap. In this case, you receive a NATO strap with the Movember Edition 2018. We have the watch on leather though, with the typical Movember logo located between the two stitches on each side.
This leather pouch comes in a grey box, where you will also find the warranty card, thick manual and service booklet. There are also two extra push-pins inside, just to be sure.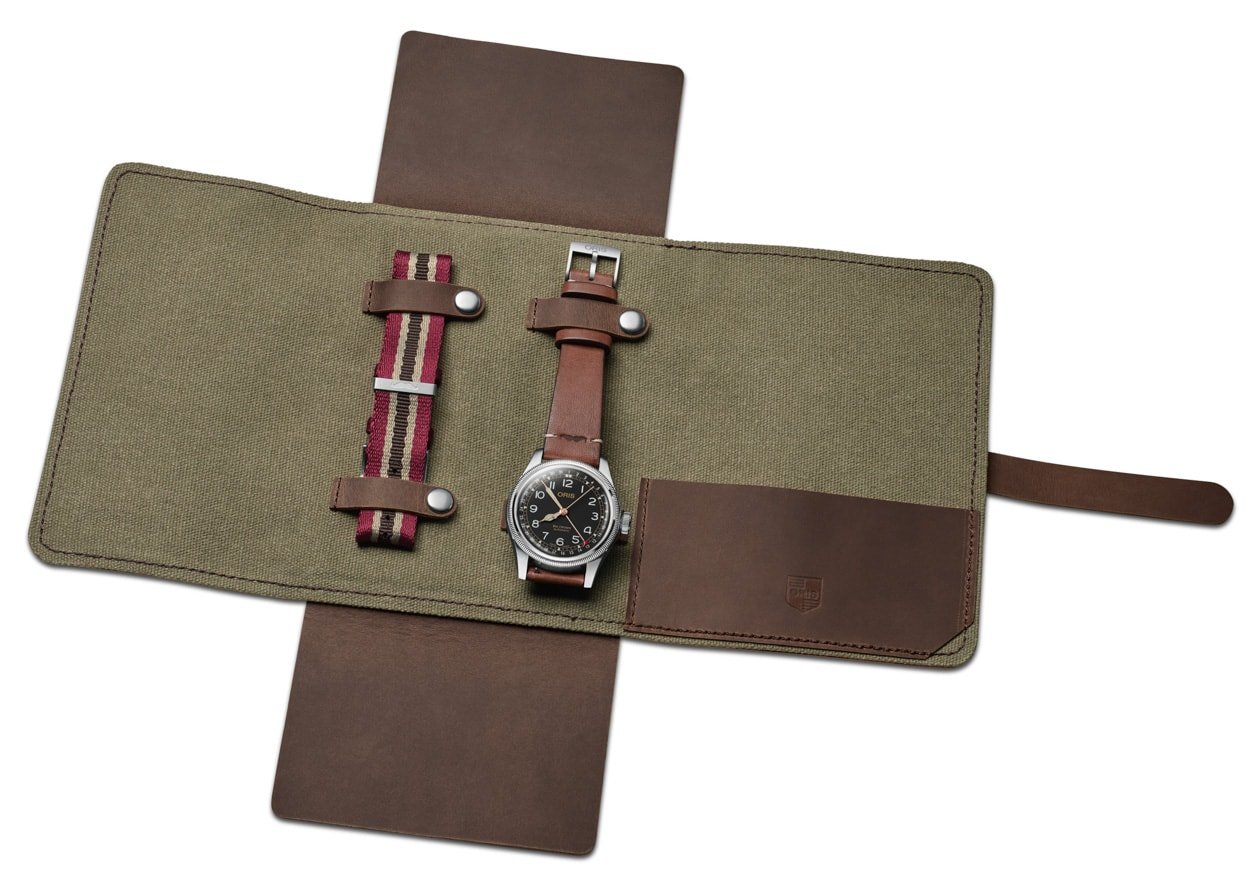 Big Crown Pointer Date
The Big Crown Pointer Date has been in the collection of Oris for a very long time. 80 years to be precise, which Oris celebrates with the bronze version of this watch (we covered it here). Below, you see an image of the Movember Edition 2018 I have here and one of the early Big Crown Pointer Date watches that Oris produced. It is one of the classic Oris watches that always remained to be in their collection. Perhaps it is the backbone of the Oris collection. In any case, I am happy to see that Oris decided to go with the Big Crown Pointer Date for this Movember Edition 2018 instead of another version of the Sixty-Five diver. Although I am a fan of that watch too, I think it is a nice change.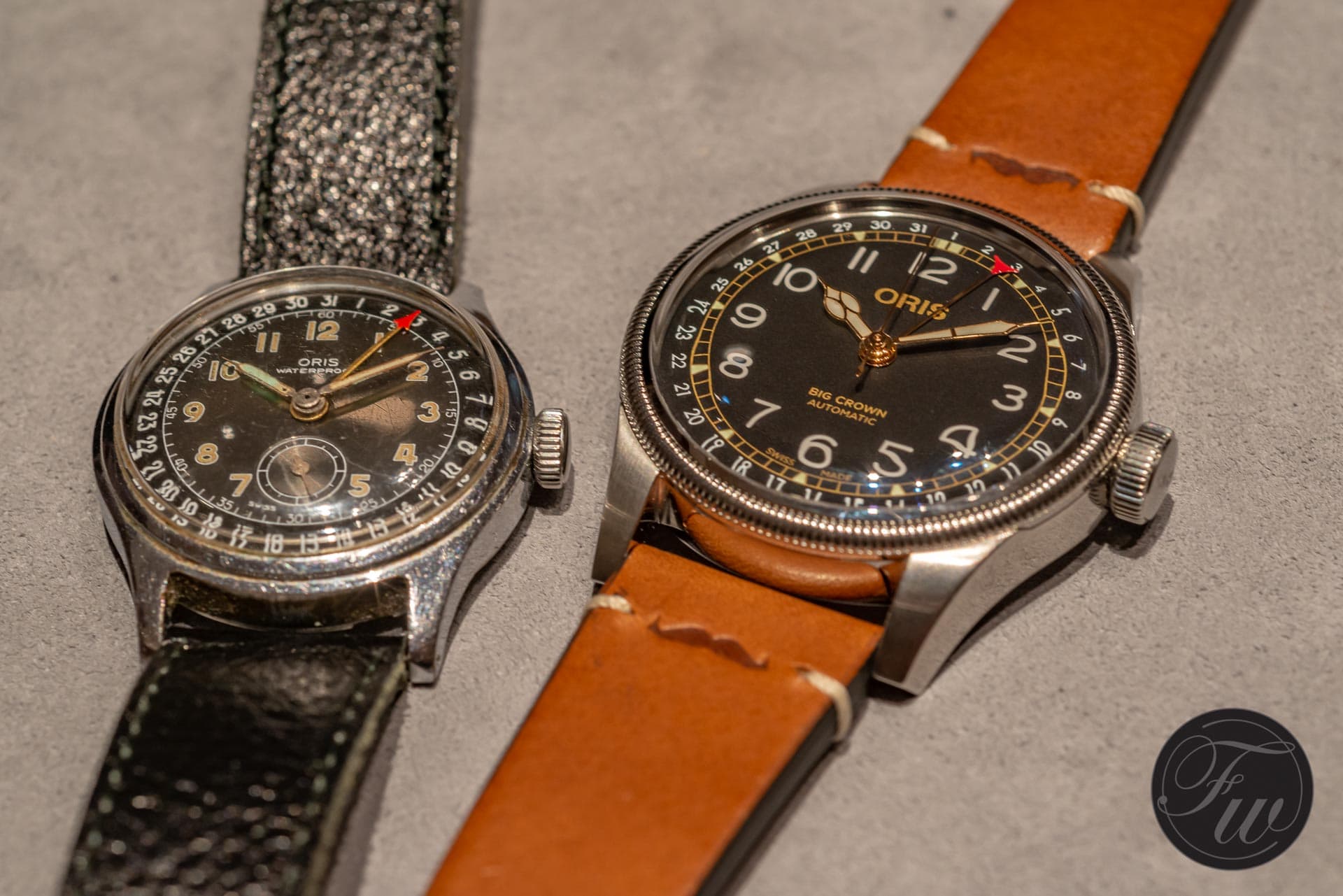 To be totally honest with you, I never handled an Oris Big Crown Pointer Date before this Movember Edition and the 80th-anniversary edition. I know, it is a bit embarrassing but it is true. I have to say that one of the reasons was that the watch just looked a bit too classic to me and I am not particularly a fan of a pointer date. Taste changes over the years I've noticed and I actually re-discovered the Big Crown Pointer Date again. It would suit me better now than it did 10 years ago, for sure.
Caliber 754 Movement
Inside this watch we find the Oris caliber 754. Although Oris does have some manufacture movements (as reviewed here for example), for this caliber 754 they rely on the Sellita SW200-1 movement. It is the direct competitor of the much-appraised ETA2824-2. A power reserve of 38 hours, ticking at 28,800 beats per hour and basically a no-nonsense automatic movement. We visited the Sellita manufacture a while ago, which you can read about here. Given the price point of this watch (1800 Euro), we think it is perfect logic for Oris to use their caliber 754 and not an in-house movement.
Case and Dial
The name Big Crown might put you on the wrong foot, as the watch itself isn't very big with its 40mm diameter. A very humble size these days, especially for a sports watch (a classic looking one, agreed). Big Crown only relates to the crown, which came in handy for pilots to operate their watch with their pilot gloves on. It was in a time where watches were hand-wound most of the time (although the first automatic watch was already invented at the time, in 1923 by John Harwood), so a large crown was a necessity for those using gloves. For today's standards, the crown isn't exceptionally large, but very sufficient. Since the movement is self-winding, you will only need it to correct time and date. Although you can probably do so with the watch on your wrist (and even using gloves), I recommend to only set or correct a watch when you have taken it off your wrist. This to prevent too much tension on the winding stem.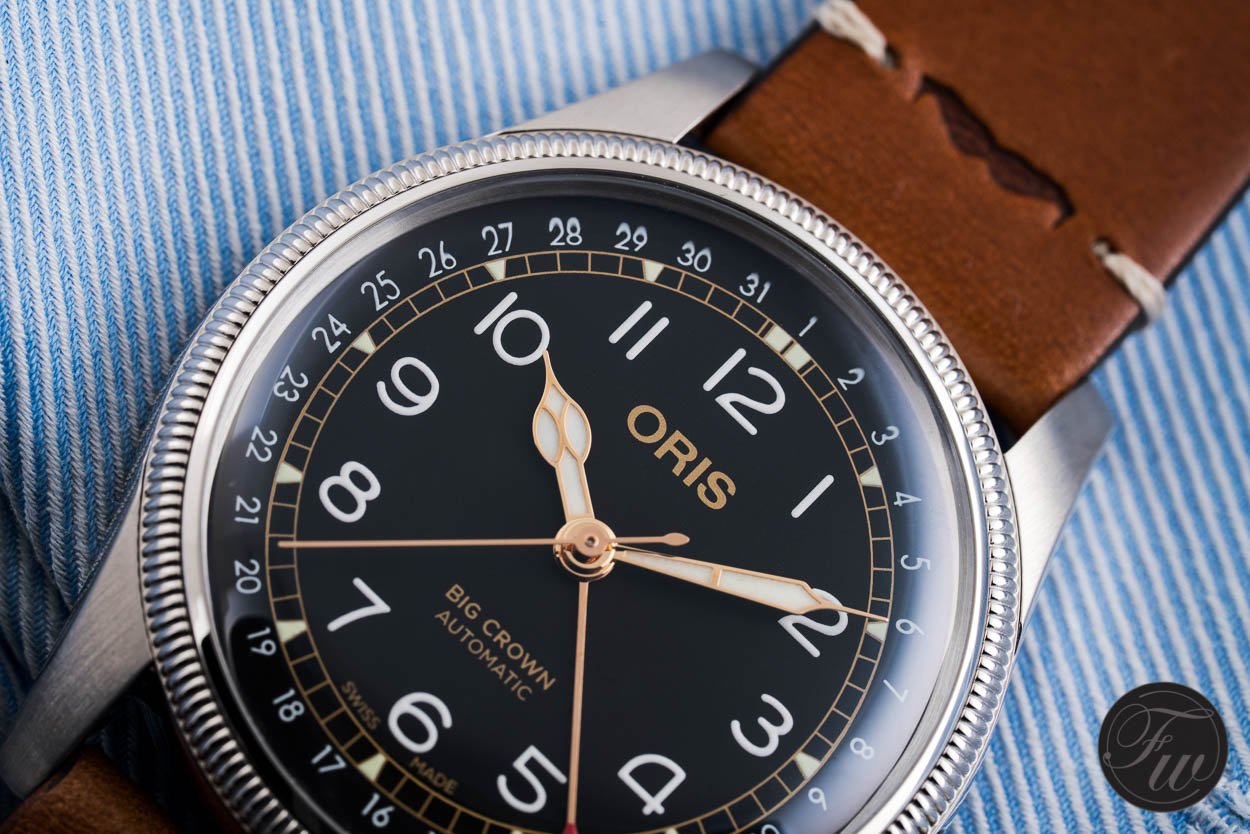 The hands used by Oris are also referred to as 'Cathedral hands' and are filled with Super-LumiNova for visibility in low-light conditions. There's a fourth hand, which is used for pointing the date. On the scale (to 31) outside the minute track, you will find the days of the month. Every other 5 minutes on the track there's a luminous triangle and at 12 o'clock two luminous squares. The gilt minute track matches the rose gold coloured hands very nicely. The pointer for the date has a red so you can distinguish it easily from the long and sleek rose gold seconds hand. As you can see below, printing is done in white and gilt, giving a good contrast with each other and with the dial. You can also see how the dial is being distorted a bit by the domed (sapphire) crystal.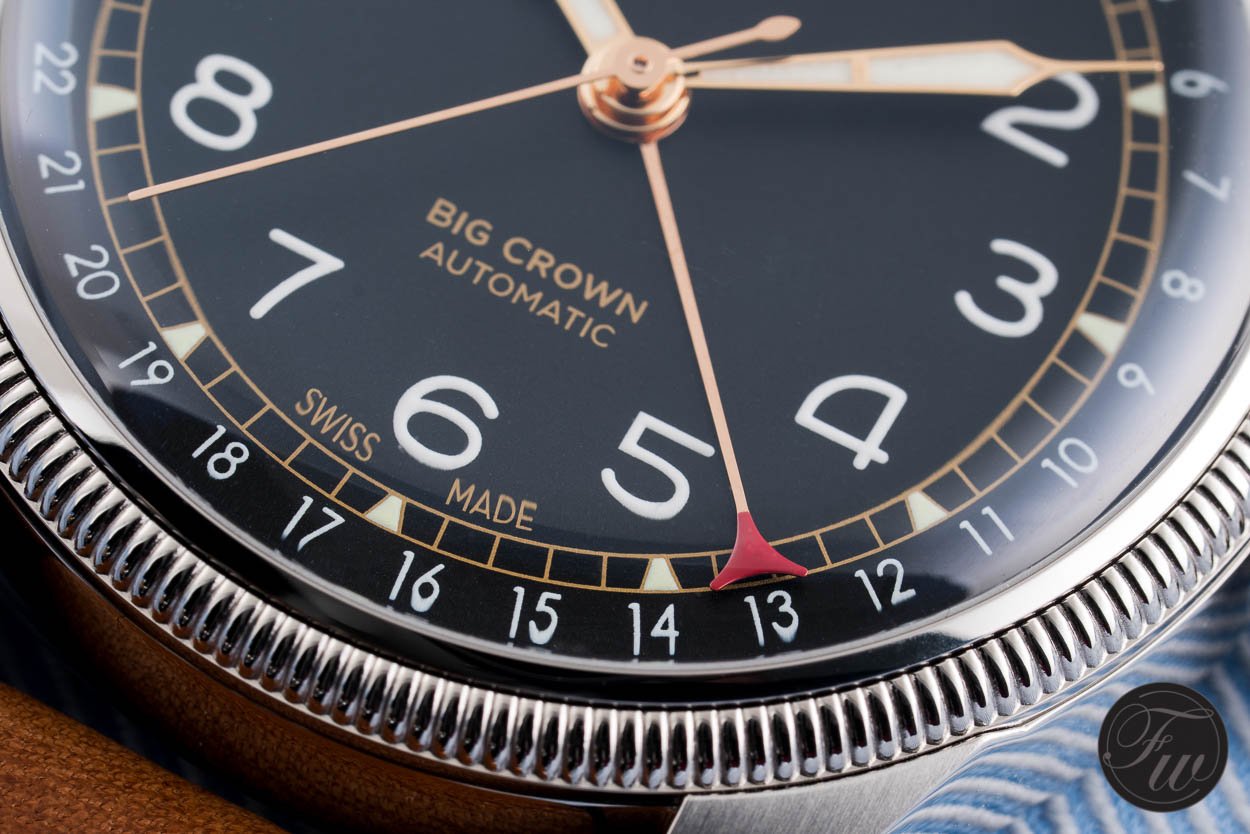 The stainless steel case has a diameter of 40mm as indicated above and fits my wrist nicely. I could handle a larger watch but also given the fact that this watch was much smaller originally, I like the 40mm size.
A brushed finish on top of the lugs give the watch a utilitarian look and feel, and the polished sides give it a nice contrast. I wonder what would happen if the entire case would have been brushed, but I surely don't mind the nice combination of brushed and polished surfaces. The ribbed bezel looks nice, but as you can see the vintage Big Crown Pointer Date had a smooth bezel. Perhaps they also had versions with a ribbed bezel though. It looks good, I prefer it over a smooth bezel.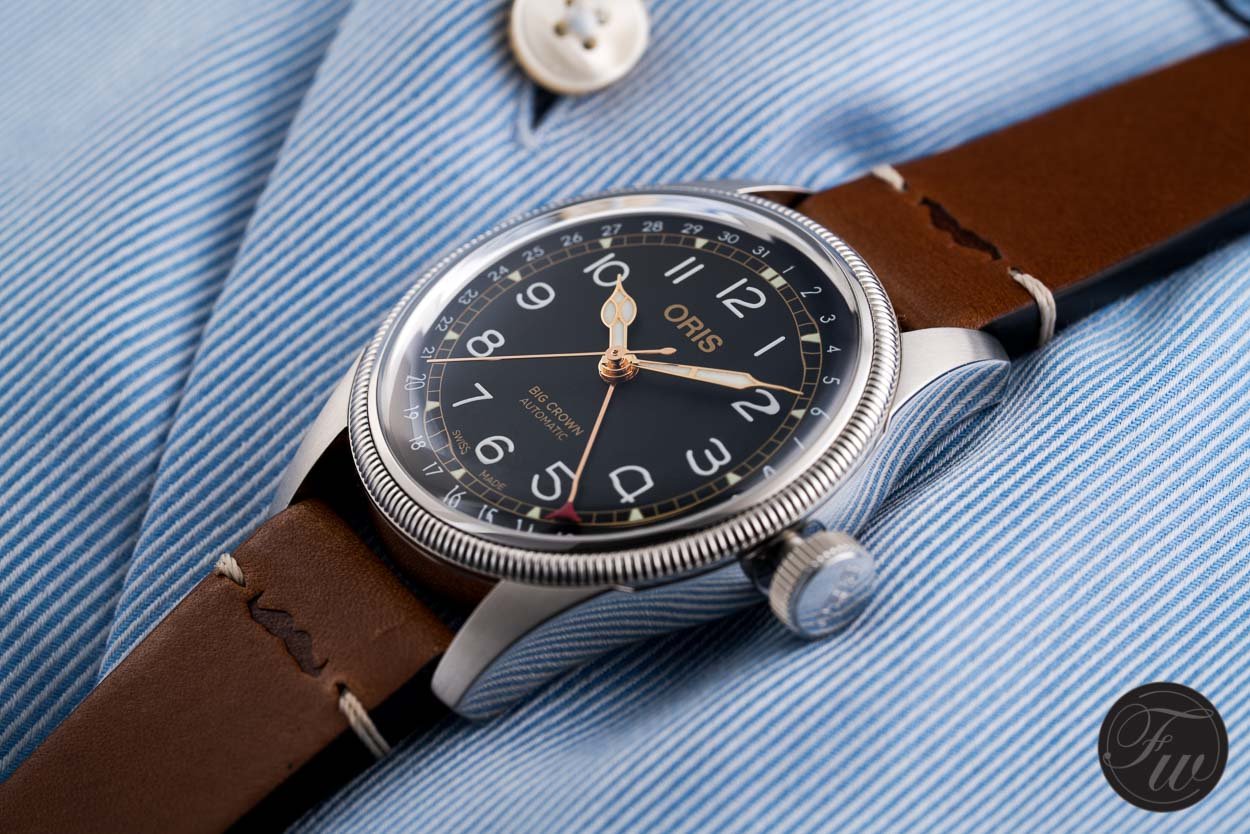 The case is made of 316L grade steel, like most other brands out there (Rolex uses 904L for example). On the back you will find a solid caseback with all the engravings Oris deemed necessary. It clearly indicates that this watch is the Movember edition, in case you were wondering. Then there's the indication of its water resistance of 5 bar (~50 meters), a few (serial and reference) numbers and that it has a sapphire crystal. I could have done without a few of these indicators, but perhaps others like to have some specifications on the caseback of their watch. Leaving a bit of space on a caseback could be interesting for those who want to have something engraved. I once went out to search for a watch for my – then soon to be – wife, and have it engraved. She once told me she liked a Cartier Tank Française but I found out that those casebacks have 'necessary' engravings all over. No room for any custom engraving. I know some purists really dislike custom engravings on casebacks (unless it says Drive Carefully), but the world of watch consumers does not only consist of purists. Anyway, something to think about.
On the image below, you will see that the crown is screw-down, to prevent moisture and dust entering the watch case.
Leather Moustache Strap
The Oris Big Crown Pointer Date Movember Edition 2018 I received only came with one strap, and a note that the NATO strap will be available early January, so I can't comment on that. The leather strap though is brown and has these 'vintage' stitches at the lugs. It also comes with two push pins that can easily be removed without using a tool, as they have this cut-aways on the inside, where you can pull a little lever that will release the tension on the push pin. Great system and if I am not mistaken, Patek Philippe was using this system very early on.
Not on the pictures we took, but the strap comes with a stainless steel buckle signed with 'Oris'. Two small stitches are positioned just between the buckle and the fixed leather keeper. I have to say that the strap is relatively stiff at first, but these calf straps are known to become more supple over time. Each strap part has the moustache logo marked in there, which doesn't really bother me. Actually, you can be proud to have it on there, giving the cause that is being supported by purchasing this watch.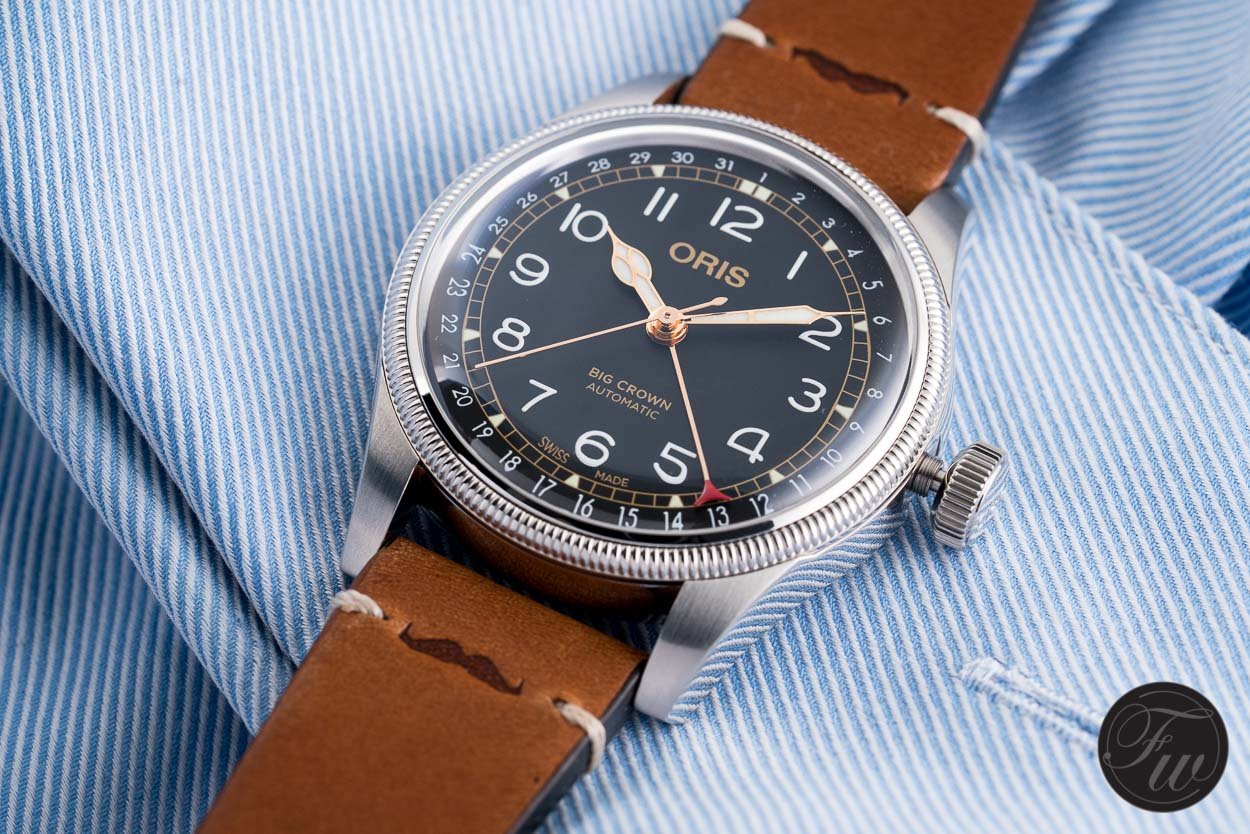 Conclusion
Price and Availability
The Oris Big Crown Pointer Date Movember Edition 2018 has a retail price of 1800 Euro and is available at your local Oris authorized dealer or boutique.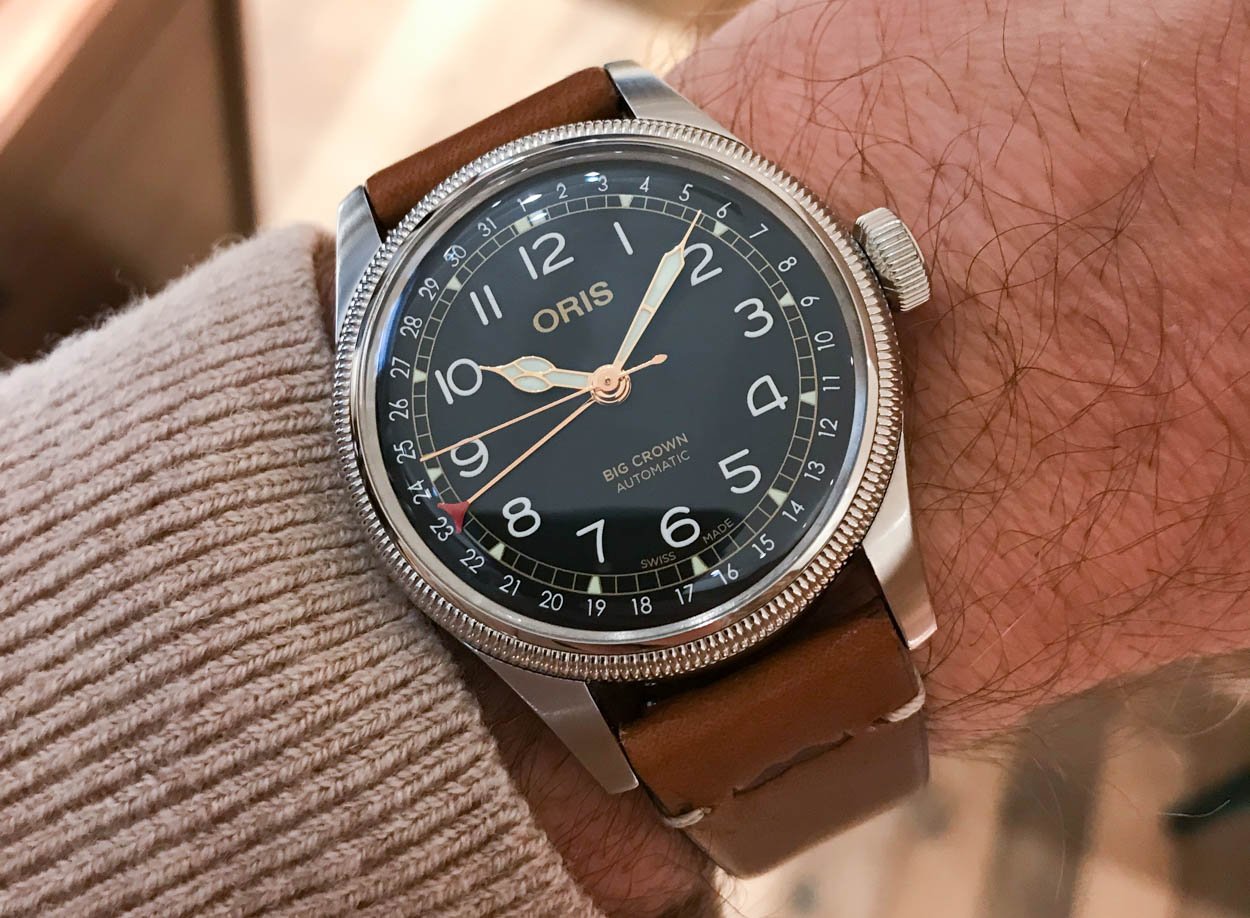 Thoughts
Aside from the support for Movember, this is just a very interesting watch. It is a bit of an under-the-radar icon, as it has been there 'forever' and never really left the Oris collection. Nevertheless, it was off my personal radar for a long time and this Movember Edition 2018, as well as the bronze version, put it back on there again. I might even favour the Big Crown Pointer Date over the Sixty-Five diver that everyone is so excited about. This 40mm Oris Big Crown Pointer Date is a nice watch on the wrist, suitable for everyday wear, and comes in a nice watch pouch (I wish more brands would do this, as they are really more useful than a big leather or wooden box). The watch also performs nicely in the evening, due to the lumed hour markers and hands.
Aside from the very tiny amount of criticism here and there in my review above, it is just a good watch. And sometimes that's all one needs, just a good watch. And one that makes sense price wise, and this Oris definitely does with its 1800 Euro list price. There are a few dozen variations on the Oris Big Crown Pointer Date (I kid you not), and the original model starts at 1200 Euro. So if the price is an issue, Oris even offers it for 600 Euro less in a slightly different configuration (and excluding the goodies).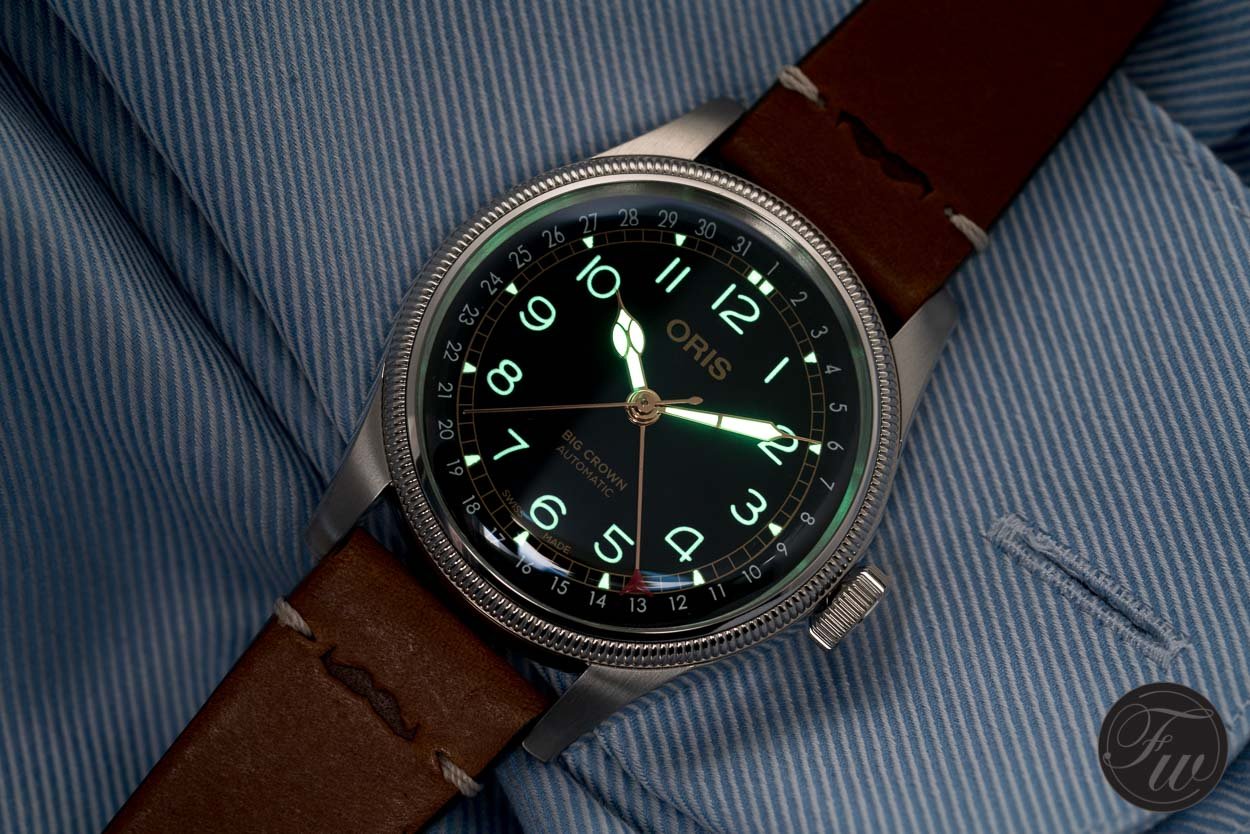 More information via Oris online.