Photo Report – Opening Of The Oris Boutique In Amsterdam
A new Oris boutique opened its doors in the heart of Amsterdam. The Hölstein (Switzerland) based brand chose a historic building at Rokin 48 to be their flagship for The Netherlands.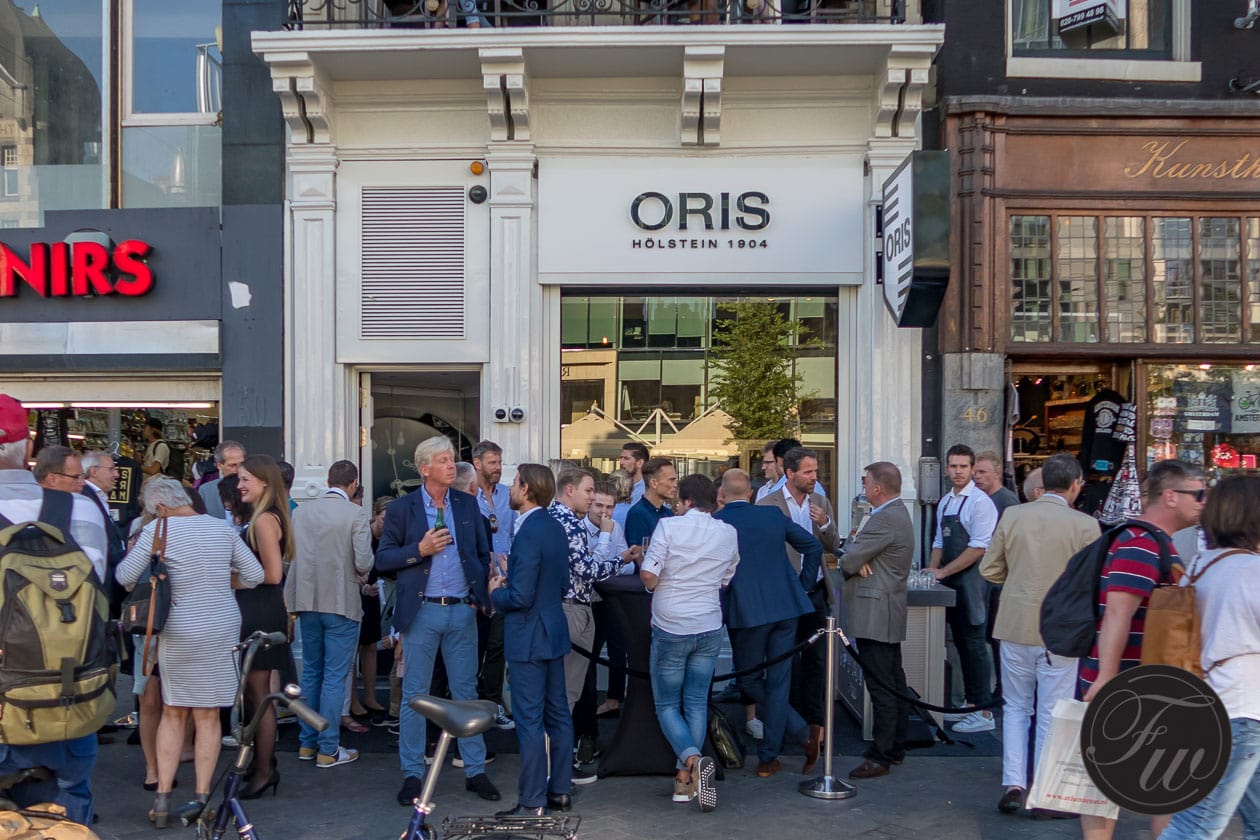 The 16th Oris Boutique
Oris, as well, was one of the brands which surprised us during last Baselworld with many interesting and attractive models. You'll find reviews of these watches here and here. And at this point, we would like to mention Oris' ongoing effort to help save the oceans as well. The last initiative in this field was with the Coral Restoration Foundation, from which you'll find our report here.
On to the opening. The evening started with welcome drinks and some quality snacks. Quickly the new boutique filled up with watch aficionados and some people from the press. While temperatures were on the rise inside, in front of the building it became equally crowded. It's nice to see that the people attracted by Oris are, very much like the brand itself, no-nonsense and highly interested in mechanical watchmaking. Some good discussions could be followed and quickly watches changed hands to be admired by others.
The Boutique
The new Oris boutique is nothing less than we expected from this sympathetic brand. Well built, beautifully but sparsely decorated, stylish and informative. With much space to stroll and drool around, and a professional Italian espresso machine to sip a coffee. While the main showcase area of the boutique is a half level downstairs, there's an intimate second floor as well to discuss important things. A vintage styled outside show window completes the boutique.

Opening by Oris CEO Rolf Studer
The official opening was done through a speech by mister Rolf Studer, Co-CEO of Oris. He shortly explained about Oris' history (since 1904) and where Oris stands for now as a company. Oris representatives from Switzerland were available for answering questions, as was the Benelux manager with his team.
To fortify the presence of the Oris Boutique in Amsterdam, even the tram which passes the Rokin (where the boutique is situated) is personalized with Oris Boutique visuals. Further street advertising can be found throughout Amsterdam
We'd like to finish this photo report by wishing Oris lots of success with their beautiful boutique! Oris #GoYourOwnWay
More information on the brand, history and current models can be found through their website here.