Pre-Owned Picks – A Breitling, Sinn, Omega, and two times a Rolex
Our preferred pre-owned picks for week 50
In this weekly Pre-Owned Picks series, a Fratello editor will select some watches from the pre-owned market and explain why it is an exciting offer (or watch). This week, we have two watches from Rolex (both with a 'touch' of gold), an Omega Speedmaster, a Breitling Aerospace, and a Sinn 142.
If you've been a reader of Fratello for a while now, you are probably aware that (especially) Michael Stockton and I have been going into the 'gold watches' direction for a while now. I have some gold Omegas, including two Speedmasters and several Constellations, either in gold or bi-color. It is a material I fought against for a long time, as I felt it isn't me, or perhaps because I felt too young to be wearing gold. But times (as well as insights and age) change, and I feel pretty comfortable wearing precious metals on the wrist. Michael also owns some gold Rolex watches, as can be read here and here.
Although gold (or platinum) is mighty expensive compared to steel, that's where pre-owned comes in handy. Often, gold watches (including bi-color) do not keep their value as firmly as their stainless steel counterparts. A good example nowadays is that the steel Rolex watches that are in high demand are as expensive (or even more expensive) than their pre-owned gold versions. I'd pick a pre-owned gold Daytona over a new modern steel Daytona any given day, for sure. But, perhaps Mike and I are alone on this. Nevertheless, I included some of the gold pieces that I wouldn't mind adding to my collection at some point. In collaboration with Chrono24, the world's largest watch market platform, I made a selection of 5 pre-owned watches that I find interesting.
Pre-Owned Picks of Week 50
To keep things sane, I also added watches that I dig without breaking the bank (that much). I have a very weak spot for the Breitling Emergency, for example. Although you can find them under a 1000 Euro on Chrono24, you will find some that are visibly damaged. When it's a rider tab on the bezel, I think that can be fixed, but then there's a visible malfunction of the LCD, that might become a tad bit expensive to repair. Then, a bit more expensive, I picked the Sinn 142. The old one, so to speak, with a Lemania 5100 movement inside. I have a very strong love for these and regret the day I sold my Sinn 142 St.S in the early 2000s. It was a very cool watch. Last but not least, since I am a Speedmaster guy (so I guess some of you expect me to as well), so I added a Speedmaster Professional from the 1980s. And later on, I will tell you exactly why.
First things first, let's start with some gold.
Rolex President Day-Date 118238 (€16.200,-)
As I wrote in this lengthy article right here, the reference 118238 is the one that ticks a lot of boxes for me. The 36mm case is the most refined version, in my opinion, as the profile and design ratio are just spot-on compared to the Day-Date II and later Day-Date 40. The 118238 has a solid bracelet, compared to the 18238, meaning all links are solid (instead of a hollow center link), and the clasp is a bit different. The 118238 is, therefore, also a bit heavier than its predecessor. The caliber 3155 movement is outstanding and was introduced in 1988 already for the 18238. The first reference with a double quickset, meaning that the day and the date can be advanced separately without advancing the hands 24 hours. What makes this particular Rolex Day-Date 118238 special is the beautiful ivory pyramid dial. This offer comes from Spain and is complete with box and papers. This is a watch I could wear daily, if the circumstances permit, of course. The production year of this Rolex Day-Date 118238 is 2012, so not even that old. This might not seem important, but as you know, these gold bracelets tend to stretch over time. So very old Day-Dates sometimes have bracelets that are so stretched, the gaps between the links are almost as big as the links itself. That's not something you should be after. So if this Day-Date isn't for you, make sure you pay attention to the bracelet of other offers. You can find the offer on this Rolex Day-Date here.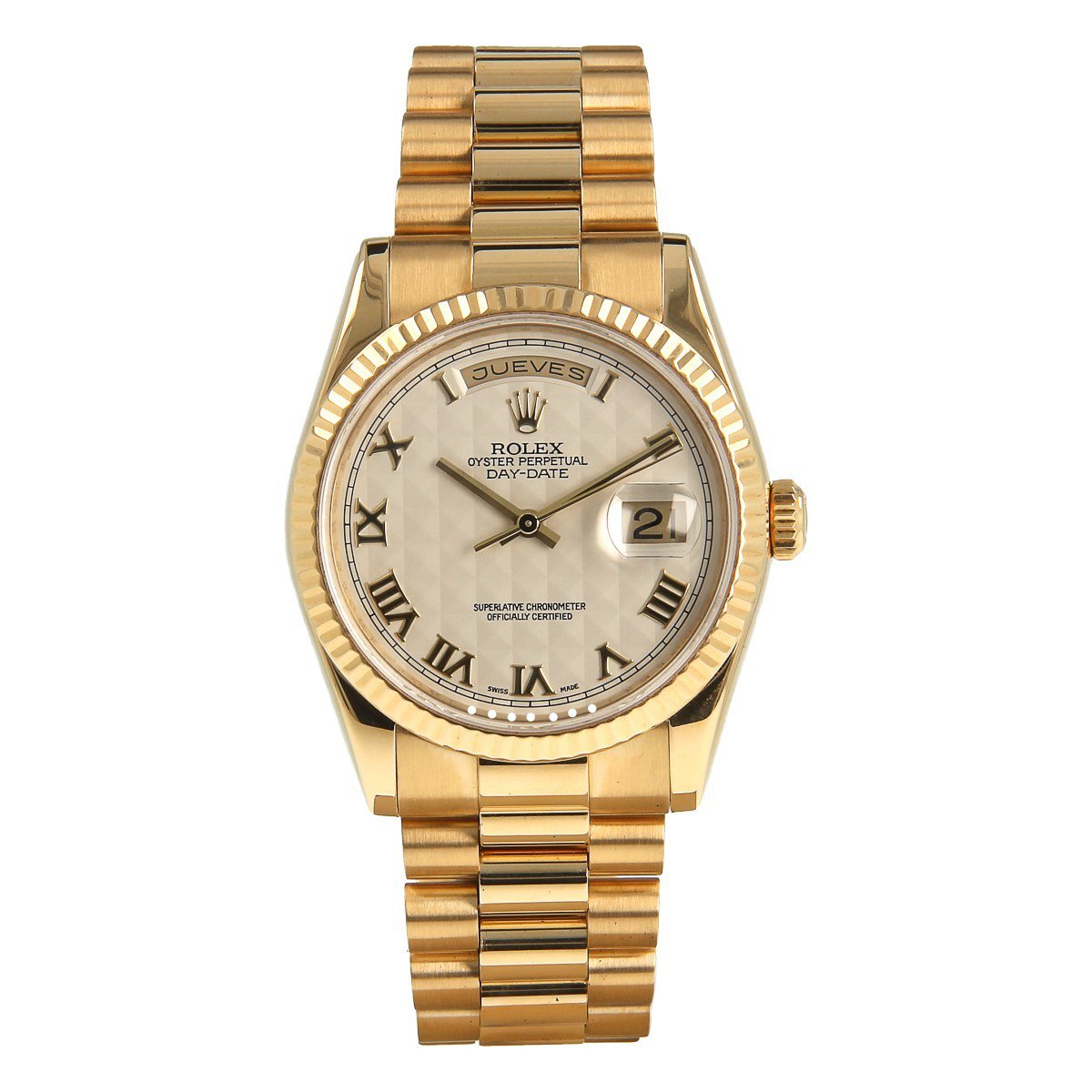 Rolex Submariner 16613 (€6900,-)
Also nicknamed 'The Clown', this gold and steel Rolex Submariner Date with reference 16613. Michael can probably elaborate a bit more on these since he spent his youth in Florida, but here in Europe, these watches weren't overly popular at the time. And perhaps bi-color still doesn't receive the appropriate amount of appreciation by watch enthusiasts, but I like them. And the price of €6900 is even below any modern steel Rolex Submariner. The steel equivalent of the 16613 is the 16610, and that one can be had for a few hundred less. This particular version is from 1992, so it still has the pinholes in the lugs, a bracelet that properly rattles, and the steel clasp. For the purists, I would say. I was never a fan of the 16610 and in my opinion, is the worst looking Submariner reference there is (I know I am stepping on some toes here), but this 16613 I could definitely go for. A lot of watch for the money, especially compared with today's market prices on the modern Submariner models. This Rolex Submariner has the same features as the steel one, including the caliber 3155 movement. This offer comes from Italy and only includes the box. But, for a daily beater, that's even more than you need. The offer on this Rolex Submariner 16613 can be found here.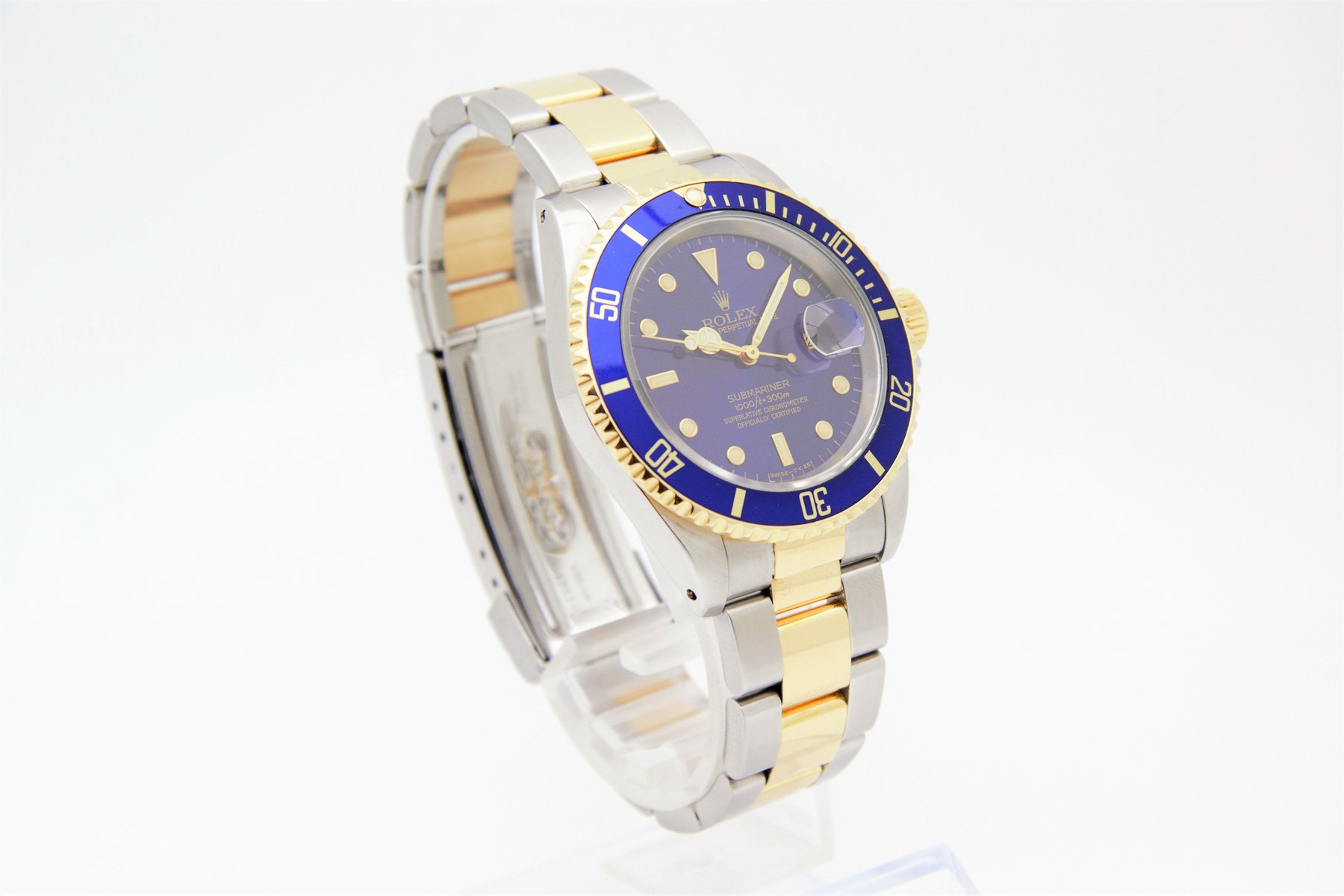 Breitling Aerospace F65362 (€1535,-)
When I selected this watch last night, the price was a bit lower, but that has everything to do with the voting results in the United Kingdom, where the seller is located. But anyway, here's one of the quirky watches that I really need to add to my collection. I have a weak spot for digital watches, hence my modest G-Shock collection and my Speedmaster X-33 and Speedmaster LCD. This Breitling Emergency would fit in the same watchbox. The crown is operating all functions, so no additional pushers like the X-33. By twisting and pushing the crown, you go through the functions and activate them. My colleagues Gerard, Ben, and Bert have this watch as well, be it in slightly different versions. This light-weight titanium watch with a diameter of 40mm looks best on a brown leather strap, in my opinion (I've tried it). So I would get rid of that bracelet and keep it in the black Breitling box that comes with the watch. The rider tabs show wear, but all functions are correctly working according to the seller. There are a few variations of this watch available, as it has been in the Breitling collection for many years, and I prefer the older models. Later models have a dial design that doesn't look very timeless to me, but then again, I wonder if any LCD watch is really timeless. The offer on this Breitling Aerospace F65362 can be found here.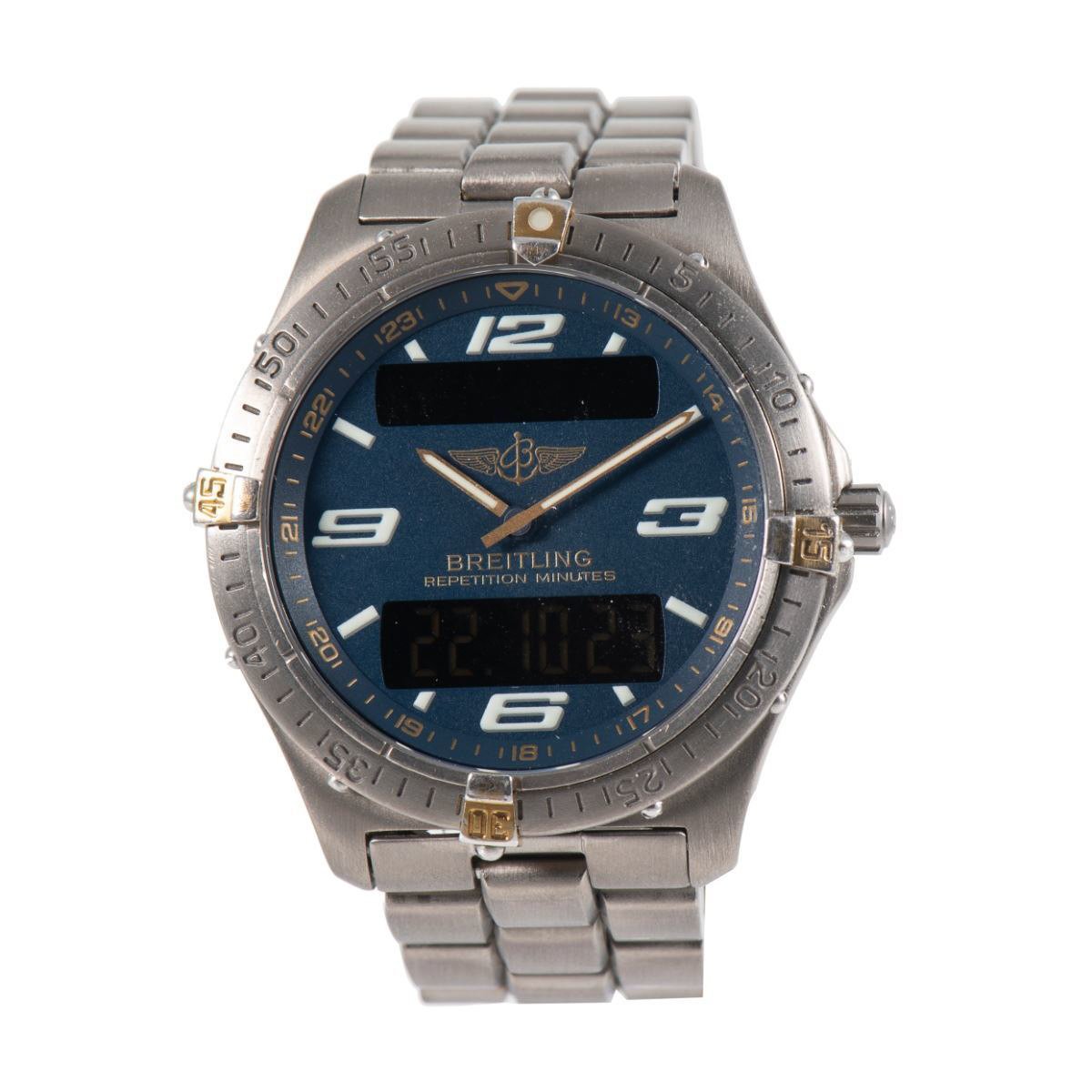 Sinn 142 Spacelab D1 (€2740,-)
I only have a few regrets when it comes to selling some of my watches, but the Sinn 142 is definitely one of them. Based on the 1980s Sinn 140 that joined Austrian (ESA) astronaut Reinhard Furrer during his Space Shuttle STS-61a / Spacelab D1 mission in 1985, Sinn continued with the 142 references. Slightly different movements (Lemania 1342 and 5100), but the watches are very similar. Furrer also played a small role in the Speedmaster Alaska III that we once found and based the first Speedmaster Speedy Tuesday on in 2017. Anyway, this Sinn 142 Spacelab D1 is a perfect tribute to Furrer and his 140. Early Sinn 142 models had a slightly different case finishing than the later 142 models, but they all look beautiful, I have to say. This particular watch is from around 1990, according to the German seller. No paperwork, but there's the original and straightforward Sinn box that came with it. I am pretty sure the lovely people at Sinn in Frankfurt am Main can help you out determining when this watch was precisely produced. The typical Lemania 5100 layout is still spectacular to me, and the red chronograph hands make it a colorful composition, especially combined with the aged yellow tritium hour markers. The all brushed finishing on the case is simply amazing, this watch is definitely returning to my collection in the future. A very cool watch from a German watchmaker I admire. Click here for the offer on this Sinn 142 Spacelab D1.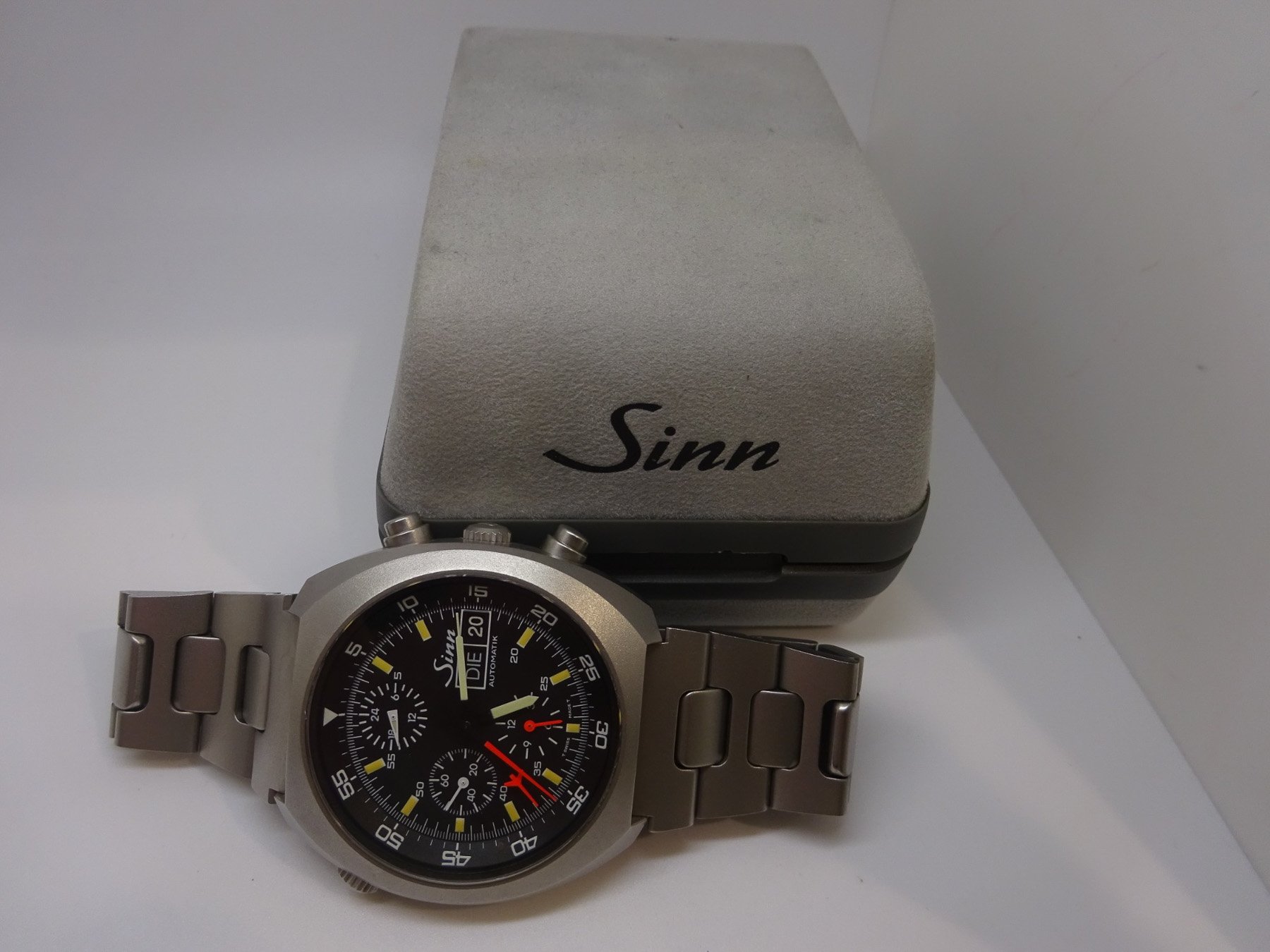 Omega Speedmaster Professional 145.0022 (€3900,-)
Last but not least, an Omega Speedmaster Professional 'Moonwatch' with reference 145.0022 from 1985. Between the 145.022-71ST and the later reference coding system called PIC (3590.50), Omega used the reference 145.0022 for the standard Moonwatch models. The later reference 3570.50 can be found a bit cheaper than this 1985 model, but that's not why I picked it for this week's Pre-Owned Picks article. I could also have selected one from the early 1990s because what I find interesting about these pieces is the color of the tritium. Especially the tritium hour markers on Speedmaster Professional models from the 1990s (till 1996) tend to turn yellow.
As you can see, the bracelet doesn't properly fit, as it is reference 1125 that has been fitted later on and was originally an older type of bracelet for Speedmasters. The correct Speedmaster bracelet for this watch would be a 1171. This watch is powered by the Lemania based caliber 861 movement, that Omega used from 1968 till 1996. In my opinion, the 1980s and 1990s Speedmaster Pro watches are interesting, as the 1960s and 1970s well of Speedies is drying up fast. The 1980s and 1990s Speedmaster Professional models are still relatively easy to source and with acceptable prices. Feel free to negotiate with the seller, of course. According to the seller, it comes with original papers but doesn't show a picture of these (you can request those though). That would be a nice thing to have. Put this watch on a leather strap or NATO strap, and you have a pretty cool vintage Speedmaster Professional for daily use. For the lucky ones from 1985, it could become your birth year watch. The offer on this Speedmaster Professional can be found here.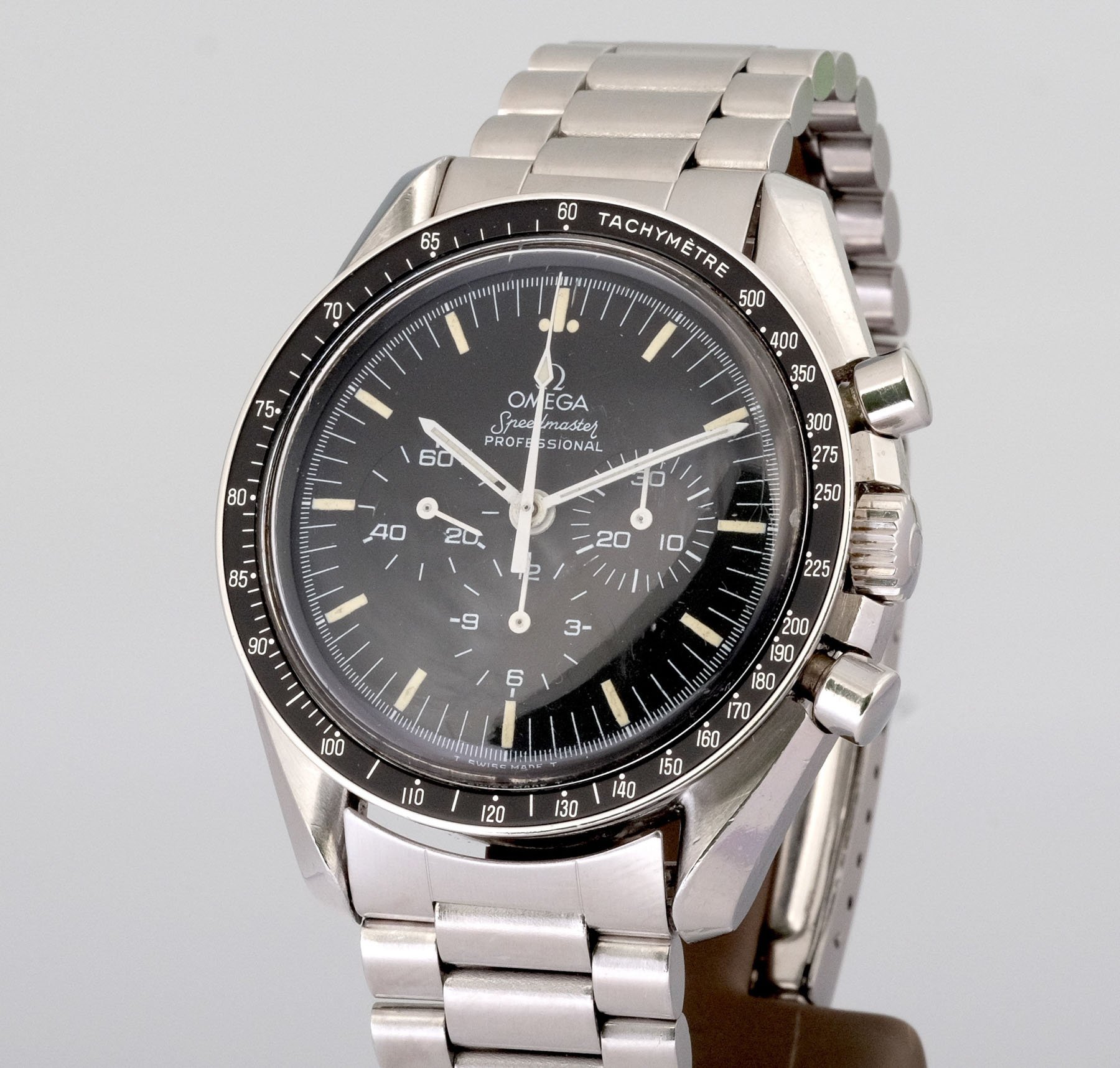 As always, with pre-owned watches, make sure to do your (own) homework. Also, feel free to make an offer on these watches (remember: these are asking prices) and discuss the warranty the seller can provide. Chrono24 offers its Trusted Checkout system, so you have proper buyer protection (more here). That said, always do your homework nevertheless. It can prevent you from a lot of frustration and 'stuff' you don't want to have to deal with.
Happy Hunting!