Pre-Owned Spotlight: Mike Shops For Vintage Skin Divers
Loads of variety and value in this space
Welcome to another edition of Pre-Owned Spotlight. This week, we focus on a genre that has become very popular with new watch buyers, but we'll use the opportunity to go back in time. We'll take a look at several vintage skin divers that are available for sale, and while prices have increased over the years, there's still great value to be had.
Skin divers are an interesting category. Seemingly, these watches were born out of the growing interest in recreational diving during the early 1960s. They were made for diving but were sold at lower prices than the serious pieces from companies like Rolex, Omega, Blancpain, and others. As a result, the water resistance ratings usually topped out at 200 meters. Another calling card of these watches was their angular, slab-sided cases. As far as brands that sold these types of watches, the list is nearly endless. There are loads of differently branded pieces that contain similar hands, dials, and bezels. There are unique pieces, watches with manual and automatic movements, and even a variety of raw materials.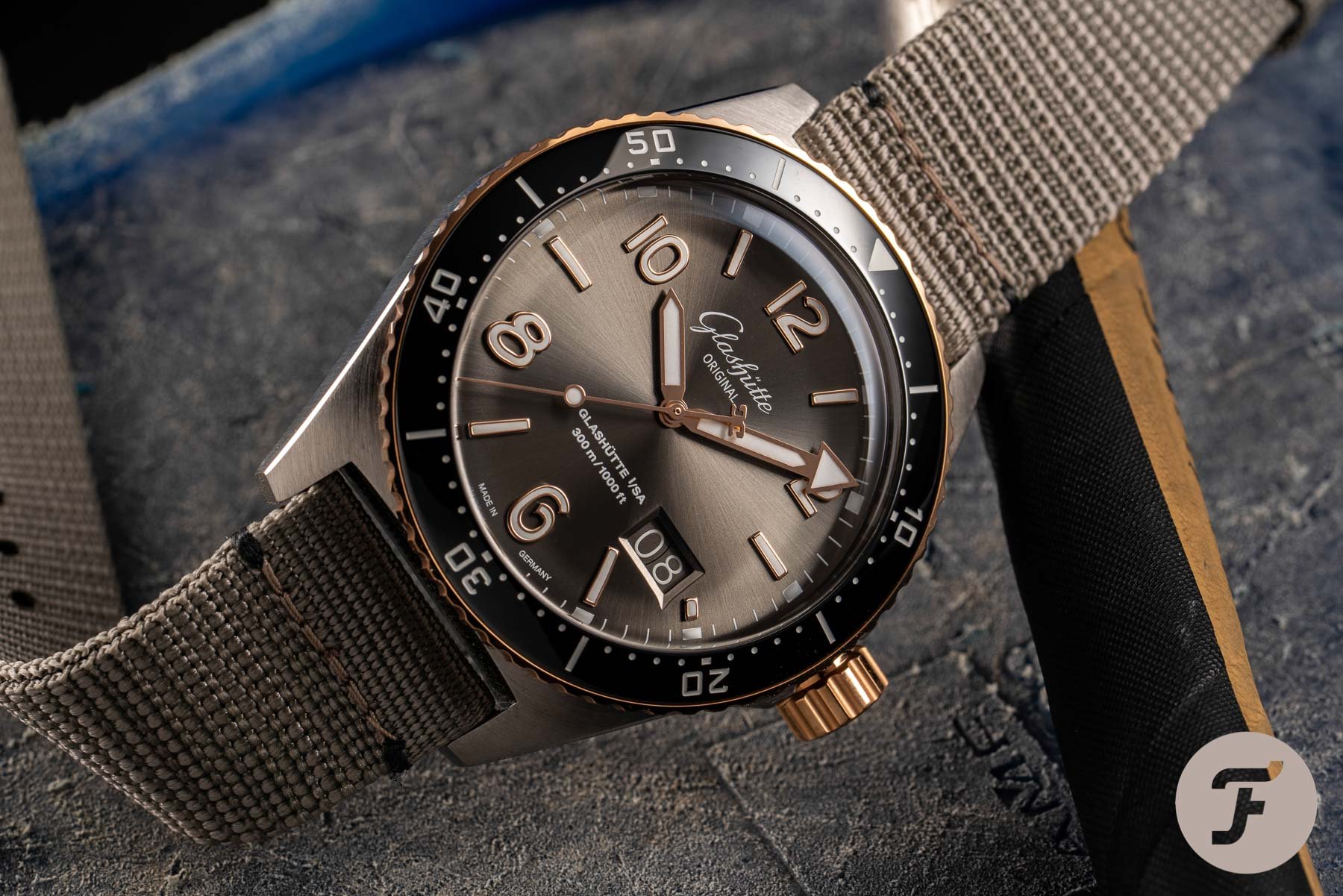 Skin divers are hot
These days, skin divers are hot in both vintage form and new watch showcases. Brands such as Seiko, Wolbrook, Glashütte Original, Airain, Alsta, and Aquastar are just some of the companies that are successfully selling new versions of these watches. Clearly, this iconic case shape still has the ability to bring in new customers. Today, though, we will shift to looking at some vintage models that are for sale. As you'll see, I've decided to go with a wide range here in terms of branding and pricing just to give a flavor of the variety that exists. Enjoy!
Aquastar 63 — one of my favorite skin divers
When I think of skin divers, my mind immediately turns to Aquastar. The Model 63 is one of the earlier uses of the case shape we all know and love and sports some distinctive looks. Notably, it has an internal rotating bezel that is operated via the crown. This is a known trouble spot, so be sure to ask if it's working before buying. The other thing I like about these watches (and most Aquastar models from the period) is that the dials show serious aging. Whether it was moisture or time at work, these pieces now have loads of character that may interest you or not.
The watch I have found resides on eBay from a seller in Albania. This model happens to be a Duward co-branded piece (there were other names too) and looks to be in decent shape. It has just been serviced, but there's no mention of the bezel functionality. Yes, the dial lume has gone dark, but the dial itself looks nice. I love the polished 37.5mm cases on these, the signed crowns, and the wonderful case backs. For US$599, if everything is working, this feels like a nice watch — but I'd replace the bracelet with a Tropic strap.
Seiko 62MAS — a Japanese skin diver
People tend to forget that both Seiko and Citizen made skin divers in the mid-'60s. Citizen had its Auto Dater, which is now a very rare and valuable watch. Seiko, on the other hand, created the more popular 62MAS, which had a longer production period. In recent years, the Seiko models went from being $1,500 all day long to more than double that figure. It can be challenging to find good examples of these due to replacement parts, polishing, and all the typical things that plague more desirable vintage watches.
Today, I think I've found an interesting example at a relatively approachable price. This late model from 1967 on Chrono24 is short on descriptions aside from saying it's a one-owner heirloom. I'd inquire further about running condition and provenance. To its benefit, this watch has what seems to be the original Tropic strap with a Seiko buckle and a very clean case back. The dial and hands look original with acceptable "wabi" on the lume. The bezel is missing its lume pip, but that's not a big deal for me. The case looks great and sharp too. For US$3,495, this isn't small money, but it's also quite a bit less than most of the other watches listed.
Ollech & Wajs Astro Chron — more than a plain-Jane diver
Yes, skin divers were made in all sorts of forms, including chronographs. Aquastar, Rotary, and Le Phare were some of the makers, but I am partial to these Ollech & Wajs Astro Chron models. The company debuted in 1955 and has a relatively illustrious past. From the first mail-order Swiss watch brand to heading into space on the wrists of NASA astronauts, it's a neat brand. Ollech & Wajs also returned in 2017 and is currently making watches with skin-diver cases.
The Astro Chron I found today is on Chrono24 and is being sold by an American dealer. There were many versions of this watch, but what I like about this one is that it features the column-wheel-equipped Valjoux 72. It also has a rotating bezel with an acrylic insert, loads of lume on the dial, and a nicely colored 30-minute counter. The case looks sharp to me, and at 38.5mm, it should have a lot of presence on the wrist. For US$3,100, this is also a pricey piece, but it has a lot going for it in terms of brand, movement, and design.
Helbros Swordfish — a blue beauty
The last of our pre-owned skin divers comes from a once-popular brand by the name of Helbros. This was a US-based brand making affordable watches that was founded back in 1919. Per this article, Helbros was purchased by another old-line American brand, Elgin, in 1963. Soon after, the Quartz Crisis managed to end both brands. Still, there are some gems for us to find.
The Helbros Swordfish, per an interesting post on Omega Forums, once retailed for $87.50 with an A. Schild automatic movmeent and even came with a "He-Man" steel bracelet (ha!). An interesting aside is that the same watch was available for $20 less in manual-wind form. I've found one of these on eBay out of Australia, and the seller is looking for AU$950. The 37mm stainless watch looks superb and features an hour hand with a great shape. Plus, there's that lovely blue dial and wildly wide "Cyclops" over the day and date window. Oh, and drilled lug holes, anyone? I did look at the case back, and it is stamped "West Germany," whereas the dial shows Swiss. I checked out a few photographs online, and it seems that Elgin may have moved production during this period. Finally, a peek inside keeps things correct with an Elgin-signed rotor.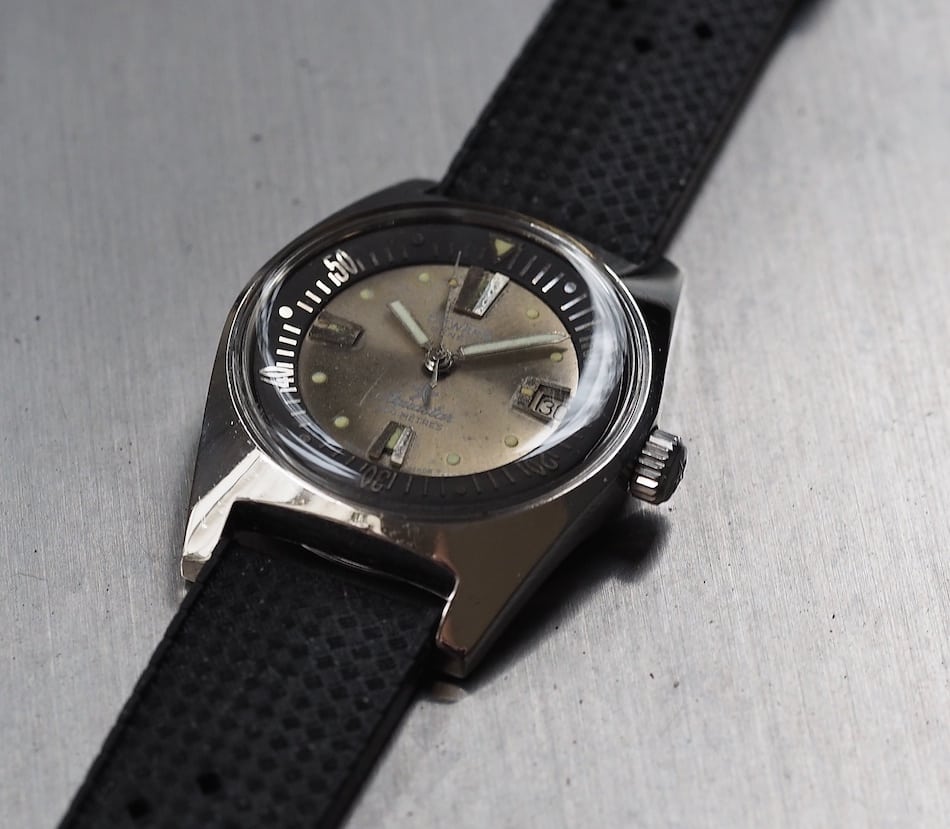 Final thoughts on skin divers
A quick search on eBay or Chrono24 for "skin diver watch" or "vintage skin diver watch" will turn up an unfathomable amount of choices. Prices are truly all over the map, with some pieces available for just a few hundred US dollars. Often, the dial conditions for these watches are rotten due to their use case. Skin divers weren't expensive from the beginning and were meant to be used. This also results in a lot of incorrect hands and other parts. In the end, though, if you find one you like and it's reasonable in your eyes, then go for it! The skin diver case has true staying power as evidenced by the number of modern companies making them today. If you've never had one in your collection, maybe it's time.