Pre-Release Hands-On With The Yema Superman Skin Diver Limited Edition
A better version of last year's release?
The case and the bezel are the same. So is the dial style. The major difference in the new Superman Skin Diver is the treatment of the indexes. The lime green Super-LumiNova has been ditched in favor of beige and the polished silver marker borders are nowhere to be seen.
I was so intrigued by the re-edition of the 1963 OG, that I instantly asked for a hands-on review sample. I liked it so much, I even nominated it for our pleasantly crazy March Mania tournament. While I was busy thinking about purchasing it, it sold out. It's one of the few watches that I have really fond memories of. The latest Navygraf Marine Nationale GMT didn't really push my buttons, to be honest. But when Yema recently whispered that it might revive last year's summer hit, I was once again caught in the brand's tractor beam. Here are my thoughts on the new Yema Superman Skin Diver.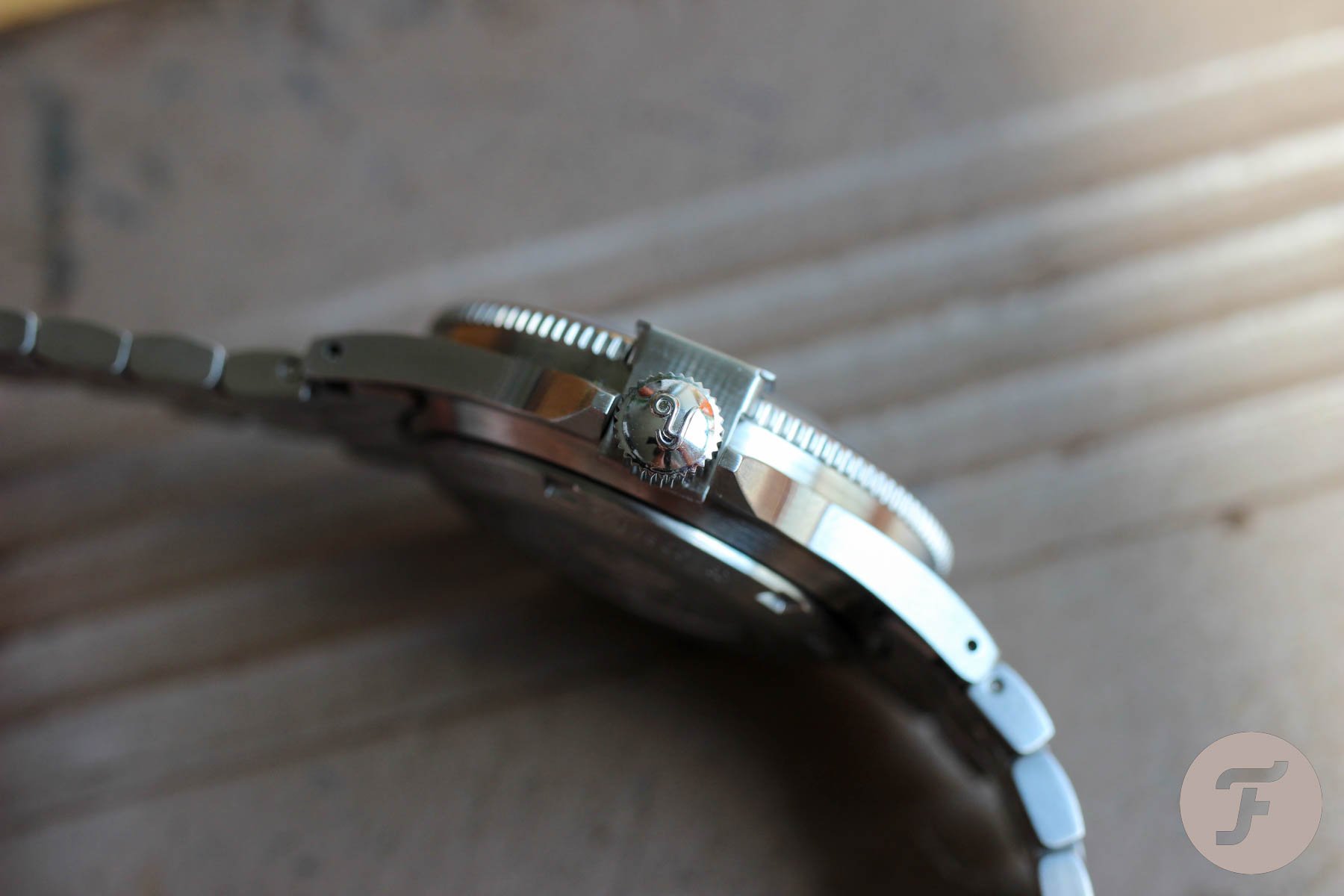 Is the Superman Skin Diver skinny?
Not at all. The Superman Skin Diver reference mostly remains a reference to the lug style that rests on your wrist as flat as your favorite book on the table. Don't get puzzled by the name and do not expect a "baby" divers' watch. While a full-frontal assessment might kid you into thinking this watch is as slim as its name suggests, looking at the Superman Skin Diver from the side though, reveals a contemporary fleshy case with a quite high bezel.
Scales bracelet
If you are still doubting the masculinity of the watch, look at the bracelet. When I shot last year's Superman 63, I deliberately put it on a Tropic strap. It felt way more true to the original from the sixties. I decided to leave the Superman Skin Diver on its factory fit bracelet, as it will be the only option available. Besides, if I disregard the Maruman bracelet that fascinates me on its own, I consider a scales bracelet as the number one choice for a dive watch.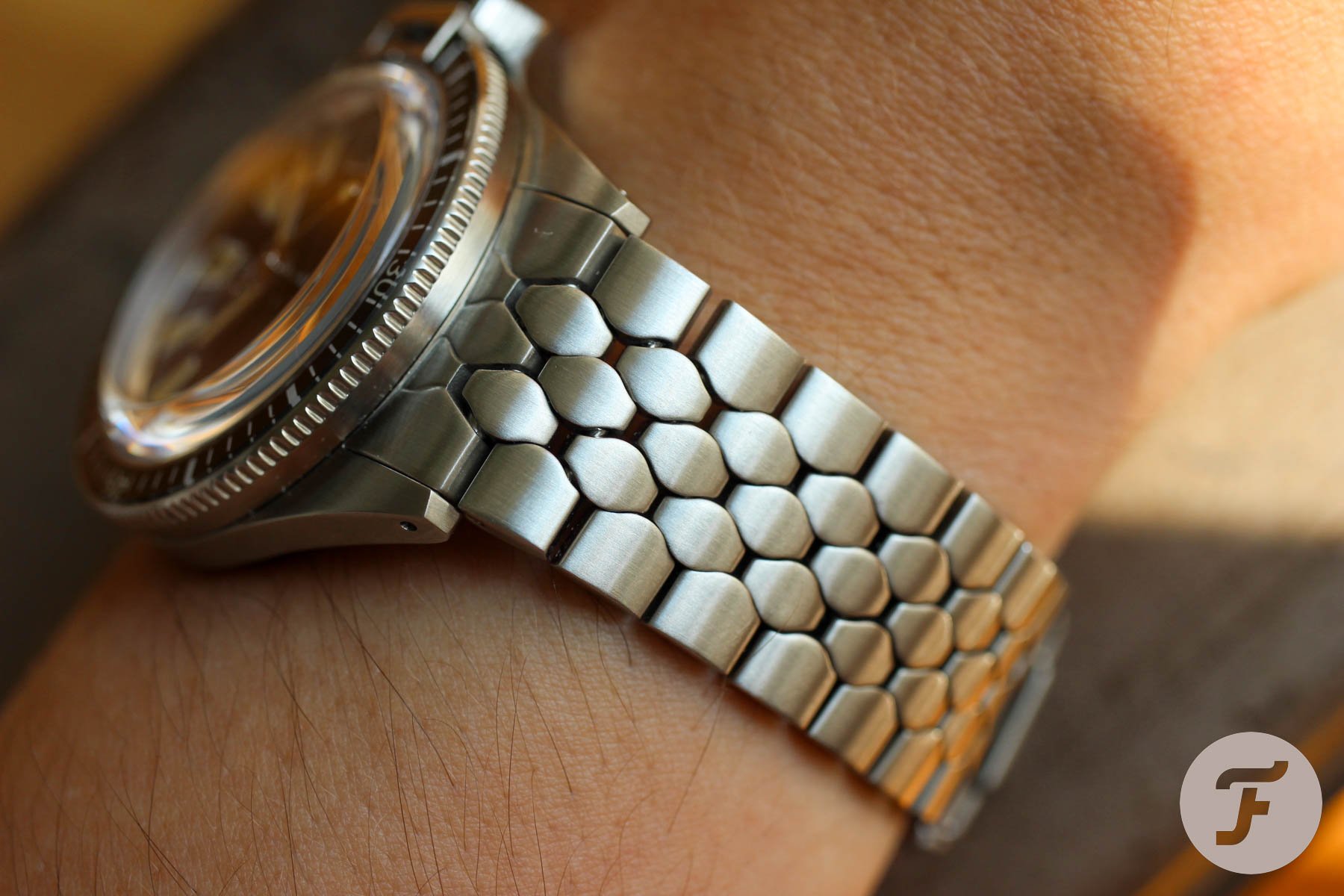 The difference in charisma between the Tropic strap and the scales bracelets is undeniable. While the Tropic underlines the dial's gentle tones, the scales bracelet makes the Superman Skin Diver look more sturdy and massive than it is. The scales look so realistic that it truly makes it the best-themed bracelet for a divers watch. If you decide to go for one, notice the first links connecting to the end links: they do not fold much and practically stretch the lug-to-lug size stated in the book. If you won't have the option of trying it on, I would recommend sticking to a 39mm case diameter.
Two choices
Just like last year, the Superman Skin Diver will be available in two diameters. I prefer the 39mm over the 41mm case as it feels more classy. Although if you order a 41mm and the rest of the 999 pieces are ordered in the smaller size, you might find yourself ending up with a pretty unique piece. That way of managing run-sizes is another neat approach so often embraced by Yema. If you are really curious, I asked Yema and apparently 60% of the last year's run was produced in 39mm cases. What would you have guessed?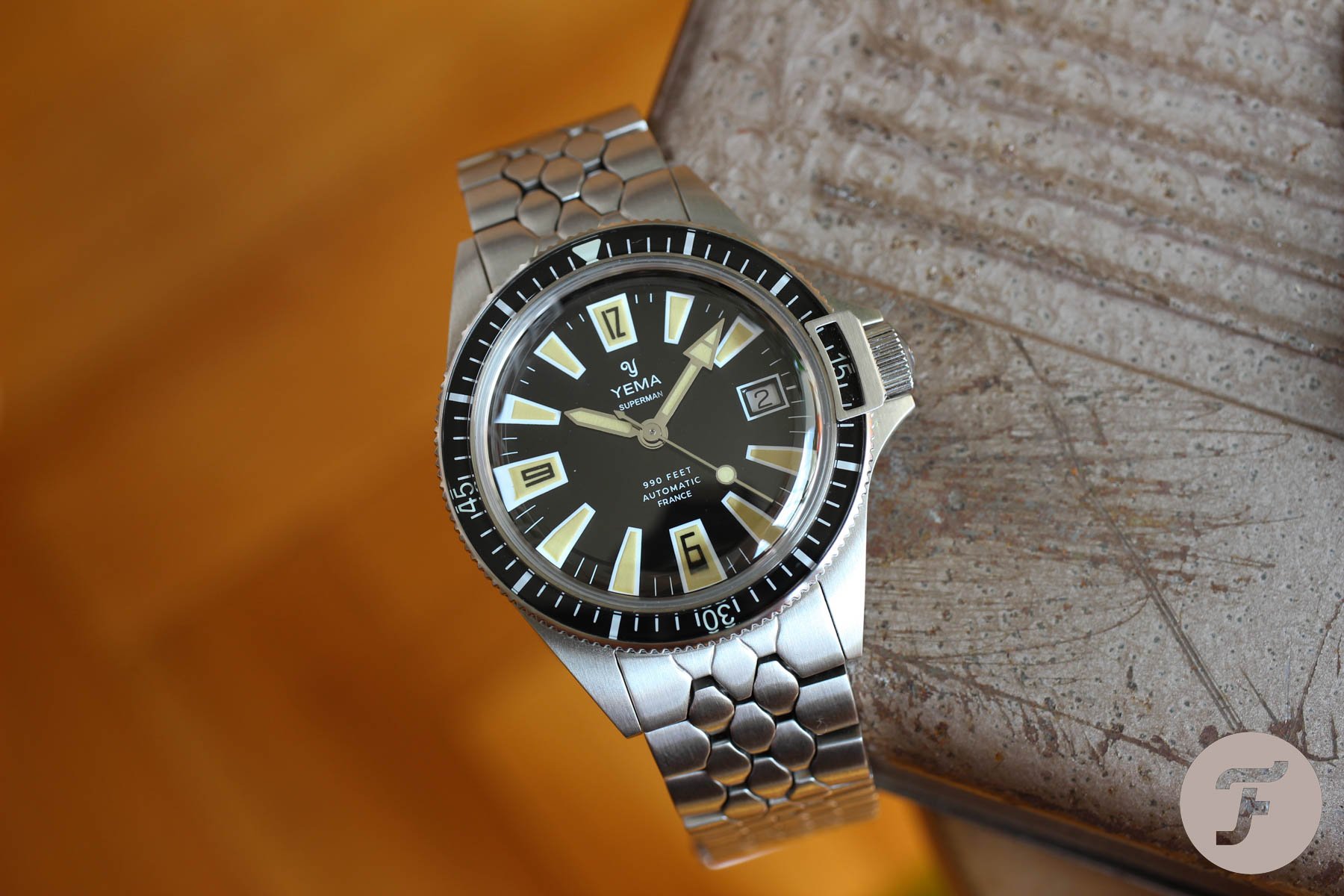 Crystal riddle
Based on specs only, the Superman Skin Diver appears almost identical to last year's model. But believe it or not, it actually looks very different. I blame the crystal. It distorts the dial more wildly. And by more wildly I mean you can never fully see the dial indexes as they were designed, with one or more always "bleeding" out into the edge of the crystal. It completely puzzled me and I was sure Yema switched the crystal. Well, they did not and it seems the visual play is part of Yema's plan. My "insights" on the crystal also reached the Yema CEO. "Customers like the fact that they can 'play' with this crystal. Depending on the angle, you always see something different," explains Christopher Bole.
I don't know. I really would like to compare it side by side with the previous model, but I can't. I spent hours turning my wrist like a kid that can't read the time. The optical illusion this watch creates is really funny and entertaining sometimes, but my functional mind remains disturbed.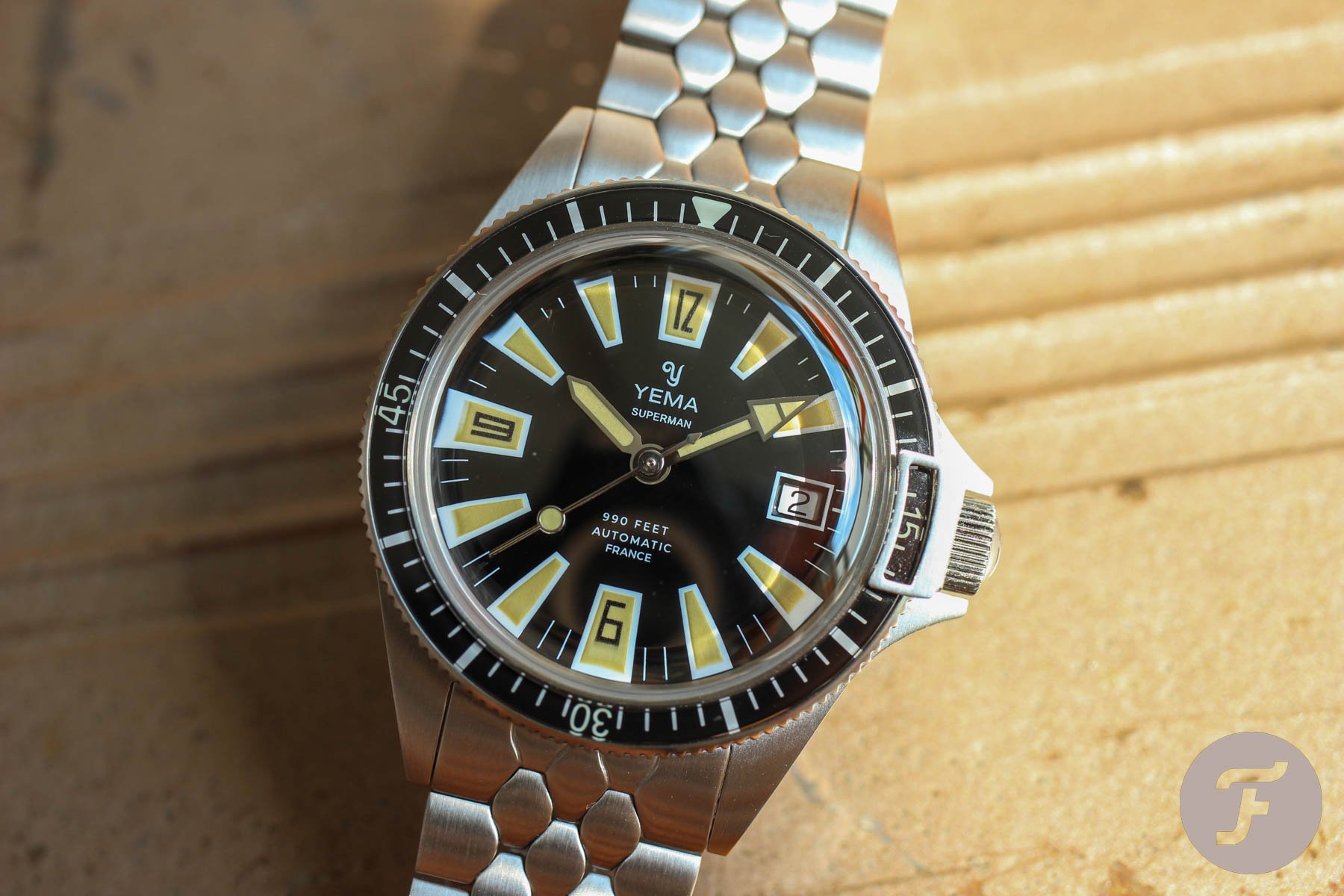 Shotgun notes
The beige lume is hot. It sits on the line between a perfectly aged lume and a pale modern shade. I would definitely choose this year's coloring in favor of last year's, but — oh man — I am afraid I would go to my watchmaker and change the glass. But thank goodness there will be no issues removing the bracelet thanks to the drilled lugs! That's how it is done, Yema! We don't care about lug purists; function precedes form. I am also happy to see the liquid-like bezel insert with a decent, vintage-inspired minute track.
Hot Yema
I have been following the Yema product and marketing strategy for a few years now and I have become a big fan. The French manufacturer that was established in 1948 is one of the few in this price range offering in-house calibers developed in its workshops based in Morteau. The brand's numbers seem to illustrate that Yema is on the right track. Its customer base "has been multiplied by two every year since 2018. In 2021, over 50,000 watches will be sold across four continents, half of them equipped with Yema second-generation in-house calibers," says Anibal Martinez, marketing director at Yema.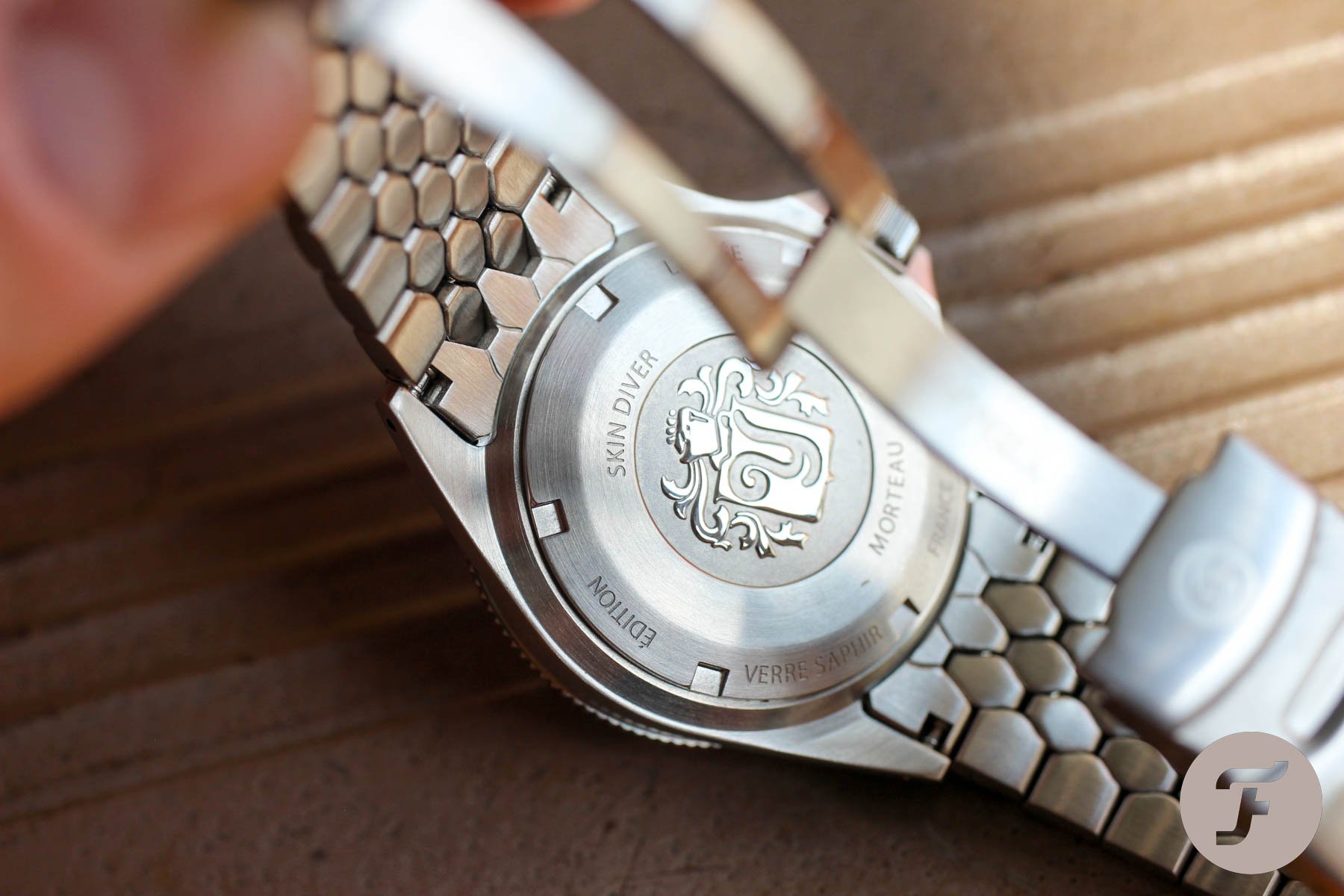 In-house vs. generic movement dilemma
This brings us to one of the few downsides I found that kept me from snapping last year's Superman 63 right away. It didn't have an in-house movement, but a generic Sellita. The newly released Superman Skin Diver has it as well. Price-wise though, it's still a great deal. But you know, as I already bought another Yema Superman with an in-house, it's kind of complicated to take it down a notch. And now comes the unexpected question. Is the Sellita movement really the worse option?
Market knows
In my eyes, it is. I didn't even try to think who would prefer the Sellita if you could have an in-house movement. My question didn't surprise Yema representatives at all. They actually devoted some thinking to this and it wasn't a purely cost-cut-driven decision. Yema is doing well in Japan, where they prefer Sellita because they can take the watch to any watchmaker. So, if there was any problem with the in-house caliber, Japanese or US customers would have to ship their watch back to France. A hassle that no one's purse enjoys.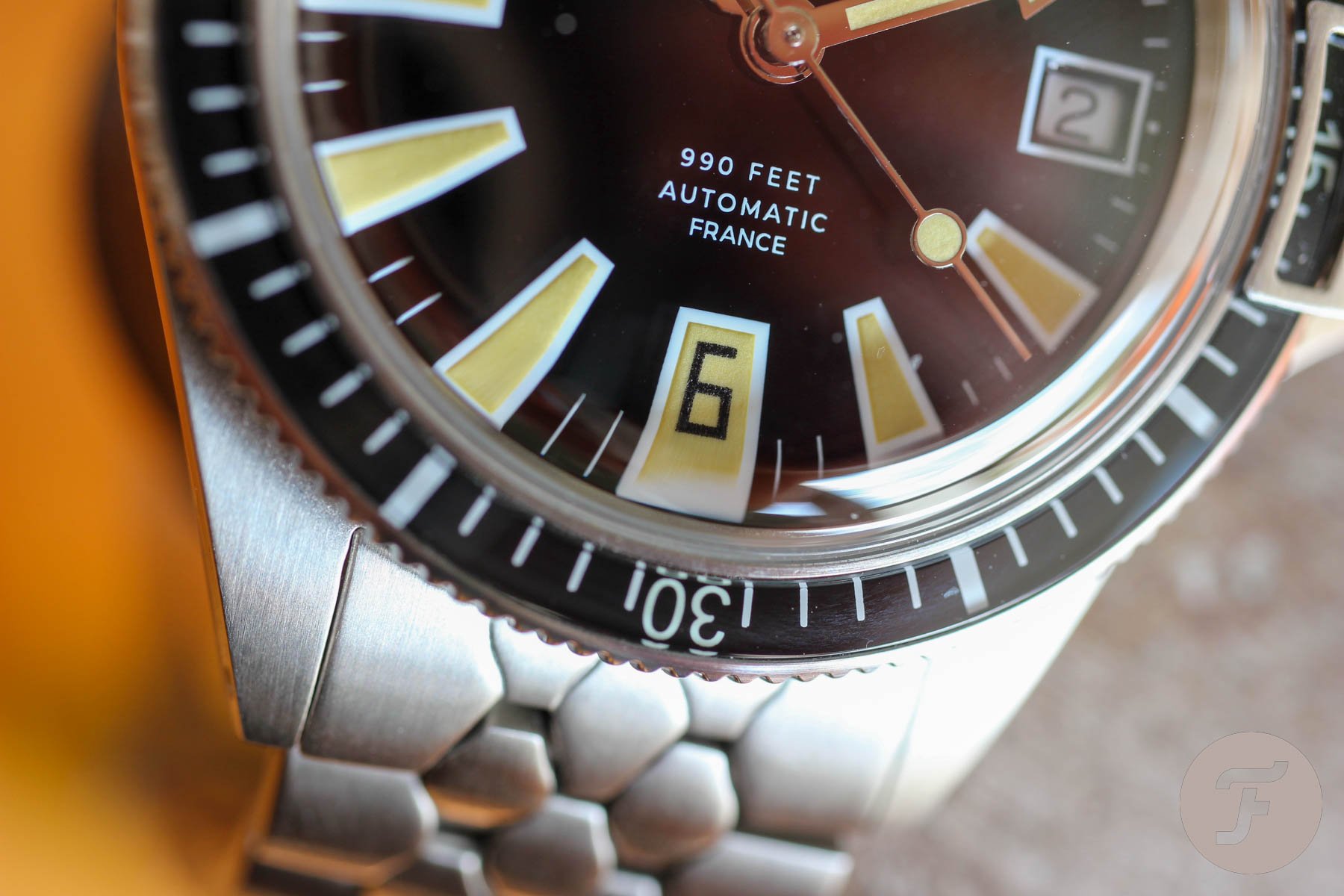 A longer-term perspective
From a longer-term perspective, it will be interesting to see how Yema balances its portfolio with outside and in-house movements. I guess it goes in hand with the ability to open local service centers around the globe with a friendly pricing policy. And spreading the gospel that in-house service by in-house or certified watchmakers is the way to go.
Last thoughts on the Superman Skin Diver
I mentioned three sensitive points you should take into account when considering a purchase. If the Sellita ahead of an in-house Yema movement and the end links of an otherwise charming scales bracelet doesn't bother you, there is one last thing. The unusual and always changing view on the dial will either fascinate you or drive you mad. The rest includes a timeless case design with a beautiful case back, a Yema signature bezel lock near the easily operational crown, and decent date implementation. The price tag of €1,245 is not scary at all, especially for a limited run of 1,000 pieces. So if you don't want to get away with free hands don't think longer than a few months after an official release on June, 17th. Last year's LE was all gone within a couple of months.
Watch specifications
Model
Superman Skin Diver Limited Edition
Dial
Black dial with white printed indexes
Case Material
316L Stainless Steel
Case Dimensions
39mm or 41mm / upon order
Crystal
Sapphire domed crystal
Movement
Sellita SW-200-1
Functions
Hour, minute, seconds, date, and bezel lock