Review of Geneva May 2017 Auctions
Our special contributor Sacha Davidoff is reporting from Geneva on the upcoming auctions in May. He will highlight the watches from several auctions that caught his attention. Without further ado, let's have a look.
Geneva May 2017 Auctions
PHILLIPS in association with BACS & RUSSO
Back for their fifth Geneva watch auction, Aurel Bacs & Livia Russo in association with Phillips auction house continue to dazzle the auction scene with their drool-inducing May catalog. This team continues to raise the stakes and is relentless in their hold of the top position among the watch auction houses. They have also announced they will host a thematic Heuer auction in November this year curated by Richard Crosthwaite and Paul Gavin, authors on the subject.
The Phillips watch department, as they regularly have done in the past, closed their catalog and released it first among the May auctions in Geneva. A strategic advantage in terms of getting their watches in front of collectors before the others. By early April, Phillips has put their catalog online and is done with their viewings in Hong Kong and London, meanwhile other houses are still putting the finishing touches on their catalogs. In addition to this aggressive 'first-to-market' approach, the selection of watches is geared towards the elusive and almost unfindable 'grail' watches. In a market, that is quickly becoming so demand strong that the supply keeps coming up short, Aurel Bacs and his team keep on bringing us.
GENEVA WATCH AUCTION FIVE (GWA5)
The auction, which takes place on the evenings of Saturday and Sunday May 13-14th in Geneva is comprised of 237 watches, about 40 more than in November, which will make up for a CHF 11 million steel Patek 1518 not being present this time around. With the total estimate of the catalog between CHF 16 to 30 million, they will have the highest total achieved and average lot value, but we will go deeper in detail and draw some comparisons after the last auction wraps up on May 15th.
Overall, this was an eye-catching catalog and made it very difficult for us to pick our favorites. More so than usual since there were no Omega Speedmasters in the catalog for us to directly latch on to. With the return of the Rolex 6062 "Bao Dai" to Phillips and again under Bacs, we expect a stellar energy during the evening. This watch sold for CHF 370,000 at Phillips in 2002, so almost 15 years later, we anticipate we will see a 0 added to that result in May.
We truly appreciated the early preview of the collection before its departure to Hong Kong and the following are only a few of our favorites:
LOT #14, LOT #92, LOT #183 & LOT #202 – Tiffany & Co. signed dials
Why would we group four watches together? Because we rarely see such a collection of pieces in a single catalog. In the vintage collector world, there are sought after brands, in which certain models are highly desirable and, finally, rare variants of those models make them even more valuable. However, when all of those are then added to by a famed retailer signature on the dial, the collectability factor multiplies. Lot#77 is also a Tiffany & Co. signed dial Rolex Submariner 1680, but we decided to focus on these four:
#14 – Rolex Daytona 6264 14K Gold, Tiffany & Co.
A vintage Rolex Daytona needs no introduction as a sought-after collector watch. The 6264 is a rare reference having been produced for only a very short time in the early 1970's during the introduction of the new 727 caliber. In addition, a 14K gold version, mostly destined for the US due to import duties, makes this an even more unique find. Continuing deeper into the viewing of this piece, we can observe that the black counters of this champagne dial have faded over time to rich tropical brown color. At this point, the Tiffany & Co. signature on the dial is the final detail that puts this piece into the astronomically rare category.
Estimate CHF 150,000 – 250,000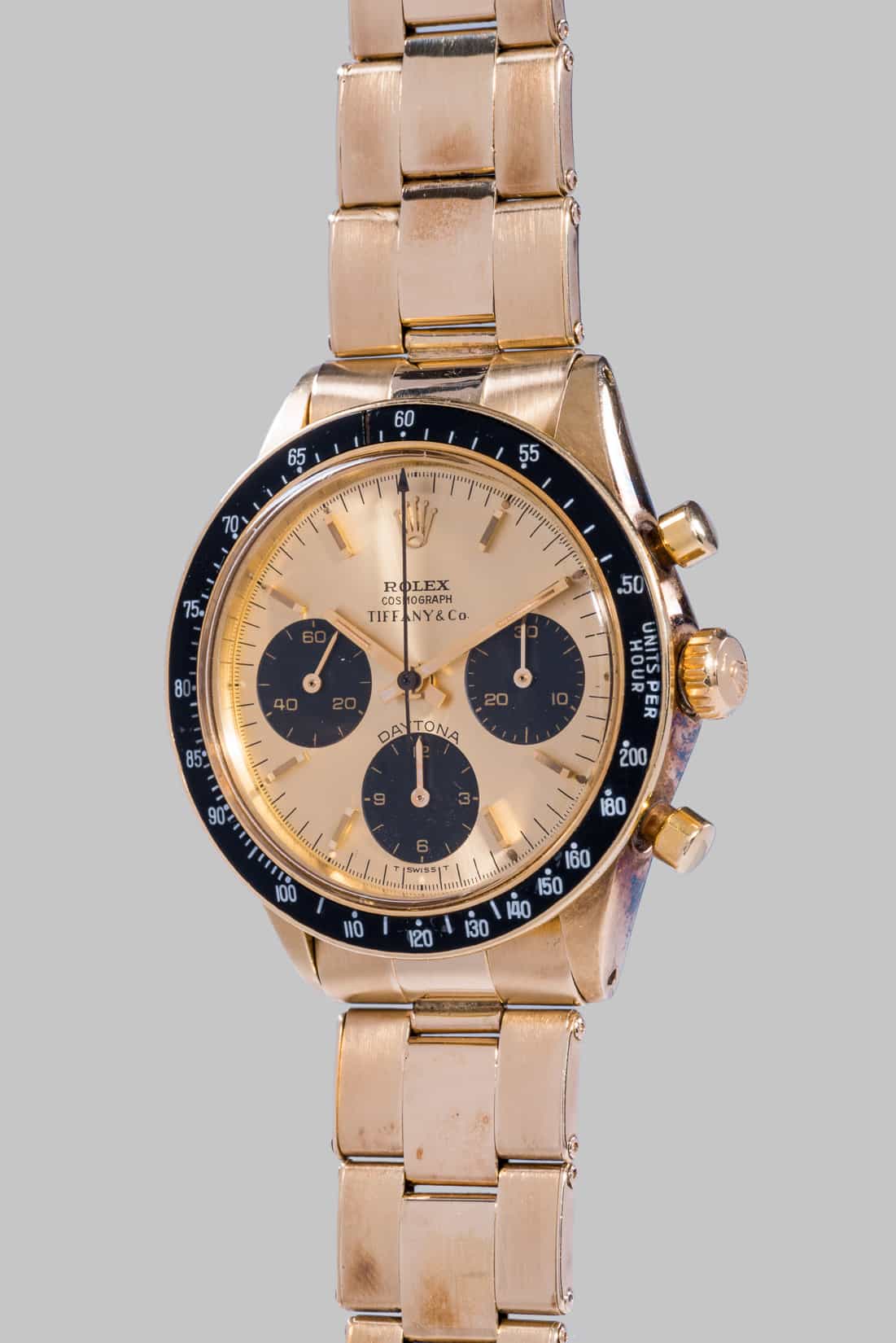 #92 – Rolex Daytona 6241 14K Gold, Paul Newman Dial, Tiffany & Co.
Taking it a step further from the previous lot discussed, here we see a Paul Newman dial variant of the 6241, also in 14K Gold and with the Tiffany & Co. signature. Probably one of the most desirable configurations with the added signature. Again, we see that the value multiplies when there is a double signed dial on an already rare and desirable watch. Also, consider the name of this watch could be: Rolex "Paul Newman" Daytona "John Player Special" Tiffany & Co., not necessarily in that order.
Estimate CHF 400,000 – 800,000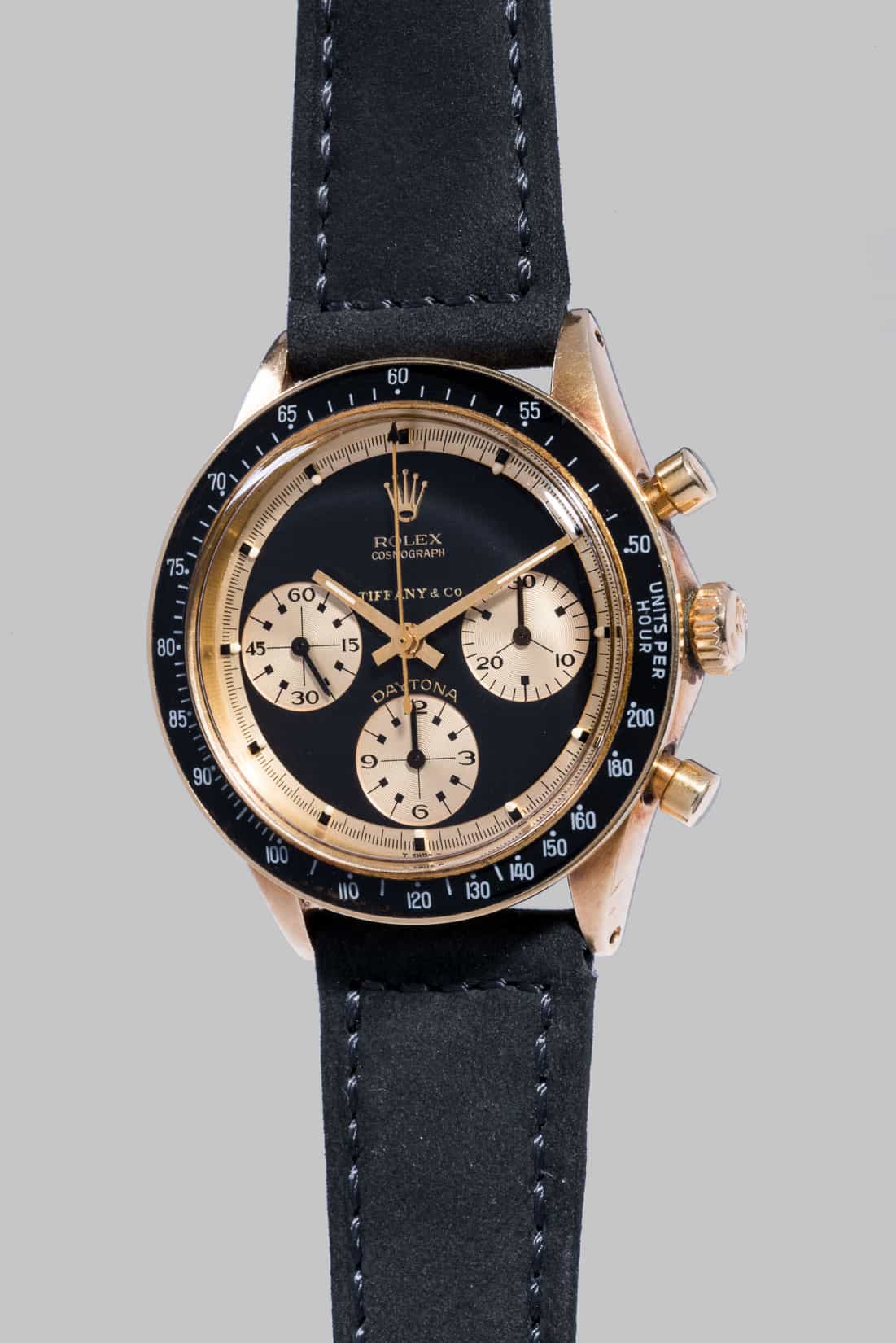 #183 – Patek Philippe world time 2523/1, Tiffany & Co.
The reference 2523/1 was an update on the 2523 with lower lugs that were no longer above the bezel and a 36mm diameter instead of the 35.5mm of the 2523. Patek Philippe discontinued the world time in the late 60's and did so for over 30 years. There are only 9 known examples of the elusive 2523/1 and this is the only example known with the Tiffany & Co. signature. If there was such a term for a watch like this, we would guess it would be something like a Super Holy Grail.
Estimate CHF 900,000 – 1,800,000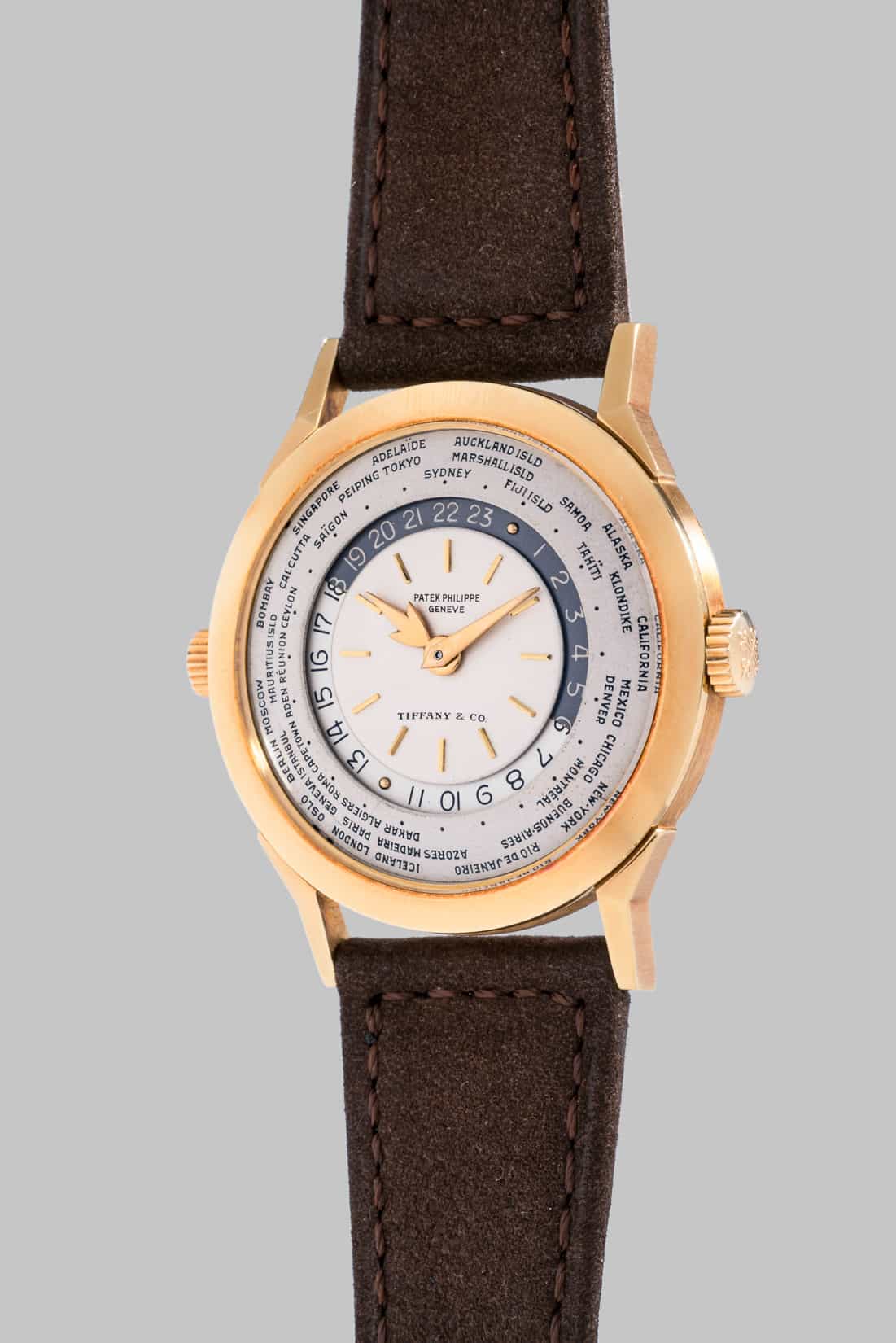 #202 – Patek Philippe perpetual calendar 3450, Tiffany & Co.
In 1981, the 3450 was the successor to the 3448, Patek's first automatic perpetual calendar and the first time they integrated a leap year indicator on the dial. The first series among the 3450 had a red dot for the leap year indication, a collectible detail. With only a short production run, this already hard-to-find reference has the Tiffany & Co. signature only seen at auction a handful of times.
Estimate CHF 220,000 – 320,000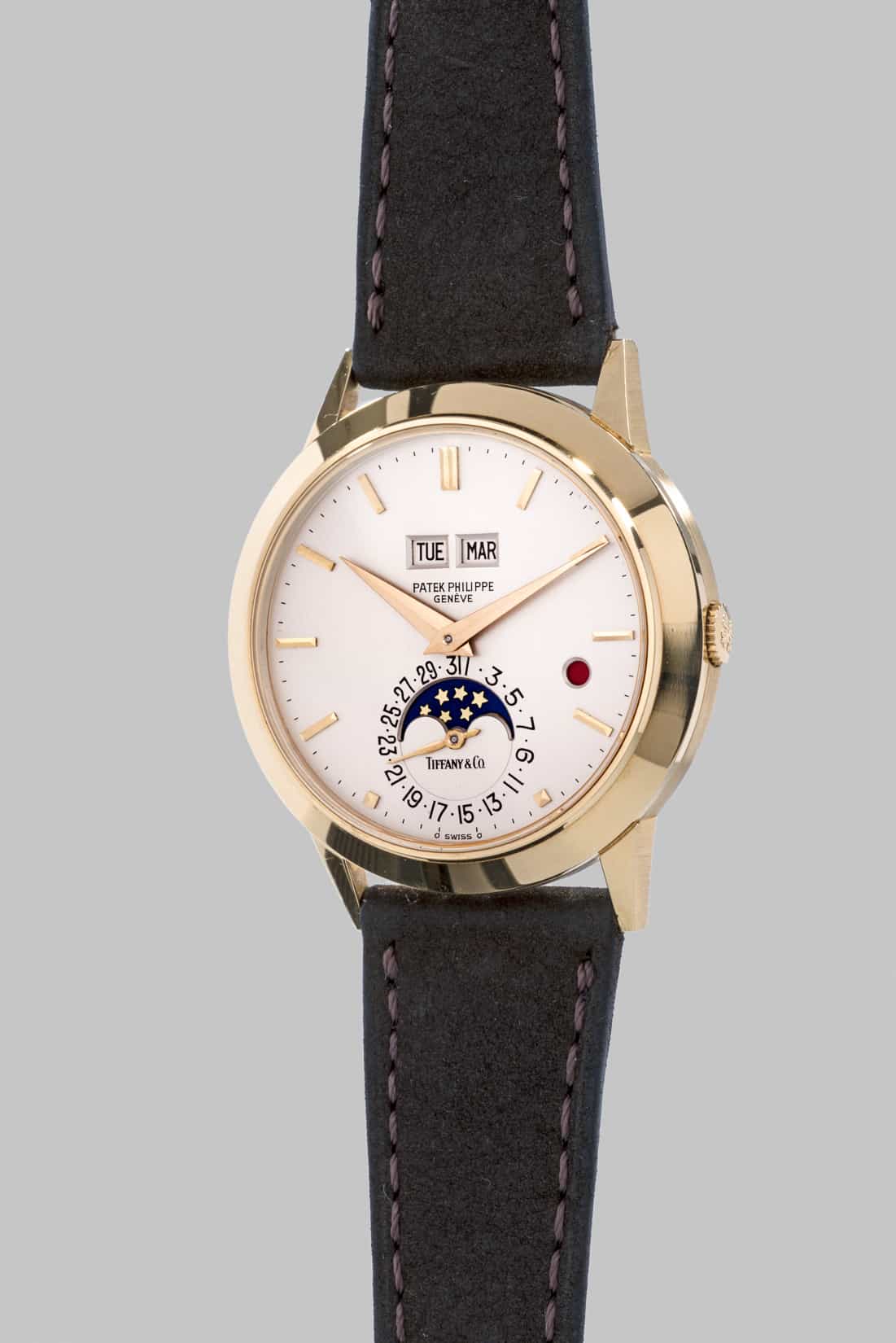 LOT #94 – Breitling SuperOcean 1004
Although most of us associate Breitling with aviation, in the late 50's Breitling also sought to venture into the diving tool watches. The SuperOcean 1004 was launched in approximately 1957 as Breitling's first automatic diving tool watch on a mesh bracelet. It is probably one of our favorite designs for a diving watch of the late 1950's. Its design, reminiscent of 1950's car designs, with its dish shaped bezel, metallic spear and luminous circle indexes and steel arrow stylized hands, embodies the futuristic designs of the time. The 1004 production was short lived and these are exceedingly rare today. The luminous material on the dial was slightly refreshed at some point, but it remains a stunning example with a conservative estimate.
Estimate CHF 10,000 – 15,000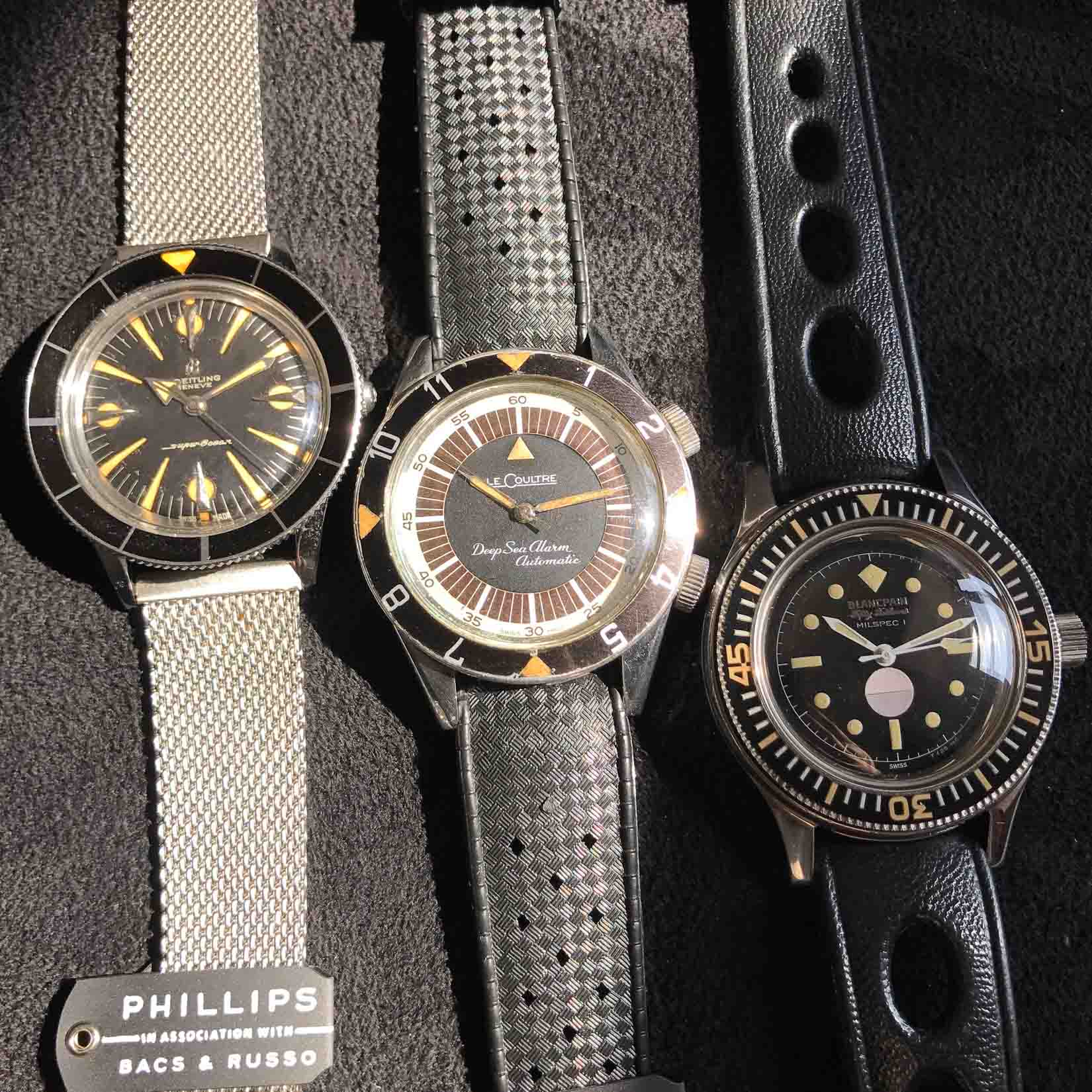 LOT #98 – LeCoultre Deep Sea Alarm E857
One of the most treasured diving watches, the Jaeger-LeCoultre Deep Sea Alarm, is set apart from other diving watches by its alarm function and being the first to have this feature. The twin crown was a common feature on other diving watches (one crown used to rotate the minute bezel), but on this model, it was used to set the alarm. A useful tool for a diver to hear what maybe they wouldn't see in certain conditions as sound travels through water more easily than light. Jaeger-LeCoultre saw fit to make a tribute limited edition of this watch in 2011 for the US market (There was a European version too). Just like this Jaeger LeCoultre watch would have been made under the LeCoultre name in 1959 for the US market as well. This was due to an American protectionist duties act (Smoot–Hawley Tariff Act) that forced Jaeger-LeCoultre to ship movements and assemble its watches in the US under the LeCoultre name and was distributed by US company Vacheron-LeCoultre. This model also made a buzz on the internet when a man found one in a Goodwill store in the US for $5.99 and sold it for $35,000 and an Omega Speedmaster to Eric Ku. We are pretty sure that with its dark brown inner dial, this one will fetch a great price too.
Estimate CHF 20,000 – 30,000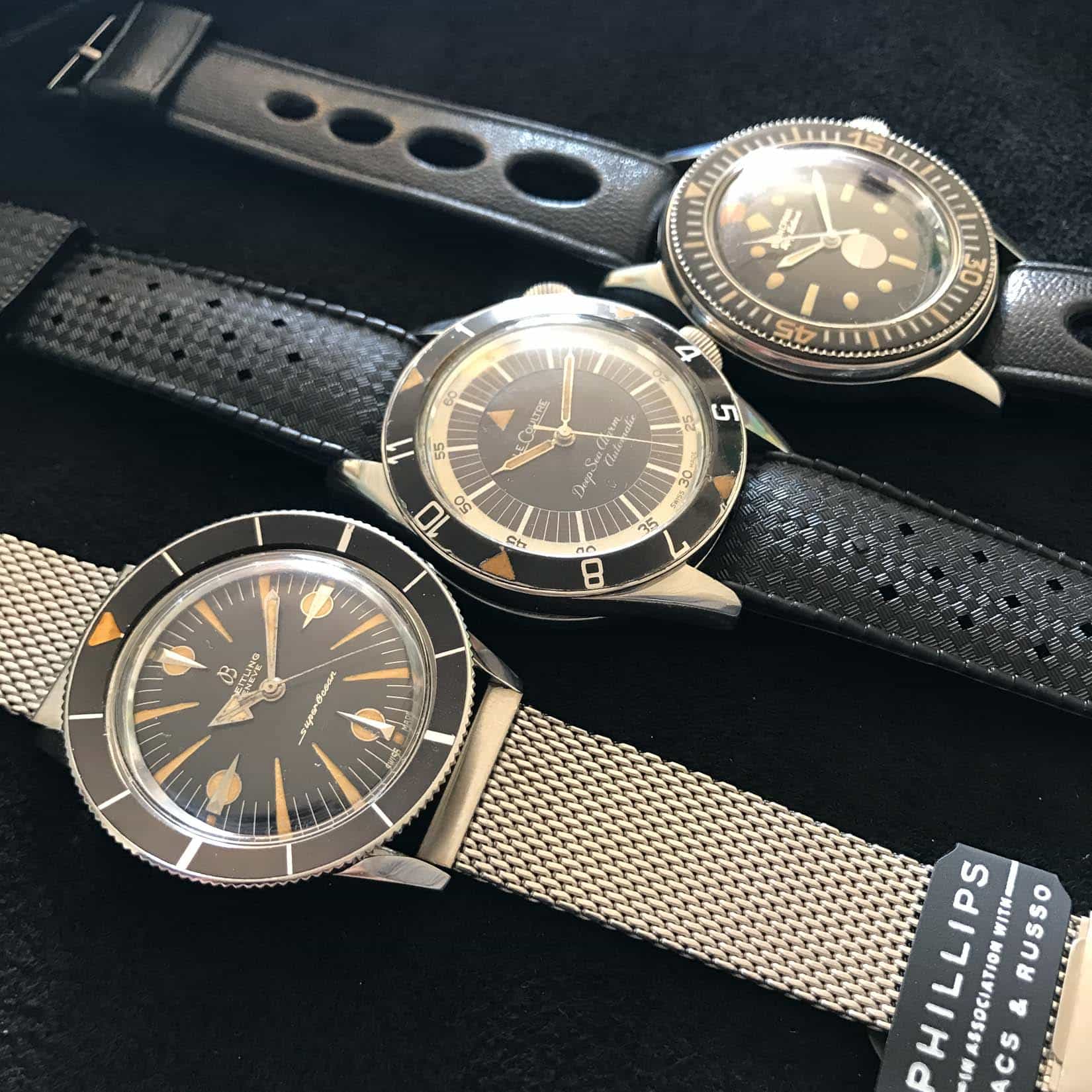 LOT #101 – Blancpain Fifty Fathoms MILSPEC I retailed by Barakuda
The Fifty Fathoms is among the most iconic diving watches of all time. Under the 30-year tenure of CEO Jean-Jacques Fiechter, an avid diver, beginning in 1950, Blancpain developed its first real diving watch. The name Fifty Fathoms, the equivalent of 91.45 meters, was the depth rating for the watch. It was developed with specifications and collaborative efforts of the French Combat Diving School. The release took place in 1953, one year before Rolex released the Submariner. Following the French Navy, other militaries followed suit including the German, Israeli, Polish and US Navy.
The German Navy was supplied by the diving equipment distributor Barakuda. You may recognize the name from other often called Blancpain Barracuda models. However, it was not the fish, but rather the name of this distributor who also supplied Bund military issued watched for German military divers.
This MILSPEC I has the feature of the humidity indicator at 6 o'clock and was featured at the Blancpain museum 275th anniversary event. The ticket and certificate from the event are included in this lot. This is a civilian version and has no military engraving, but does have the Barakuda engraving on the back from the distributor.
Estimate CHF 20,000 – 30,000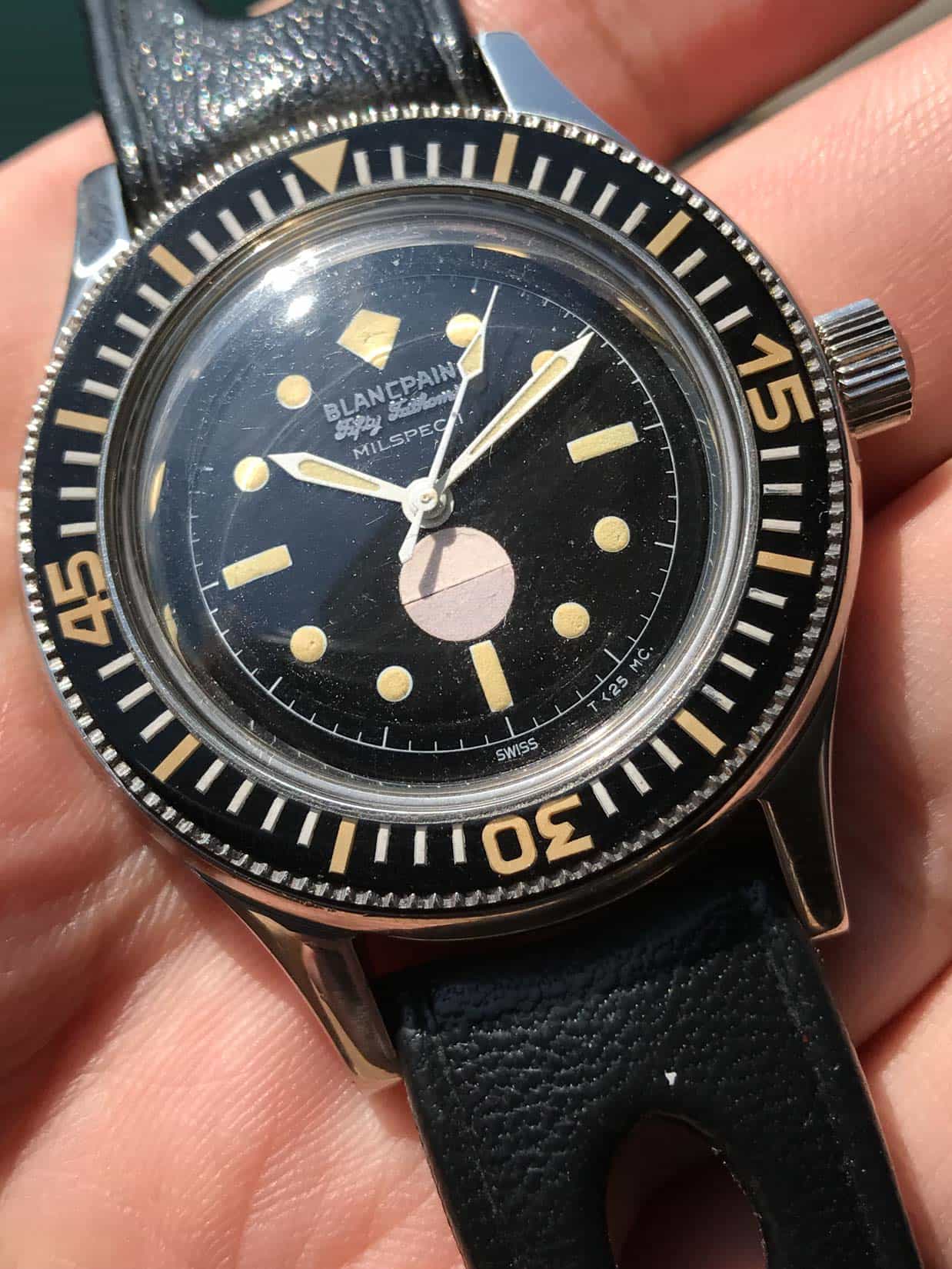 LOT #237 – Rolex Daytona 6263 Paul Newman "The Legend", 18K yellow gold
Back in the day, most collectors and scholars doubted the existence of an 18K gold screw down Paul Newman Daytona. It was unimaginable that such an early reference would exist let alone in gold. However, it does. Two correct examples surfaced and baffled almost everyone. Therefore, it carries the nickname "The Legend" and as the only third correct example ever to surface within a range of only a few hundred serial numbers, dare we say one will not surface again? This is the rarest and most desirable Rolex "Paul Newman" Daytona of all time. This example boasts a stunning case with its original first series gold 'mille righe" pushers and a clean dial with intact luminous indexes. If the Bao Dai wasn't in this auction, a Rolex record would be set by this one. However, a Daytona "Paul Newman" world record is on its way.
Estimate CHF 800,000 – 1,600,000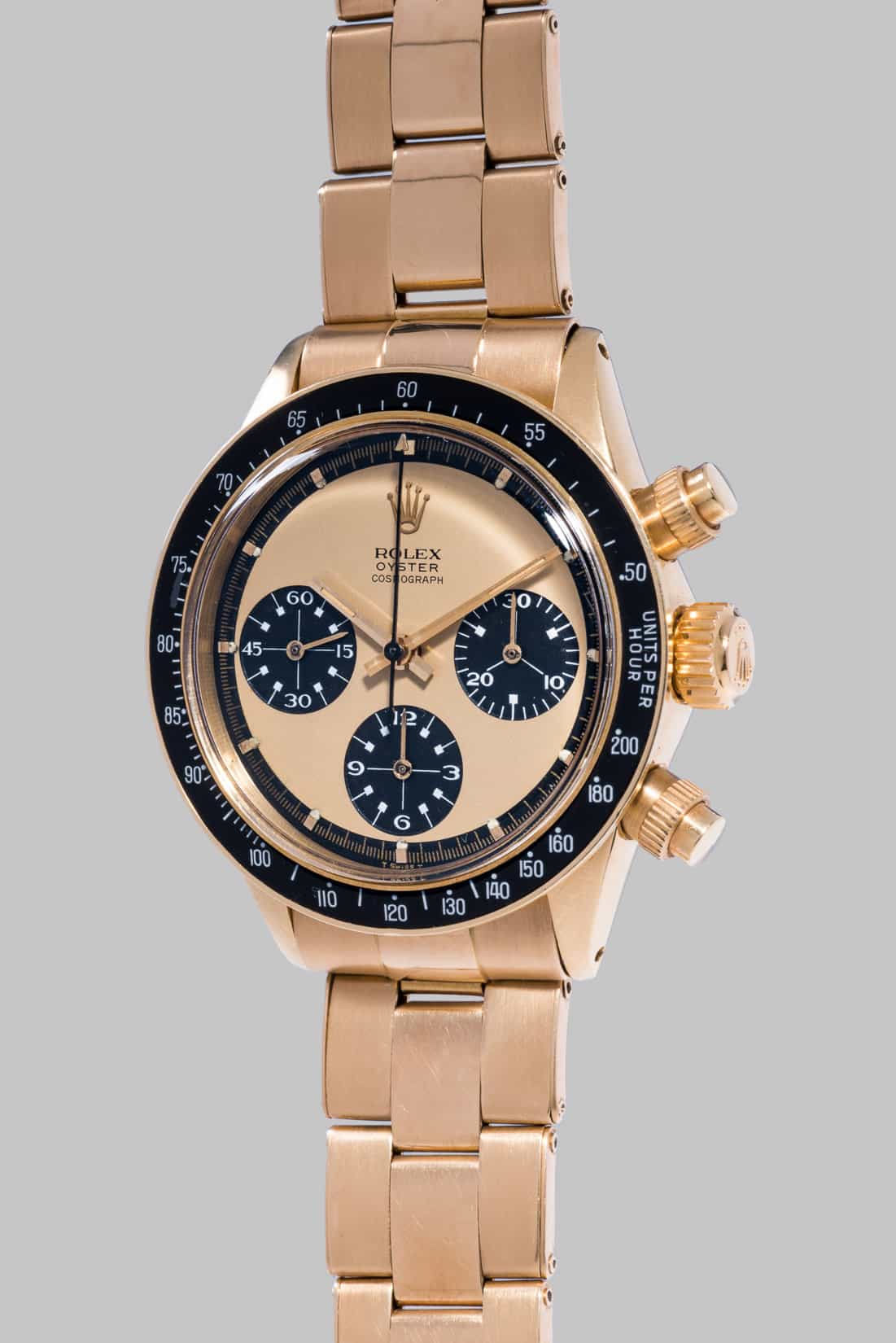 Thanks to Sacha Davidoff (from ROY & SACHA DAVIDOFF in Geneva) for this report.