RGM 801 Corps of Engineers Watch
Truth to be told, my knowledge is limited regarding American watch brands. Of course I know the big brands, some of their mile stones perhaps a bit more in detail, but that's basically it. Not that I am not interested in them, but since I live and work in Europe and am being 'covered' in Swiss and German watches here, there are not many occasions I can use to learn about them. What's more, their availability here in Europe is very limited. Very limited. I trust that our contributor Michael Stockton, who actually has its roots close to the American watch making area (near RGM) in Pennsylvania, will do an in-depth article on American watches and its industry some day, to teach our European readers more about it (or at least me).
When RGM (Roland Murphy) sent me his latest press release, I took note of it and thought about it for a while. It has a couple of ingredients that make this a very interesting piece. First of all it is a military inspired timepiece, including the real glass enamel dial, large Arabic numerals and time-correct designed hands as well as a large hand-wound movement. Before I get to the beautiful dial, let me first get back to the history that inspired RGM to create this 801 Corps of Engineers watch.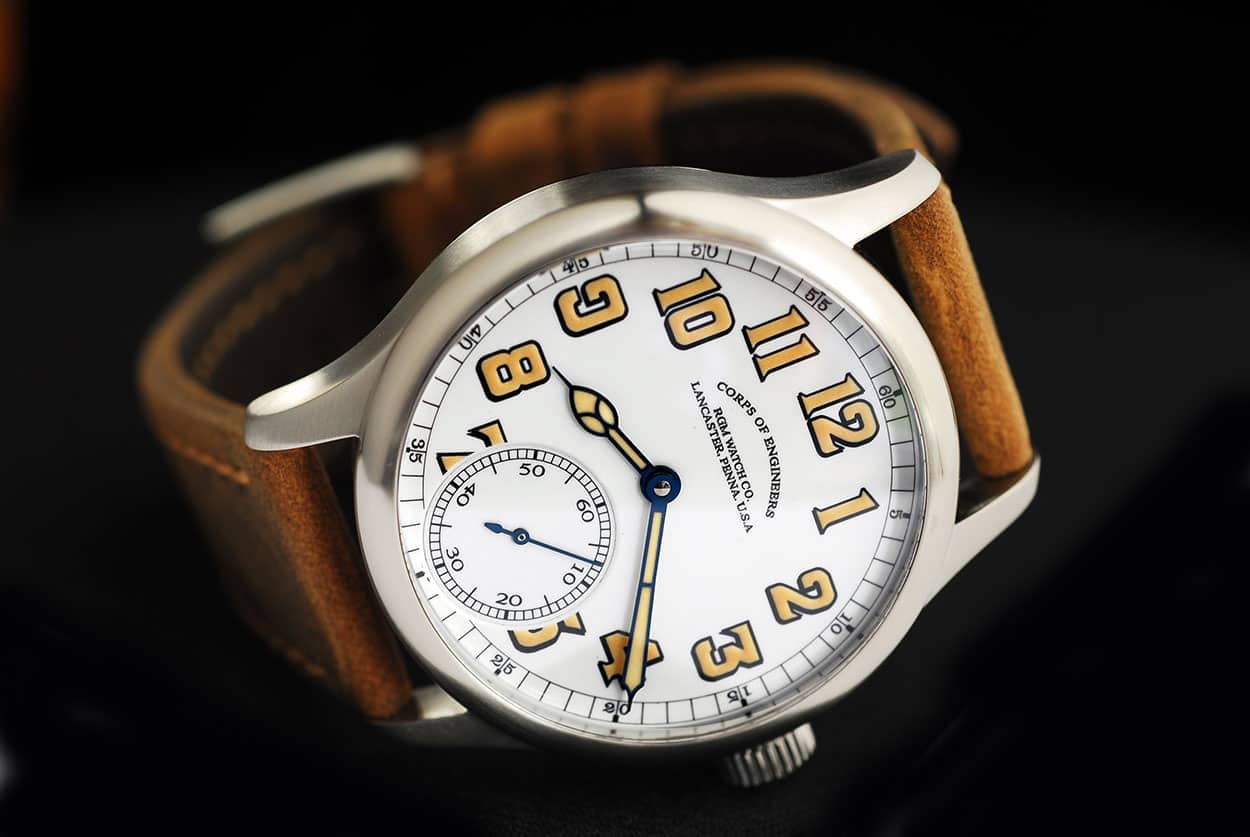 According to RGM, the United States joined the "The Great War" on April 6th 1917 and sent over their US Army Corps of Engineers to help. They brought with them about 1000 American-made Hamilton railroad watches (adopting the General Railroad Timepiece Standards of 1893). Easy winding, legibility and accuracy (within 30 seconds per week deviation).
You have to know that "The Great War" is better known as World War I at this side of the pond. A dirty war, that went on from 1914 till 1918. Dirty as industrialization and new technologies resulted in the slaughter of millions of people. Who doesn't know the historical movies in black and white with soldiers in trenches looking scared or grabbing for their gas masks. Tanks, submarines, machine guns, chemicals and military planes were developed and produced in rapid tempo on both sides.

However, it was also this First World War that "made" the wrist watch. Although it was already a bit more common for ladies to wear their watches on the wrist with a small bracelet, for men there were still mainly pocket watches. Being in combat meant to had to use both hands, especially in those dangerous trenches. In those days, wrist watches were merely pocket watches with soldered lugs and a thin leather strap around your wrist. This way, you could read the time without having to put your rifle away for a moment.
The General Railroad Timepiece Standards of 1893 required that the watches have bold Arabic numerals on a white dial with dark hands. This for perfect legibility for the wearer. These white dials were real glass enamel dials and very common for watches to have at the time. Nowadays, other materials are being used of course as it can be done much cheaper with modern technology like laser cutting. Some brands still use enamel dials, as it is now being regarded as an art and watch enthusiasts and collectors admire the artisans who are still capable of making these dials today.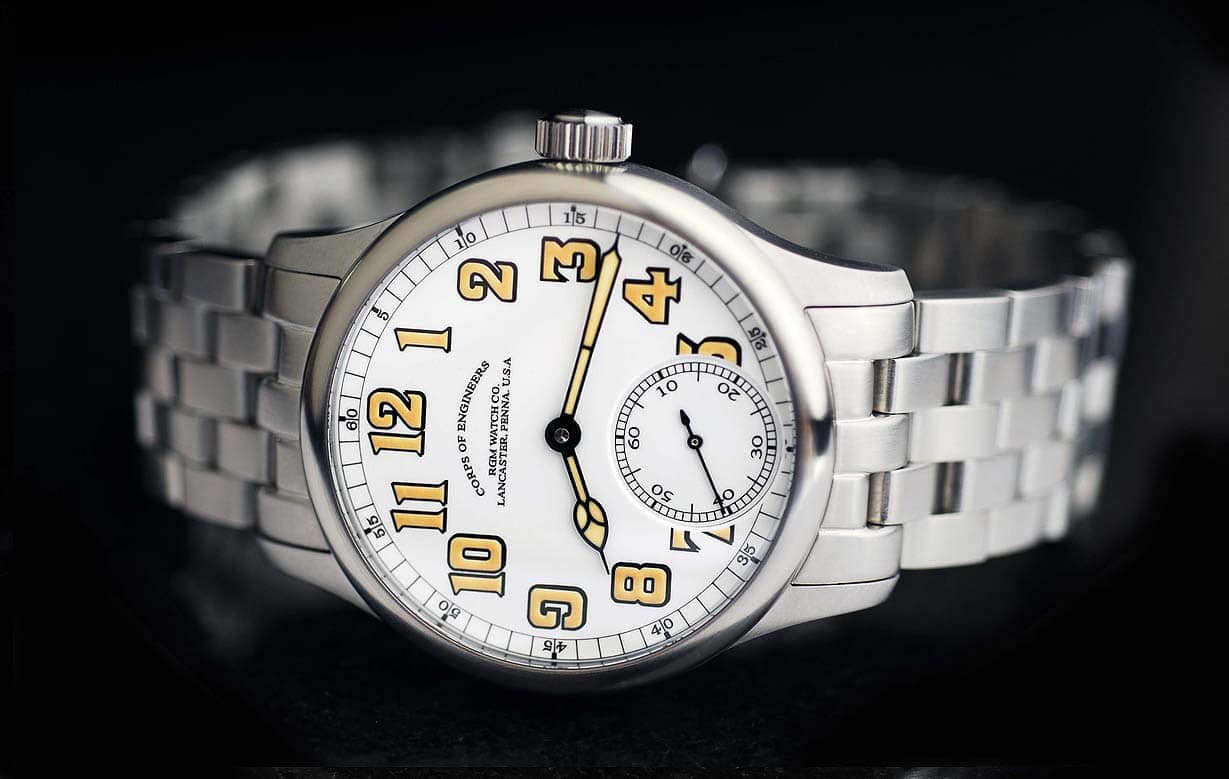 RGM used the Grand Feu ("Great Fire") technique to produce these white dials for their 801 Corps of Engineers timepiece. White powdered glass is applied to a metal plate and heated to high temperatures. This way, the applied powder will melt and will turn into this new smooth surface. Using the Grand Feu technique, extremely high temperatures are used when adding layer after layer of enamel to get the best results. Worst case scenario is that during this process of re-firing the enamel layers, cracks or unwanted melting start to appear.
Besides the enamel dial, RGM applied beautiful painted Arabic numerals on the dial using the same typography of watches from that era. Bascially the same goes for the beautiful blue hands, they properly fit the era. The entire watch in my opinion is a real tribute to watches from the early 20th century. Of course, instead of using radioactive material that was such a common thing to do in those days, RGM applied the often used Super Luminova for the dial and hands. The in-house developed RGM caliber 801 hand-wound movement completes the package. The applied Super Luminova has this wonderful yellow-brown-ish color that reflects the luminous material in those days.
The caliber 801 movement is hand-polished, has classic bridge shapes and is entirely hand-finished and decorated. RGM offers clients to have the caliber 801 customized upon request.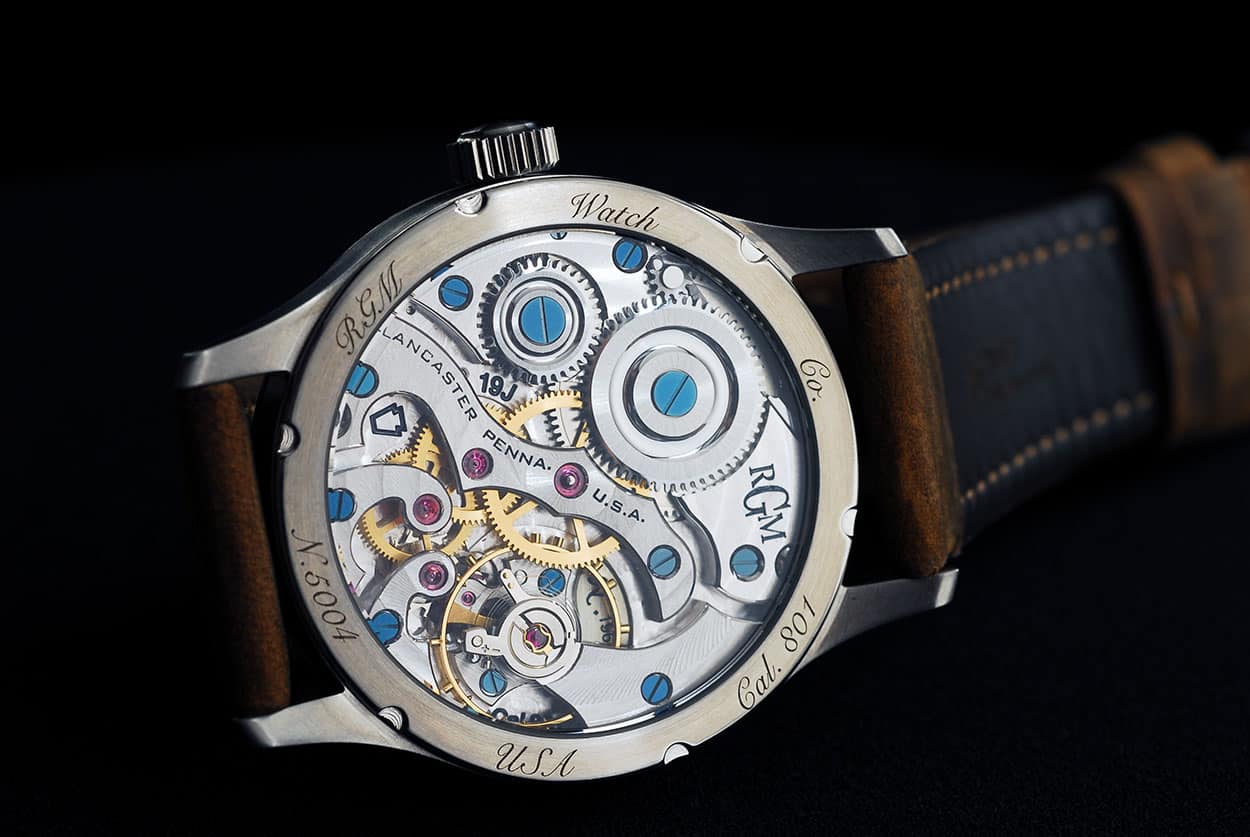 According to RGM, the movement has been designed and manufactured according to US watchmaking history. This means that:
"The bridges are reminiscent of the Keystone Howard Watch Company's "Edward Howard" model, their flagship watch and one of the high grade watches of its time.  The unique winding click is inspired by the Illinois Watch Company's "Illini" model and the deep polished winding wheels are finished like those of the Illinois "Bunn Special".  Like the great Railroad watches from America's past, the 801 has a high grade finish that denotes the quality of its construction."
Like I wrote in the introduction of this article, I need some catching up to do with America's history in watchmaking. However, what becomes clear is the amount of pride that RGM puts into their watches. Further more, the movement has 19 jewels, 18,000bph, either Rhodium or gold plated, circular Damaskeening, perlage and anglage. RGM caliber 801 has a 40-44 hour power reserve.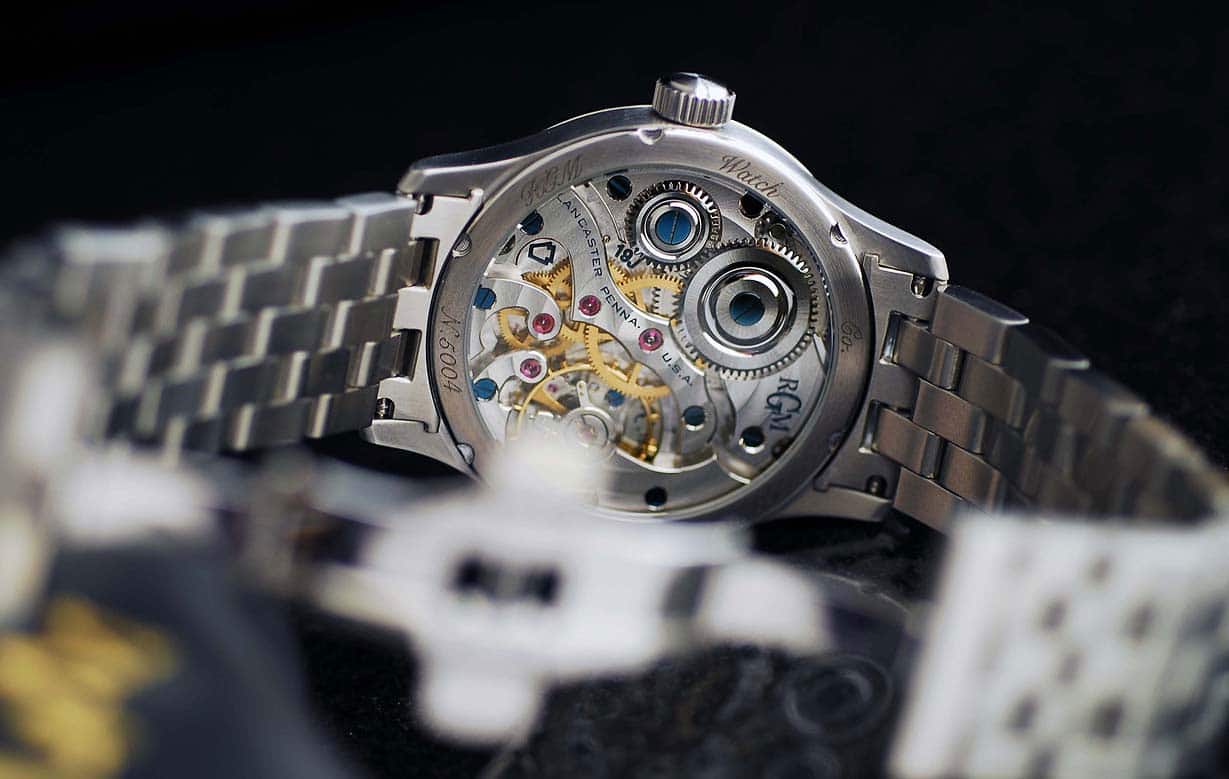 With a diameter of 42mm, the RGM 801 Corps of Engineers is a very wearable watch for today's standards. The good thing is that it is only 10mm in height, so it will actually wear like an elegant timepiece. The watch is either being delivered on a nice brown Tuscan calf strap ($9,700.- USD) or a stainless steel bracelet ($10,450.- USD).
The official RGM website gives you a couple of options for this watch as well. Besides custom engraving on the balance bridge ($850.- USD), you can request an optional hacking second ($1250.- USD) or optional Wolfs tooth winding wheels ($850.- USD) that are apparently part of that American watchmaking history. All very cool features that can turn this RGM 801 Corps of Engineers watch in even something more special.