Roger Dubuis Excalibur Eon Gold — Can I Pull Off A €153K Watch?
Sure I can!
The secret to wearing a watch the price of a Porsche 911 is to just do it. It's really that simple. That's because in the case of the Roger Dubuis Excalibur Eon Gold, people will notice your exuberant watch, but they may not recognize it. A gold Rolex is as conspicuous as the Porsche, but no matter how extravagant the Excalibur with its flying tourbillon might be, it won't attract the (negative) attention a gold watch with a Cyclops most unfortunately does nowadays. You might even say that if your everyday playground is in the upper echelons, the Excalibur Eon Gold is a safe choice. This is how I experienced wearing it as a daily beater for a week.
What I like best about the Roger Dubuis Excalibur Eon Gold (RDDBEX0836) is that it's a provocative watch. It's a polarizing one too. There's no middle ground when it comes to appreciating this outrageous piece of love/hate "hyper horology". But building a middle-of-the-road people-pleaser was never the objective. Roger Dubuis builds hyper watches for hyper people who drive hyper cars. The long-time partnership with Lamborghini is spot on because both brands provide wildly designed, exclusive products for daring people with quite a few bucks to burn on the finer things in life.
… a hedonist approach to life is almost never an introverted one …
In fact, Roger Dubuis on its website says it caters to "an exclusive tribe of hedonists" for whom pleasure is a way of life. And since a hedonist approach to life is almost never an introverted one, an Excalibur Eon Gold is a great timing partner on the road to ultimate pleasure.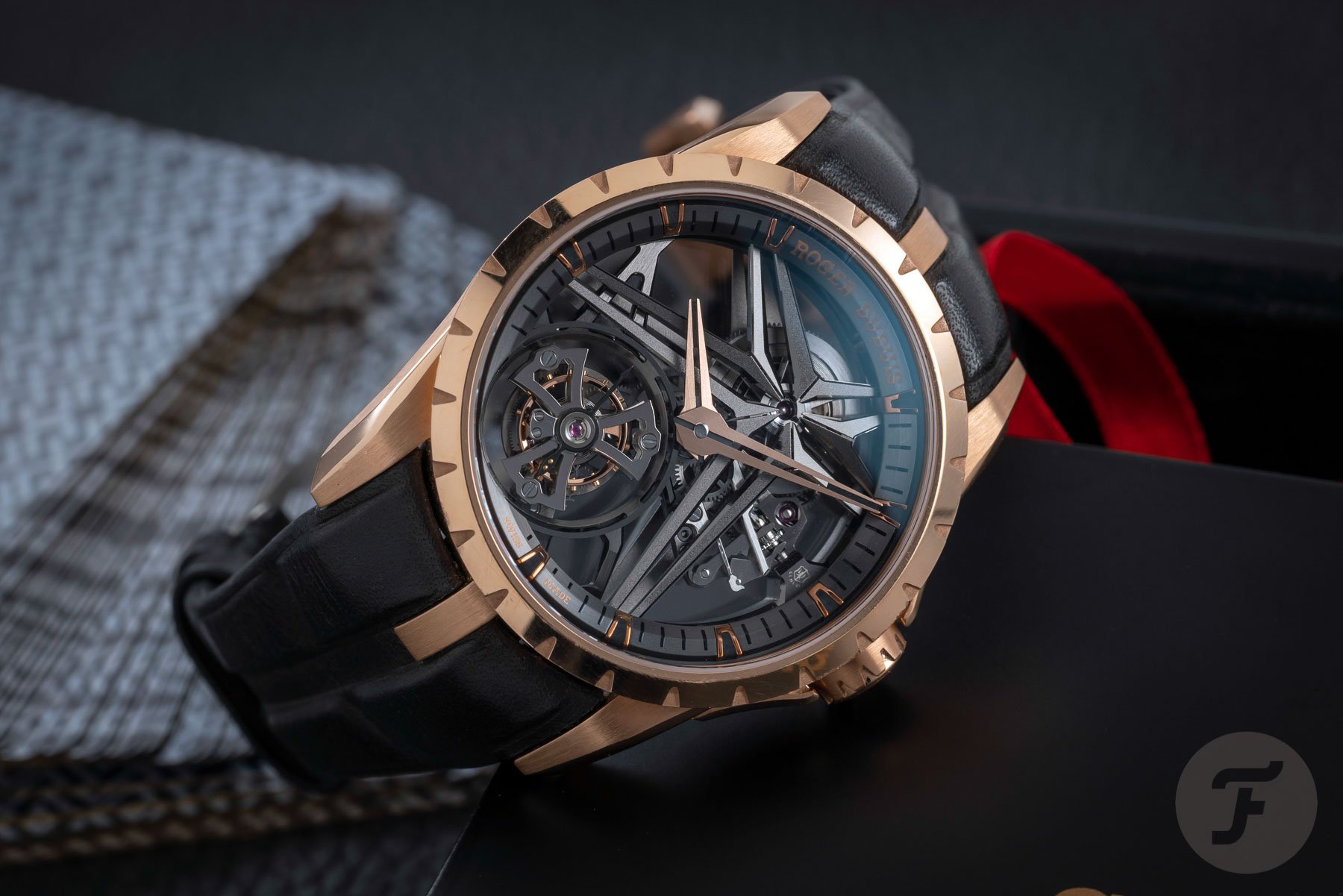 Roger Dubuis Excalibur Eon Gold — special everything
I have to admit, I found it very pleasurable to wear the Roger Dubuis Excalibur Eon Gold. Not because I was constantly reminded I was wearing a watch with a price of €153,000 — it's weird how fast the price slips to the back of your head — but because of the way it looks. Nothing I've ever worn before looks like an Excalibur Single Flying Tourbillon. Every aspect of the watch is instantly recognizable as a Roger Dubuis Excalibur. That is, if you're into watches. But even if you're not, there's no getting around the fact that the watch is special. Everything is edgy and prominent on the Excalibur, from the notched bezel to the three lugs and the skeletonized tourbillon movement in between.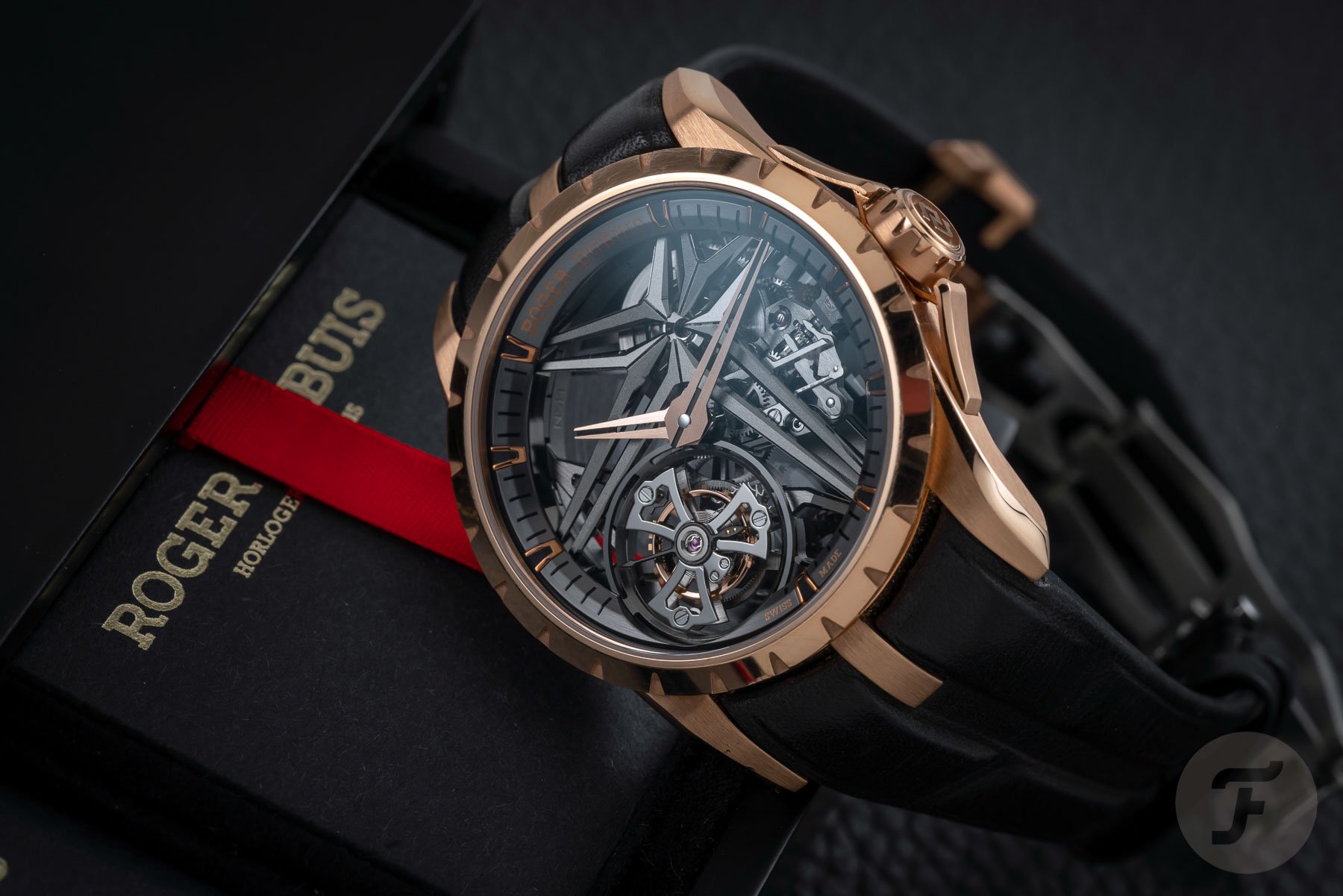 Finding the subtle touch
With a case size of 42 × 12.7mm the Excalibur Eon Gold is definitely quite slim and easy to wear. The details are sharp and geometrical, and there are so many details to be seen, like the signature triple lugs. Done in an alloy "RD" calls Eon gold — a pink gold alloy that has a reduced tendency to tarnish — the highly detailed case really stands out. And not everything is as brash as the case. When you look closer, you will discover the gray double-surface flange with an engraved minute track. Transferred text sits between the polished, pink gold-plated hour markers in typical angular Excalibur style. It's a subtle touch, for sure.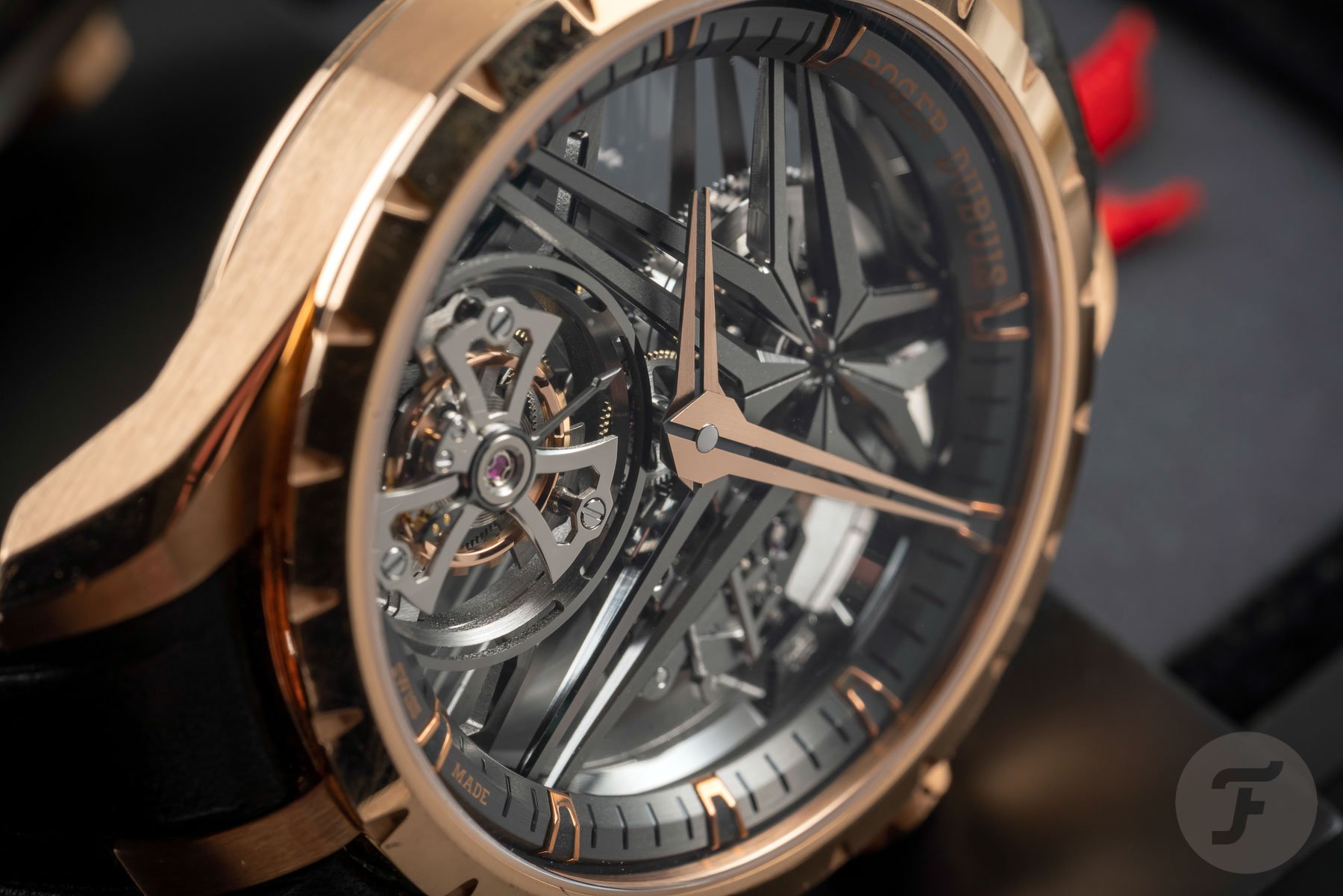 The star of the show
Once on the wrist, it's very hard to not keep looking at the watch and, more specifically, the fully exposed movement. Clearly visible through the sapphire crystal with anti-reflective coating, the in-house, hand-wound caliber RD512SQ Skeleton Flying Tourbillon is quite literally the star of the show. The 194-part, 3Hz movement has a distinct star shape and a thickness of 6.9mm. Fully wound, it delivers 72 hours of power reserve. It is quite the spectacle.
Every single component was finished by hand by hyper-skilled craftspeople …
Looking at the shot-blasted and trued-up main plate and bridges with NAC coating through a magnifying glass is a veritable horological pleasure. And when you do, you also notice the Seal of Geneva at 3 o'clock. This wild and exuberant knight of a watch complies with one of the most respected certifications in the world of watches. Every single component was finished by hand by hyper-skilled craftspeople in the Geneva-based manufacture. And that is something easy to overlook because the wild appearance very often drowns out the delicate details.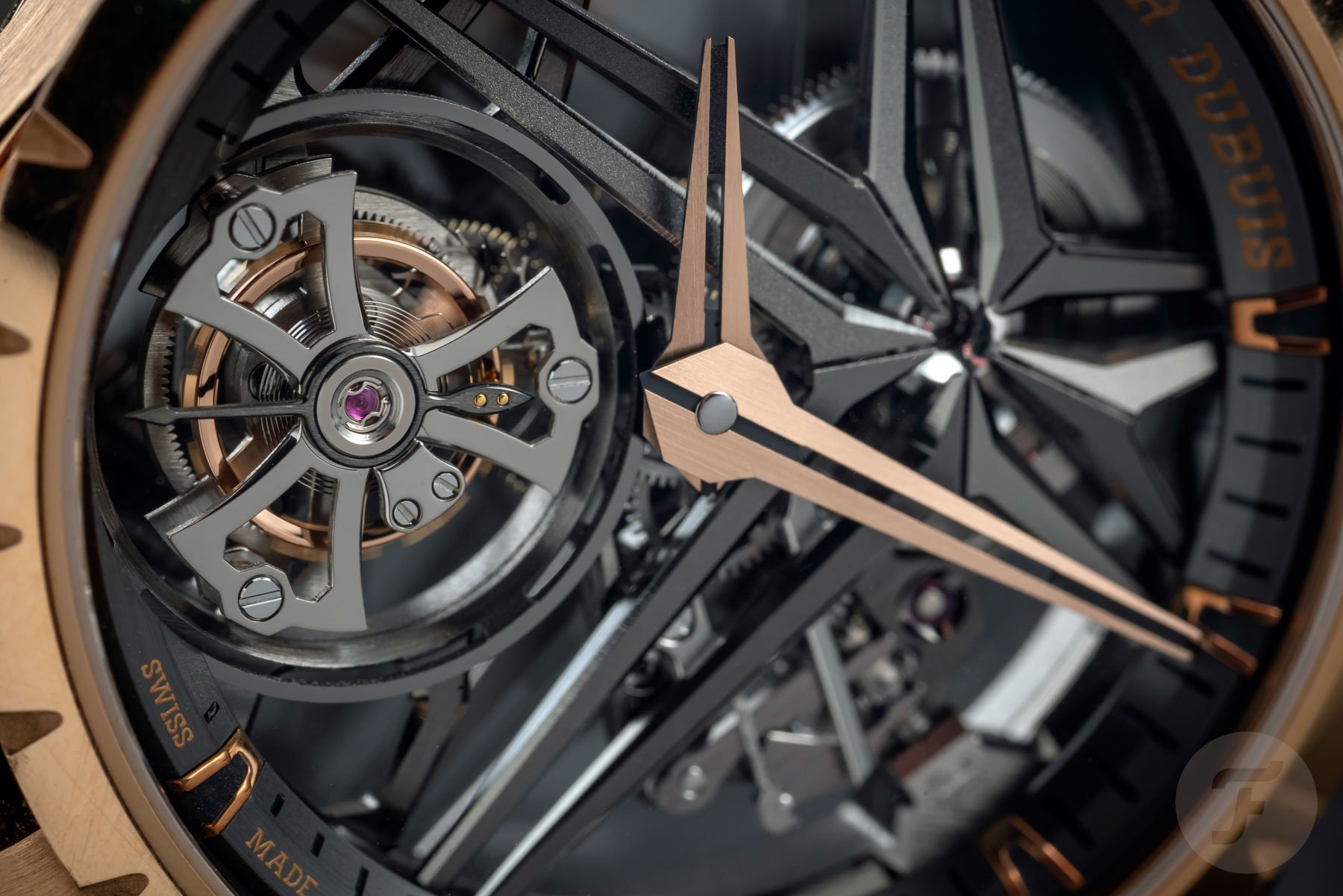 A single flying tourbillon for your viewing pleasure
Other attention-grabbing features are the very long, angular, blade-like hands and of course the tourbillon itself. It's not at the traditional 6 or 12 o'clock position, but rather, at 7 o'clock. The off-center position creates a more distorted look, but since the mechanism is wedged between the two "legs" of the star-shaped bridges, it sits well there. It's a natural position from a visual standpoint. And since it's a flying tourbillon without a view-blocking bridge on the top, it leaves more to enjoy. What you might not see is that the lower cage is made of titanium. The upper cage in mirror-polished cobalt chrome, however, is easier to spot.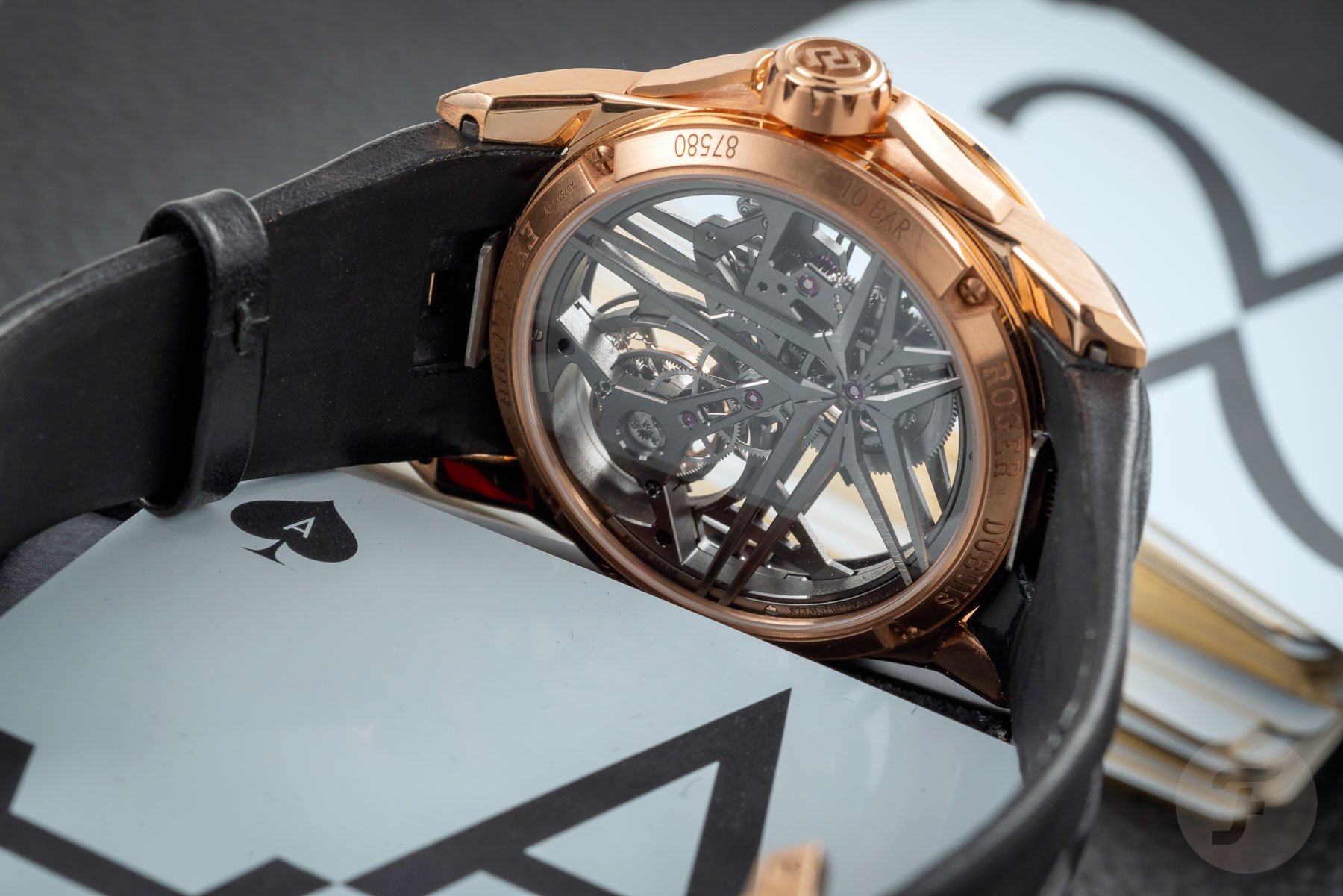 Skeletonized with broad strokes
It's so easy to appreciate the haute horlogerie aspects of the Excalibur Eon Gold since you have an uninterrupted view of the movement from the front and the back. Taking it off and holding it up to the light is also very entertaining because it brings the three-dimensional aspects of depth and space to life. The limiting factor with skeletonized watches is always one's wrist, which blocks the view and light going through. Luckily enough, the Excalibur Eon Gold has a skeletonized movement that uses broad strokes rather than the delicate ones you often see in traditional skeleton watches. Even on the wrist, it allows you to fully appreciate the open-worked structure that reveals the workings of the movement.
Practice makes perfect
So how does the Excalibur Eon Gold sit on the wrist? Well, once you have set up the black 3D calf leather strap, it feels good. Since the gold watch's weight is quite substantial, I prefer to keep it snug. As you would expect, the strap uses a dual-deployant clasp with a pink gold cover and spring-loaded titanium blades. The three-fold clasp with the spring takes a little getting used to, but practice makes perfect.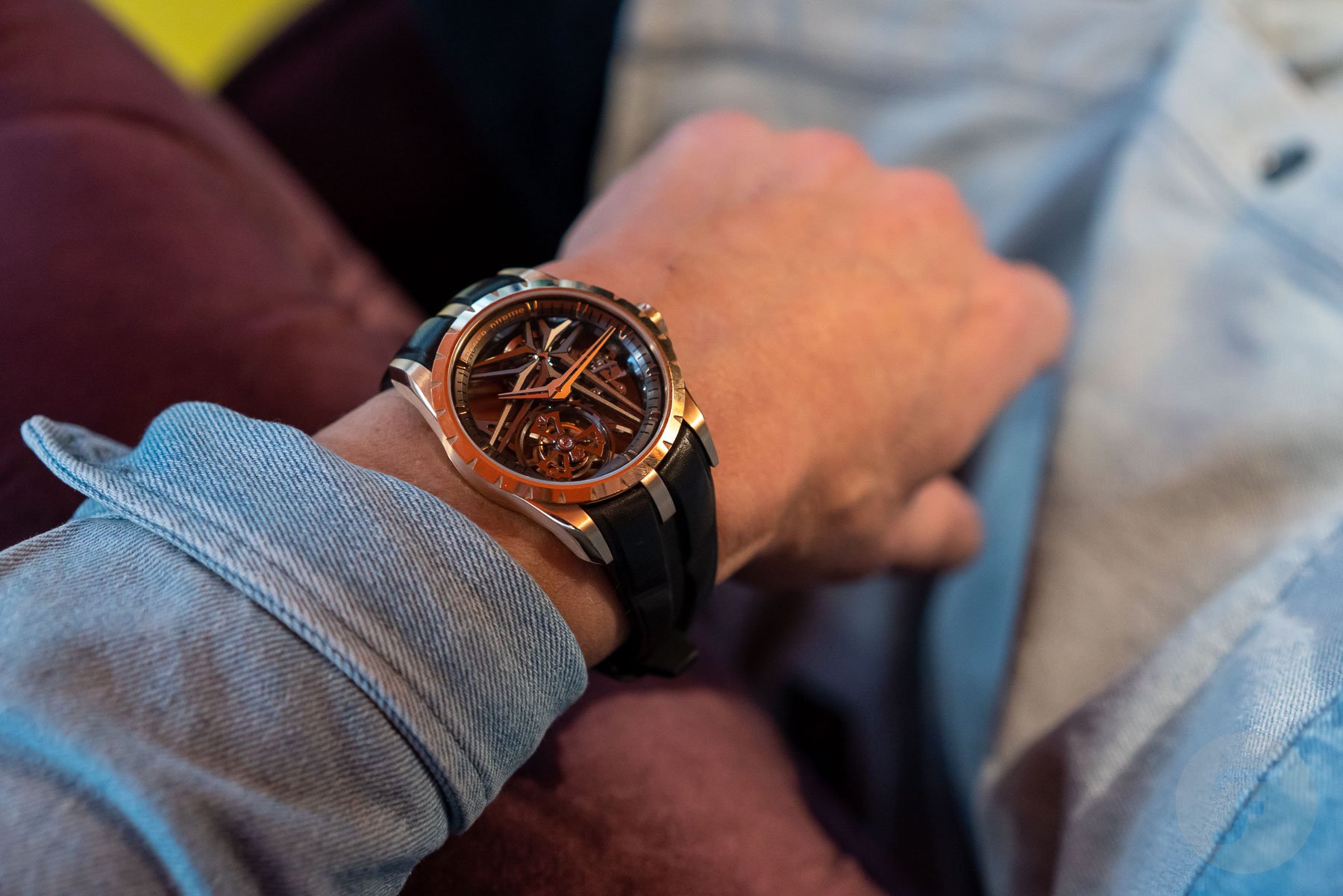 Changing the strap is way easier than you might expect, thanks to the interchangeability of the Quick Release System. But when you do, you also have to change the folding clasp, and that is something you have to do with great care. That's because of the softness of the leather that doesn't play nice with the pink gold part it slides through. The fear of cutting into the strap is very real.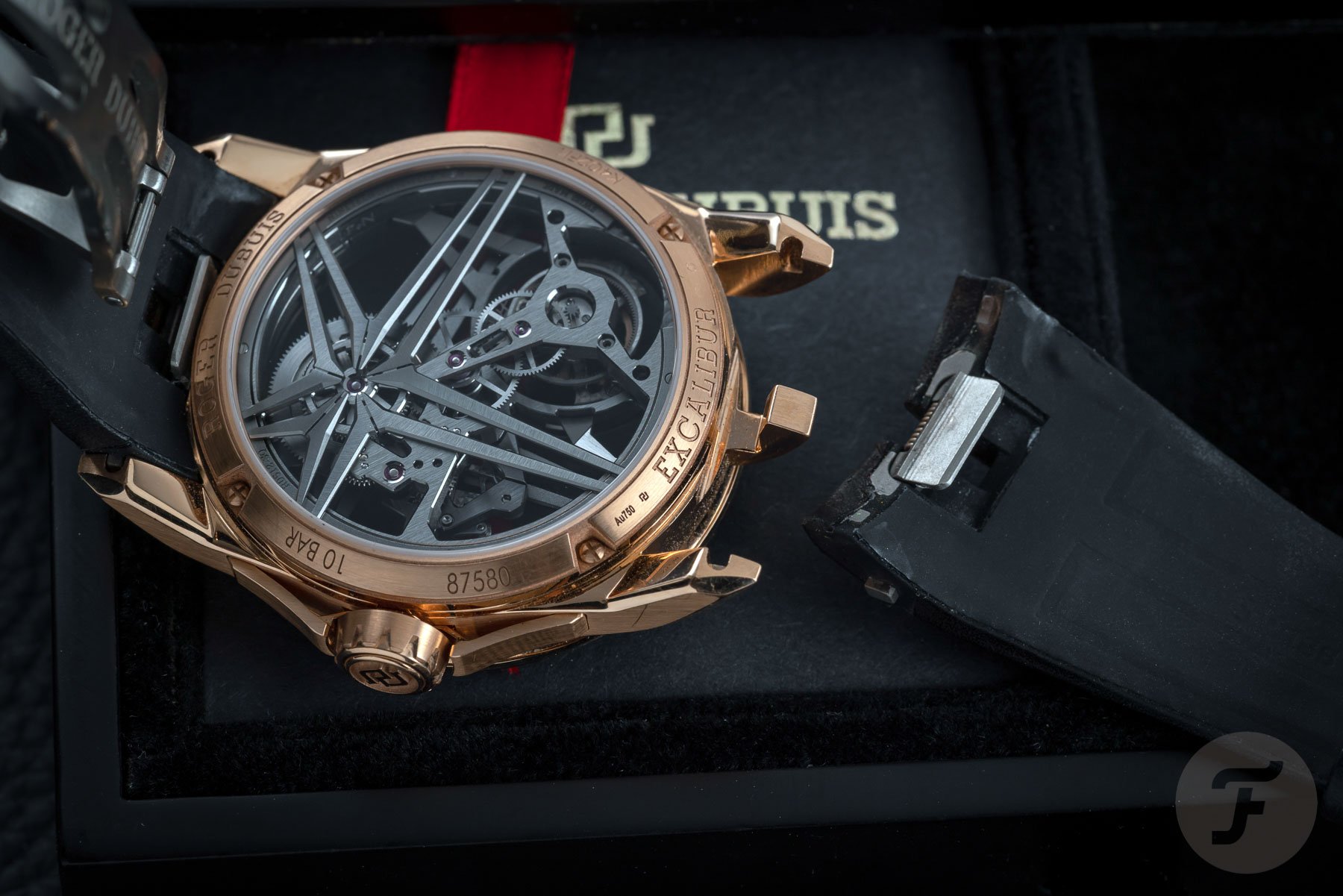 Creativity is king
What I truly admire is the creativity Roger Dubuis puts into its watches. They might not all be to my taste — the Knights Of The Round Table watches with their twelve miniature statues around the dial aren't really my cup of tea at all — but the brand sometimes shows some remarkable, original, and even intriguing stuff. One of the best examples is the Excalibur Minute Repeater Diabolus in Machina. The name of this unique piece refers to an outlawed chord from medieval times. The devil's dissonant tone rings out when the minute repeater is activated. And the idea of wearing a watch with a strap made of a used Pirelli F1 tire is pretty original, to say the least.
An "RD" and a "Lambo" in one go!
Since the Excalibur Eon Gold is limited to 88 pieces and has a price of €153,000, it's a very exclusive watch. As I said, you can buy a Porsche 911 for that kind of money or half a Lamborghini Huracán — that, in fact, might be a better comparison, since the two brands are closely collaborating. It's a clever collaboration, I might add. Both Roger Dubuis and Lamborghini use an extravagant, angular design language that appeals to people who live the high life in the fast lane.
… Roger Dubuis produces an estimated 4,500 to 5,000 watches a year …
When you take into account that Roger Dubuis produces an estimated 4,500 to 5,000 watches a year and Lamborghini builds around 5,750 cars a year, there's an "RD" for nearly every "Lambo" driver. Personally, I would start combining Roger Dubuis boutiques with Lamborghini dealerships, just to make life simpler for the hedonist crew both brands have in their sights. But that's just me.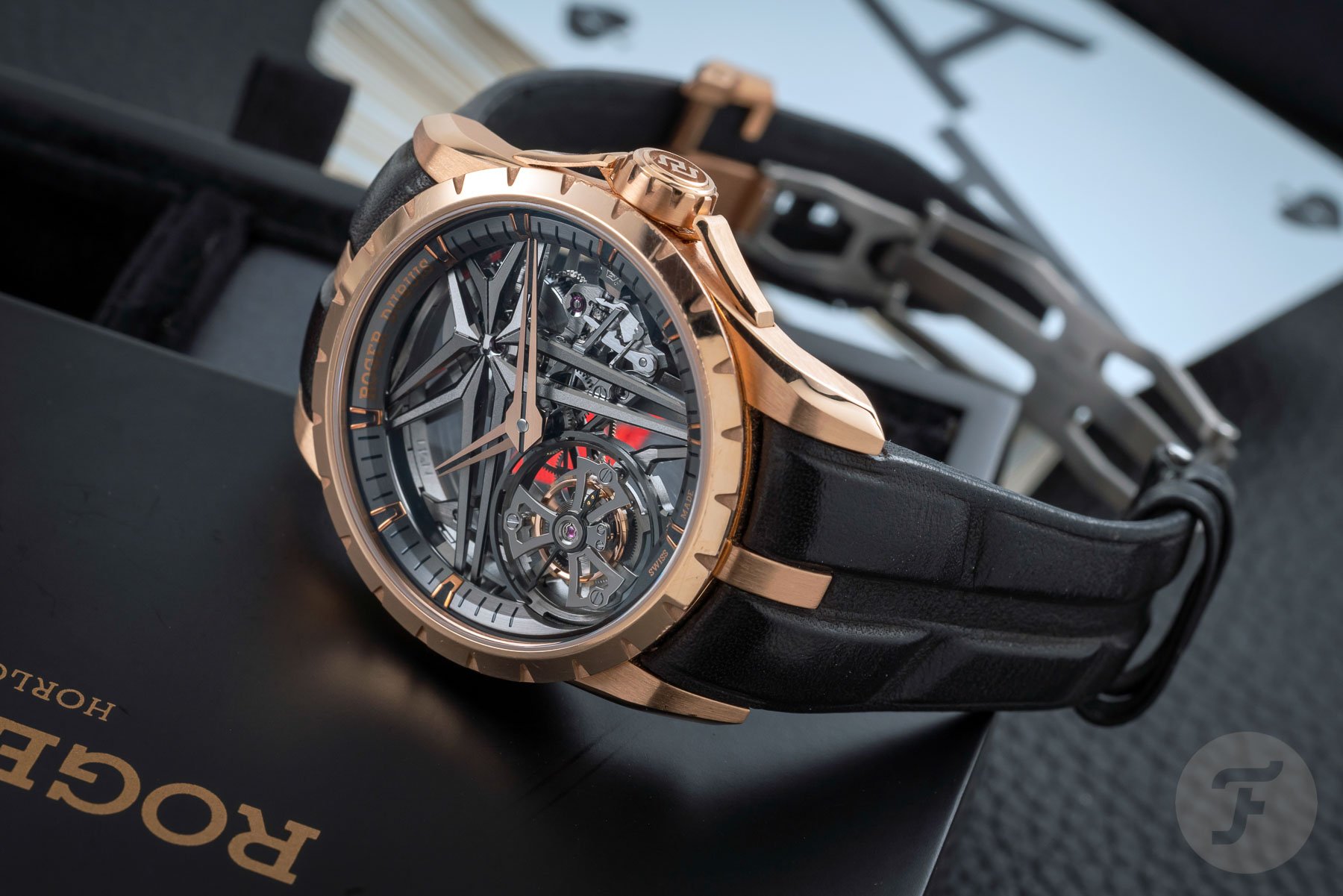 Would I go hyper?
Would I consider buying the €153K Excalibur Eon Gold hyper watch if I had the money? Well, I know I can pull it off. And I know I can and wear it with swagger and a certain laissez-faire. But that's not a fair answer to the question because I didn't pay for the watch. So instead, I'm treating this question hypothetically. Here goes. Although I thoroughly enjoyed wearing the watch for a week, I'm just not hedonistic enough, I guess. I would spend the money on something a bit more classical from a well-respected brand also situated in the Canton of Geneva. If it is any consolation, Roger Dubuis, I wouldn't buy a Lamborghini either if I were in the market for a hyper car. What I would buy instead? Sorry, but I don't think this is the right place to discuss that.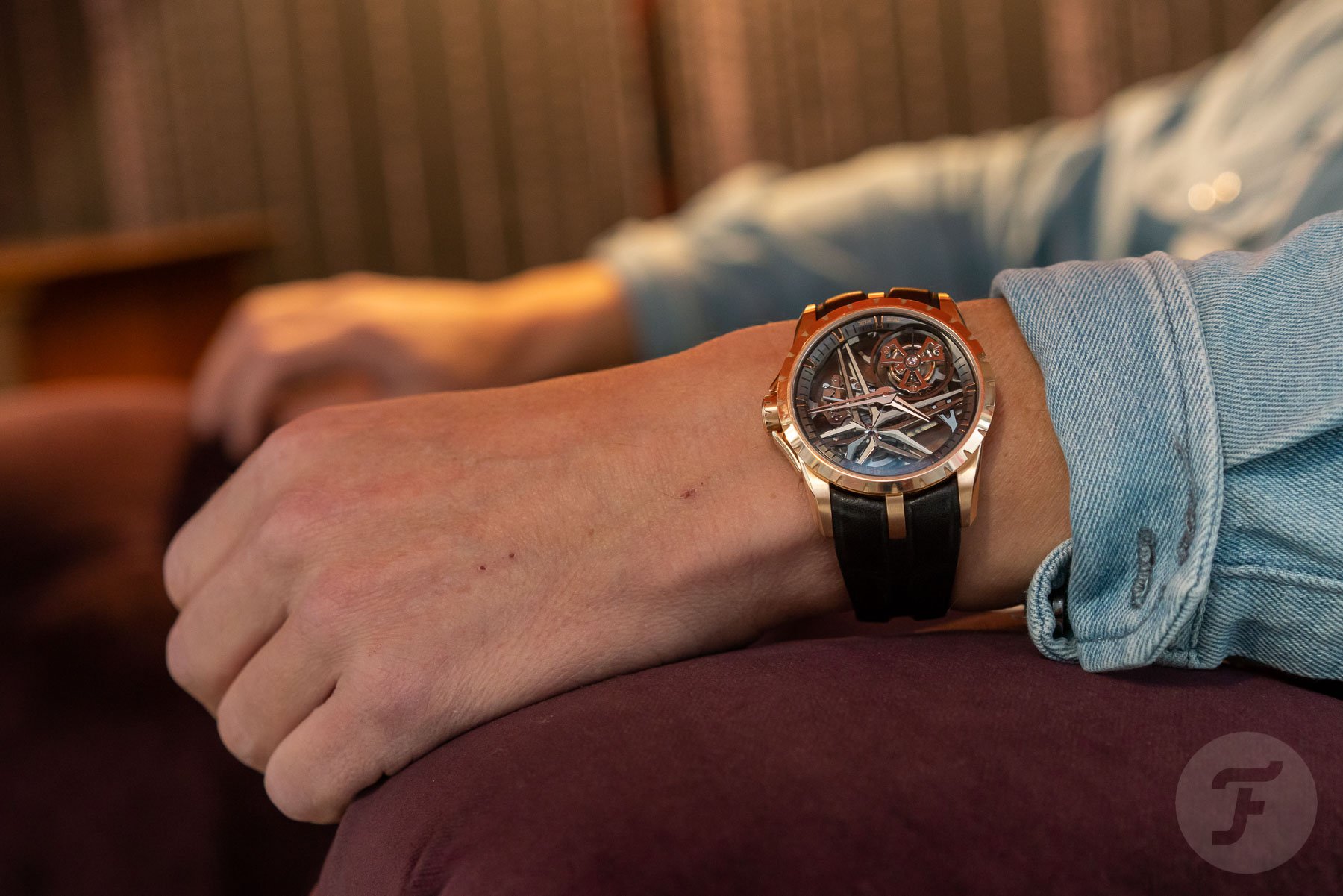 For more information on the Excalibur EON Gold, please head over to Roger Dubuis's official website.
Please find and follow me at Lex Stolk • Instagram