Fratello Editors Share Their Seiko Stories: Nacho's Grandfather's Seiko 7009-8081
An heirloom watch in need of some TLC
Here at Fratello, we are a varied bunch. As watch journalists, collectors, and enthusiasts, we are all a little different. Some of us can't get enough of proper tool watches, others love vintage — there's definitely a lot of love for Speedmasters — yet some prefer the value-for-money microbrand offerings. Others gravitate towards the wildly futuristic independent watchmakers. But there's one thing that brings us all together — the fact that, without exception, we have all owned or currently own at least one Seiko watch. The Japanese brand is the great equalizer. It is a brand for all, with offerings ranging from several hundred euros up into the thousands (and that's without counting Grand Seiko or Credor). In this series, we share with you our Seiko stories. As you know, Daan and Lex have already told theirs, but today, it's my turn to talk Seiko.
I had to dig quite deep until I found a story worth sharing. My first idea was to talk about my well-loved 1993 Seiko 7002, but I had already done that. In fact, that was the first article I wrote for Fratello back in 2021. I then figured I'd write about my Seiko SRPC35K1 "Mini Turtle," but I had already written a piece on this highly underrated and long-discontinued model. At this point, I was just about ready to throw in the towel. But finally, a couple of days ago, I remembered that there's one very special Seiko in my collection that I've never talked about or even photographed. It is a watch once owned by my maternal grandfather and passed down to me by my grandmother in the early days of my appreciation for mechanical watches. Today, we take a closer look at this Seiko 7009-8081.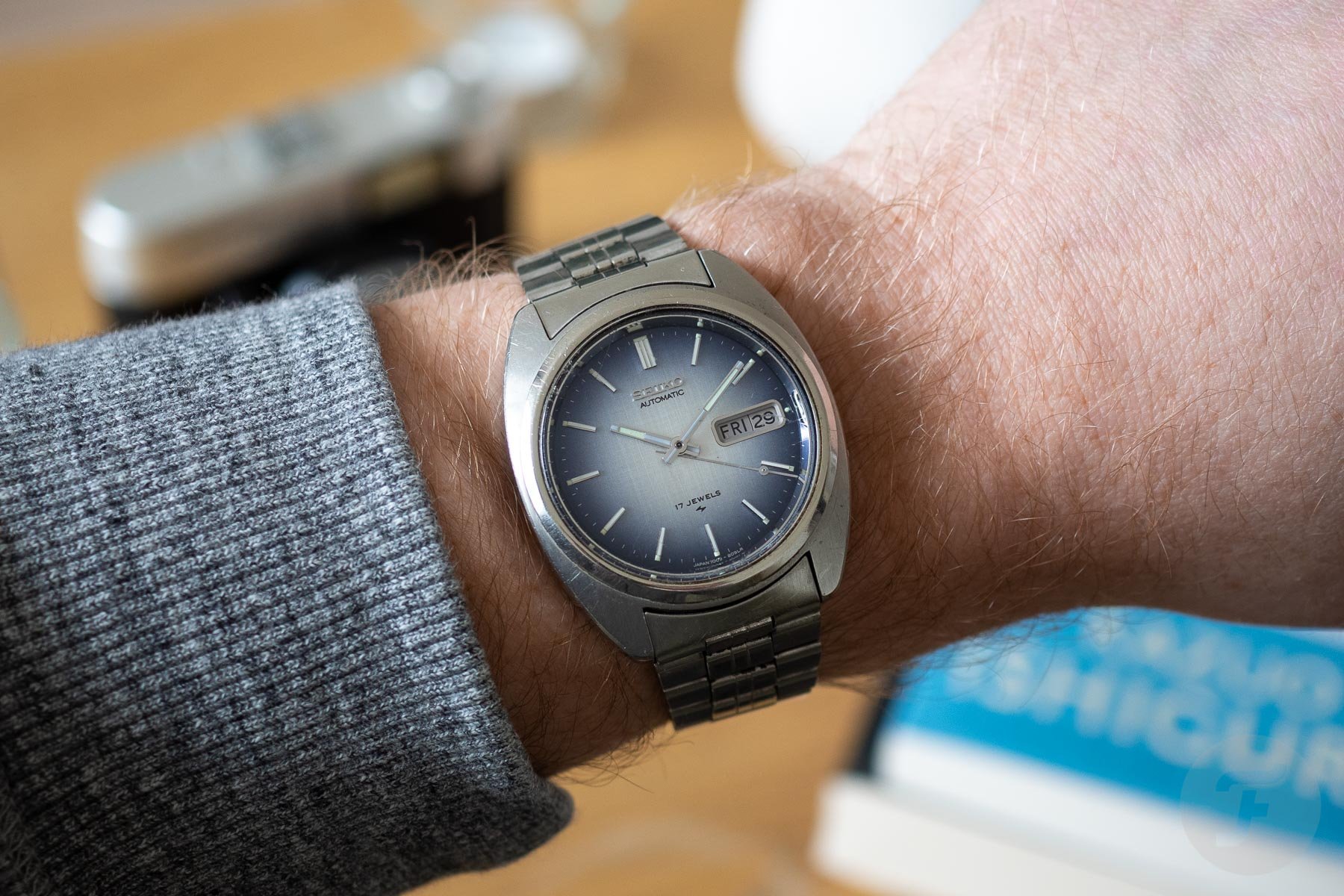 The old shoe box in the back of the closet
Now, I can't tell you a whole lot about the watch itself (I'll do my best in the next section) as I haven't worn it much. This is because, as you can see in the photos, the seconds hand has decided to make a run for it, escaping the central pinion's command. Thankfully, it seems to have wedged itself under one of the applied hour markers, where it has remained for many years instead of causing damage to the dial. But it's not like the watch was moving around much. I mentioned that my grandmother passed on stewardship of this piece to me a few years ago. And that story is short, but it is one worth telling.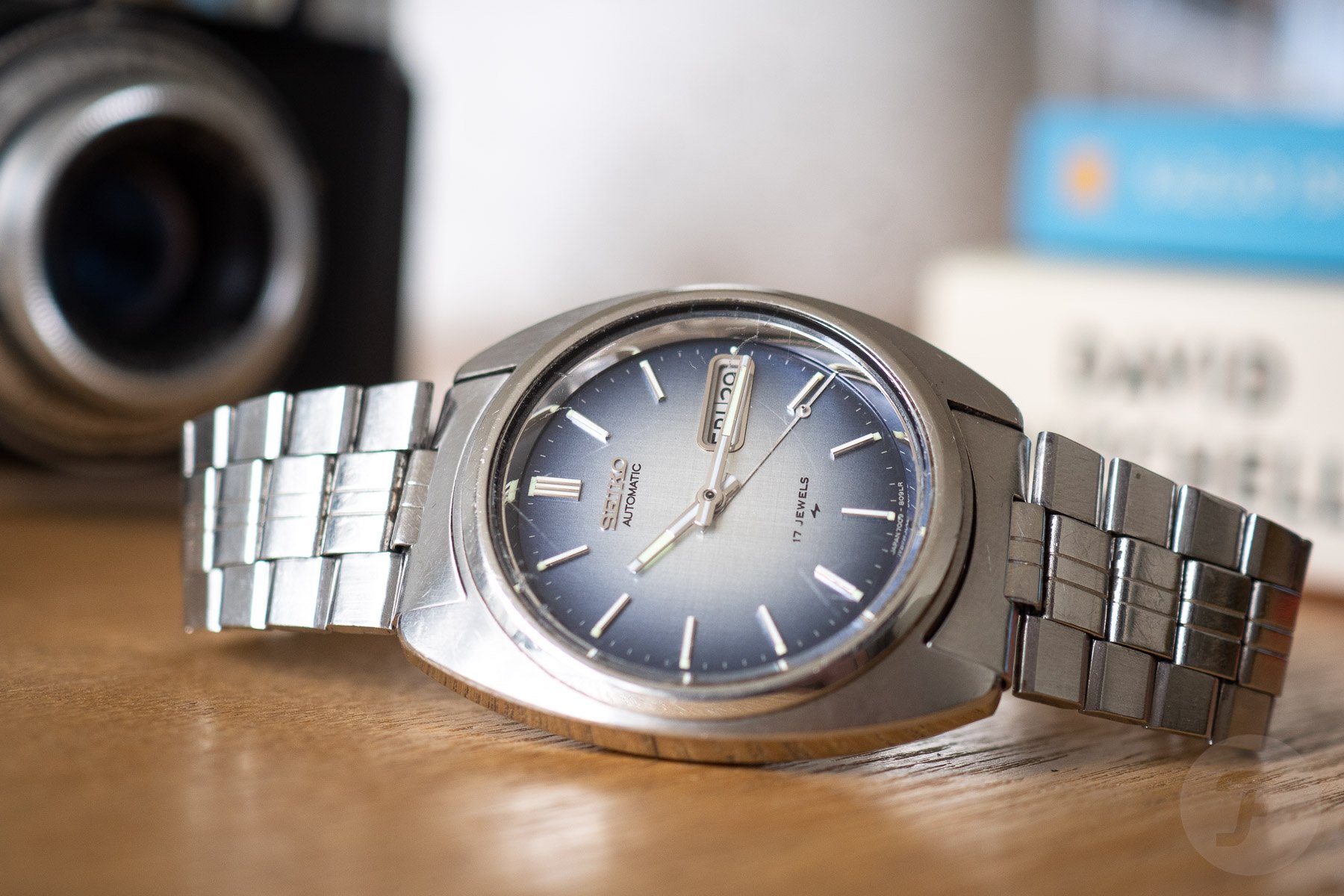 In December 2017, I spent some holiday time with my family in Spain. I was already pretty deep into my watch obsession at that point, and in a moment of clarity — when I realized that my grandfather might have owned a watch or two — I decided to ask my grandmother if she had any of his old watches. She gave it some thought, and after a bit of digging through the back of a closet, she emerged with an old shoe box packed with watches. There were plenty of beat-up old quartz watches, but among the pieces not meriting a second look was this blue-vignette-dialed Seiko on a steel bracelet. I asked my grandmother if I could keep it, to which she happily agreed.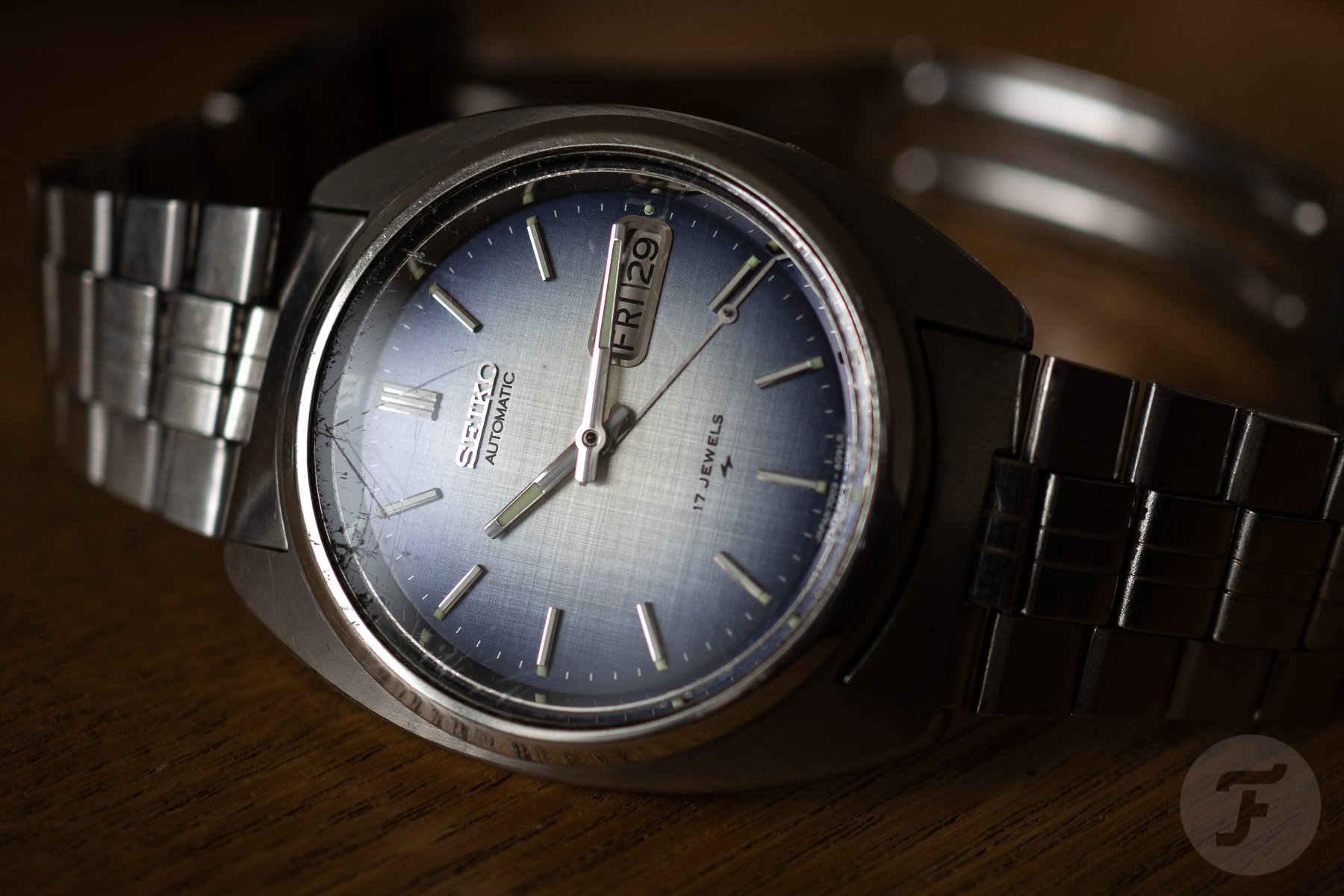 My grandfather's Seiko 7009-8081
Due to my non-existent budget as a university student, I put off servicing the watch, which found a spot in the back of my watch box — out of sight and out of mind. There it has remained, waiting for the day when I get around to servicing it. In a way, I do enjoy keeping the watch in this original condition. It remains a memento of the last time my grandfather wore it. And regardless of the mishap with the seconds hand — which may have happened after he stopped wearing it or may have even been the reason why it was put away — I'm not in a rush to get it back up and running. The watch itself is a 7009-8081, which comes in a 37.5mm C-shaped case. This particular watch seems to date back to 1976, and it is complete with its original bracelet (with plenty of links).
Inside the watch is a Seiko 7009A movement. This ubiquitous workhorse was found in many of the early Seiko 5 watches. It's an interesting movement in that its day complication is set in a somewhat unusual way. While the date is set by turning the crown (in the second position), the day of the week can be advanced with a press of the crown in the first position. Other than that, it's a fairly basic 17-jewel movement that was made in Japan for several decades. Thankfully, it shouldn't be too challenging for a decent watchmaker to service. The watch has a silver linen dial with a blue vignette. This seems to be a slightly less common variant of the standard silver-dial model.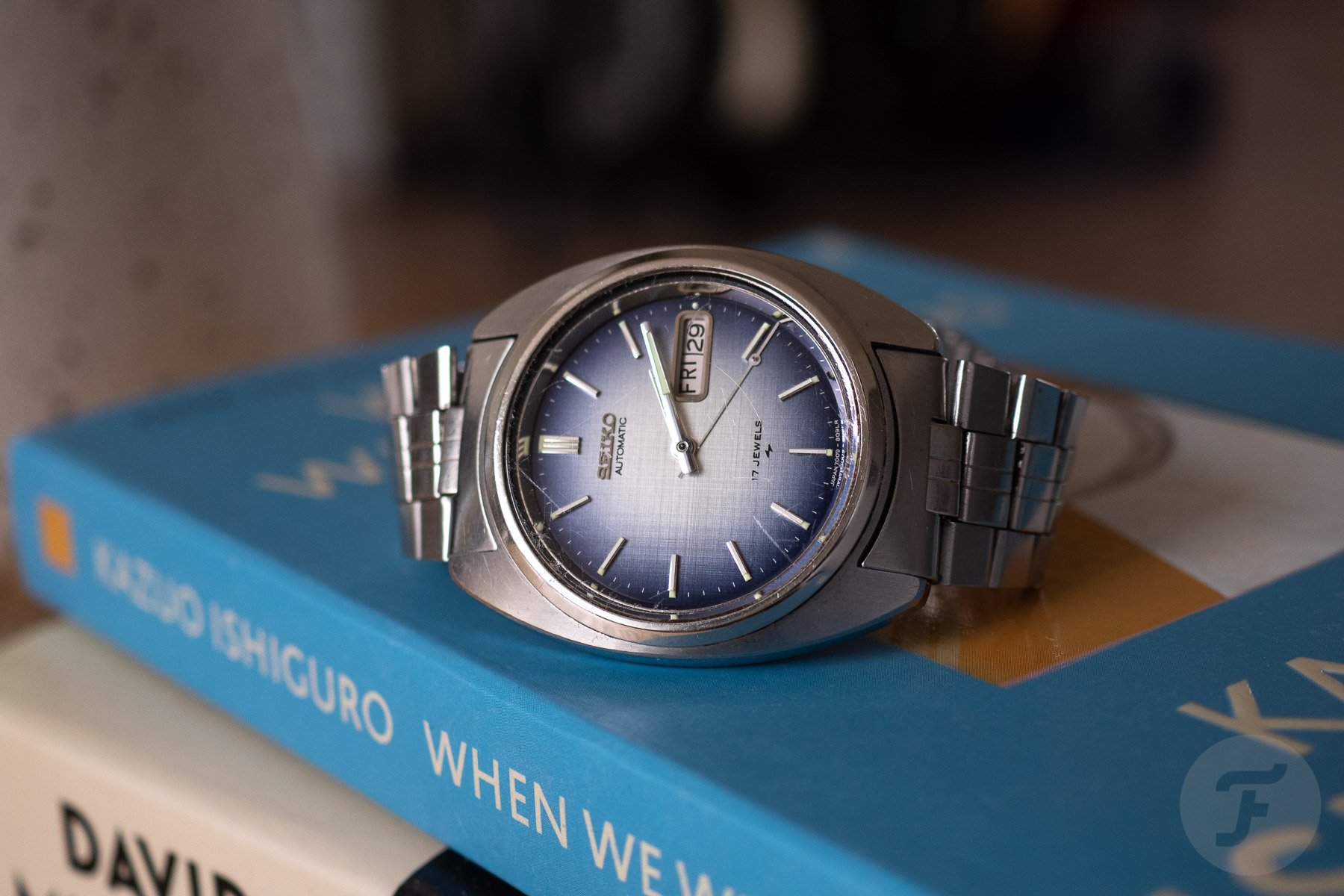 Final thoughts
I think it should go without saying that this watch means a lot to me. It was an unexpected find that turned out to be a beautiful heirloom from my grandfather (who passed away a couple of years before it the watch came into my possession). If you're ever lucky enough to inherit a watch from a loved one or family member and want some advice on what to do with it, Daan wrote a great piece with some good tips. I think that these are unsellable pieces. You either keep them or pass them on to another family member. This Seiko, to me, is so much more than a watch. It's a beautiful memento of a loved one who is no longer around but who will not soon be forgotten.
I hope to service this one soon and wear it as my grandfather did before me for many years. When I do, a follow-up article will surely follow. So, for now, I leave it at "to be continued…"
Do you have any watches that hold special meaning? Perhaps an heirloom piece or one commemorating a special occasion or life achievement? It doesn't have to be a fancy watch or anything expensive and pretentious, but the meaning attached to an inexpensive watch like this Seiko 7009-8081 can make it so much more. And though this article is a taste of a more in-depth piece that I plan to write on this very special watch, I hope it gets that message across.