Hands-on with the Seiko Prospex SRPC49 Black Series Diver
"Re-issue! Re-package! Re-package!" as crooned by Morrissey of The Smiths in "Paint a Vulgar Picture" was actually what came to mind when I first read about today's watch, the Seiko Prospex SRPC49 Black Series. If you're at all familiar with the song (or if you're not), it, in a nutshell, speaks about the endless marketing of a dead pop star by releasing all kinds of limited edition versions of the same songs. And so it was when I first read about these new Black Series (there are three – a solar chrono diver, a solar diver and the mechanical piece you see here) inspired by night diving, I kind of sighed and dismissed the watch with nary a glance. Honestly, I thought, Seiko is starting to rival Nike and its Flyknits with the number of colorways available either as a normal release or as some sort of limited run. But, and I'm happy to admit this, I was wrong to dismiss the newest offering out of Japan.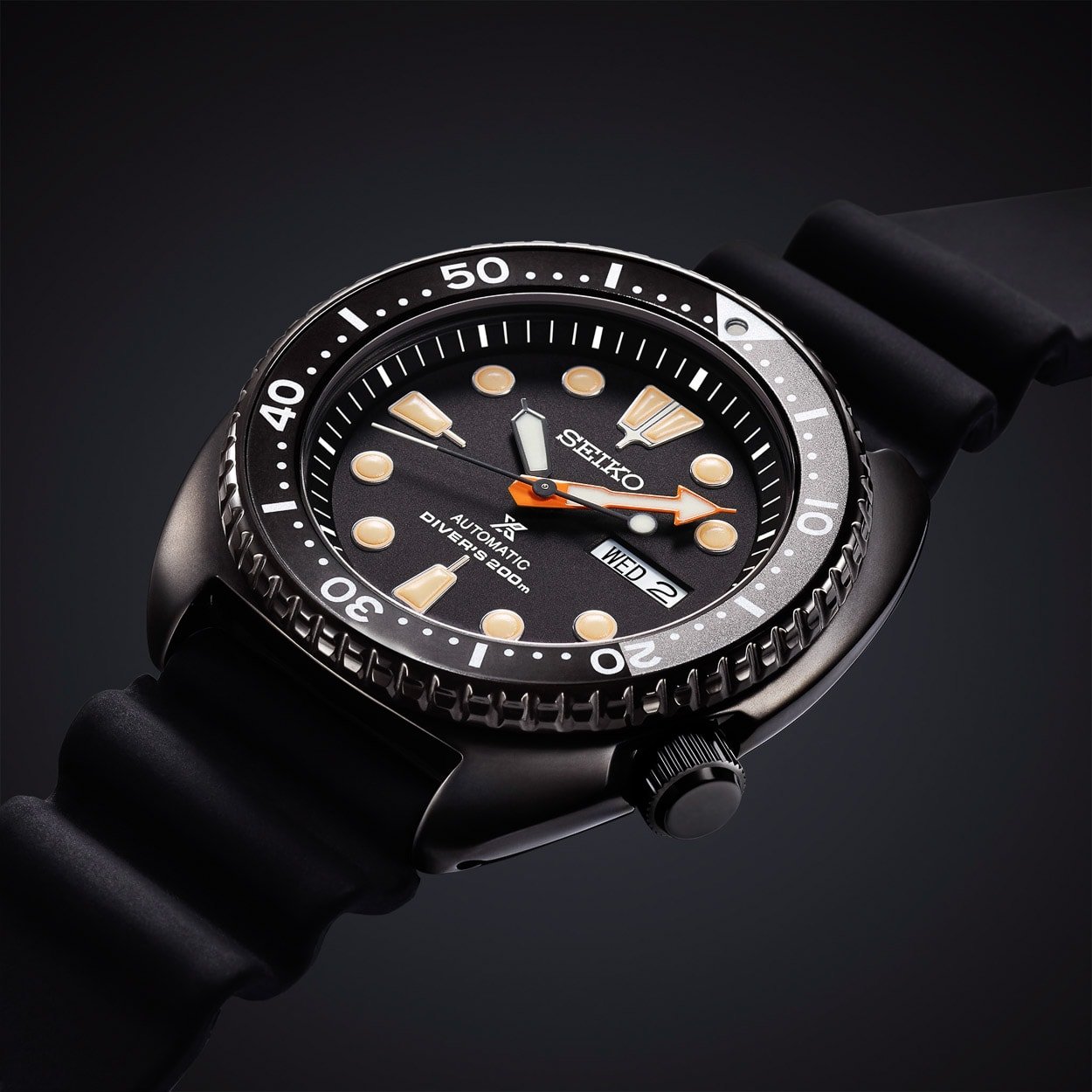 A few weeks back, I started to see the Seiko Prospex SRPC49 Black Series on Instagram as one of the folks I met at a Time4APint gathering posted one after finding one by chance at a London boutique. Then, in what I can only describe as a complete surprise a couple weeks ago, Robert-Jan informed me that he was picking one up and that these things were selling fast. It was clearly time to take a closer look.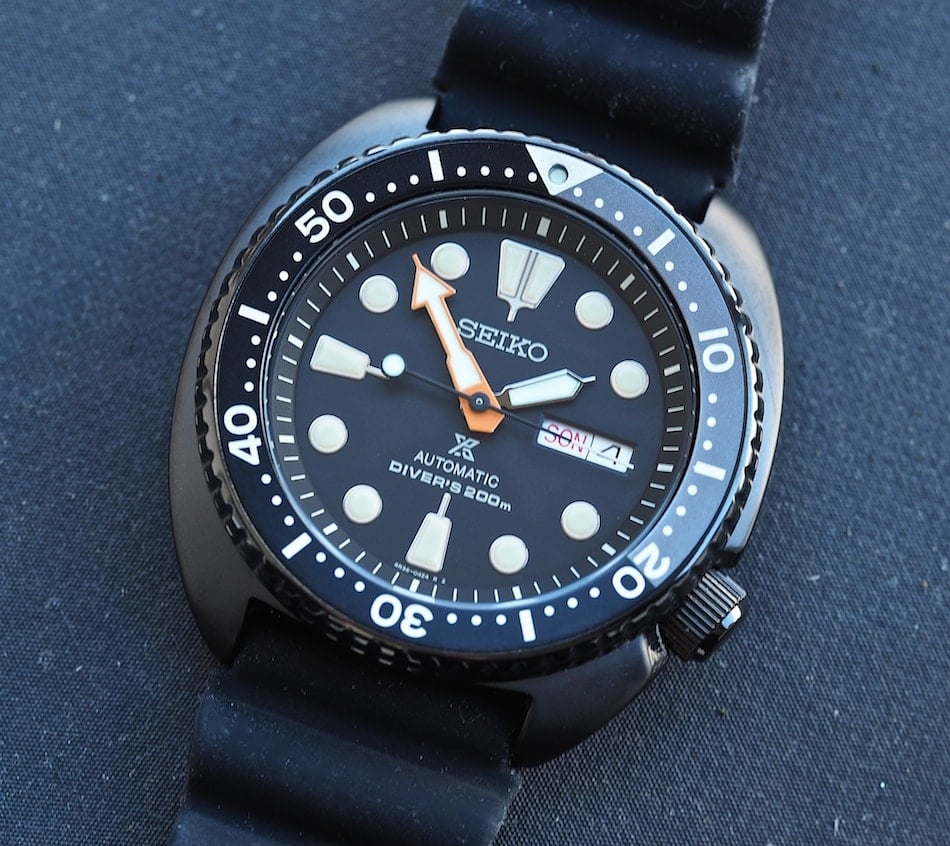 Fast forward to about a week ago when I stopped into the Seiko Frankfurt Boutique to drop off a couple watches that needed some work and I decided to ask about the Seiko Prospex SRPC49 Black Series. First off, if you're ever in Frankfurt, you should pay this shop a visit. The team there is incredibly friendly; they love Seiko's and are pretty darn knowledgeable about new and vintage pieces. If they served beer, I'd probably find myself there every Saturday! Back to the story…I was told that the Black Series was out of stock, but they hoped to get in more and that I could add my name to the list. More importantly, though, they also showed me and allowed me to handle a piece that was on reserve. Did I want to add my name to the list? You bet! Lo and behold, the surprise call, or email, came about four days later as the boutique received a surprise shipment of a few of the watches.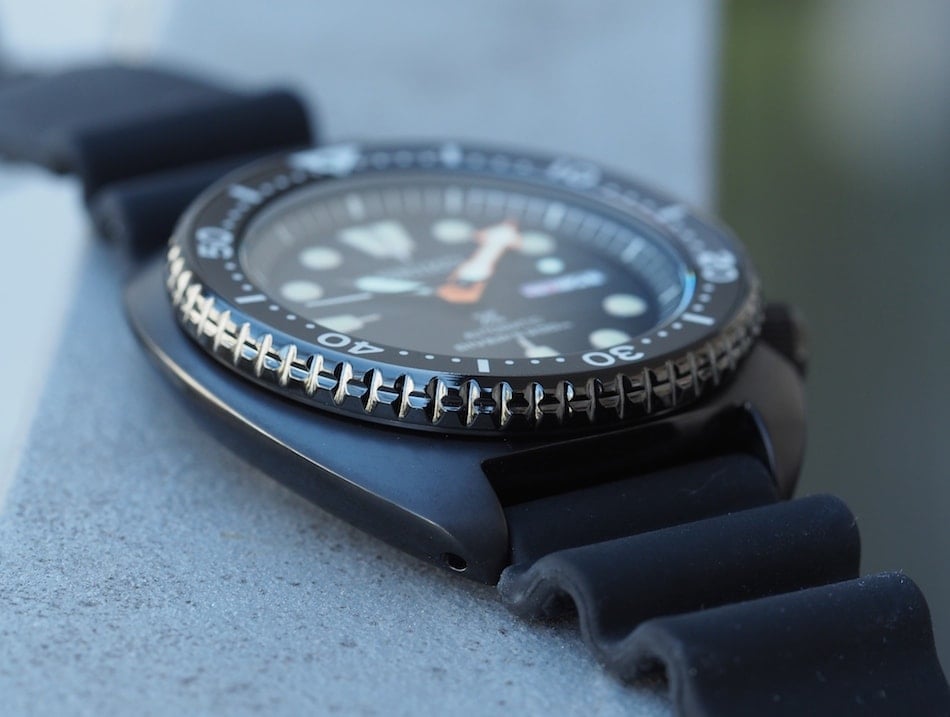 Aside from my initial thinking that the Seiko Prospex SRPC49 Black Series was just another marketing ploy, I was truly turned off by the thought of a black-coated case. It's hard to explain why this isn't my thing, but my wallet has only voted in this direction twice before: once on an Obama-era Bell & Ross diver and later for a 70's LeJour chronograph. Both watches get exactly zero wrist time because I simply find the case color a bit too tactical, I'm always concerned about damage, and I tend to wear brown leather accessories (yes, I'm the American who wears brown shoes in Europe after 8pm). But, as we'll see, I think this Seiko is a bit different.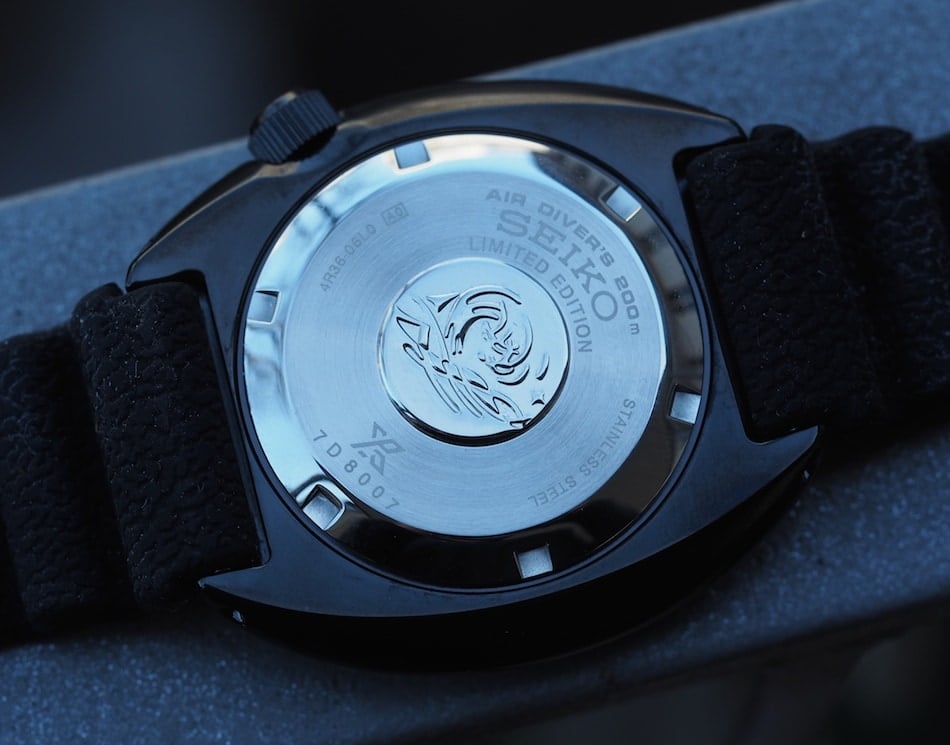 Let's start with some basics on the Seiko Prospex SRPC49 Black Series. The watch is mechanically and physically identical to the SRP7xx models commonly known as the "Turtle". This means you get the same ~44mm stainless steel case as always along with 200M of water resistance and the robust, hacking and hand winding, 4R36 automatic inside. The watch is marketed as a Limited Edition and is marked as such on the stainless case back.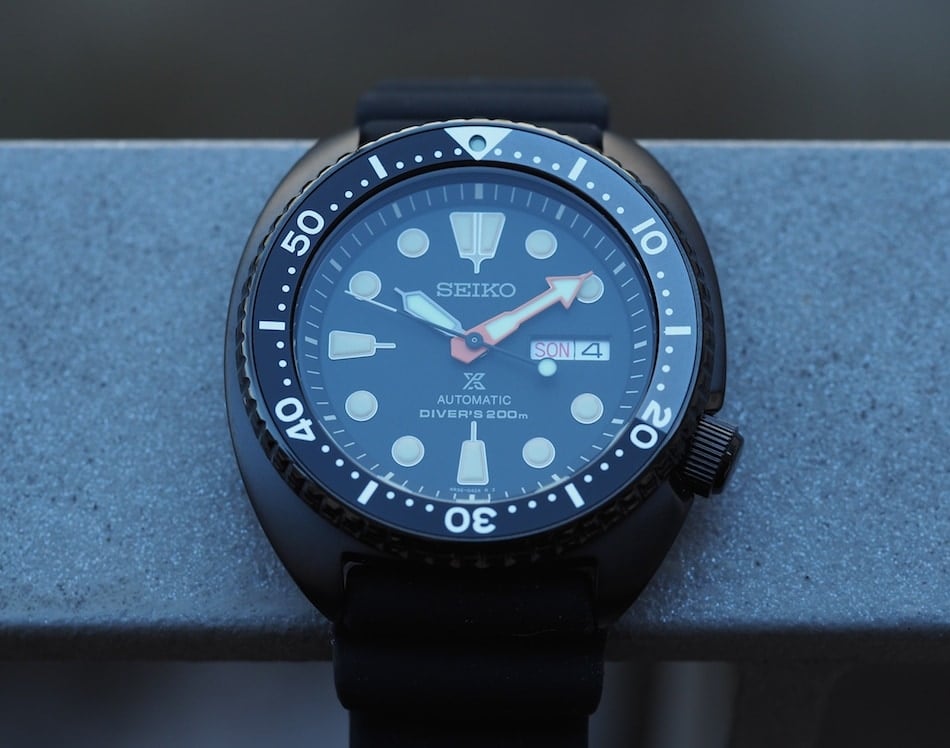 What this means is a bit unclear as the watches aren't numbered, so it "seems" that either Seiko will make these during 2018 until demand dries up or has some decided but unshared number in mind. You also get a special black box with an orange inside stating Limited Edition as well.  Compare this to the PADI Turtle (SRPA21) which carries the nomenclature and engraving of "Special Edition", which is a regular piece but somehow different. It's a bit confusing, I know.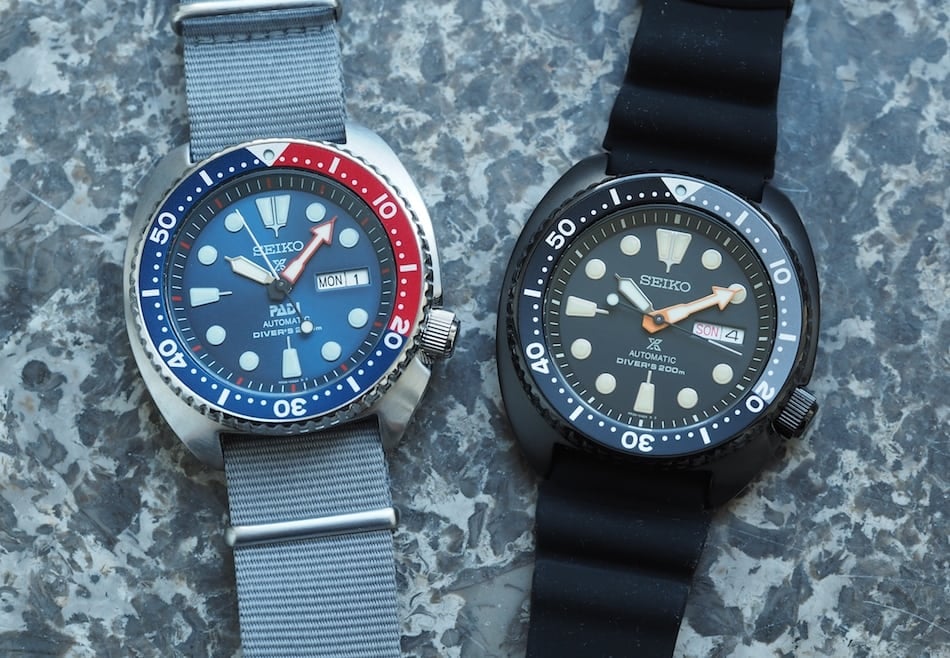 What you do get with the Seiko Prospex SRPC49 Black Series is, of course, a unique case color. Seiko calls it a hard black coating, so we're left to wonder a bit about exactly what's employed, but the most important thing to note is that it's not uniform across the case. Essentially, picture a stainless version and wherever there's a matte surface, the black coating is matte on the Black Series.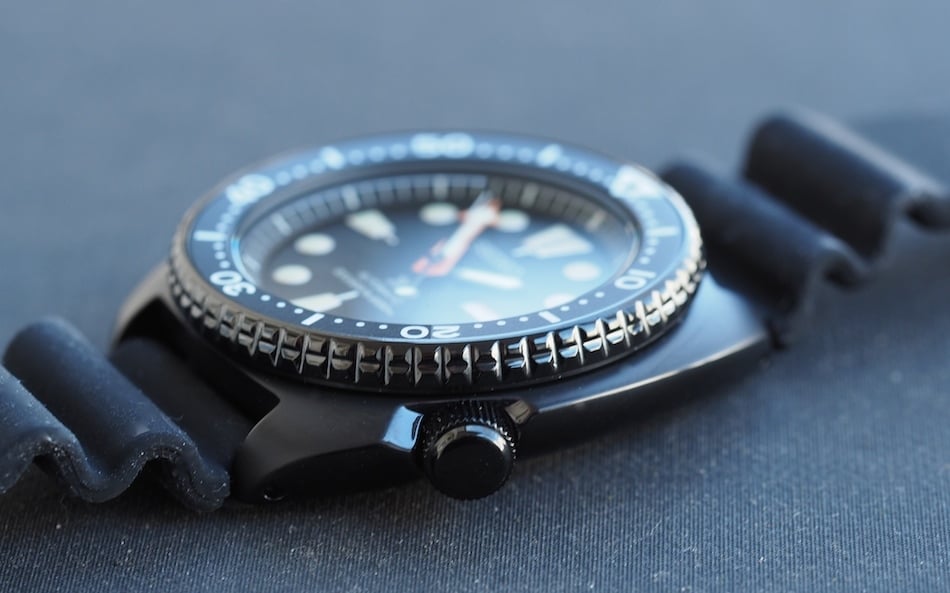 The same can be said about the polished portions, such as the case sides, crown and bezel. What this ends up doing is adding a lot more depth and detail to what would otherwise end up as a case that disappears. In some lights, I even find the brushed surfaces to take on a dark grey hue or to look like ceramic. The use of different surfaces alone makes this watch appear far more expensive than its price.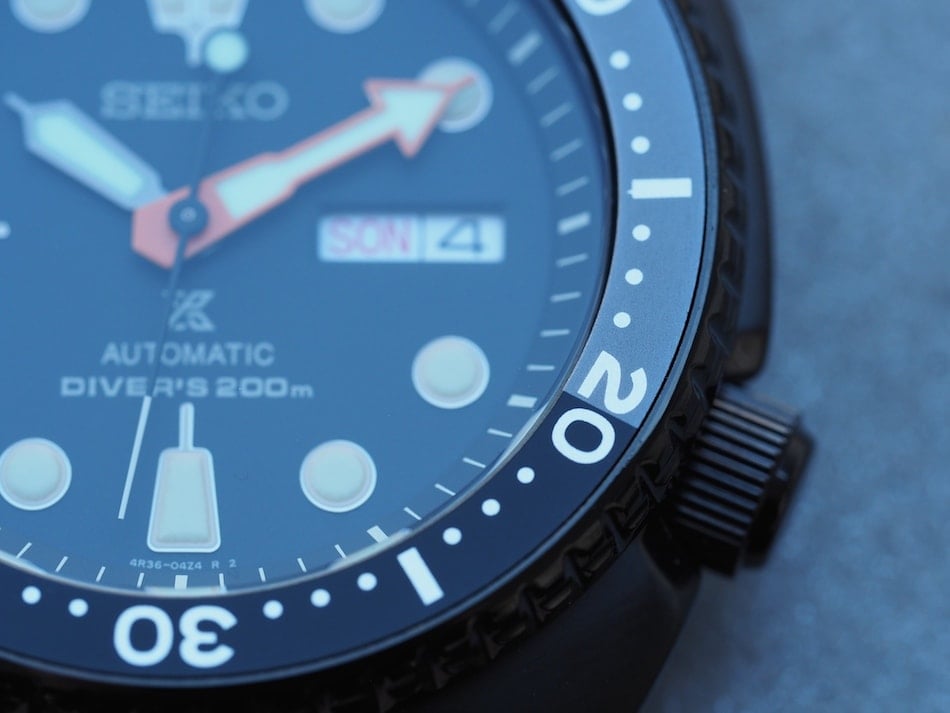 With the Seiko Prospex SRPC49 Black Series, the brand took the opportunity to employ a new bezel insert with a dark grey section during the first 20 minutes. The matte black dial is combined with the use of what looks like aged LumiBrite. When mentioning aged lume, some might decry its use, but I actually think Seiko chose it to "warm up" the look a bit versus using stark white markers. It works and it's a design choice that sells the watch.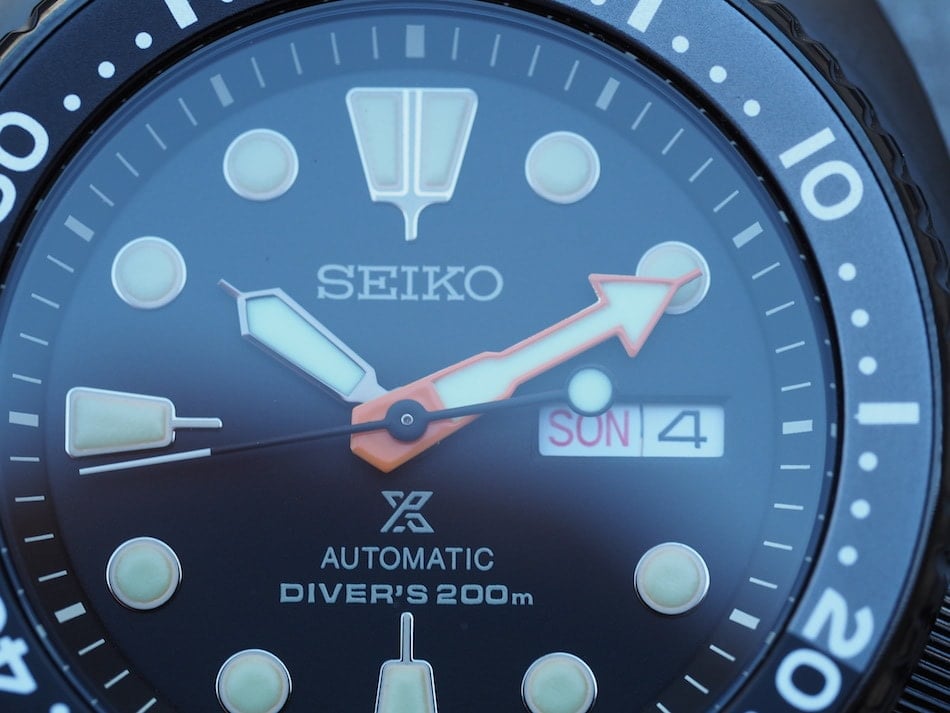 Likewise, Seiko chose a bright contrasting orange hand for the minutes hand that echoes some serous divers such as the Doxa 300 and Omega Seamaster Ploprof. Again, it works well and provides some much needed color. Strangely, the hands seem to use white lume, which carries on a tradition of Seiko not always matching the two. Overall luminescence is fantastic compared to anything aside from a flashlight, but the hands definitely glow brighter than the dial.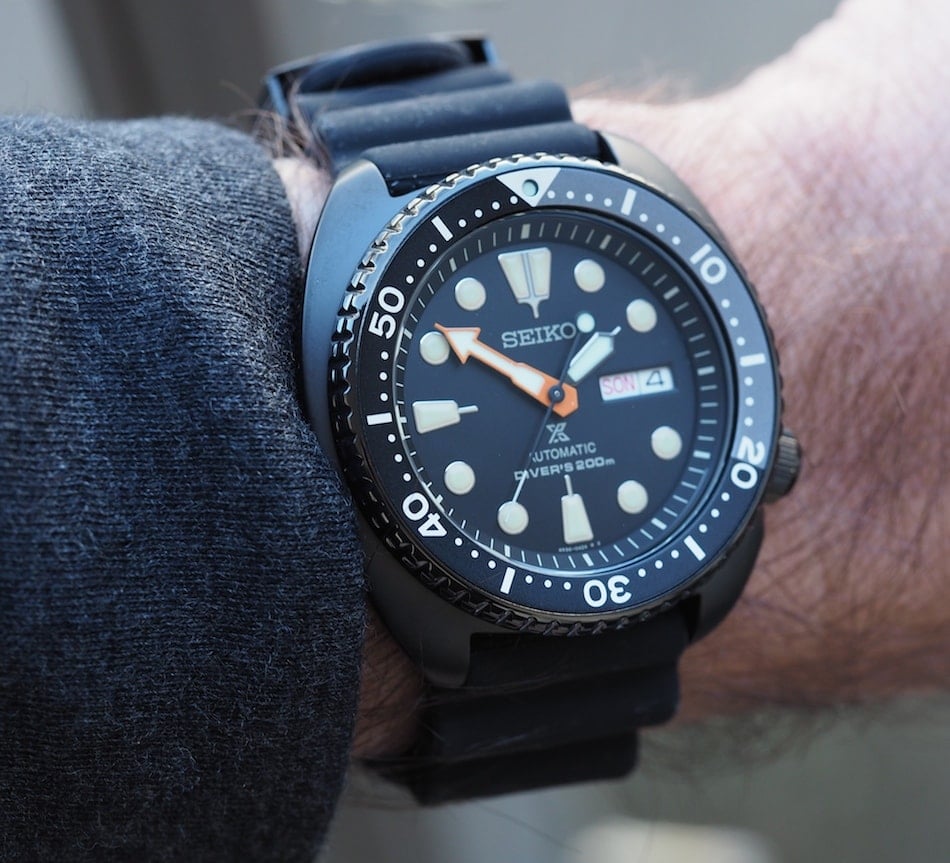 With the Seiko Prospex SRPC49 Black Series, I've finally purchased the right to go hands-on with one of the brand's silicone straps. I've read all kinds of glowing reports about these straps and it all seemed overstated. Seriously, Robert-Jan glowed about these things to the same level as if he'd discovered a new André Hazes album! Well, after finally getting the chance to wear one, I can tell you that these straps are amazing.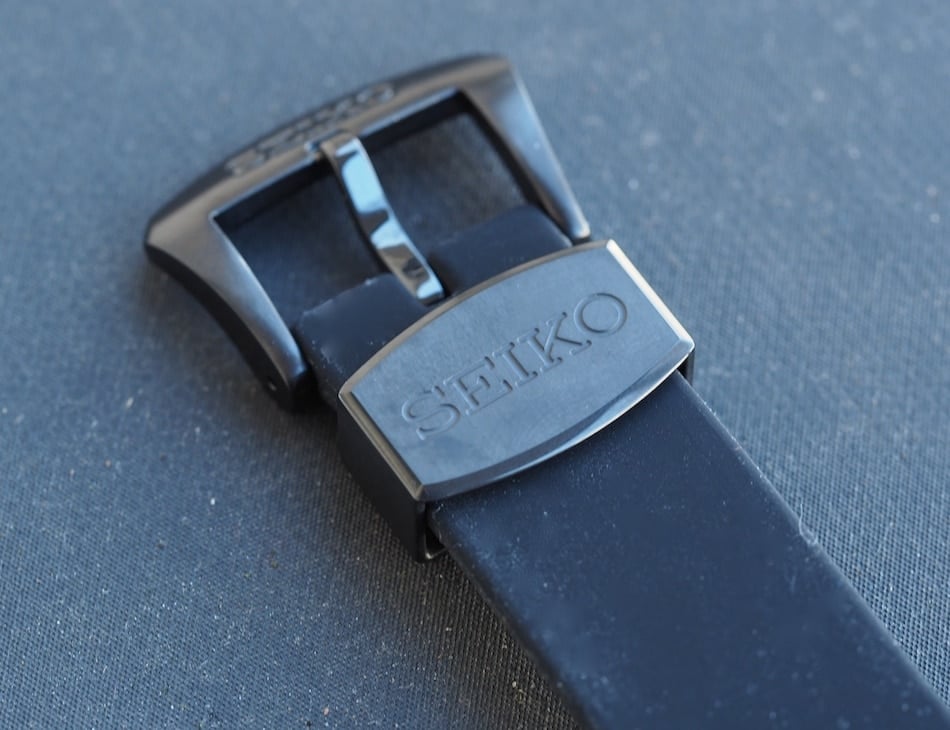 Fine, it helps that these straps replaced what were arguably the worst rubber straps of all time with the polyurethane things that Seiko previously deployed. (Side note: I'll be burning those unceremoniously.) Yes, the silicone versions pick up some serious dust (especially as it's so dry this time of year), but they don't pull hair and they feel so light. Length-wise, the strap even works for me. A black-coated, signed steel keeper and buckle are outfitted as well.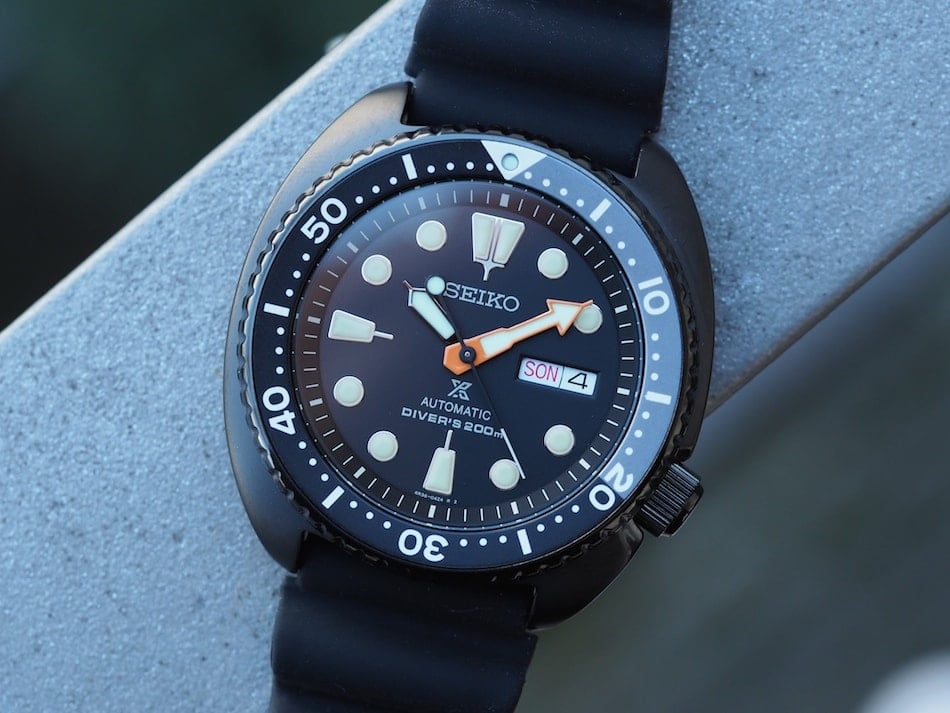 At 450 Euros in Germany, the Seiko Prospex SRPC49 Black Series strikes me as more than reasonable. The fact that it's selling well likely means that it would be easy to flip should you decide that it's not the lights out hit that most think it is. Yes, Seiko has introduced many variations on the Turtle theme, but this one is different enough to warrant your interest.  While we have no idea when Seiko will stop producing these, I'd think it best to act quickly before it's too late.
For more information on the Seiko Prospex SRPC49 Black Series, head to the Seiko site.