The Sinn 717 Cockpit Wristwatch Is A Wearable 45mm Dashboard Chronograph
A functional instrument with an interesting movement and a lot more to discover
When form follows function, great things can happen. It's not inevitable, like death and taxes, but in the case of the Sinn 717 Cockpit Wristwatch, the original form sure led to something good-looking for the wrist. The black chronograph on my wrist has a history that stems back to the Panavia Tornado fighter jet, a late 1970s swing-wing airplane that was in service with the German Luftwaffe. And when I was young, I had a small Matchbox model of the Tornado in a gray camouflage livery. Another good reason for me to take this particular Sinn for a spin.
Who wanted to be a fighter pilot when they were young? That's what I thought. Me too. I also wanted to be either a drummer in a famous rock band and a pro cyclist, but as a kid, you don't limit yourself. I never became a famous drummer, although I still play a lot, and I wasn't picked by a pro-tour cycling team, but that didn't stop me from racing as an amateur.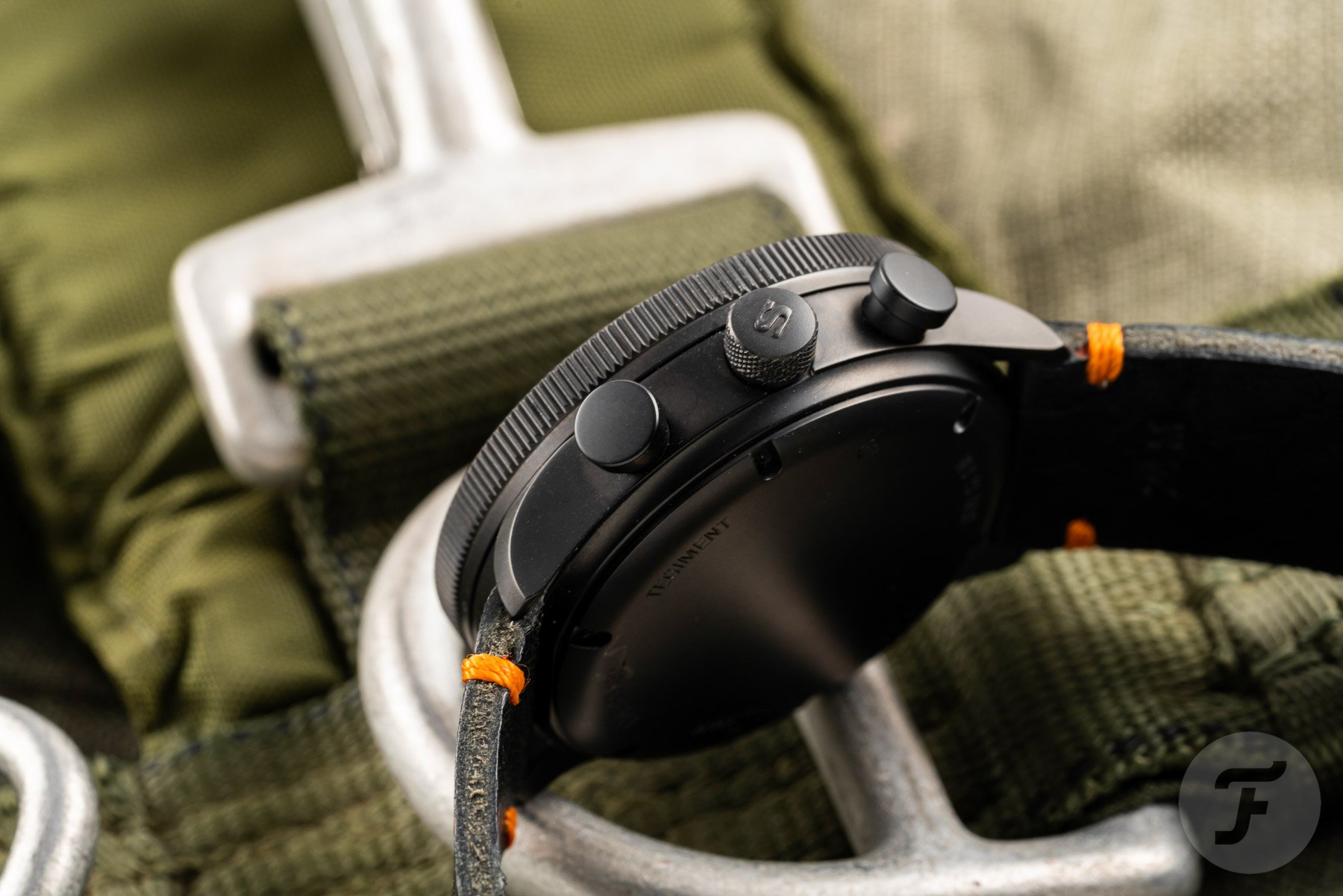 Making your dreams come true
The whole jet fighter pilot thing is not something you can easily transform to a hobby level. Well, you could, but it would require some serious funding. Tornadoes are not for sale, but you could get yourself a surplus MiG 21 "Fishbed". Unfortunately, I don't have the Rubles for that. I did find a 1980s ex-Polish Air Force two-seat training jet for $150,000 that looked quite interesting though. The closest thing I ever came to feeling like a fighter pilot is when I got the opportunity to fly in a restored Spitfire and steer it around a bit. Anyway, the Sinn 717 Cockpit Wristwatch is bringing back memories, but I will try to keep this hands-on review planted in the present.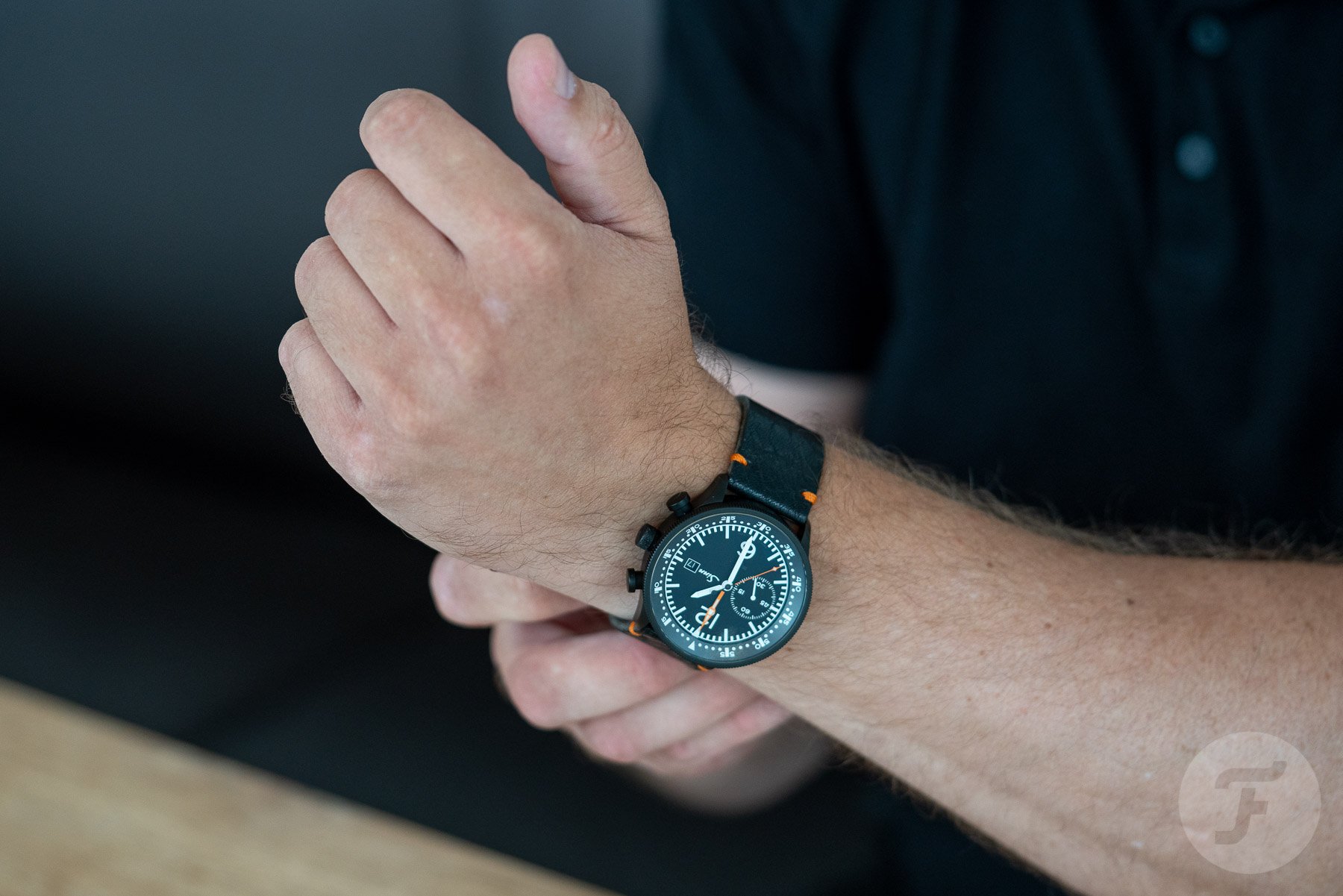 Wearing the Sinn 717 Cockpit Wristwatch
There's no mistaking the Sinn 717 Cockpit Wristwatch for anything but a pilot's watch. The black and white on the dial and the bright orange color points out a specific function; this truly is an instrument. A wrist instrument that looks a lot like the Sinn NaBo 17 ZM cockpit clock from the aforementioned Tornado fighter jet.
… an easy-to-read orange central chronograph hands to for seconds and minutes.
But the same cockpit clock was also used in the supersonic Lockheed F-104 Starfighter, the Breguet Atlantic that patrolled the oceans looking for Soviet submarines, and the Messerschmitt-Bölkow-Blohm Bo-105 helicopter — I remember seeing these in Dutch police colors keeping an eye on the highways down below. Back to the clock. The NaBo 17 ZM has a special feature and that is the start and reset buttons at the bottom of the case. It also has easy-to-read orange central chronograph hands for seconds and minutes.
Please keep it central
If the description already sounds like the Sinn 717 Cockpit Wristwatch, just take a look at the clock next to the watch. Quite similar, right? I like it. Especially because it's not just copying the design, it also follows the functional aspect by using four central hands. In order to make the central stopwatch display for seconds and minutes happen, Sinn deploys the automatic Sinn SZ01 chronograph movement.
The readability is spot-on: the 60 minutes are accurately counted by the orange hand that moves in steps of one minute …
The easy-to-read SZ01 might remind you of the well-known Lemania 5100 movement. Sinn started the development of the movement that is actually based on the Valjoux 7750, back in 2003. And that resulted in a movement that beats at 28,800 vp/h, has a power reserve of 42 hours, and is anti-magnetic as per DIN 8309. The readability is spot-on: the 60 minutes are accurately counted by the orange hand that moves in steps of one minute, and the readability of the hand counting the seconds is also brilliant.
More functionalities
Other function aspects of the 717 are the date window at 3 o'clock — I don't know if I really need it or like it there though, and ultimately, I think I could do without it — as well as the bi-directional pilot's bezel. The latter works pretty smoothly — it turns not too tightly but is definitely not too loose.
This capsule is part of the Air-Dehumidifying Technology (ADT) that solves an essential problem a mechanical watch has to deal with …
Readability in the dark is quite in-your-face thanks to the sapphire glass, with an anti-reflective coating on both sides, above the black and white dial with plenty of lume on all the vital markings and hands. On the lower left side of the case, there's another interesting feature, and that's the color-shifting drying capsule. This capsule is part of the Air-Dehumidifying Technology (ADT) that solves an essential problem a mechanical watch has to deal with: humidity that ages the oil in a movement. I explained it a bit more length in my article on the two versions of the Sinn 358 earlier this year.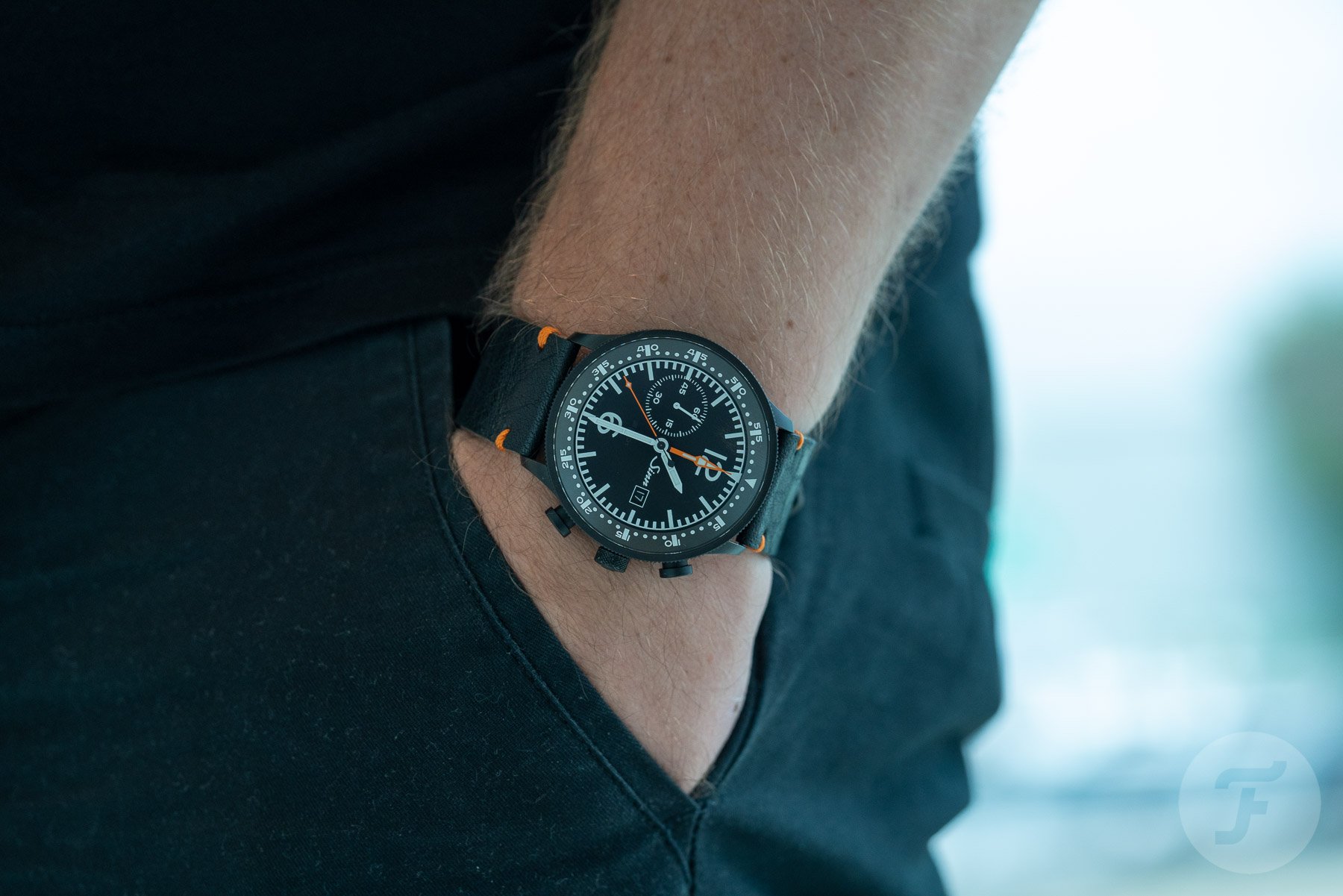 The Sinn 717 Cockpit on the wrist
You now know about the origins and inner workings of the Sinn 717 Cockpit. But how does this watch wear on the wrist? Well, there's no escaping its massive size. The case, made by Sächsische Uhrentechnologie GmbH Glashütte, whose logo can be found on the side of the case at 6 o'clock, measures 45×15.3mm and weighs 114 grams without a strap. A black PVD coating with a scratch-resistant TEGIMENT treatment will try to keep the black-colored case crisp and clean as long as possible. How long? I had to take good care of the watch because Sinn expects the watch back in a short while, but already back in 2011, we found out in a thorough long-term test that it was hard to go wrong with Sinn's tegimented watches.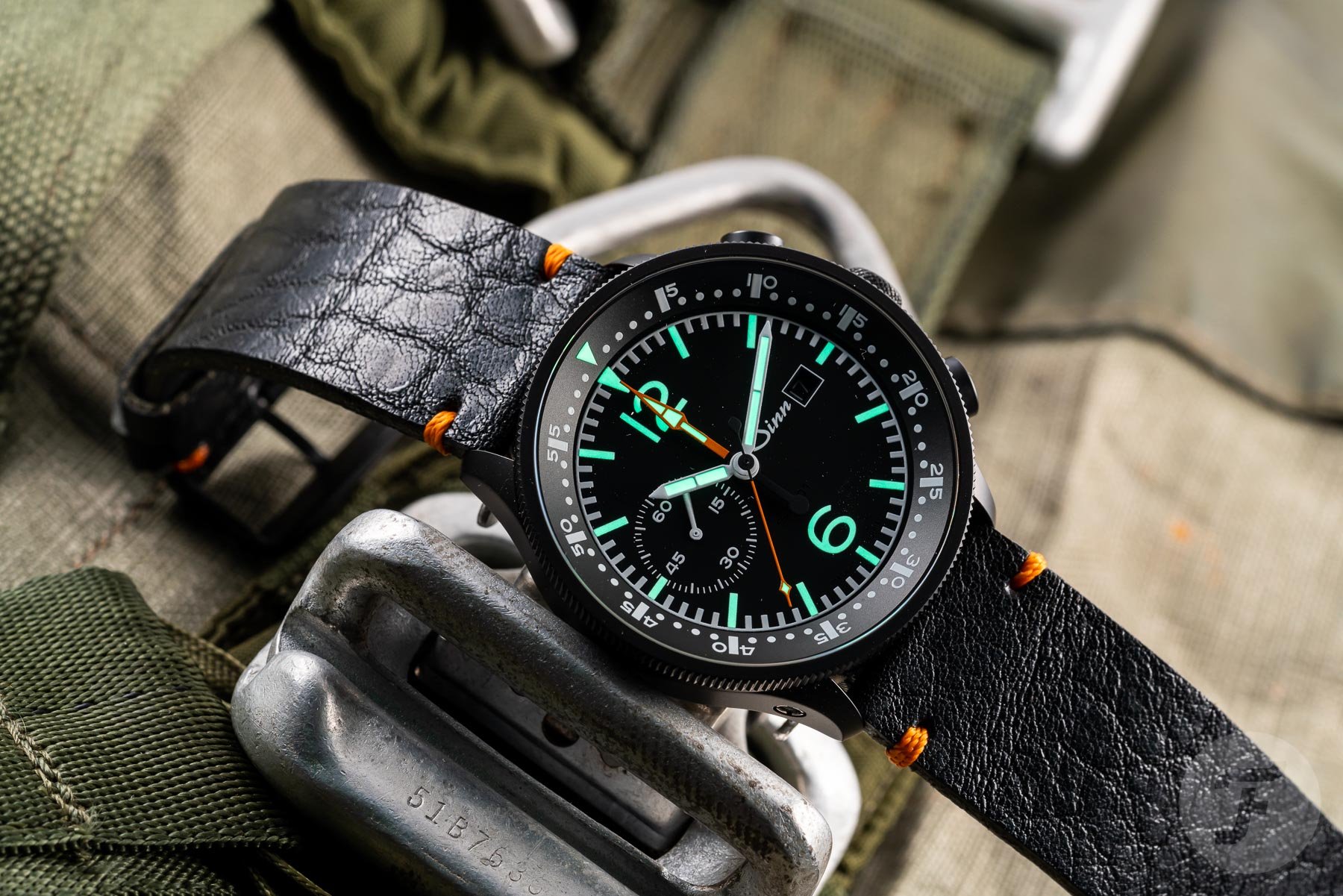 Rugged, not crude
You still don't know how this 45mm chronograph wears on the wrist since I got caught up in its hardness. Sorry about that. Well, it wears as you'd expect for its size. It's big and tall, but luckily it has very short lugs so even my 18cm wrist can handle it. Black is a slimming color too, so it doesn't look that massive either. What is massive though is the 24mm wide vintage-style leather cowhide strap. It doesn't taper either, so the buckle is quite large too. If Sinn wanted to create the experience of wearing an actual cockpit instrument by fixing it onto the wrist with a piece of leather belt you found lying around, they did a great job. Luckily, they did it with a lot of attention to detail, so the result is rugged yet refined.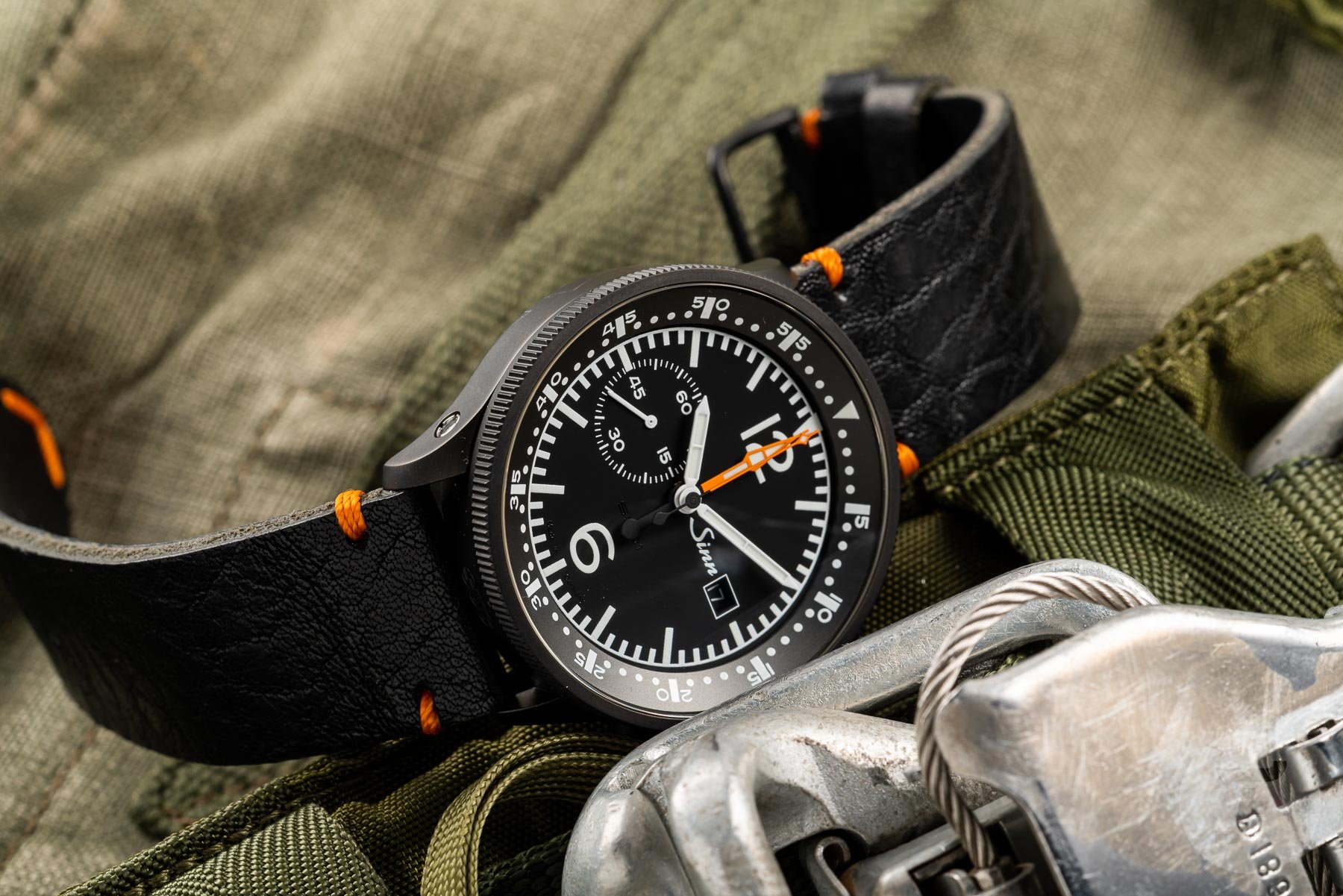 Leather or silicone?
Sinn also did a good job in creating an original-looking pilot's watch that stands out from the more traditionally shaped Fliegerchronographen out there — you know the ones I'm talking about. The price is quite surprising too. On a silicone strap with a folding clasp, the price is €4,950, and the version you see here retails for €4,650. Serious money, yes, but if you're in the market for a brash pilot's chronograph, this Sinn is definitely an option worth considering.
… full black would look even more hardcore, even more form-follows-functionality.
Something I could do without is the decorative orange stitching on the leather strap. Yes, it matches the orange hands, but all-black would look even more hardcore, even more form-follows-function. And the full-black strap wouldn't dull down the overall look of the watch either if you ask me. The full-black silicone version proves my point, but weathered leather just feels more right on this wonderful cockpit instrument.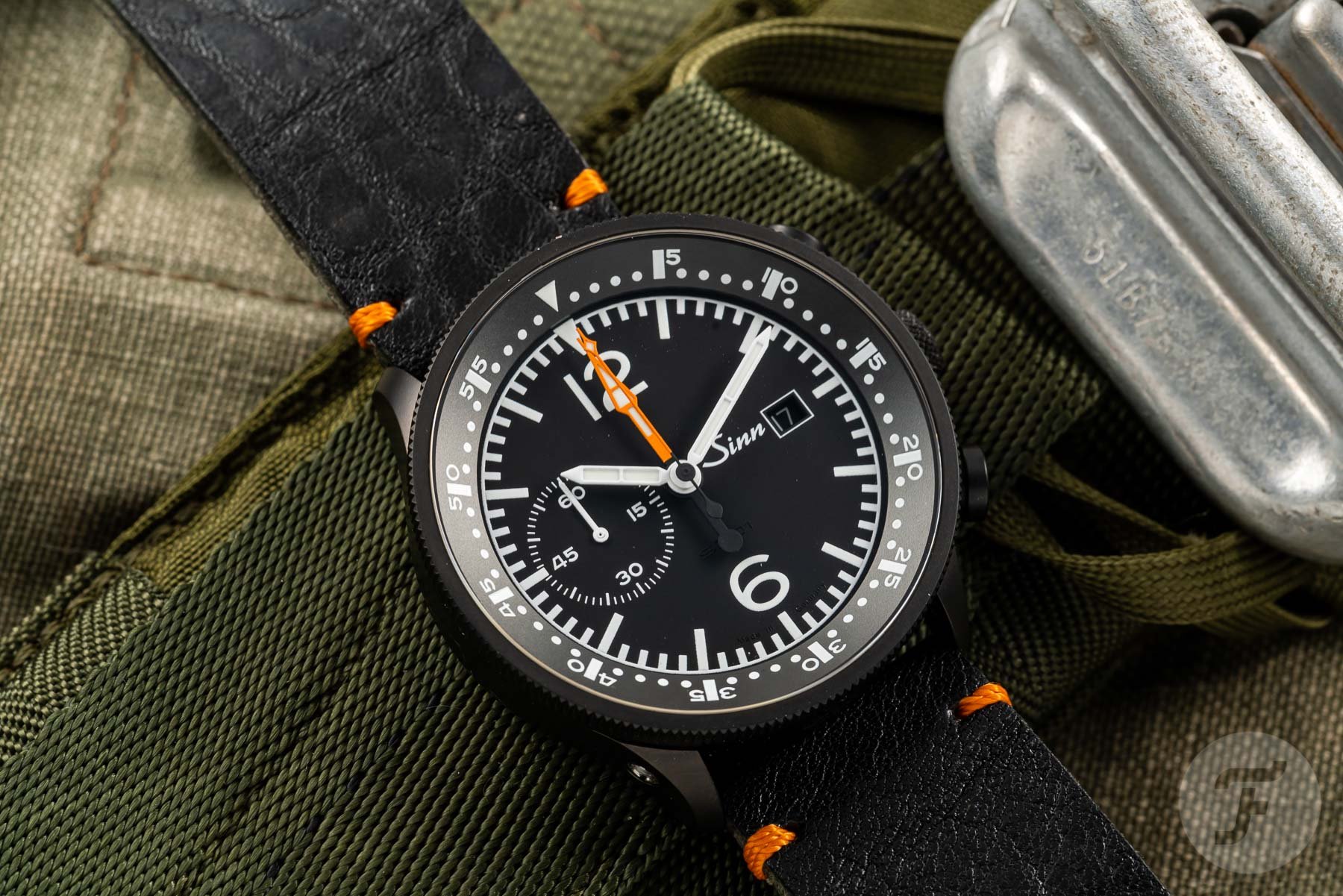 So leather it is! And by the way, there's nothing wrong with asking your local shoemaker to change the stitching from orange to black. Or is that considered a sin in Sinn's eyes? Please share your thoughts on this beastly chronograph in the comments below!
Find out more about the 717 Cockpit Wristwatch on Sinn's official website.
Please find and follow me at Lex Stolk • Instagram