Six Hot Barbie Pink Watches From Farer, Oris, Zenith, And More
Worryingly for some, they are also dainty in size, but with massive wrist presence
Yes, this is well-timed for the UK and European premiere of the long-awaited Barbie movie by Greta Gerwig, starring Ryan Gosling and Margot Robbie. Sure, the jury is still out on its naivety or irony-saturated content, but the rose-colored glasses are definitely on. To me, that's one of the perfect reasons to curate a collection of six hot Barbie pink watches for you.
Reason number two was a comment on the release of our drop-dead gorgeous diver, the Aquastar Deepstar II Pink Salmon. We are free-spirited when it comes to comments, but it did irk me that someone questioned the sub-37mm size and color for a man's watch. We're living in 2023. Seriously guys, the shrinkage is upon us, and despite how macho you feel, a small, colorful piece of wristwear doesn't detract from this. In fact, it looks damn cool on a tanned wrist.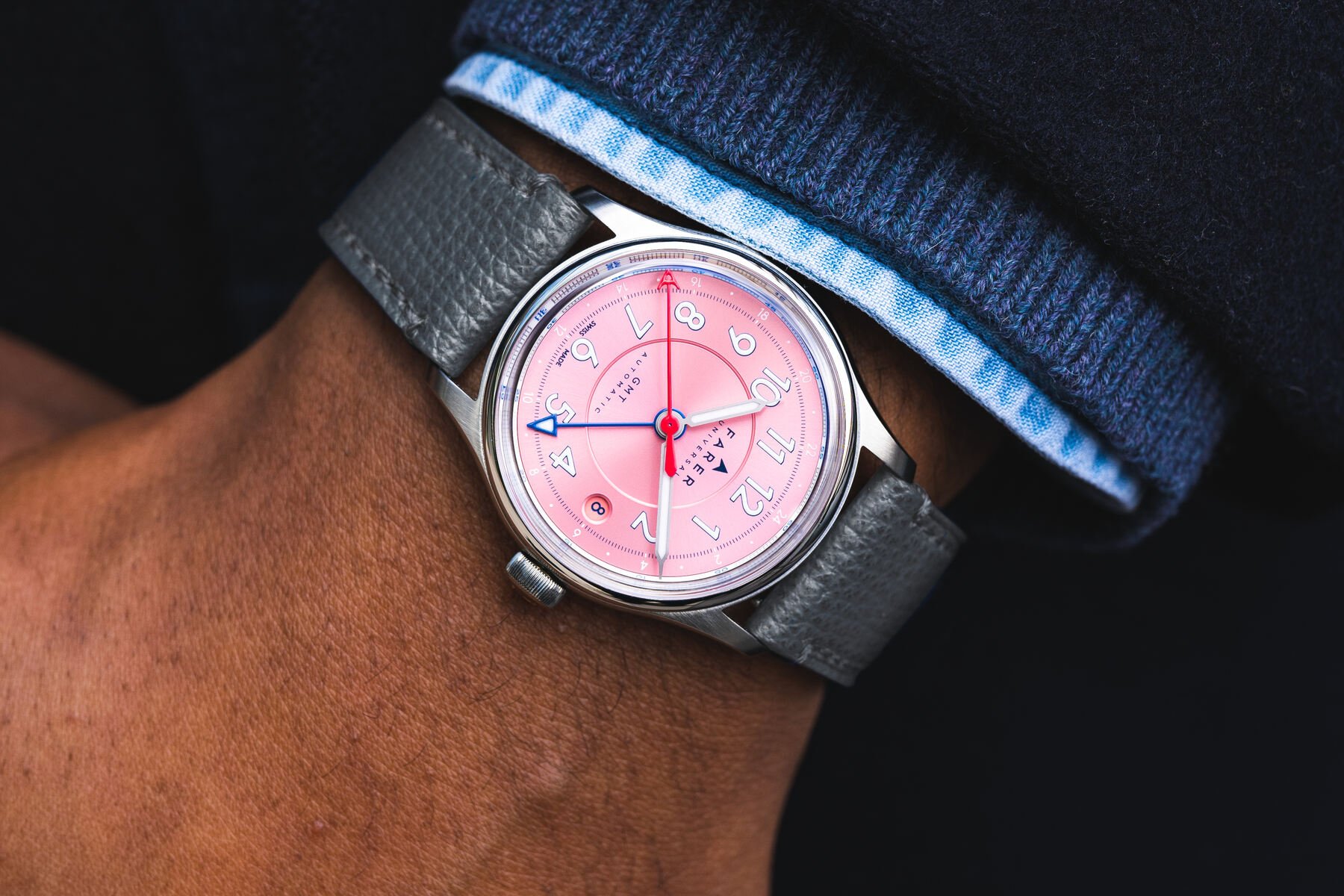 Farer Lander Kano 36
This Swiss-made, British-designed watch packs a big punch into a 36mm case. The Farer Lander Kano riffs off Farer's well-known way with colors in the brand's freshest pink dial yet. Delightfully shown on the website on a manly, besuited wrist, it is obvious that this watch is for everyone. Within an 11mm-thick case of a classic Calatrava-esque style sits the Sellita SW330-2 automatic with a 56-hour reserve and a great GMT function to boot. Feel free to go all the way with Farer's strap choices, including a ferocious pink, or match that navy GMT arrow with an Italian blue leather strap. Whatever you pick, the stepped sunray dial with big, lumed numerals and chili-red seconds hand will make you smile indefinitely. Get yours for €1,460 from Farer.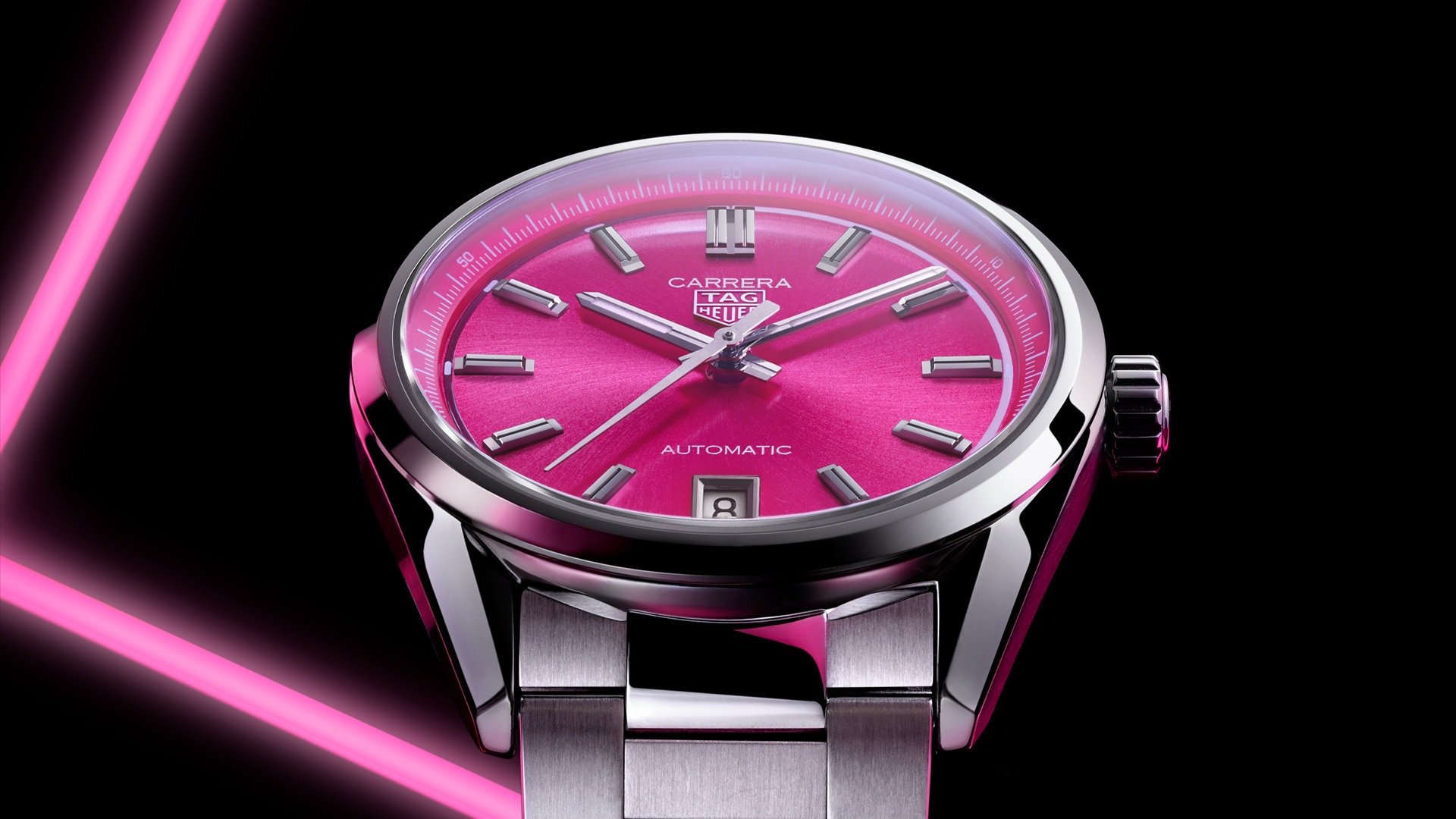 TAG Heuer Carrera Date 36
We all know that Ryan Gosling is a TAG Heuer ambassador while also playing Barbie's Ken. But he is known for his taste in small vintage watches, including Rolex Bubblebacks. This is why it has been so refreshing seeing him with the new 36mm Carrera Date in vivid pink, even with an unlimited choice of the TAG portfolio. Surely, this blend of small-sized and fresh will open many eyes to the world of colors and sub-42mm cool. The rich, saturated pink of the Carrera dial might not immediately match up with your daughter's Barbie sports car in color, but the vibe is strong. The watch itself is a surefire hit, with a brushed steel bracelet and upgraded Caliber 7 powering a great everyday wrist hit. Would I wear this deep pink sports watch? Of course! This 10mm-thick Carrera with a sweet 41.6mm lug-to-lug has oodles of style for €3,200.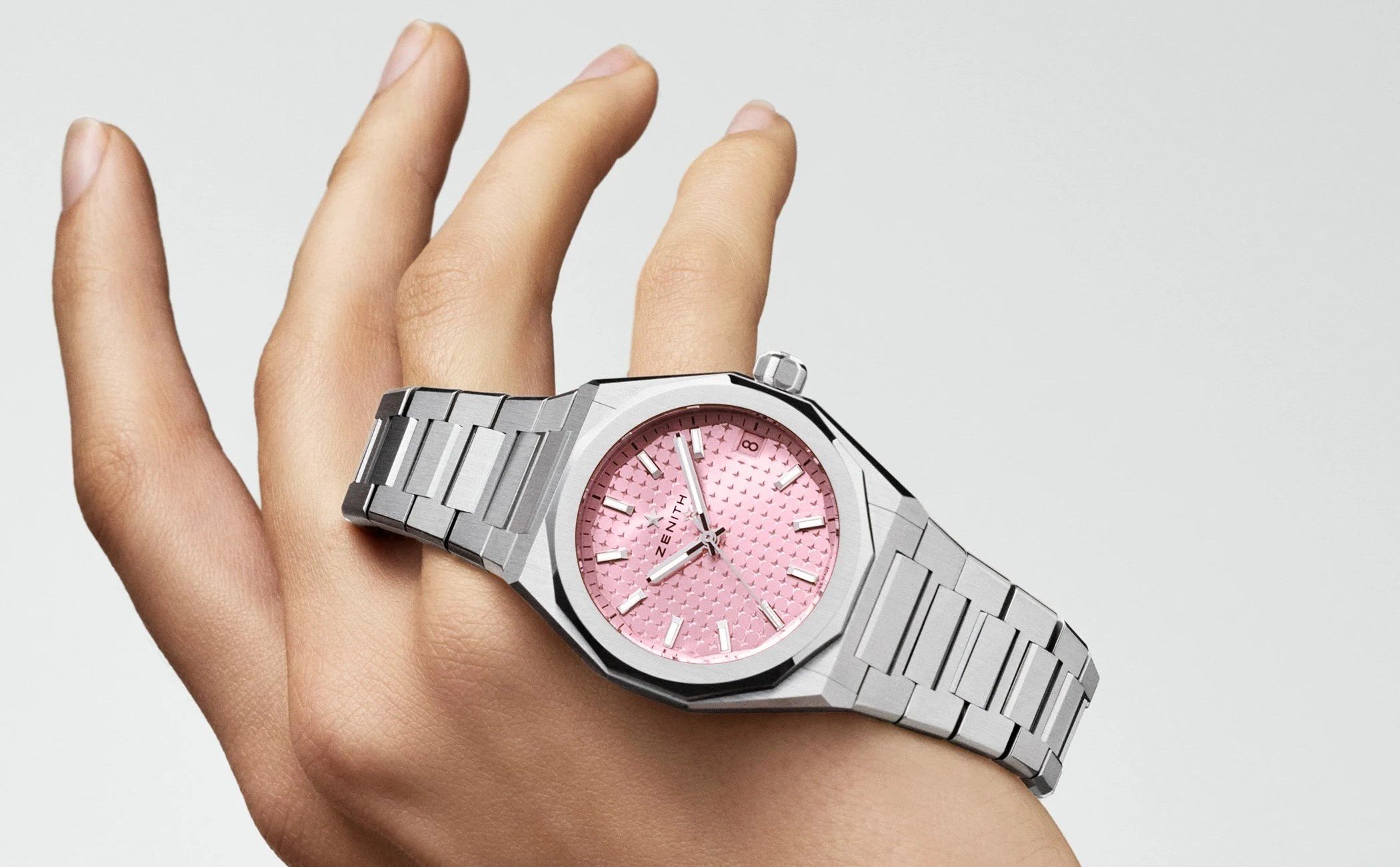 Zenith Defy Skyline 36
Unlike Farer with the Kano, Zenith insists that the sharp-looking Defy Skyline 36 (€9,100) is a ladies' watch. The website's product page is even complete with manicured pocket shots featuring slender wrists. I enjoy the new Defy Skyline look with the star-dimpled dial a lot, and for those of you that don't like the quirky 10-second sub-dial at 9 o'clock, this might be for you. It's a clean look with the perfectly color-matched date wheel, and the radiant sunray pink is sublime. Zenith has moved its range in two directions, the first being a deep take on vintage, including the octagonal charm of the A3961. The opposite direction, though, has the Defy Extreme and angular Skyline leading the way for future-proofing the brand. It is as shrewd as it is refreshing because we all know that the vintage wave can't be surfed forever, right?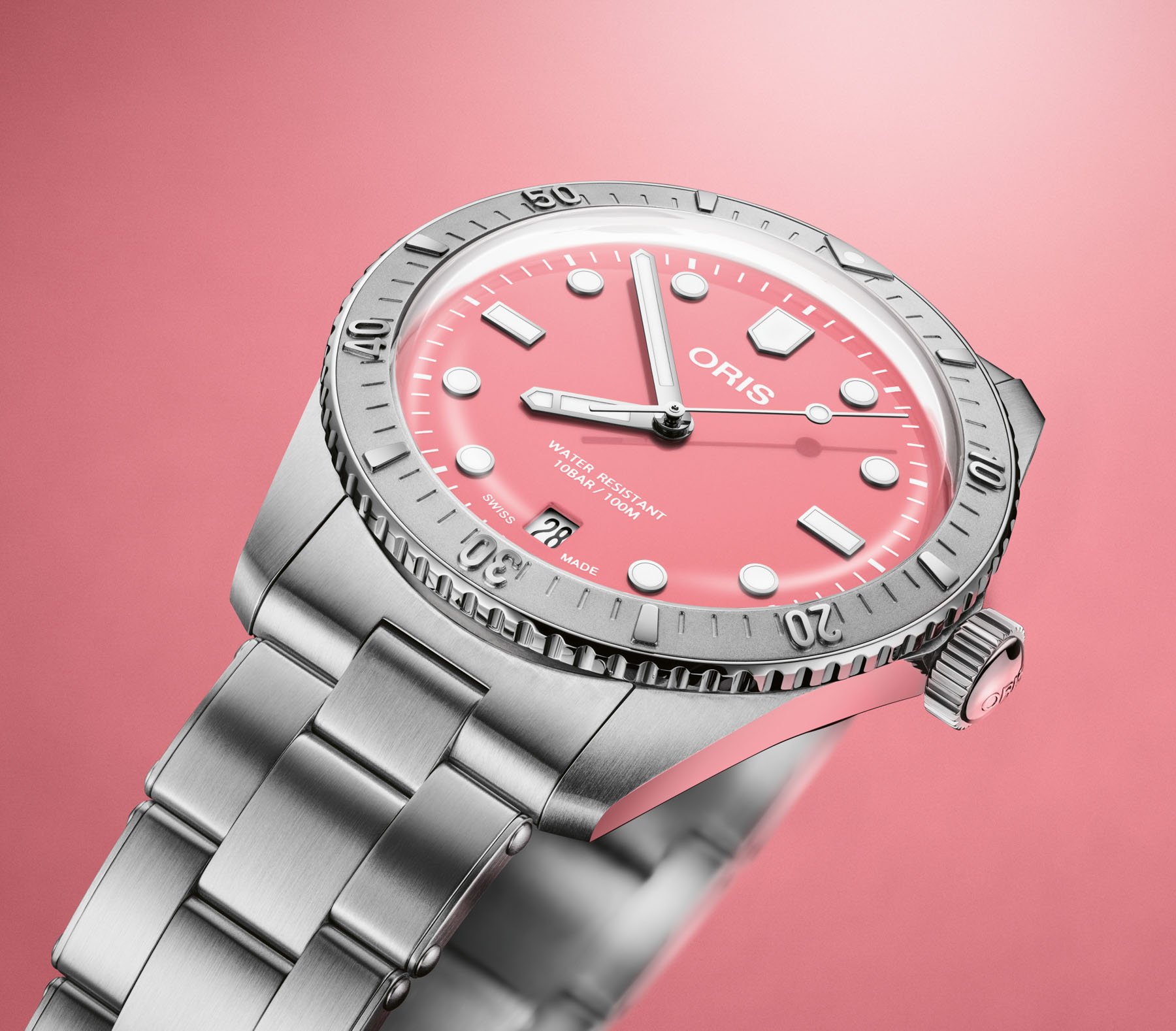 Oris Divers Sixty-Five Cotton Candy
I was one of the stunned members of the audience when Oris revealed the Cotton Candy range of bronze watches a couple of years ago. And while I loved the colors, I secretly wished for a calmer frame for their summer-popping candy feel. So this year spelled big news for me and other fans of the candy-floss colors of the Sixty-Five when the same 38mm goodness arrived in steel. With the value-driven Oris caliber 733, a well-known quantity based on the Sellita SW200-1, the price is a reasonable €2,350. And that is on the slinky but odd-width 19mm steel bracelet. Unlike Tudor, the vintage-vibe rivets are real and look perfect with the slim case and relief bezel.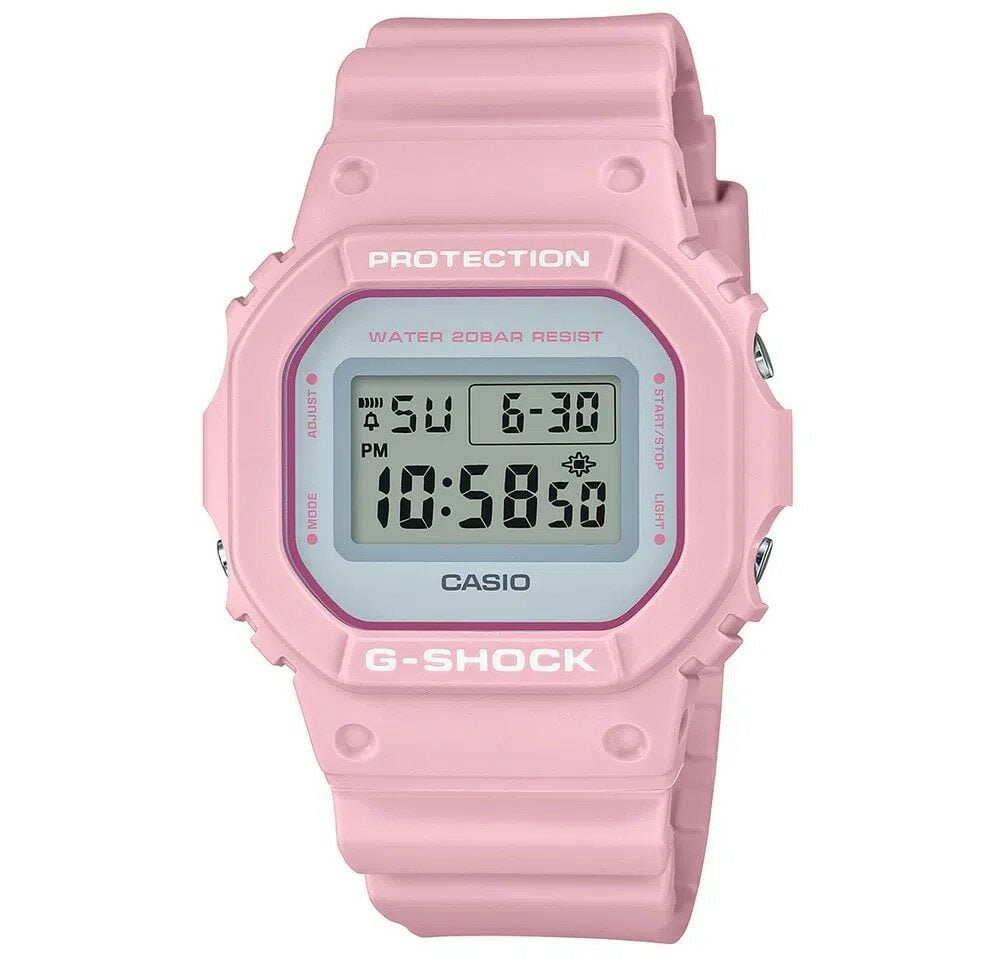 Casio G-Shock Square DW-5600SC-4
Well, this is one for the books and, actually, the first time I've seen the OG resin square in this lickable candy tone. I would happily wear one matched with a big-fit '80s tee sporting some sweeping font of pink or a Miami Vice retro logo. I love the way Casio plays with our preconceptions of this classic and pure tool watch. Obviously, the truck driver (or banker) in Des Moines, Iowa still sporting his banged-up black version might scoff at the "girly" flash of pink, but I love it. The juxtaposition of indestructibility with a fluffy tinge of rose resin is a simple stroke of genius and a bargain at €97.95. Don't tell Casio, but if you mod this with a solar module, it'll be a killer everyday beater with a bespoke presence.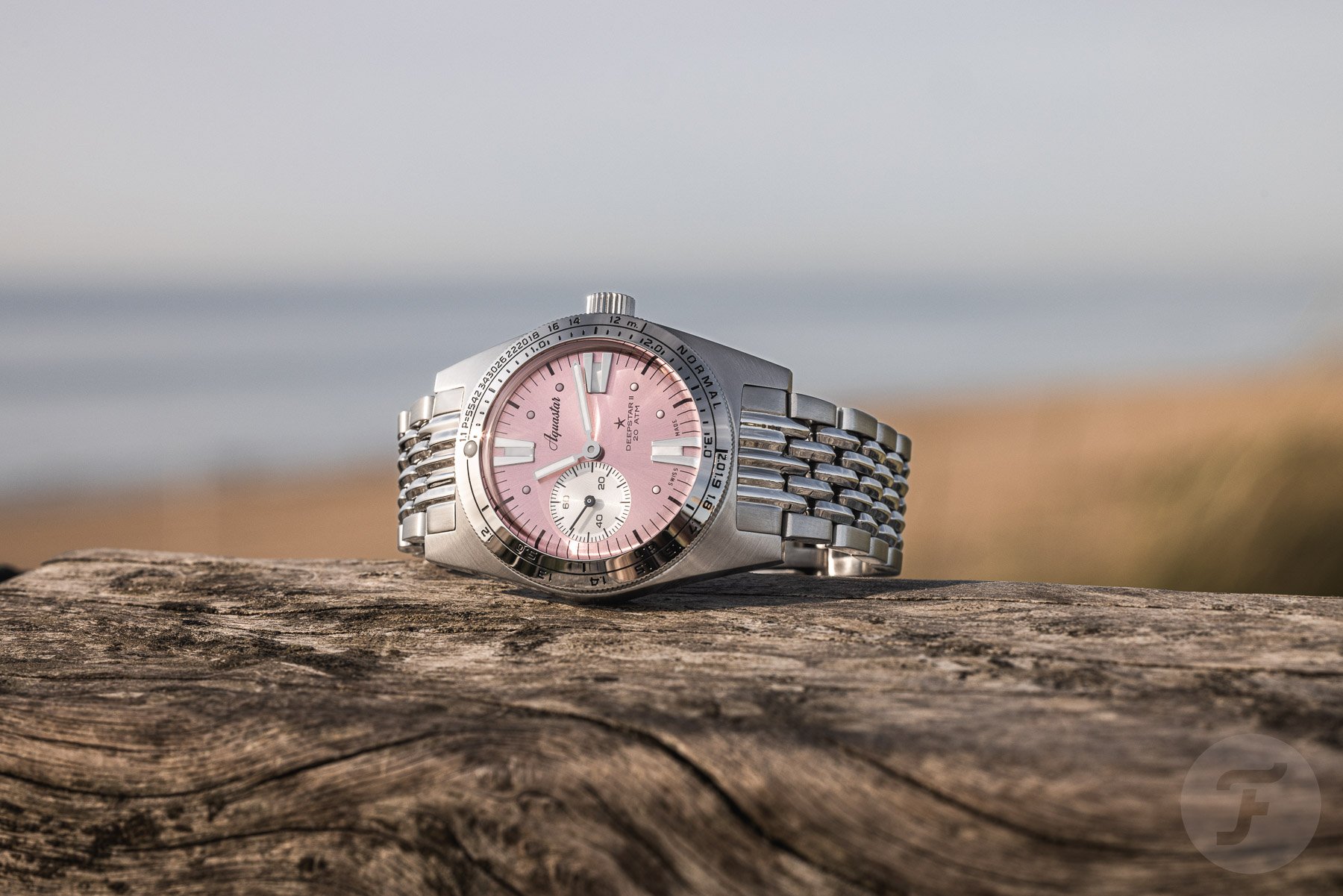 Fratello × Aquastar Deepstar II Pink Salmon Limited Edition
With the fear of being slammed by my fellow Fratello editors, I will bookend the story. Yes, this is our very own drop-dead gorgeous Aquastar Deepstar II. A comment on the teaser story for our release questioned the manliness of this diver. That is what spurred me to write this compilation of bubblegum wristwear in the first place. The dial is a tasty salmon color, I know. Still, it will look perfectly pink in the right light, which is a big part of its sunray-brushed forte. I let go of my bright yellow Doxa Sub 300 this year, so I do have an empty (and soft) spot for a beads-of rice-braceleted diver. And to me, the Aquastar range just got a new winner in its ranks. This one makes me super proud to be a Fratello team member.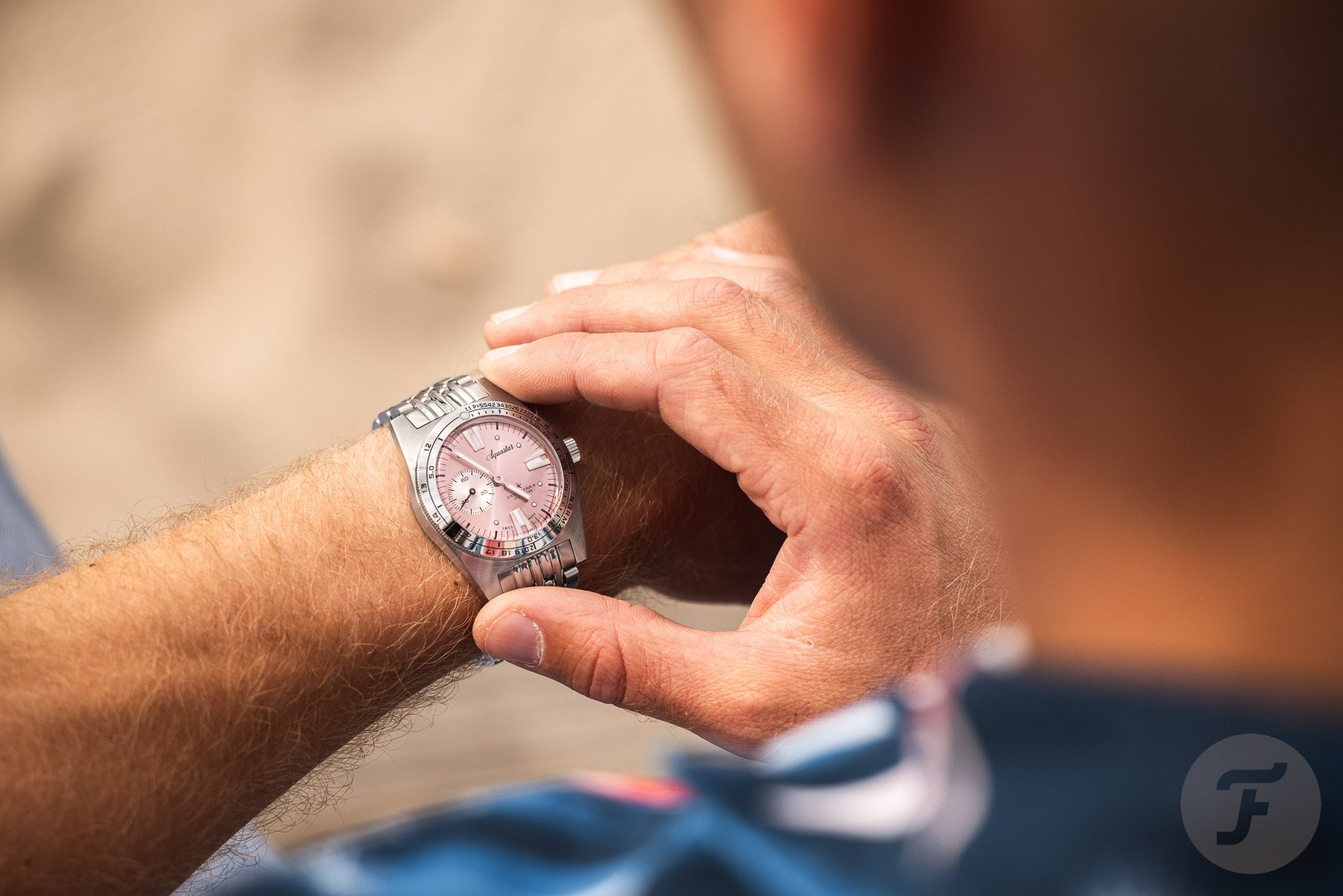 Now for those funds. This watch is still available here for €1,950, but you only have until 16:00 CEST on July 26th!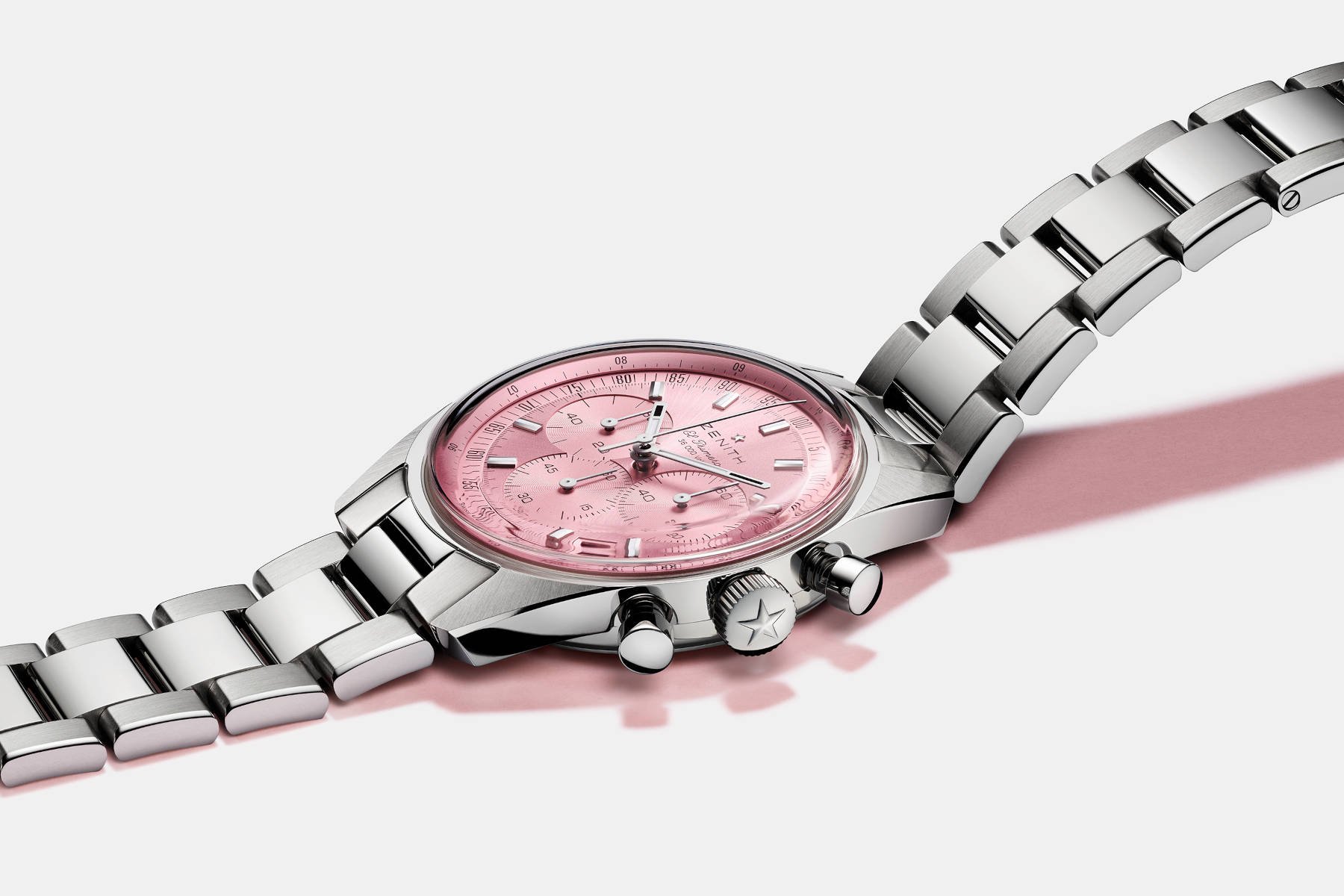 Mentionable others
I do enjoy the Rolex Oyster Perpetual 36 in its pastel-pink guise. Yes, I even dig the light blue (didn't say "Tiffany") version. But with the supply situation and still over-hyped prices, I don't see the point. There is also the absolutely gorgeous Zenith Chronomaster Original pictured above in its pitch-perfect 38mm storied case. This was released as a limited edition with proceeds going to support breast cancer research. Me, I'd wear one any day of the week without a single twitch of wrist nerves for the "feminine" color. Last week, Timothée Chalamet, the hottest male actor du jour, was just spotted wearing a Cartier Panthère Mini. That's 25.15mm of manliness right there, and my respect goes out to him for his bold choice. I wore a 44mm diver yesterday and today a 34mm bright orange Casio. They both rock.
What do you reckon, Fratelli? Are you ready for some Barbie pink summer wristwear? Feel free to pop more suggestions in the comments, and just shrug off that monochrome wrist-shyness, brothers.