Speedy Tuesday – Speedmaster Albino For The Italian Market
Speedmaster Albino – White Dial Speedmaster for the 40th Anniversary
Remember our Speedy Tuesday article about Speedmasters with white dials (click here), we already included the Speedmaster Albino, or 'Bianco Italiano' there. However, in this week's Speedy Tuesday installment I would like to zoom in a bit on that particular model.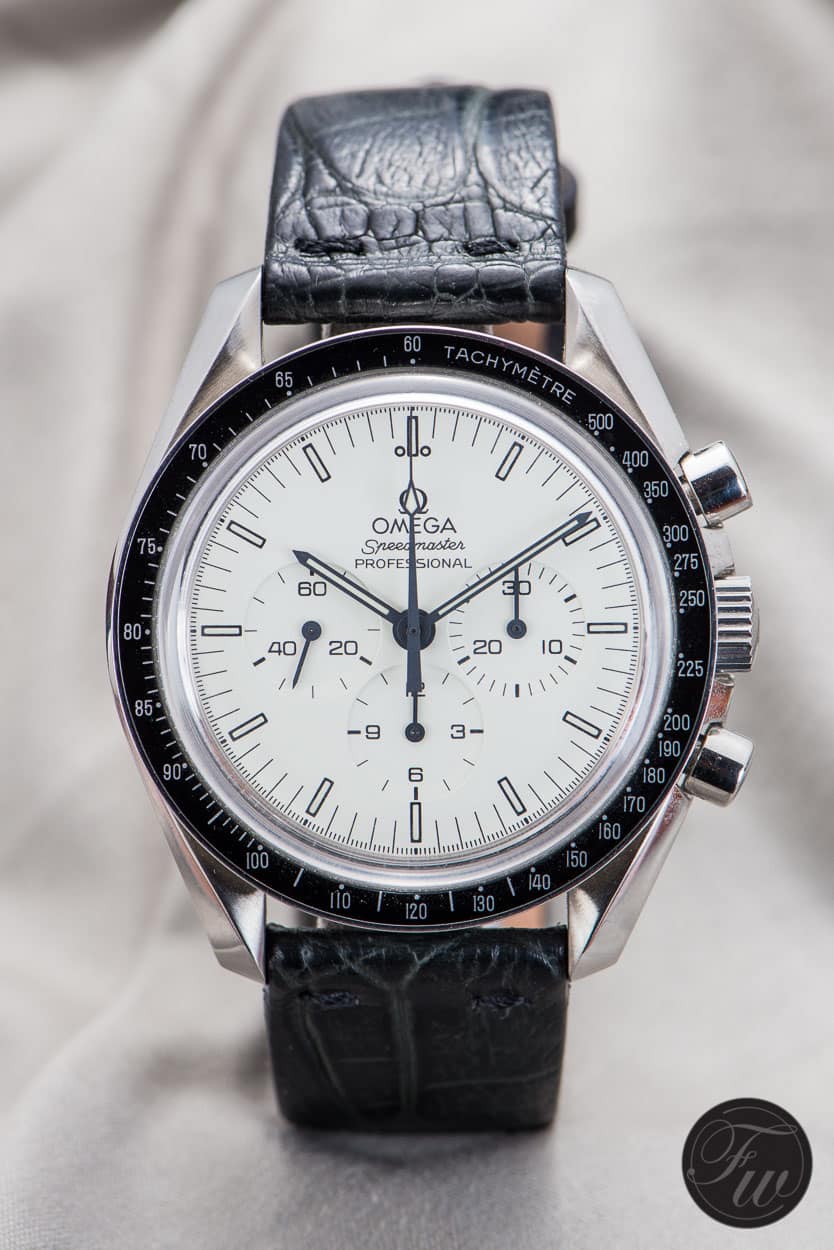 Speedmaster Professional 3593.20
Officially introduced as the Omega Speedmaster Professional with reference 3593.20 for the model on a bracelet, reference 3893.20 for the watch on a leather strap. Omega released this watch for the Italian market only, in 500 pieces, to commemorate the 40th anniversary of the Speedmaster in 1997. As you know, this icon was first introduced in 1957. Omega has its own ways with commemorative editions, and not all of them speak to the imagination of collectors, but this Speedmaster Albino certainly can count on a lot of fans.
Cream Dial
Although we mentioned the Speedmaster Albino in our 'White Dial' Speedmaster overview, it is actually an off-white dial. Where the Alaska Project and Snoopy Silver Award are actually white dials, this one is much more towards a cream color. It has black hands for great contrast, with Super Lumi-Nova. The dial has been applied with black Super-LumiNova. In 1997, Omega started using Super-LumiNova for their Speedmasters (and other models), so this watch was one of the first references to do so.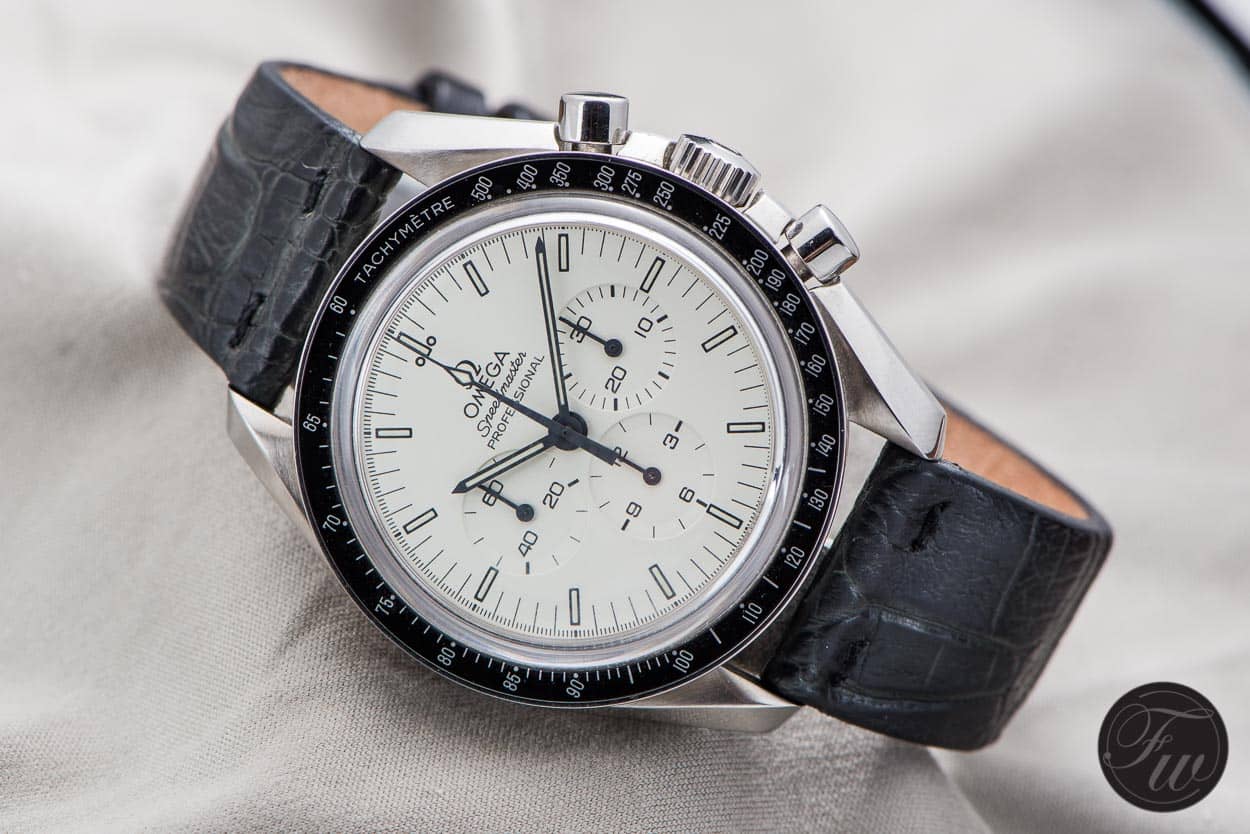 Some Firsts
Reference 3573.50 was the first watch to be a 'sapphire sandwich', meaning a sapphire crystal on the front instead of a Hesalite crystal, and a sapphire caseback. This Speedmaster Albino is also a 'sapphire sandwich', which allows you to admire the caliber 1863 movement inside. The caliber 1863 movement was also first introduced in 1997, like the use of Super-LumiNova.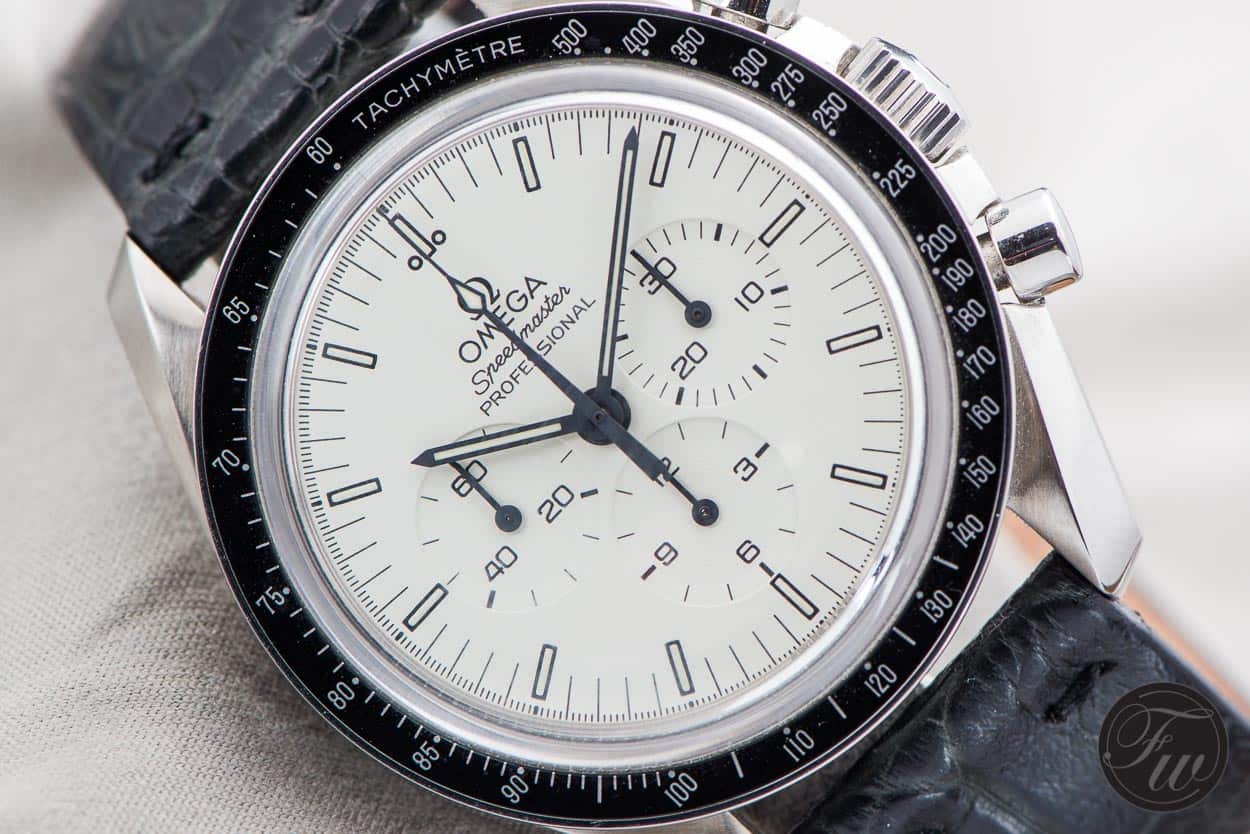 Caliber 1863 Movement
Based on the caliber 1861, the caliber 1863 was the 'luxury finish' version for Speedmaster watches with a display back. It features the Côtes de Geneve on the bridges for example, and some parts have been polished and finished for visual enjoyment. The former version was caliber 863, which ran from 1985 till 1997. Caliber 1863 was the first in a row to have a rhodium finish (like its brother 1861, with less optical finishing). That's not entirely true, as the caliber 861L(uxury finish) was also rhodium-plated, but that was only done in a very limited and low number, for the Apollo XI numbered edition 'Speedmaster Stafford' watch of 1980.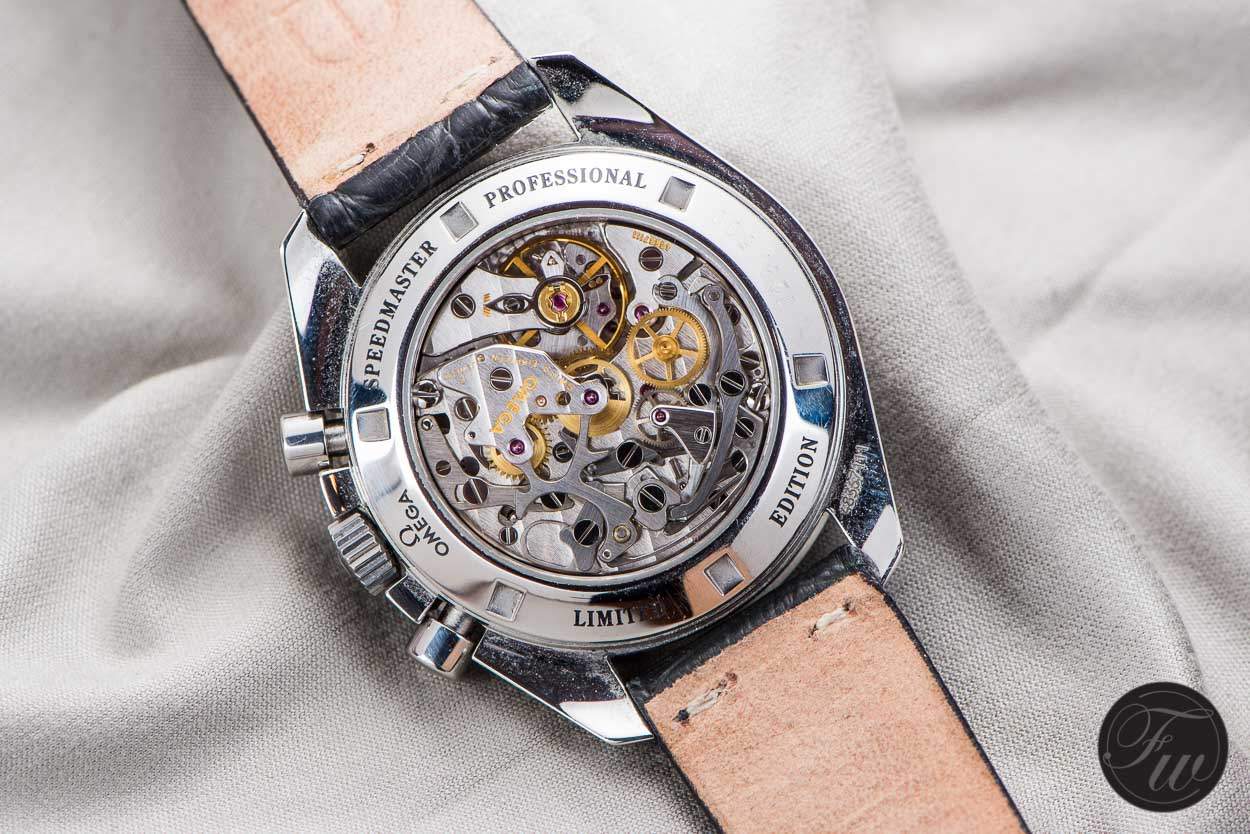 Bracelet and Box
The Omega Speedmaster 3593.20 originally came with a bracelet, reference 1499 (some have 1498). A predecessor of Omega's current bracelet, but nearly identical. It were the last versions that didn't have pushers to release the clasp. The Speedmaster Pro 3983.20 had a black leather strap. The correct box for the Omega Speedmaster Albino is the black leather box. This box has been used often for special or limited editions. Also the Speedmaster '57 Replica came with this box.
Some Thoughts
The Omega Speedmaster Albino or Bianco Italiano is one of my favorite limited editions. Only 500 pieces were made, so you won't see them coming up for sale that often. When they do, they fetch interesting prices. Last year there was one on the Omega Forums for around $9,000 USD, complete with box and papers. Speedmasters are hot and the market is crazy for them right now. I don't see that this is going away anytime soon.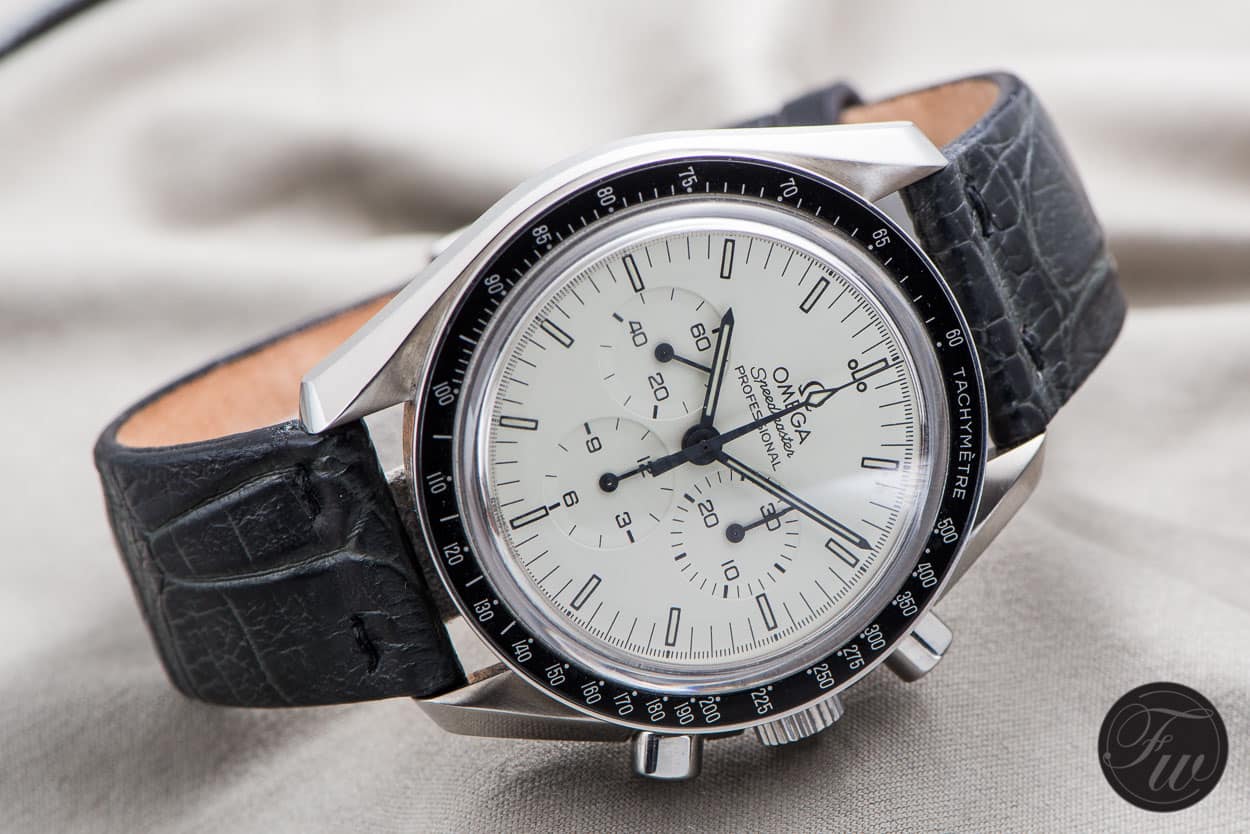 Market
Especially when the vintage market (CK2998, 105.003, 105.012, 145.012 etc) is drying up, I foresee a focus on the limited editions like the Omega Speedmaster Albino or Project Alaska for example. The same might go for the Speedmaster Professional models from the 1980s and early 1990s, with tritium dial and hands. Some of them can still be found with box and papers, especially those from the 1990s. It might become a big thing in the future to collect these, the pre-Super-LumiNova and caliber 1861/1863 models.
A big thank you to the Davidoff brothers in Geneva to let us play with their Speedmaster Albino.