Speedy Tuesday – An Overview of Speedmaster Books
With all the stress of the watch shows like SIHH and BaselWorld in our mailbox, we are unable to answer all Speedmaster related questions we get in a timely matter. However, a lot of them concern questions about authenticity and originality. Super-LumiNova or a modern bezel on a 1960's or 1970's Speedmaster is an example of the obvious ones, but some times it is difficult to tell whether a watch left the manufactory in Biel with a certain set of hands or case back or bracelet or .. [fill in] or that it has been replaced afterwards. Don't forget that watches needed to be serviced in the 1960's and 1970's as well, so some parts might have been replaced long time ago already. Also, we know that Omega wasn't always too strict with the use of specific parts during the assembly of a watch before they sent it to the distributor or retailer.
In any case, there is – besides our Speedy Tuesday articles – plenty of information out there both on-line and off-line. For the off-line part, I would like to give you some pointers on Speedmaster books that are available and worth having a look at. Some books come expensive, but in the end, if they can prevent you from making (even more) expensive mistakes, it is all worth it in my opinion. A correct bezel, correct set of hands etc. to replace can be much more expensive than the most expensive book on the subject.
There is no particular order in the Speedmaster books that I will list here, and I will update this article along the way if new editions or a new title hits the market. Some books are not Speedmaster only, but cover Omega or watches, in general.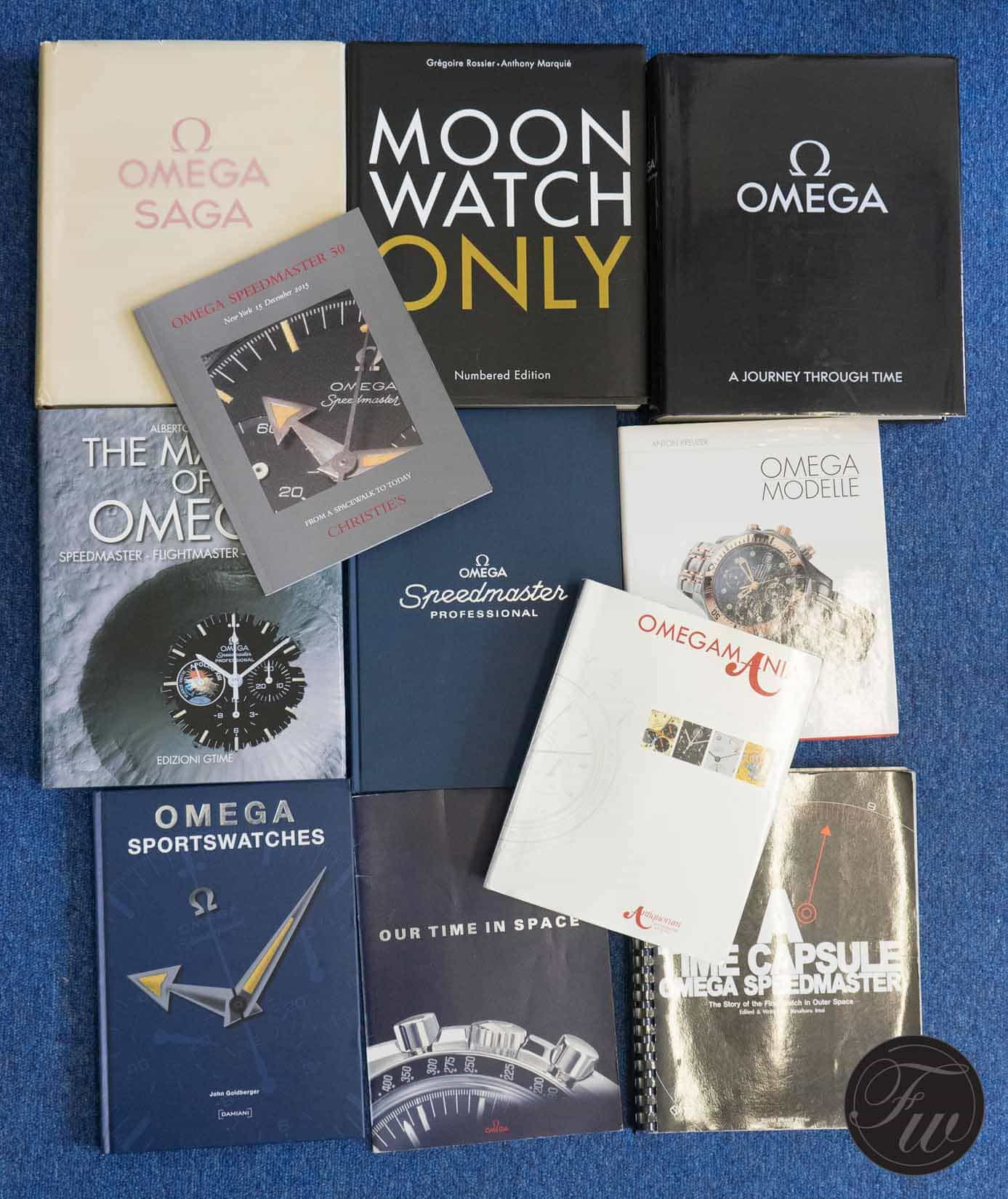 1. Omega SAGA (officially discontinued)
The first mono-brand book that I received. I actually got it from the author (Marco Richon) who happened to be the curator of the Omega Museum in Biel at the time. It was in my early days of collecting and writing about watches and this title helped me tremendously to understand Omega. Although it was in French only at the time, it was fairly easy to read (having some basic understanding of the language) the tables and charts in this book. This Omega SAGA book was later on replaced with Omega's Journey Through Time book.
Omega SAGA does cover Speedmaster watches, like it covers other collections and specific watches models as well. The tables with overviews of all Speedmaster references were of big help at the time. However, if you are looking for a Speedmaster reference, Omega SAGA is a bit out-dated and replaced by Journey Through Time (available in several languages). For Omega collectors, the SAGA book is a nice asset of course. You will probably manage to find one using eBay (there is one now, for 300 GBP), but unless you really want to have this book, I would settle for the more recent Journey Through Time.
2. Omega Journey Through Time (discontinued)
I am not sure whether it has been communicated officially yet, but the Omega Journey Through Time is either out of print or just discontinued. In any case, it can't be ordered anymore via the Omega website. I got mine in 2008 and it has been of great help ever since. It was written by Marco Richon and printed in 2007. It covers the story of Omega, pocket watches and early wristwatches, movements and of course the Omega family of watches (Constellation, Seamaster, De Ville, Speedmaster) and watches that are considered 'specials' or those who don't belong to specific families. The chapter on Speedmaster watches is quite big and contains a lot of background information on the design, the team of people responsible for the Speedmaster and how it became the Moonwatch. Furthermore, it gives a good overview of all different models through-out the years, but without going into detail on all the differences. There is also good coverage about the non-Moonwatch models, like the Reduced and the Broad Arrow (automatic) models.
Journey Through Time is a thick book (832 pages) and contains a lot of images (6625) and considered the Omega bible for many years. There are Speedmaster books that cover more information than Journey Through Time on this subject, but the combination of detailed movement information and other Omega collections makes it worth wile. Also, in Journey Through Time you will find a couple of mentions and images of prototype Speedmaster watches that I find particularly interesting. The last known price of the book was around CHF350 Swiss Francs.
Whether Omega is going to reprint/restock this book is unknown, or if they are going to at all.
3. Omega Designs (available)
Omega Designs by Anton Kreuzer is a somewhat older book, that tells the story about Omega and their watches in a chronological way. It is a 224 page book and comes at just below 60 Euro. There are a couple of Speedmaster watches in there, but it doesn't cover the story and the Speedmaster watches in much detail. Interesting are the overviews of the Omega movements at the end of the book, but that is about it. Time surpassed its contents and you can find more and detailed information on-line. For those who want to have it anyway,it is available in German and English.
You can order it here.
4. The Moonwatch (discontinued)
The Moonwatch book (printed by Omega) was the first book that I received that was specifically about Omega watches. If I am not mistaken, this book also belonged to the 1994 Apollo XI 25th anniversary edition that came out. I actually bought the hard cover version myself and later on received a free softcover version in English from the then curator of the Omega Museum. This book was available in German and English and in both hard- and softcover. There was also a thinner softcover version at some point (called Our Time in Space), with less contents. This book mainly covered the role of the Speedmaster during the Apollo program from NASA. There are also some notes on the Moonwatch itself and its production process in the book, which is interesting to take note of. However, the overview of different Speedmaster models is somewhat limited. However, I consider this book to be a must-have for Speedmaster fans nevertheless. 157 pages only, but with a lot of images. Some of the Speedmaster watches covered in this book are actually quite rare and interesting. But there is only little information given with each Speedmaster printed in this book. Long out of print, but they do pop-up for sale every now and then for around 100 Euro on eBay.
5. A Time Capsule Omega Speedmaster (discontinued)
I received my first copy of a Time Capsule Omega Speedmaster (written by Kesaharu Imai) somewhere in 1999 and later on I got some more. This book was both for sale as well as Omega had it to give away with certain (anniversary) Speedmaster watches if I am not mistaken. Not sure if this was official or that they did this only for those who cared, but a nice gesture in any case. The binding was terrible, so this book often fell apart when used on a frequent basis. So I have two actually, one that I use and had re-binded and one original piece. There is also a Japanese version, which is quite sought-after, but I never had that version myself. I assume it has the same contents. From the Speedmaster books so far, this was the one to have without a doubt. It still is an interesting book, especially for those interested in Omega's role during space missions in the 1960's and 1970's. It gives a great overview of the watches used during the space missions and also includes some information on the missions themselves. One of the coolest features of Time Capsule was the big fold-out at the end of the book, where an overview was given of all the different Speedmaster references. Although not complete, it surely was one of the most complete Speedmaster overviews at the time. This book has been long out of print as well, but they regularly pop-up for sale on forums and eBay, price should be somewhere between €100 and €200 Euro, depending on the aforementioned condition.
6. OmegaMania Auction Catalog (out of stock)
Sure, this is not one of the Speedmaster books but an auction catalog. However, it is a very useful one to be honest, if you can look past the auction results. For those who are not familiar with the OmegaMania auction: Antiquorum did this auction on Omega watches only in 2007, with a beautiful collection of rare and special models. The results went berserk and a lot of watches ended-up in the Omega Museum in Biel, but at least it was quite transparent that they were bidding on these pieces for the museum. The result is that you can enjoy these rare pieces yourself when visiting the Omega Museum in Biel (you should), the downside is that the prices paid weren't really market prices. It skewed the market for vintage Omega for a short while, but after a while everything went back to normal. The OmegaMania catalog is divided in a couple of chapters, including one for the Speedmaster watches. It gives an interesting overview of rare and special Speedmaster references, some owned by NASA astronauts from the Apollo program. There were 42 lots concerning Speedmaster watches, and some of them were quite odd actually to pop-up in the auction (like the white dialed Apollo XIII model, which was a prototype as far as I know). The catalog isn't error-free, but nevertheless fun to have. You can find these catalogs on eBay, ranging from 100 USD to 300 USD. You can also see the auction items and their results via the Antiquorum website of course.
7. Omega Sports Watches (available)
Collector John Goldberger wrote this hardcover book called 'Omega Sportswatches' in 2007 and consists of 136 pages on Omega as manufacturer of sports watches. Besides the Railmaster and Seamaster for example, there is a section on the Speedmaster as well. Although the images are beautiful and very detailed in this Omega Sportswatches book, the number of featured Speedmaster models is too low to use it as a proper reference book on these watches. The book is more or less an introduction of Omega as a brand that (also) makes sports watches, it is a nice-to-have book, but not mandatory. Even if you are into Omega in general, there are other books that I would recommend first. Having that said, it is not a bad book. The book should be available via WatchPrint, eBay, Amazon etc, for around €75 Euro.
8. The Master of Omega (available)
Of all Speedmaster books, this The Master of Omega by Alberto Isnardi used to be the best reference book on Speedmaster watches till Moonwatch Only came around the corner in 2014. It actually still is a hell of a reference, as it covers more Speedmaster models than only the Moonwatch models. You will not only find exotic Speedmaster watches described and pictured in this book, but also the Flightmaster and Speedsonic (tuning fork models) references. The Mark series, the Holy Grail (Speedmaster Automatic Lemania 5100 in a Professional case) get attention in this book, as well as some detailed overviews of Moonwatch parts like bezels and bracelets. At the end of the book, you will find an overview of most Speedmaster references that have been produced since 1957. It is not all complete and free of mistakes (some of these books are, as I've written before, surpassed by recent acquired knowledge on the subject), but it is one of the Speedmaster books that I wholeheartedly recommend buying if you love Speedmaster watches. It is available via Mondani and retails at €178 Euro, you can also try your luck on eBay.
9. Omega Speedmaster 50 (out of stock)
This is another auction catalog that is well worth having as a Speedmaster enthusiast or collector. Christie's Speedmaster 50 auction took place last December in New York and had some interesting pieces there. I wrote about the Speedmaster 50 collection here and here, as well as about the results here. The book is not available via Christie's website, however I am sure it will pop-up somewhere on Omega Forums or eBay. The 50 lots in this auction are described into detail, giving information about the watch itself as well as some background information on the references or model. The Speedmaster 50 collection auctioned models from the very first 1957 reference CK2915 to a couple of the more recent limited edition and anniversary Speedmaster watches, including prototypes and watches worn by astronauts and pilots. This catalogue is a must-have for collectors for sure. Although it is less bulky than the OmegaMania catalog, this one is more detailed.
10. Moonwatch Only (available)
This book, written by Rossier and Marquié, is the one reference book to have concerning the Omega Speedmaster (Professional). I did an in-depth book review here and we did an official launch of the book in Amsterdam together with the Tourbillon Boutique. Of all Speedmaster books, this is the best purchase concerning Moonwatch models. That's an important note, as it only covers Moonwatch models or direct derivatives of this model. So expect to see some gold models, the Broad Arrow re-issue '57 and anniversary models, but there is not a single Mark II, III etc in this book. Although I think they could get away with the X-33, that one is also not in this book. Don't get me wrong, that's a perfect strategy, as the authors could really get into detail on a specific Speedmaster collection. Detailed it is, I've never seen anything like this for Omega or any other brand. I think I've called it 'the reference for watch books' in my review and that hasn't changed since then. This book comes at €250 Euro, but worth every penny. Heck, if it was €500 Euro, I might have taken the plunge as well. This book is a must-have for Speedmaster collectors and makes it hardly a reason to buy 'wrong' or 'Frankenwatch' Speedmaster (Professional) watches anymore. Every little detail of the Speedmaster is being discussed into – well – detail. Type of hands, bezel, crystal, dial, crowns, pushers, bracelets, boxes and so on. Besides that, there is a run down of every reference ever produced with high resolution photos and good descriptions. Furthermore, the watch has buying tips as well as a great and easy-to-use chart to identify the correct Speedmaster reference based on design elements. Click here for the site of the authors and find ordering information as well.

So, which Speedmasters books should I buy?
In the end, regarding Speedmaster books, you can't go without the Moonwatch Only book. If your interest stretches towards the non-Moonwatch models as well, the Master of Omega book by Isnardi should be added. In general, even though discontinued, the big black book called Journey Through Time is a must-have as well. With these three books on your shelf, you will be able to do a lot of research regarding the Omega Speedmaster. It is simply impossible to have a complete library covering all the references ever made, but these books combined with all the information that is at hand on-line (like our website, Chuck Maddox' archives, Hodinkee, Speedmaster101, Omega Forums and so on, you will have most of the information at hand).
The three mentioned books are the ones I used most of the time to look things up, the others are nice to haves but some times do bring some thing 'extra' that is not in one of the other books.