Speedy Tuesday – Will the Speedmaster Apollo XI 45th Anniversary And Tintin Be The Classics Of Tomorrow?
Here on Speedy Tuesday we like to cover vintage Speedmaster watches as well as modern models. A question we often receive though, is which current models we think will be the classics of tomorrow. By modern, we mean the models that can be bought new today.
Models like the Omega Speedmaster Pro Snoopy Award (2003) and Apollo XIII (1995), the panda dialed Mitsukoshi (2003) and Apollo 11 35th Anniversary (2004), there are still relatively modern and became very sought after. Not from the start I have to say. Some of these models were in the shops for a long time at the time they were introduced and now that the stock has dried up for a couple of years already, the original buyers will easily get back what they paid for it, with a bit of premium on some of them.
For today's Speedy Tuesday I thought about two modern Speedmaster watches that might become tomorrow's classic or at least a sought-after Speedmaster with a very good chance on being a nice investment as well.
Omega Speedmaster Apollo XI 45th Anniversary
The first Omega Speedmaster that comes to mind is the 2014 Omega Speedmaster Pro Apollo XI 45th Anniversary reference 311.62.42.30.06.001. We reviewed this watch at the time of the introduction earlier this year, and to be honest, I've been chasing one myself to add to my private collection. The beautiful Grade-2 titanium case and the Sedna gold bezel make this a stunning watch, but the dial – out of one piece – and gold hands really top it. Omega delivered these watches with one of their new NATO straps. Only limited to 1969 pieces and my best guess is that they could not have predicted such a run on this watch. In the past, we've seen limited edition of 9999 pieces. Even the Omega Speedmaster Snoopy Award had a production number of 5441 pieces. Was 1969 a mistake or a way to play safe? How would the Speedmaster community respond to a titanium and Sedna gold piece? If I wouldn't have seen it and just saw the specs on paper, I might have passed on one as well.
Below two photos of our friend Maxtor71 (his Instragram account) and two photos from our own archives. These photos show how good the combination of colors work for this watch, even with a gold bezel.
Now, the first reason for me to believe that this will become a very sought-after model in the future, is that this Omega Speedmaster Apollo XI 45th Anniversary almost immediately sold out to retailers all over the world. And not only that, also did the retailers sell them to customers within a blink of the eye (exceptions noted).
The second reason is that it is an Apollo XI limited edition and these tend to do well over time anyway. Except for the 1999 model (30th anniversary Apollo XI model), which is one of the slow performers of the Apollo XI. Probably because there is not really a specific detail about this watch that makes it recognizable as being an Apollo XI limited edition, except for the case back. You will see that the average price on this reference 3560.50 model is not really making an impression (see our Speedmaster Price Guide here). This new Omega Speedmaster Apollo XI 45th Anniversary watch looks totally different from all the others and makes it very interesting to add to someone's Speedmaster collection.
A third reason for the Omega Speedmaster Apollo XI 45th Anniversary becoming a classic of tomorrow is perhaps the fact that the Grade-2 titanium might give the watch a bit of punch after a while. As you may know, Grade-2 titanium has the characteristic of changing over time, becoming a bit darker. Let's see what will happen here.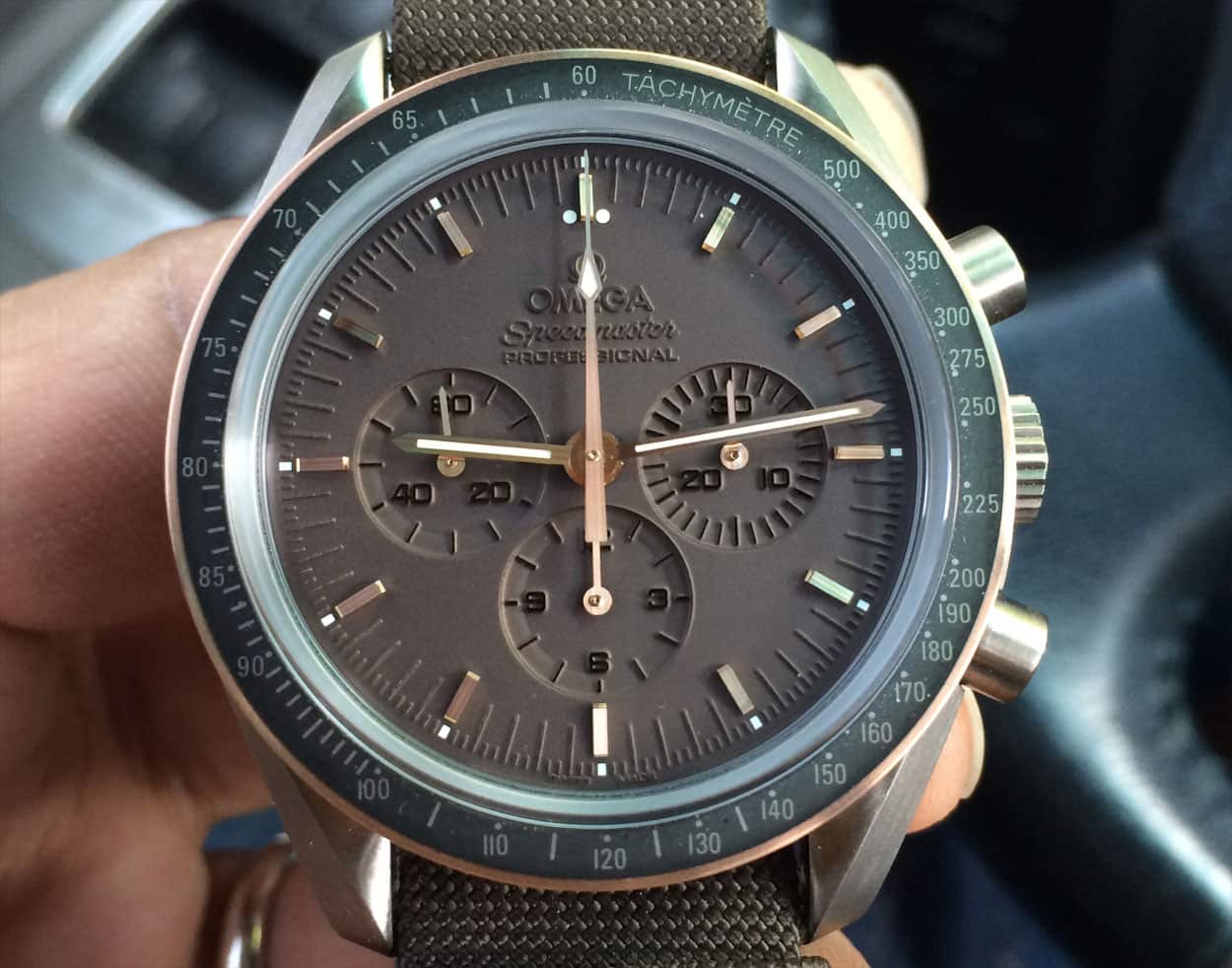 Omega Speedmaster Professional 'Tintin'
In 2013, Omega introduced – right before Baselworld – a new model called the Speedmaster Pro Racing. There wasn't much interest in it among the on-line Omega communities and neither did I really care for it. Or better said, I didn't understand this watch. The red and white racing pattern didn't seem to match up with the original Speedmaster racing models. So, on the first day of Baselworld we were lucky enough to be the first appointment for Omega and sat down with their head of product development, mr Monachon.
I remember that I told him that I didn't get the watch as a 'Racing' and whether he could explain it to me. So he did, and Monachon explained that the red and white design of the Speedmaster Professional was based on the colors of the rocket in the Tintin comic albums. We put the photos and story on-line immediately after our appointment and the rest is history. This Omega Speedmaster Professional Racing is now better known as the Speedmaster Tintin and it even resulted in us getting a letter from the legal department from the (legal) owners of Hergé, the author of Tintin.
The original prototype has the Tintin rocket on the dial, which unfortunately could not be taken into production because the owners of Hergé's images and stories didn't want to cooperate. It would have been the best thing ever. However, since the story has been out since the very first launch of this watch, it is still an interesting watch if you take the Tintin story into consideration. The inspiration clearly comes from Tintin's rocket in the albums Destination Moon and Explorers on the Moon.
Although we were whispered by a well-informed source that this watch would be out of production soon, it is still in the on-line catalog. If you want to play safe, you should order one as soon as possible before it really exits the catalog.
The Speedmaster Tintin is not a huge seller at the moment, which should make it a bit easier for you to source one, but remember that the Omega Speedmaster Snoopy Award also didn't sell very well at the beginning. Try to get one now.
The photos below are two hands-on shots from Maxtor71 and the one far below is from our 2013 article here on Fratello Watches.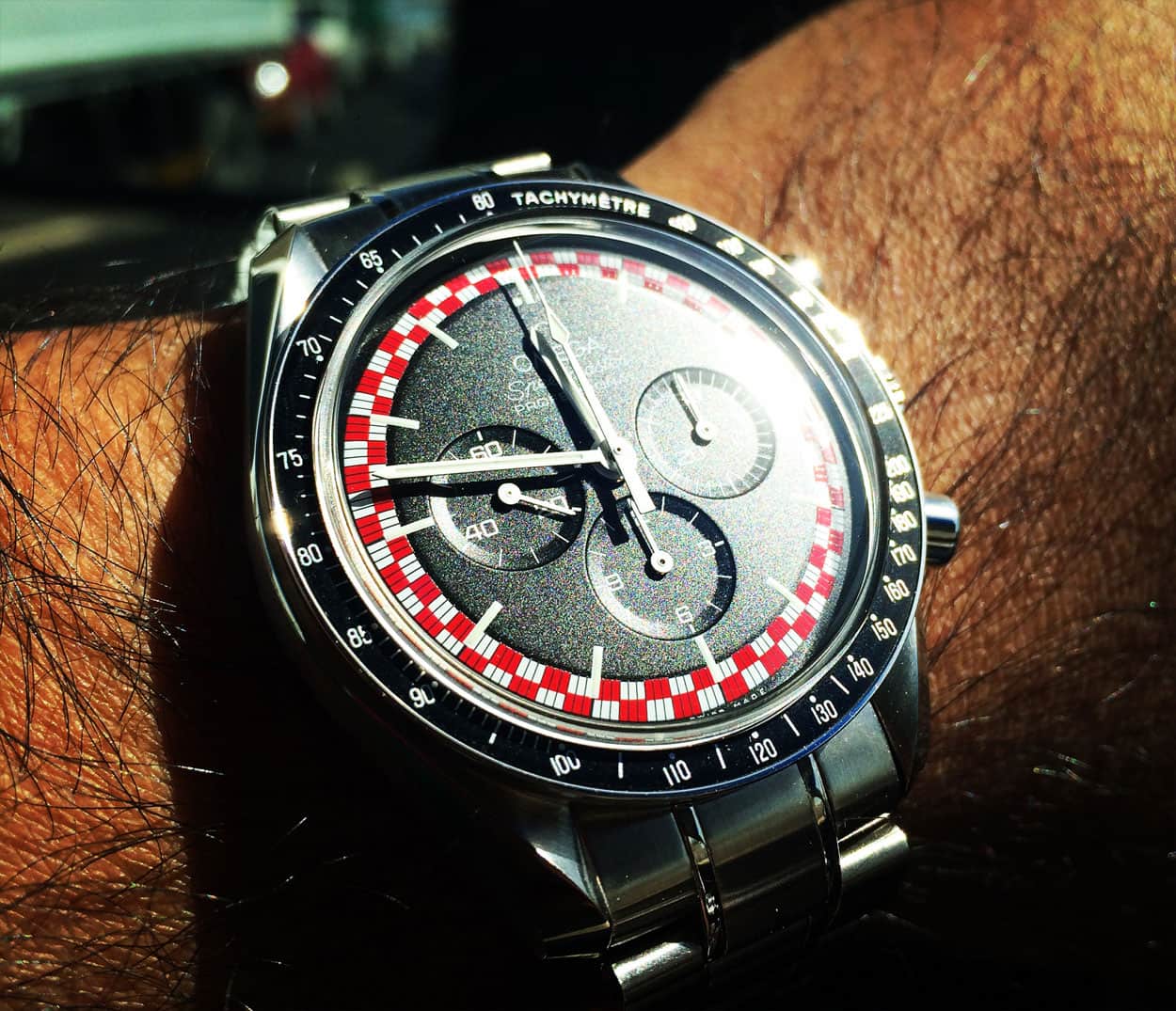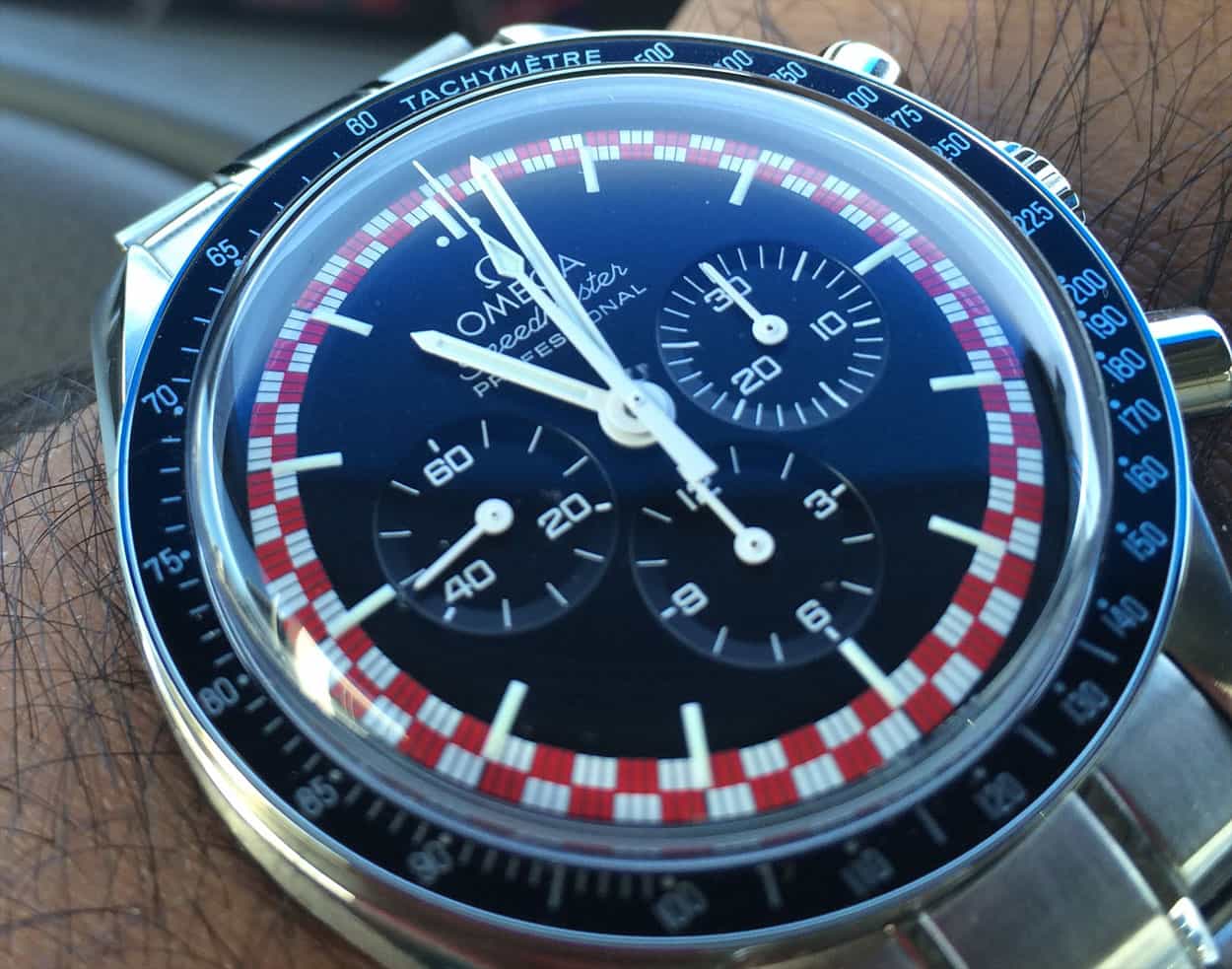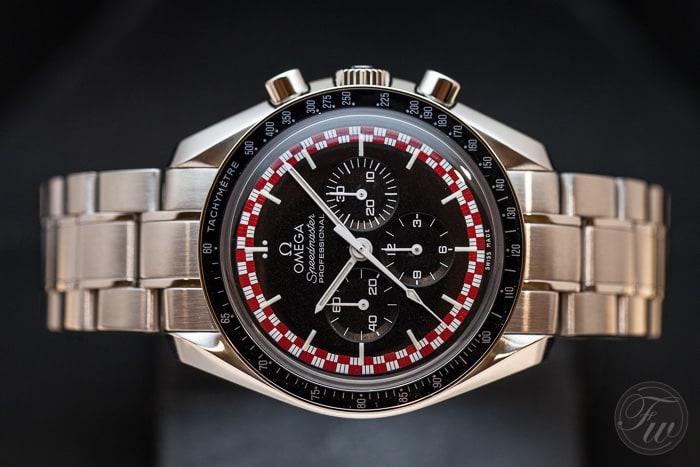 Of course we don't know what Omega will have in store for us during BaselWorld 2015, but if you are smart with NASA missions and years, you can do the math I think. ; – ) For now, my personal bet is that we will see some interesting demand and ditto price tags on the Omega Speedmaster Apollo XI 45th Anniversary model as well as on the Omega Speedmaster Professional 'Tintin'.
Are you of the opinion that other models will be tomorrow's classics? Let me know and share it in the comments below!