Sunday Morning Showdown: Zenith Pilot Big Date Flyback Vs. Chopard Mille Miglia Classic Chronograph
A battle between a pilot and a race car driver — which one would you choose?
I'm sure many of you still remember the episode of Top Gear in which Richard Hammond races a Eurofighter Typhoon in a Bugatti Veyron. It was the battle between an RAF fighter pilot and the presenter, who also happens to be a driver with balls of steel. I'm not saying today's Sunday Morning Showdown is going to be as epic as that race, of course. I just wanted to use it as a nice reference to introduce today's battle between the Zenith Pilot Big Date Flyback and the Chopard Mille Miglia Classic Chronograph. Which, again, is a race between a pilot and a racing driver.
Both of these watches were presented at Watches and Wonders last week. Their names, however, have already been in the brands' portfolios for much longer than that. Zenith has been making pilot's watches since the beginning of the 20th century. It is even the only watch brand that can officially use the term "Pilot" on its dials. Chopard, on the other hand, holds one of the longest-standing partnerships between a watchmaker and a motorsports event. The brand has been the official timekeeper of the Milla Miglia for 35 years now. So let's take a look at which watch brand can best translate its history into a new timepiece. But before we do that, here's a recap of last week's showdown.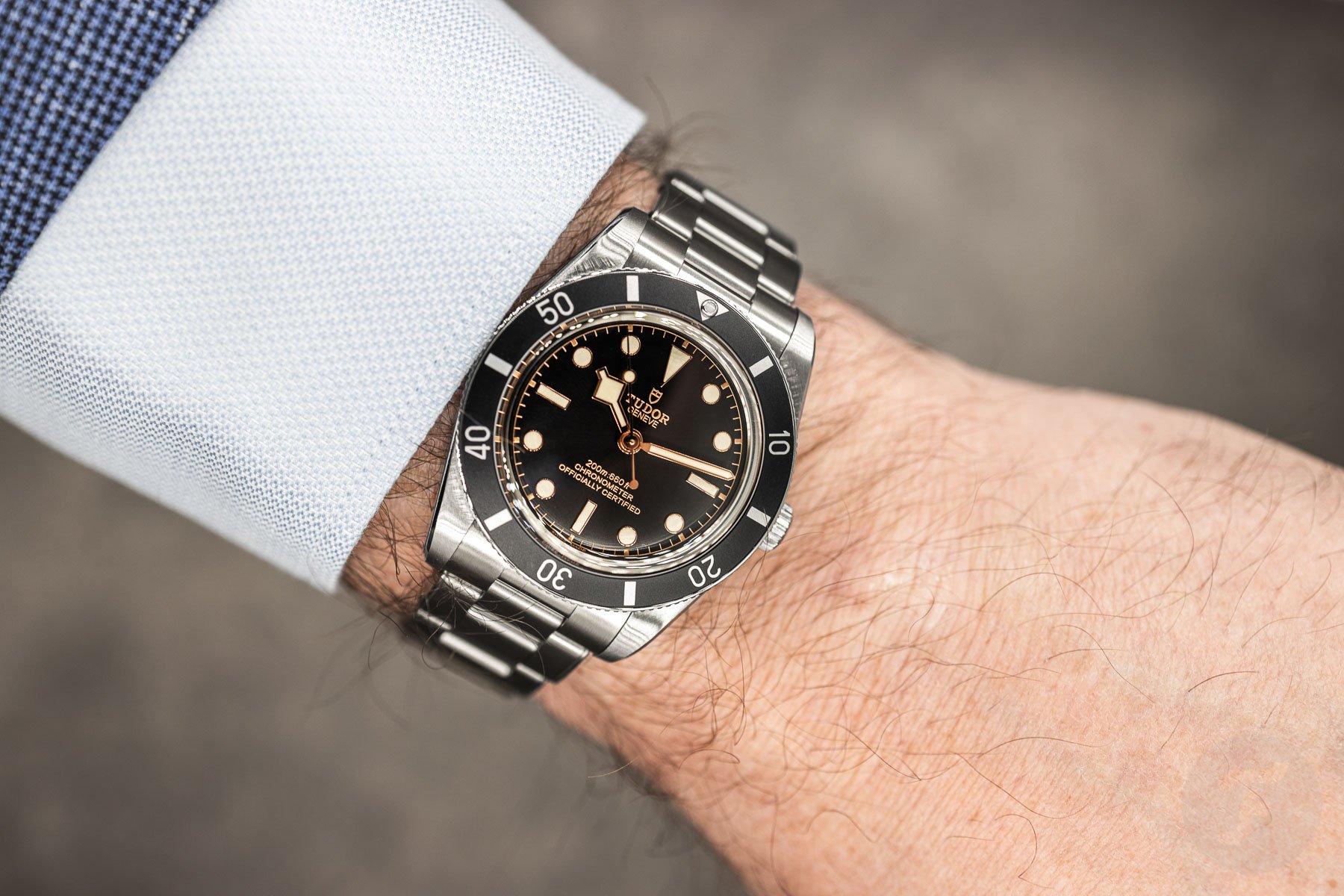 Tudor's new Black Bay 54 beats the Black Bay 58
When we saw the new Tudor Black Bay 54, it took us quite by surprise. It's only 2mm smaller than the Black Bay 58. It has a non-gilt-tone bezel insert and an updated case shape, and it features a bracelet with a T-fit clasp. The differences may not seem like much, but they are significant indeed. And you don't have to take my word for it. Just look at the discussions going on underneath last week's Sunday Morning Showdown. In the end, there is a slight preference for the brand-new Black Bay 54, which took 56% of the votes. Then again, that could just be because it is the newer watch of the two. All right, let's get back to this week's epic battle, which takes place both in the air and on land.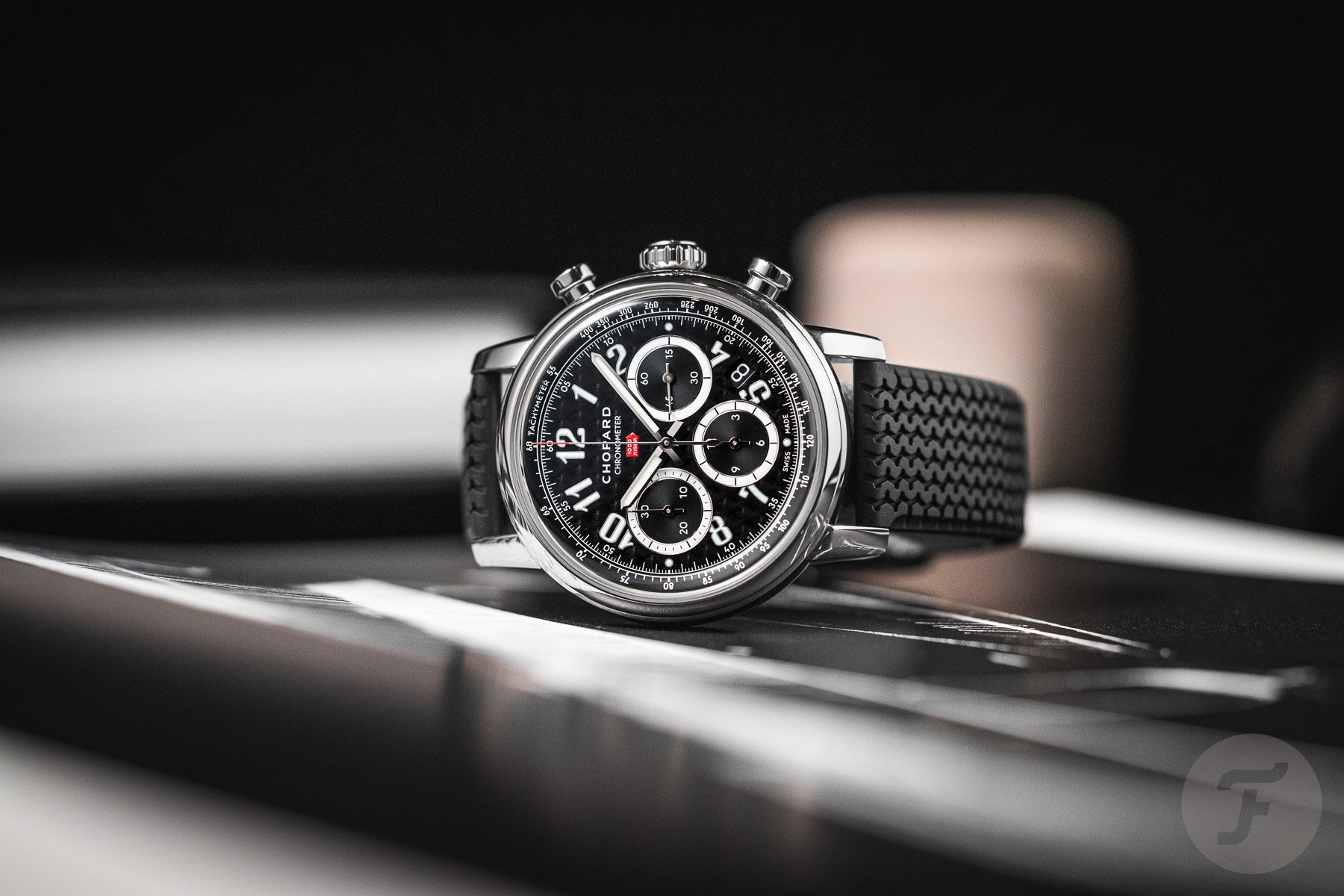 Daan: Chopard Mille Miglia Classic Chronograph
Unlike my father, I'm more of a car person than an airplane person. I mean, I'm not afraid of flying, and I like how a plane can take you places in no time. It's just that I've always been more passionate about cars. But that's not why I'm defending the newest addition to Chopard's Mille Miglia Collection today. Rather, it's because I was pleasantly surprised when I left the meeting with Chopard at Watches and Wonders last week. I had never really handled any of the brand's watches other than the occasional Alpine Eagle.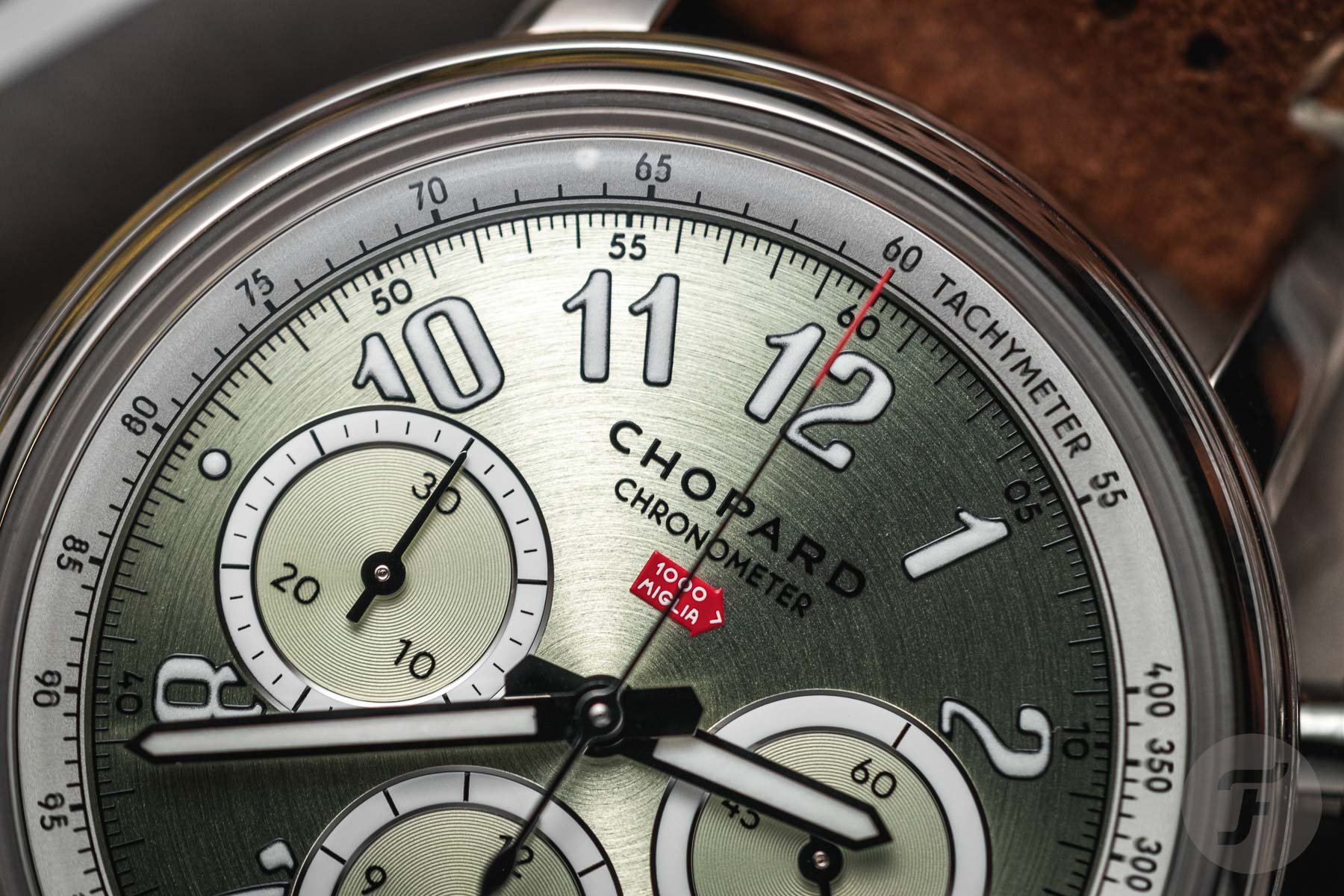 But last week, after looking at the new L.U.C 1860 and the updated Mille Miglia models, I was really impressed. The guilloché on the L.U.C 1860's salmon dial is stunning, and the Mille Miglia dial colors ooze that southern European vibe. They convey that feeling of driving an old sports car along the sunny Italian inland with the wind blowing through your hair. And that's exactly what a watch should do in my eyes. It should transport you places and evoke emotions simply by glancing at it on your wrist.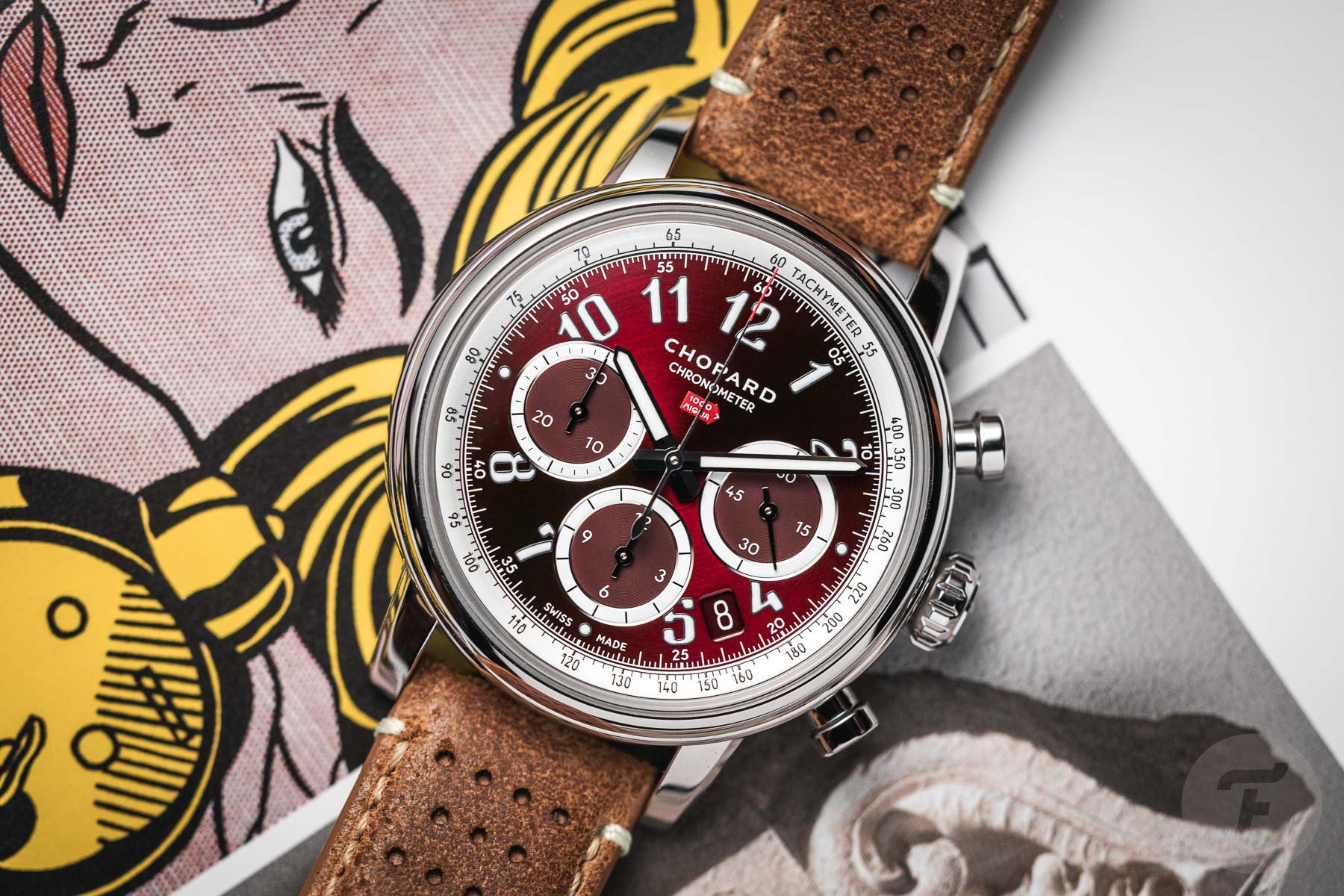 The official timekeeper of the Mille Miglia
For those of you who don't know, the Mille Miglia is an Italian car race that began in 1927. In 1957, it ceased to exist because of a few fatal accidents that happened that year. Indeed, it wasn't always as romantic as the picture I painted for you above. In 1977, however, the race began once again, and it still takes place to this day. In its current form, only cars from before 1957 can participate. Just imagine those beautiful vintage Alfa Romeos, Ferraris, Lancias, BMWs, and Mercedes-Benzes racing each other through those beautiful landscapes. No wonder Chopard's co-president Karl-Friedrich Scheufele has participated every year since 1988.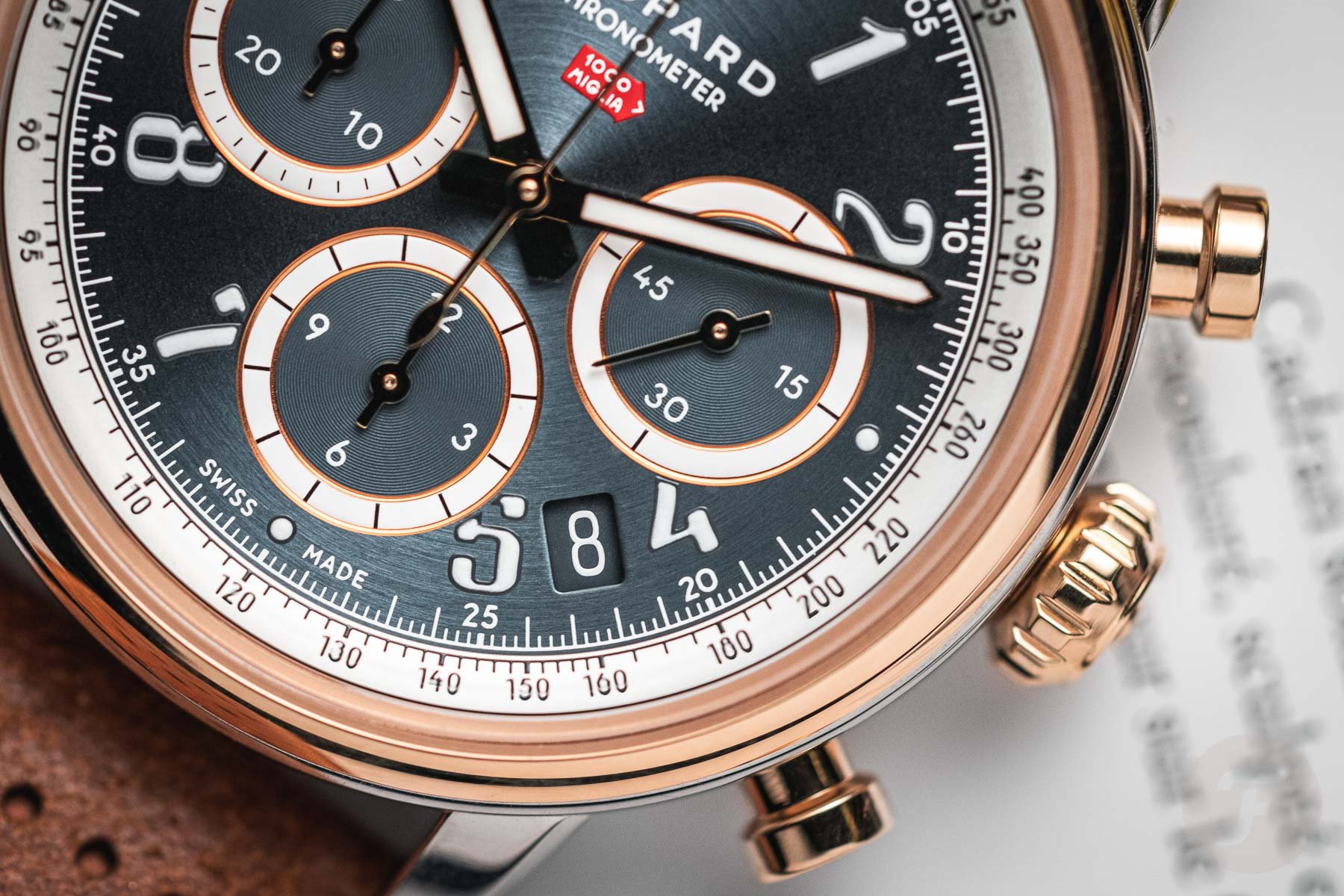 That's the year when Chopard became the event's official timekeeper. As a part of that partnership, the brand has carried Mille Miglia watches ever since. The ones we saw last week measure 40.5mm wide and 12.88mm thick with a 50m water resistance rating. The stainless steel models come with Verde Chiaro (green), Rosso Amarena (red), and engine-turned Nero Corsa (black) dials. Lastly, the two-tone version in rose gold and steel has a Grigio Blue (gray/blue) dial. Each dial features a color-matched date disk, and every watch comes with great references to vintage and antique racing cars.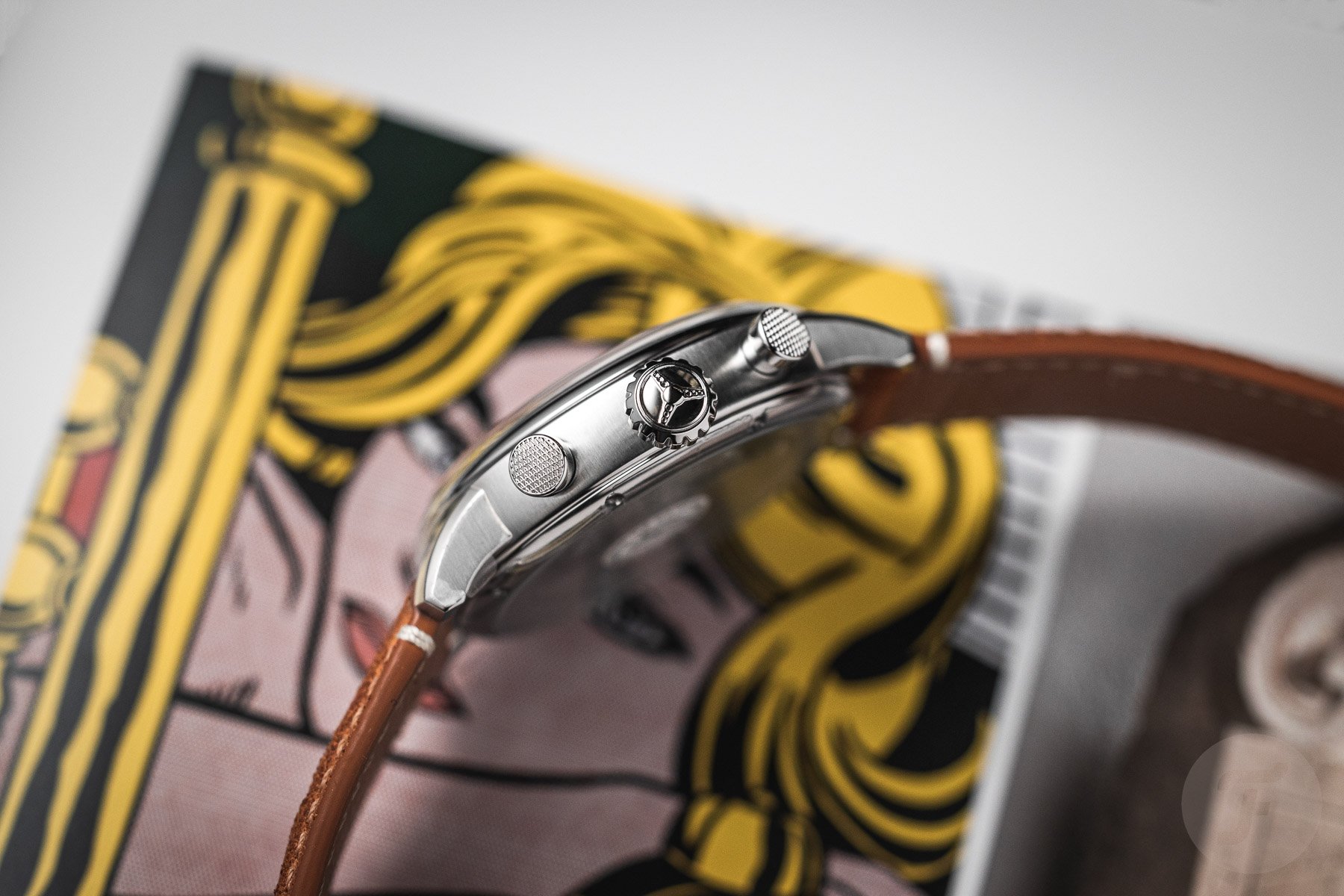 Proper race car watches
Both chronograph pushers have a knurled texture on top that is reminiscent of vintage brake pedals. The 7.5mm oversized crown also features a relief engraving that resembles a steering wheel. And the watches come on either a great-looking rough calfskin racing strap or, in the case of the black version, a black rubber strap with a vintage Dunlop tire-tread pattern. It's all a bit over the top, but that's exactly what you'd expect at the Mille Miglia, right?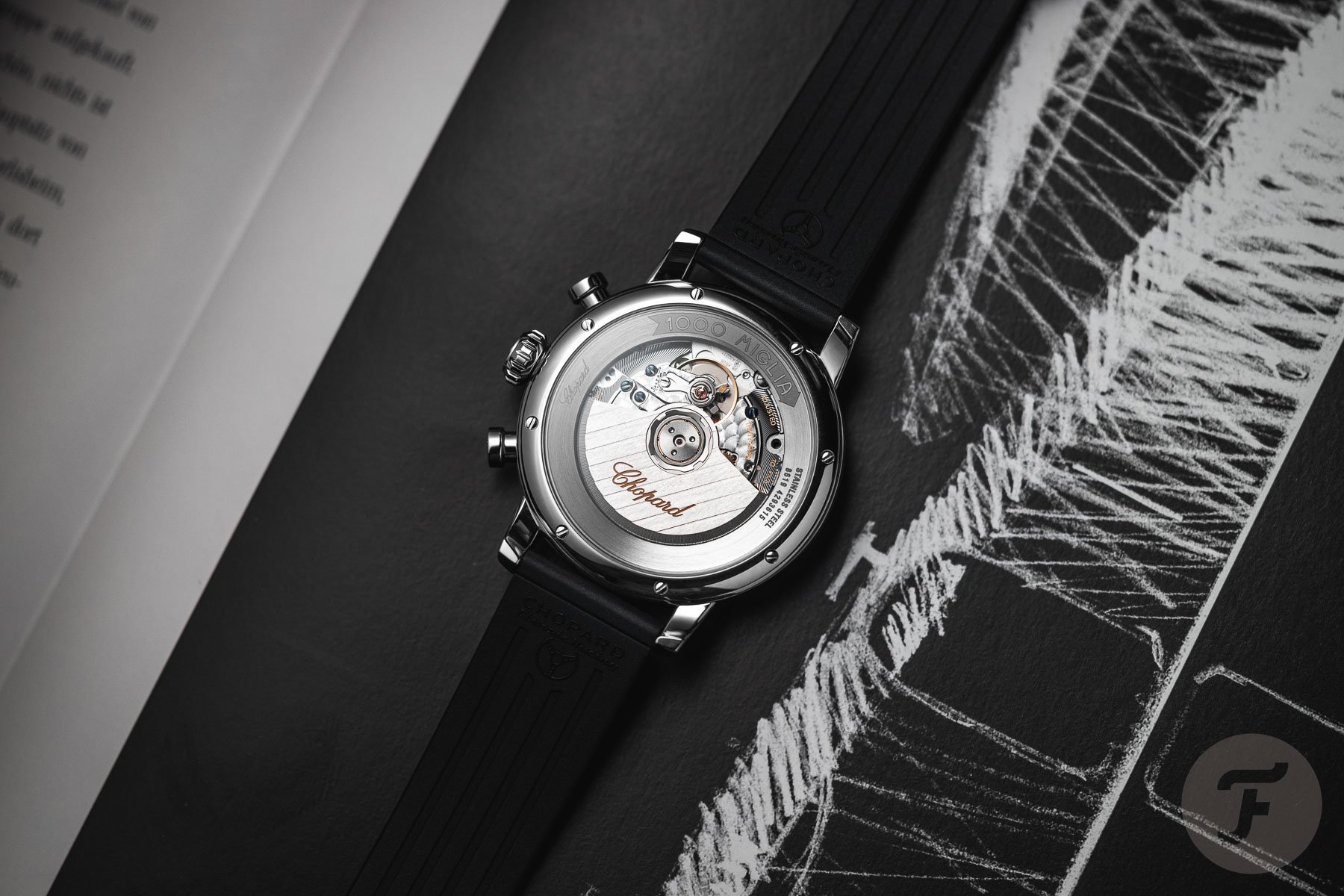 Of course, the automatic chronograph movement inside the Mille Miglia watches is a COSC-certified chronometer. This is to ensure accurate timekeeping during the race. Chopard also proudly announced that the cases of these watches utilize the brand's proprietary Lucent Steel. That means they're made out of an alloy that consists of 80% recycled steel. I'm almost certain that the recycled steel comes from old race car bodies. All right, I'm not, but wouldn't that be nice?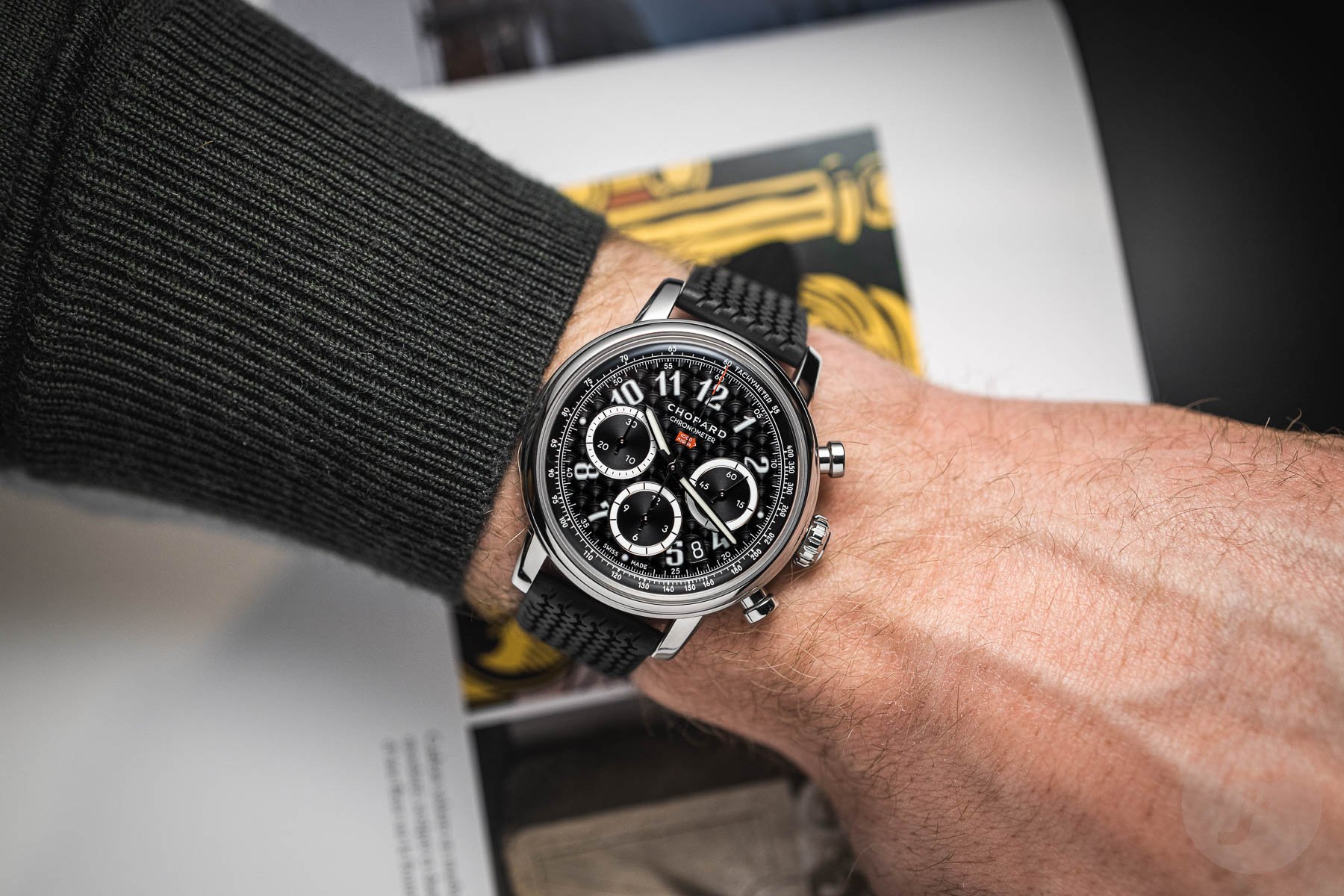 What I am certain of is that the Mille Miglia models have all the qualities of proper race car watches. In particular, the ones with the colored dials perfectly match the drivers' impeccable style in their beautiful vintage cars. Don't get me wrong, I also really like the new case and that big date display on the Zenith Pilot. However, I just feel like the Rainbow theme was executed somewhat poorly. In that regard, Chopard showed more courage and designed a watch truly in the spirit of the Mille Miglia.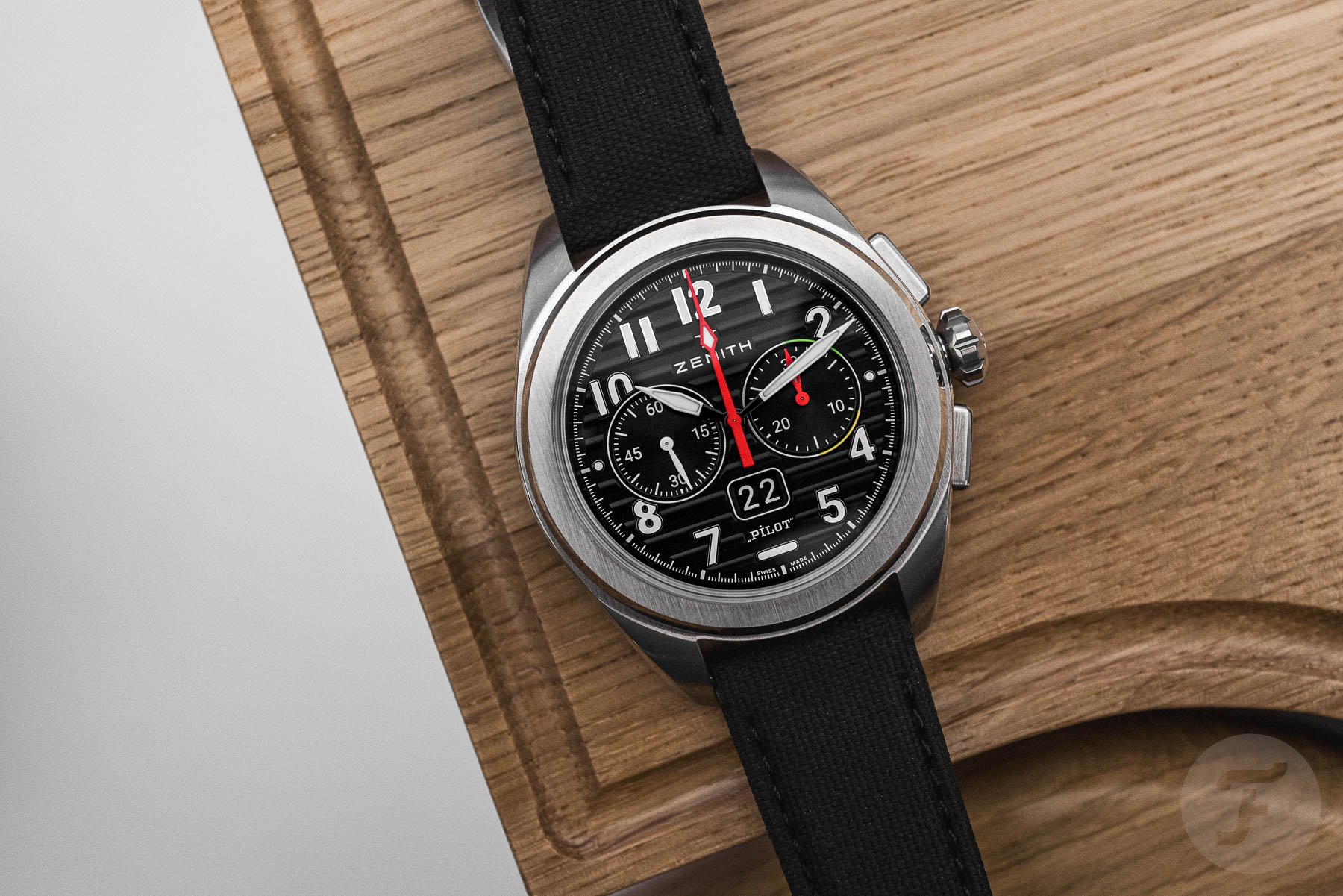 RJ: Zenith Pilot Big Date Flyback
Normally, I don't attack the other watch too much in these Sunday Morning Showdowns. I often believe in the power of the watch I picked, and just write about my fondness for that piece. And I could have also done so today because Zenith did an amazing job this year. But Daan left me no choice. After all, he picked the Chopard Mille Miglia…
What Daan conveniently forgot to mention were the prices of the Chopard Mille Miglia watches, the movement they use, and, of course, that most steel these days is recycled anyway. But let me start with the price. The steel Mille Miglia models have a list price of US$9,030, and it's US$10,700 for the bi-color model. In light of many brands' pricing strategies these days, nearly $10,000 isn't that absurd. However, here's the important part that Daan left out: the movement inside the Mille Miglia is the good ol' ETA 2894-2 chronograph. When I was at the Chopard presentation in Geneva the other week, I just chuckled when I saw the price tag.
It never ceases to amaze me what brands think they can get away with. And apparently, they do get away with it, because the US$9,000 Mille Miglia was repeatedly declared "a great watch" by some of our team members, including Daan. It is clear there's still some internal work to be done here. Lookswise, it's a cool watch for sure, and the Mille Miglia always was. But nearly $10K for a very generic ETA-based chronograph is pushing the limits.
This movement is also in much more affordable watches, such as those by Baume & Mercier, Rado, and Tissot. There's absolutely nothing wrong with the movement or these mentioned brands, but for $10K, I expect at least some kind of effort. With this watch, compared to its 44mm, 42mm, and 39mm precursors, there's nothing much new. Chopard used the same ETA 2894-2 movement and a ton of dial and strap variations for the previous Mille Miglia models.
Pay a premium for the "1000 Miglia" license
It's funny that Daan also mentions the L.U.C watches from Chopard because those are much more interesting and show some true craftsmanship. The Mille Miglia is simply a nice-looking chronograph that links to the Italian race. It's a very commercial product with the "1000 Milgia" label on the dial, which has been licensed to Chopard since 1988, but also to Borsalino hats and Rosso Ruote bicycles, for example. There's nothing wrong with some commerce or moneymaking, especially when done well. This, however, is just silly given the price you have to pay for what you'll receive. The last thing I have to say about it is if you like the looks of the Chopard Mille Miglia, take a look at Chrono24. You will find a wonderful example from 1999 with a 39mm diameter with the same movement for just €2,500 (from Italy) or a full-gold 39mm version (from the Netherlands) for €6,950. I even found some Mille Miglia chronograph models for under €2,000, but you'll need to import them from Japan.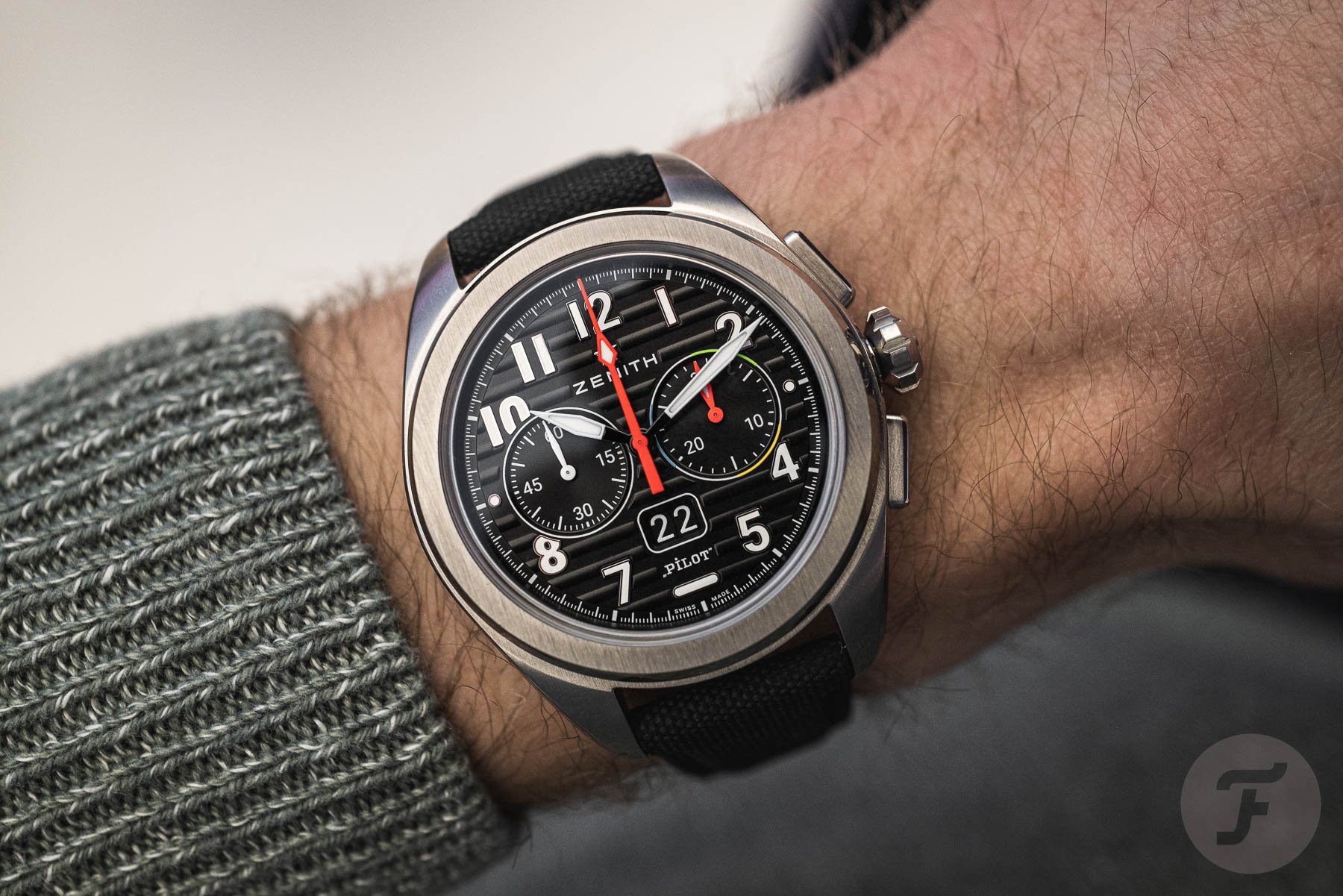 Zenith El Primero
Rant over. Let's have a look at some proper watches from Zenith. It is no secret that I am a fan of the Zenith El Primero chronograph and many of its iterations. My all-time favorites are the Zenith El Primero Rainbow Flyback from the late 1990s and the Chronomaster with a full calendar from the same period. And yes, on the pre-owned market, you can find those watches for very interesting prices as well. But the watch I picked for today's battle is an all-new model. Inside, you will find that amazing El Primero chronograph 3652 movement with a flyback function as well as a big date at 6 o'clock. The cool thing about this date is that it advances at an incredible speed of 0.07 seconds. It's a patented system, and it will also ensure you won't be able to damage the date mechanism when you advance it manually between 10:00 PM and 2:00 AM.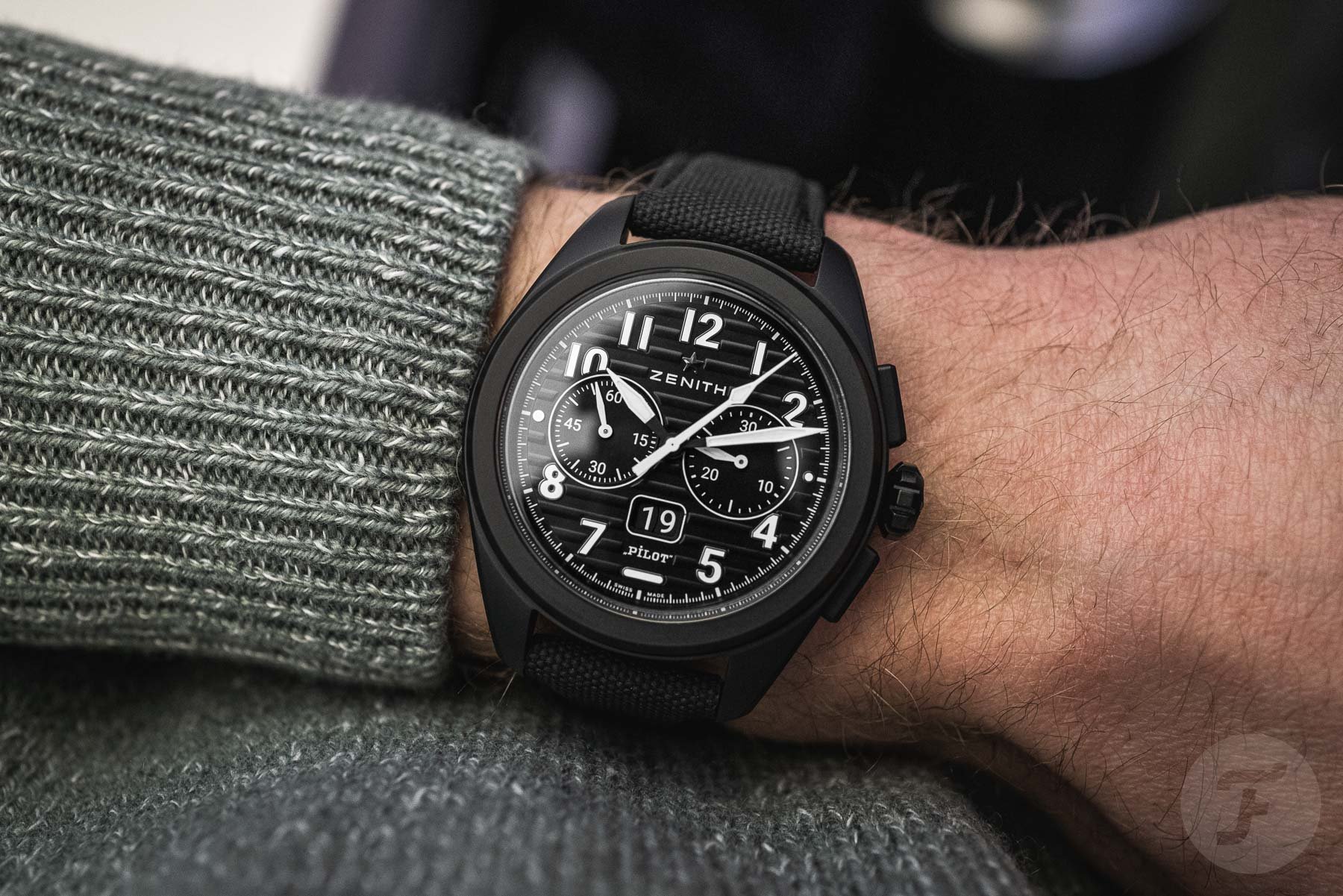 A true Pilot watch
The Zenith El Primero Big Date Flyback comes in two flavors — all-black ceramic or stainless steel. Both models have a 42.5mm diameter, which you can see on Morgan's 16cm (6.3″) wrist in the picture above. Today, unlike three years ago, we'd say this is a large watch, but if you have 18.5cm (7.3″) wrists like me, it is more than fine. And, in my opinion, a pilot's watch should be a bit larger anyway. On the dial, you will find the word "Pilot", a trademarked name that only Zenith has the right to use on the dial. If you have smaller wrists but you like the watch, try the black ceramic mode. This one appears smaller on the wrist due to the color.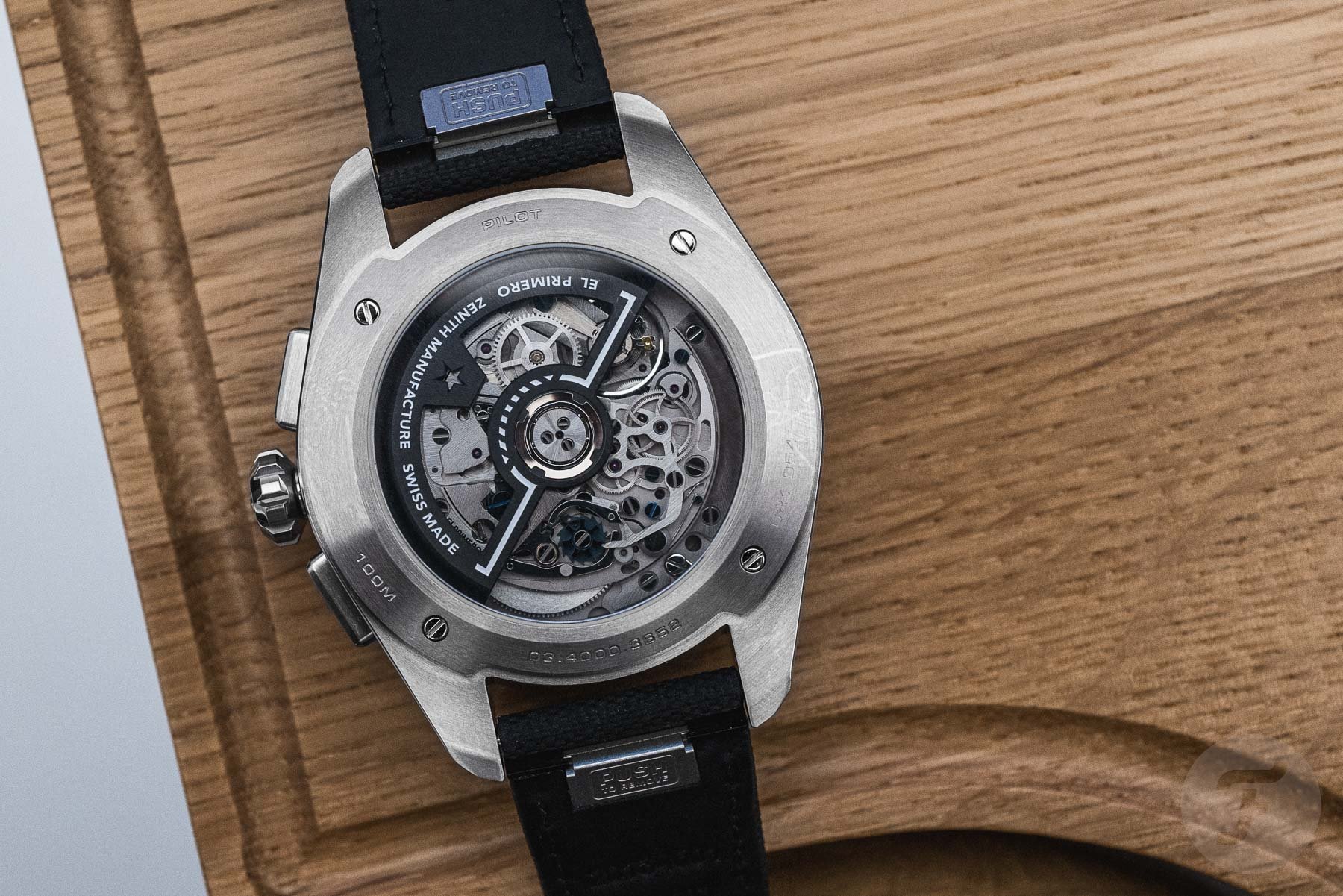 El Primero 3652
The El Primero movement was one of the first automatic chronograph movements in 1969, and it is still in use today. Zenith didn't sit still, though, and kept innovating and developing this 5Hz (36,000vph) high-beat chronograph caliber. As you can see in the picture above, it's a nice-looking movement to observe through the sapphire crystal. It has a visible column wheel and a black skeletonized rotor. The decoration is simple but effective with nice brushed and sandblasted surfaces. Furthermore, the components for the chronograph mechanism have a vertically brushed finish, and the column wheel and some screws are blue.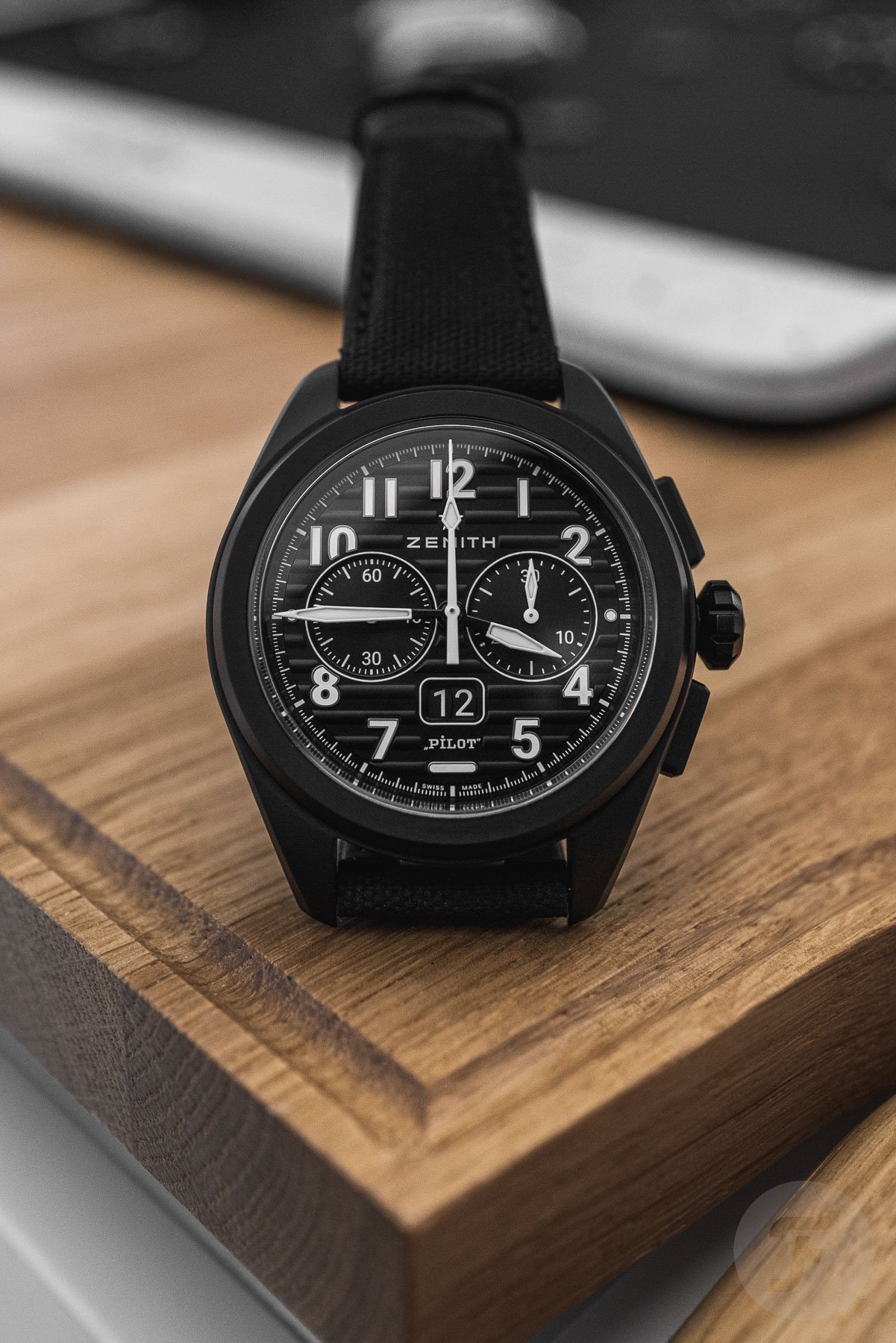 Junkers and Rimowa
Although I love to speak about the El Primero chronograph movement, this new 42.5mm Pilot Big Date Flyback has an interesting dial as well. The horizontal groove motif is based on the design of Junkers aircraft, and today, we will also find it on suitcases by Rimowa, who also based the design on the Junkers planes. Both Zenith and Rimowa belong to the LVMH Group, of course. Zenith applied Super-LumiNova to the dial for its readability in low-light conditions. The date aperture sits above 6 o'clock and consists of two discs that perform an instantaneous date change.
My favorite version of these two is the Rainbow edition. Zenith has used the 1997 Rainbow color scheme a few times in the past but told us that it will be only used in this Pilot model. And that's where my only criticism is, to be honest. The Zenith El Primero Rainbow is such a recognizable watch that it's a pity these colors will only be used for the Pilot. Although the 1997 Rainbow model has a link to the French Air Force (we wrote about it here) and, therefore, it makes sense for this model, the colors could have been a bit bolder. The Zenith El Primero Pilot Big Date Flyback starts at €12,300 for the steel version and costs €14,500 for the ceramic model.
Time to vote!
Do you love the Mille Miglia despite the nearly $10K price tag for an ETA 2894-2 movement? Or do you prefer the latest (and also costly) Zenith El Primero? Make sure to vote for your choice below, and let us know why you picked it in the comments as well. See you next week for another installment of Sunday Morning Showdown!
Chopard Mille Miglia Vs. Zenith Pilot Big Date Flyback