#TBT 1960's Alpina 10 Seastrong From A Swedish Diving Pioneer
One of my most romantic vintage watch stories
It came with everything a collector could dream of. A long wait before the watch pops up. Bad pictures featured in the online listing and a blind bid, that ended in winning an all original and never-before-serviced watch. Unbelievable provenance unveiling that my Alpina 10 Seastrong has had hundreds of dives in Swedish waters. Including some of the first few pioneer dives to explore WW2 shipwrecks.
Let's take it from the top. One night, two years ago, I was checking listings for Alpina 10 Seastrong divers' watches. My heart skipped a beat when I spotted this model listed in a Swedish auction. The pictures were horrible and it looked like the minute hand was missing. A few random watch shots of the highly worn torso on a leather strap taken under bad lighting suggested an honest condition. I was hooked instantly.

Alpina 10 Seastrong bidding madness
Annoyingly, I had to navigate the auction verification process. It took almost two days. Two nervy days… I was approved just a few hours before the auction started, so I had limited time to reach the seller and ask for more information. I took a shot and joined the fight. And it turned out to be a good one.
I landed it at slightly south of €900.
Thankfully, this auction was not like the unfortunate Yahoo bidding system that prolongs the auction for those going completely nuts and where the bidding can go on for hours until there is no more money left in the world. From the total of almost 90 bids placed, my last second bid was the highest. I landed it at slightly south of €900. It was not cheap, but it was not expensive. Well, definitely not for all that I later learned about the watch.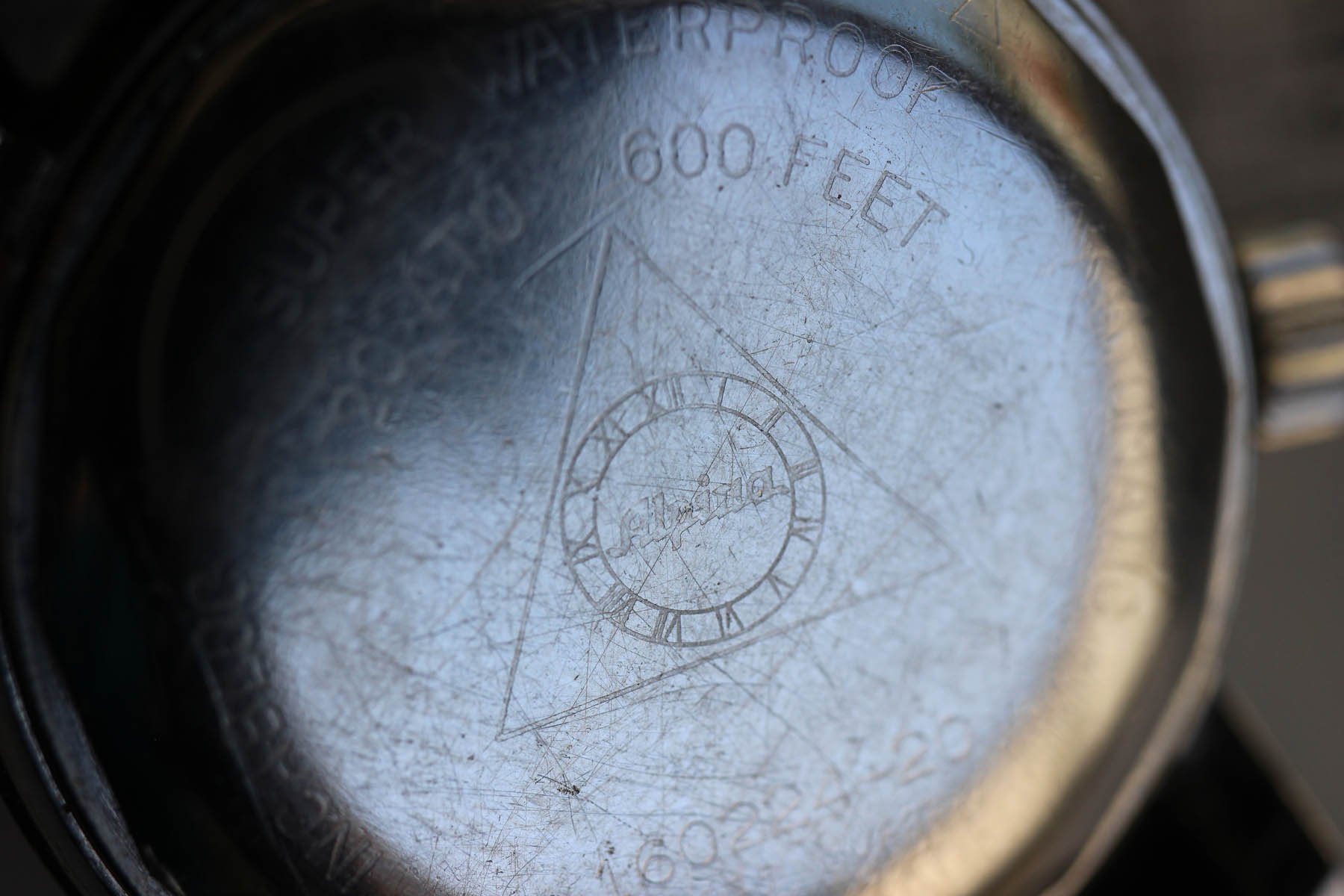 WTF price?
The Alpina 10 Seastrong was listed by a Swedish guy named Claes, who was selling it on behalf of his 72-year-old friend Larson. "He has no computer," Claes said, explaining why he was helping his friend. Anytime I see the Alpina 10 Seastrong, I think about how funny collecting watches might seem to outsiders. Especially to other non-collectors like Larson. To him, this watch was just an old tool watch.
…when the collectors' and non-collector's realities collide.
"Nice price. Larson is just laughing and shaking his head in disbelief," said the first email I got from the guys after I won the auction. Apparently, they were surprised by the price. I don't want to get into the discussion about the real value of vintage watches. I just like it when the collectors' and non-collector's realities collide. It makes me feel sane and present. In Larson's eyes, I am some crazy guy paying €1,000 for an old watch. While in my eyes, Larson is crazy to sell such a piece. So who is the crazy one? Both and neither, I guess.
Back to the story
Larson's full name is Ingemar Larson, but everyone always calls him by his surname. He is now the CEO of a small road-train company and Claes is one of its many shareholders. "Larson was the only owner of the watch. He wanted a watch that looked smart and could be used while diving. He bought it here in Lysekil with his father in the early sixties at a local watchmaker's shop. Larson used it when diving on the German SS Antares and the SS Amasis in the early sixties. You could say Larson was one of the pioneers in sports diving in Sweden," Claes uncovered more of the story for me.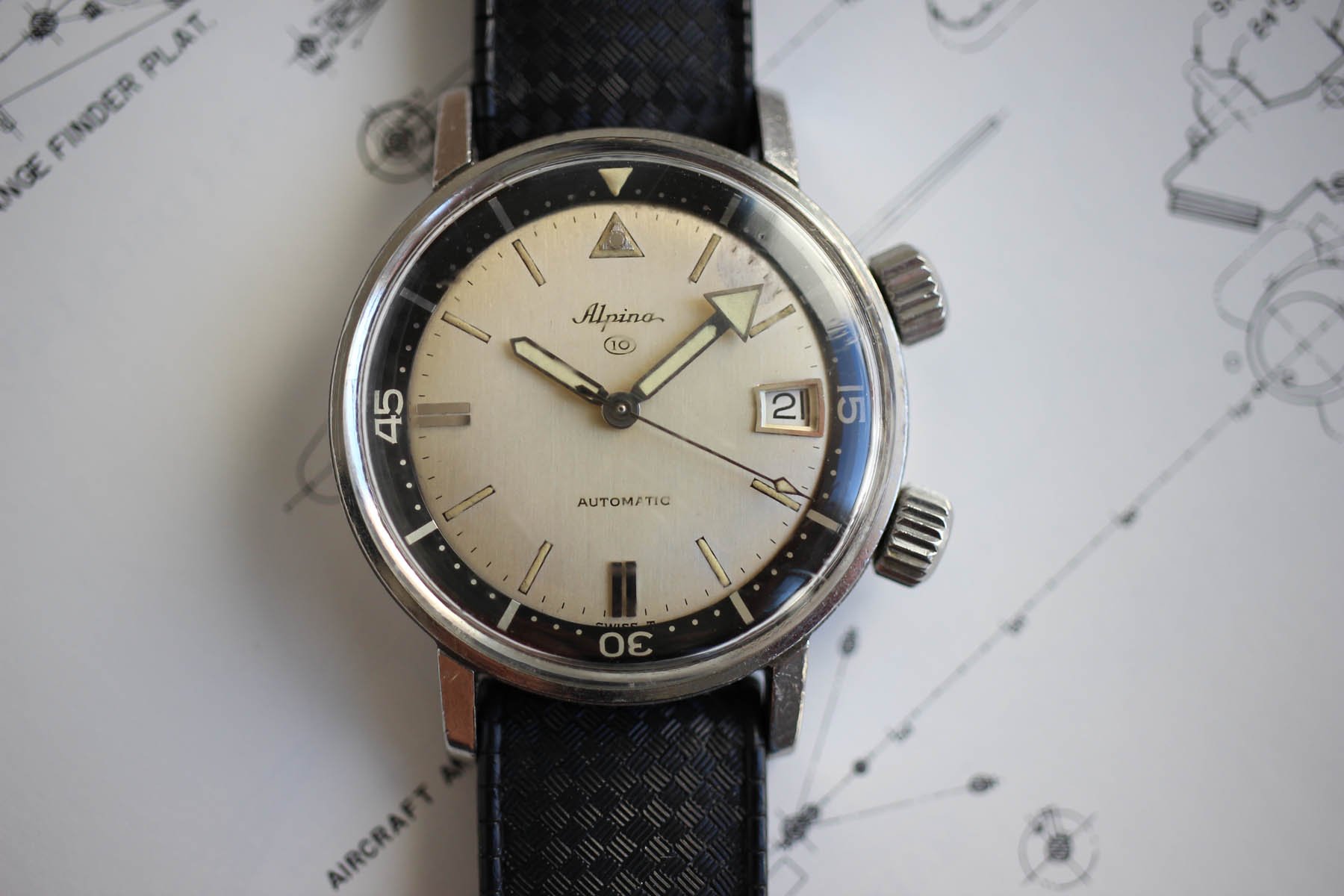 Getting the real story is priceless
In a Facebook discussion related to the recent piece on Ed White's watch, RJ made a point about how tough it is to get to the core of a watch's story or to understand the motivation of people selling watches holding grail status in collector's minds. That's why I always ask sellers to tell me every detail about the watch they're selling. Most sellers are either annoyed or surprised by my inquisitiveness. My success rate? One in 10 watches comes with some more detailed information. One in 30 watches comes with more personal information. Well, one in 50 watches I've collected came with a story of real depth. Yet this Alpina 10 Seastrong is one of a 100 in terms of my collection.
Provenance
Larson was born in December 1946. He says he got the watch around his 16th birthday so that dates it to 1962. The only detail stopping this watch from being a "one in 300" story is that I'm missing the picture of a young Larson with an Alpina 10 Seastrong on his wrist. Well, considering this was a relationship with a guy that doesn't have a computer, I was quite successful anyway.
The photo of a young Larson with the striking yellow oxygen tanks and an ancient wetsuit has the same value for me as the watch itself.
Thanks to Claes I managed to get a scan of a beautiful shot of the young Larson, in which he says he is almost certainly wearing his Alpina 10 Seastrong. Such a shame that Larson's hand is hidden and the Alpina 10 is not visible. It's an amazing shot anyway. It was taken in 1963, so approximately a year after Larson got his Alpina 10 watch. The photo of a young Larson with the striking yellow oxygen tanks and an ancient wetsuit has the same value for me as the watch itself.
Exploring the SS Antares and SS Amasis
"In the 1960's, Larson dived on both the Antares and Amasis. He and his friends were the first pioneers to dive in these wrecks since they were sunk. They had to ask local fishermen where to seek them out," says Claes proudly. It's important to highlight we are talking about diving six decades ago. Diving the Antares is a challenging task because of its position that is often exposed to strong currents with poor visibility. The wreck rests at a depth of 53 meters on a mud base. What an adventure it must have been back then. I asked Claes to ask Larson how many dives he made with his Alpina 10 Seastrong on his wrist. "So many he can't remember." Fair enough.
Some facts
According to records I found here, the Amasis was a German cargo ship that was torpedoed and sunk in Swedish waters on April 9th, 1940. All 51 crew were rescued. The day after, the German ship Antares was torpedoed and sunk in the Skagerak off Lysekil, the area Larson has lived his whole life. Both ships were sunk by the British Royal Navy HMS Sunfish. The Antares wreck, despite resting on the ocean floor for more than 70 years, offers exciting views and treasures for divers with proper training and transportation. A slightly ironic and sad read for me. I can't even properly swim, so diving is pure sci-fi for me.
"The Antares was loaded with troops, artillery, trucks, motorcycles, communication equipment, weapons, and more. There are stories told from the divers that discovered the wreck back in 1965 that there was at least one "Panzer tank" in one of the cargo bays, something that we have not been able to find during recent dives since some sections have disappeared into the mud," says this article from 2013. "When moving into the cargo bays and lower sections of the hull, you will find large amounts of rifles, ammunition, trucks, motorcycles, and helmets. Poor visibility and debris make it a bit of a challenge to navigate and it is easy to get stuck in wires, fishing equipment, and fallen steel plates."
Larson the hero
Strong winds and currents make diving in the Antares possible for just a few days every year. Take it as a ballpark guess from me, as the deepest dive I ever took was when drowning in the swimming pool, but I guess diving down there has to be one hell of a rush even today. And imagine that Larson did it 60 years ago with a watch that is sitting right in front of me strapped to his wrist. Larson also had a special underwater camera he used when diving in the wrecks, but he sold it a few years ago. I need to get back to Larson to ask for some photos from his diving adventures.
Back to the "present"
When did Larson stop wearing this Alpina watch? "I asked him today and he thinks he stopped using it about 1985," says Claes. The watch was sitting in a drawer for more than 30 years. Before I decided what to do with the stain on the dial at 2 o'clock, I asked Larson about the watch's service history. "This watch was never serviced," says Larson.
…just a few seconds slow…
I remember the moment it arrived like it was yesterday. I unboxed it slowly and wound the AS movement gently. When I saw the crystal with hundreds of cracks, I could not believe the watch was running just a few seconds slow per day.

Mandatory round
The stain on the dial was a puzzle also for Larson. When Claes showed it to him and asked him how it got there, he was surprised. He was sure the watch was in superb condition when he put it into drawer in 1985. I was not bewildered. It only confirmed my theory that the watch was not water leaked. It was just a bit of an old oil leak because of the position the watch was stored in.
Glass dilemma
If you remember my Omega Seamaster that popped up in a local Slovak pub, I got the crystal replaced and bezel restored on it. I think my rationale behind that decision to change the Plexi on that CK 2913 came down to the fact I was missing the link to the original owner's story. I was not so strongly connected to it and I wanted to see the beautiful dial. With the Alpina 10 Seastrong, I just couldn't do it. To change a crystal on a watch with more than hundreds of dives, would be downright disrespectful.
…finding an original NOS replacement is not easy.
You can decide where you stand here. Let us know in the comments below. Some might say that the crystal is just a piece of plastic and the watch deserves a nice view of the dial. I get it. I genuinely get it. And I don't think you're wrong if that's your position. But finding an original NOS replacement is not easy. That's a fact. And more importantly, the "scar-face" crystal is the essential part. It almost holds the story together.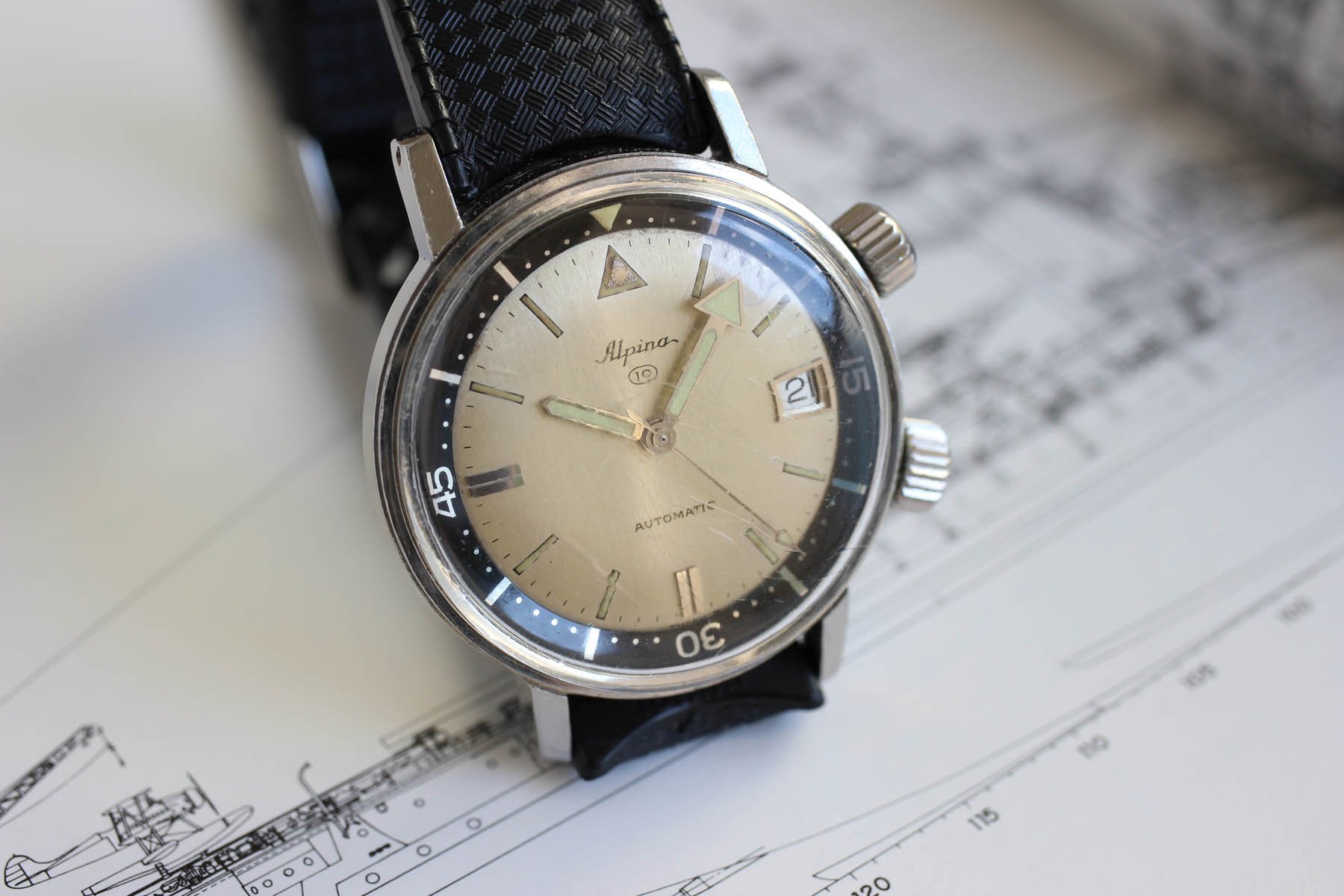 Vintage watch review
It's about time to tell you what the watch is like, no? Well, it's amazing. I could write fairytales on the EPSA case, the reliable movement, or the inner rotating bezel. But Mike already did so with his quite similar Hamilton. I love to wear it during the winter or often on gloomy and rainy days. I feel like the Alpina 10 Seastrong will get along with humidity much better than my five to ten times more expensive Breitling watches. It's a tool watch. It's reliable and sturdy, whether you choose to dive with it or just to wear it every day.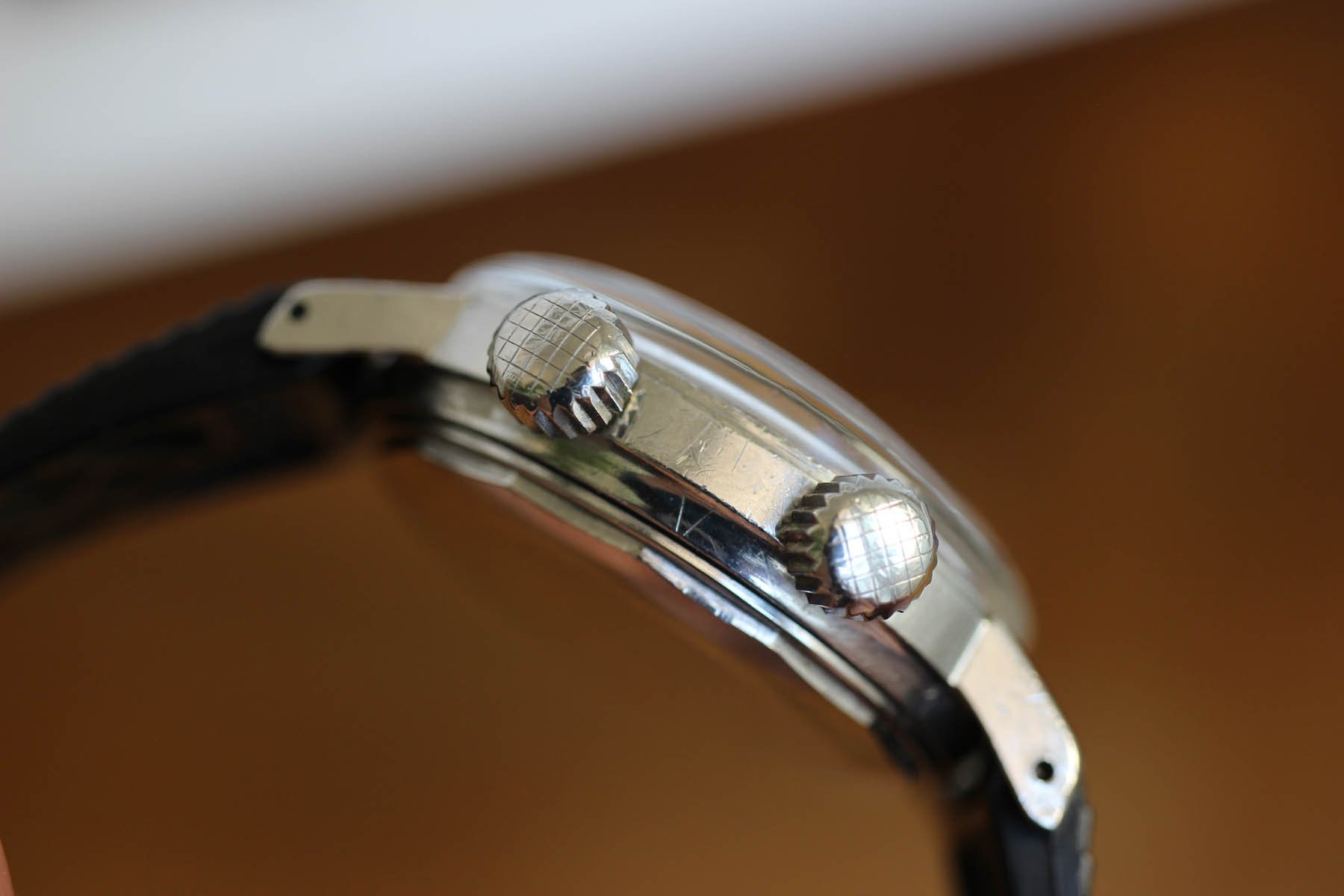 Collecting at its best
This Alpina 10 Seastrong reminds me of the fact that collecting watches is about collecting great stories. Think of how many Rolex Submariners are out there. But how many come with a full story behind them? Another detail I like is that through collecting watches I learn so much about history. If it weren't for Larson's Alpina 10, I probably never would have learned so much about the Antares or Amasis cargo ships.
One last important detail to highlight. This Alpina 10 is most certainly not mine. It's still Larson's watch. And it will remain Larson's diver watch forever. I will just keep it safe until Larson's great-grand-children find this article and ask me to return this Alpina 10 Seastrong to its rightful home. The Larson family heritage.