#TBT A Small-Budget Felca With A Military History
A great story for newbies and veteran collectors alike
In February of 1945, a few months before World War II came to an end, the U.S. Army Exchange Service put in an order for 30,000 Felca ref. 1187 watches. That's a pretty exciting intro for a watch that most collectors have never heard of. 
It has no quirky movement and no special features on the dial. It's just a simple time-only watch that I would have probably overlooked… until I made a new watch friend recently. He had two watches I liked, and I had one watch he liked and I didn't mind letting go in return. After we made the watch swap, Curtis and I kept talking. Well, you can guess what we were talking about.
"This was what started my obsession. I bought it at a garage sale around 2002, and it was my first vintage watch purchase," explains Curtis who acquired another two Felca watches over the last 20 years. The first one was the black-dialed Felca, and he later added two others with military stamping.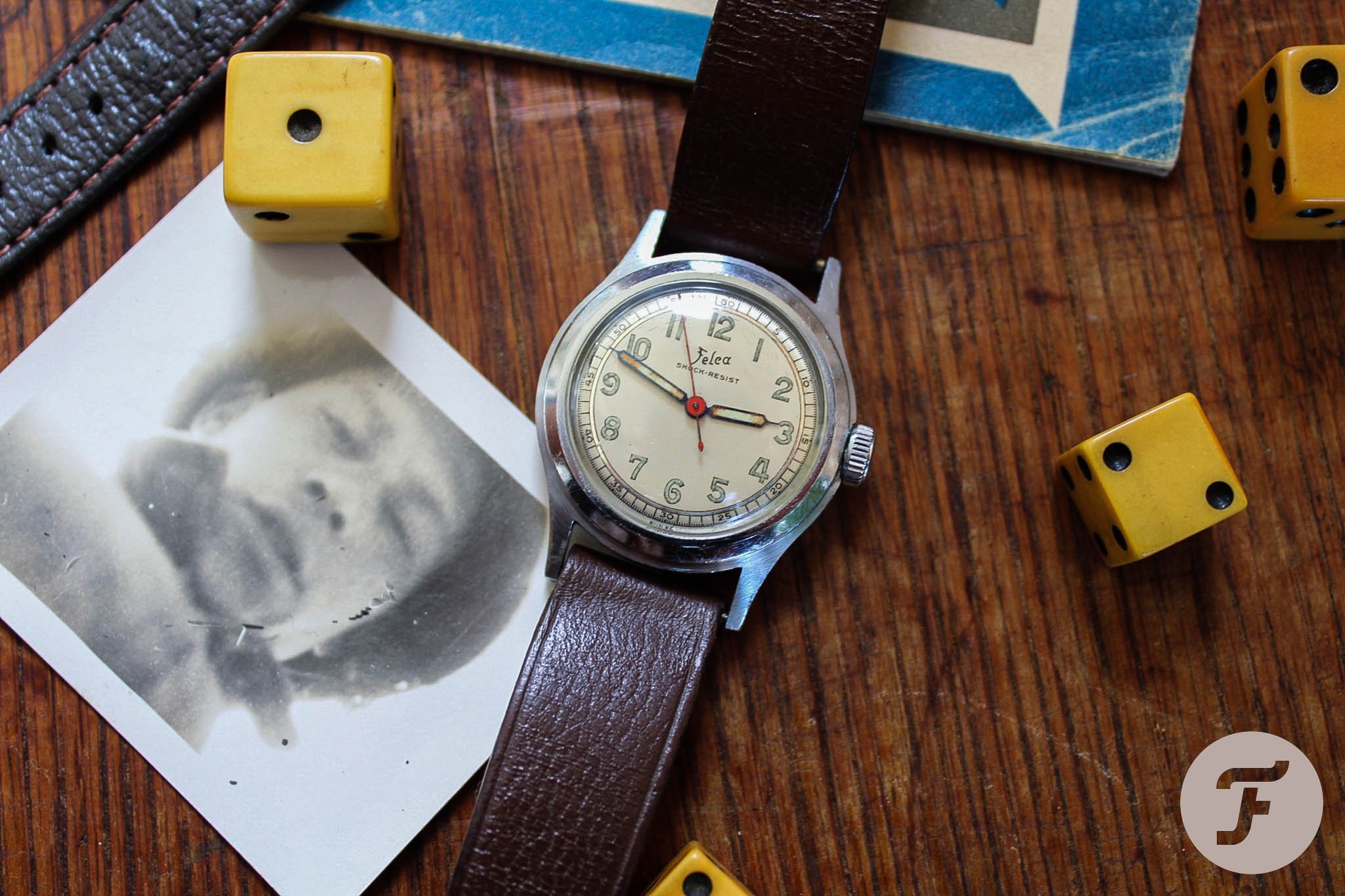 The memory of his grandfather
Regardless of value — and believe me, Curtis owns watches of exponentially greater market value — his Felca watches hold a very special place in his heart. "The photo of the soldier in the pictures is my grandfather. He was a scout with the 80th Infantry Division in WWII up through the end of the war with George Patton's 3rd Army. They helped rescue the 101st Airborn in Bastogne, fought in the Battle of the Bulge, and liberated the Buchenwald Concentration Camp," Curtis says proudly.
During my discussions with Curtis, I could feel the love that he still keeps for his grandfather. He truly admired him. "Papa Bill, as I grew up calling him, was always my hero, a wonderful, kind man. He helped to teach me many things — fishing, driving, sharing, and helping those less fortunate. He was, in many ways, a father figure and one of the greatest men I have known." Like me, Curtis only wishes he had a watch worn by his grandfather. That's why he enjoys and protects his Felca watches. They remind him of his Papa Bill, who earned a Bronze Star for valor.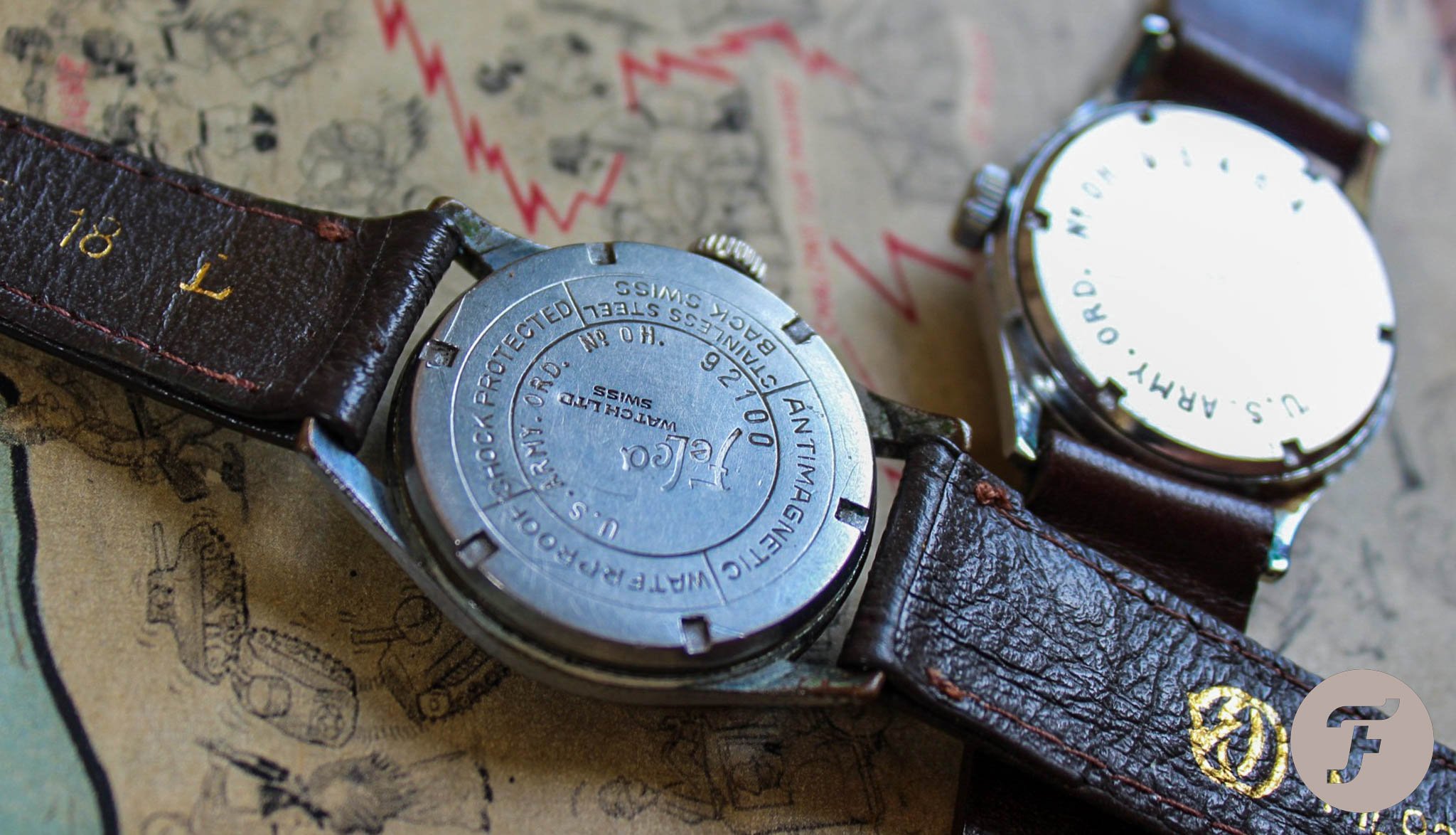 Dreams coming true
When it came to the watches, a few questions stuck out. How come the U.S. Army ordered watches from Felca? And what did Felca mean back then, if anything at all? The story started in 1919 when Swiss citizen Fritz Schluep launched the Felco manufacture with just three employees. Just one year later, the company grew to 15 employees, and a few years later, started to expand even to Asia and the United States with the updated Felca brand name.
It is believed that it was Fritz's son Bruno who helped make the deal with the U.S. Army. Young Bruno spent some time in the United States in the early 1940s and proved his talent for business. The Felca company was growing steadily and counted 70 employees at the time. Reading a scan of the original U.S. Army order is quite an experience. I didn't find any records of dates and volumes of the final delivery, but the order suggests that Felca committed to delivering around 12,000 watches by May 1945.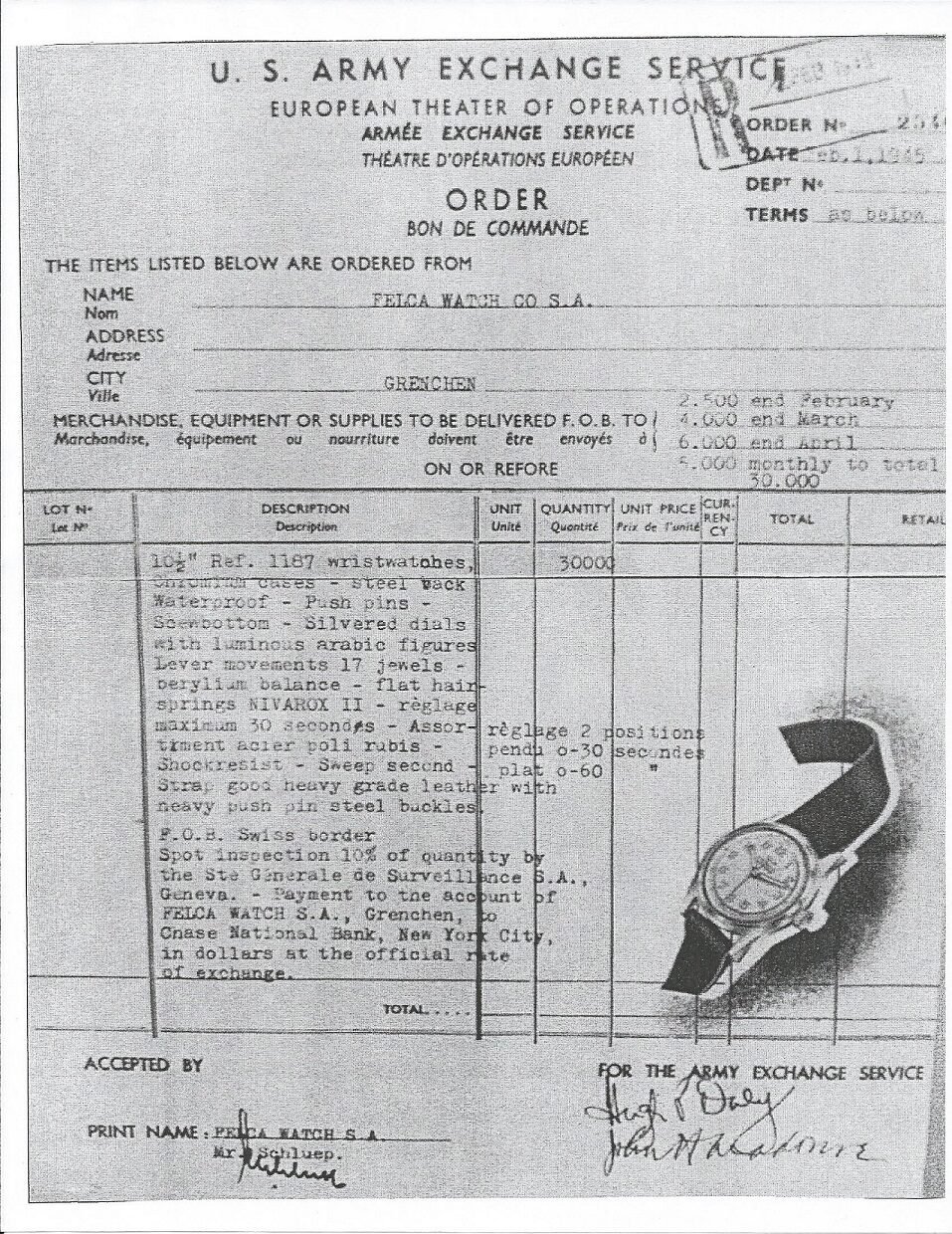 Rich specs
The order also uncovers most of the key specs. The ref. 1187 probably housed a 17-jewel AS 1187 lever movement in a chrome-plated case. From today's collector's perspective, it's the case that represents the weakest point of the Felca watch. Watches from the era, and especially military watches, suffered a lot. To find a nice, untouched case seems to be an unrealistic quest. Also, be careful about the military stamping perfectly visible on the case back. I haven't studied it deeply, but based on the information collected, there are many fake military watches flying around. So before you seal the deal, make sure you do your due diligence or ask for a second opinion from experienced collectors.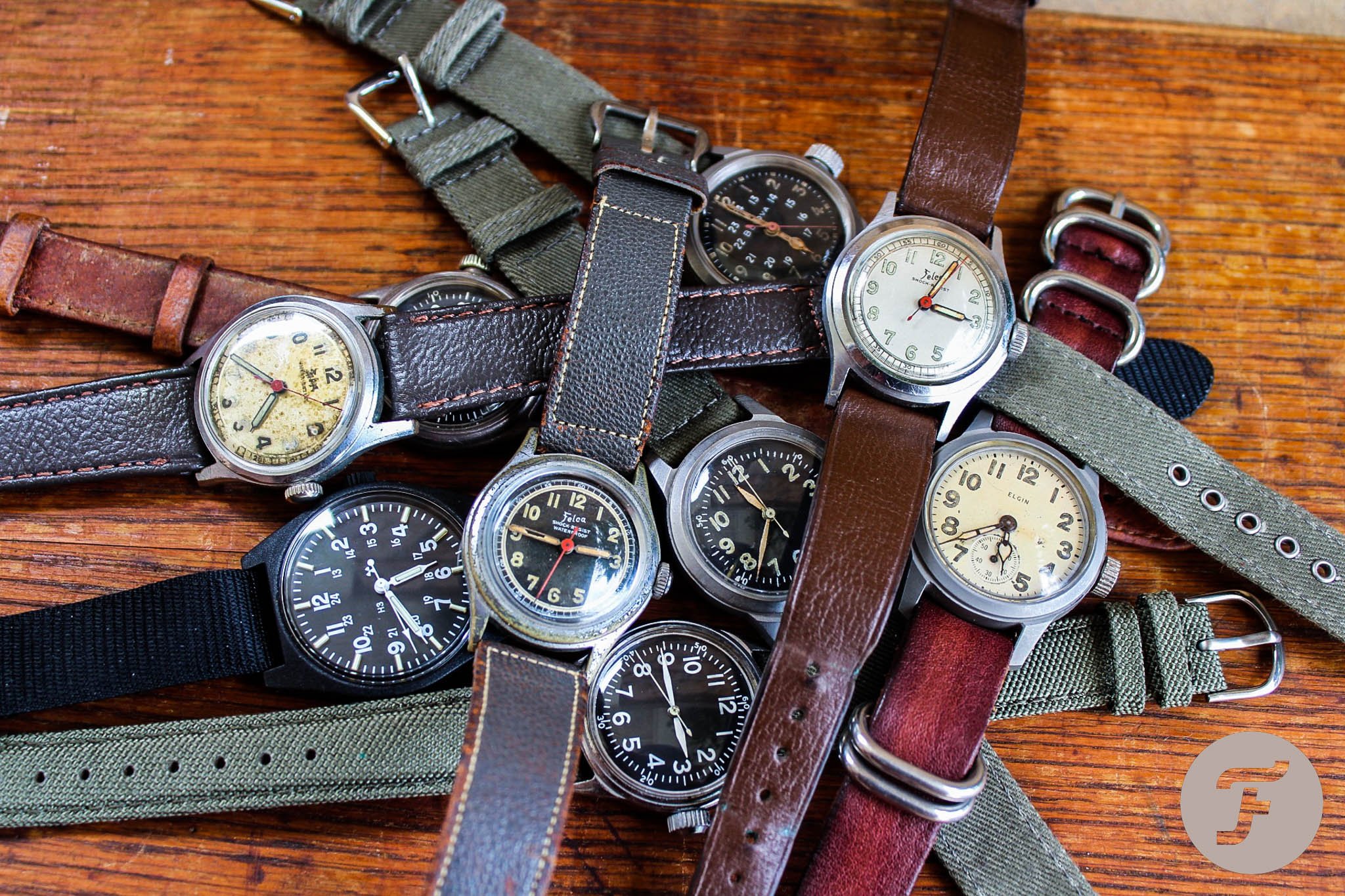 My lips are sealed
Both of the military Felca watches that Curtis found over the years have silver dials. One of them suffered a heavy leak. If only it could talk and tell us the story! Did it happen while fighting on the front lines of WWII, or was it some kind of kitchen accident? The luminous Arabic numerals are almost gone, and the black printing is smeared like ink on blotting paper. But Curtis likes it in as-is condition and doesn't plan to touch it.
Are you kidding me?
Did I mention how much I like the Felca logo? It reminds me of the broken letters scribbled on paper by a kid that has just learned how to write the alphabet. I cannot imagine anything like that on a watch today. I really like the loud contrast of the naive logo and the harsh conditions in which these watches were designed to work. One of the bright-dialed military Felca watches that Curtis found is in unbelievably crisp condition. The case shows no bare metal, and it's practically untouched. The only sign of age is visible on the hands where it developed an obvious, rusty patina… just to remind you where it comes from.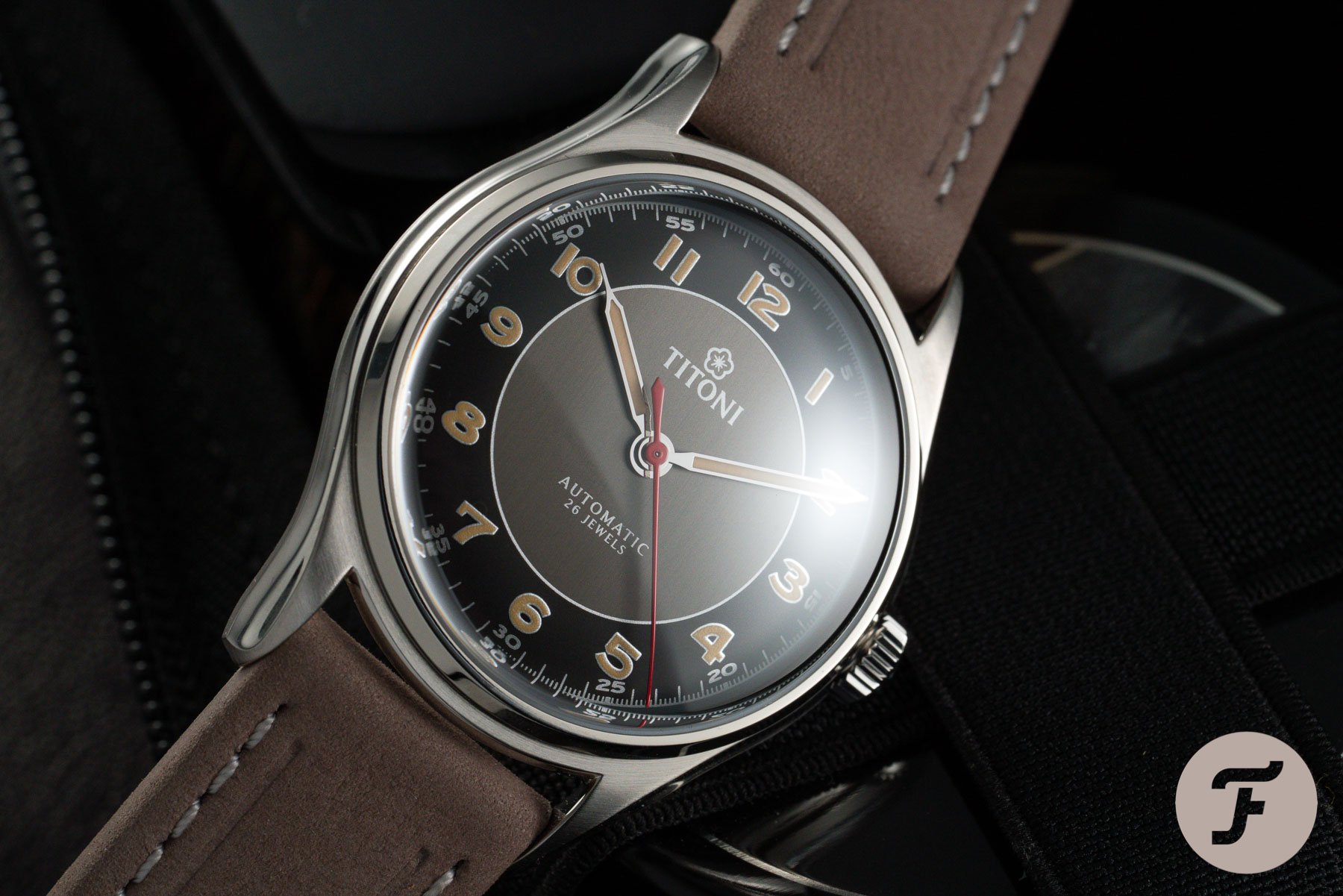 Where is Felca today?
It's still here?! Well, not exactly. In the early '50s, another business opportunity in the Far East came, and it led to the creation of the sister brand Titoni as a higher-quality alternative to Felca. The brands existed in parallel for years, but it's Titoni that made it to the present day. Are you asking how it's still managed by the fourth generation of the Schluep family but you've never heard of it? The brand's primary market was always the Far East, but in recent years, its watches have gotten up the guts to break into the West. And it's the Felca military watch that inspired the recent releases that we have even covered on Fratello.
Last thoughts
Are you like me and you just can't bear to look at the military-inspired Titoni watches after seeing the original Felca? Well, I recommend you keep an eye on eBay. I believe one will resurface sooner or later. Curtis framed it best: "I think it is sentimental. Felca watches are small, almost unnoteworthy watches but for their connection to things bigger than themselves. Somehow, maybe it's why a lot of us enjoy watches — the stories, the memories, the connections, the history. A lot like not judging a book by its cover, it's really the rest of the story that draws me in." Happy hunting.