#TBT An Eye-Popping Ernest Borel Datoptic
Enjoying a lot of charm for peanuts
I dare say that the Ernest Borel Datoptic is at least as fascinating as the Rolex Submariner. It even costs as much as the Rolex Submariner. Well, as much as the Submariner cost in the seventies, that is…
Bringing up Rolex is not random. Its cyclops magnifier first introduced in 1953 is one of the most iconic and most individualistic watch signatures in watchmaking history. At this moment, you are probably still confused why the hell I am comparing the mighty Rolex Submariner with some stodgy 35mm Ernest-Whoever watch. Well, did you look under the crystal and/or over the date?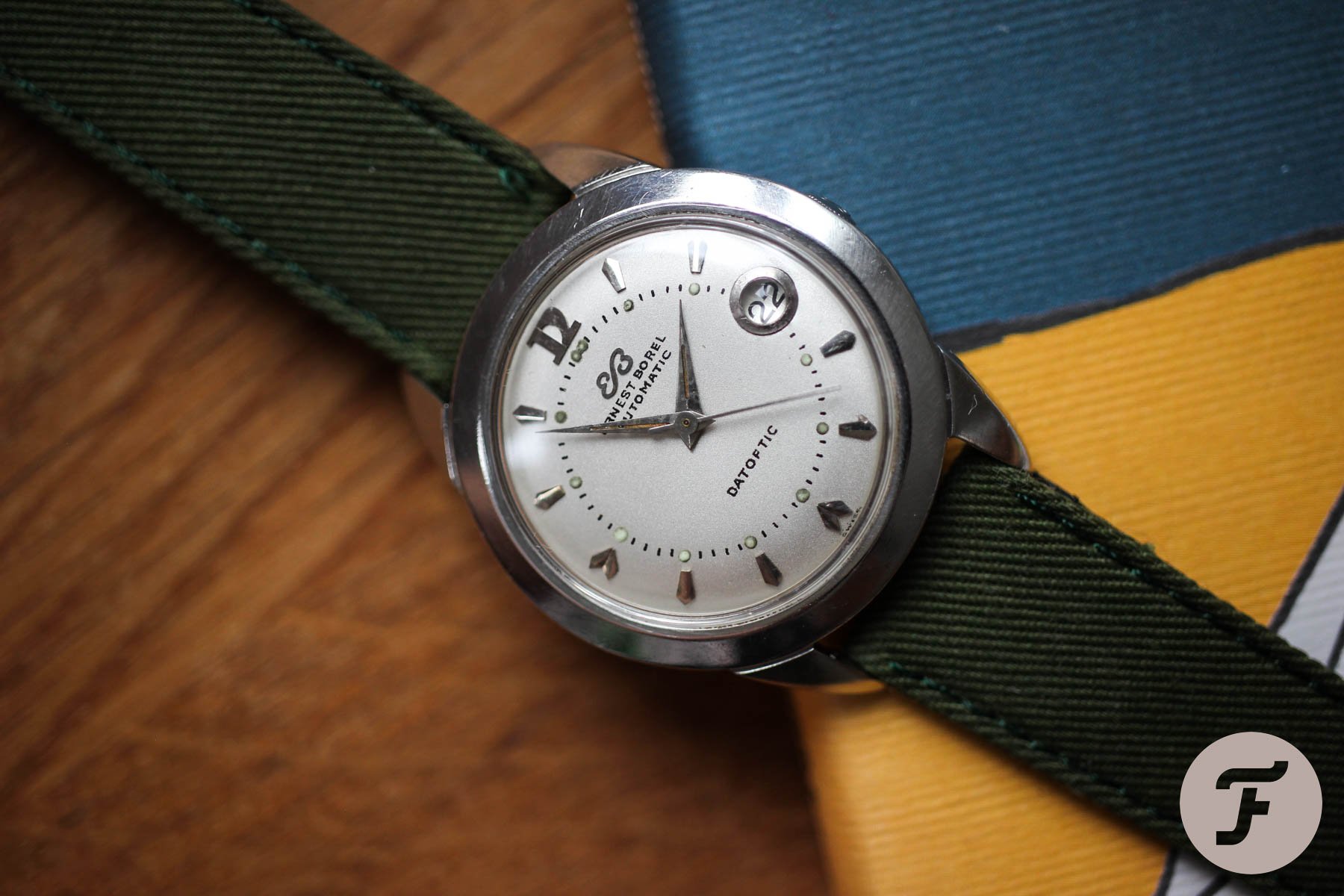 Forgotten or never discovered
You know me already. I don't really like writing article number 2,356 about a watch that everybody has heard of and knows better than themselves. What really keeps me digging night by night is that exciting feeling that overwhelms me when I discover some fascinating watch that everyone has forgotten about. Or even better, an interesting watch most collectors have never stumbled upon. I bet that the Ernest Borel Datoptic is one of them.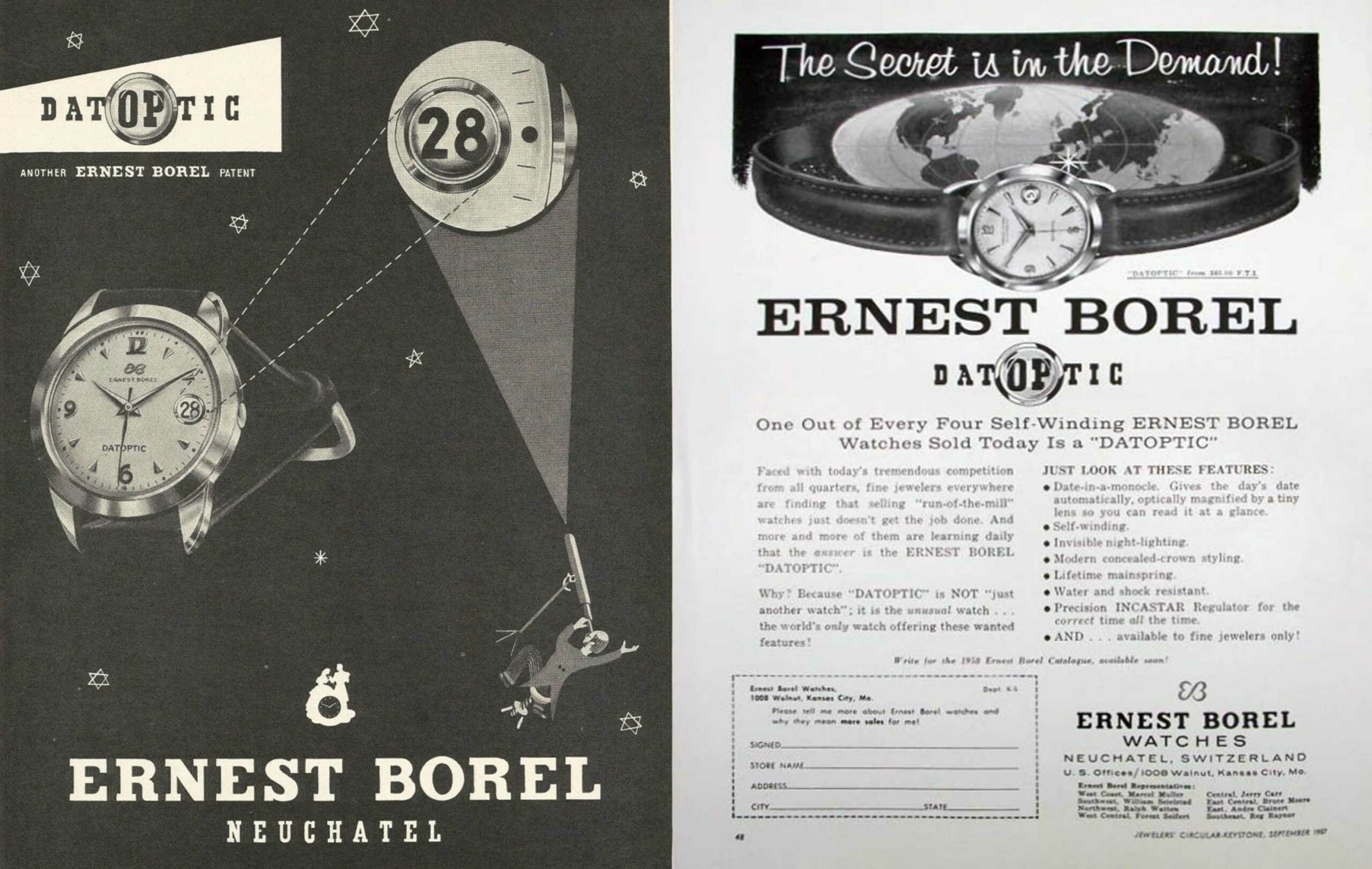 Big-eyed Datoptic
When you are unaware of what are you looking at, you can easily overlook the Ernest Borel Datoptic in tons of online watch listings. It looks like any other time-only watch from the fifties, with one huge difference that makes it pretty unique. It has an amusing dial-mounted magnifier for the date. "Date-in-a-monocle, gives the day's date automatically, optically magnified by the tiny lens so you can read it at a glance," says an advert from 1958. When I dug deeper, I found a record of a patent filing application CH306108T dated back to October 1954, a year after Rolex introduced its Cyclops. This might eliminate conspiracies on who inspired whom with the date magnifier.
I failed to find the patent documentation to give you a more precise technical specification about the creative invention. I was particularly curious to know what the magnification rate is. In contrast to the Rolex Cyclops lens, which is molded and integral to the crystal as one piece, Ernest Borel left the crystal untouched. It's a kind of sandwich construction, where the tiny lens is set directly into the date aperture. The magnifying drop is held in place with a metal frame. This solution allowed Ernest Borel to install a standard Plexiglass crystal over it in a typical way.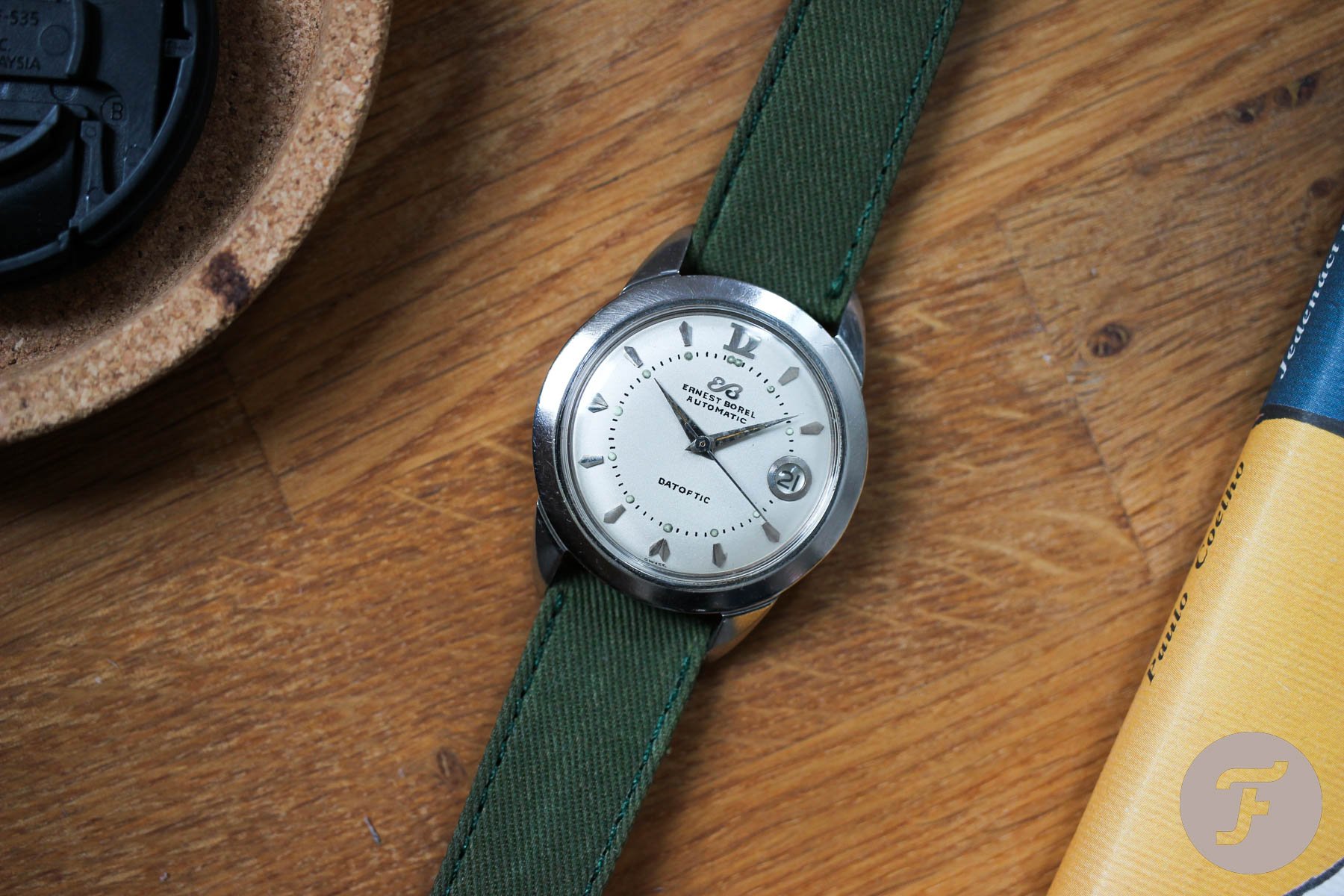 Tiny beauty
Ernest Borel confirms that the watch doesn't need much to shine on the wrist. There are thousands of watches out there, and the Datoptic is the only one that has this entertaining and functional invention integrated in this specific way. That's enough to pay some attention to it. Another plus for the Datoptic is that you can fully enjoy this little perk. There are too many watches out there with tech improvements that never please your eye. You just know they are there and make your watch more precise or resistant, but wouldn't it be better to see them as well?
Quality finish
The Datoptic's "raindrop" is perfectly visible. It looks like a little jewel and its metal grounding not only secures it in its position but also adds to the visual perfection. The metal rim perfectly matches the applied indexes. The Arabic 12 feels almost sculptural and gives the dial a slightly sporty feel.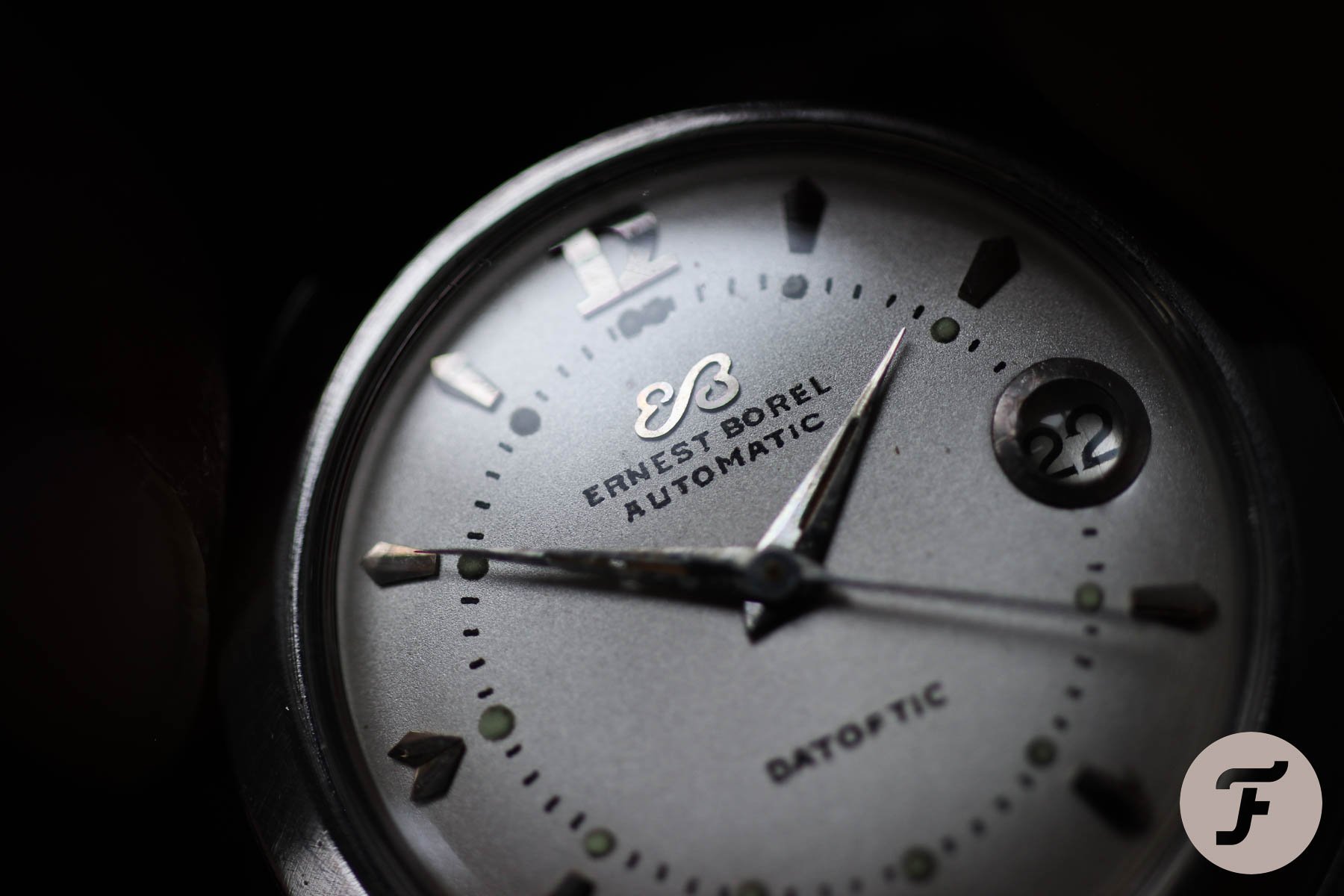 When you investigate the Datoptic a bit more, you recognize the attention to detail. A minute track is located quite unusually on the inner side of the indexes. Each tiny round lume dot sits five minutes apart from the next one, with the exception of a double dot under 12 o'clock. The applied Ernest Borel "butterfly" logo is almost romantic, and you can also find it on the crown hiding within the stainless steel case.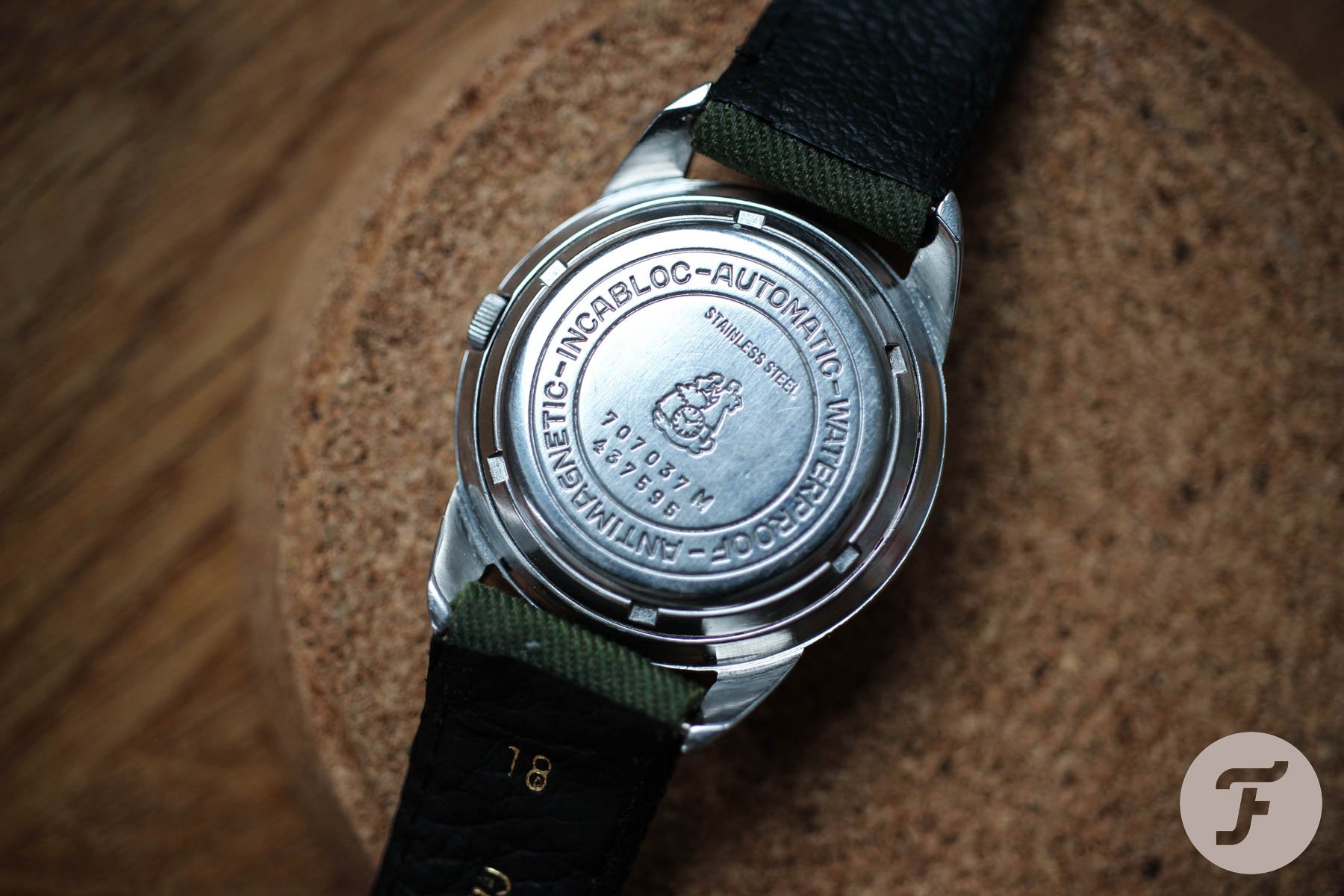 Case back
You can find the same level of detail on the heavy, nicely engraved case back. In the very middle, there is a core brand trademark, a dancing couple. The story goes that in 1898 at a noble party, the young Ernest Borel met a beautiful girl, whom he invited to dance. Their graceful dance attracted a photographer who took a picture that later inspired Ernest Borel to design this trademark. True or not, it's a nice detail.
Bidynator
Your eyes will also feast after you open the case back and see a colored movement and massive rotor signed Bidynator. Bidynator was a brand name for a series of automatic watch movements produced by Felsa from 1942 through the 1960s. This one in particular is caliber 692.
Ernest Borel today and back then
With its history dating back to 1859, Ernest Borel isn't any short-lived watch experiment. And guess who is to blame for Borel not making it through (hello, quartz). Ernest Borel eventually ended up in the hands of Chinese investors who revived the brand. But I will spare you the headache and advise you to not look at their current range of watches and just get another boost of vintage Ernest Borel instead. You can start with the absolutely stunning Ernest Borel Flash or another forgotten gem with an unusual case back.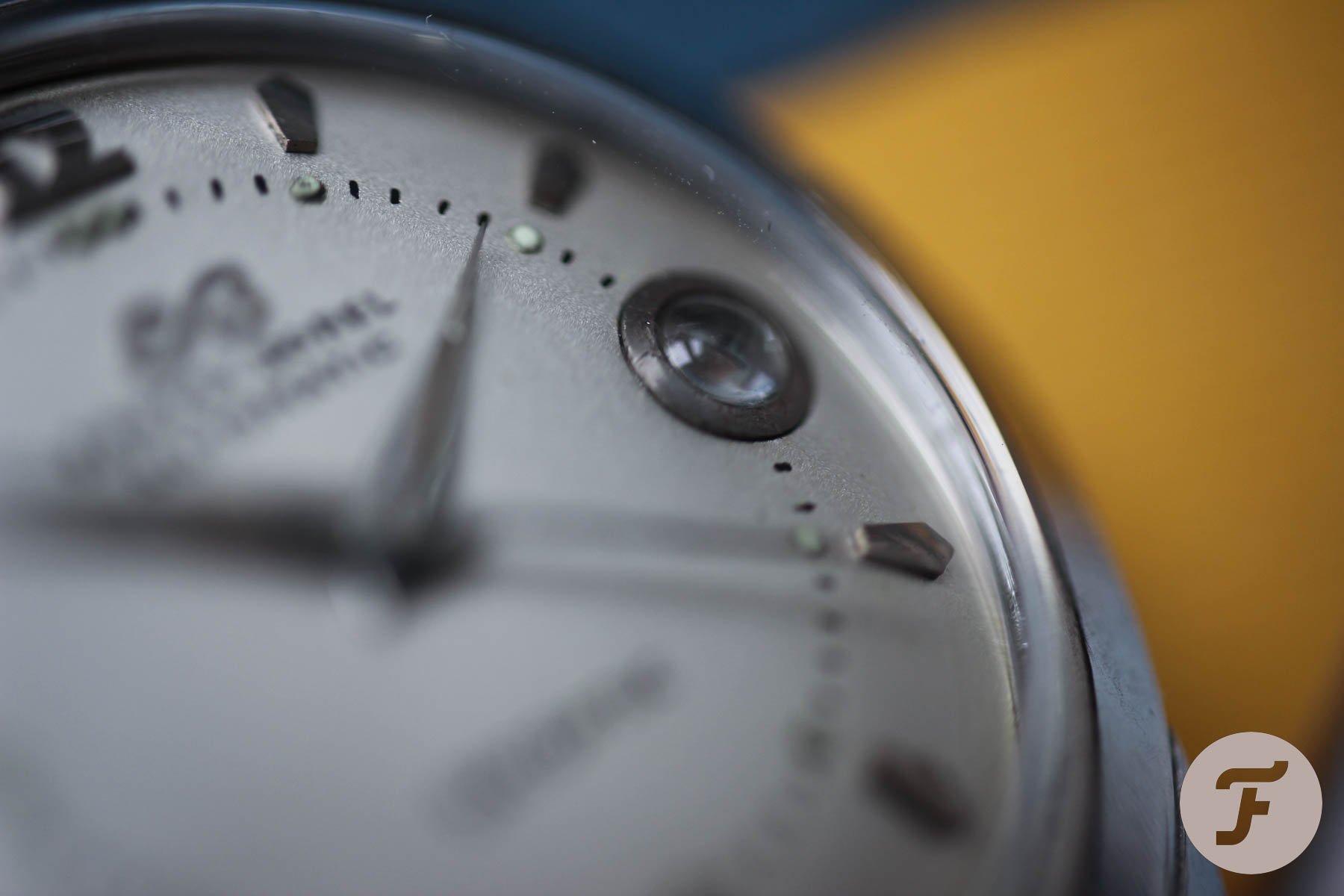 Last thoughts
If I tried to compare the Ernest Borel Datoptic with the Rolex Cyclops on the GMT-Master or Submariner, I might look ridiculous. I really admire both mentioned for what they are, but I will do it anyway. The Rolex Cyclops lens is unique, but it is still integrated into the crystal, meaning it's just a crystal. The simple transition that Ernest Borel decided to make in a standalone object gives the magnifier a completely different edge. It's definitely novel, refreshing, and unusual enough to become a talking point. Well, and the Datoptic costs a fraction of the mighty Rolex. Just one thing. Make sure that the magnifier is there when you decide to buy the Datoptic, as they are often missing. Happy hunting!