#TBT The "Little Big" Doxa Anti-Magnetic Proves That A Big Budget Isn't Everything
Going back to basics...
So as not to forget where I came from, I like to go back to my watch-collecting beginnings from time to time. My unusual Doxa Anti-Magnetic shows just how fascinating and rewarding "entry-level" vintage watches can be.
The more watches you get, the higher your benchmark goes. You acquire more watches, often moving to more complicated, coveted, or expensive ones. If you have already developed a relationship with your "early" watches, you don't want to sell them. That's how they often move deeper and deeper into drawers or watch rolls…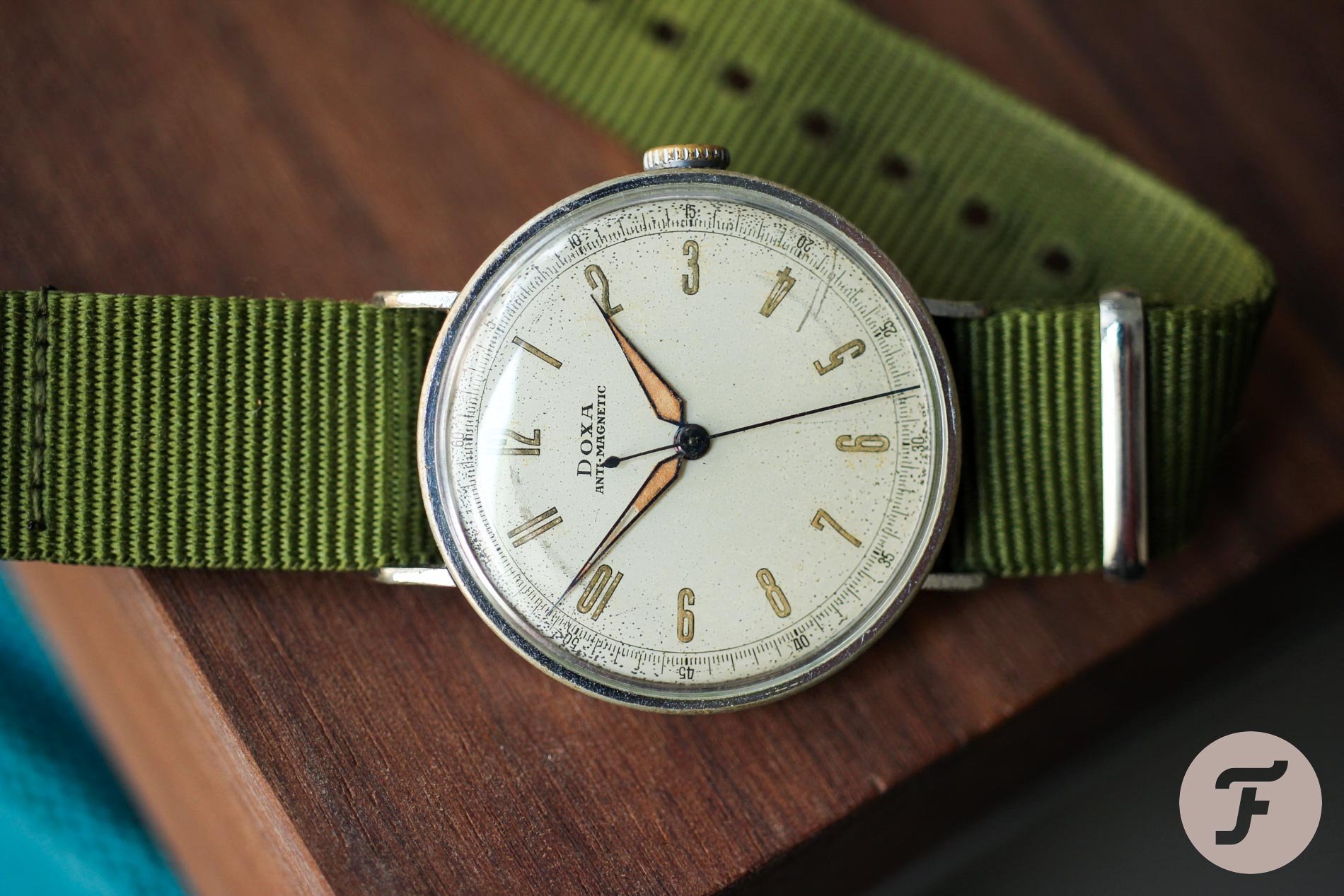 The puzzling Doxa question
I haven't sported this Doxa Anti-Magnetic for maybe a year or two. A few days ago, my watchmaker accidentally saw me shooting pictures of it, and he asked me why I was doing such a thing. When I said that I was about to write a #TBT piece on it for this Thursday, he just spat on me: "About this one?!"
Honestly, I did not expect this reaction. I don't know why it got stuck in my brain and resonated with me for the rest of the day. "About this one?!" I found myself repeating this question over and over in my mind every five minutes. I don't know why it hit me so hard. Did it offend me? Well, it surprised me. Why would he say that? Is this watch not good enough to be featured on #TBT? I didn't answer his question, and I didn't ask him why he said that. But he did make me think about this watch over the following days.
Diversity
Well, we all know where my watchmaker's question comes from. Simply, the Doxa Anti-Magnetic isn't a watch that would make Fratello's Instagram explode. It isn't a watch that would put the Doxa SUB 300 or 300T in the shadows. Does anybody care about this watch at all? Until he raised this question, I had not even a single doubt if any watch that I'd featured on #TBT was worth writing about. And in the last four years, there have been many of them. He made me think…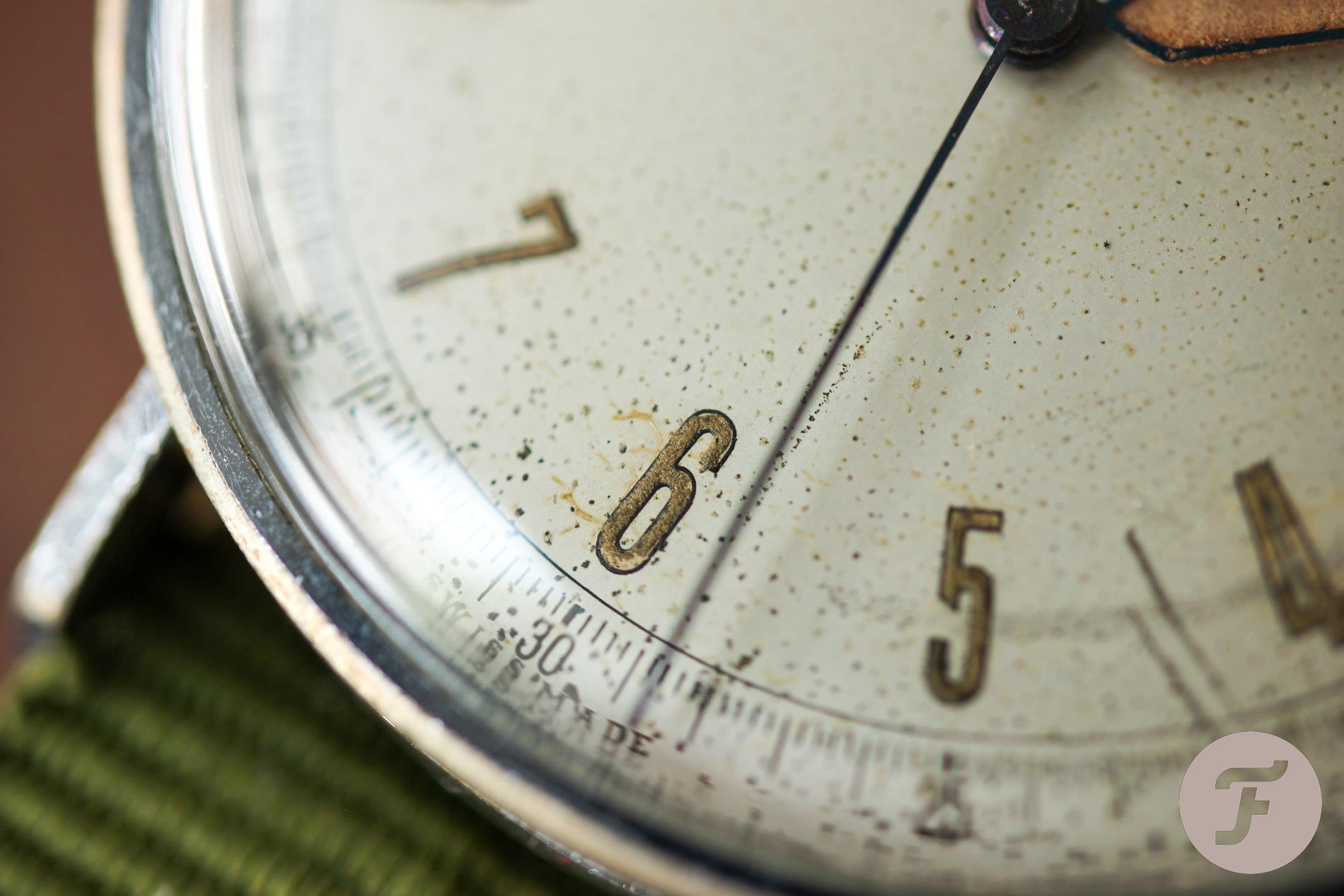 I've never written about watches just to get clicks. I've never selected watches specifically to have the most visited article on Fratello. For me, #TBT is a chronicle that documents my explanatory voyage into the world of vintage watches. In many cases, it brings me quite unexplored or underrated pieces, and I believe that this 35mm Doxa Anti-Magnetic is another hidden gem. It is a "little big" time-only watch, so rich in details that it could beat many well-known vintage stars.
The case
The Doxa Anti-Magnetic isn't so easy to come by. There are tons of Omega Constellations out there, but in the last five years, I've only bumped into three other Doxa Anti-Magnetic watches. We are used to seeing wide, artsy, or ornamental lugs, but my Doxa Anti-Magnetic has just two flat, thin metal parts that look like knife blades. And they perfectly fit the case, or shall I call it a cake pan? It has no special shape; it's just a pure, simple form that allows the dial to shine.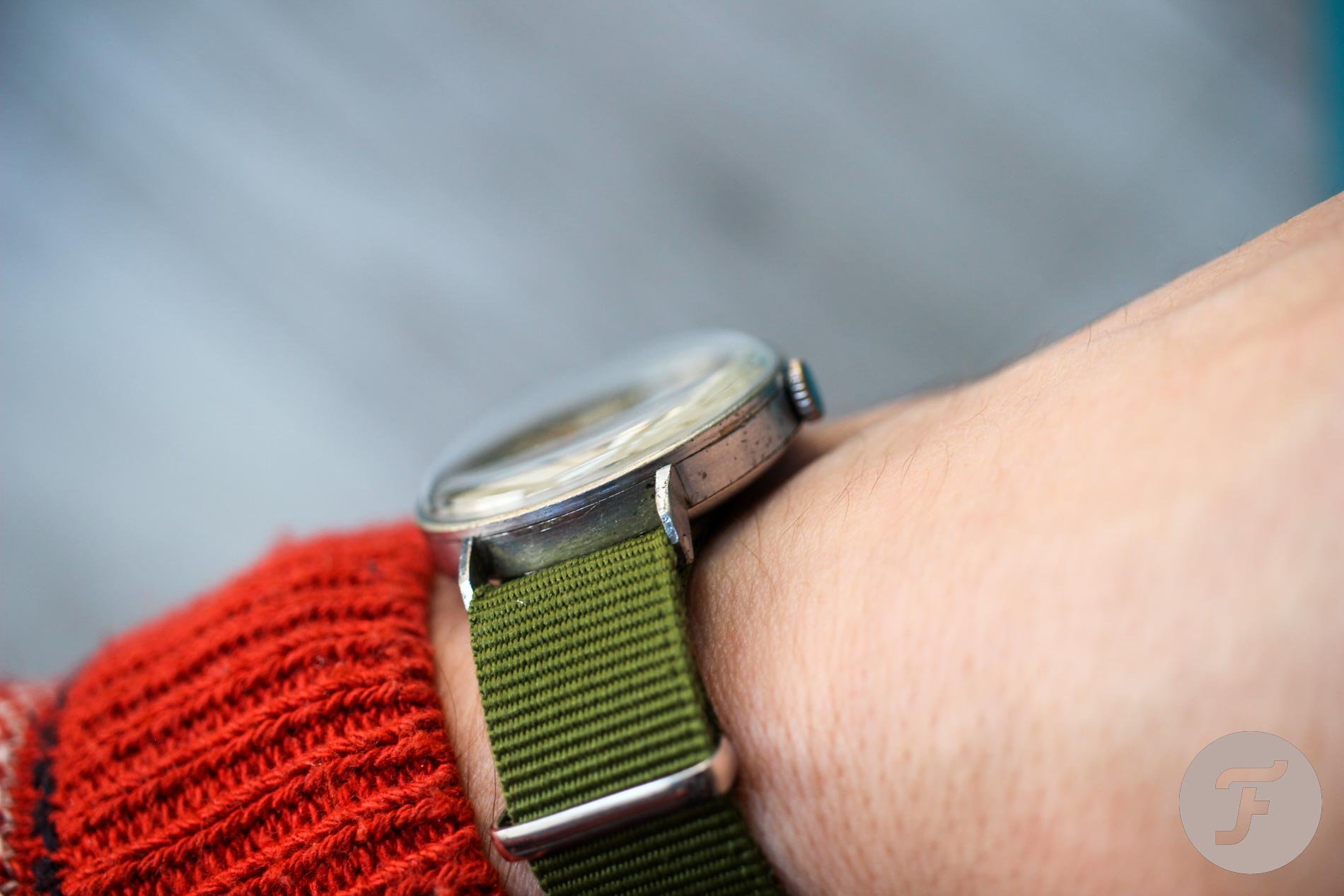 Thoughts on the case architecture
When you look at my wrist shots, the Doxa Anti-Magnetic can easily come across as an "oversized" watch. Well, it's not. It's only 35mm in diameter, but the modest case gives the impression that the watch is way bigger than it is. The downside is that this particular case may expose the crystal much more than traditional watch cases do. But I guess that was an issue 80 years ago, not today when this watch sees the real world once a year. And by "the real world," I mean my office, not a 12-hour hike in the rain…
The style and thinness of the lugs might cause them to bend easier than beefier, triangular designs, but again, this watch only gets used sparingly. For me, this case and lug design are spectacular. Now we can move on to the dial.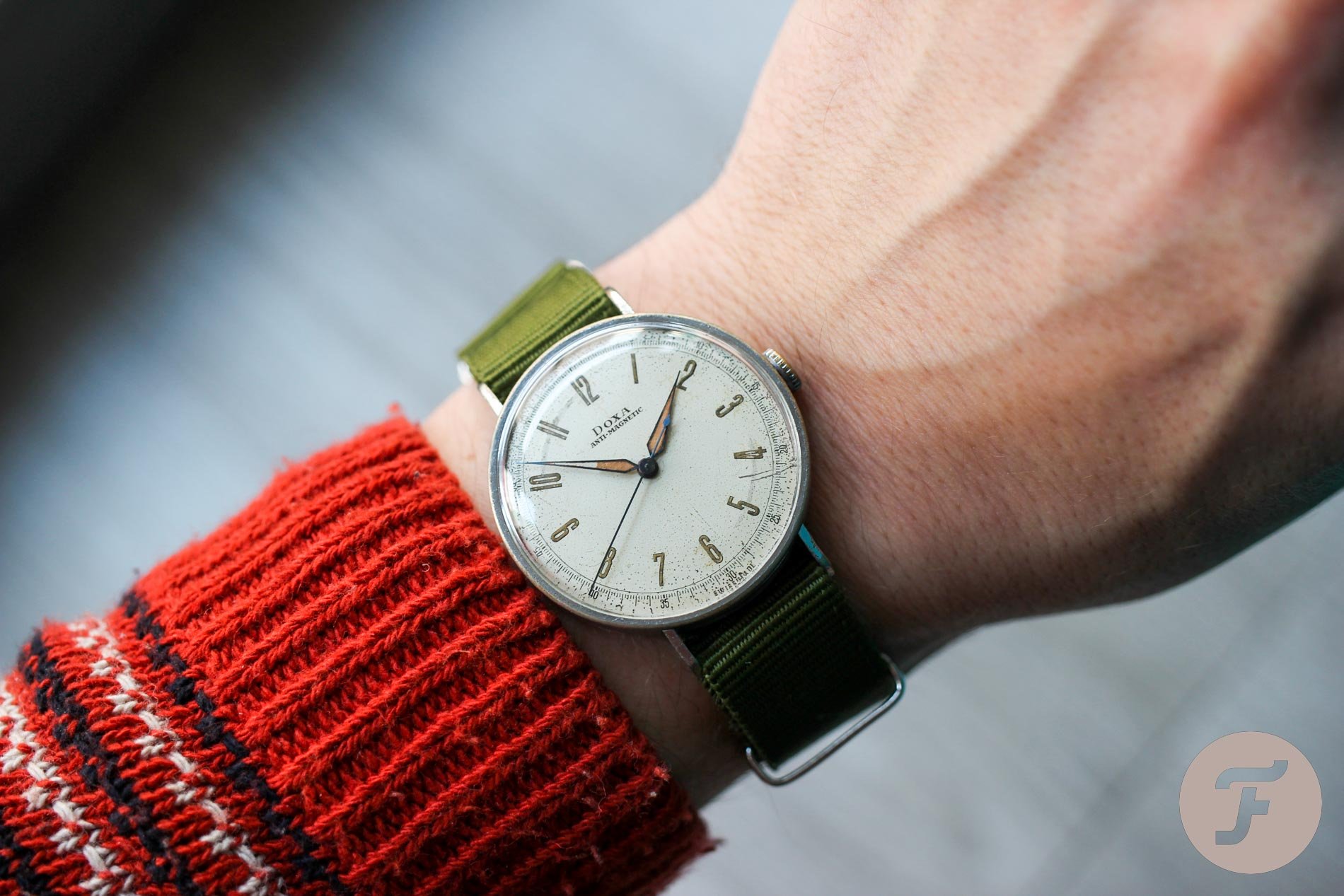 Pure dial artistry
It is at least as original in its design as the case. There is a single outer minute track and no hash marks for the hours at all. Instead, there are extremely thin and tall Arabic numbers "hanging" on a freckled face. You can probably see that something is off, but you're not sure what it is. Oh, the numerals 9, 10, 11, 12, 1, 2, and 3 are oriented inwards. It's just a tiny detail, but it plays with your mind big time. Plus, the font used is just epic. Full stop. 
The condition
Last week, I said that some watches need to be pristine to keep their beauty. Contrary to the Citizen Alarm Date, the Doxa Anti-Magnetic doesn't need to stay perfectly clean. Freckles, smudges, or scratches on my Doxa Anti-Magnetic don't kill the charm. Instead, they add to its character. I can imagine the Doxa Anti-Magnetic with a clean dial, but the current condition isn't a deal breaker for me. If I were to choose a real drawback, I would say that the chromed case is the only detail that bugs me, even more than the missing chunk of lume on the amazingly aged hands.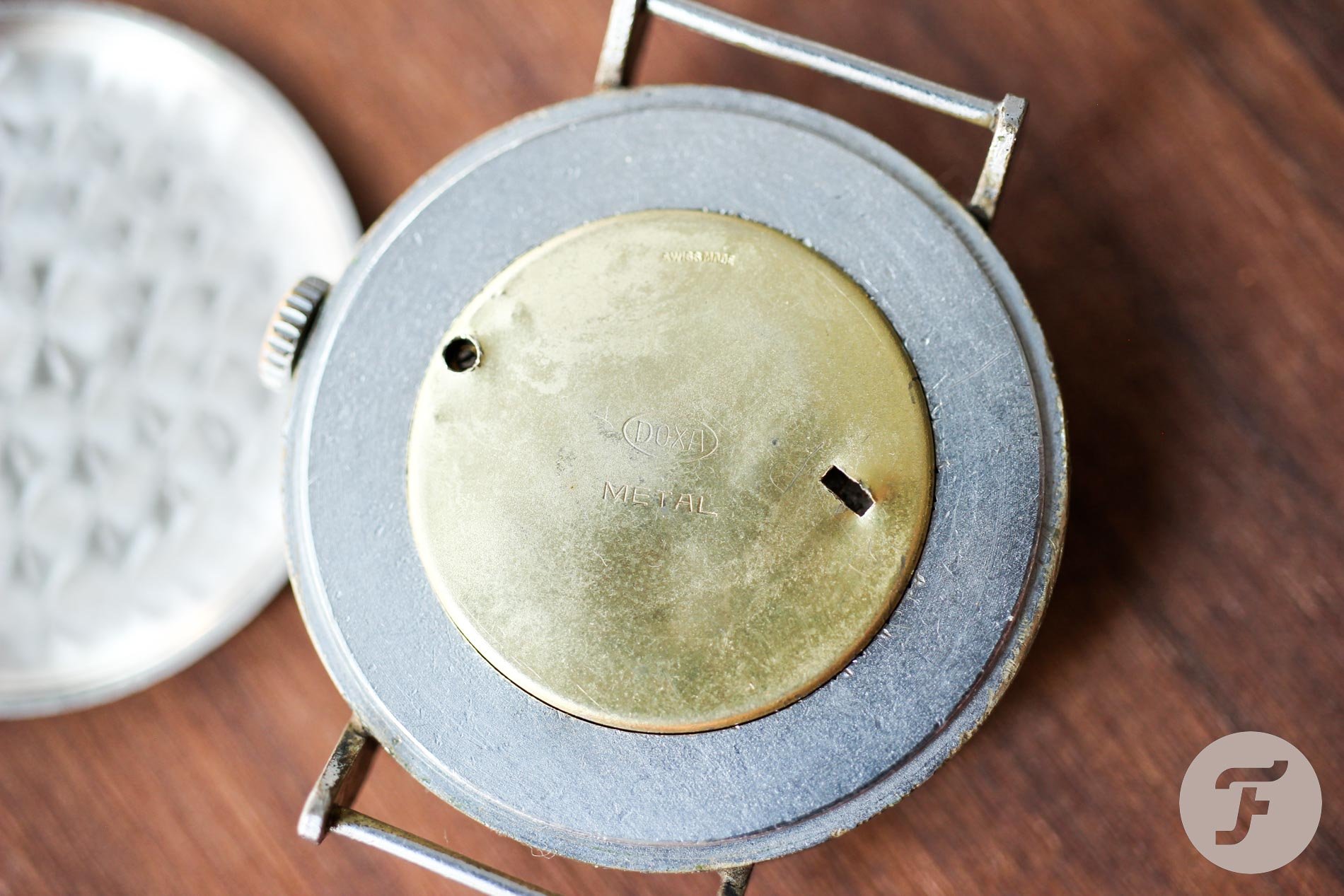 Details and details
Notice the central seconds hand with its elongated tail. This hand is extremely long for the case diameter, and it always makes me beam with joy. Another interesting thing is the view of the opened case. The movement is surprisingly small, which makes the case walls much stronger than they appear. One more lovely detail is the protective cover over the movement. I'm so happy that I took a picture before I tried to take it off, though. I would rather not share what I did to it… It was so stuck! I will just say that it's my biggest watch fail to this day, and it taught me to stop before it's too late. In the future, I'll leave the job to an experienced watchmaker…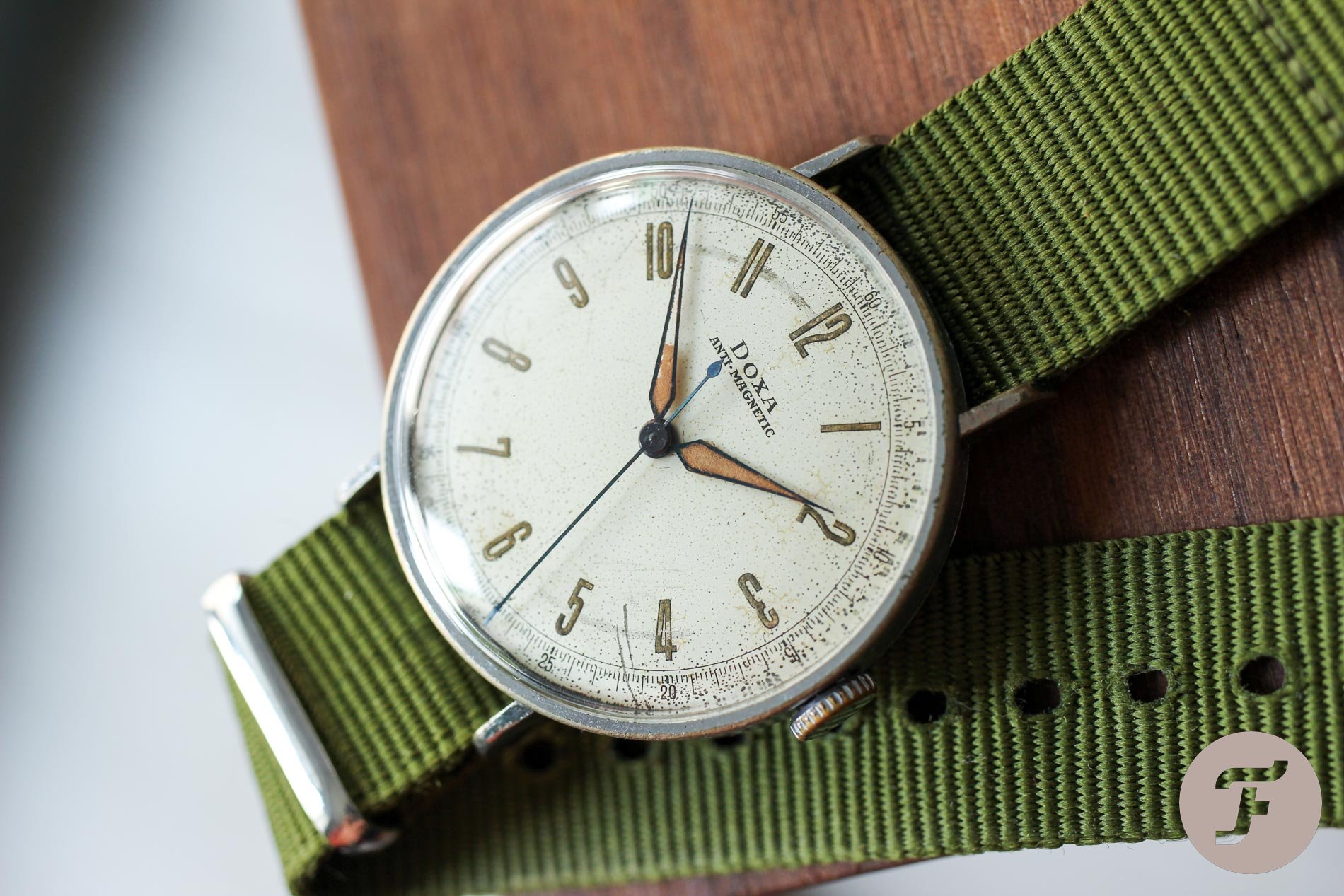 Last thoughts on the Doxa Anti-Magnetic
RJ, our chief editor, hasn't ever told me that any of the watches I've featured wasn't good enough to be presented on Fratello. That's why I love my work so much. With the creative license I was given, I take full responsibility for bringing interesting, novel, surprising, and educational reading.
This Doxa Anti-Magnetic is a bright reminder of times when I didn't have much money to spend on watches. But you know what? Even though I have now held hundreds of €20,000 watches, I still find this €500 Doxa Anti-Magnetic a real charmer. Feel free to share your forgotten, underrated gems with us in the comments below. Happy hunting!