#TBT The Blackest Black On A Citizen Alarm Date ALDS 51301a-Y
A watch of many faces
The black dial on the Citizen Alarm Date is so suggestive that you feel like you want to drown in it.  
I wouldn't have expected Citizen to become one of my top-of-mind brands when someone asks me about vintage alarm watches. Well, watch collecting can be surprising sometimes. Now, of course, the champion spot is already occupied by the legendary Vulcain Cricket, with the earliest models at the absolute top.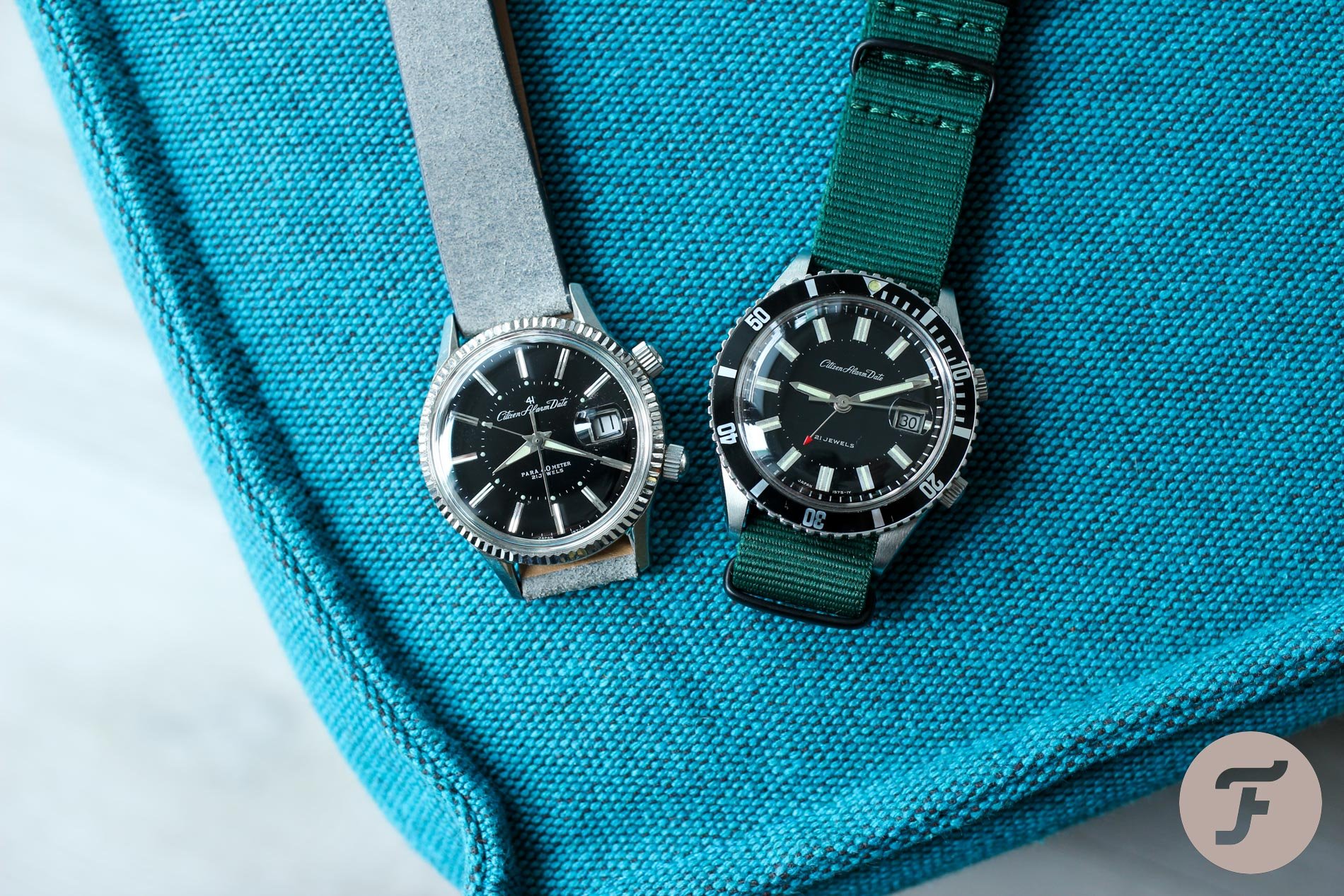 Citizen climbing up
Right after Vulcain, there is this bizarre Basis with a rotating Plexi crystal to operate the alarm. But then comes Citizen to close out the top three makers of vintage alarm watches (no JLC Memovox, sorry). Before you read about today's #TBT hero, you should take a break and read my recent piece on the Citizen Alarm Date ALDS 52902-Y. The diver/alarm watch combination is slightly mind-bending, but the result is spectacular. It also made my eyes sensitive to another Citizen alarm watch.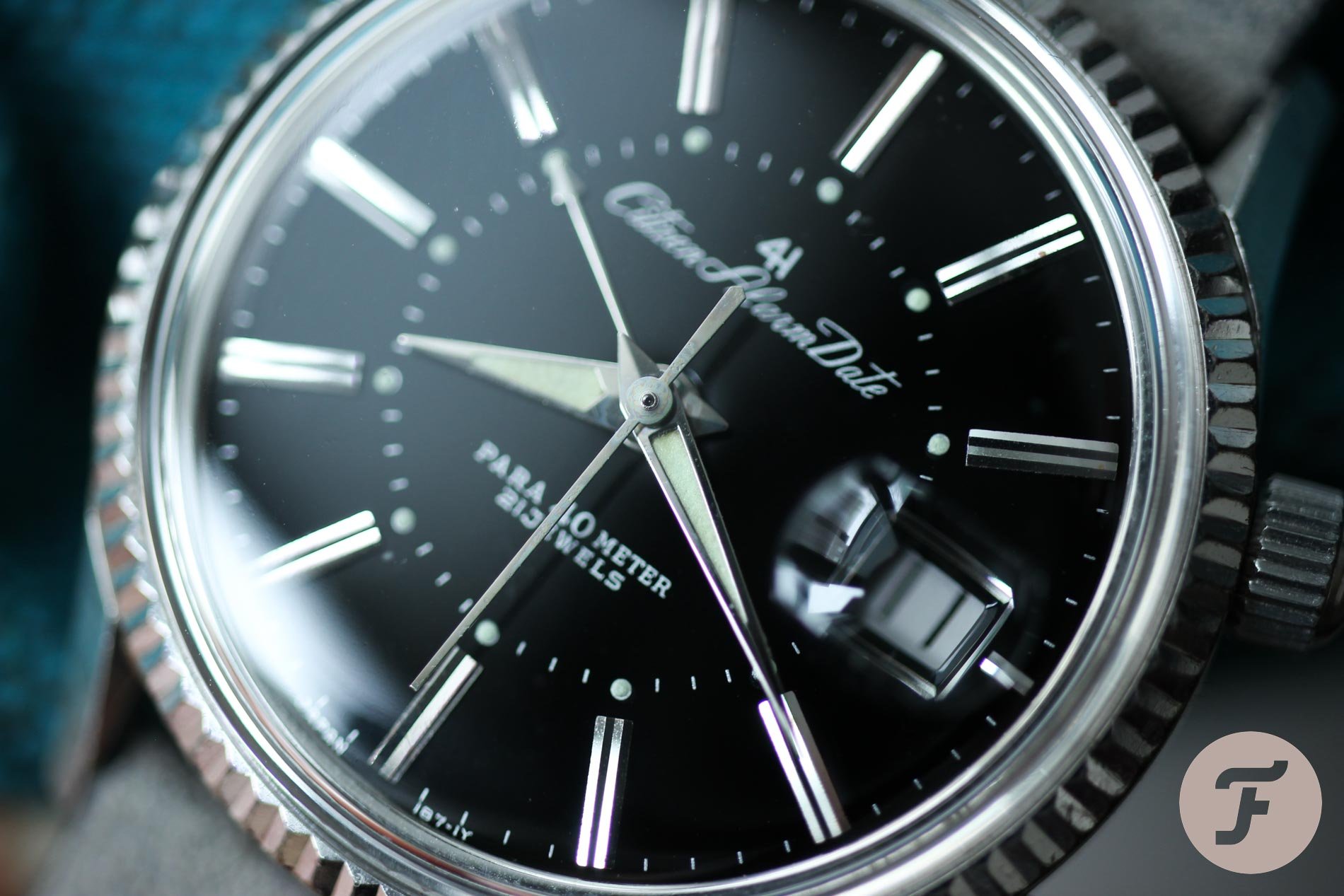 Citizen Alarm Date 51301a-Y
I wasn't on a hunt for this one; it simply fell under my nose. I was browsing some auction site when I spotted a black dial that wanted to swallow me. The porcelain-like black background looks like a surface of a quiet lake in the middle of the night, softly illuminated by moonbeams. A silver ornamental font and long applied hour indexes underline the noble touch. There is no distraction whatsoever. You have to check twice to ensure that the dots are really lumed and not printed in silver.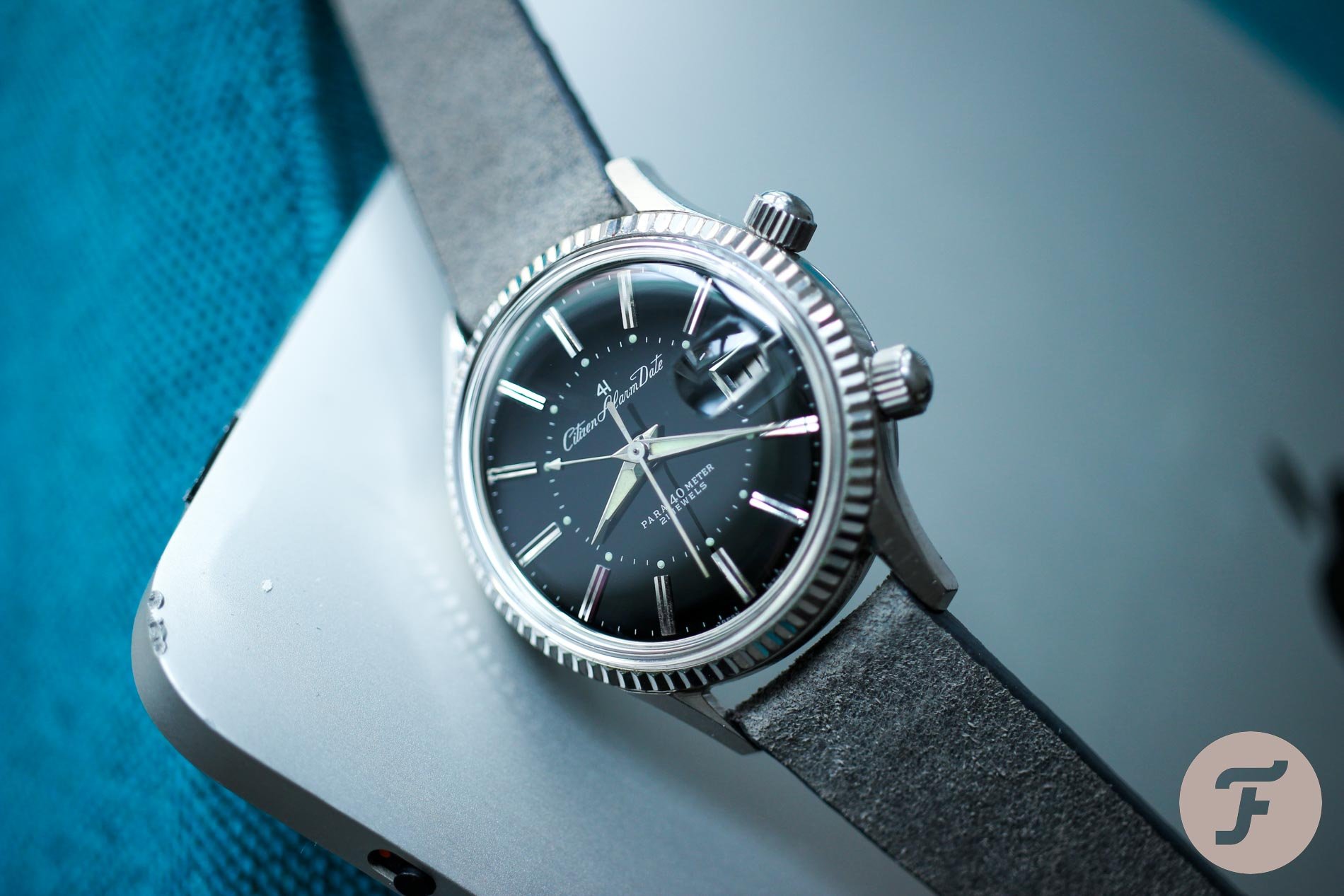 An urge to be pretty
I have to stop here for a moment and clarify one important detail. If you ever buy a Citizen Alarm Date 51301a-Y, you want a minty piece. Check the lume on this example. It looks almost like paint, not a luminescent material. Now google some pictures of a 51301a-Y with wabi-sabi on it. Well, it doesn't work, does it? Some freckles, stains, chips, or aging look great on many vintage watches, but not on this one. Here, it kills all the beauty, shine, and radiance that are so crucial to maintaining its high-standard aesthetic.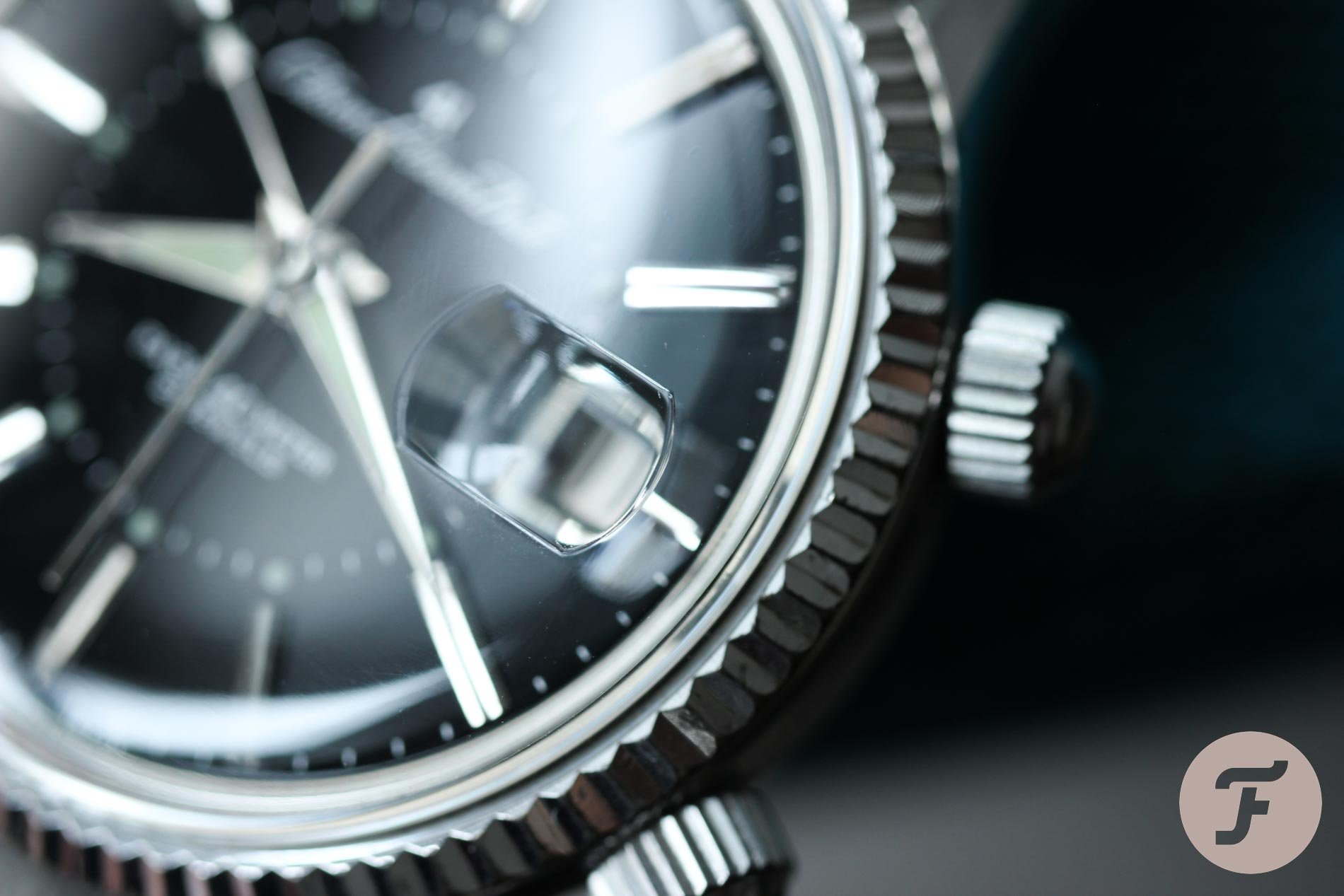 A splash of Rolex
I admit that at the moment of purchase, I was not aware of what I'm about to say now; I just bought the watch because it had cast some instant spell over me. Believe it or not, I didn't even realize this when I was unboxing the watch. Only after a few days on the wrist did I notice that it has a Cyclops-style magnifier and a fluted bezel, so similar to Rolex Datejust watches. With such a clean dial design, it makes for a pretty dressy watch but for a fraction of the Rolex Datejust budget. If you get lucky, I believe you can get a solid Citizen Alarm Date 51301a-Y for less than €500.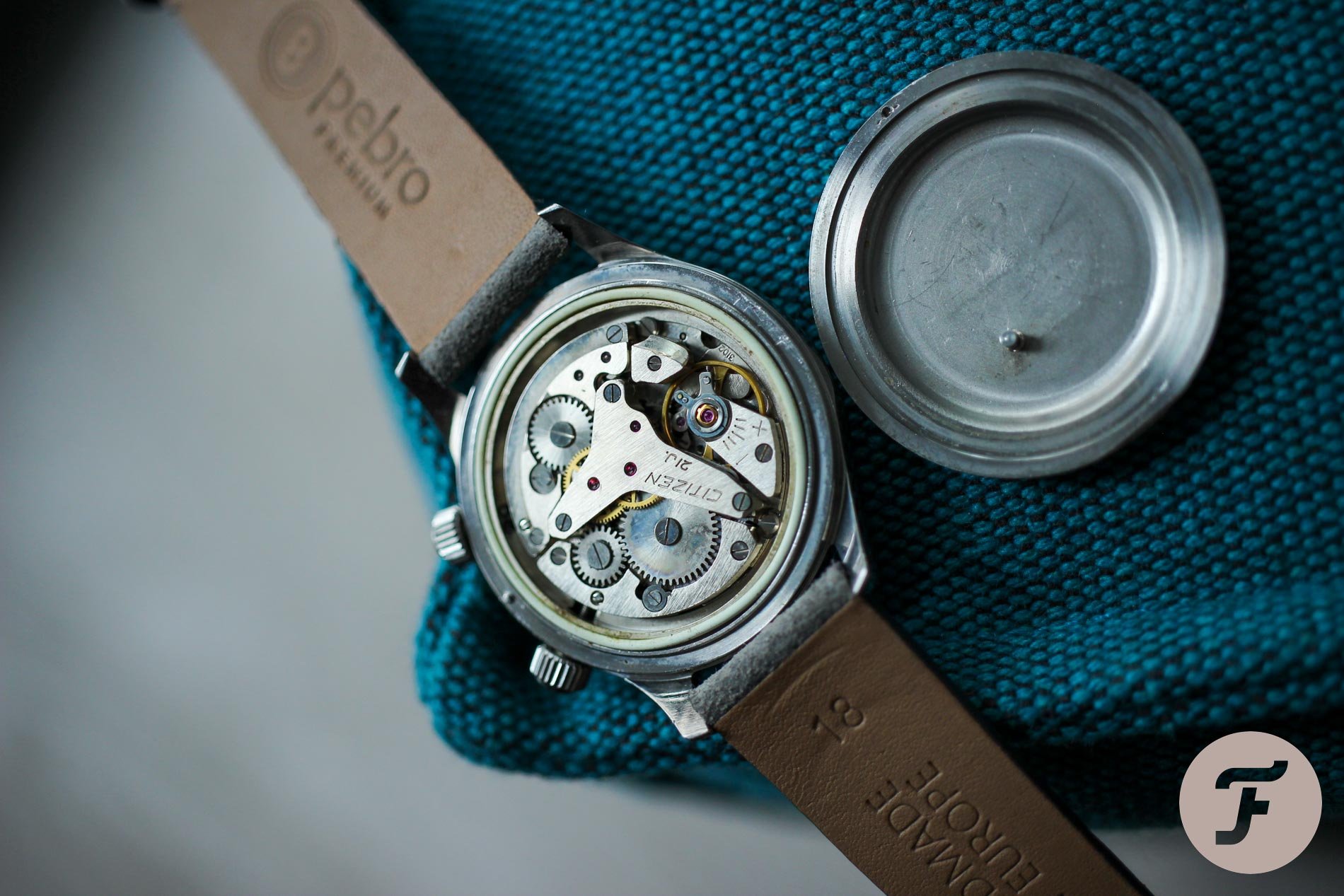 Movement and operation
This watch contains the same movement as my Citizen Alarm Date ALDS 52902-Y. The Citizen 3102 caliber has 21 jewels and an 18,000vph beat rate, and it is built upon an A. Schild 1475 base caliber. The crowns are not signed, but they have a distinctive "hat" design. They are both the same and pretty chunky, allowing for comfortable operation. To set the alarm, pull out the crown at 2 o'clock after fully winding the alarm barrel with it first. The crown at 4 o'clock winds the mainspring and sets the time.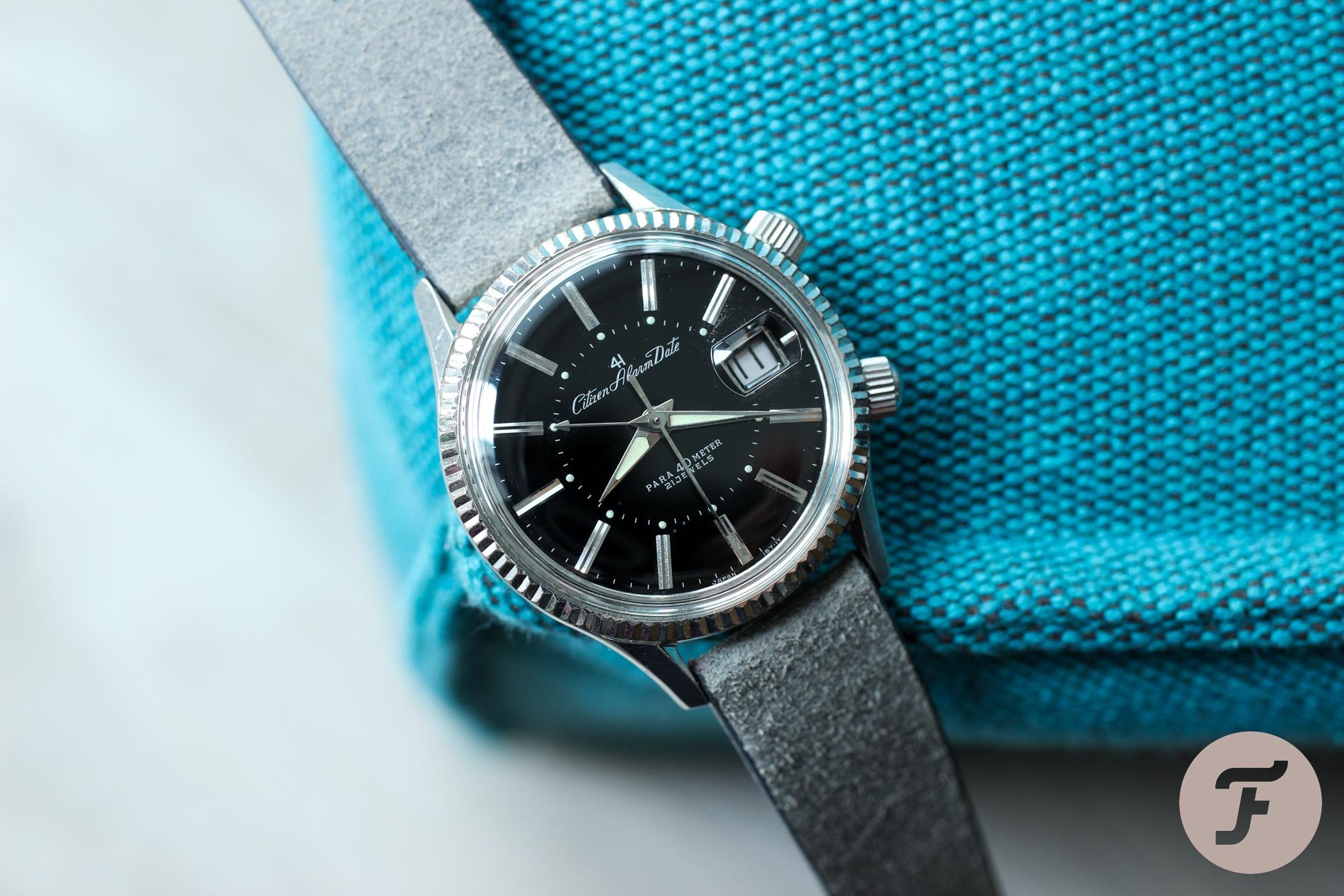 A short comparison to the Vulcain Cricket
They are both alarm watches, but they are totally different. I have to say that I like the Vulcain pusher design combined with one crown for winding the twin barrels for the time and alarm much more. It is much a more unique, sophisticated, and interesting system. On the other hand, the AS-based Citizen is more simplistic and probably a bit more durable. When it comes to the sound, nothing beats a Cricket with a double case back. It guarantees a crazily loud and amusingly resonant alarm.
But if you are not a maximalist who enjoys heart-attack-inducing pranks on colleagues, perhaps you'd rather opt for Citizen Alarm Date. As the resonating case back directly touches the skin, the alarm doesn't have that metallic sound and comes out more subtle.
A note on the case back
The rounded style of the case back evokes the monocoque case design. It's very similar to the Mido "Rainbow" ref. 5907, but obviously, it's not the same. The Citizen 51301a-Y has a snap-on case back. There is a little peg on the bottom of the mid-case and a little hole on the edge of the back for easy alignment. Correct positioning is crucial too as another pin in the center of the case back has to stick into the movement precisely for it to sound the alarm. The engravings on the case back are also quite pleasing to the eye.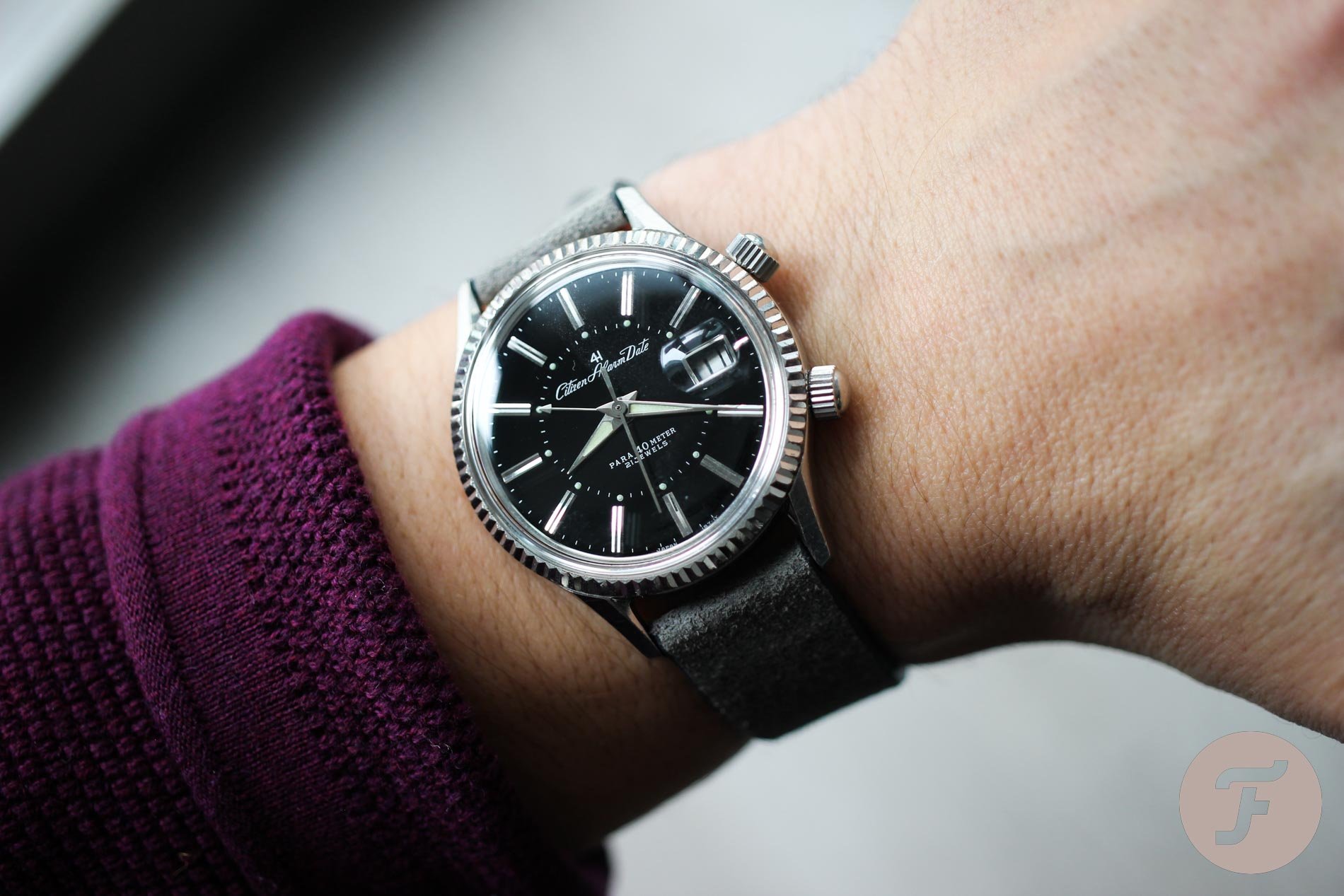 Last thoughts
If you want to dig deeper into pieces like this, I recommend that you read the bible on alarm watches that I reviewed a few years ago. Judging the current popularity (or lack thereof) of alarm wristwatches, it's hard to believe that there were almost thousands of different alarm watches produced. I do not sport them very often, but anytime I do, without fail, there is an opportunity to set the alarm. I dare say that the experience and amusement are unique and far greater than any chronograph can offer. Happy hunting!