#TBT The Highly Wearable Citizen Alarm Date ALDS 52902-Y
Your next unusual diver's watch
The Citizen Alarm Date caught me totally unprepared. I wanted it long ago, that's for sure. When it turned up, I was just not expecting so much joy. If you've ever considered acquiring your first Citizen, let an Alarm Date ALDS 52902-Y be your bet.
I have a thing for alarm watches, and in particular, the mighty Vulcain Cricket. Reading Mike's articles while going down the rabbit hole helped me put vintage Citizen on my radar. When I saw a very "diver-esque" Citizen with an additional short hand with a red arrow for the first time, it went straight on my wishlist. But it didn't have a high priority or any particular purchase deadline.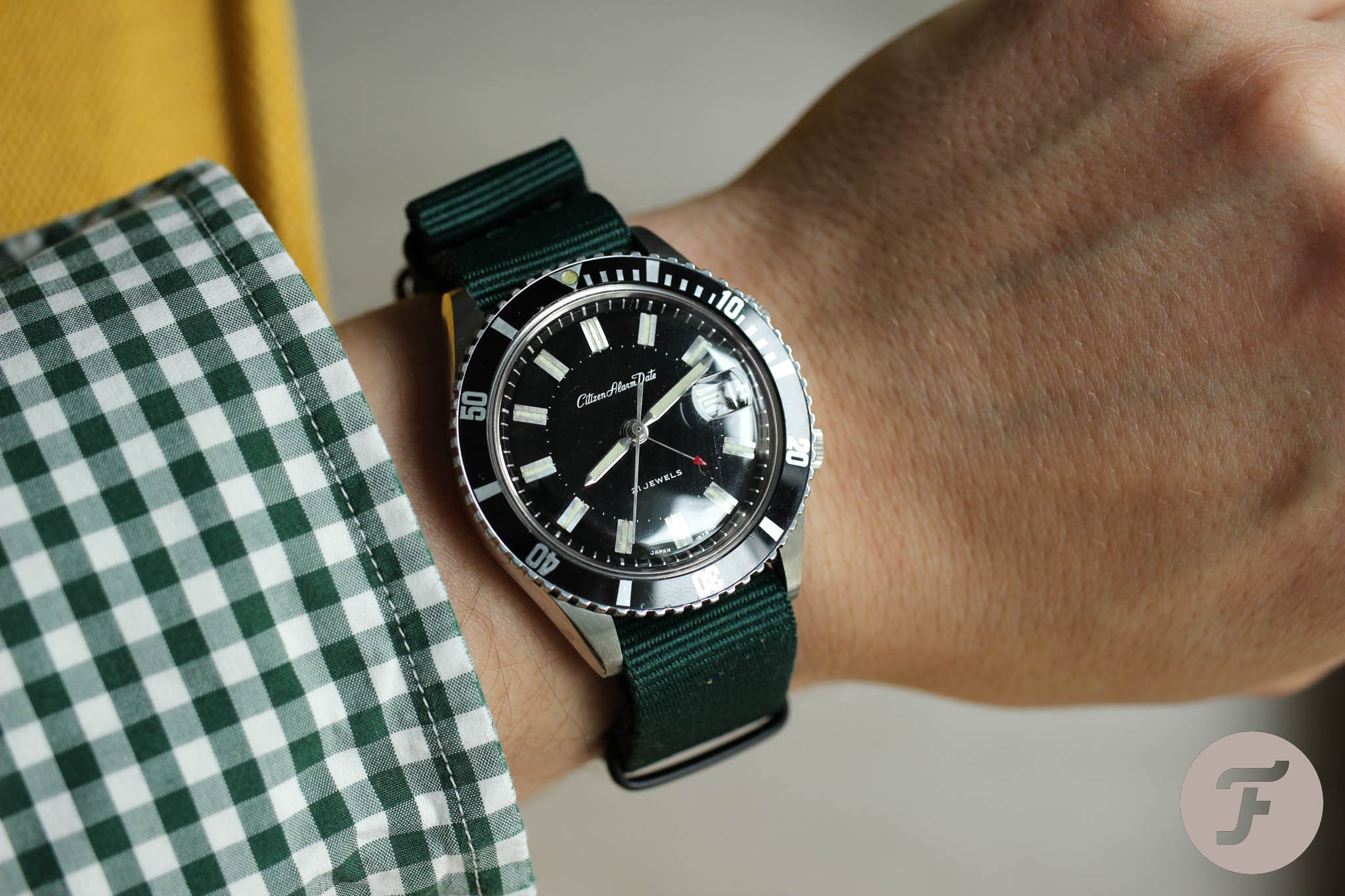 As it usually goes…
I was not actively searching for the Citizen Alarm Date. Let's just say I was perception-sensitive. The problem was that any time I spotted one, it was either well-beaten with too much wabi-sabi, or it carried a price tag higher than I was willing to accept. One day, I was connected to a live auction, waiting for the lot I was interested in. Out of nowhere, a beautiful Citizen Alarm Date jumped in front of me. It was pretty unexpected, as it was an American auction house, and the US is not a standard place to pick up your next Japanese watch.
Coincidentally, a few weeks ago, a friend of mine offered me a Citizen Alarm Date. It wasn't in a bad shape, but it had someone's name scratched on the case. As it was not a "noble" signature like the one RJ scored, I decided to pass. But when today's crispy hero popped up, I left my sneaky bid. Without much competition, I won it for not even $500 — not a bad deal. And it definitely wasn't a bad deal for what I received!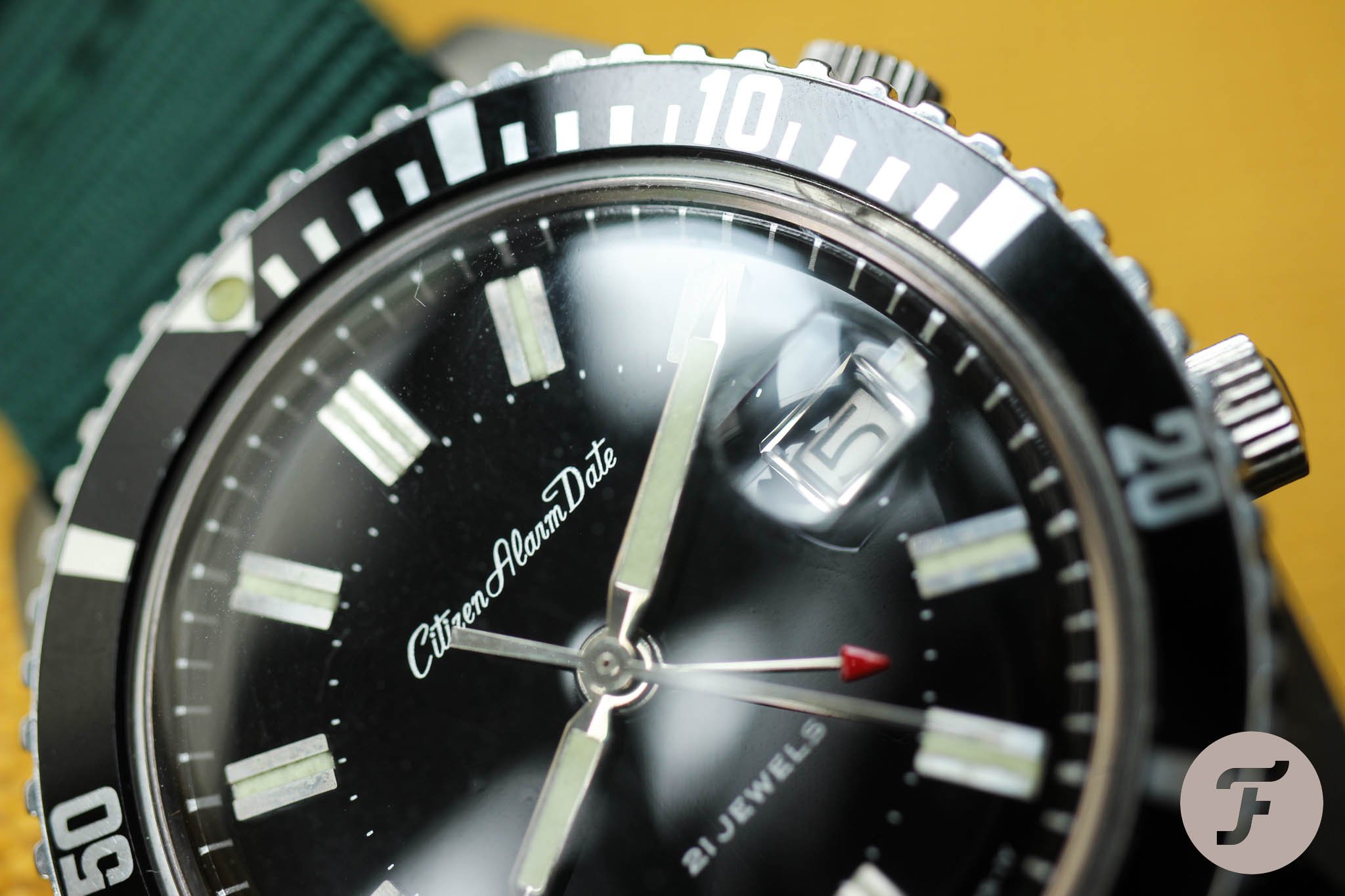 Unboxing and first impression
First of all, it's huge. Well, it's huge compared to most vintage alarm watches — the Vulcain Cricket on the top of the list — at around 35mm in diameter. The Citizen Alarm Date ALDS 52902-Y, which crosses the 40mm line, has quite a modern Omega Speedmaster presence on the wrist. For me personally, it's even more appealing than the beloved Citizen 62-6198 Challenge Diver. The Challenge Diver is more robust and its dial is way more sunken into the depth of the case. Visually, the Citizen Alarm Date sits between it and Citizen Auto Dater 40M ref. 3001-D. Plus, it has an extra hand, but we will get to that soon.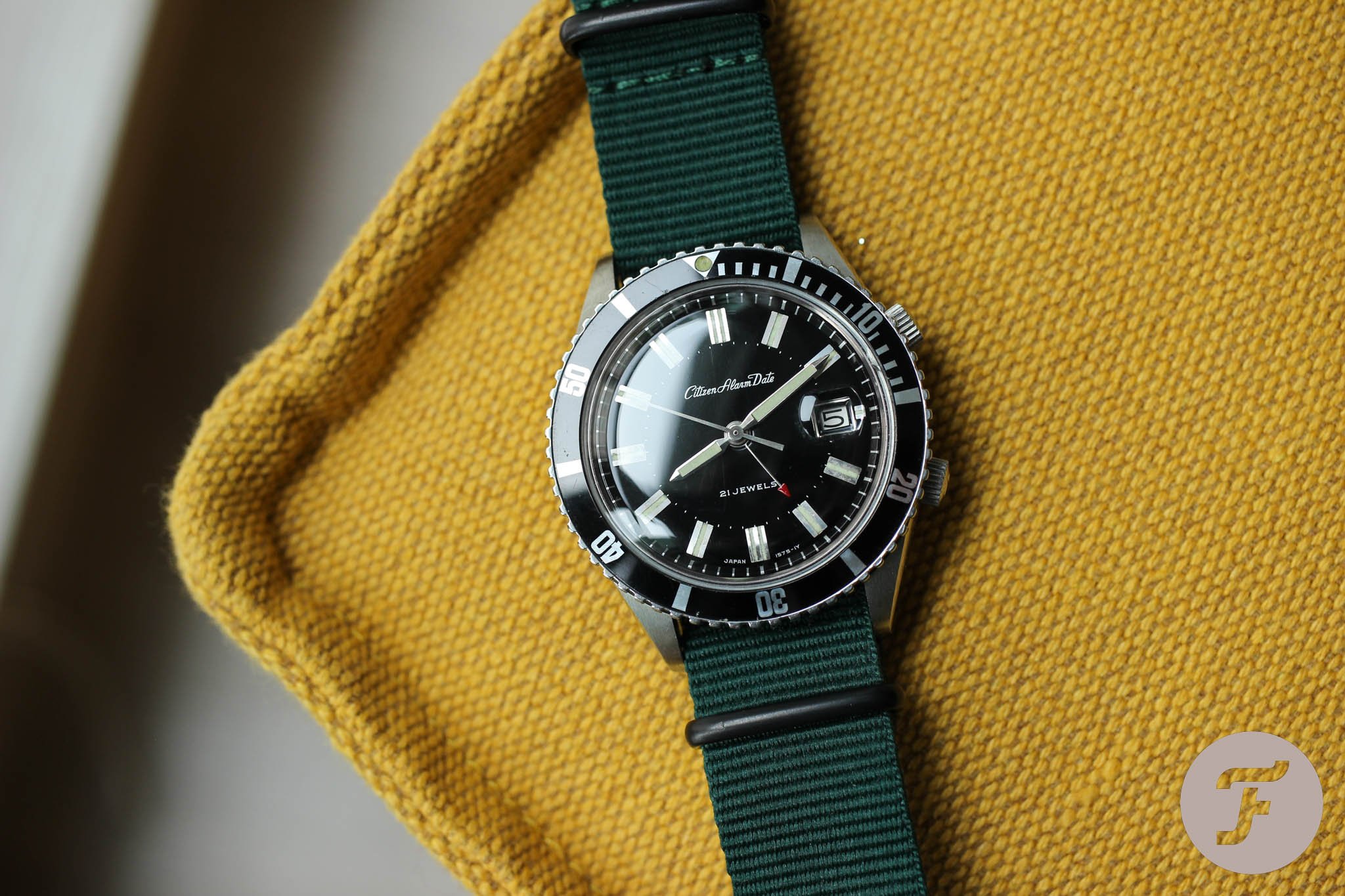 Left speechless
This kind of watch usually comes with a faded or scratched bezel insert or a case full of scars. My Citizen Alarm Date came almost untouched. The dark black, super-glossy bezel insert perfectly matches the glossy dial, which almost looks like it is made of porcelain. The scratch-free case and crystal magnify the shiny condition that screams at you from miles away. I've gotten a few NOS pieces over the years, but to score a vintage Citizen in such a condition is pretty incredible. Technically, there is just a minor difference between NOS and a lightly worn watch. But this Citizen Alarm Date that hardly saw any light leaves me literally speechless every time I look at it.
An unplanned favorite
It was supposed to be a marginal acquisition. You know, a "too good of a price to not jump on it" kind of purchase. Three days after arrival, though, I knew it wouldn't sit in a drawer. I actually wore it for five consecutive days, and even then, I still hadn't gotten enough of it. I never realized before I bought one how strong of a contrast the brushed tops of the lugs would have with the highly polished sides of the case. The original crystal is pleasingly narrow and gives you the feeling you can almost touch the dial. The minute track is printed on the thin sloping rehaut that gives the dial additional plasticity.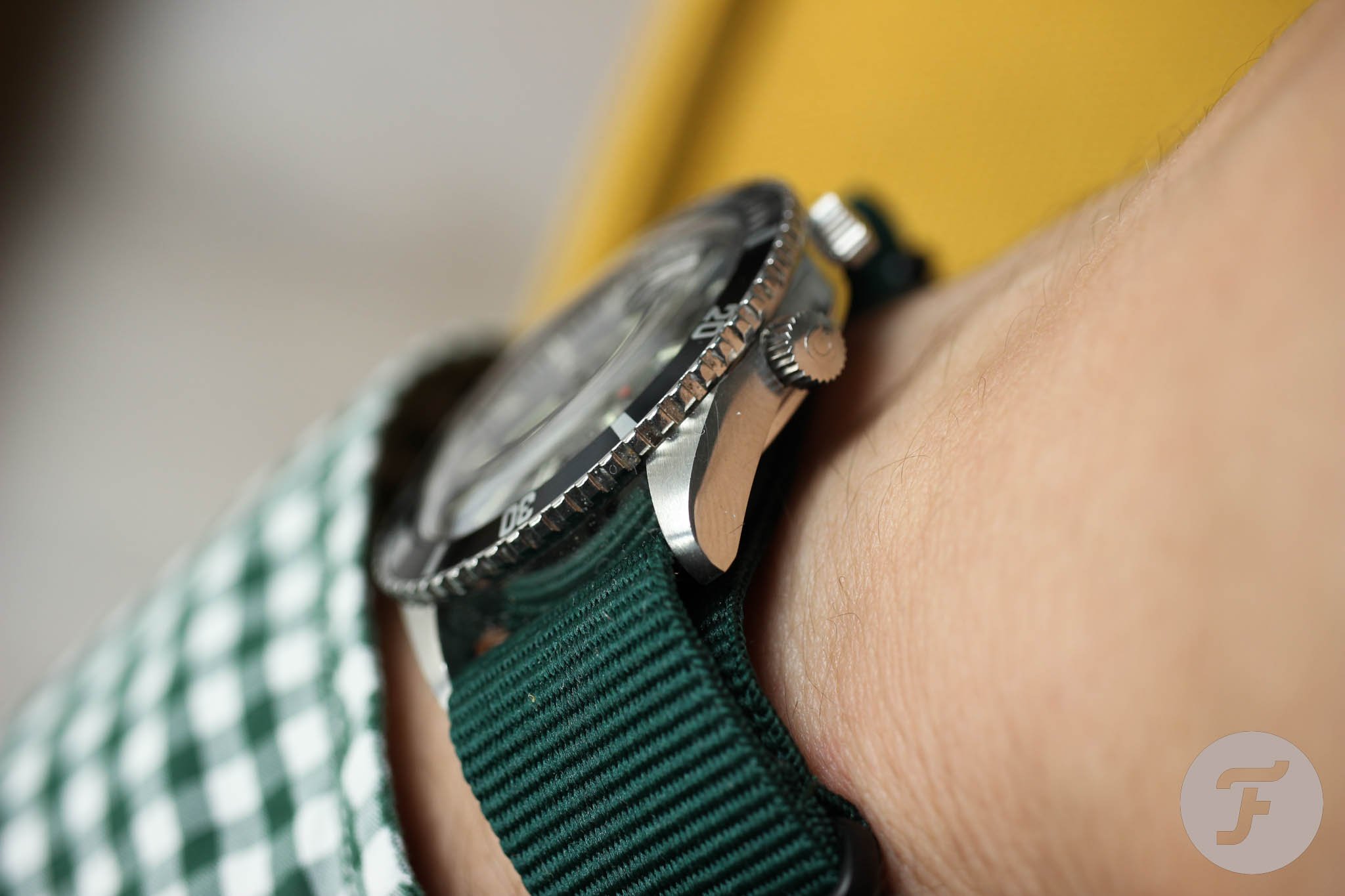 I have never been a huge fan of pencil hands, as I've always found them a bit generic and often inconsistent with the dial style or case structure. Here, probably for the first time, I find them to be an integral and individualistic part of the design. Their length perfectly fits with applied indexes. Proportionally, the hands are perfectly balanced with the visible steel lines of the case and the bezel. As a counter-example, the same set of hands is used in the previously mentioned Citizen Auto Dater 40M ref. 3001-D, but they don't fit there as well as they do on the Citizen Alarm Date.
B-class alarm
Recently, I meditated over a splash of red that makes Submariner ref. 6538 so interesting. Well, here, we have another red triangle, but this one is slightly smaller. And like the bezel on the Sub, the red triangle rotates, but this one belongs to the watch's alarm hand. It's an off-case extension of the Citizen 3102 caliber, which is based on a manual-wind A. Schild movement. You wind the watch and set the time with the crown at 4 o'clock. The crown at 2 o'clock winds the alarm. To set the alarm itself, you need to pull it out.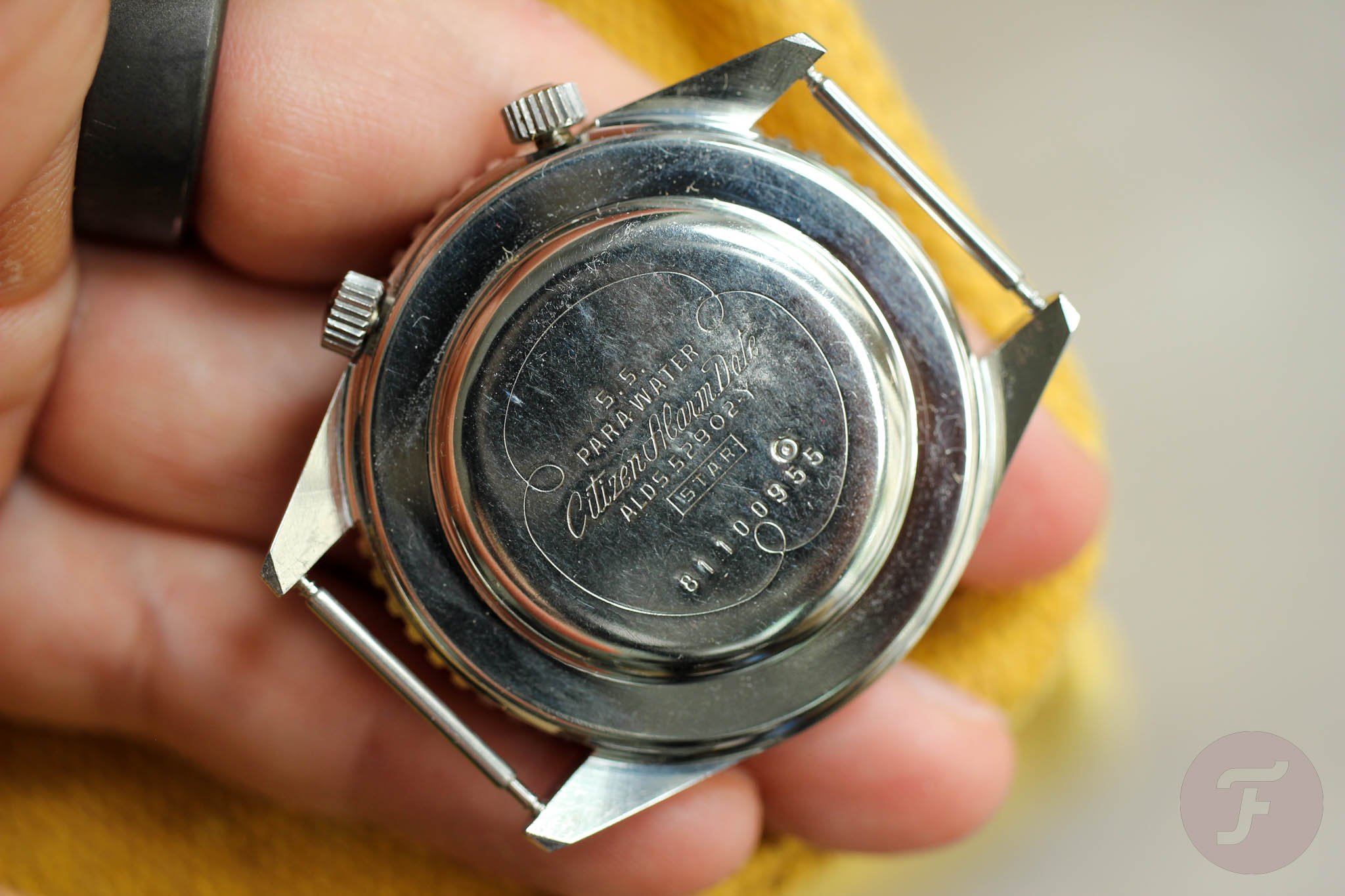 What I don't like is the fact, that you need to leave the C-signed crown in the pulled-out position to be able to activate the alarm when the two hands meet. As a result of the winding drill, I find the pulled-out crown naked and vulnerable. It's probably safe, but it just doesn't feel that way. The alarm sound won't beat the screaming Vulcain Cricket, but to beat it is not this watch's objective. It does its job, and that's just about perfect.
Shotgun notes
My Citizen Alarm Date came on some cheap moss-green NATO strap. It's a pairing I'd never intentionally choose, neither sober nor drunk. But that's why I like to get surprised. Sometimes, it just clicks. The only shame is the fact that it hides the beautifully carved case back. And speaking of the case back, it's a snap-on style, but when attached, the case feels like a monocoque front-loader.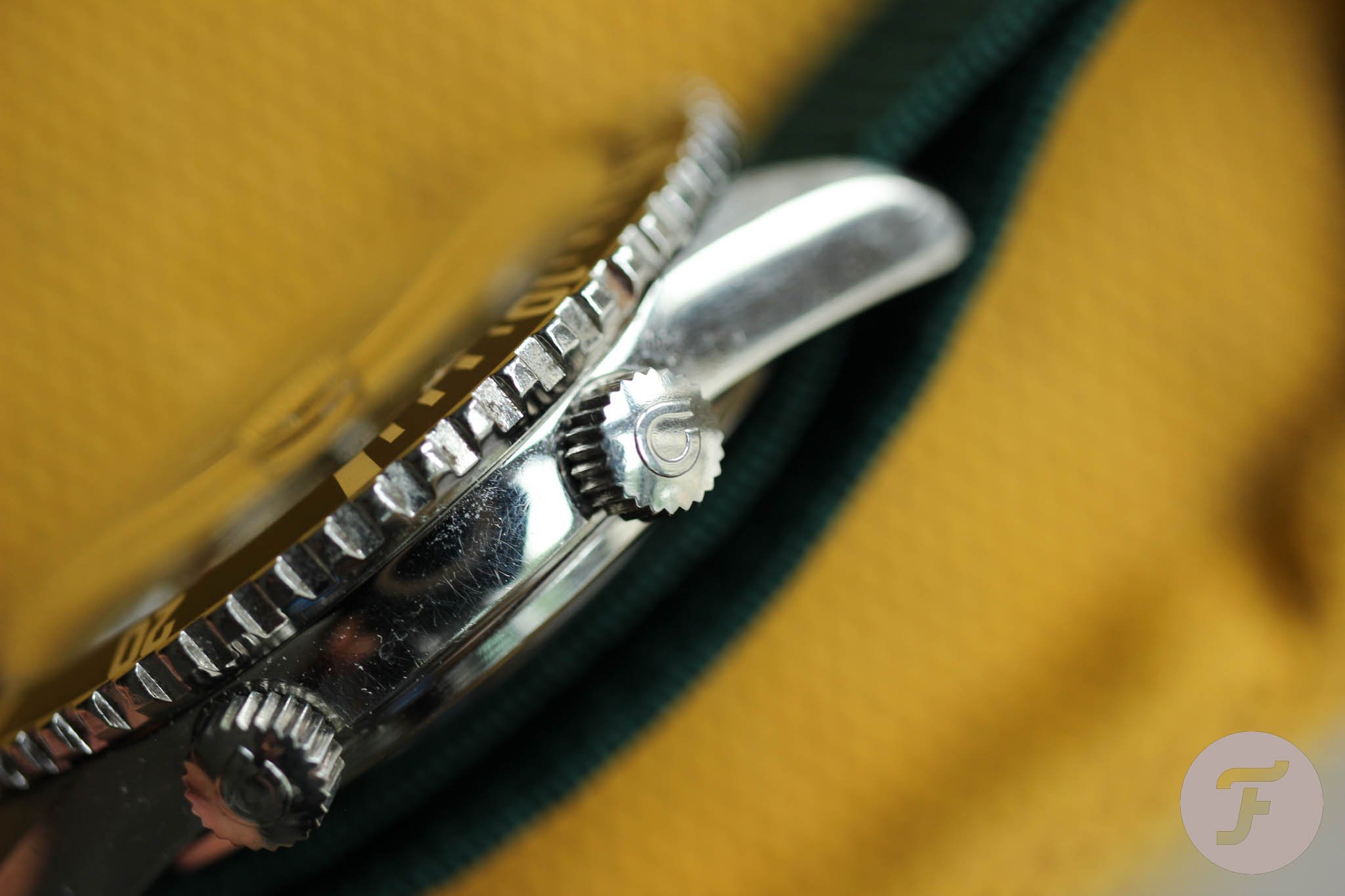 Last thoughts
I am not sure how to categorize this watch. Is it a diver's watch? Or shall I call it an alarm watch? I'm not sure I can call it an alarm diver's watch. Well, the shiny dial offers "Alarm Date" as an alternative, but I find that description incomplete. Anyway, it doesn't matter at the end of the day. What matters is the fact that the implementation of such a specific complication into a hardcore diver DNA creates a pretty attractive mix. You should try it yourself. Happy hunting.