#TBT The most comprehensive book on alarm watches ALARM AM ARM
and short chat with author Leo Beitl
ALARM AM ARM ("Alarm on the wrist") is a must-have book for alarm watch enthusiasts featuring nearly 2000 watch models.
Did you know there are more than two thousand different alarm watches around? This number comes from the man who wrote a four-kilogram book on this topic. His story started exactly like mine. We both just wanted to learn more about mechanical alarm watches. The difference? He had the same problem, but around 20 years ago. Hats off to him for embarking on this journey in times when the internet was not what it is today.
The world of alarm watches
His name is Leonhard Beitl, a humble collector and devoted watch explorer that spent the past 20 years of his life creating what I consider the most complex journey into alarm watches history. All in his spare time. Today's TBT topic: the ALARM AM ARM book.
Connecting people
Leo doesn't speak much English and I do not speak much German. Thankfully, my wife came to the rescue as an impromptu translator and we managed to have a wonderful chat about alarm vintage watches in Vienna, Austria. For me, this is what vintage watch collecting is about for – breaking boundaries, meeting new people and encapsulating the genius of past decades all while exploring the hidden achievements of watch manufacturing. And I dare say there is a lot to be explored in the field of vintage alarm watches.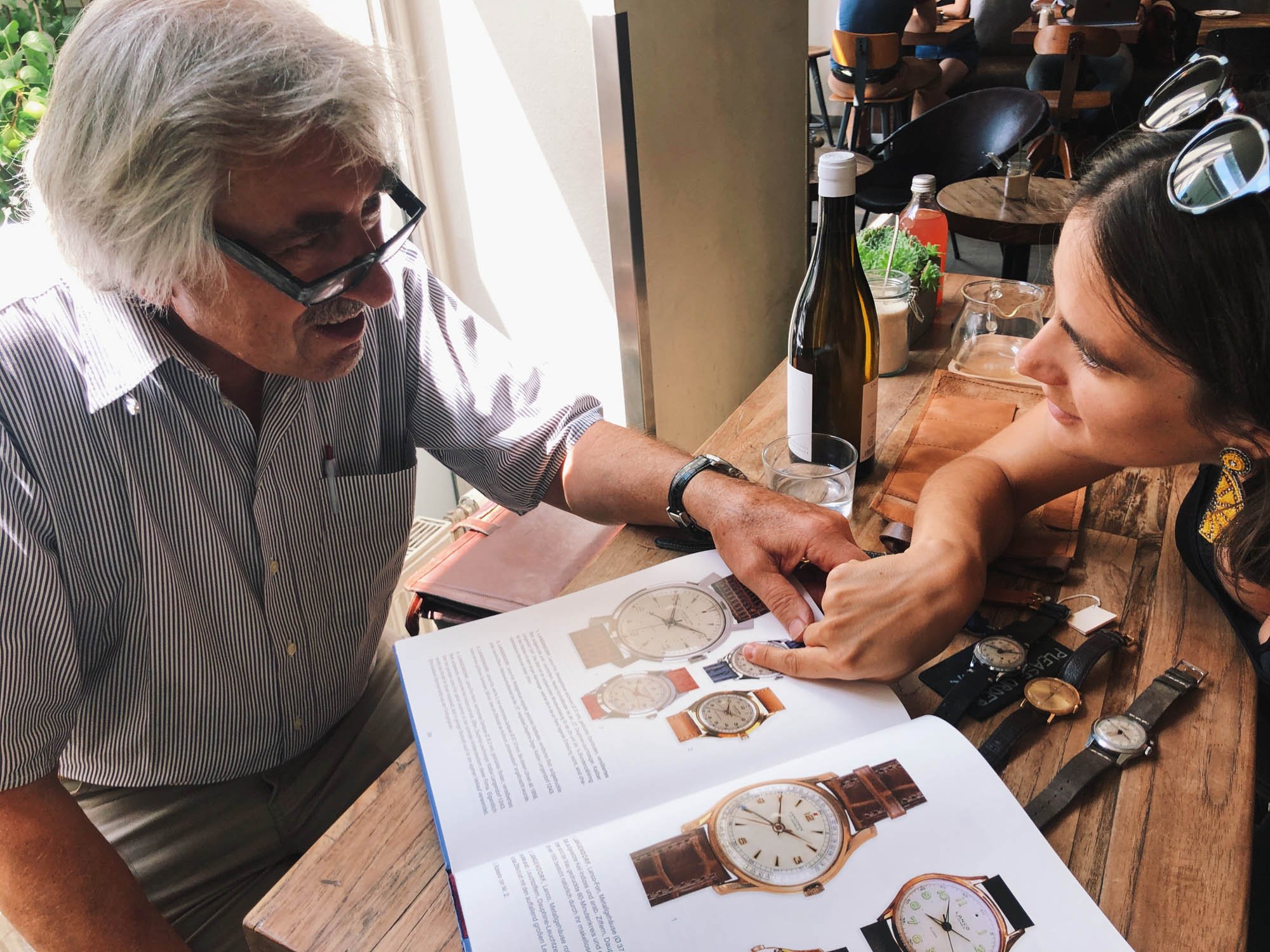 "My dream is to allow as many people as possible in the world to experience the joy of alarm watches."
My fascination with alarm watches
I can't explain my obsession with mechanical alarm watches. Whatever chronograph or diver I may see, it is when I spot a quirky alarm watch that my heart starts to dance. Maybe it's just the simple fact that I am a quartz boy born in the early 1980s that was bewitched when he first saw a watch that produced an alarm sound mechanically. Some of you may remember that the Vulcain Cricket I recently reviewed was the first vintage watch I ever acquired and stays untouched in my collection.
The story begins
Mr. Beitl's stumbled into the alarm watch world in quite a random way. For decades he wore a simple mechanical watch that he received when he graduated from university. That was until, one day in 1989 when it stopped. Mr. Beitl went to a random watch store and the dealer ended up selling him a new Maurice Lacroix alarm watch. "Until that moment, I wasn't aware that such a complication existed. By another coincidence, I found another alarm watch shortly thereafter, this time an Oris. I took great pleasure in both of these watches and was curious to see if there were more of them. Back then there was little to be read on the topic, so I started writing down everything I learned. I also started to collect all the pictures that came to me. I wandered through endless flea markets and met many collectors on the way in order to learn more."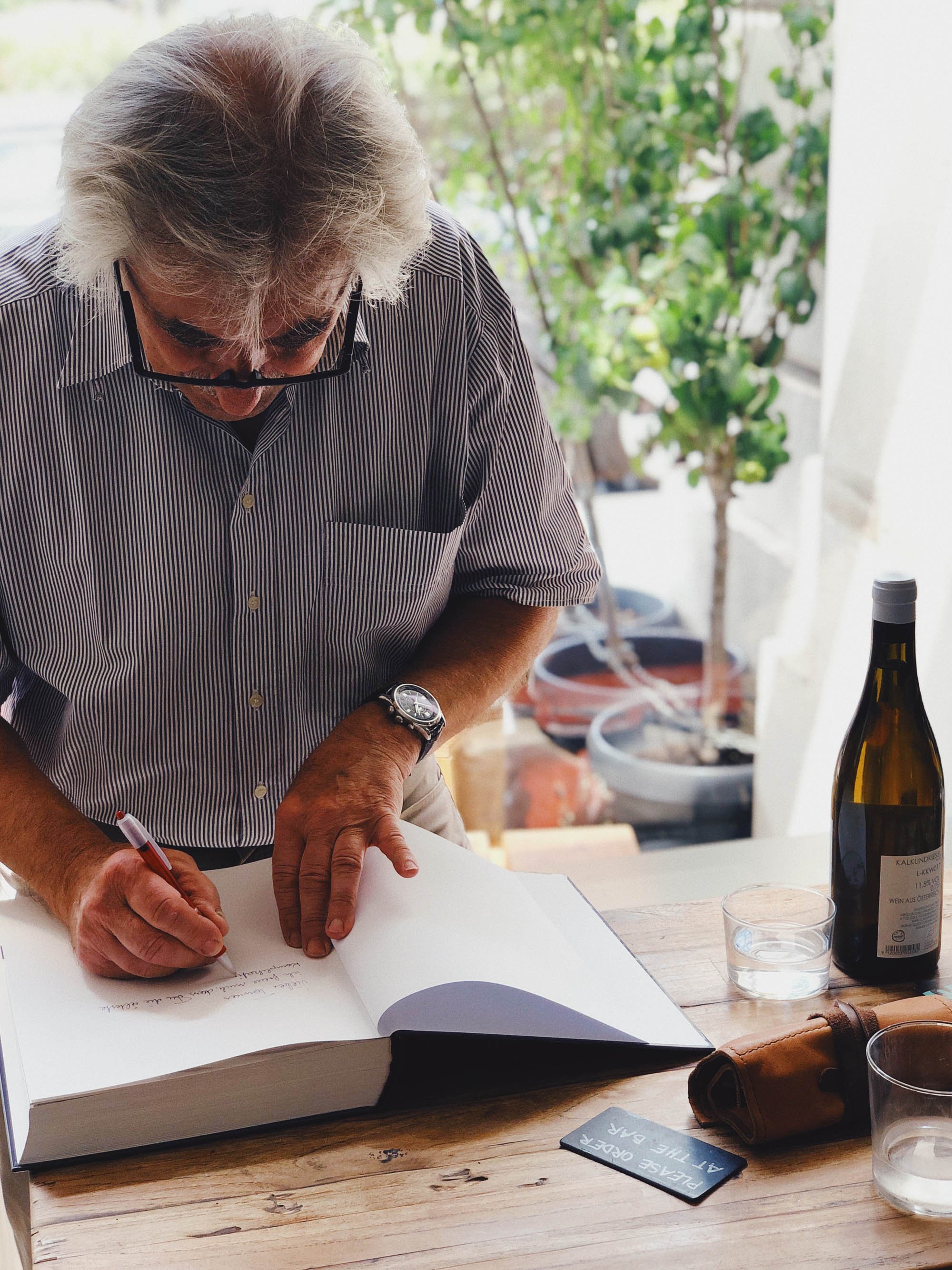 Tremendous work
I imagine that performing research on alarm watches shortly after the quartz crisis might have been quite difficult. Many watch manufacturers no longer existed or brands ended up with new owners who didn't even know that alarm watches were made in their company. We all can be thankful that in 2009 many collectors encouraged Mr. Beitl to publish his deep research."If I had known how difficult and costly the process would be, I certainly would not have started it," he jokes. Imagine there would be no Mr. Beitl. Every year there are less and less watch veterans that have valuable knowledge and information. It is time for more people put pen to paper otherwise a lot of these invaluable stories will be lost forever.
Mysterious JLC caliber
Suddenly Mr. Beitl grabs the book and searches for something. After running back and forth through the pages he turns the book to me and points to a picture of an old notebook with some old movement on it. The Jaeger-LeCoultre Memovox! A legendary alarm watch and stable piece in any relevant watch collection. "Not many people know, that Jaeger-LeCoultre developed a wrist alarm movement already back in 1928", Mr. Beitl is visibly proud of this discovery and highlights that the watch has an eight-day power reserve. Around fifty of these JLC watches with the caliber 134/12R were delivered to Paris at the time. Unfortunately, no one today seems to know what dial the watch came with.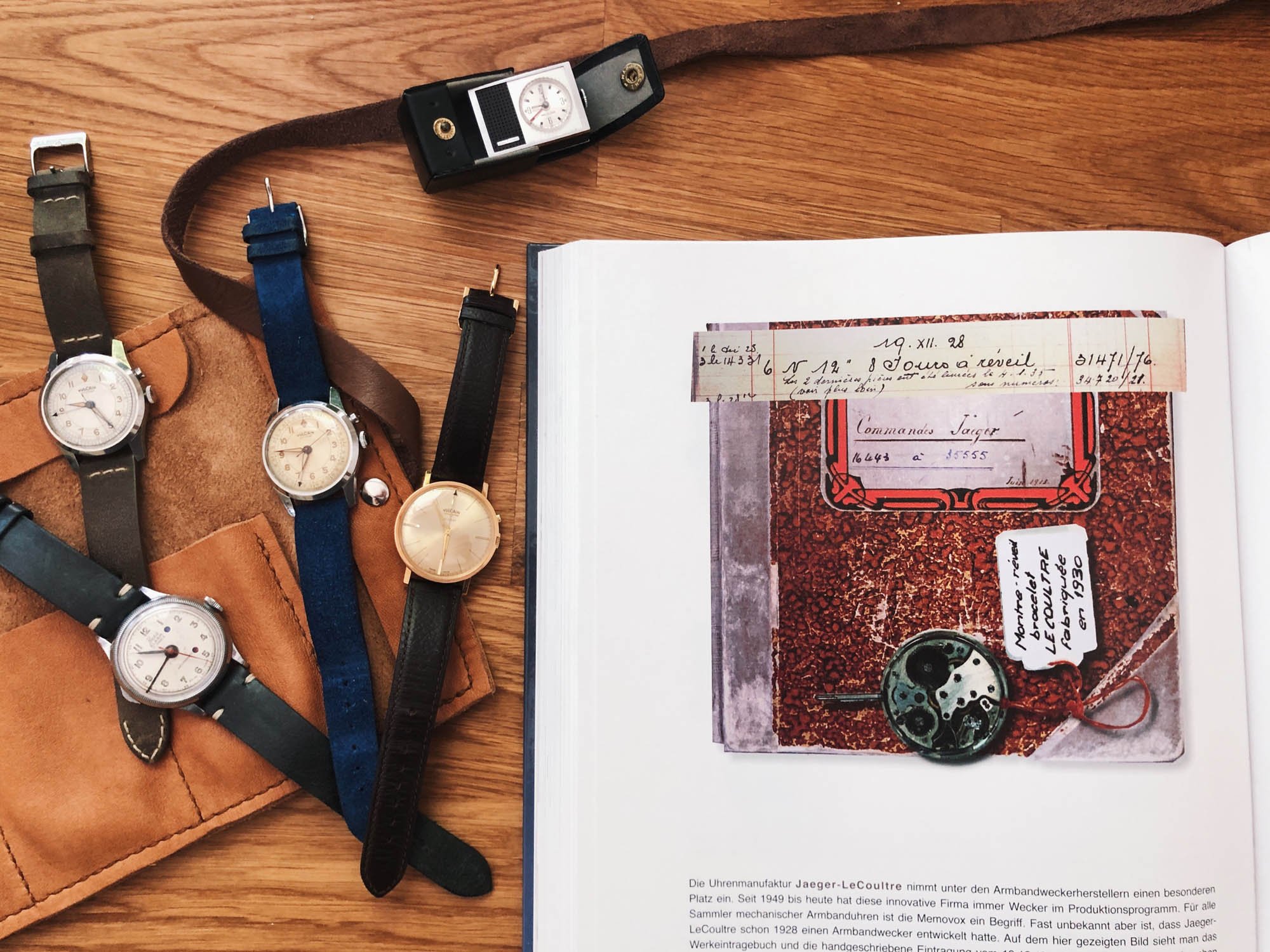 Extensive listings
Flipping through the pages in Leo's book ALARM AM ARM ("Alarm on the wrist") is very satisfying. The watches are in alphabetical order by brand names and on most pages, you can find 8 to 12 watches, each one described in relative detail. The book is pretty big and heavy, printed on fine quality paper and features photographs of the watches up for closer examination. If you are looking for a reference book, you will hardly find a better one. Every single model featured comes with a picture, an impressive feat. Mr. Beitl truly put in extra effort and also goes as far as to showcase multiple model executions for many watches differing in dials, hands or cases.
Stars of the book
The most relevant alarm watches get extra attention in the book. For example, take my favourite Vulcain. There are around fifty pages just on vintage Cricket models showing around seventy different types. All accompanied by high-resolution pictures of advertisements, watch magazine articles, leaflets or manuals from the production era. The book also features also my latest discovery – a Cricket with the Favre-Leuba logo on the dial. I was also surprised to spot an early Vulcain Cricket model with Chronometre specification.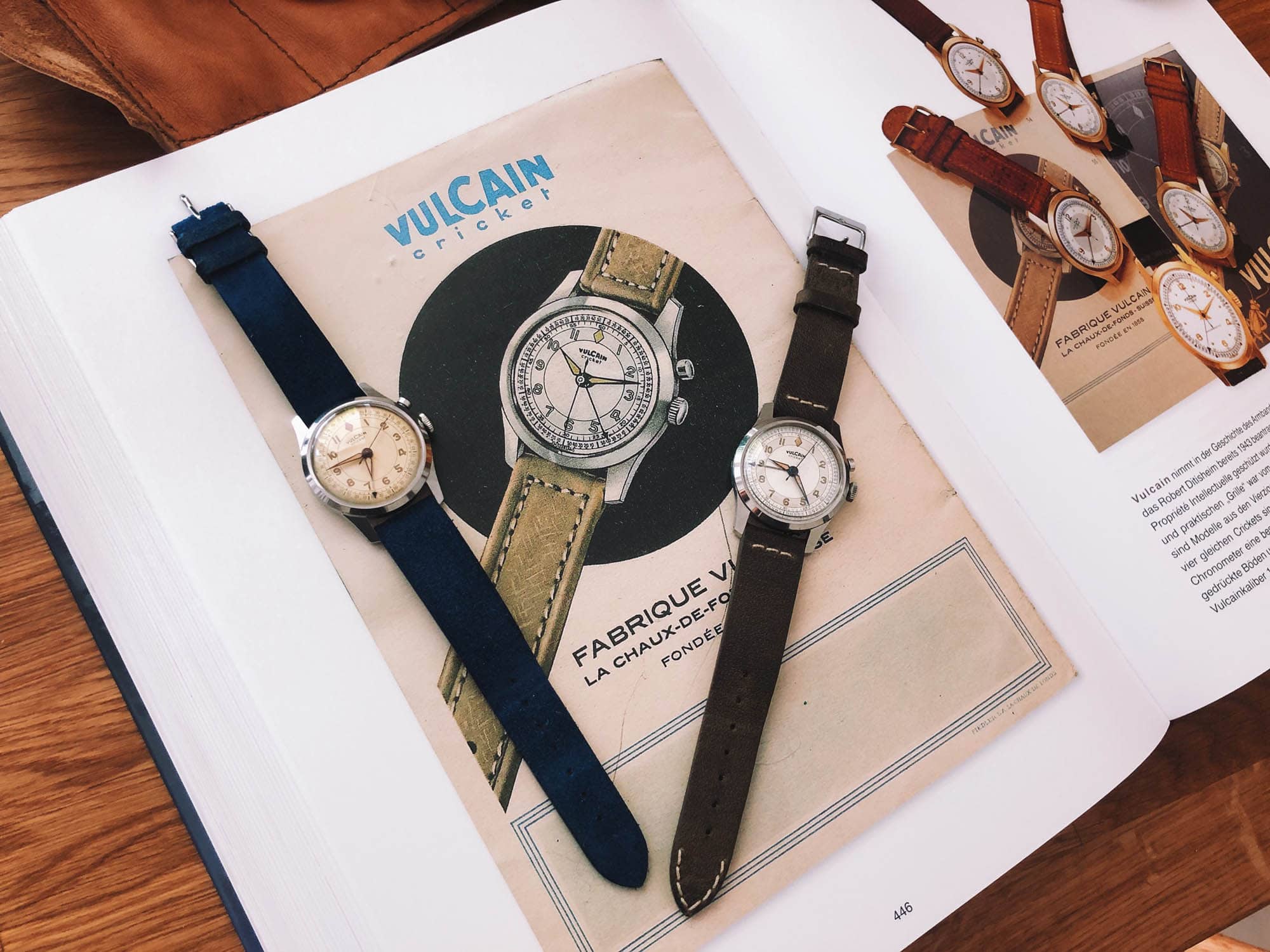 Favourite alarm watch
As a banker, Mr. Beitl travelled quite a lot. Everywhere he went, he searched for alarm watches at jewellers, antique dealers and watch shops. However, the size of his personal collection is more proof of his sheer modesty. One would expect hundreds of watches, but he keeps only 56 of them. Mr. Beitl is full of surprises. When I asked about his all-time favourite, after a short pause he says: "Well, I don't like them all, but I like my Van Cleef & Arpels with a world time bezel very much."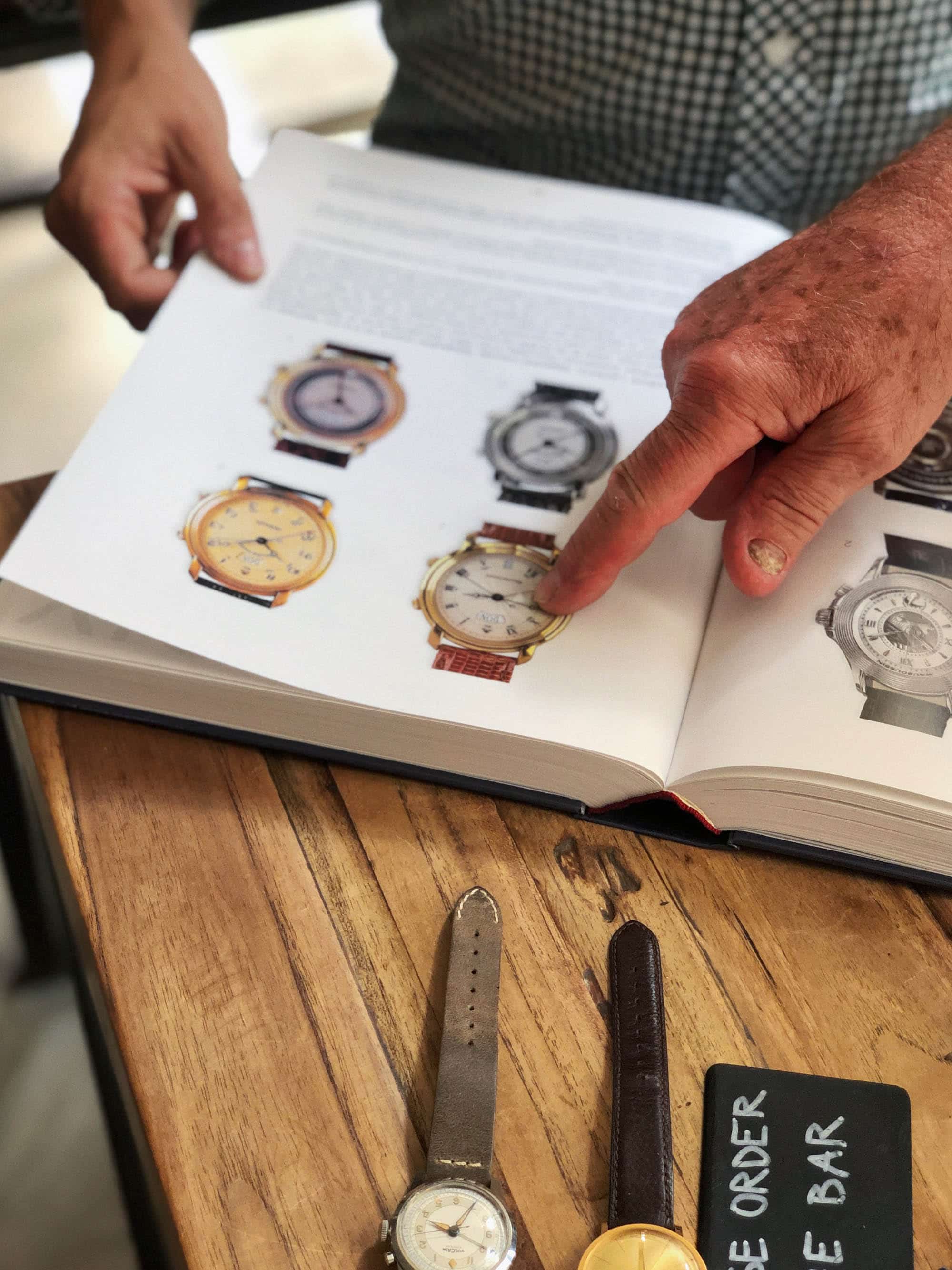 Try to beat Mr. Beitl
Leo says that alarm watches fascinated him from the very first moment. "Alarm is the oldest watch complication. It is an adorable living mechanism, very different from other watches. The world of alarm watches is not as huge as that of chronographs for example. But it is very diverse and just big enough to be an interesting challenge to map out. I would never be able to list every chronograph model. But I saw it as a manageable task with alarm watches.". And here we are. Leo proudly says that from the circa 2000 alarm watches ever produced, his books cover at least 95 percent of them.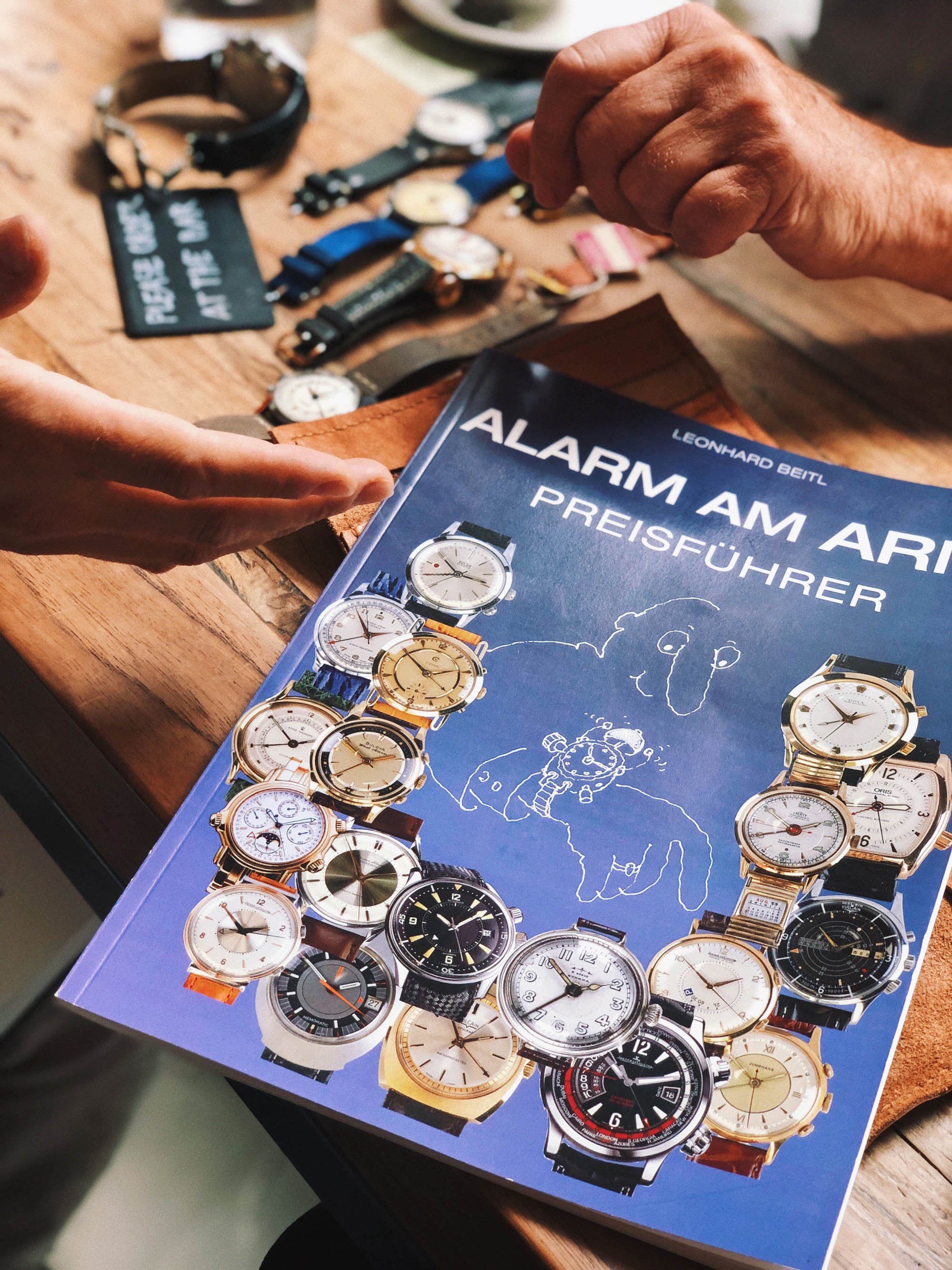 Hidden beauties
"It was always fun to watch one particular American millionaire with his three employees at the Munich watch fair. They always wanted to buy all alarm watches as soon as possible, shortly after opening. They focused however on watches with two crowns. This way, they sometimes bought watches with no alarm at all and overlooked some of the most interesting pieces that only had a single crown."
Research without the internet
It is difficult to imagine, how tough the job was to start an in-depth research project without the help of the internet. "I only began using the internet from about 2005", Leo explains. Before that it was mostly about travelling, raiding flea markets and meeting fellow collectors face to face. Leo says there are around 500 collectors of alarm watches in German-speaking countries alone!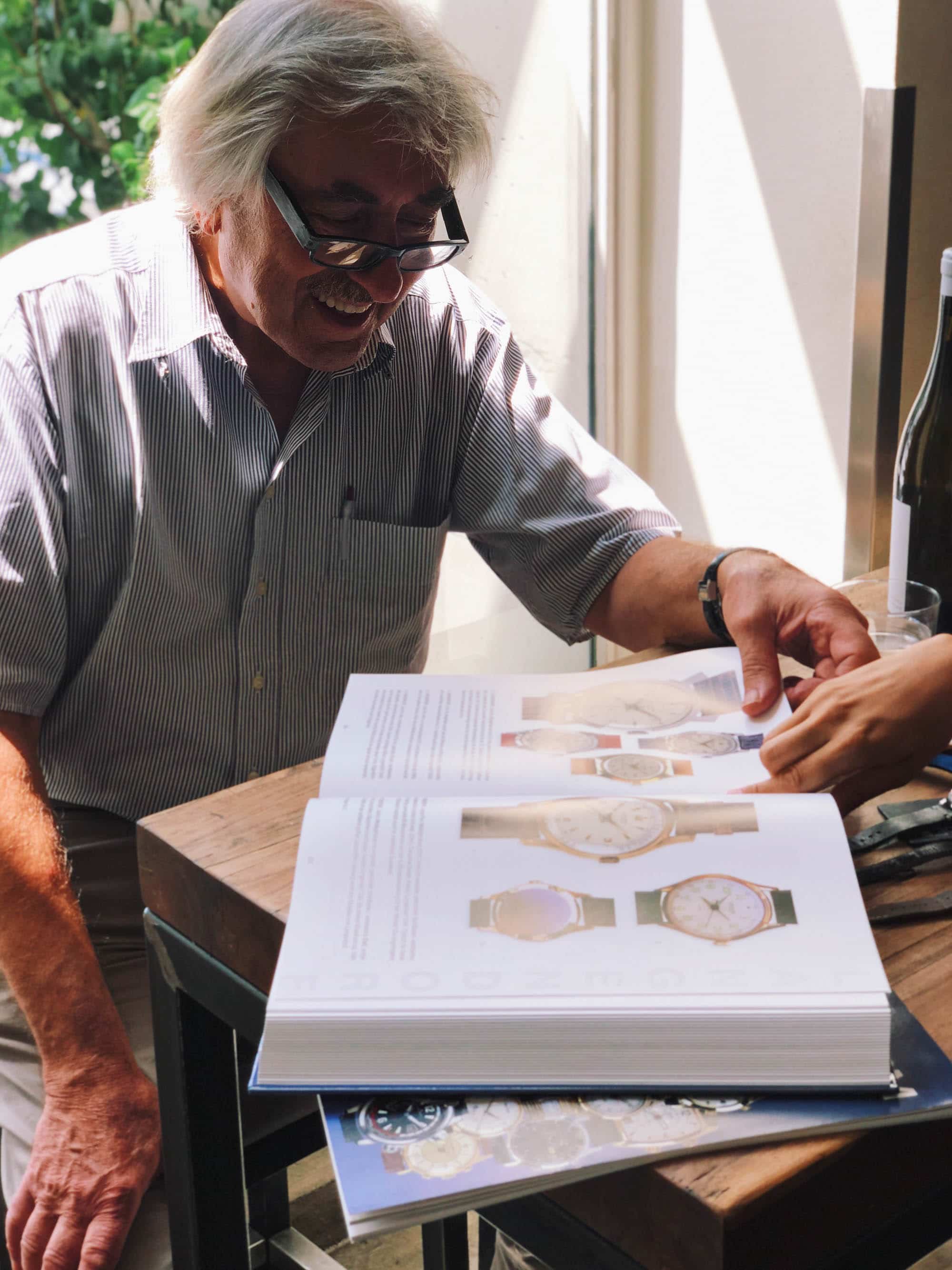 Shotgun notes
The book starts with a brief introduction of alarm pocket watches. At the end, you will find detailed technical descriptions to the most interesting alarm movements such as the JLC Memovox, Vulcain Cricket, Pierce Duofon or Lanco-Fon. There is also a complete reference table with alarm watch names and respective movements. If so inclined, you can also purchase a supplemental price-guide to all the alarm watches in the book, updated last in 2017. The nearly 700 pages thick book and price list will cost you 99 euros and you can order it on this link.
Awkward title page
Some might find the book cover a bit strange. Not only because of the (typical German publisher's) cluttered watch collage, but also because of the peculiar illustration in the middle. When I first saw it, I was a bit startled as well. My attitude changed completely when I discovered that the visual is taken from a funky JLC alarm watch leaflet from the seventies featuring humorous caricatures on alarm watches disrupting everyday life situations. Scroll to page 271 and see for yourself!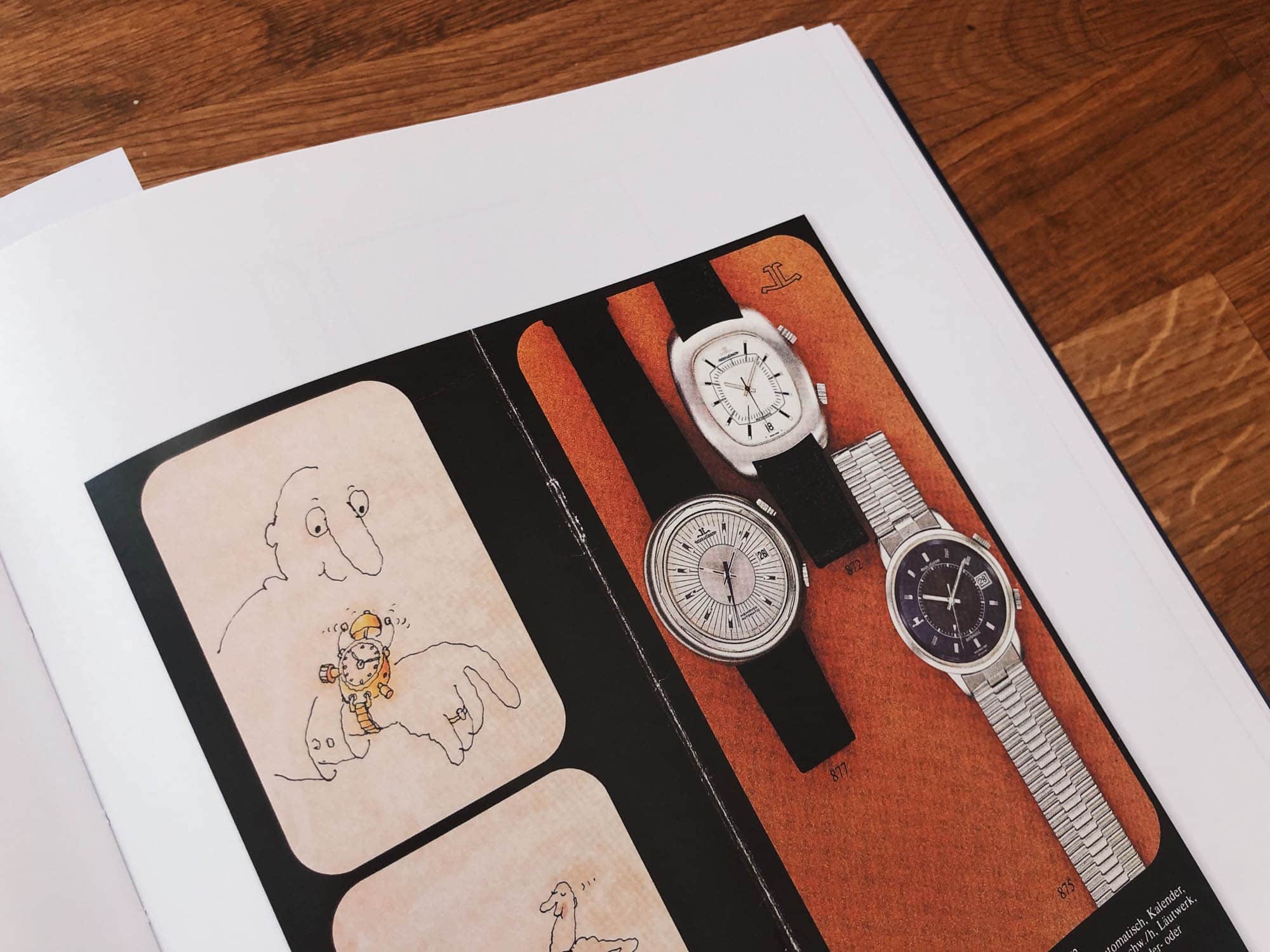 Author's dream
The only problem I found with the book is the fact that it's written in German only. If anyone of you got interested in Leo's story and would like to help him with his dream to publish this book in English as well, feel free to get in touch with him. As Mr. Beitl says, "My dream is to allow as many people as possible in the world to experience the joy of alarm watches."
If you can read German, or don't mind that it is in German (brand and model names, as well as specifications, are (almost) universal anyway), you can order the Alarm am Arm book here.