#TBT Croton Skymaster Chronograph
Whew, I had a lot of fun writing the Vintage Market Update that we published earlier this week, but it was a long article! Since then, I've had some time to reflect on it and I've come away with a couple thoughts. First, I really enjoy sharing my thoughts with you, our readers, about vintage watches and the marketplace. Second, it's great to give a previously non-discussed watch "center stage" for a period. Sure, it results in newfound attention for the watch, but I like to err on the side of exposure versus keeping something in hiding because it makes sense to discuss worthwhile pieces. Well, today's #TBT focuses on a watch that really hasn't received much press anywhere and that's a shame because there's a lot to like. The style, the movement, and the colors are all in the "sweet spot" of what many are looking for, so let's hope that the article gives our readership another search option. Today, we feature the Croton Skymaster chronograph.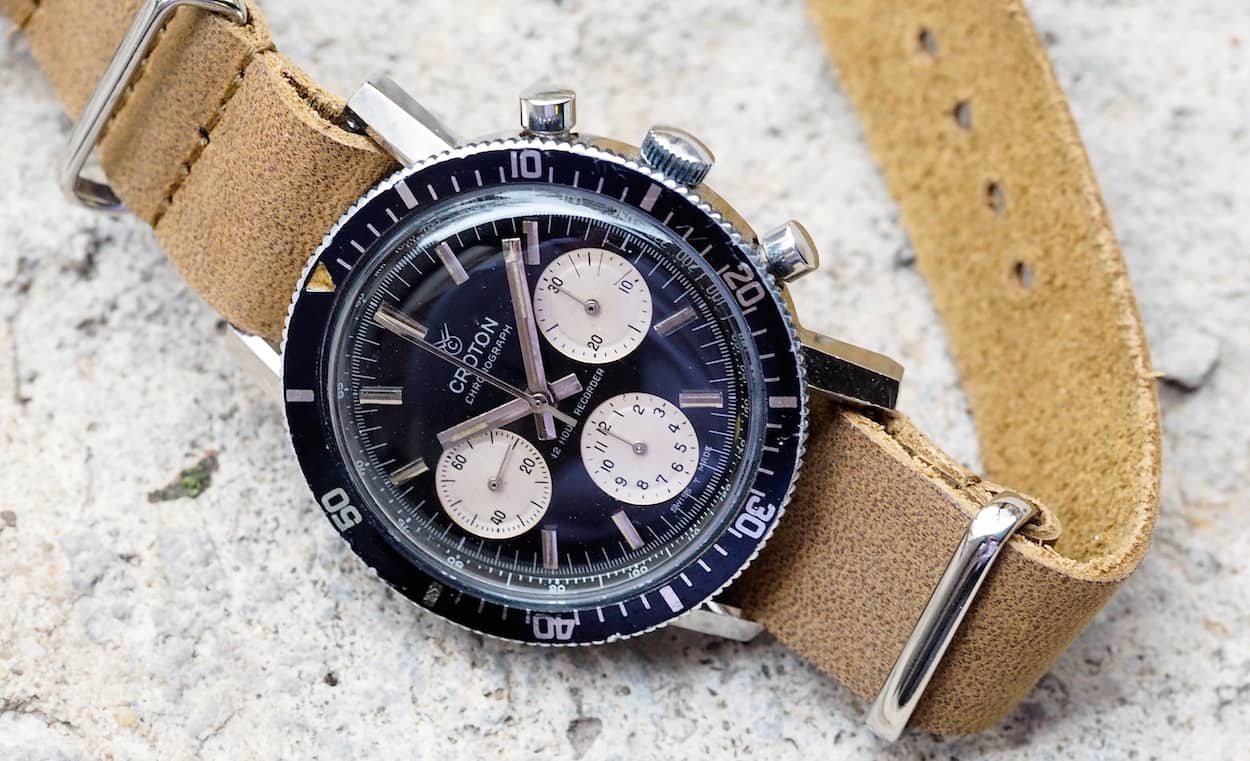 Croton is one of those oddball brands that, while having roots back to 1878, registered some level of popularity in the 1960's with various chronographs. Oh, and as an aside, Croton stands for "Croton-on-Hudson" which is a town in New York just outside of NYC. From what I've seen, the brand was essentially a seller in the USA and also acted as a USA distributor for Nivada-Grenchen. There's a wild array of the well-known Aviator Chronomaster Sea Diver badged as Croton, Croton Nivada-Grenchen and just Nivada-Grenchen, so I really have a hard time figuring out the actual relationships. The piece today, the Croton Skymaster, seems to have a unique design at least amongst Nivadas.
However, weirdly enough, it shares its case, and some dial/bezel traits, with some Bucherers and BWC's.
Like I always mention, the amount of horse-trading that occurred in the late 1960's was absolutely astounding and the factories in Switzerland were likely doing about anything to find homes for production volume.
My personal story on this watch was that a friend tipped me off that it was for sale here in Germany. At first, I was a bit ho hum on the Croton Skymaster because, honestly, what the heck was a Croton? Remember, though, this was about 9-10 months ago and the 1960's chronograph bug had really yet to hit me. However, I started looking into the pictures of the watch and decided I'd contact the seller. To my surprise, the seller didn't live too far away from me, so we decided to meet over "Kaffee und Kuechen" – very German experience – and look at watches. Needless to say, in the flesh, I was really sold on the Croton and I decided to buy it. The details were great and it became my introduction into small brands with great movements. By the way, the seller has since become a "watch friend" of mine and we meet, eat junk, I then leave with a far lighter wallet, and a heavier wrist!
For fun, take a look at this Croton brochure; it's a cool piece of memorabilia that came with the watch when I bought it. The front of the pamphlet is fantastic with its relentless hyperbole. These watches are computers in the most primal ways…eat your heart out Smart Watches!
The specific ad for the Croton Skymaster is interesting as you can see that this watch was made for everyone from racers, pilots, and skindivers (water resistance to 50M). If you had a need, clearly Croton felt like they had a watch for you…
The Croton Skymaster follows a rather tried and true formula that we've seen in a lot of chronographs here on #TBT. First, it contains my favorite weapon of choice, the column wheel equipped Valjoux 72 manual winding chronograph movement. There's nothing unique about it in this case as it goes unadjusted, but is at least signed on the bridge. Moving on, the case is of stainless steel construction and is about 36mm in diameter with a lug width of 18mm.
Before moving onto some general points about the Croton Skymaster and the vintage chronograph market in general, let's roll through some of the key details because I think they'll end up being supportive to my points. First, the Croton contains a rotating bezel that really ends up looking like a dive bezel. It's attractive, well made as an aluminum inlay and from the side; it fits flush with the case. This aspect is key because the bezel doesn't have a whole lot of overhang and actually keeps the watch looking rather slim.
The case itself features a screw-down caseback with a nice amount of inscribed information.
Lugs are very slim and almost spindly. These also contribute to a smaller look and definitely draw the eyes towards the striking dial.
The glossy dial is really sharp and competitive with most other chronographs that I own. In fact, the quality is excellent with some really executed details. It's a typical reverse panda triple-register layout and has lovely additions like applied hour indices and what looks like a tension ring-turned-tachymeter. The sub dials slope downward and "bubble" back up towards the centers. The printed font is clear, simple and serious looking and kept to the bare minimum aside from the forgettable "12 Hour Recordable" comment above the lower sub register. (This inscription, to me, is about as useful as Incabloc, 17 jewels or any other variety of garbage that made its way to a lot of dials – Croton should have added "Skymaster".)
The hands are simple, but bright metal rectangles with very thin strips of lume. Perhaps a slightly less delicate detail is the central chrono hand; it's thick and lacks the elegance found on similarly designed models like the Heuer 2446 Autavia "Rindt" with its white needle. The crystal is made of short, domed acrylic and fits nicely.
The pushers are simple, capped units that barely protrude while the unsigned crown is actually too small for my liking. The crown on my example, though, is possibly and hopefully a replacement.
It's time for a little editorial because this Croton Skymaster actually highlights a discontinuity in "the force" as it pertains to the vintage market. I sometimes ponder what the market reception would be towards this piece if it had "Heuer" on the dial instead of "Croton". Now, before you go saying, "well, you could play that game with almost any watch", I'd argue that it simply isn't the case. First, off, there are some old Heuers out there that aren't so desirable or valuable, so the Heuer name isn't the only reason for the "magic". Plus, I don't think that the lack of a current Croton brand (ok, there's a Croton today that sells watches more on the fashion front) is the answer: see "Universal Geneve" for that proof. On the negative side, yes, this watch is smaller than a stylistically similar Autavia and the lug design is certainly simpler, but the real differences in those details ultimately come down to a matter of taste. For sure, Heuer had a far more notable presence in racing and is a more credible brand, but it certainly doesn't explain why this watch is worth 20-25% of an Autavia. Oh, and if you're struggling to make the comparison to the well-known Heuer, which is fair, a comparison to the pictured Gallet Multichron Pilot certainly seems fair. In the end, I'm not complaining because I think it's a great opportunity for collectors to own a watch that contains all the right bits, but it does show you that brand preferences, just like in today's new watch world, are alive and well in the vintage realm. Interesting…
On the wrist, the Croton Skymaster is a pretty sweet watch. It's very comfortable due to its slightly smaller size, but the lugs are long enough to help add some size to the smaller case and the watch is thick enough to have a degree of heft. As you see in the brochure shot, these watches were originally outfitted with Tropic straps (my friend actually sold me the watch with a version of one of these), but I've made some changes. I've actually kept the Croton it on a variety of NATO's. While I like these, I will ultimately throw it on some sort of a leather rally strap. I do wish, though, that the watch had 19mm lugs because I think it would help "upsize" the look of the watch…18mm just seem so slender to me at times.
The market for the Croton Skymaster is a bit tough to determine because so few come up for sale. I paid roughly 1200 Euros for this watch about 8 months ago and I think that prices are likely around the 2000 mark now. A panda version from Bucherer was for sale on eBay at $2600 but didn't show as sold…although I think it was sold offline later but likely at a lower price. So, use these figures as relative guides. At the end of the day, these figures aren't bad for a reverse panda (or panda) with a Valjoux 72. As always, ask your favorite forum to verify hands and things like the bezel. I did recently see a piece for sale sans bezel and it was quite tough to tell that a bezel should have been there. Trust me, you don't want to try and hunt down an oddball piece like this, so it's best to stay away from incomplete watches.
Thanks for reading our newest #TBT article on yet another watch that registered a small "blip" on the vintage watch radar. The Croton Skymaster proves, yet again, that cool pieces are out there for collectors. If they're not out there, hopefully, you're getting more and more familiar with typically used cases such as this one and can recognize other branded models that utilized similar components. All represent great value and should provide real satisfaction on the wrist. As I always say, until next week…