#TBT Fortis Marinemaster Ref. 8001 — Discovering The Truth
The only gray market you want to be in
On the "imaginative expectations vs. reality" chart, the Fortis Marinemaster ref. 8001 was instantly catapulted to one of the supreme positions. It's a killer summer vintage chronograph. I invite you to take a look at the best shots ever taken of a GRAY Marinemaster.
You see, there are two different Fortis Marinemaster ref. 8001 models. The first is the one with red-accented hands and striking yellow/red sub-registers — Mike already introduced it on #TBT a long seven years ago. And then, there is another one with blue-accented hands and black/blue sub-registers. I have to say that the yellow/red 8001 was unequivocally my preferred option. Well, it's not anymore.
The intriguing Marinemaster
I guess it was my utter blindness caused by those lively yellow sub-registers that made me not look into the other model too much. I don't know what you think, but I thought the other Fortis Marinemaster had a black dial too. Honestly, I thought they were both black and differed only in the color of sub-registers and hands. Poor images on Google combined with my poor pre-sale research didn't help much. If you browse quickly, I won't be surprised if you end up with the same impression I got.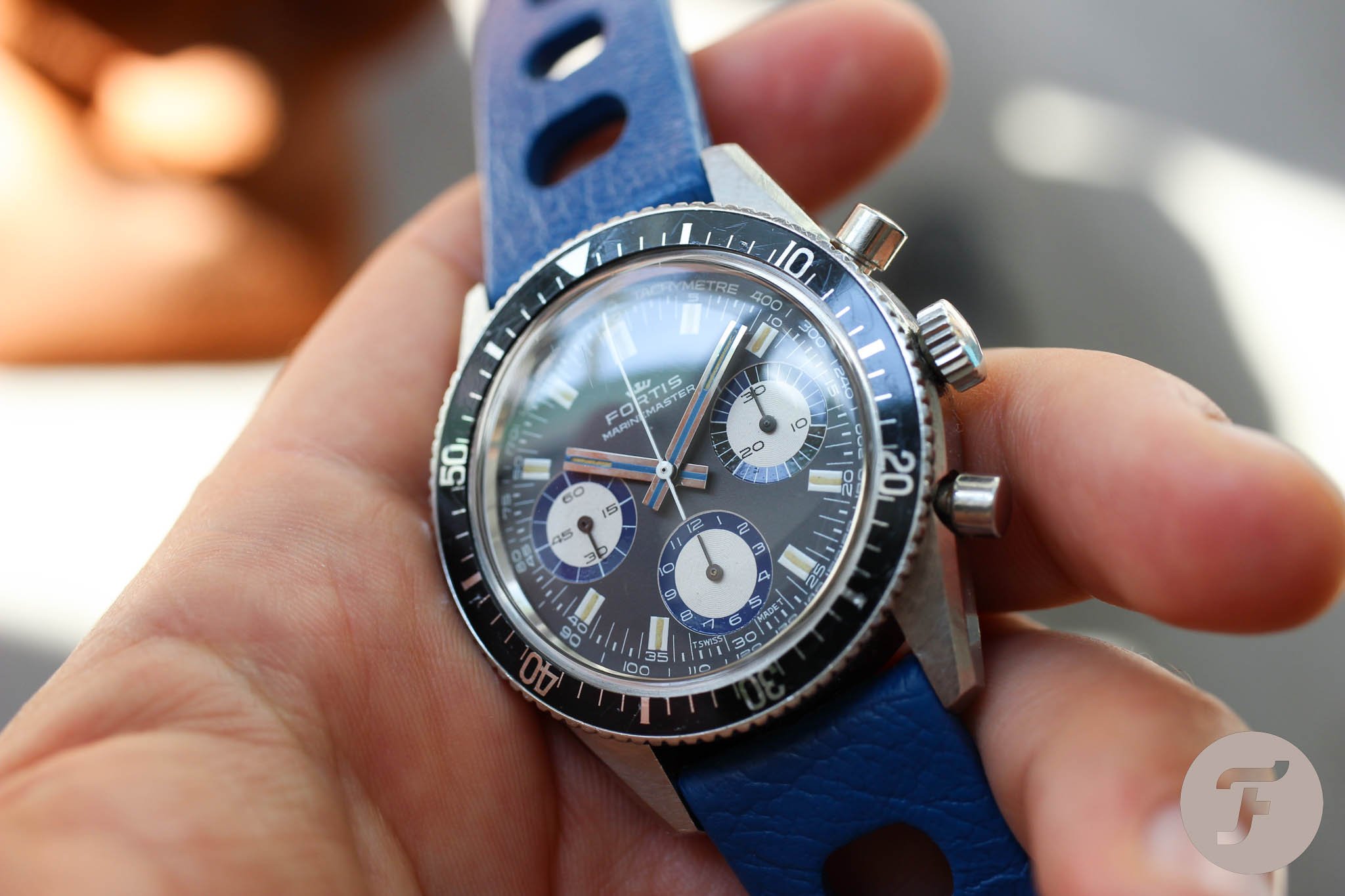 The Fortis Marinemaster is not rare, but it doesn't pop up as often as its more famous comrades from the late '60s or early '70s. What I knew for sure is that there is a solid and consistent demand for them, and when any example pops up, it disappears faster than you can formulate an opinion on it. And that is regardless of the price tag, which can easily climb above €4,000-5,000 when buying from a dealer.
Case-condition alert
If there's something that I'm getting more and more sensitive about, it's the condition of the case. Honestly, a polished case is a big downer for me, and unless we're talking about a super-rare watch, I would rather stay away from polished examples. In the case of Marinemaster, that urge is even stronger. I saw a few polished examples, and they were a pain to look at.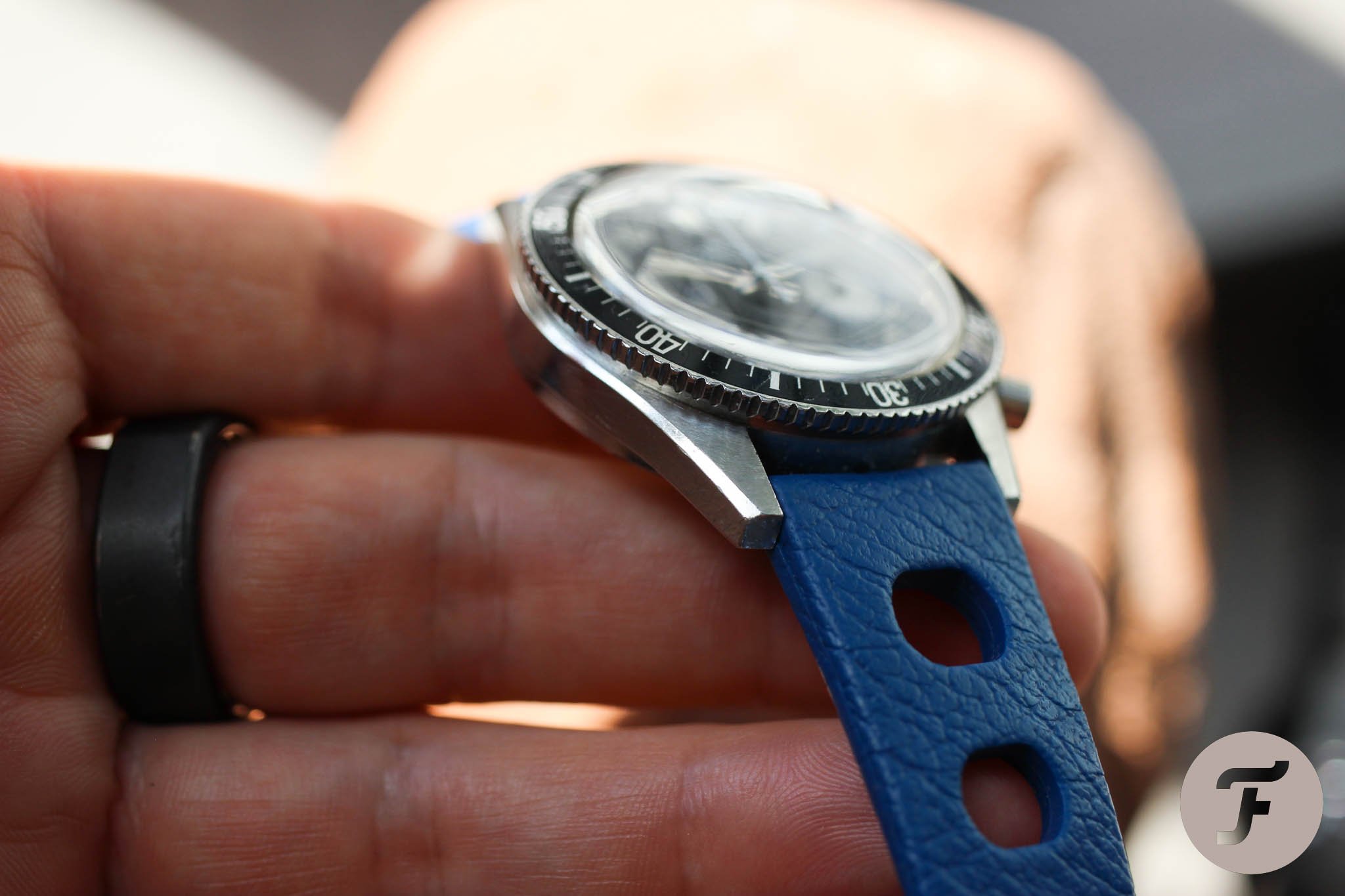 The Marinemaster has a pretty muscular case with long, flat lugs. There is an almost perfectly linear beveled edge all along both case sides, and you want it sharper than your kitchen knife. Seriously, if there is any watch for which you must keep your bar high, it's the Marinemaster. The reflections and contrast of the top circular brushing and the polished sides are so spectacular that they create half of the watch's identity. Looking at a polished Marinemaster would be as painful as watching an obese Jason Statham getting into a swimsuit — #NOTGOOD.
Landing the Marinemaster 8001
It was late December. I was still overwhelmed by the merry mood and felt obligated to treat myself, so I didn't think twice when I spotted a perfectly sharp Marinemaster. The pictures were quite dark but otherwise of such high quality that they had a pretty disarming effect. I could literally grab some popcorn, zoom it on the biggest wall in my apartment, and start counting scratches on the case one by one. It felt brutally original and honest, but far from "gone". Without much competition during the auction and a hammer price of half the going rate, I recall that Christmas as quite merry indeed.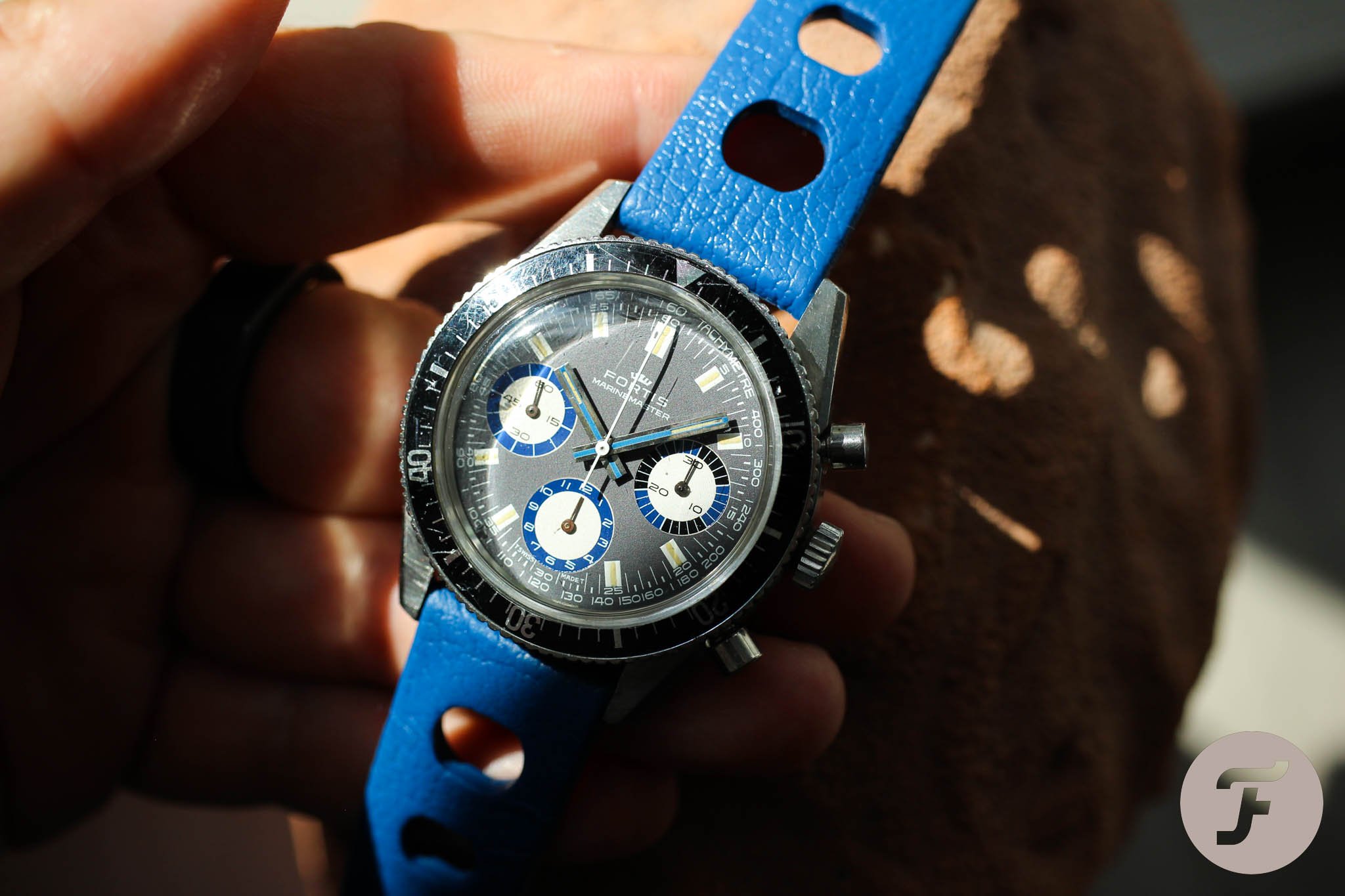 Hey man, it's gray!
Now comes the most exciting but slightly embarrassing part. When the Marinemaster got delivered to me and I unboxed it, my eyes almost jumped out of my skull. Instead of a black dial, they sent me a gray-dialed Marinemaster. I was confused about what I was looking at but just knew it was amazing and way better than what I'd paid for. I went online and, indeed, I confirmed that the blue Fortis Marinemaster 8001 comes with a gray dial, not a black one.
It's phenomenal
Not so long ago, I was elaborating on the OG Nivada Datomaster. I talked about the almost magical spell the watch casts due to the ocean of gray on the dial. I'm not sure if I'm wrong or other people are just afraid to talk about it, but seriously, gray is the new green. I want more watches with gray dials (or maybe I don't…). Well, I do want you to make sure you see the gray-dialed ref. 8001 in the metal. This watch in real life is way better than any Marinemaster in pictures. Speaking of pictures, though, I firmly believe that today, we're featuring the best pictures ever taken of a gray 8001. You're welcome.
Understanding gray
All that I said about the Datomaster "gray effect" you can find here as well. The white detailing on a perfectly even gray layer is superbly fresh. Broad hands, broad markers, a simple minute bezel, and an additional 12-hour sub-register make the Marinemaster a functional sports watch. The Harlequin design of the sub-registers is full of energy and life, and it wants to make you quit your job, go outside, and do something active.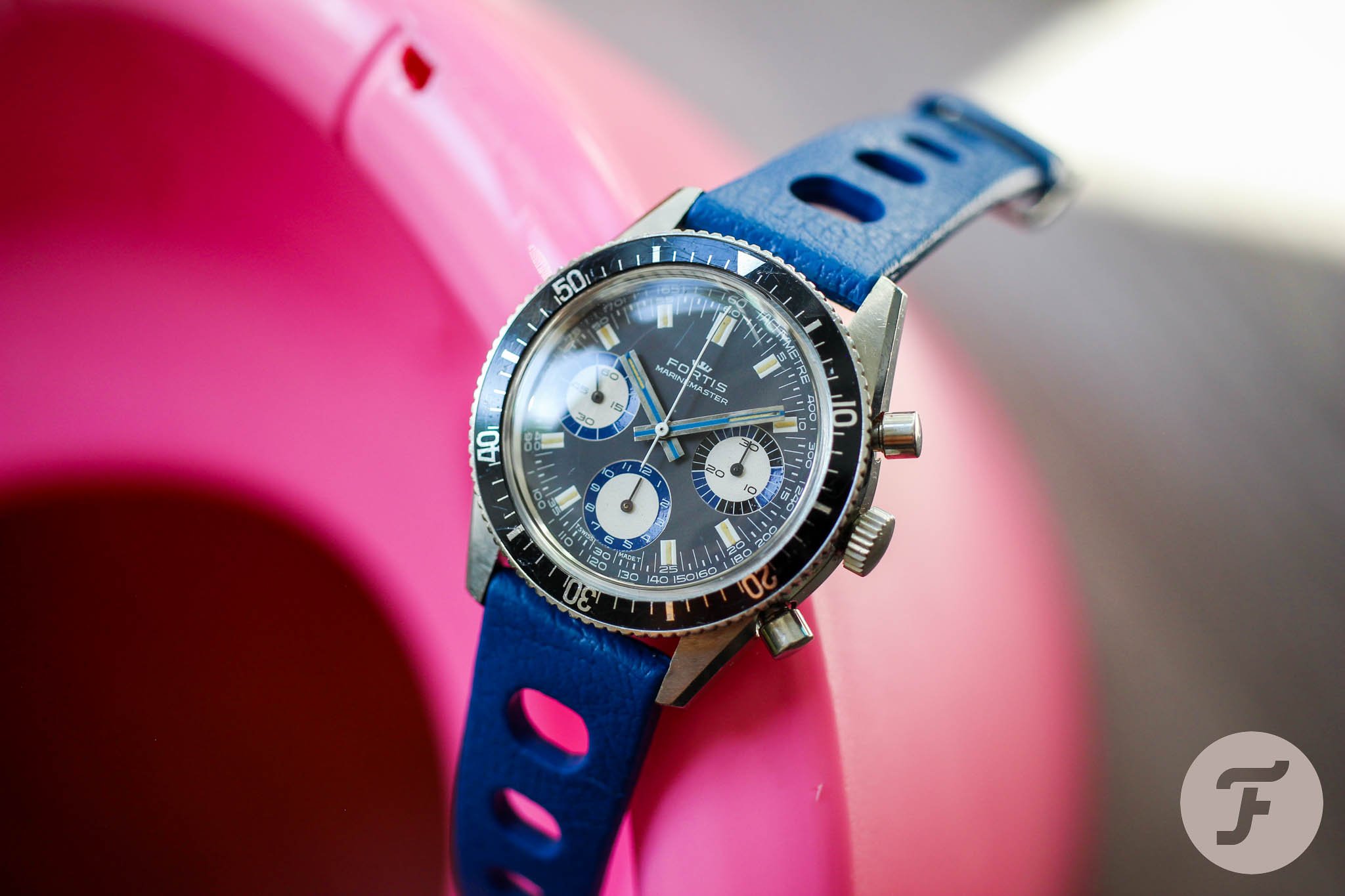 The 39mm diameter is so confident, I'm guessing all Daytonas cleared the floor when the Marinemaster entered showers in the '70s. Oh, and 200 meters of water resistance for a sports chronograph was a great bonus. For the first time, I thought, "Don't I want to talk to my watchmaker and make it ready to live up to its specs?"
Shotgun notes
It houses a boringly perfect Valjoux 72. Once freshly serviced, you don't need anything new to play with. My Marinemaster came on a vintage Tropic strap, and I find it one of the all-time best matches I've ever had on any watch. I bet you wouldn't be able to formulate such a color tone today. It has that '70s style, texture, and shape, and it makes the ultimate color combination with the gray dial. No leather and no bracelet for this one. My Summer 2022 mantra will be "Tropic."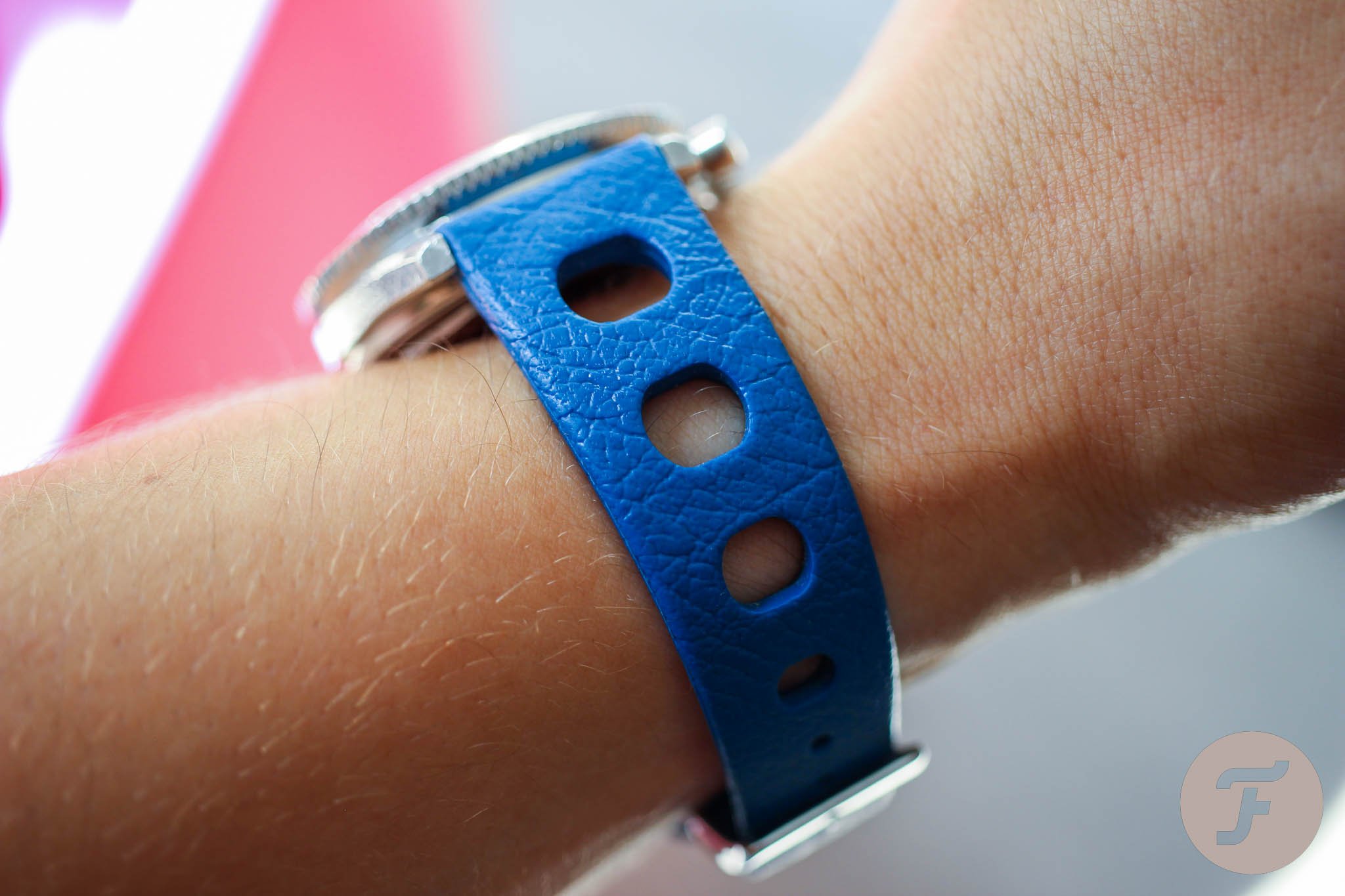 Final thoughts on the Fortis Marinemaster
Well, I didn't know that the Fortis Marinemaster was gray before I unboxed it, so I won't feel silly in saying the following. Many vintage watches just sit on my wrist, letting themselves be worn around and being whatever they were meant to be. They don't care who am I, and their existence is completely independent of me as a human. The Fortis Marinemaster is different. It feels like its only objective is to be in contact with my wrist in order to make me believe I can do plenty of new, active stuff. And with that, I invite you to do something new too. Happy hunting.