#TBT The Gallet MultiChron Yachting Is Pure Vintage Class
It has everything you've ever wanted
Beware: the Gallet MultiChron Yachting is hard to get in a decent condition, and it is equally as hard not to fall in love with. Shortly after arrival, I realized that it's actually one of the most beautiful vintage dual-register chronographs that have ever passed through my hands.
With hundreds of vintage watches having crossed my path over the years, I have definitely developed a personal style. I know exactly what I like and I know exactly what's a no-go for me. Well, I don't want to sound posh, but I've gotten to the stage where it is really challenging to be struck by a vintage watch in the sub-€10K range. Yes, I like vintage watches, and I add a new one here and there. But from a bigger perspective, I like them all more or less equally.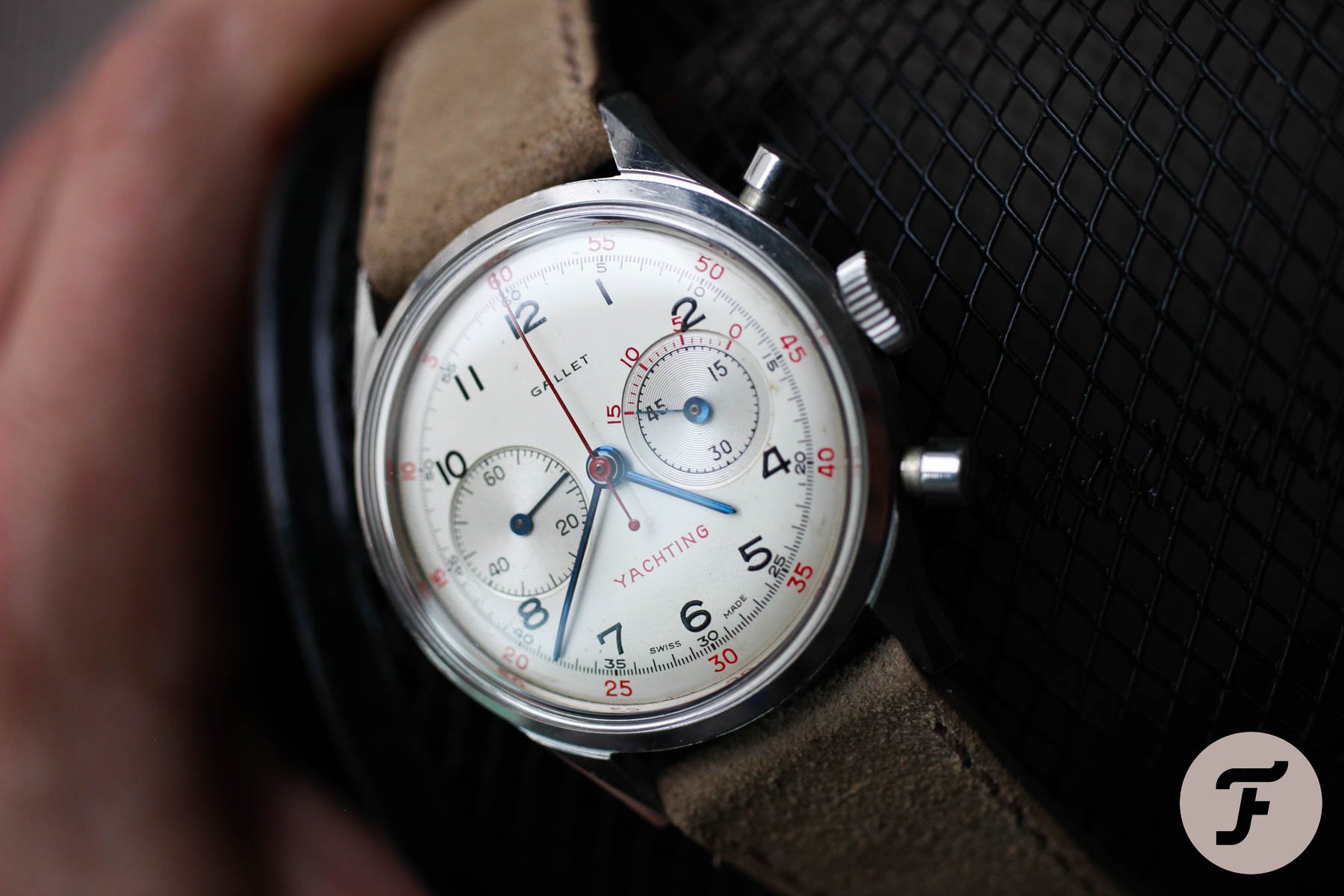 Game-changing Gallet
Then came the Gallet MultiChron Yachting and the realization above hit me. I like my vintage watches, and they are all special for different reasons. It's really hard for me, however, to get attached to any particular piece. But the Gallet MultiChron Yachting is different, and it hit me almost instantly. My Gallet Snowhite is smooth as silk, my oval Gallet Commander has an amusing story, and I like to play with my Gallet Excel-O-Graph or hack seconds with the unusual left crown on my Gallet Navigator. But I can't imagine wearing any of these watches for the rest of my life. But I can imagine an eternity with the Gallet MultiChron Yachting on my wrist. Surprising, isn't it? Well, it was a surprise for me too, especially since there is no bezel, no date, no 12-hour counter, and no other take-your-pick.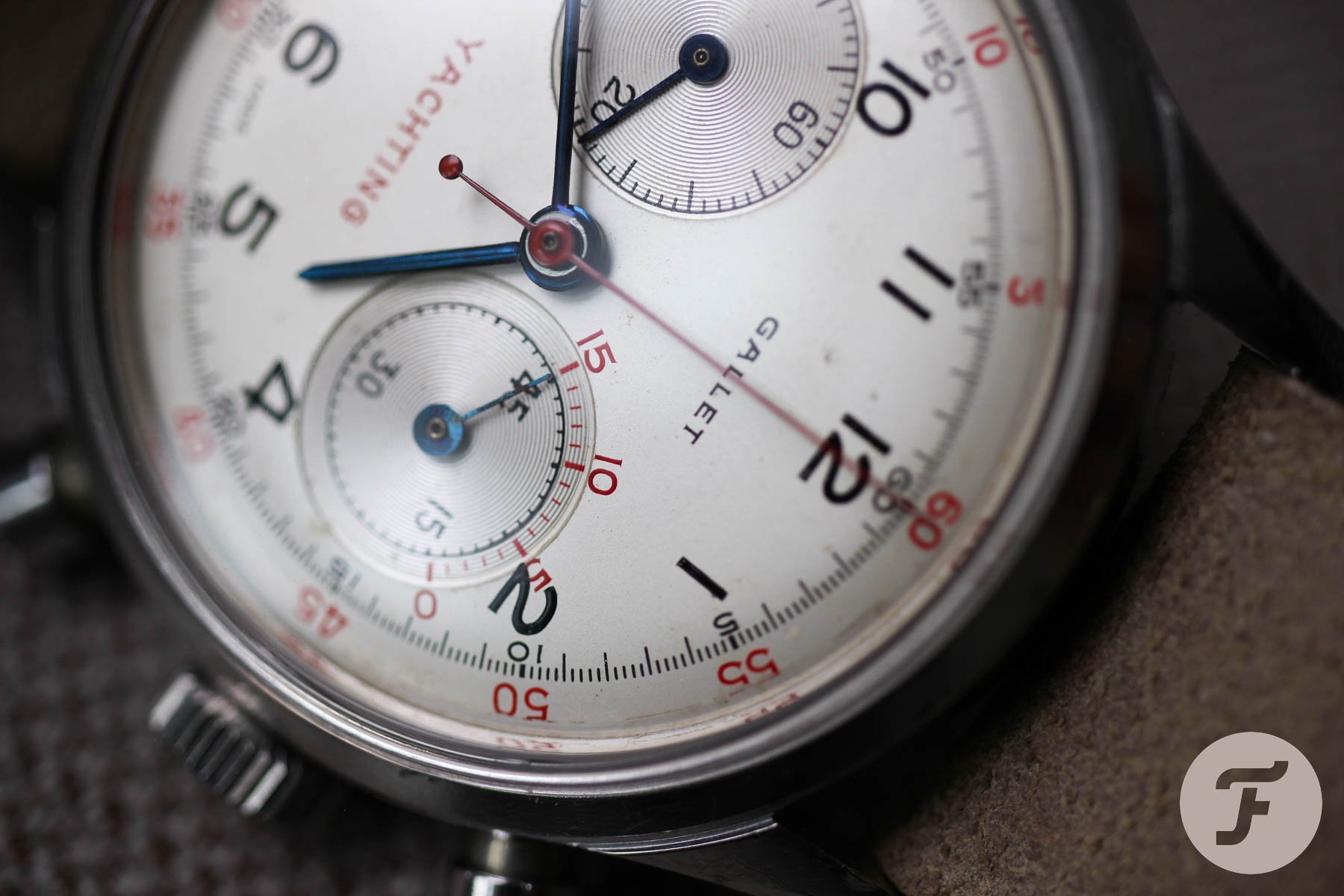 My (past) problem with dual-register chronographs
If I may simplify, I have always found two-register chronographs somehow poor. It's like the opportunity to be something better, more complex, and useful was stolen from them. I considered a dual-register chronograph a mid-stop vintage watch, a stage in watchmaking history, one of many pieces in a collection. That's it. No more and no less. Sadly, I never found it a definite watch, the last stop in watch collecting, or an end-game piece. Many other watches out there struck me as better and more practical tools for daily life.
Gallet changed how I see two-register chronographs
When the Gallet MultiChron Yachting came, however, I got that rare feeling of, "I can stop collecting watches now — I have found it." Interestingly enough, I knew the Gallet MultiChron Yachting from pictures very well, but it was never a priority for acquisition. I just had no clue how perfectly balanced it was in comparison to other watches.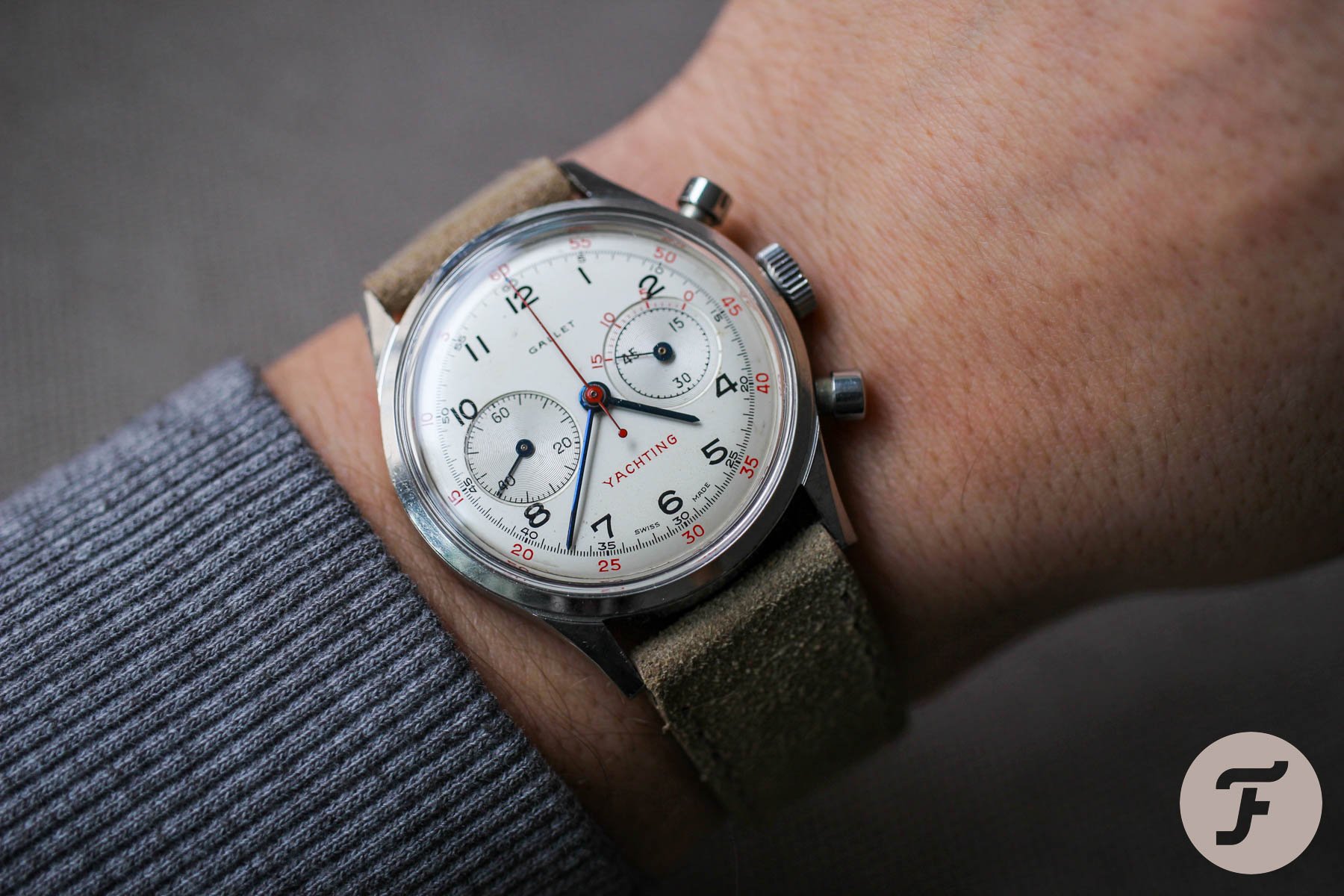 The case
First of all, it has one of the best cases (if not the best) in my collection. In any watch review you read, you always find some deep thoughts on how moderate a 43mm case is, how big a 36mm feels, or how much you longed for that 39mm blah, blah, blah… Well, try to strap on the Gallet MultiChron Yachting, and you will realize you don't even need to talk about size. I promise I am sober while writing this, but this watch doesn't have a diameter. It just is, and no metric system can express how it feels.
What I usually call lugs would be a very offensive name for the carefully angled and precisely cut lines that bleed out of the case.
The Gallet MultiChron Yachting sits on the wrist with such ease and self-confidence, it's like it decided to wear me, not vice-versa. Usually, we speak about the case and the lugs because they are two different elements that each have their own purpose. As such, they just need to hold together, right? Not here, dear Fratelli, not here. What I usually call lugs would be a very offensive name for the carefully angled and precisely cut lines that bleed out of the case. All together, they create one homogenous poem that's supposed to have this specific look. Any other change in mass, ratio, length, or angling would destroy the balance.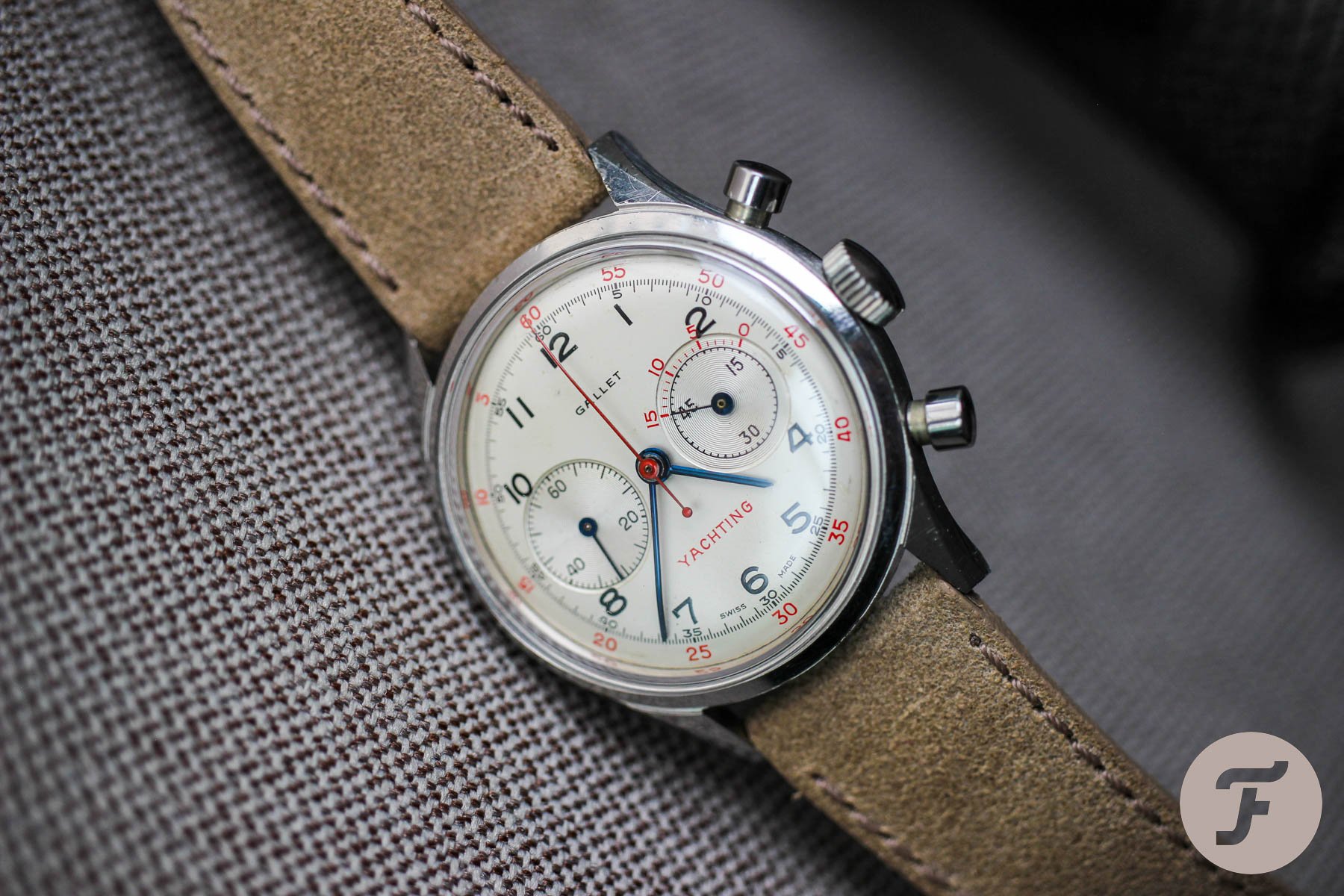 Pushers
The pushers are quite beefy and look "a bit too much" to operate the delicate mechanism that is the Excelsior Park movement. But don't be misled; once you start playing with the chronograph, you will fully appreciate the pushers' richness in all their aspects. They are both functional and aesthetically pleasing. What looks like a visual exaggeration becomes the new natural.
The lesson in dial mastery
I just checked the image library to reassure myself that you can see what I see. I don't know who designed this watch, but he or she must have had an extraterrestrial experience. The design is so divinely light and simple, yet it's rich in details. Three scales around the outer dial edge are fitted tightly, but they are perfectly layered and distinguished in color and size.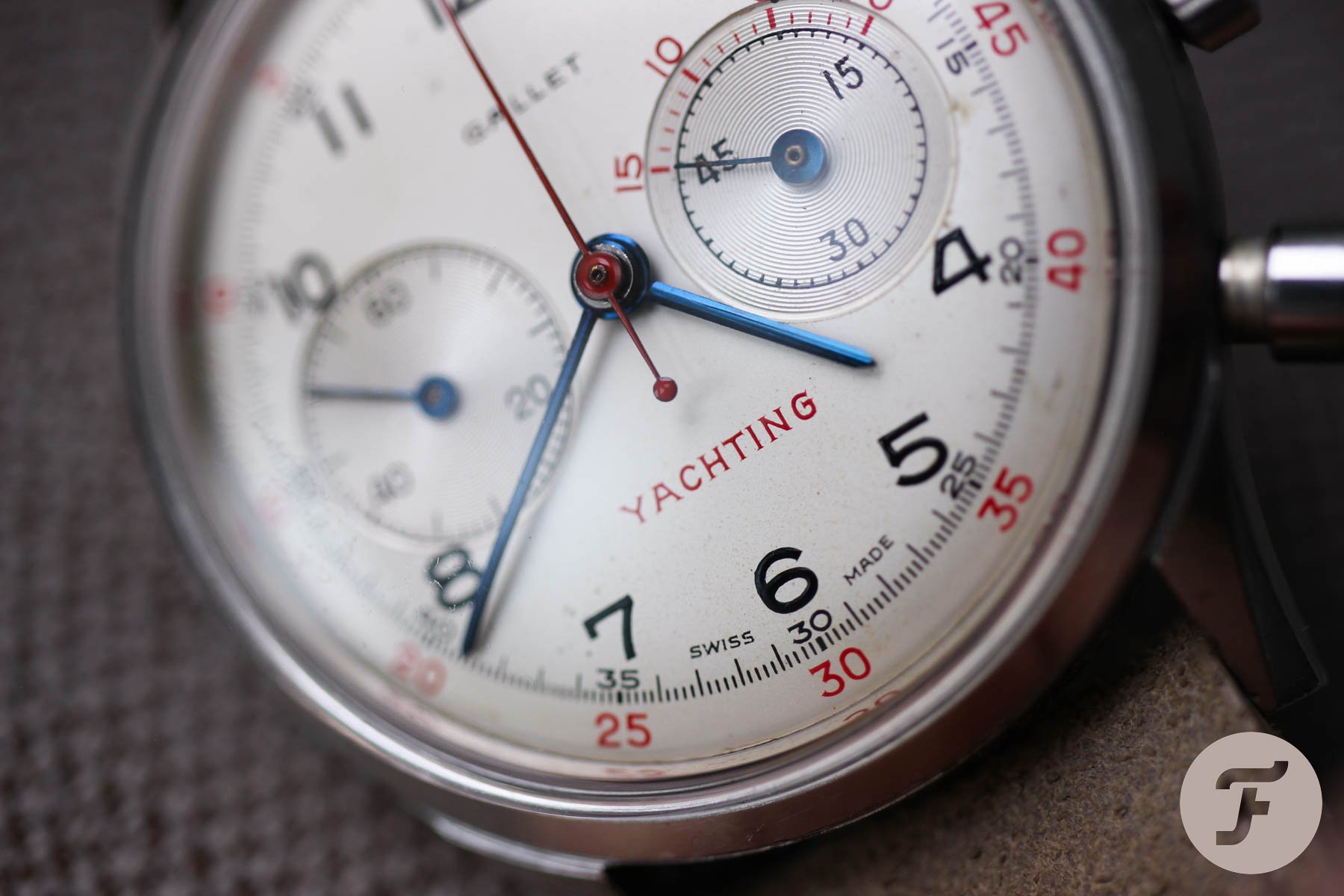 Full wind
The discrete but vivid Yachting text explains what's going on in the right sub-counter. Thanks to the sub-register stepping and light reflection, it gives away that it's the same size as the small seconds sub-register. But it's the creative printing inside that makes it pretty extraordinary and original. The standard 45-minute track is visibly smaller and makes the small-seconds sub-dial look like a big eye. Gallet designed a big contrasting red arc scale divided into five-minute intervals between the sub-dial's edge and its black minute track. The witty offset zero (45) position of the minute counter needs no further explanation. A satisfying grin and a standing ovation are about enough.
Shotgun notes
There are multiple versions of the Gallet MultiChron Yachting. They include earlier, slightly smaller models and variants with branding located above 6 o'clock. Let's not forget that you might also find the Yachting with legendary Arabic numerals with a "coat hanger" seven. The earliest models were released around 1945. My example, based on the serial number, would be dated to the late 1960s. It would be nice to know just how many were produced…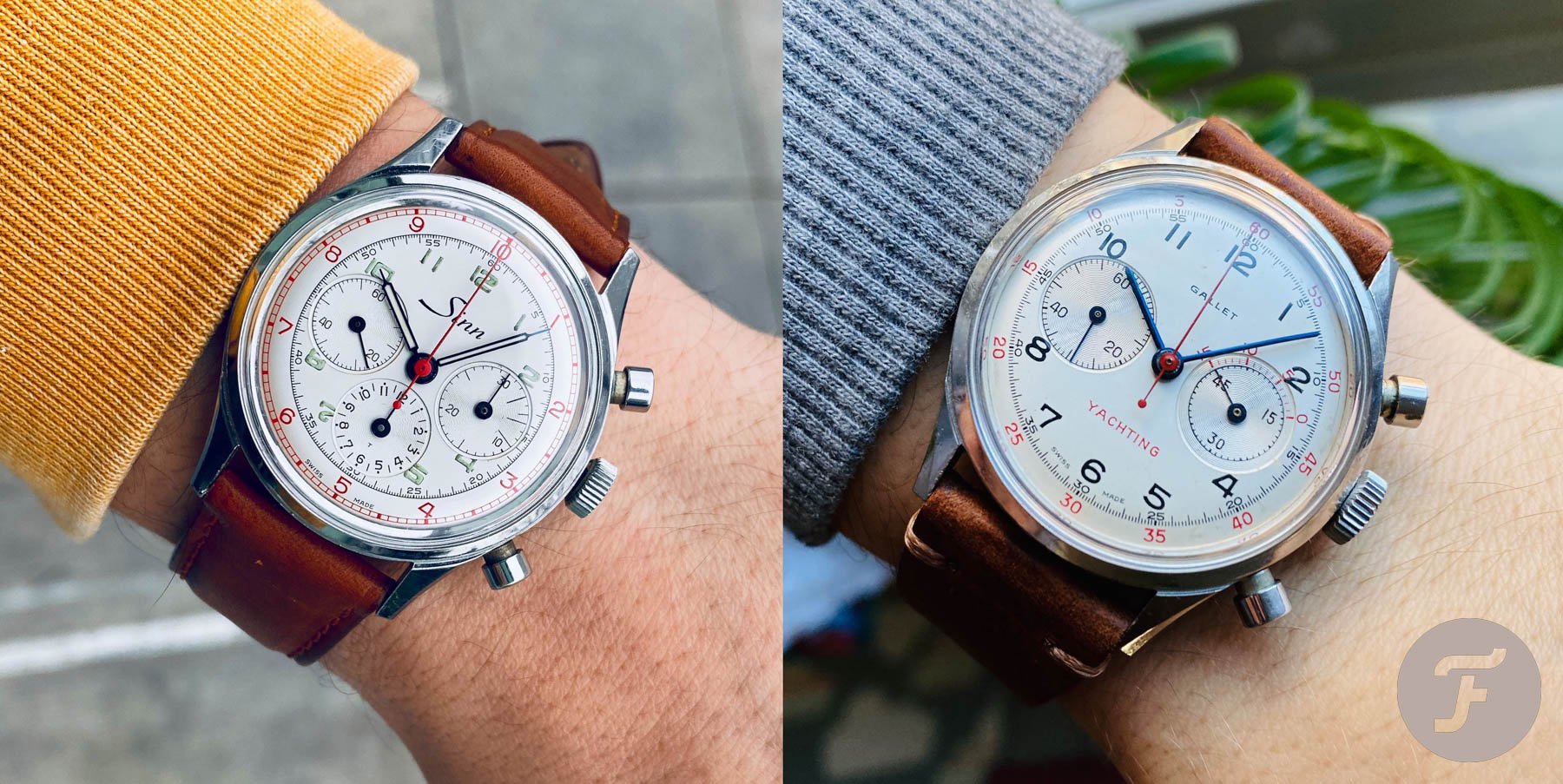 Last thoughts
Quite unexpectedly, this Gallet MultiChron Yachting became not only one of my most beloved Gallet watches but also one of my favorite watches in my entire collection. It's perfect as it is, and I don't have a single detail to challenge, object or change. Not a single one. This Gallet MultiChron Yachting has a superb movement, a lively dial with colorful highlights, and a chronograph design with a witty twist. And examples like this are popping up less and less often.
Here's one piece of advice to consider. We all prefer watches in good condition, but sometimes, a compromise has to be made. There are chronographs on which a few stains, blemishes, or scratches don't hurt that much. My warning is this — that is not the case here. If you want a Gallet MultiChron Yachting, you want it nice and clean, as each flaw on it will be highly visible. If you get one within the €5,000 range, consider it a deal. Happy hunting!