#TBT: A Gallet Chronograph Love Story
One of the purest looking Gallet chronographs
It has been four years since we showed you a Gallet here for the first time on #TBT. Today, we bring you something similar yet different at the same time — one of the purest Gallet chronograph dial versions.
We showed you several Gallet watches over the years. Mike's collection of Gallets features not only black dial versions that you can read about here and here, but also the Gallet Decimal and Torch Dial Multichron 12 with sub-registers nearly touching each other. Today, we have a Gallet chronograph that didn't make it on Fratello before. A version with a super clean dial.
Gallet Chronograph EP 40-68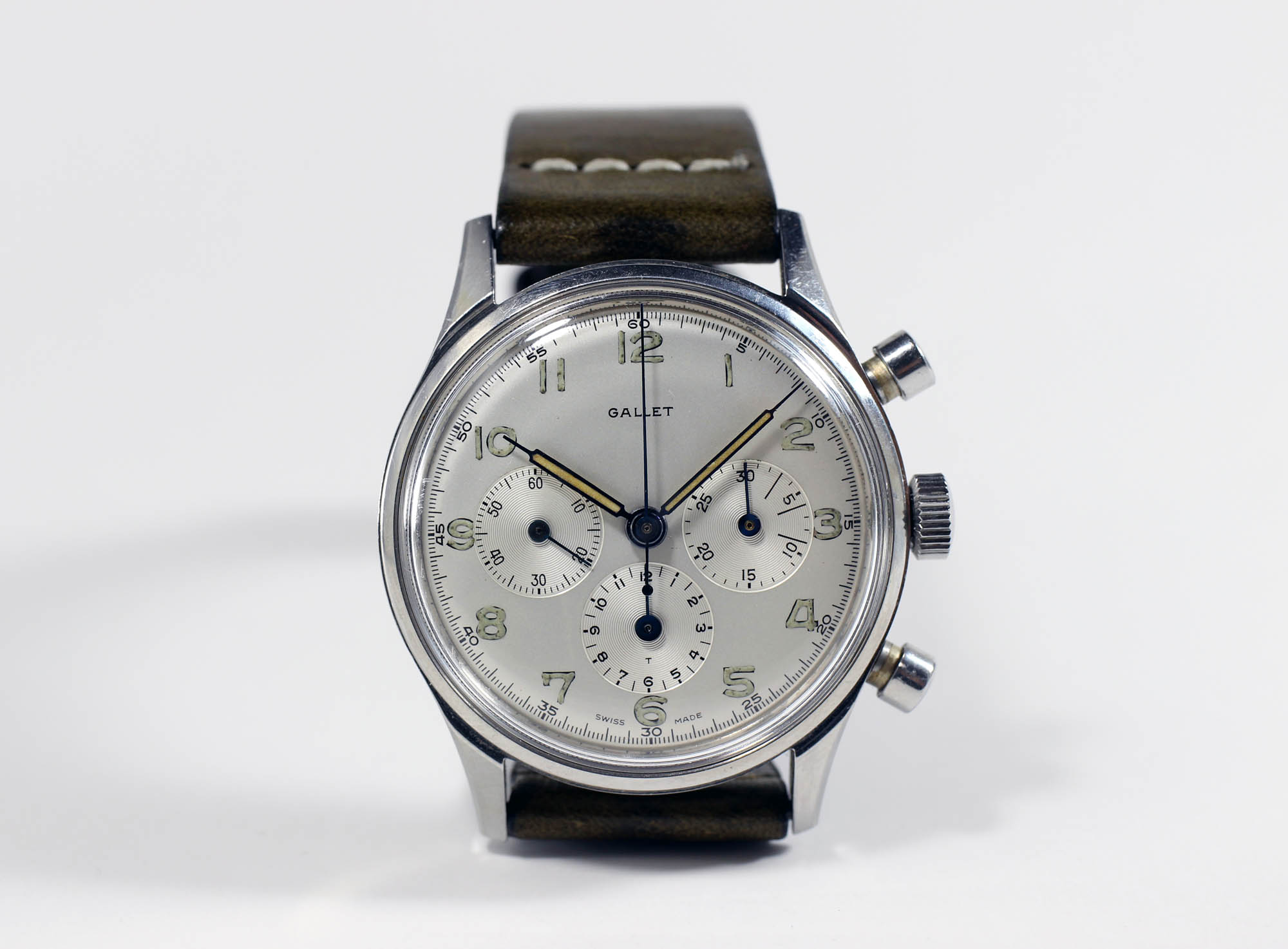 Thoughts on the Gallet dial
Or shall we say a lot of pearl space instead of white space? One quick look could lead one to say it is a universal dial design. I don't need to explain that the more watches you handle, the more trained you will become in studying dials. I studied this watch for quite a while when I got it a year ago, and it's only now that I see its genuine beauty.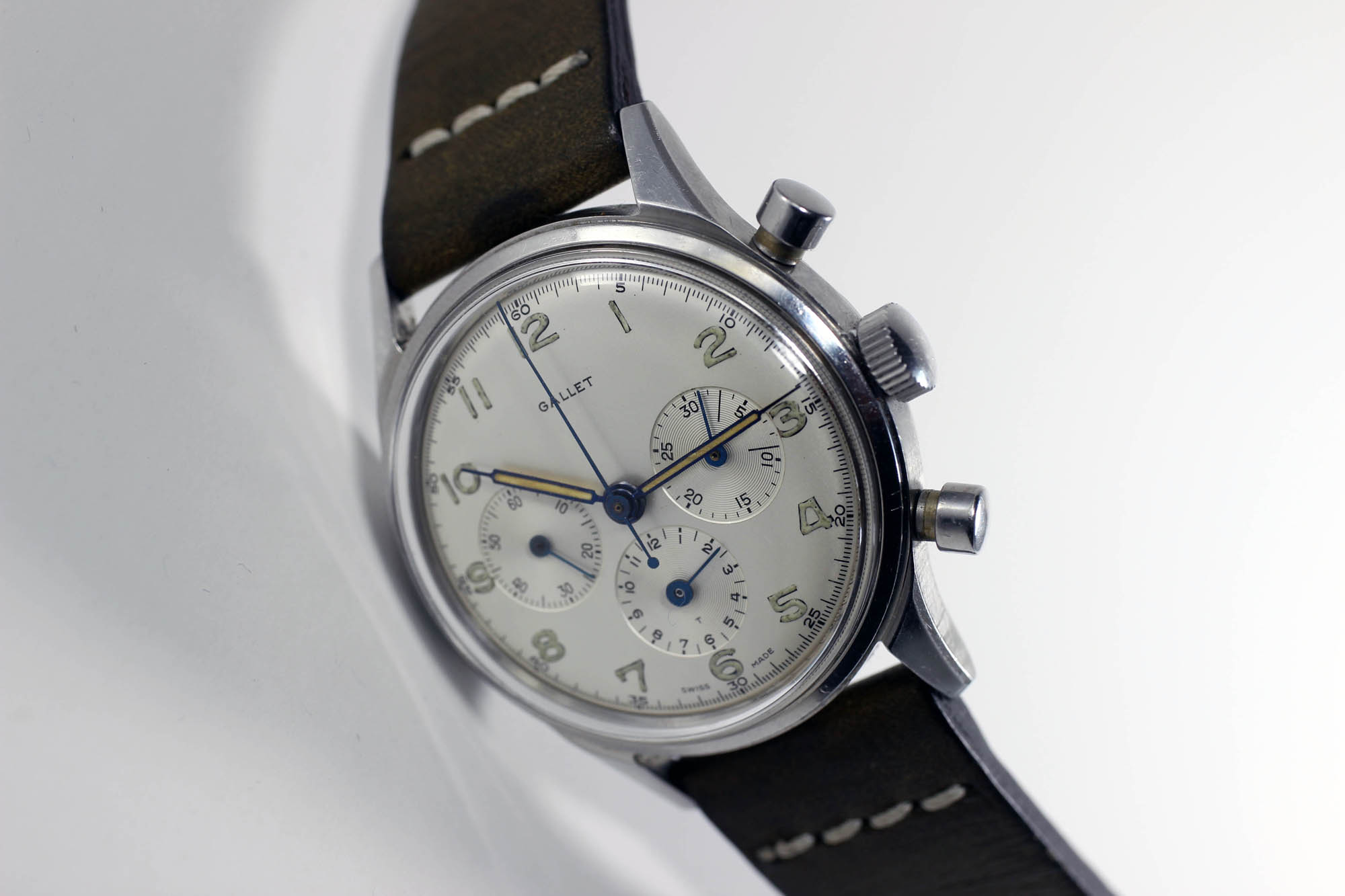 Rotating chronographs
I don't wear this Gallet often although I like the movement more than any other chronograph in my collection. Well, I may rotate 20-25 different watches a month I guess, so I am not attached to one particular dial. I select a watch in the morning based on my current mood. No other watch gives me such a dose of self-confidence when I take a glance at the dial of this Gallet. Shiny, perfectly symmetrical with enough space to accommodate the entire Kelly family on it.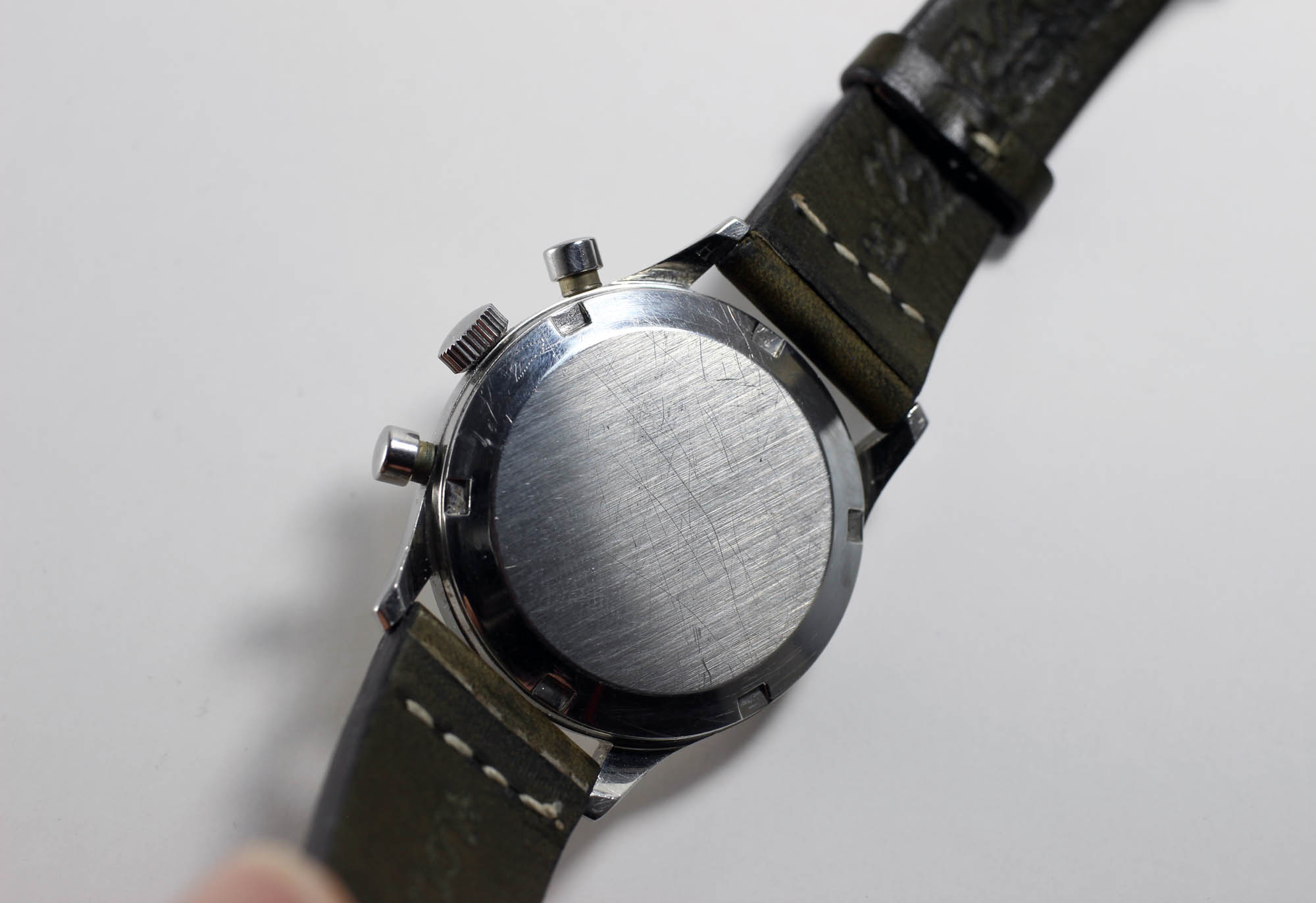 Name the spell
That flawless dial makes for a variety of pearl effects. It is enjoyable to observe indoors with special colorful lighting. Combine the dial with striking blue hands and its aged lume, and you get a watch that hypnotizes. Pay special attention to the Arabic numerals and watch the uneven lume mass cracking here and there. The applied lume gives the dial great texture and timelessness that only decades of wear and tear can bring.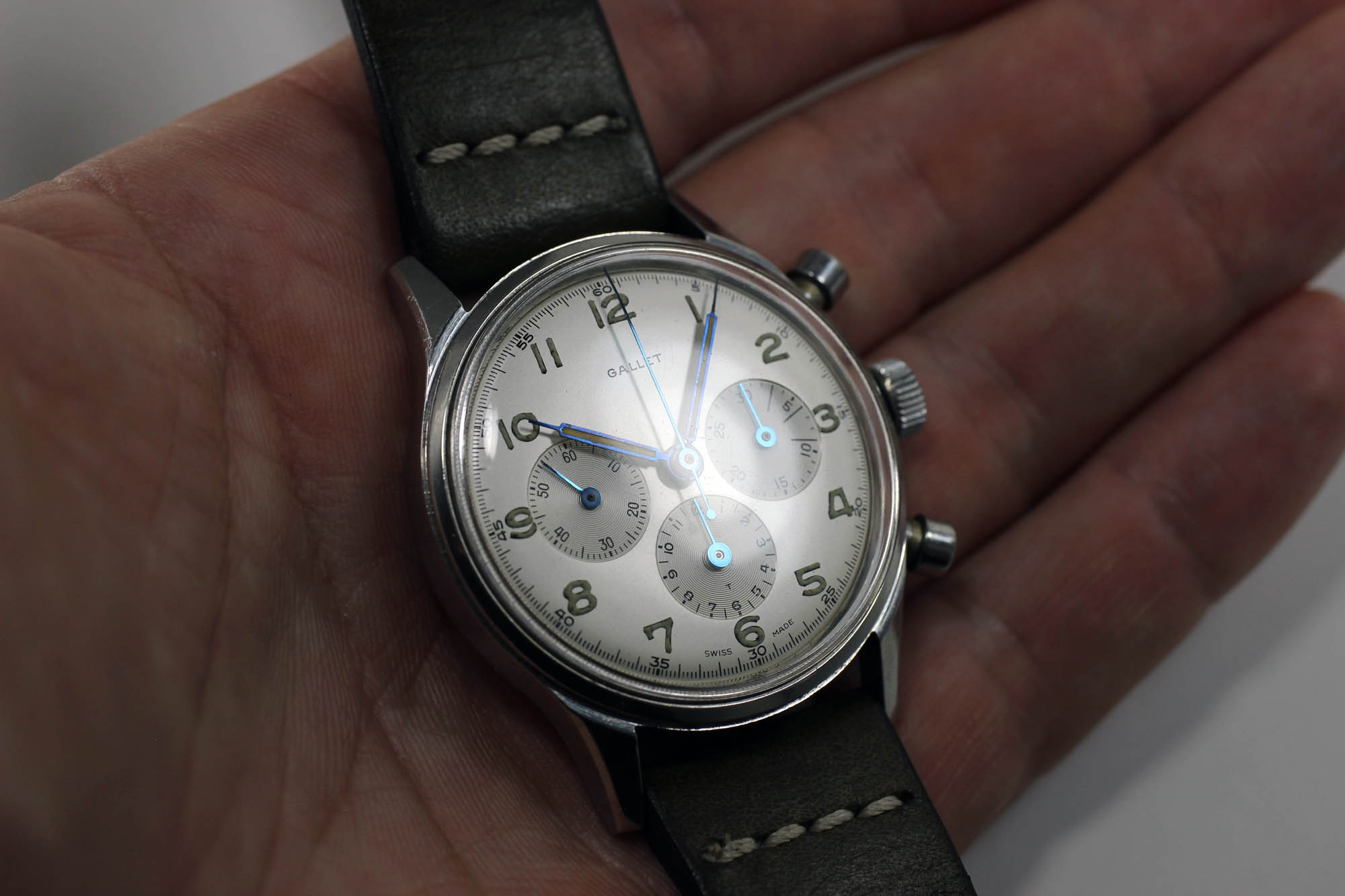 I am a Gallet. I know I am cool.
Not enough? See that confident and stylish, yet decent GALLET name that sits perfectly in the pearl mass. It looks like a tiny island in an ocean on a shot taken from the sky. The current MAKE THE LOGO BIGGER marketing approach looks ridiculous when you see this. All of you are welcome to tell me what which brand or watch was on top of your mind brand that deserves an educational slap for ruining their dials by Shrek sized brand names.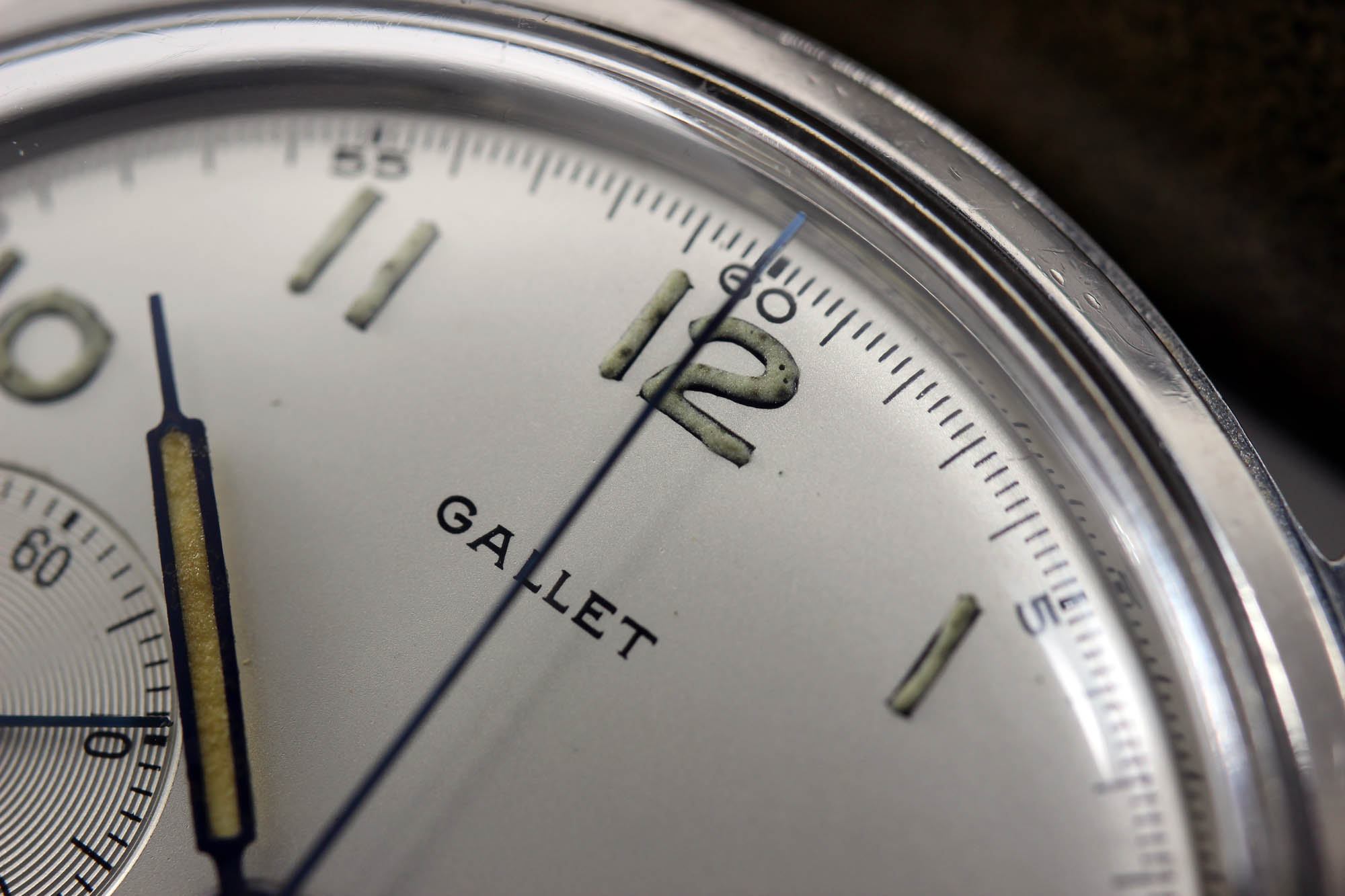 Bodybuilder
If this Gallet were human, other watches would die of envy seeing it on the street. The case, pushers, legs (sorry, I meant lugs) – they all look like Michelangelo's perfect shape being improved daily in the gym. The Gallet you see today doesn't need much selling. It doesn't even need any fancy props to look good on pictures. To prove it, we decided on a clean white background shooting. Enjoy.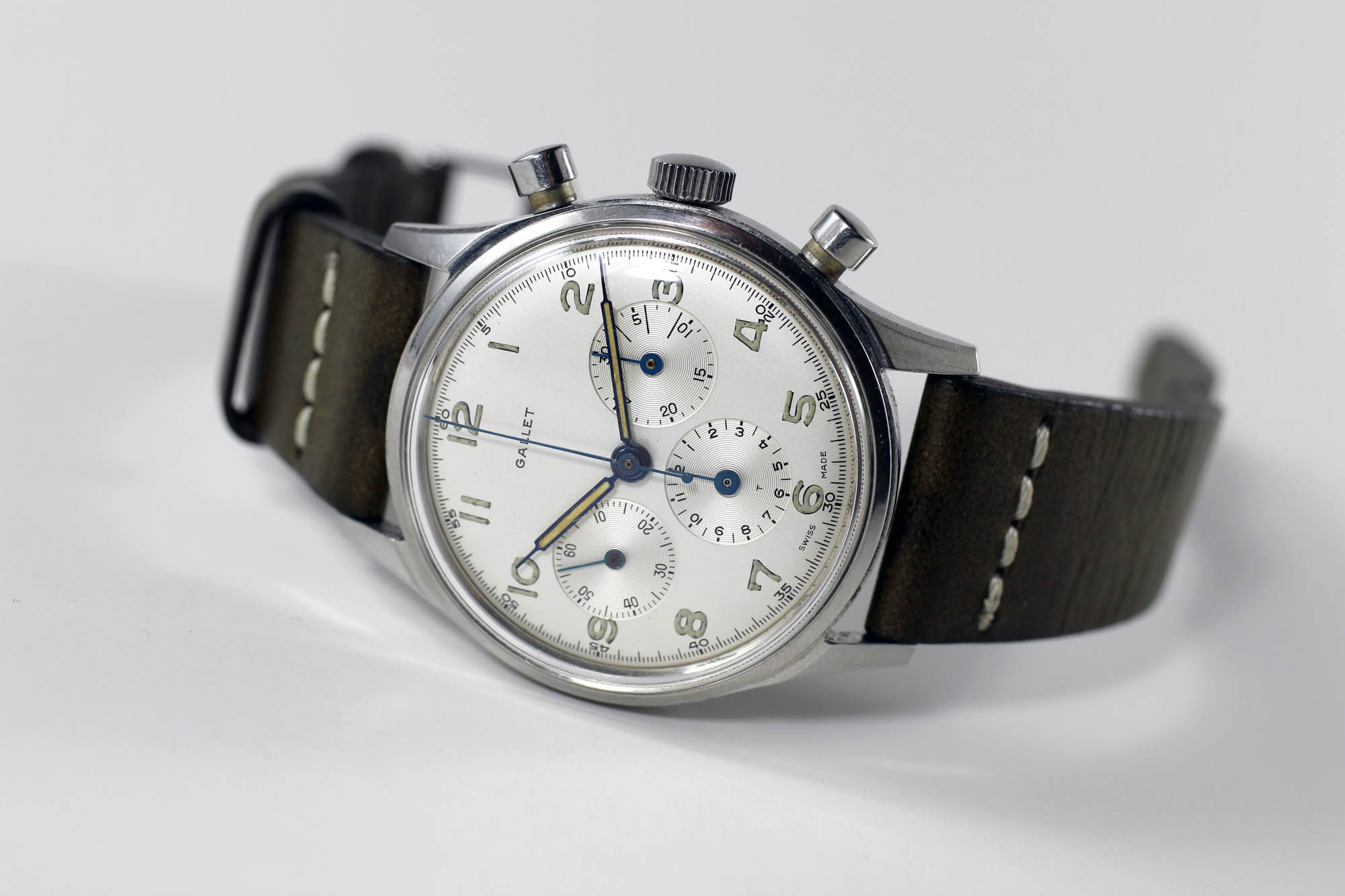 Traveling with the Gallet
Last year I took the Gallet on almost every (foreign) business trip. Hotel mornings with exposed walls, empty wardrobes, and colors trying to please everyone always made me feel a bit strange and cold. Unpacking my watch roll was the coziest morning moment. If you see an Omega Speedmaster Ultraman, Angelus Chronodato, Breitling Chronomat or this Gallet popping from the quartet of pockets, your hotel room immediately gains in color, energy, and shine. I dare say the Gallet deserves a firm spot among the above-mentioned league of extraordinary, both in terms of design and movement beating under the dial.
Dial is pure beauty. Shiny, perfectly symmetrical with enough space to accommodate the entire Kelly family on it.
An ode to the movement
Now comes the tough part. How does an amateur watch enthusiast without any technical education explain the movement's originality? I could stare at the open case back for hours, but I'm not sure I can appreciate the movement's originality from the perspective of its technical structure and composition. What I can convey for sure is that the user experience goes beyond anything standard. Wearing the Gallet with the Excelsior Park is such a comfortable, unique experience that you can't shake the feeling that you have a piece of excellent craftmanship on your wrist.
Valjoux 72 vs EP 40-68
Hot buyers prefer Gallets with the legendary Valjoux 72. But more educated collectors know that Excelsior Park is the right fit for Gallet. Not to imply anything bad about the Valjoux 72. I like it as I loved both Schumacher and Häkkinen. My point is that Schumacher was best in a red Ferrari and Mika in a black Mercedes. So if you want to stay true to the most original, look for the EP40.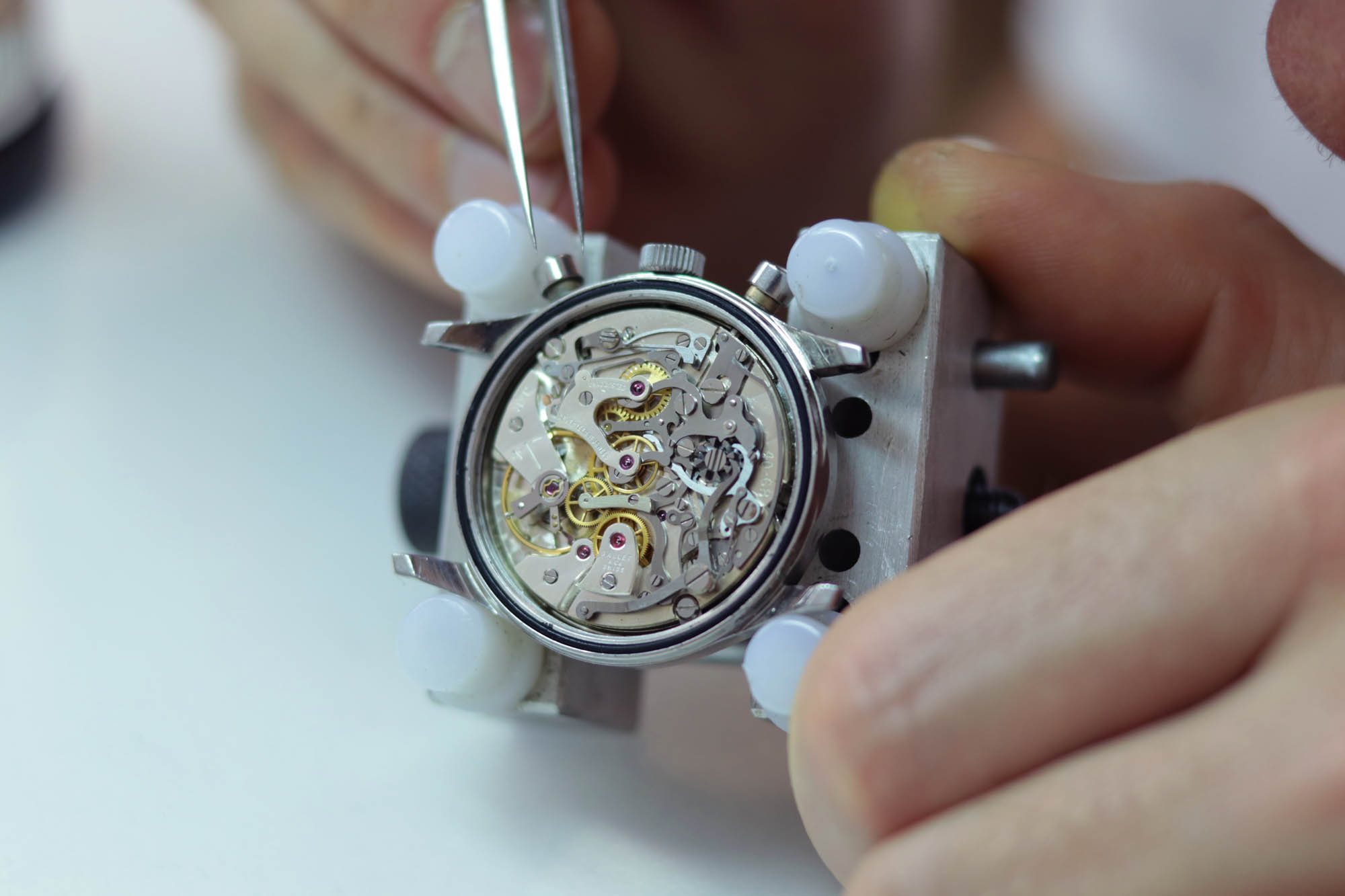 Difference between EP40 and EP40-68
If you find a Gallet with two sub-registers only, the Excelsior Park movement will be signed EP4. According to Dr. Roland Ranfft: "EP 40 has the hour counter, and the 42 has the oval base plate. The suffix -68 only for the EP40 indicates the movable stud carrier, and likely represents the introduction year."
Yet no other watch gives me such a dose of self-confidence when I look down at the dial as this Gallet
Rewarding Excelsior Park
You won't regret grabbing a Gallet with the EP40 movement. You'll see why when you first press round pusher. If I were to describe that feel best when I press the pusher, I would say the following: gradual, full, and thick. Very satisfying. For me, it has some therapeutic effect. I can't stop doing it. Some of the chronographs I wear, I never play with. That never happens with the Excelsior Park powered Gallet.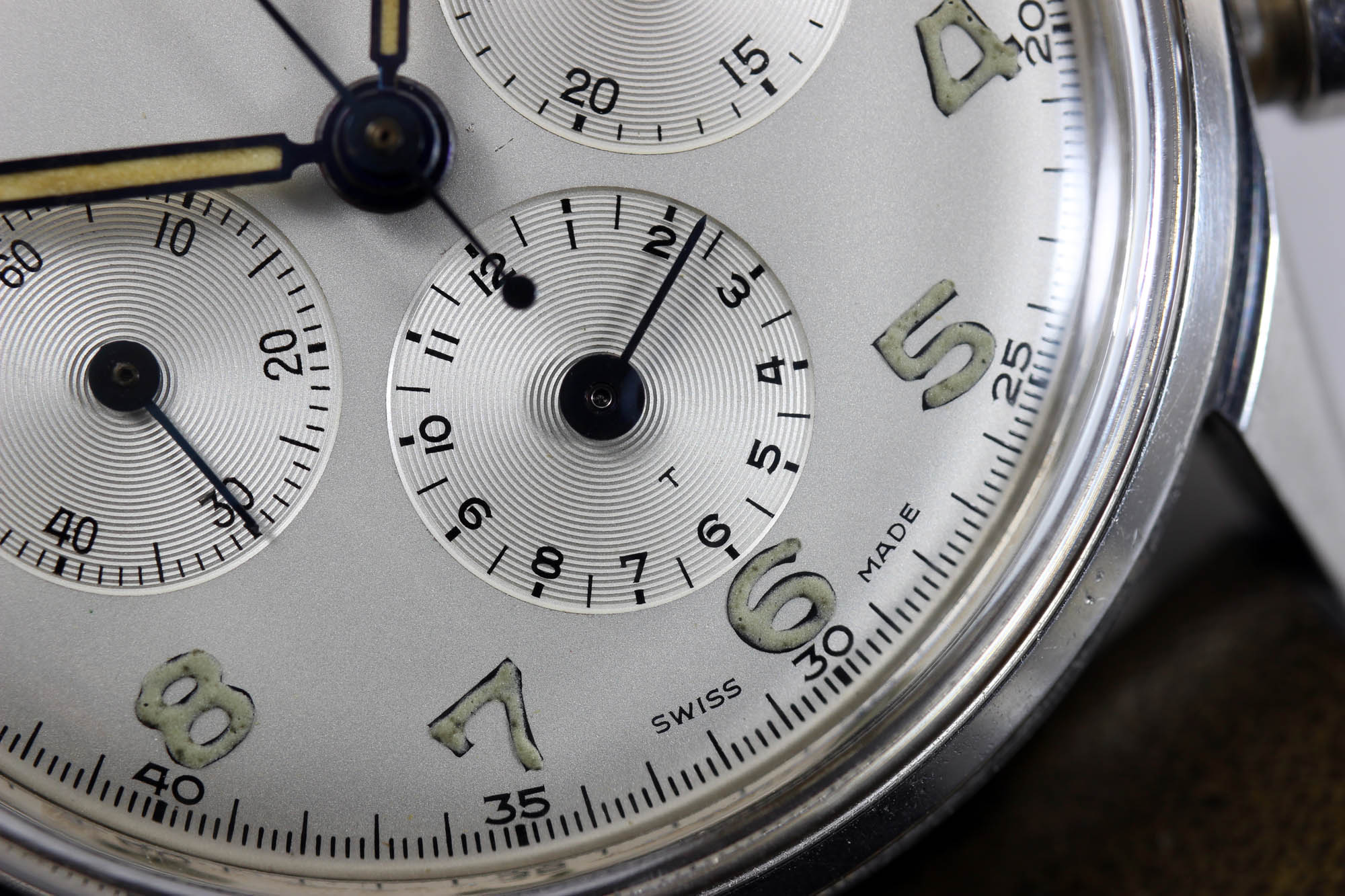 In love with the 12-hour counter
Over the years, I've developed a particular taste for hour counters with all twelve numerals printed on it. It helps with legibility big time, no argument there. Take the Speedmaster or Breitling Chrono-Matic as an example. I don't know how Gallet made it work at 36mm diameter only but look at the distance between the two-hour markers. With many chronographs, you have the problem of the 30 minutes markers blending in with the full hours. You need to take extra time to study the sub-register in more detail to read the timestamp correctly. Look at this Gallet and take into consideration that the hour counter hand moves continuously and doesn't jump every half an hour. I dare say this dial is one of the best reading 12-hour chronographs. At least in my world. Feel like having it as a part of your life too? Happy hunting.