#TBT The Mad Max Citizen Super Jet Auto Dater With A 39-Jewel Heart
The loudest non-alarm watch I have
Many collectors don't look at vintage Citizen watches when searching for their next dress piece. I hope that the Citizen Super Jet Auto Dater can change their minds. 
I was not hunting for a specific watch model here. In complete honesty, I was after the movement only. I mean, I didn't want to buy just the movement, but it was why I was looking for a Citizen Jet Auto Dater. I remember how fascinated I was when I read Mike's article about his watch almost five years ago.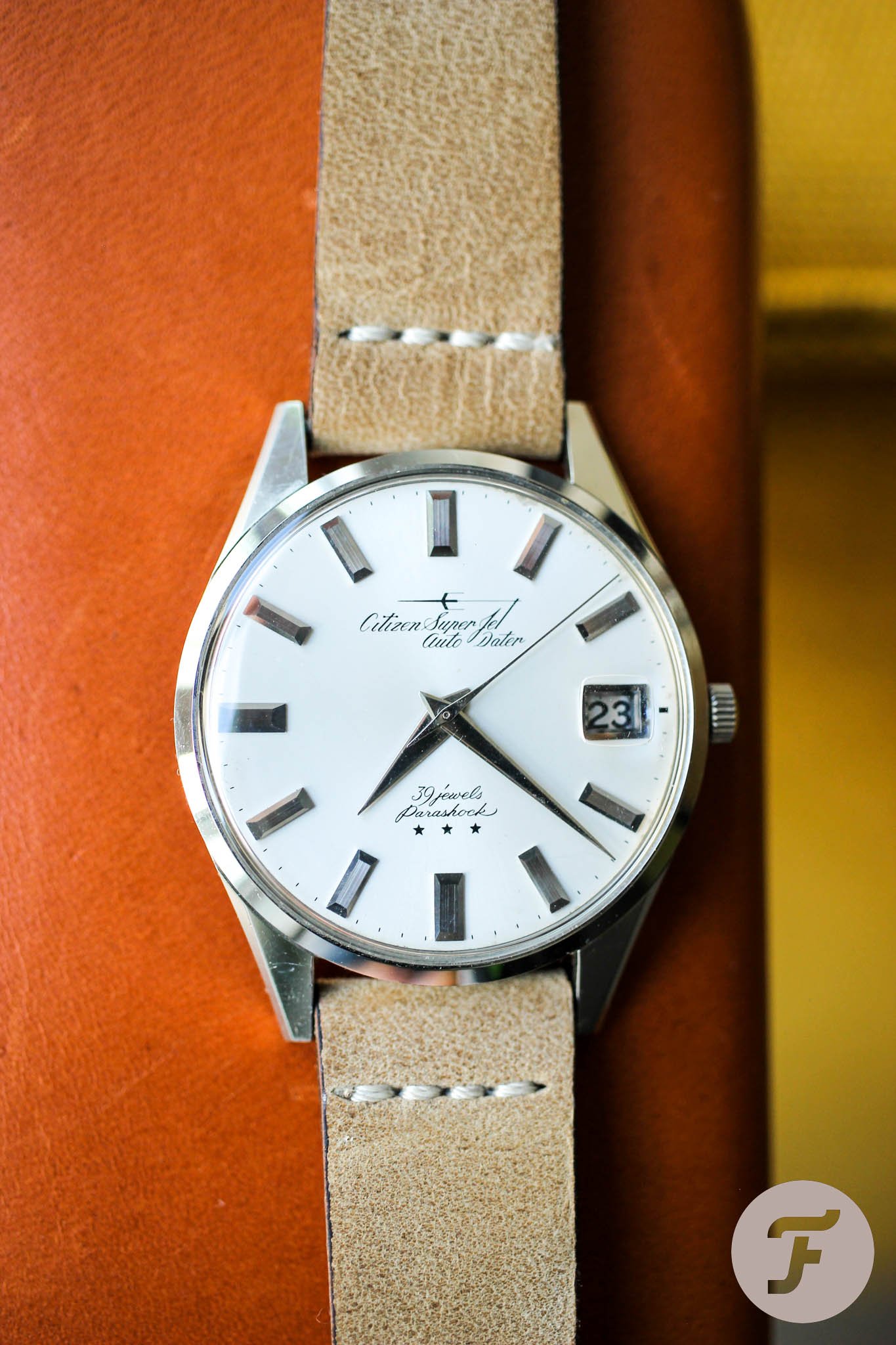 Angry rotor
At the moment of purchase, I considered the dial style, but it was not my top priority. I couldn't stop staring at the 360-degree geared rotor with an oscillating mass around half of its perimeter. It looks like the most enormous inverse wheel you have ever seen in a watch movement. It has attractive and raw mechanical looks, almost like it just popped out of a Mad Max movie.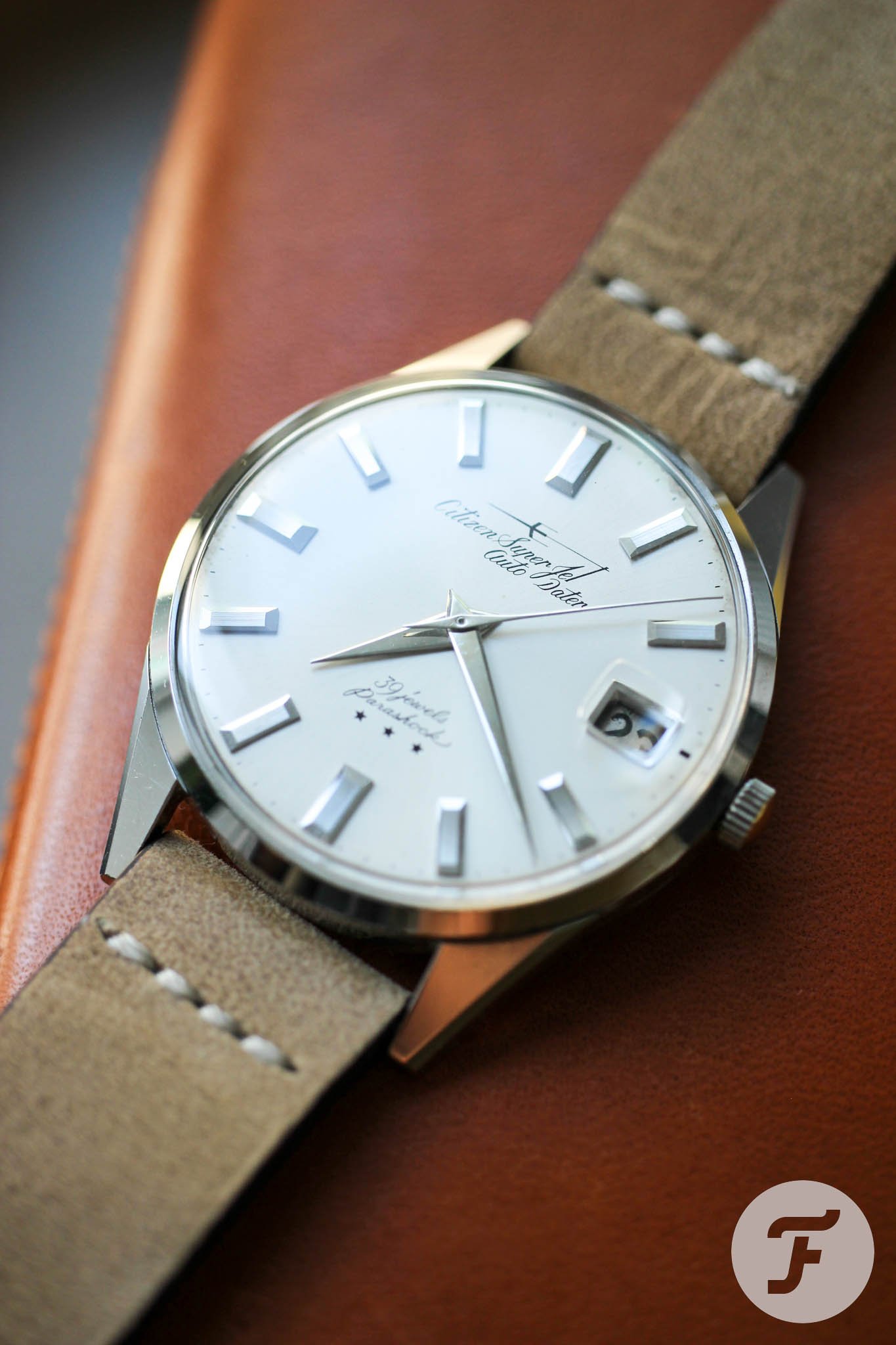 Swinging versus running
Just by the looks of the movement, I felt it had to be an amazing wrist experience to wear Citizen Jet Auto Dater watches. Mike promised a neat mechanical feel, but I must tell you that the real watch exceeded all of my expectations. Only after I put down the case back and swung it around did I realize that I had not thought much about rotors before. They are designed or decorated in this way or that, but they all work and feel more or less the same. For the most part, they feel as light as a feather, and they swing around quietly and freely. Moving around doesn't take any effort at all…
With the Citizen caliber 1150, though, it's the complete opposite. Calling this movement a "workaholic" would describe it most precisely, I'd say. I don't want to say that you can hear the rotor running over every single gear, but, well, it's kind of true. Every spin feels like a great effort. It is smooth, but the gearing has a slowing control over the spin. The rotor is no thicker than any others, but you feel as if you carry half of its weight over nine ruby balls yourself. The accompanying sound of the movement's friction is not easy to capture, but the video above can give you a general idea. Add the great color palette and deep, clean lettering, and all in all, it's an epic show.
Bogdan, a devoted Citizen collector, says here that "the Jets [were] produced starting from October 1961 up to about 1967. The first was a simple [three-hand nondate] one, and the last [was] the Auto Dater Seven with a date and day feature. The most impressive one is the 39 Jewels Super Auto Dater." Not too shabby to see that I scored the top-of-the-line movement. But it doesn't end there…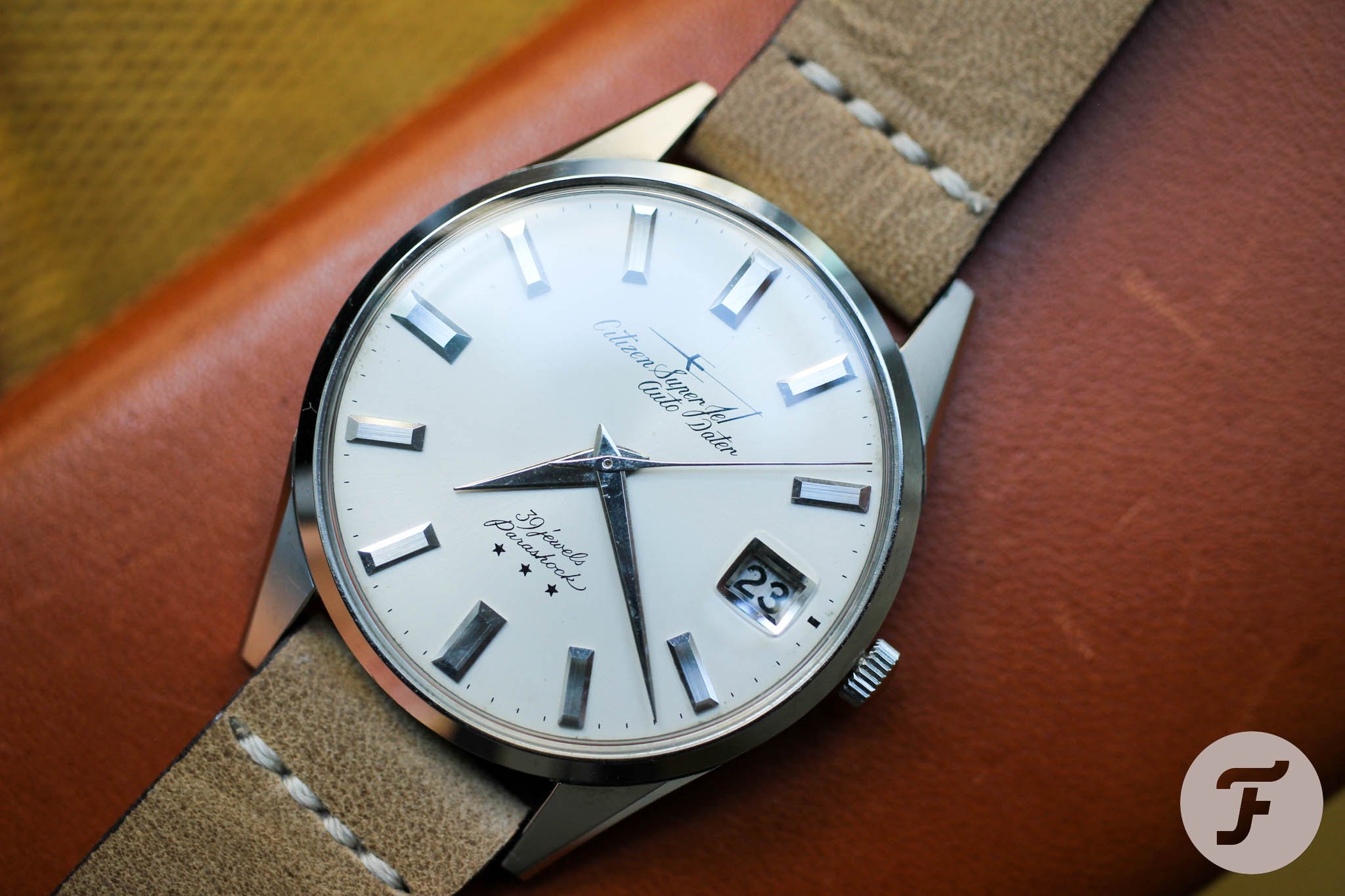 There is a watch too
Oh, by the way, when I turn the watch around, there is a dial too. And what a dial it is! The pearl-like surface, which turns blindingly white in direct sunlight, has a soft sunburst structure. Gold-brick-like indexes may seem pretty standard, but the proportions of the bevels on these give them an unusual final look. What I like in particular are the flat dauphine hands, which are carved in the same style as the indexes. You may notice that the date magnifier is under the crystal. I admit, this is a nice but slightly disturbing touch. The thin Citizen Jet logo, however, is elegant and works perfectly with the ornamental font. Yes, the Citizen Super Jet Auto Dater is a simple watch, but it is rich and unique in its details.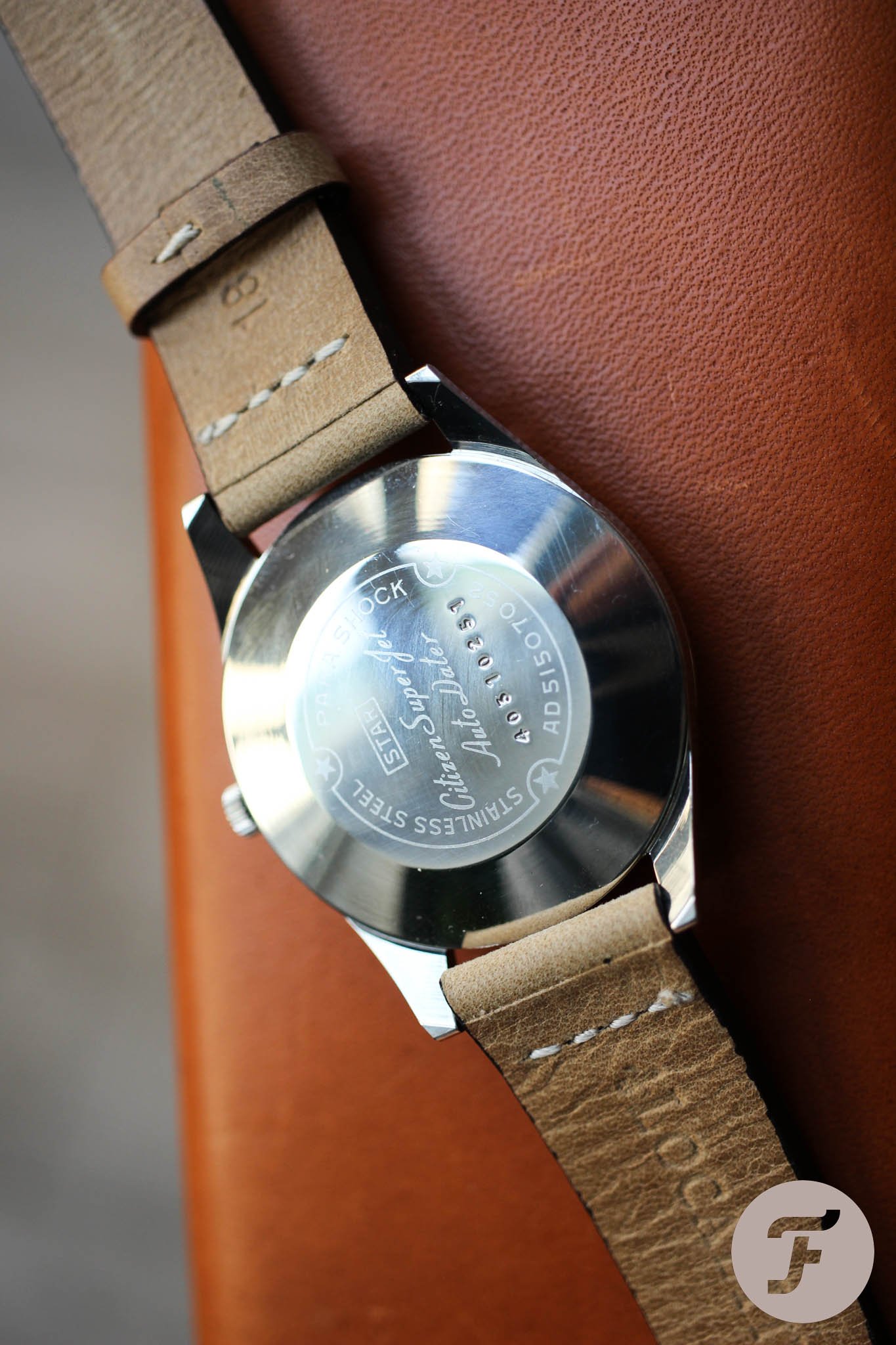 Last thoughts
If you like automatic watches but going after a Harwood is a bit too old-school, you should look around for a Citizen Super Jet Auto Dater. It's the ultimate experience, hardly replicable or comparable to any other watch. The sound of the strenuous movement is satisfyingly different, and — heads up — it will make you open the watch often.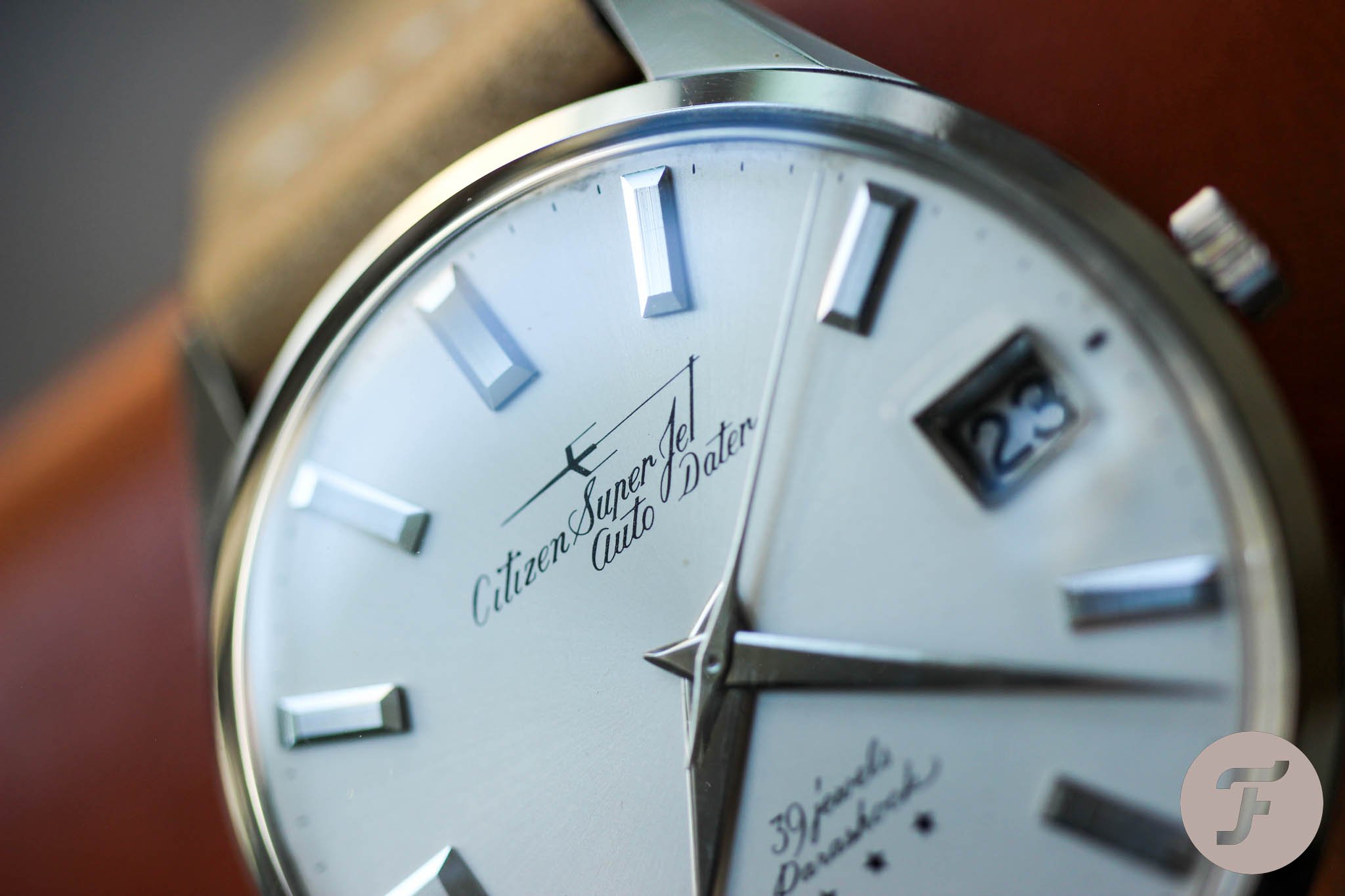 I have a watch knife/case opener in the office. I can't help myself; I have to open this watch every time I take it out. That's not ideal for the case, I guess. It's also not healthy for the movement to just lay on my desk, dial facing the table. But I like to look at it, pick it up, and feel a sense of fascination as the rotor turns. The watch sits open at this very moment too. I've never had an urge or need to create a transparent replacement case back for any vintage watch so far, but the Citizen Super Jet Auto Dater would deserve one for sure. Happy hunting!