#TBT The Mondia Memory Parking Meter Watch With A Secret World Time Ring On The Back
A combination you will probably never see again
It's chunky, daring, and creative. Today's hero is a shockingly simple parking meter watch combined with a minute-countdown timer. It even has a bit of a Breitling SuperOcean feel. Meet the Mondia Memory Parking Meter.
Sometimes I ask myself how long I will be able to keep our #TBT column inspiring. What if I run out of interesting watches to share? What if, eventually, there are only dull, time-only three-handers left? The fact is that my list of watches for #TBT should last for a few more years. Plus, there are always fun discoveries popping up. Have you seen last week's Medana with an out-of-this-world crystal? I hadn't even come to my senses yet when another watch struck me! I was so excited that I instantly pushed it to the top of my list.
From Nivada to the Mondia Memory Parking Meter
You never know where the next surprise will pop up. A few months ago, Mathieu Louis invited me to join the Nivada Grenchen Forum on Facebook. As I am a big fan of the brand and owner of many Nivada watches, including the CSAD, Wanderer, Travelmaster, Dato, and Datomaster, I joined gladly. The group is quite lively. Many interesting watches and vintage ads are posted there.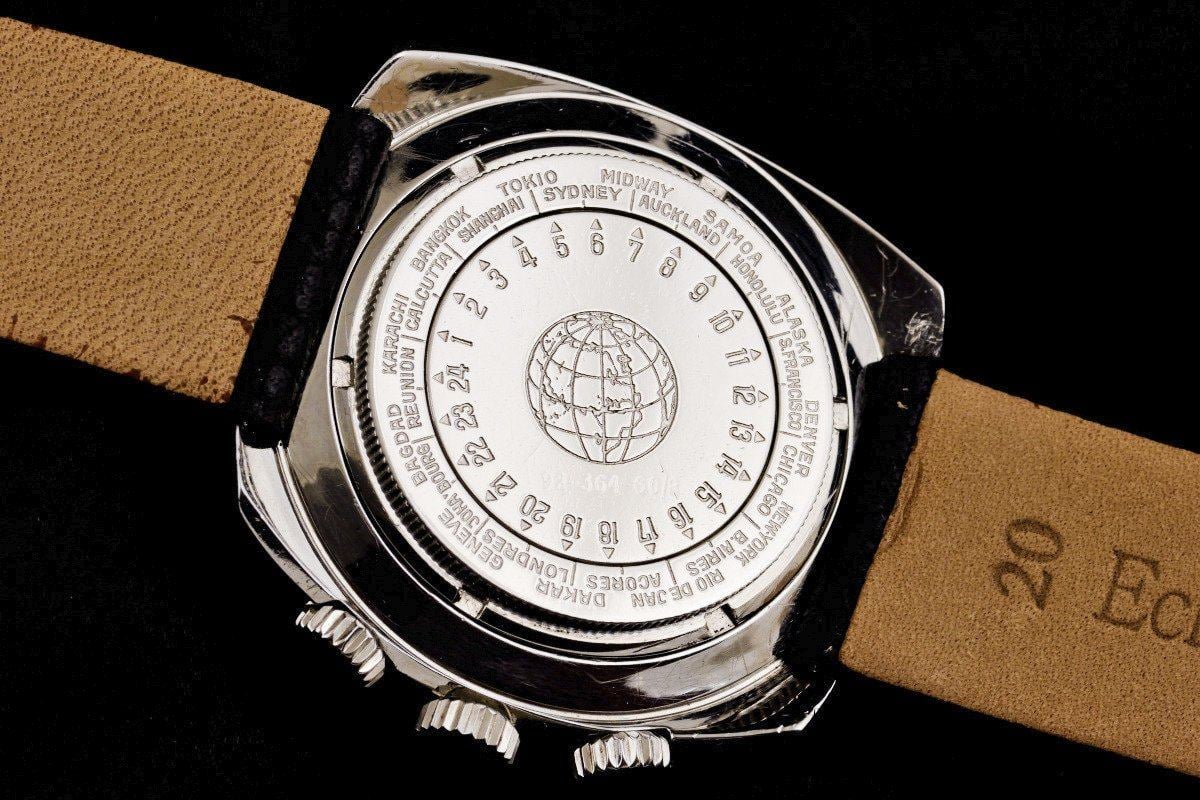 A Mondia Memory picture that got my attention
Mathieu recently posted a picture of a watch — or a case back, to be more precise. I immediately spotted the coin edge and realized that I was not looking at a typical case back but a rotating, bezel-like element. Being familiar with worldtimers, I found this idea amusing. At that very second, I thought about a story I published about two years ago about the Top 5 Vintage Watch Case Back Styles. At that time, I had no idea this watch existed, but I truly believe it would deserve its place on the list.
From Calculator to Parking Meter
Curious group members instantly investigated the watch and discovered that the dial carried the Mondia logo. There seem to be multiple variants of the watch, with a Navitimer-like calculator bezel being one of the options. That could be the explanation for the Memory model name, but it's just my assumption. The calculator model is okay, but it isn't the one that knocked me off my chair. I kept searching, and within a few minutes, I bumped into a particular Mondia Memory model with an unusual parking meter bezel. And do you know what? It has two rotating bezels!
Two inner bezels
There are three crowns on the right side, with the middle one being the only one signed with the Mondia logo. It controls the hands, obviously. The other two crowns are slightly recessed into the case and sit in positions typical of chronograph pushers.
The lower one allows the user to control the inner, slightly thinner countdown bezel. The other crown controls the outer parking meter bezel, which is simply epic.
The outer-inner bezel of the year
Parking meter watches represent a category on their own. They have a unique design with the biggest dial aperture in the world. We know it from the Vulcain MinStop. JLC also has a sought-after model, which is combined with an alarm complication. I never expected to bump into another parking meter watch from the '70s that would amaze me. Well, here we are…
I haven't (yet) held the watch in my hands, but you can see how big it is. The specs I can find online suggest that Mondia Memory is 40mm in diameter, which is more than generous for a vintage watch, even one from the '70s. I can't express how much I love the outer bezel under the Plexi.
Due to the case diameter, this bezel is pretty wide, with a striking parking sign on the premium spot. The Jaeger-LeCoultre Memovox Parking would look like a baby brother next to it. But it's not all about size. It's actually about its simplicity. There isn't much, just huge 30′, 60′, 90′, 120′, and 150′ minute marks. I have to admit it took me maybe a minute or two to figure out how it works. The thing is, I didn't notice the gray arrows, and I thought I had to combine them with the other rotating bezel somehow.
How the Mondia Memory Parking Meter works
Each number is printed over a thick arrow that signals the start and the end of the minute interval printed in it. For a quick read, it is enough to align the start of the gray arrow with the center of the hour hand. It's unnecessary, but if you want better legibility, you can also rotate the minute bezel and align it with the center of the hour hand, wherever it is. As the countdown bezel is marked in 30-minute intervals, it will provide a perfect reading of the parking interval. I didn't find any picture on the internet in such an alignment, which only shows that sellers (probably) don't care much to understand and sell the ingenuity of this watch.
The case back
One Mondia Memory Parking Meter watch is listed on Chrono24 for a fantastic price. It features the case back in colors, contrary to a Mondia Memory listed at Watches83. We don't know if it's the original color scheme, but I wouldn't expect anyone to bother that much to fill it with colors. Another listing on Chrono24 confirms it could be original. The globe is printed in blue and the daytime hours likewise. The nighttime hours are filled with black, and "6" and "18" are printed in red. I wish I could describe how the rotating ring works. We also don't know how easily it turns or if it does so unintentionally when putting the watch on or taking it off.
Last thoughts on the Mondia Memory Parking Meter
The Mondia Memory has an automatic AS movement. The case back is signed Mondia on the underside, which is a nice detail. I wouldn't wear this watch daily, but I honestly believe it is a serious contender for collectors looking at entry-level vintage watches. I can't explain why, but anytime I see Mondia Memory Parking Meter, it gives me a bit of a Breitling SuperOcean ref. 2005 vibe. It's certainly a bold vintage watch that could be a perfect addition for any collector who has been introduced to a new parking policy in his neighborhood. Happy hunting!
Featured image: Tomasz (Flickr)