#TBT Montilier Telefoot — The King Of Unknown Watches
From an era when phones and football mattered
Wait, phones and football still matter today. Well, it's almost scary how symbolic and practical the Montilier Telefoot watch is today, almost 80 years after it was first introduced in 1946. I am genuinely mind-blown!
It was about a year ago when I first heard about the Montilier Telefoot. I was in touch with Sébastien Chaulmontet regarding another fascinating chronograph when he dropped a line at the end of an email, saying, "If I might suggest a new target for you: the Montilier Telefoot." You know what happened next…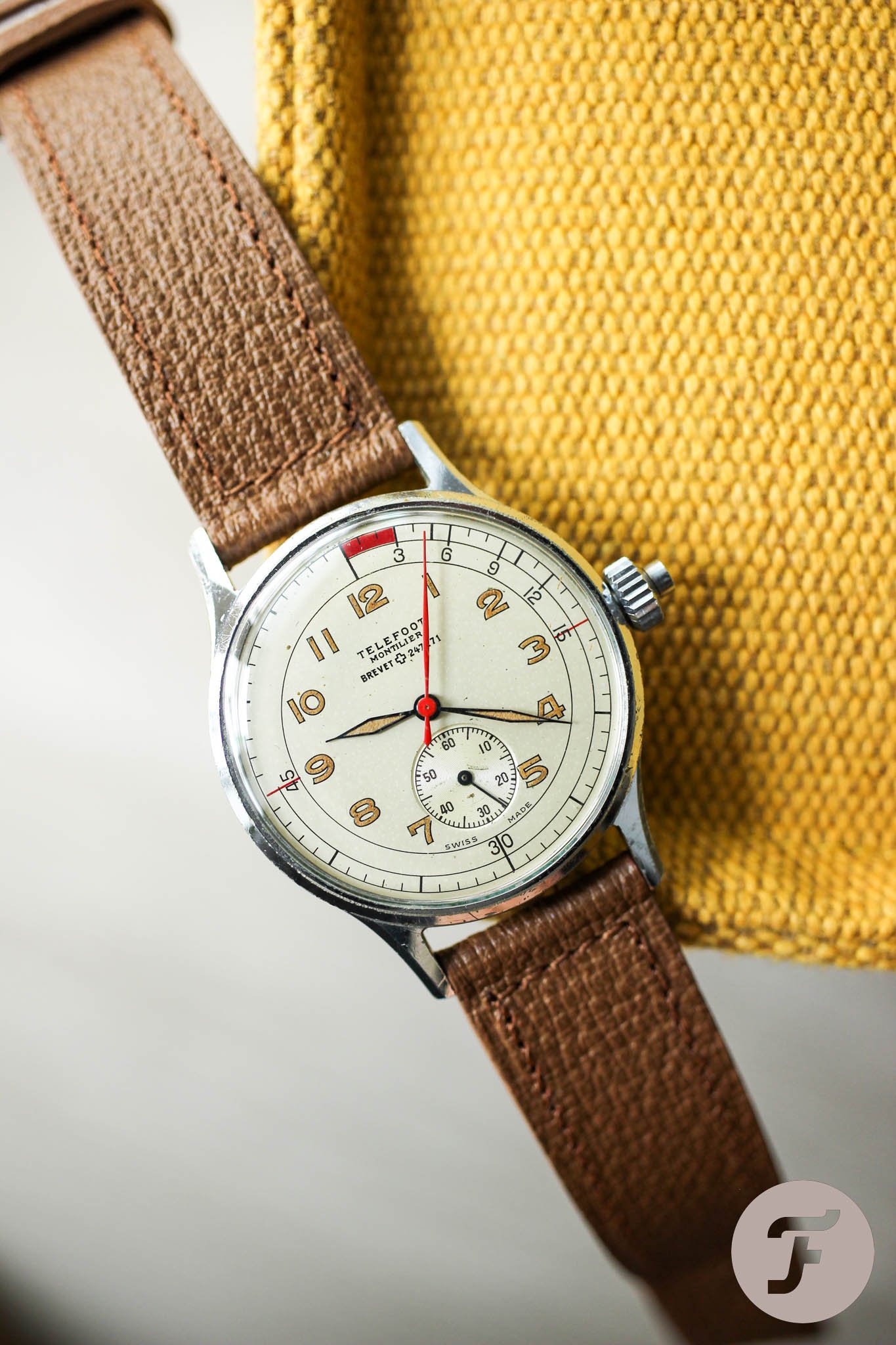 Research and hunt
The name was pretty suggestive and intriguing. I read everything that I could find about it. That very same night, I scored an original full-size print ad on eBay. I didn't have much luck with the watch itself, though. I loved the concept and put it on all my auction search lists. As it usually happens, the watch popped up out of nowhere when I least expected it. After a marathon of meetings, I was moving downstairs from the office to the garage. I opened Instagram, and there it was, listed by an Italian dealer that I had bought a watch from before. I thought I was dreaming.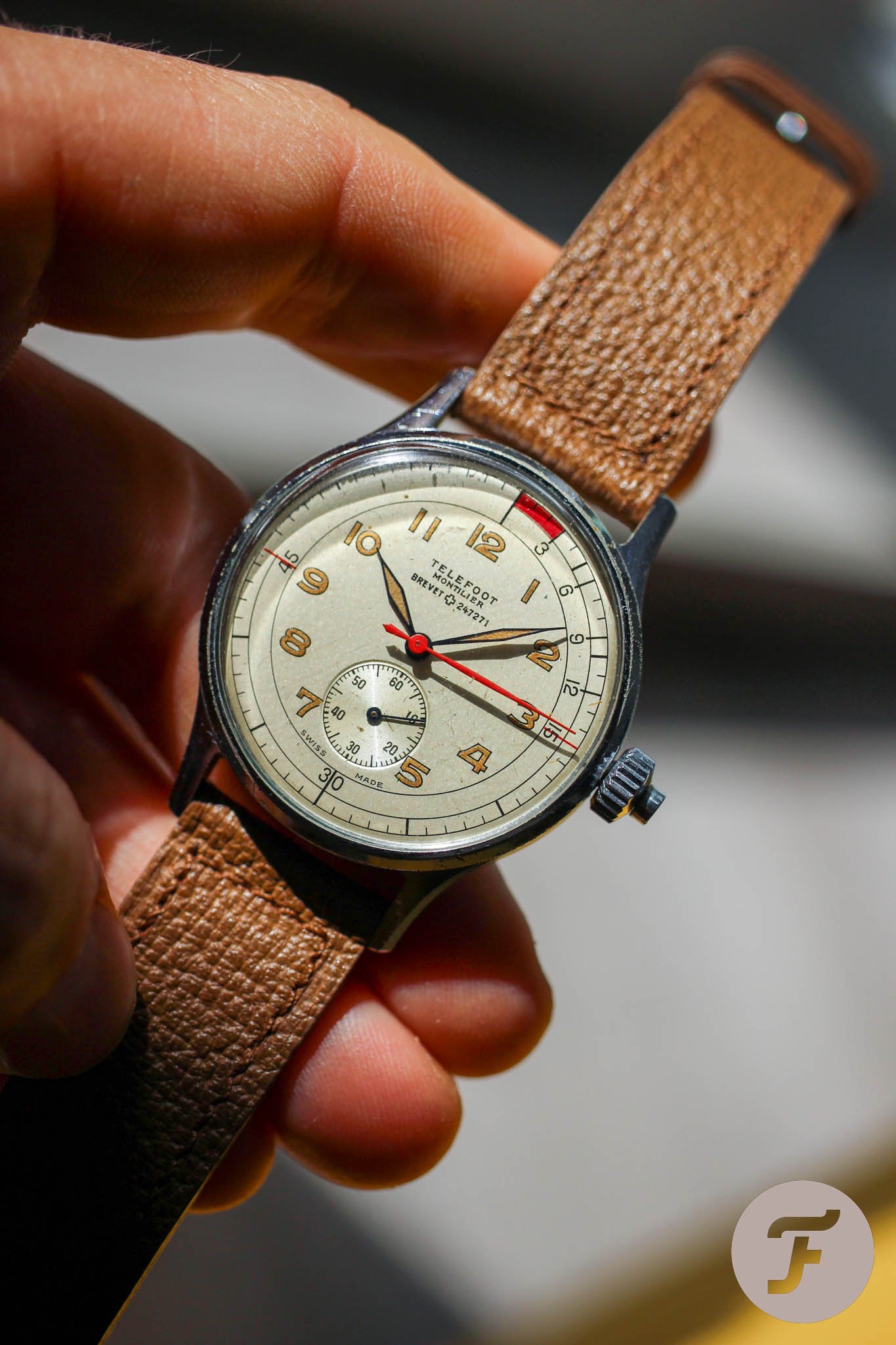 After a year of active searching and no results, it was staring at me. When I noticed it was posted just minutes before, my excitement grew astronomically. I guess I was just lucky. Sitting in the car, I texted Simone and made a sweet deal. I am sure he got much interest in the following minutes. He could have gotten a higher price for it, but he let it go to me for a very friendly sum. It is so pleasing to see that there are still great dealers who don't just care about the money.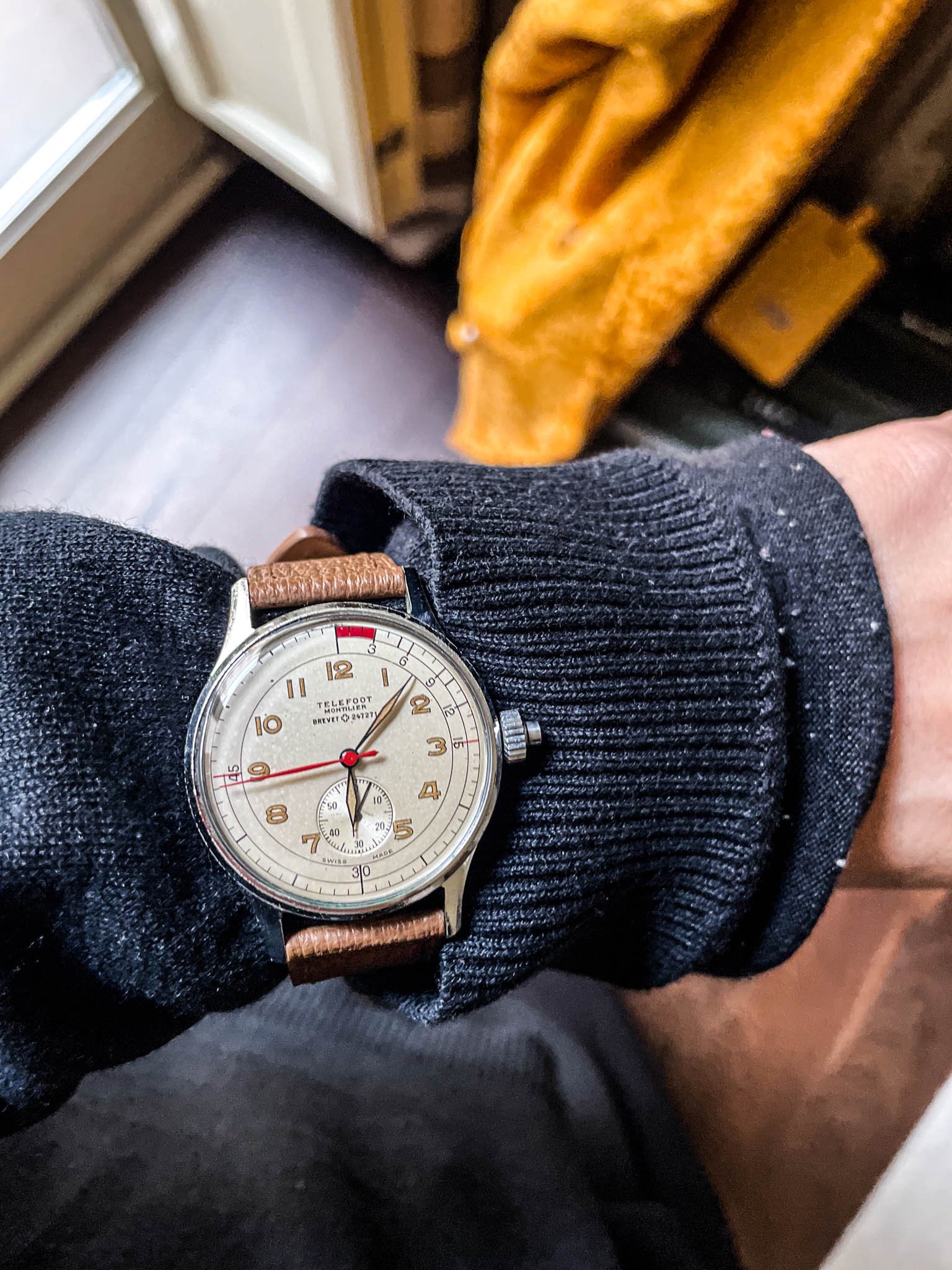 Safest delivery
As I found the Montilier Telefoot too rare to get damaged or lost in transit, I opted to have it collected in Italy. My sister-in-law, who lives there, picked it up for me. I had to wait about a month or two until my wife traveled to Italy, but it was worth it. As you can see above, my long-awaited Montilier Telefoot came home safely, carried in style over the cuff — well, over my badass wife's sweater.
Instant love
The Telefoot has been on my wrist for five straight days now, and I have to say that I am completely over the moon. Usually, there are certain details to love about a particular watch. This time, everything is beyond perfect, no matter what you look at. The movement, dial, hands, crown, case, patina, color scheme, branding, fonts… And let's not forget its intended purpose!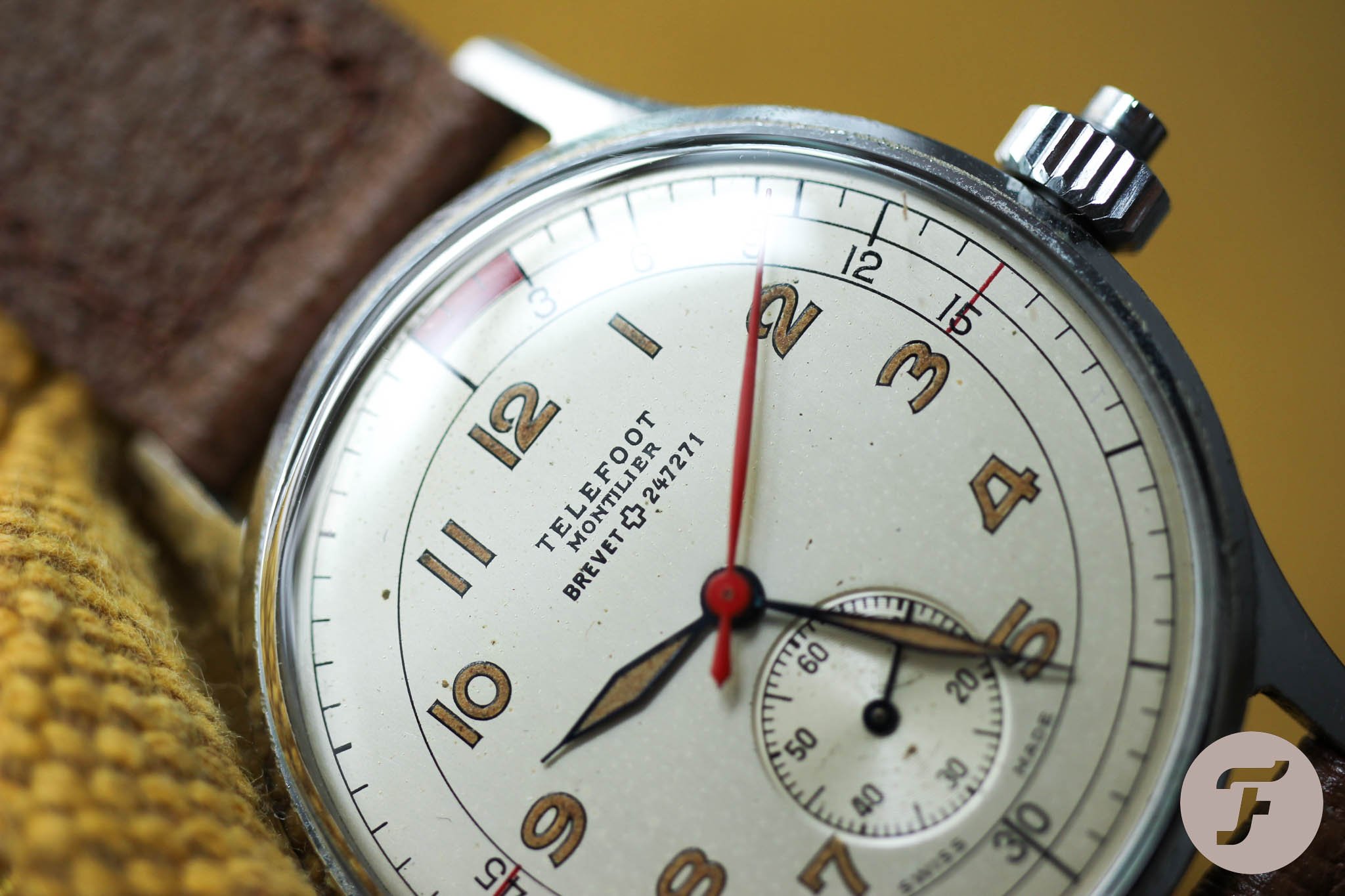 Phones and football
Patent 247271 was filed in December 1946. The unusual dial has an attractive outer track that stretches from zero to 45 minutes. In addition, the first 15 minutes are marked in three-minute intervals, and the first three minutes are even highlighted in alerting red. In the old days, phone calls were billed in three-minute intervals, so controlling the length of conversations was crucial.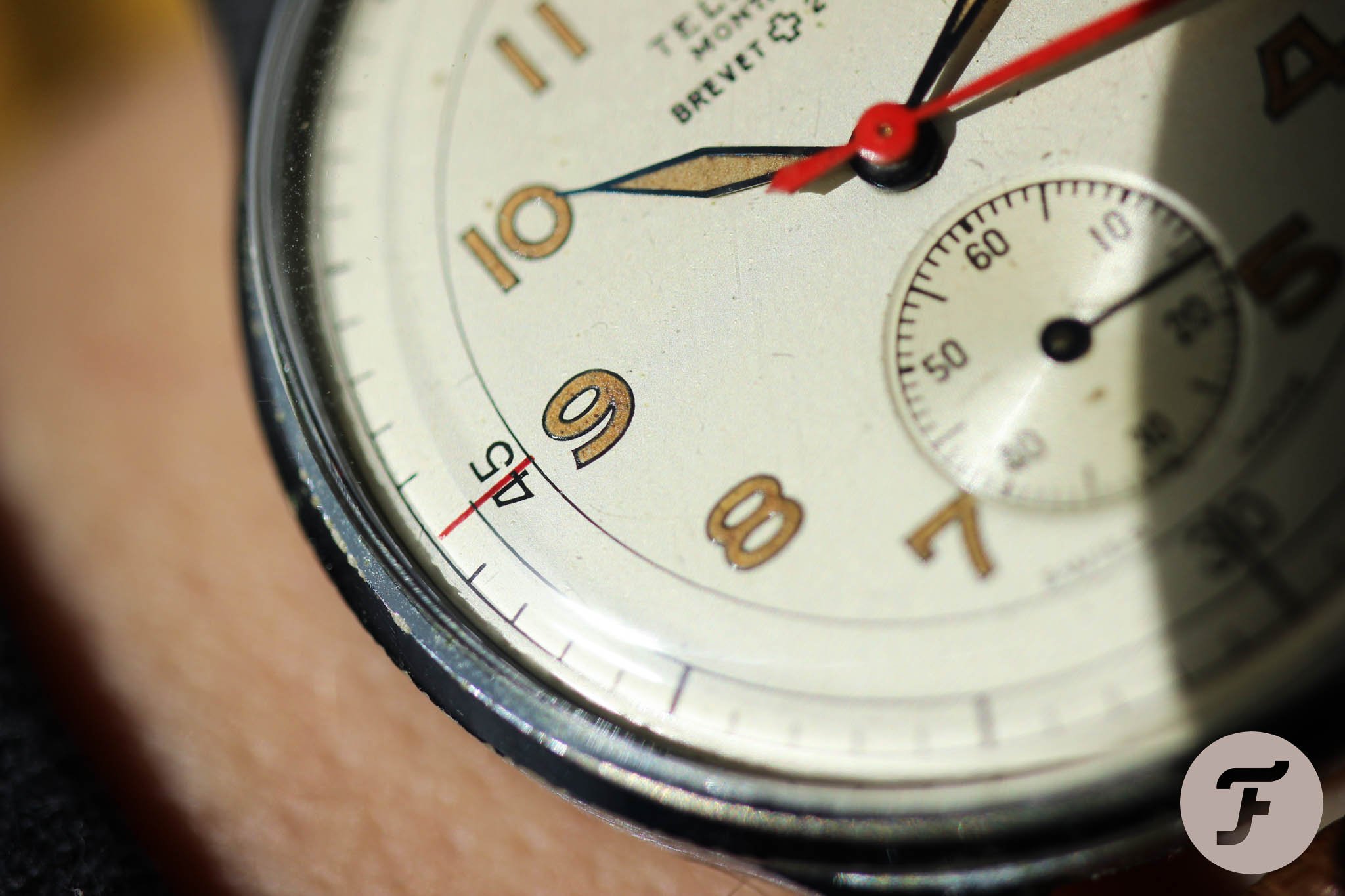 The inner circle of the outer track is abruptly cut off three-quarters of the way around, reaching as far just to mark 45 minutes elapsed in a football (soccer) game before half-time. As the minute counter is situated behind the hours at the very edge of the dial, the legibility of the time-tracking is phenomenal. No other watch combines a chronograph and time-reading as naturally and easily as the Montilier Telefoot. Bravo!
Is it a chronograph?
Now comes the tricky but genuinely exciting part. "It wasn't strictly a chronograph in the technically proven sense of the word, but a watch with a reset hand," Sébastien explains, regarding the constantly running central chrono hand. While in the case of Tissot Mediostat, the central hand counts seconds and makes 60 rotations in an hour, the Telefoot's hand makes just one revolution per hour. If you're not familiar with the watch, you might assume that the hand isn't moving.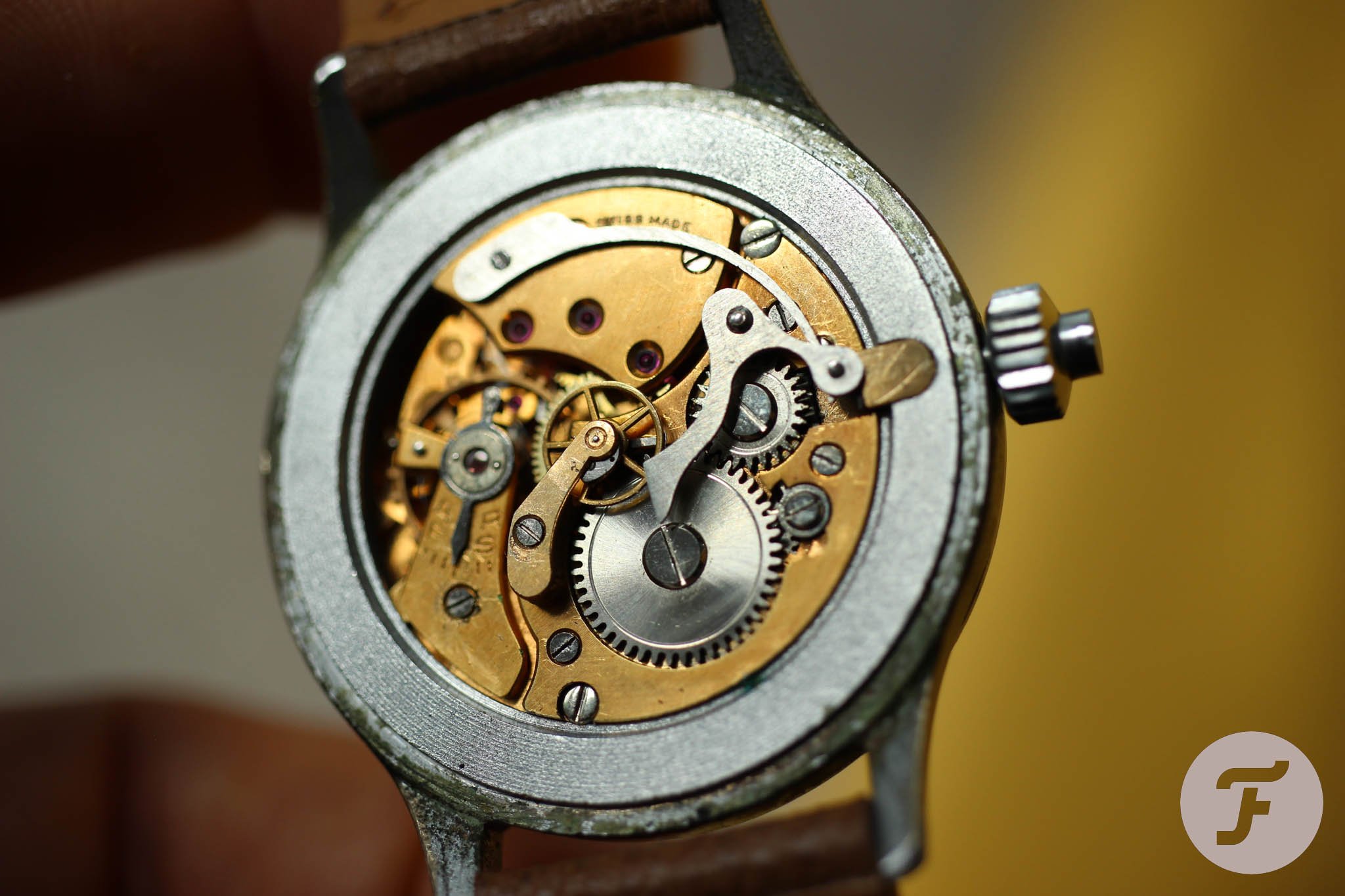 When using the Telefoot to time an event, you must press the crown pusher. That sends the central hand to zero instantly, precisely as you know it from flyback chronographs. Contrary to chronographs, however, you cannot stop the central hand; you can only reset it to zero at any time. The only way to stop the central hand at the zero position is to press and hold the crown pusher.
As explained in an old advertisement, the central hand remains at 12 o'clock as long as the pressure on the crown is maintained. For the most precise setting, the football referee would blow for the kick-off and release the pusher at the very moment the small seconds hand passed zero.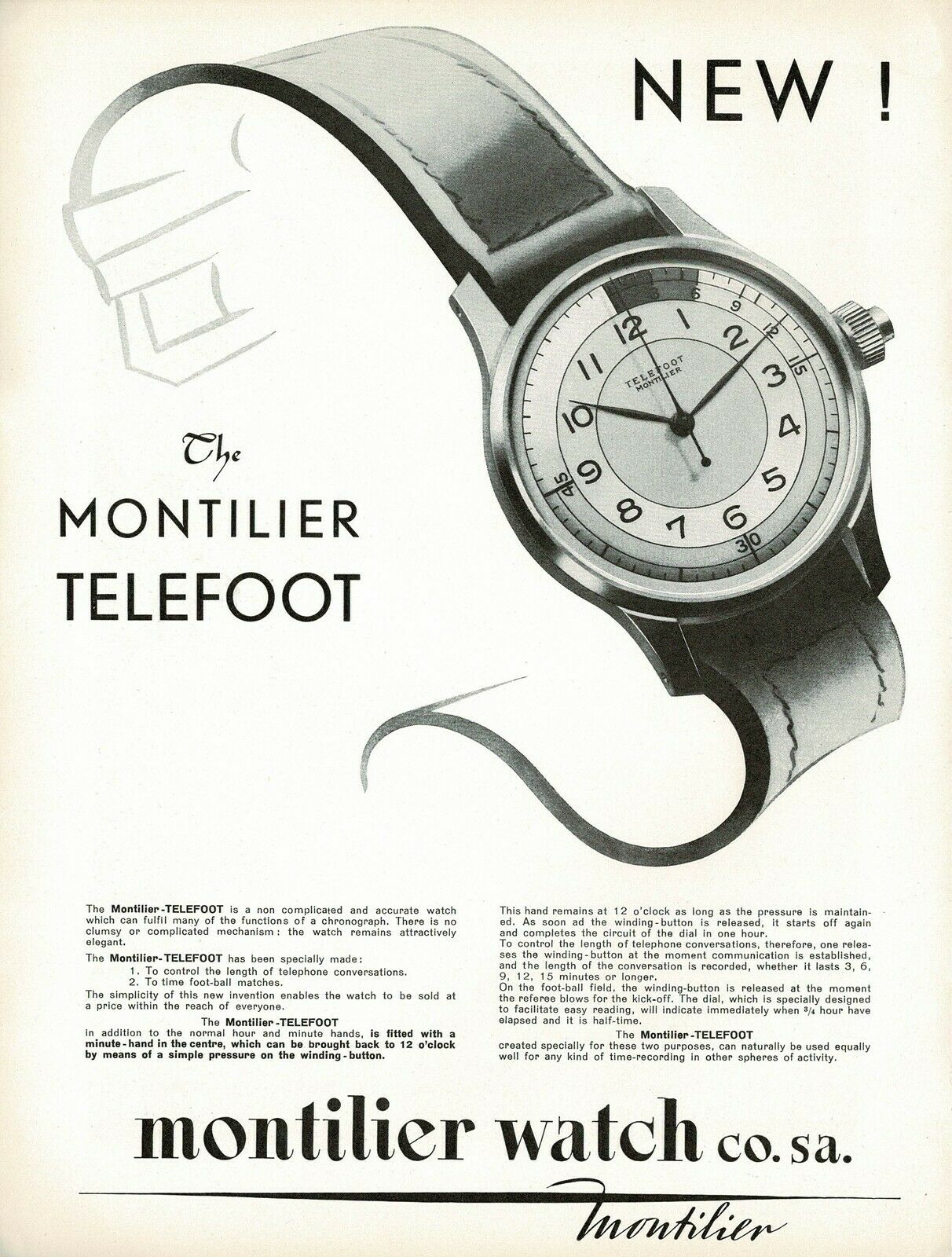 Mystery
"The movement was a Montilier manufacture caliber that was easily converted to a resettable second-minute hand. It was incidentally the only Montilier caliber with a short timer," says Sébastien, adding that the Montilier chronographs offered from the early 1950s were equipped with Ebauches SA movements. Neither Sébastien nor I have seen the Telefoot version above without a small seconds register. We have no definite answer as to whether it was a design that was never produced or a rare version that has not resurfaced yet.
Beauty
I was predominantly interested in landing a Montilier Telefoot because I found the unusual movement fascinating. I didn't consider it highly wearable or beautiful a year ago. That all changed when I saw my specific watch, which both Sébastien and I consider to be the only known lumed example. At first, I thought it might be a Frankenwatch, but after close inspection, we believe it's all original.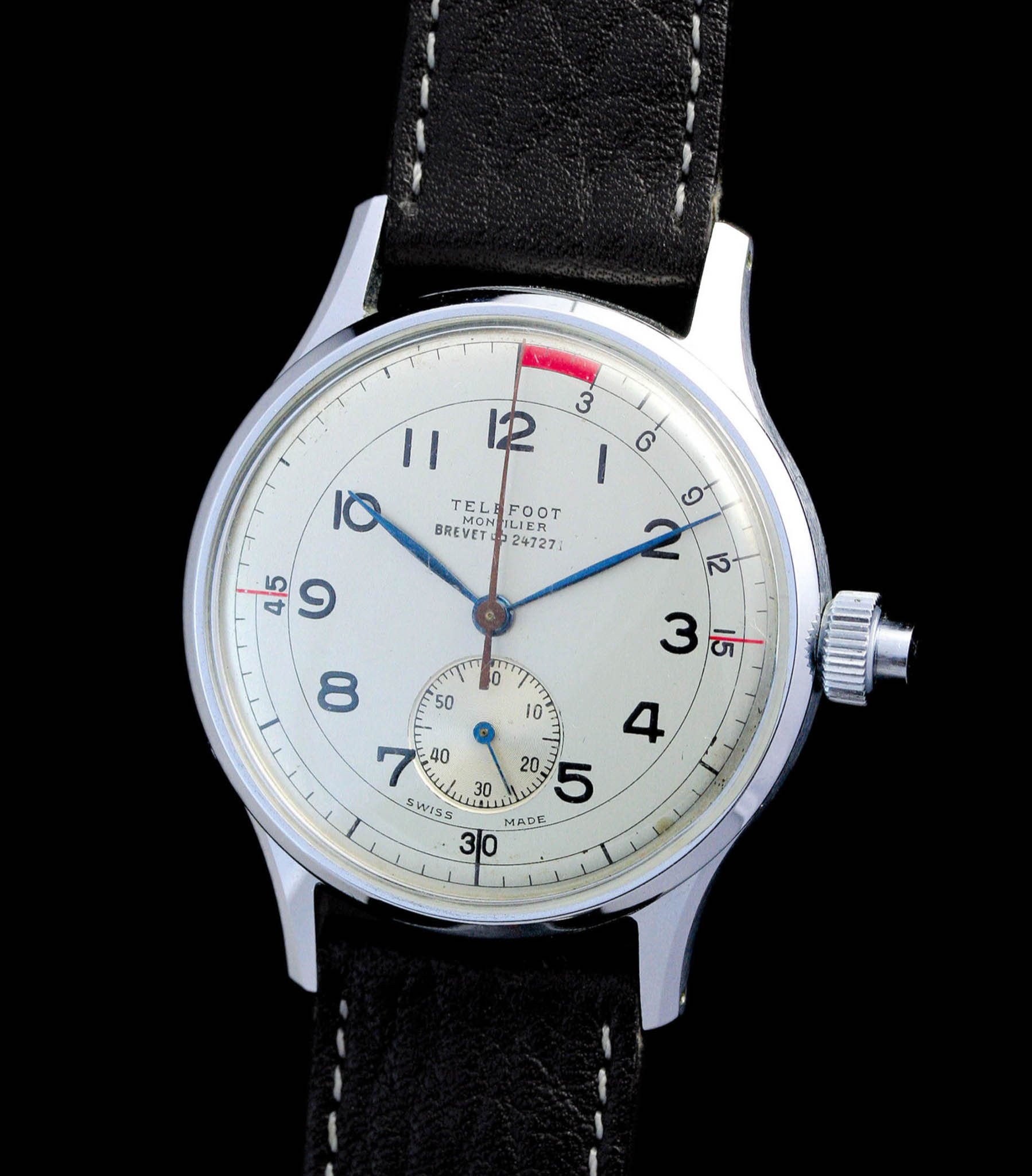 All other examples we've seen have blued hands, as you see above in the example posted by Sébastien. To me, the intact and warmingly aged lume on mine makes a massive difference. So does the red central minute hand in how it matches the three-minute counter highlight.
From other details, I would pinpoint the "young" and sharp beveled lugs with crisp edges. The ten-second intervals for the small seconds are unusual, but they add a sporty spirit and are quite helpful. As always, the brevet symbol and patent number printed on the dial are quite pleasing, and the pusher crown is the cherry on the cake of this perfectly balanced and creative design.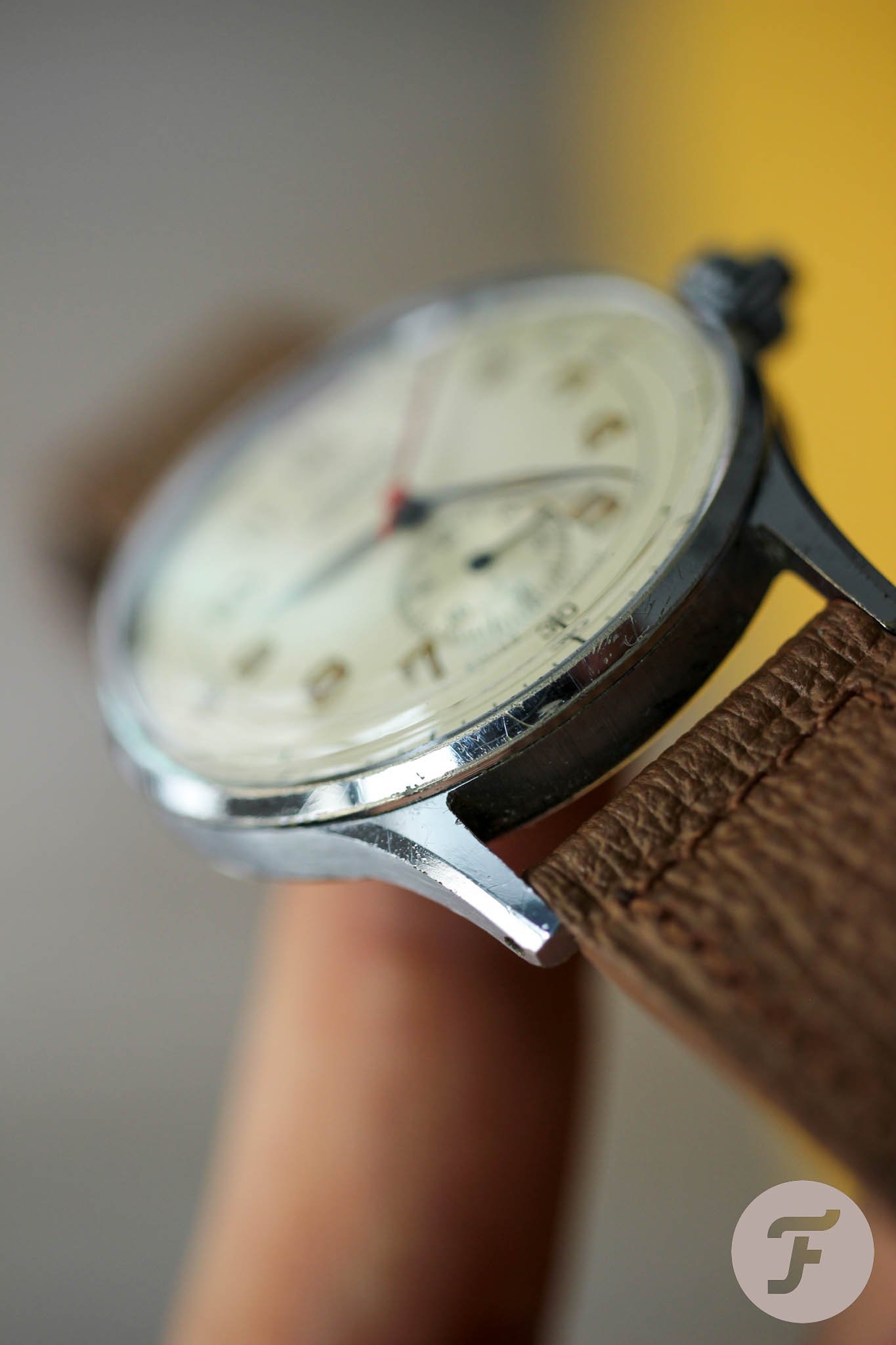 Weak points
The only two drawbacks would be the chromed case and the timing of an event whose beginning is beyond your control. What do I mean by that? Timing a football match with you as a referee is comfy because you can align the central minute hand with the small seconds hand and start it by releasing the pusher anytime you need.
But if you're watching a football game started by someone else, you have to consider the offset position of the small seconds to read the elapsed time precisely. It's not a problem for minute/half-minute precision, but I am mentioning it for collectors who care about accuracy to the second.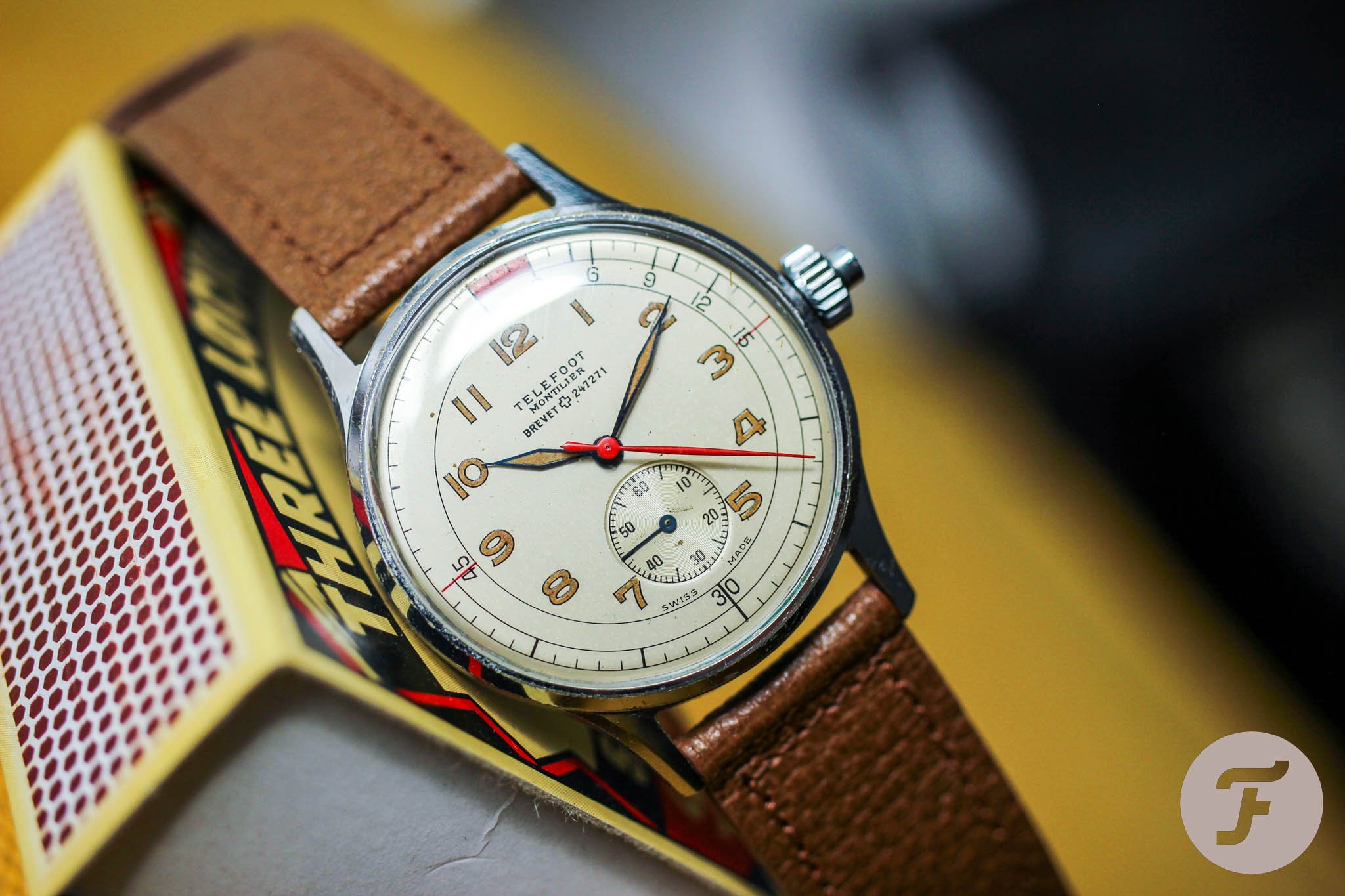 Legacy
I believe there is not such a big need to time telephone calls as there was 80 years ago. But what I find symbolic is using the Telefoot to measure my time spent on the phone, especially considering the oft-discussed addiction to our phones and how much time we spend looking at them. I find it quite useful to limit myself to using the phone for five minutes and no more. Imagine a new line of chronographs designed to help you track how much time you spend on social media! The results might be scary…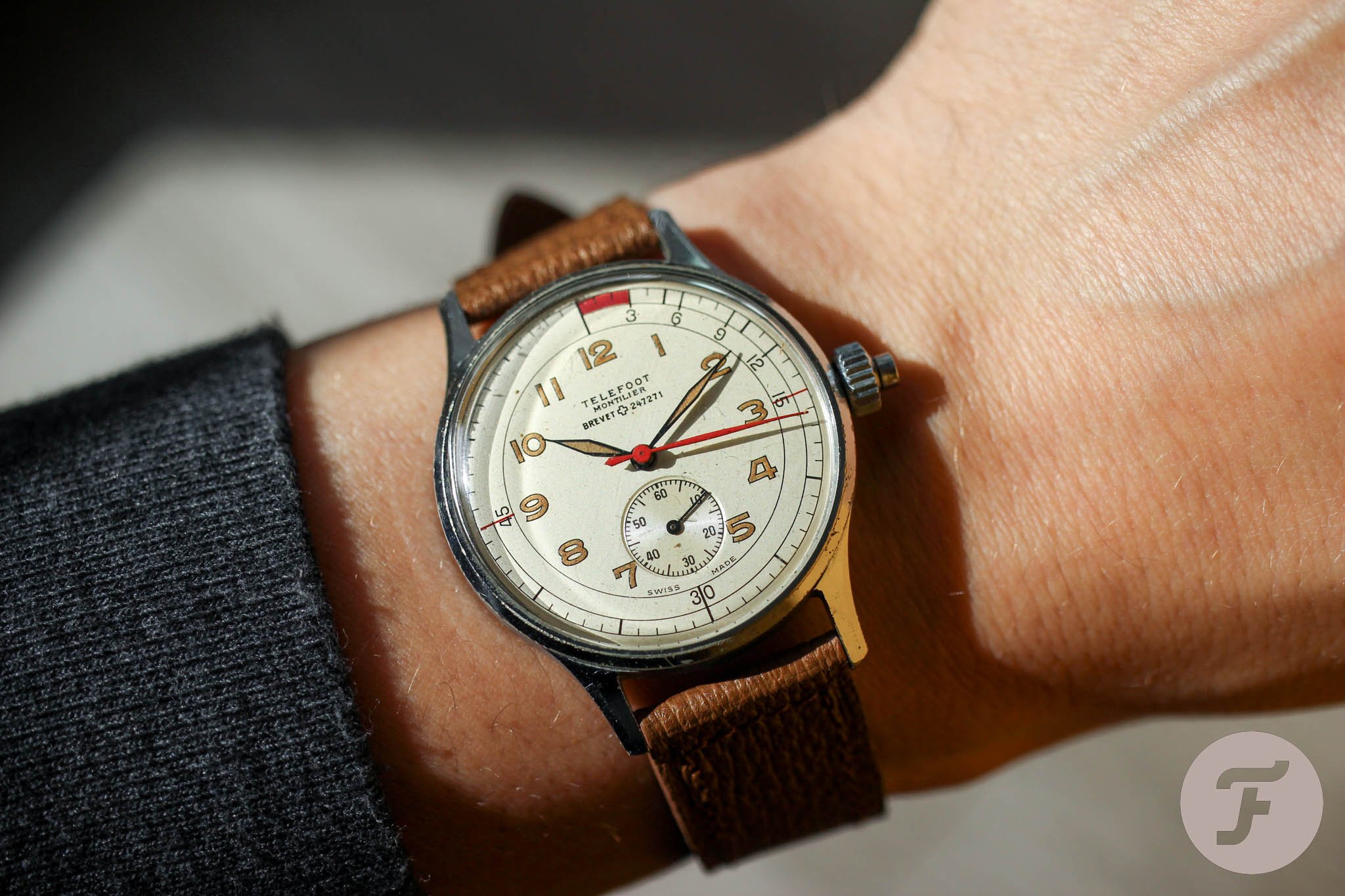 Last thoughts on the Montilier Telefoot
I like the Telefoot so much that I can't wait to use it while watching the 2023 UEFA Champions League final on June 10th. With no exaggeration whatsoever, I found a grail without knowing it was my grail. No kidding, the Montilier Telefoot has that Longines ref. 5699 vibe and energy, but it's just about €100,000 cheaper. I wear this watch for short periods, but I do so quite often. It is one of my most amusing daily beaters, perfectly combining an unusual design and complication, elegance, functionality, and patina. If you ever spot one, get it! Happy hunting!