#TBT Eberhard Fiat Watch: The King Of "Boring"
A match made in Italian heaven
One of the few watches that I feel really guilty about not wearing often enough is the Eberhard Fiat. Just a few hours after strapping it on the wrist, I am reminded exactly why I bought it in the first place.
I have a publishing plan for #TBT watches for three months ahead. That means I always have 10 to 12 watches shortlisted and lined up for specific dates. Usually, that is. Sometimes I break the pattern with a creative desire to write about a watch I spontaneously choose from the safe. This choice is sometimes so visceral that it brings an uncontrollable flow of ideas I want to share. That's what happened today with the Eberhard Fiat.
An unexpected choice: the Eberhard Fiat
Yesterday I wore the Orient Calendar Auto Dater Swimmer and my initial plan was to write about it today. But I am afraid you will have to wait for that review until next week. As I barely wear the same watch two days in a row, I hovered over my safe this morning. My eyes stumbled on the Eberhard Fiat. The specially branded Eberhard is a watch I often lay my eyes on but seldom reach for. It was a beautifully hot day and I was dressed in a linen shirt and pants. The Eberhard Fiat is thin, wears super-light and so felt like the sensible choice.
Is it a boring watch?
Admittedly, I know exactly why I often skip this watch when choosing which to go for in the morning. There is just too much competition with too many fine chronographs and quirky complications in the safe fighting for my attention. And the Eberhard Fiat just looks like a simple boring three-hander. But is it really boring? Nope.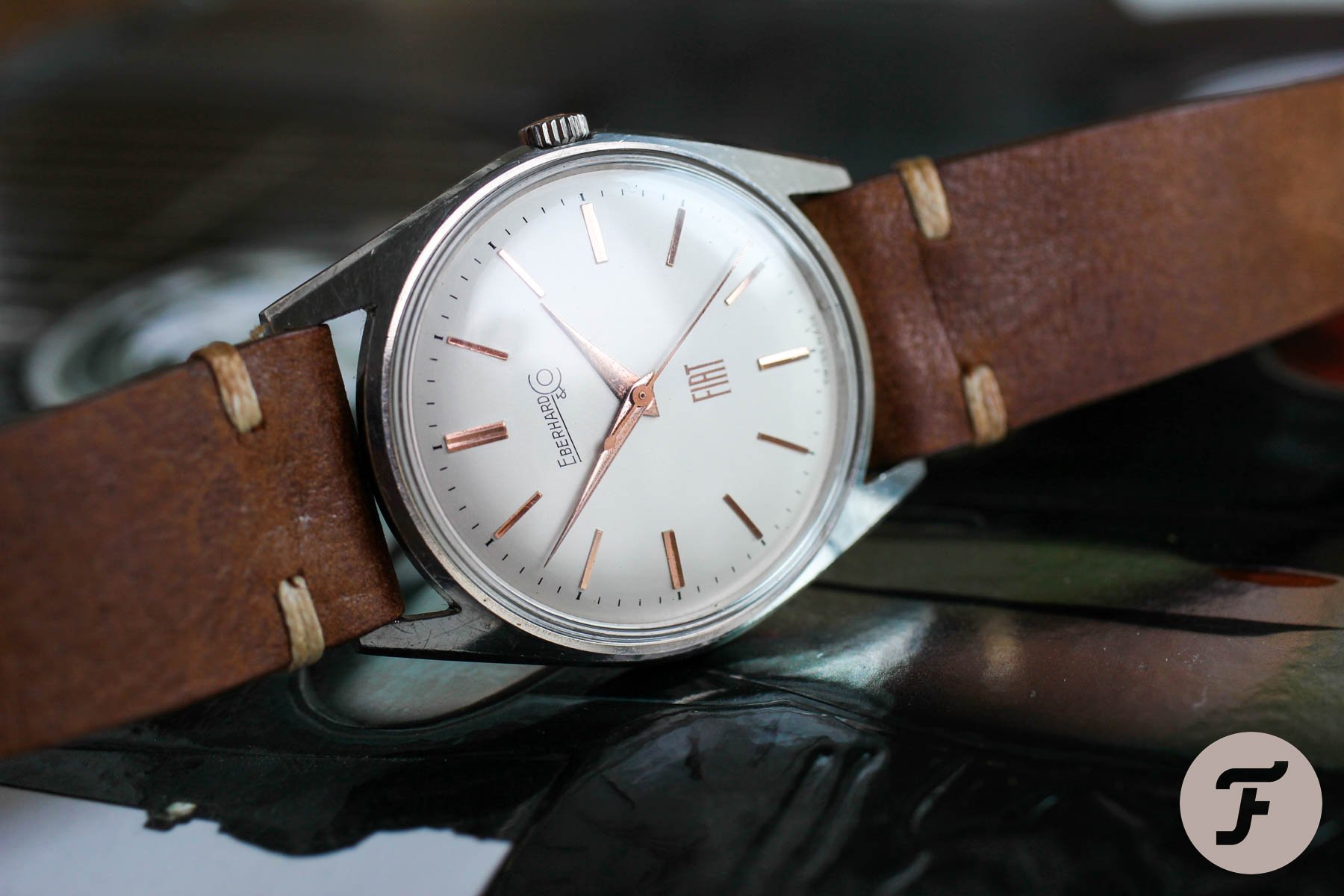 Every single detail is done slightly differently to your everyday "John-Doe" dress watch. The dial background is finished in a matte pearl-like structure. It loves direct sunlight and offers beautiful visual effects, sometimes looking almost fully white.
Rose gold stunt
The flat sharp hands that look like they were cut directly from the plate of some precious material really leap out from the dial. I am not the best material engineer, so do not ask me exactly what they are made of, but I doubt they are made from real rose gold. Regrdles, the Eberhard Fiat fakes it perfectly. If our eyes are used to mostly seeing steel, gold-plated, or colored hands, this handset is pretty out of the box.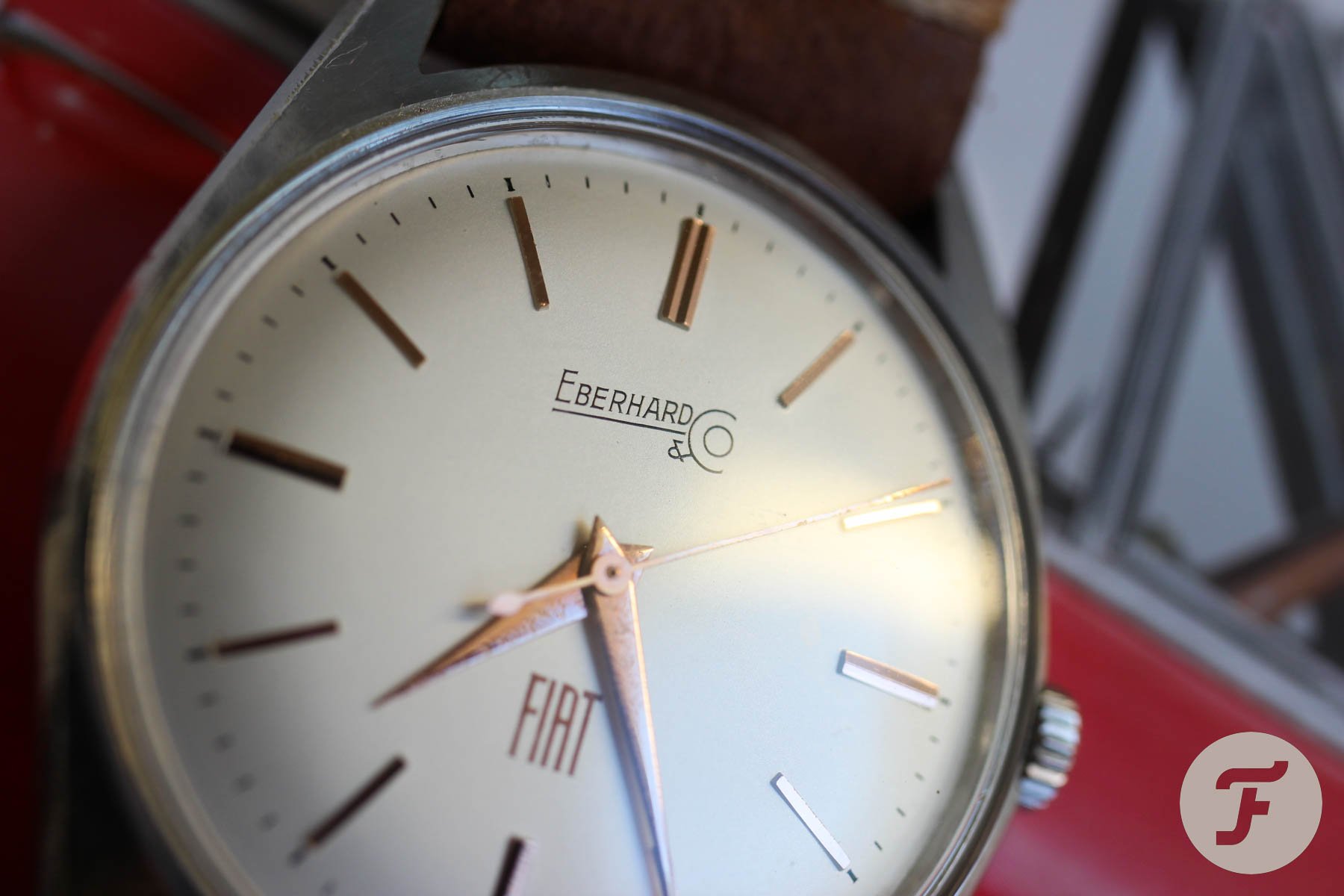 Eberhard Fiat rarity
Over the last four years, I have seen only one other example offered for sale by a Swiss dealer. The watch you can see there was almost identical, the only difference was it had lume hands. I am a huge fan of lume in whatever aged condition, but in this particular case, the lume kills the watch's classy style. I am not simply rooting for my Eberhard Fiat, I just honestly feel that the simple no-lume hands are a better fit.
Buckle sorrow
If there is one detail I am jealous of in the other referenced example, it is the original strap and an even more beautiful "E" signed buckle. Speaking of buckles, let me cry out loud about one of my big pains. A majority of modern watches come with buckles that are carelessly thick, generic, and boring. I'm not saying a buckle needs to be as ornamental as a baroque church, but the character that a signed buckle gives to even the most simple three-handed watch should not be underestimated.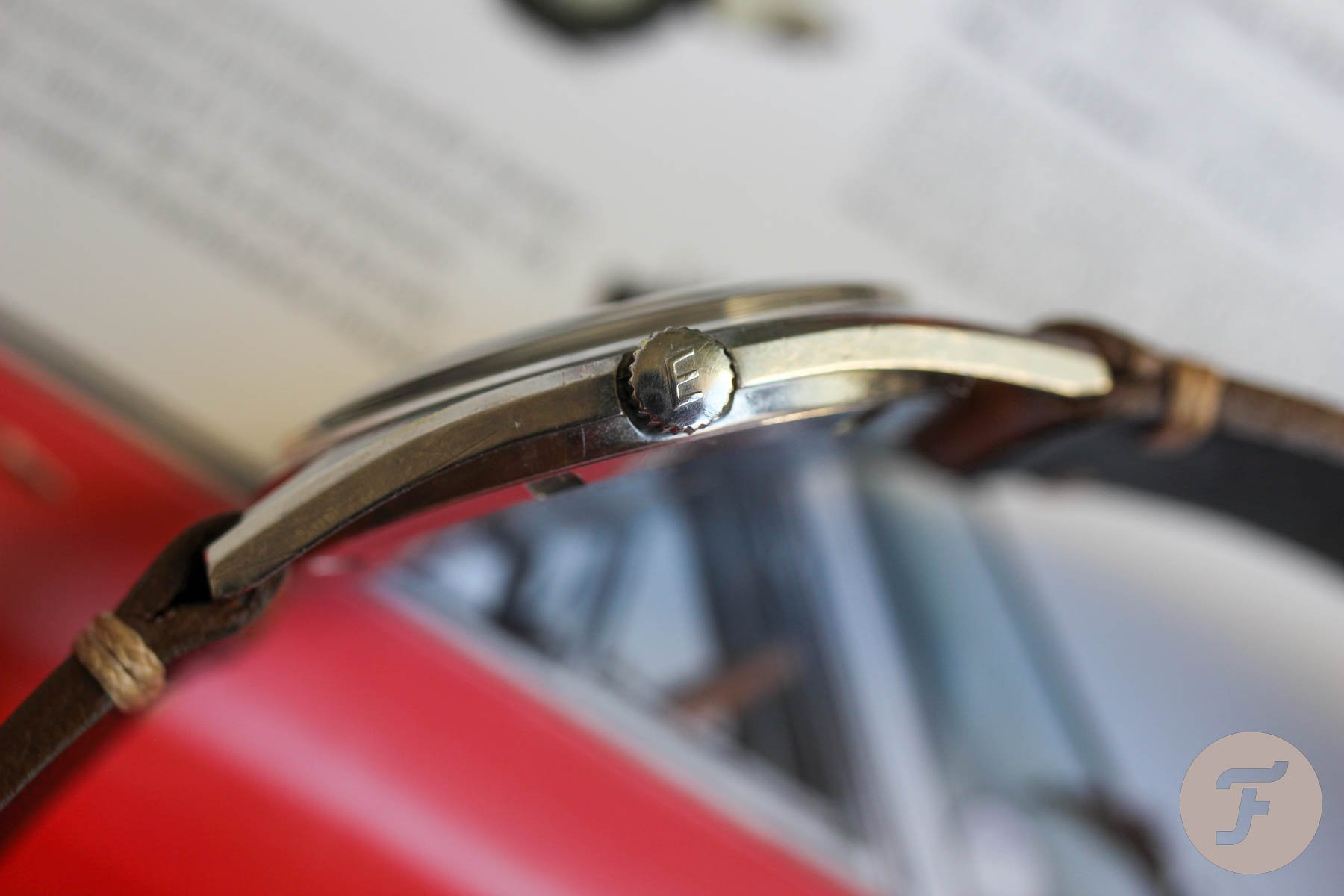 Back to genuine details
The indexes on the Eberhard Fiat are slightly longer than you might expect to find on a 35mm diameter case. Also, notice the carefully designed handset and its relationship with the other dial elements. The tip of the hour hand slides along the indexes with hair-thin precision. So does the minute hand, whose tip reaches exactly to the other end of the indexes.
The 35mm diameter Eberhard Fiat is only 8mm high. That means you barely feel it on your wrist. If you count all the aforementioned classy details and add the sharp edges and the quite small "E" signed crown, you get your ultimate dresser choice for a hot summer evening or…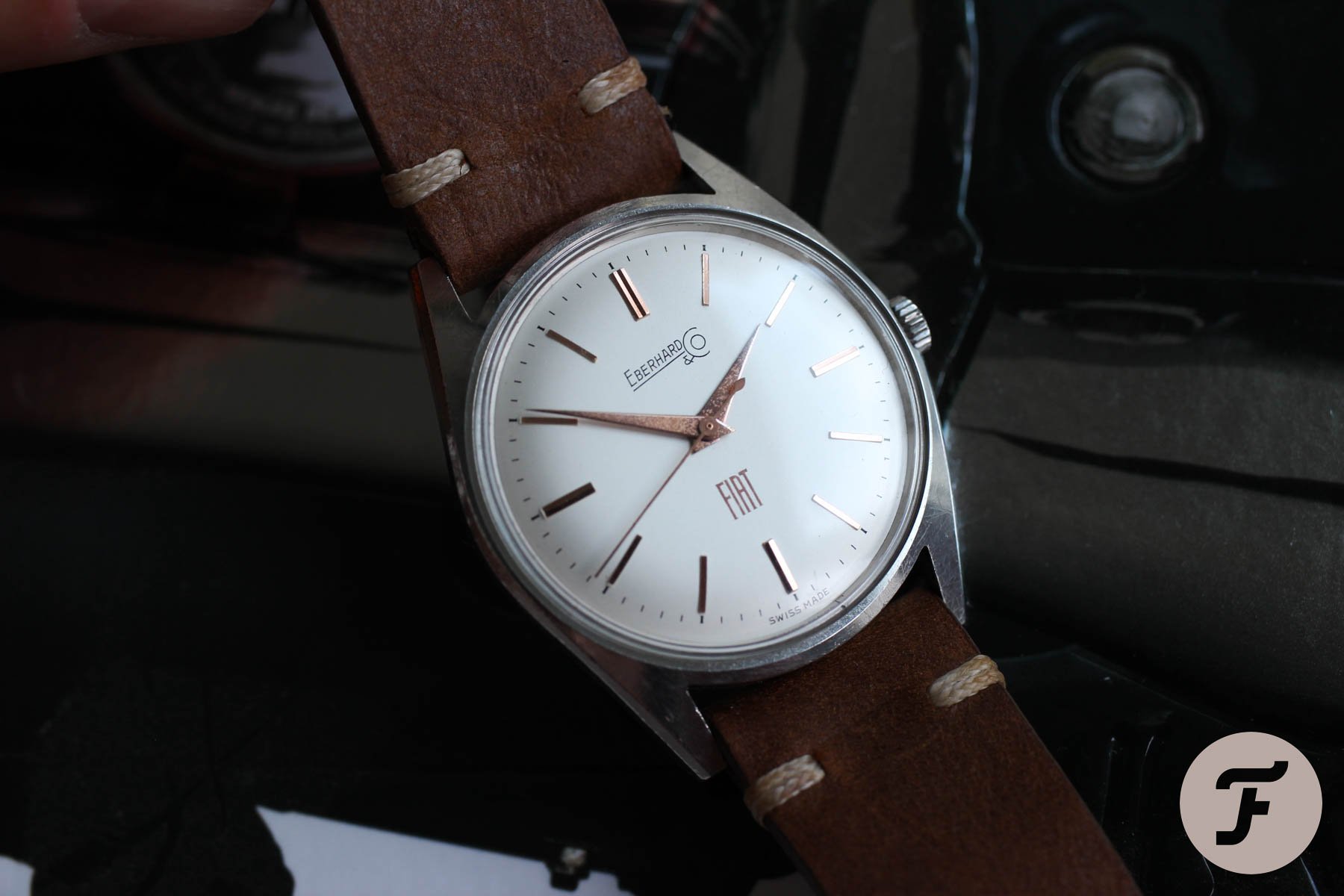 …a drive with your Fiat classic car. I kept the most precious detail for the grand finale. In line with the hands, indexes, and rose gold-style hands there is a decent Fiat logo printed above six o'clock. I studied the printing under the loupe and I have to tell you I was equally impressed by the printing quality and the tone printing. I am really happy to see that even half a century after its production the Fiat logo matches the dial style perfectly with seemingly no discoloration.
Shotgun notes
The laser thin Eberhard & Co logo is art on its own. Despite two strong logos on the dial, they do not compete and thus they don't ruin the classy clean aristocratic dial vibe. I think the Fiat logo printed in rose gold-tone helps in keeping the double branding genuine. The quite majestic Eberhard logo is also engraved on the surprisingly flat case back, which helps keep the watch thin. Another positive surprise is the 19mm lug width. This allows mounting a proper strap which also helps to give the watch a modern grip on your wrist. Is there anything I do not like? The small crown is nicely integrated into the case, but it is quite a pain to wind the otherwise beautiful hand-wound Eberhard 262-1 movement. Oh and I forgot to mention that it runs at 21,600 beats. Not bad.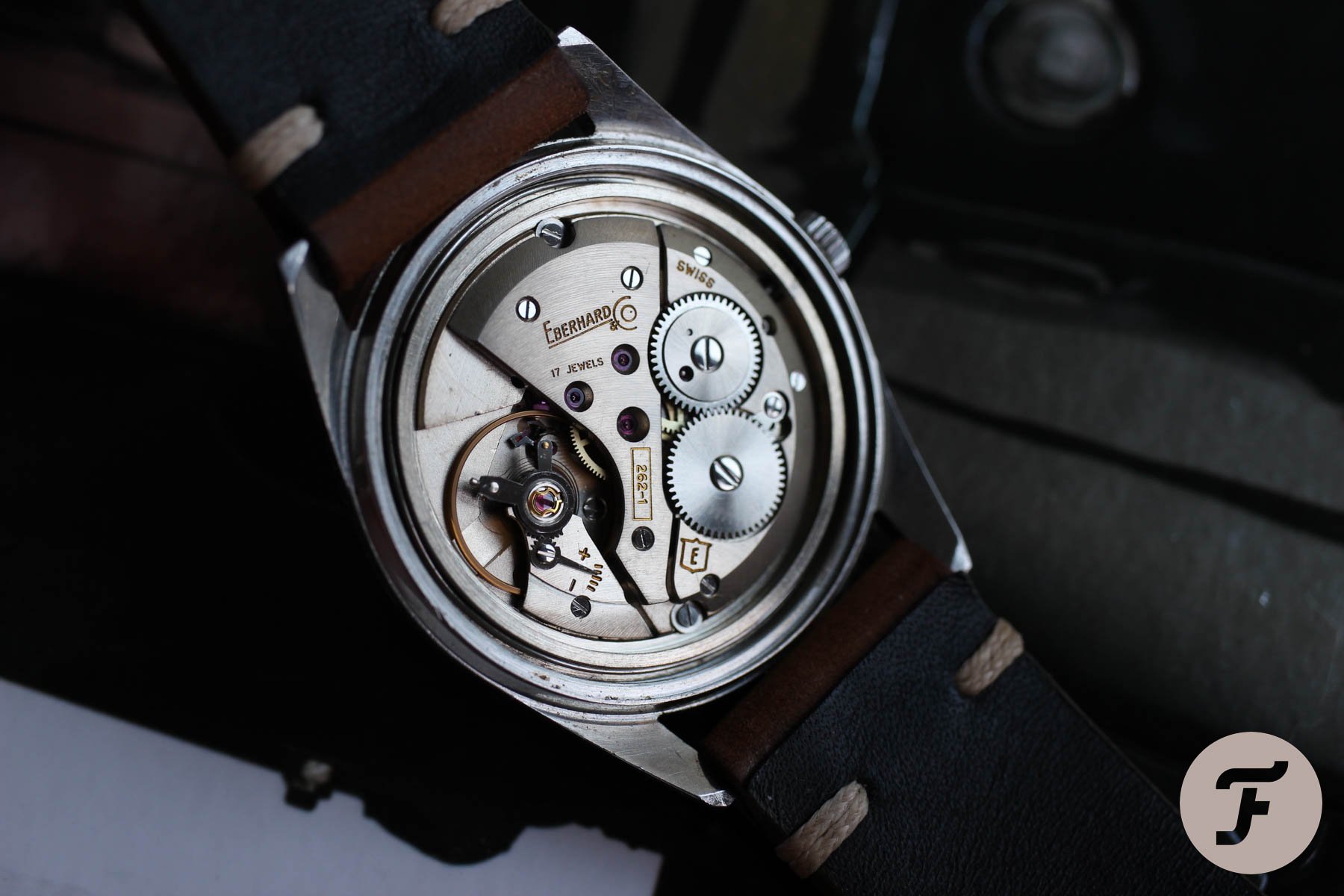 Last thoughts
You know I have a thing for vintage watches; I'm not sure if I ever mentioned that I also have a soft spot for classic cars. My daily drivers are all from the end of the 1970s or the early 1980s. But what is quite outrageous, is that I have no Fiat of my own. If I had one, you bet I would sport this lovely Eberhard Fiat more often. I believe it was an aspirational purchase in this regard. As I feel that buying a "matching" Fiat Dino will be much easier (although undoubtedly more expensive) than acquiring another Eberhard Fiat. Happy hunting.