#TBT A Lesson Learned From A Chromed Oris Waterproof
A little watch-collecting modesty can be surprisingly satisfying
When it comes to watches, there are two major characteristics that usually work as a filter and, ultimately, show-stoppers for me. First of all, I don't like barrel cases because I find them chubby and cumbersome. Secondly, I try to avoid chrome-plated cases. And yet, here we are. How did the barrel-shaped Oris Waterproof in a chromed case make it into my collection?
I am over that period when I had a serious problem not bidding on anything I remotely liked. I'm pickier now, and I don't suffer from FOMO every time I see a watch listing that I like. When I really like something, I give it a few more hours or days and come back to the listing later. If I forget the listing completely, I take it as a sign that it was not good enough for me to set up an alert for the end of the auction. There are tons of watches out there. And there will be millions of other vintage watches we haven't heard of yet.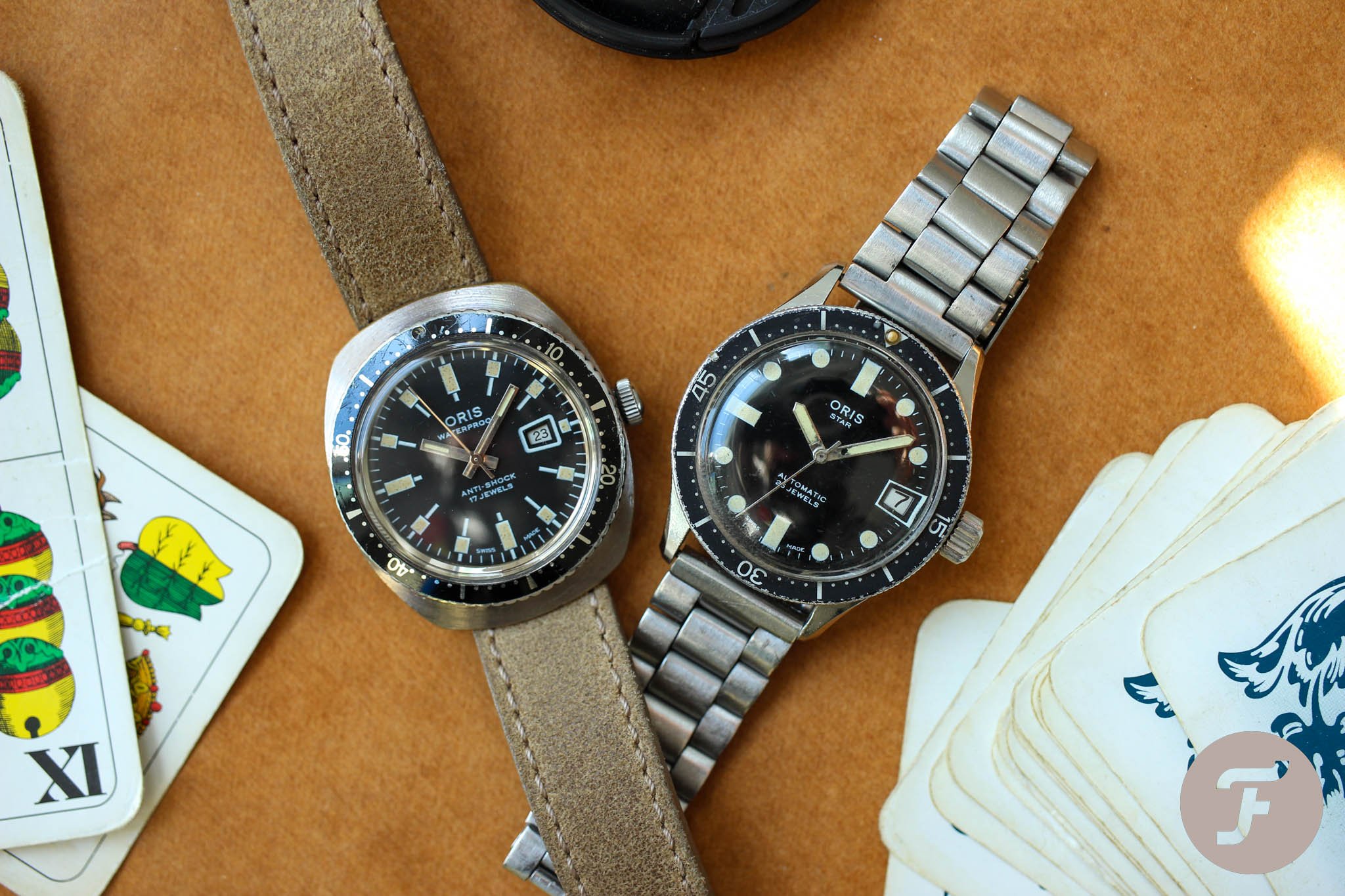 A double strike from Oris
You may have read last year's article about the underrated Oris Star, which I acquired on an original Oris bracelet. That little diver became one of my dearest watches. It's small, super comfortable, beautiful, and perfectly legible. The Oris Star looks boringly "default", but the opposite is true. But I guess you would need to have it on your wrist to really understand how different it is. Take the watch's hands, for example. They are so profoundly flat and simple! I use to joke that while other watches have some lume on the hands, the Oris Star has some steel on hands made of lume.
From the Star to the Waterproof
I guess that my affection for the Oris Star has much to do with the quite random and unexpected acquisition of an Oris Waterproof. No kidding, I was sober and fully aware that the Oris Waterproof doesn't have a steel case when I was bidding on it. I just liked the dial so much. I had no expectations, but I was rather curious and wanted to see it side by side with my Oris Star. And what I got really exceeded my modest idea of how I would feel about this watch.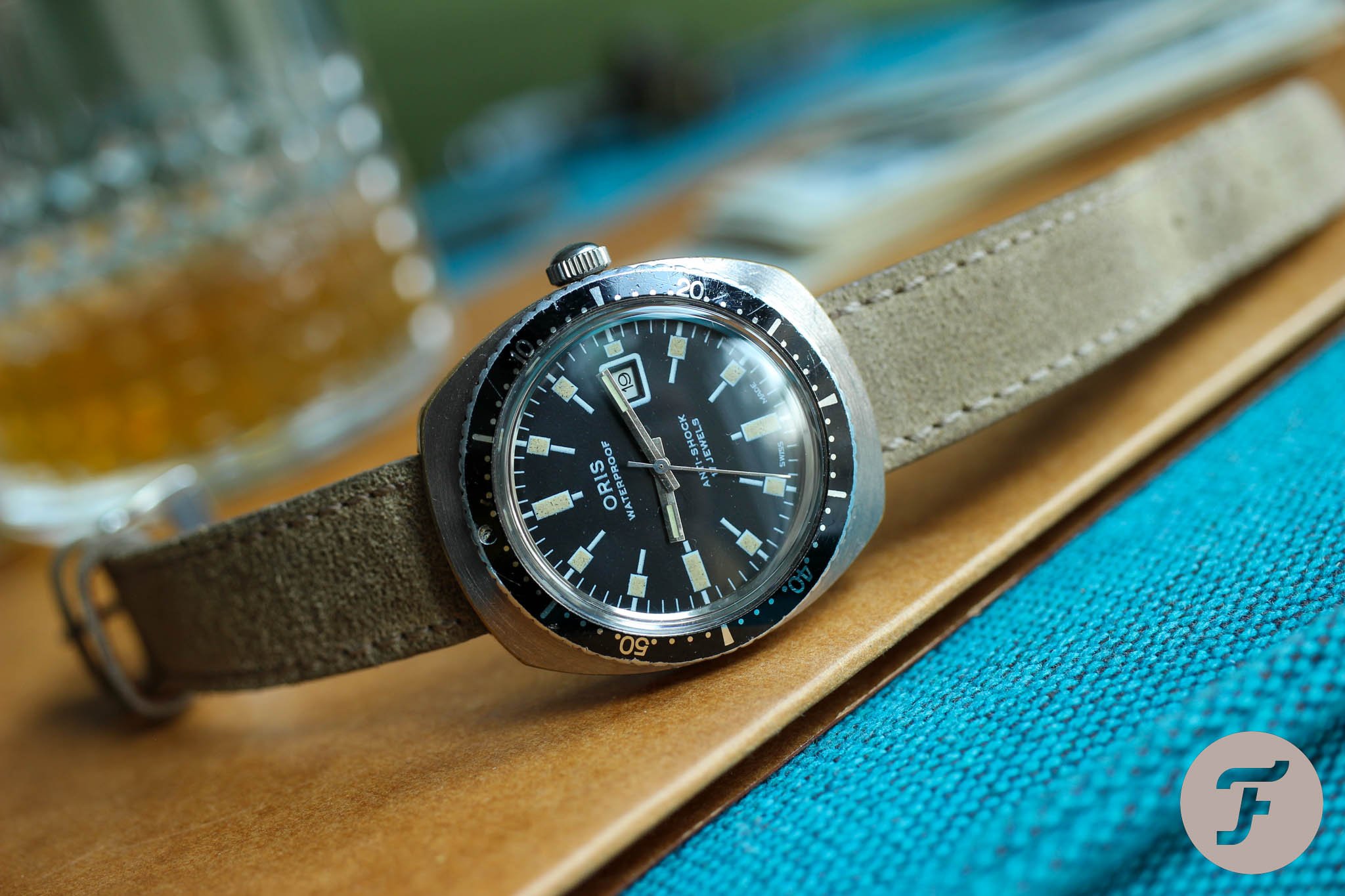 The case shock
In my early days of watch collecting, I bought a Heuer "Siffert" and "Orange Boy" because an offer was good. After a year in a drawer and three unsuccessful attempts to leave the flat with one of them on my wrist, I had to sell them. I really liked them, but I couldn't wear them. I guess that's the origin of my distaste for barrel cases. Anytime I strapped a modern or vintage barrel case to my wrist, I felt like my wrist had suddenly swollen. No matter how hard I tried — and trust me, I tried from many angles — I always found barrel cases unnecessarily fat.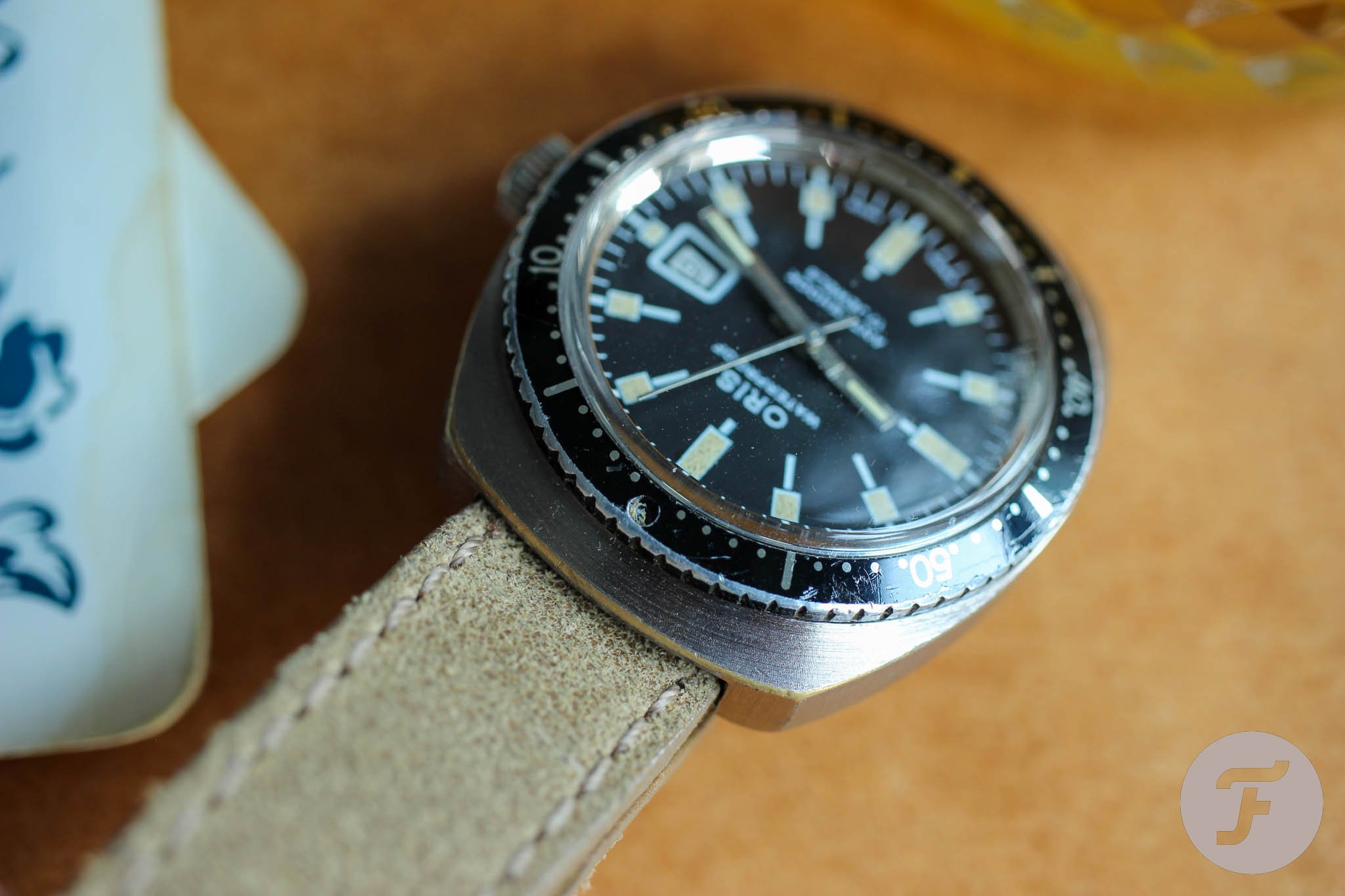 At 37mm × 42mm for this Oris, it makes about 5mm less on each axis compared to the big Heuers. I didn't bother to check the size before buying. Most likely, there were no dimensions listed anyway. But that specific 5mm reduction in metal makes a huge difference. If you ask me, it looks like a better version of the Heuers. I was not only okay wearing it, but I was also amused wearing it, no matter what angle I looked at it from. Here is the thing. Watches with a 35-37mm diameter and thin lugs may feel lost on bigger wrists. The barrel-styled case has that critical amount of metal that makes it more present on the wrist without making it really huge. I surprised myself when I first gave in to the idea that the Oris Waterproof is a perfect fit for my wrist.
Base metal as a feature
If you see an Oris Waterproof with a perfectly shiny case like this one, I would advise staying away, as it looks like a re-chromed case. The original case should have matte, perfectly radial brushing. It reminds me of the annual growth rings on an old tree stump. The macro shots above perfectly show the rough and authentic structure that runs in different directions on the top and the sides. Edges that took years of beating reveal fine lines of naked brass. On any other watch, it would drive me crazy, and I couldn't bear a single look at it. On this angular Oris Waterproof, however, it looks almost like a part of a well-planned aging scheme that matches the dial lume.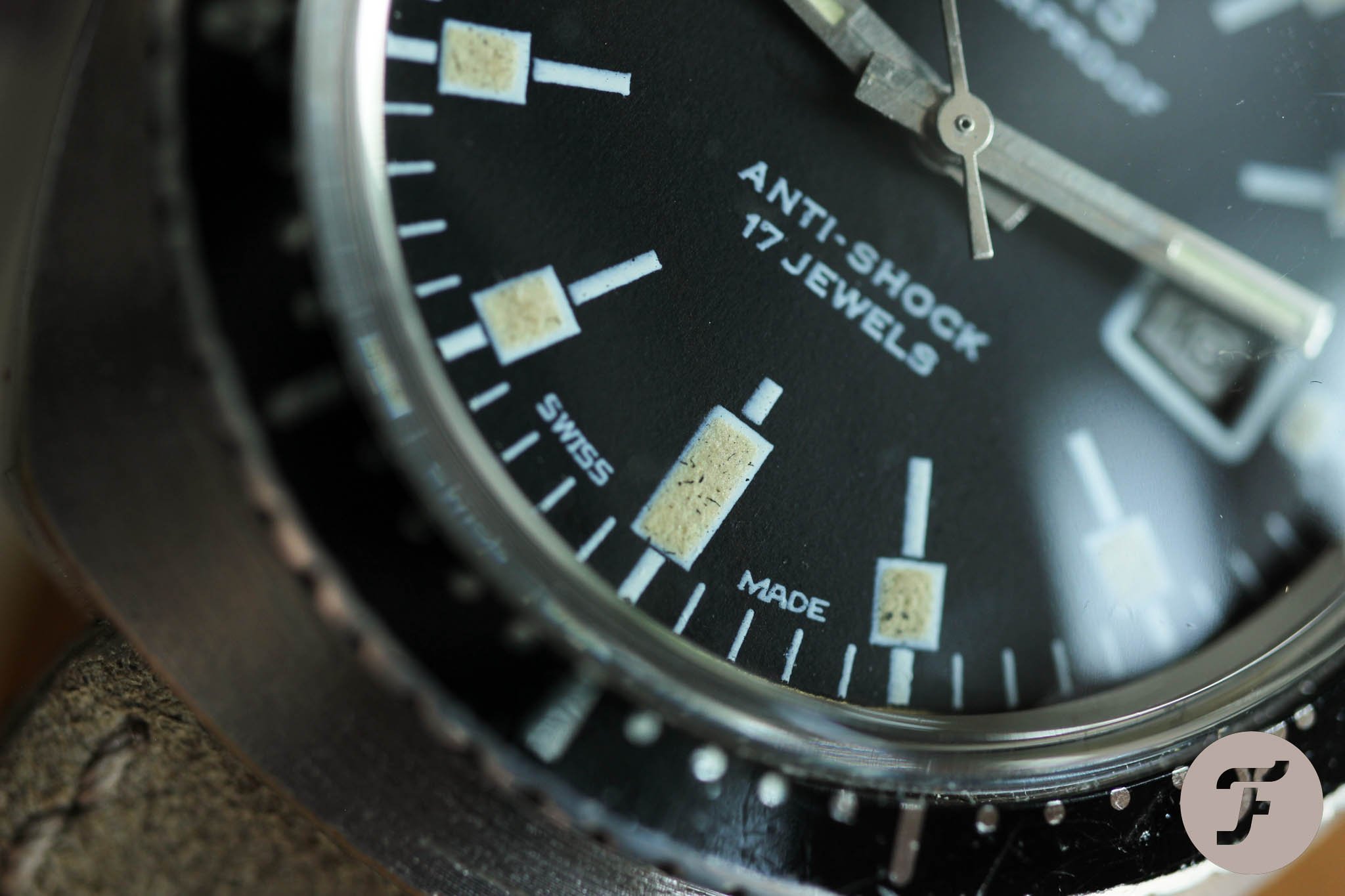 Oh, the dial
Once we took off the beaten crystal, the dial instantly showed its beauty. The matchstick indexes with generous lume heads are pretty unique, and their length is not random at all. Please notice how the matchstick indexes interact with both hands. The significantly shorter hour hand glides in a way that it almost touches the foot of each matchstick. The minute hand is long enough to reach the lume indexes and create the illusion it almost merges with them.
Last thoughts
The pin-lever caliber KIF 654 is no mechanical wonder, and its look matches its quality. One could say that it's rather a disappointment to see such a basic movement in a beautiful watch like this. On the happier side, my watchmaker was surprised by how precisely it runs. I believe a tropic-style strap would be an obvious pairing, but I decided to put it on one of the older suede straps I have. It's a bit unusual, I admit, but it underlines the vintage "off-duty-diver" character of the watch. Happy hunting!