#TBT The Complete Tourist Everlight Family Christmas Get-Together
Who knows when we see them all together again
Shiny, tiny, and colorful light bulbs contribute big time to a Christmas mood. It's one of the many reasons I wear my Tourist Everlight often in the winter. After a long search, I managed to gather all models of the world's first electrically lit watch from 1957.
As merry and bright as Christmas can be, it has also another face. Some people enjoy it, and some do not. I don't know what part of the globe you live on, but where I live, the winter means literal darkness. When I wake up in the morning, it's totally dark outside. And when I am leaving the office not late in the afternoon, it's already dark outside. There are no lamps in the parking lot behind our office. When I approach my 1979 Honda Prelude, I always hope I'll be home on time to catch dinner with my baby girl. Before I stick the key in the ignition box, I always check my wrist.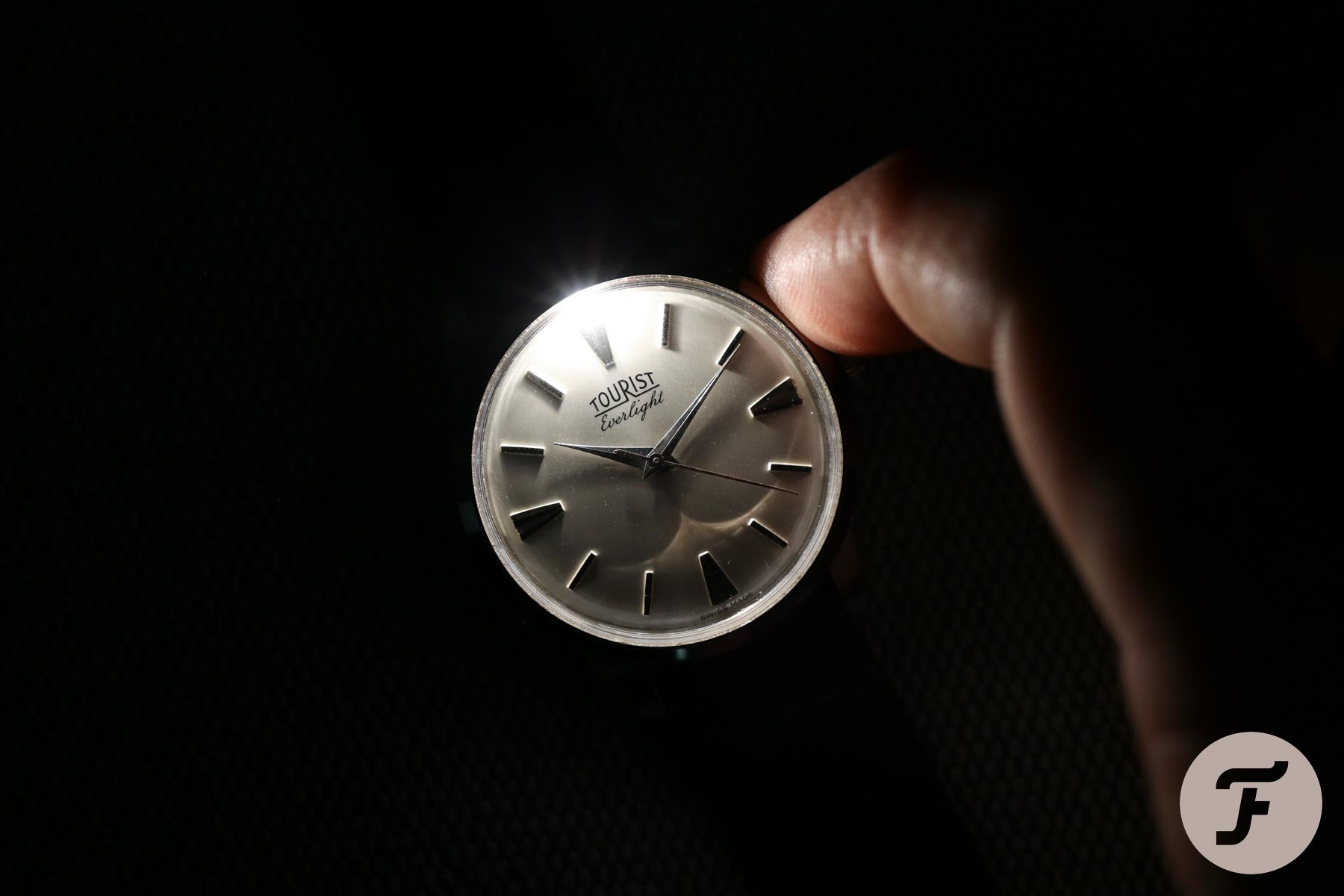 Everlight's light-up experience
This is a moment I strongly associate with my Tourist Everlight watches. The quiet parking lot is shrouded in darkness, and my left hand is holding the steering wheel. I press the pusher at two o'clock with my right hand, and the dial is instantly flooded with a rich, warm yellow river of light. It's kind of like lighting up the Christmas tree for me. That feeling is really hard to describe, as it's completely novel in comparison to good old (but also boring) complications such as a date or a chronograph. It almost feels like there is a living room under the Plexi that comes alive with a single switch. It's definitely something no lume material will ever provide.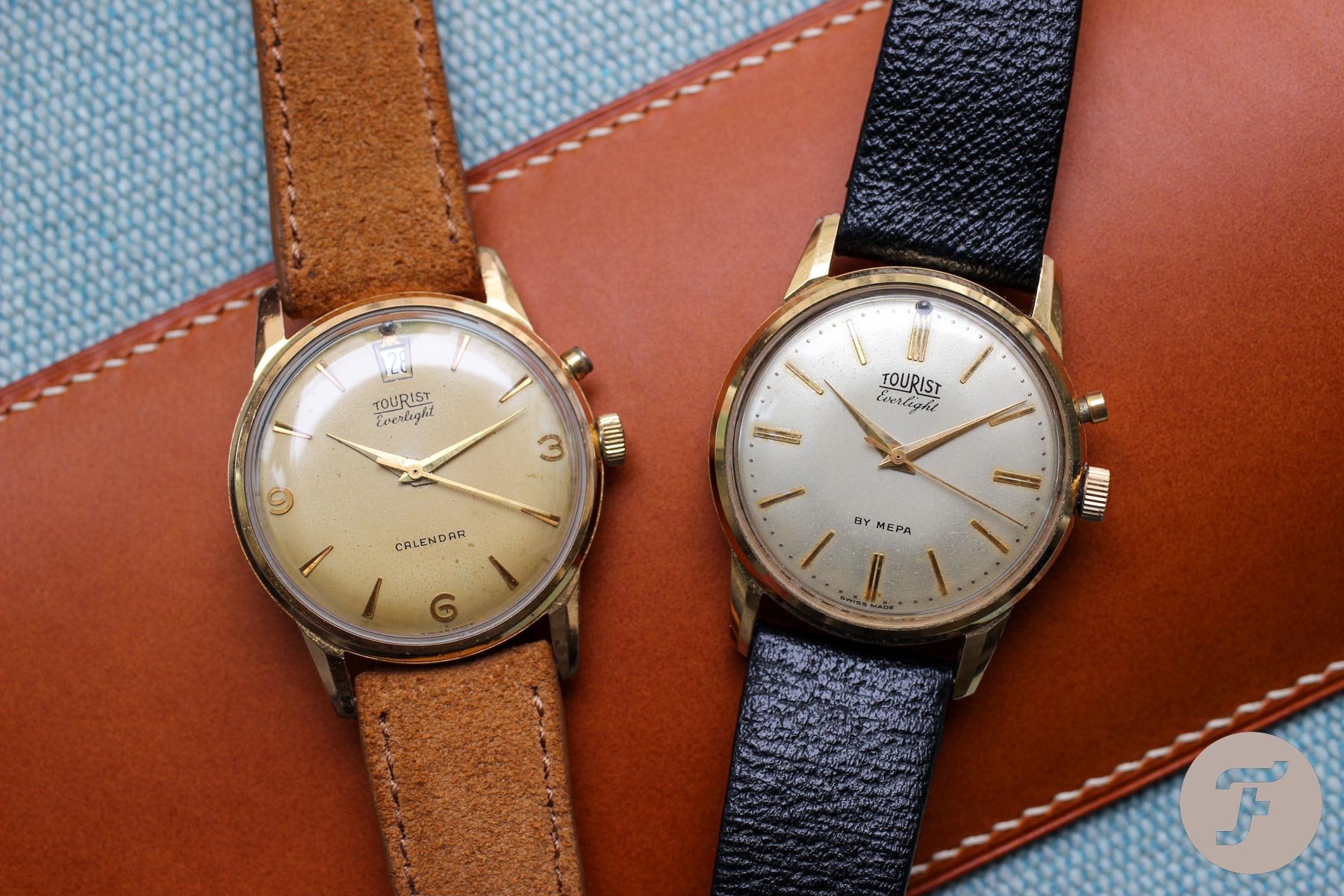 Deep affection for Tourist Everlight
During my three years as a Fratello editor, I've written more than 200 watch stories, most of them about vintage watches. But there is one watch that took the most time, patience, and space to write up. Ironically, the general story of the Tourist Everlight watch was not as long as originally intended. It was introduced in Basel in 1957, a year earlier than another spectacular timepiece, the Ernest Borel Flash. A large chunk of the estimated 100,000-piece production volume was taken back due to warranty claims of a leaking battery. And that was the beginning of the end not only for the watch but also for the entire Tourist brand. The factory shut down in 1963. Despite its short life, the story of the Tourist Everlight is pretty fascinating. Grab some Christmas cookies and dive into the story in two separate parts — the Origins and the Restoration.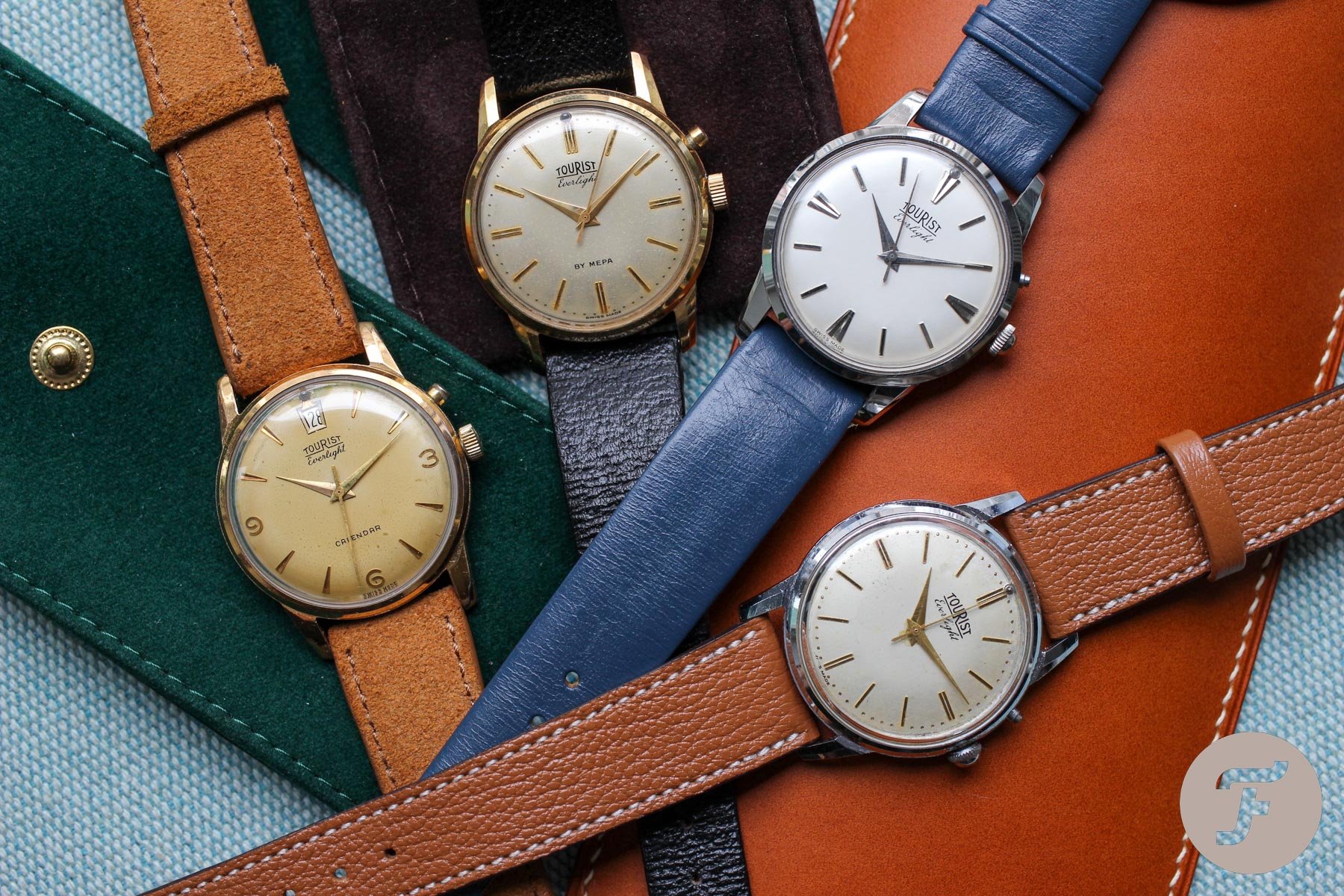 Four brothers
In today's #TBT we will focus on four different Tourist Everlight models and some things I've learned over my two years collecting them. My previous article described the first one I found and successfully brought back to life. The second one was brought to my attention by my watch friend Rainer, who spotted a chrome version in Austria. Shortly after I acquired a new-old-stock steel model, and two years after the first acquisition, I finalized the family with an equally hard-to-find Everlight Calendar version.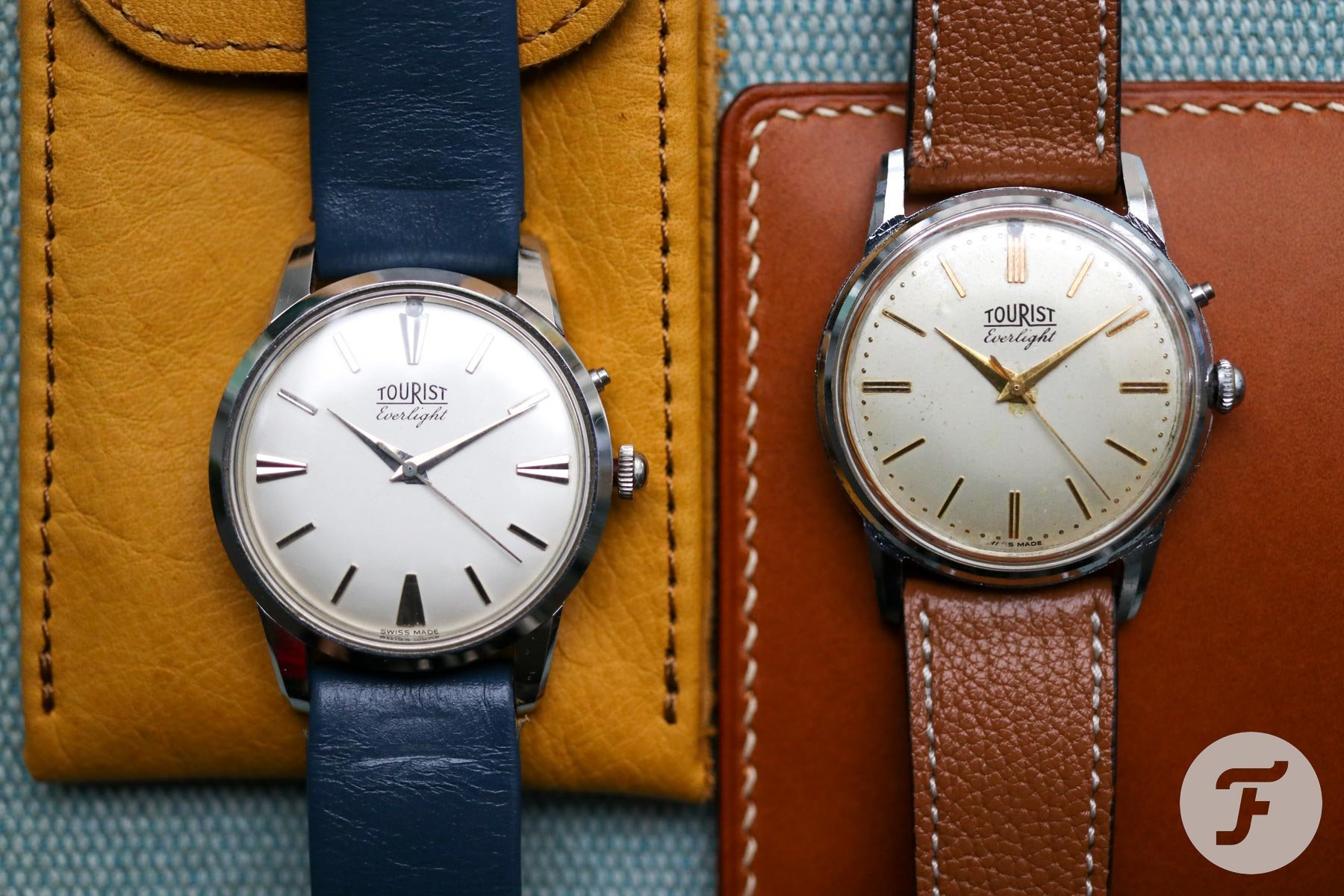 Chrome-plated Tourist Everlight
I honestly like every single millimeter of my gold-plated Everlight. But you know, I really wanted to see how it feels in more neutral and versatile steel or chrome. The chrome version was the first to find me. I didn't like the combination with gold hands and indexes very much, but on the other hand, I was completely excited to see the pin pusher for light activation. It isn't tiny, as you might know from other watches with pin pushers for date adjustments. The Everlight has quite a visible tunnel sticking out of the case and the pin easily slides in it.
After we removed the old battery and installed a 3V coin lithium battery CR2025 into the silicon seat created in the case back, the chrome Everlight instantly lit up. But within the next few months, I had to change the battery multiple times and didn't know why. After my watchmaker and I gave it some thought, there was only one explanation left. We posited that it might be due to incorrect storage that would create a short circuit by somehow connecting the crown and pusher, probably by being in too close of proximity to the other watches. I was skeptical at first, but after I separated them all out into plastic bags, I haven't had to change the batteries, and all my Everlights work just fine.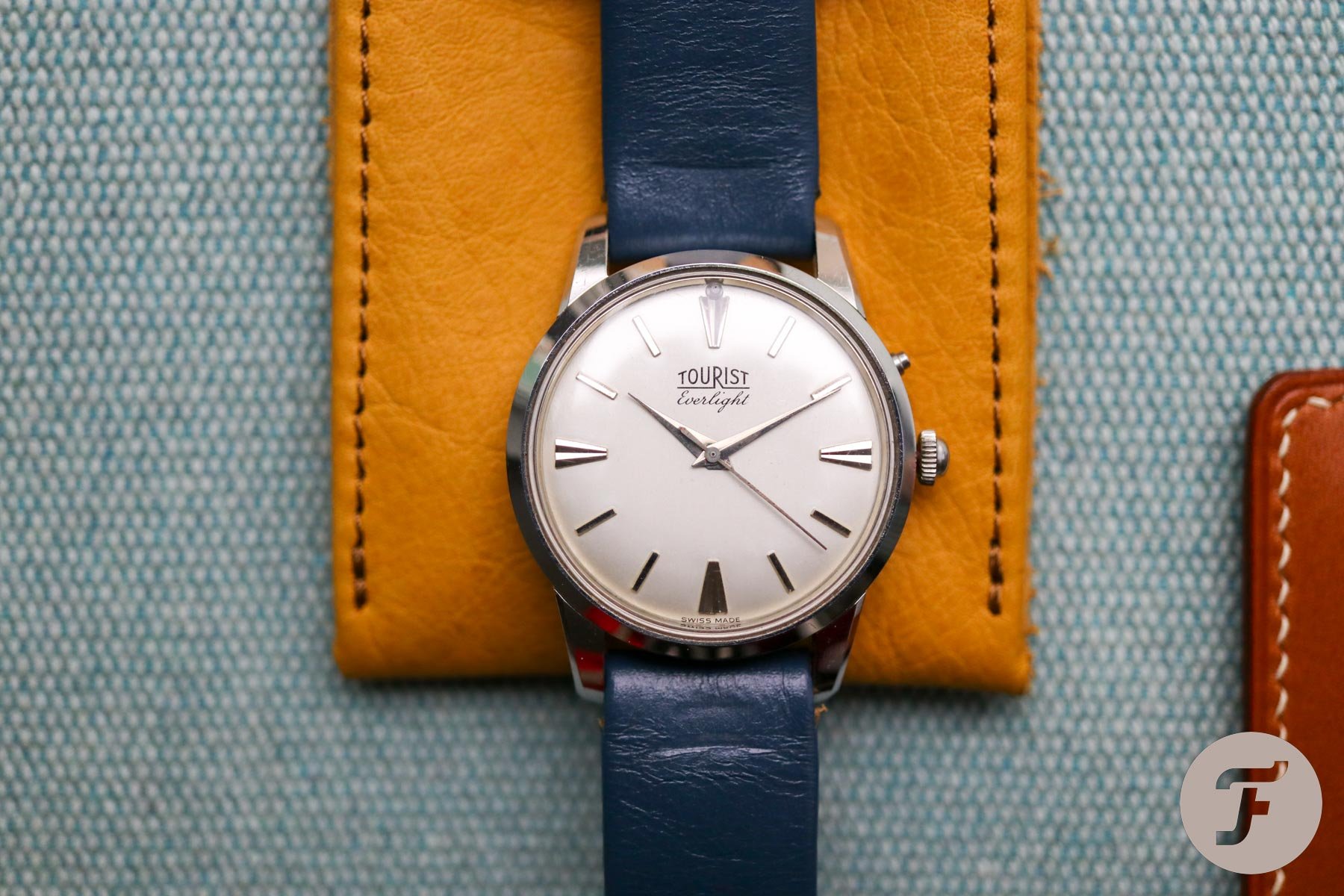 All Steel Tourist Everlight
I was once offered a steel version which was quite beaten up for a price well north of €1,000. But when a steel N.O.S. Everlight appeared on eBay with almost no scratches on the case, I was in. Not only is it the finest steel Everlight, but it's also the finest Everlight of any kind I have ever seen. When sitting next to each other, the chromed case seems like the steel one's poor brother. The steel case is a bit beefier, reminding me of old Seiko cases. The untouched matte pearl dial found on unusual highly polished examples is just beautiful. This model also comes with an earlier pin pusher to activate the light, as shown in the print ads from the time.
The hat-like crown is a Tourist signature and comes on both the chrome and steel versions. Notice also the difference on the case back. The steel Everlight has an "all steel" stamp whereas the chromed version features "steel case back". It's an easy way to check that the battery on your steel Tourist Everlight hasn't been switched with that of plated models. The simple, pale blue strap has neither stitching nor heat-pressed lines, and it still features the Tourist branding on the underside. Some of you might agree that an original strap is the ultimate detail to transport one back in time.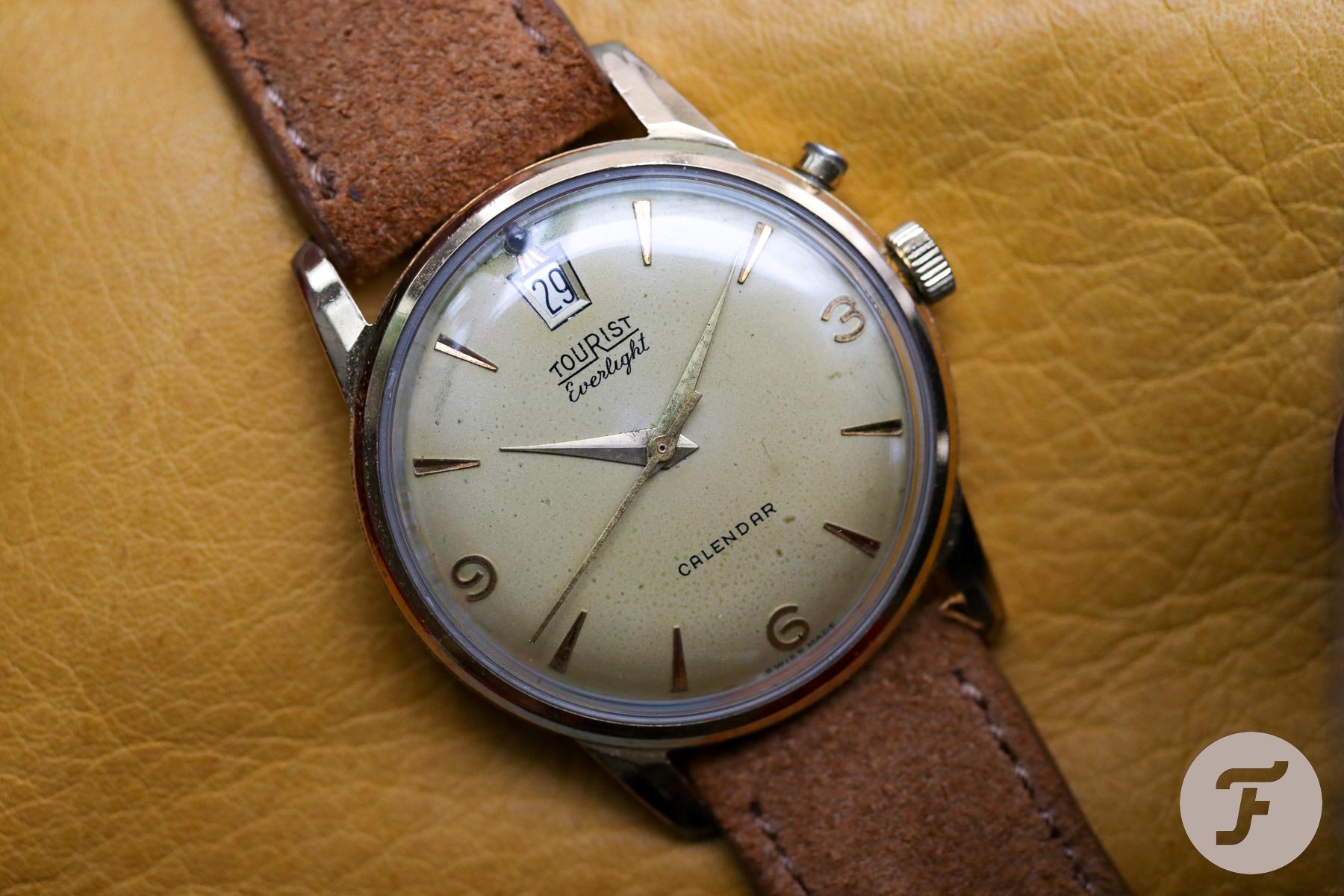 Tourist Everlight Calendar
I think I have seen two complete watches and two torsos of the Everlight Calendar listed online in the last two years. But even the complete watches haven't been far from torsos judging by their condition… I am glad I decided to buy one of them, however, with a nice case but a destroyed dial. After some time, another piece surfaced, and though the dial was quite nice, it had a dead bulb and no pusher.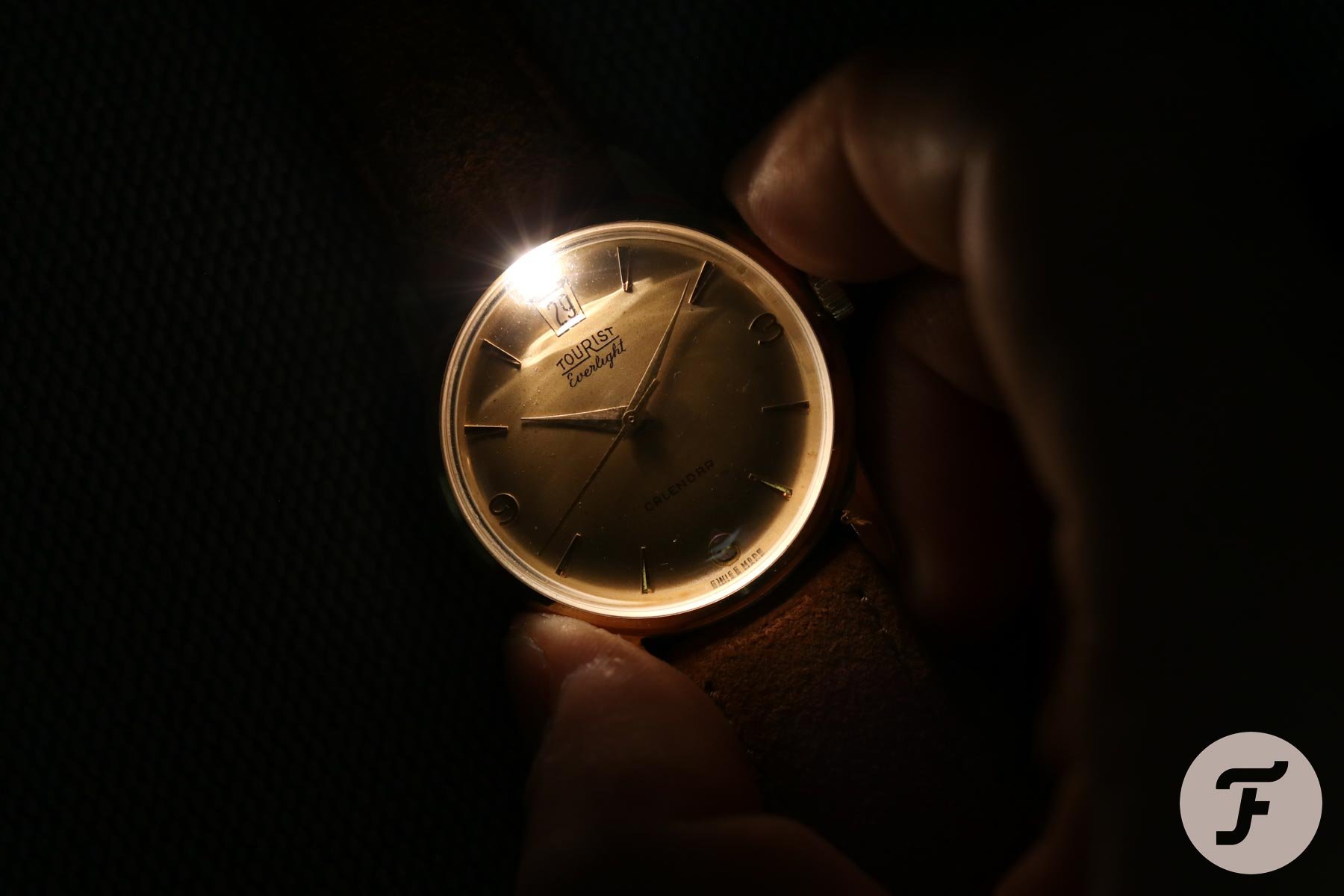 I won the auction for it for silly money, and I put the pusher from the donor watch on and installed a new bulb. One piece of advice, as I got multiple messages from collectors asking where they could buy an N.O.S. replacement bulb. I believe the old stock would be impossible to find, so I bought a pack of these bulbs. The shape and size are almost identical to the original.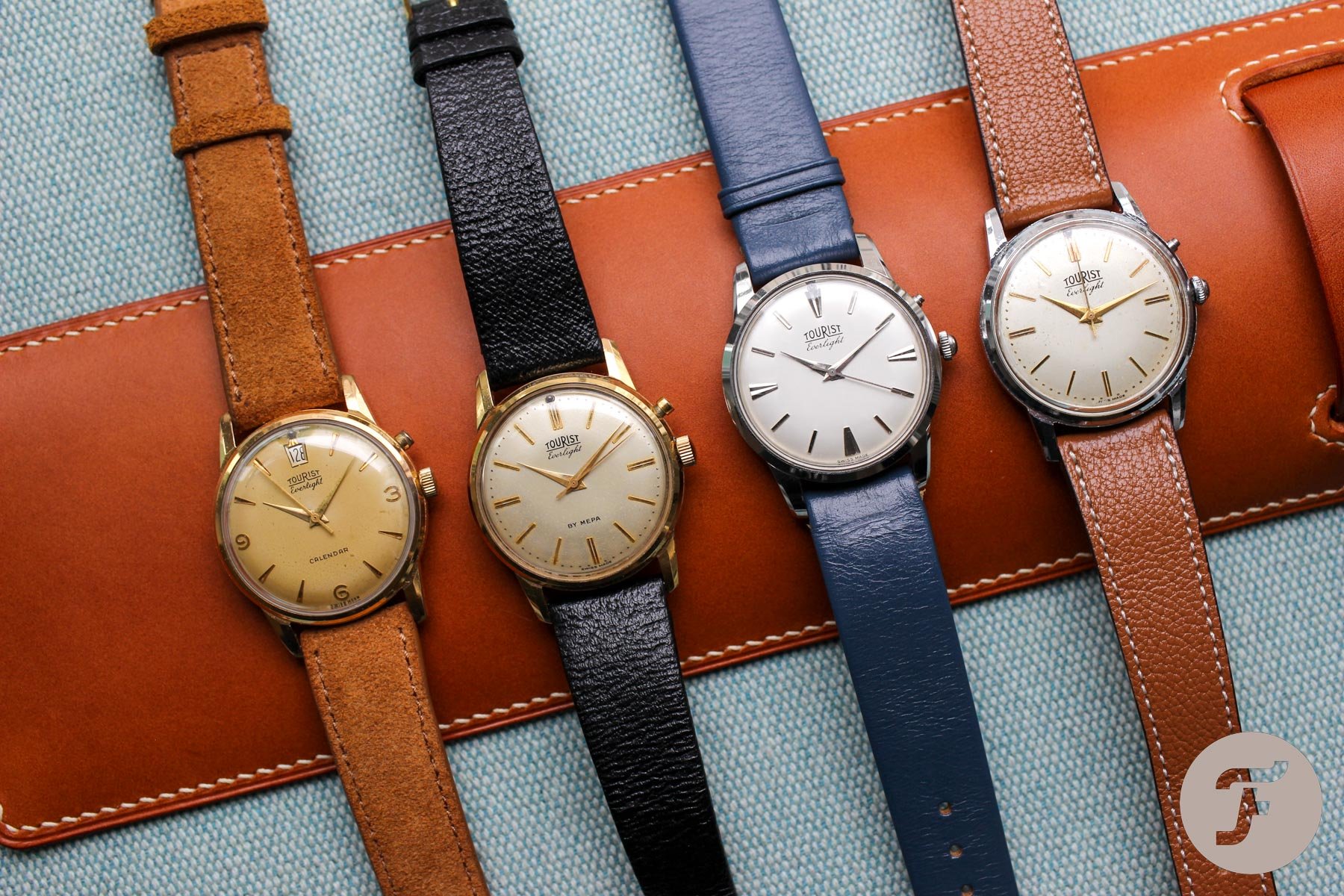 Final thoughts
A minty Everlight Calendar seems to be as rare as hen's teeth. I don't remember ever seeing one. Maybe it's the aperture on the dial and the battery leak that makes them all look so devastated. With a decent window at 12 located just a hair below the bulb, the airy Calendar signature, and the 3, 6, and 9 Arabic numerals, this Everlight version is the most interesting from the quartet. The chromed version is my least favorite for obvious reasons.
The steel Everlight holds a special position, which comes as a result of the shocking N.O.S. condition and clean, majestic looks. It's definitely the most elegant model. The gold-plated one is elegant too but in a different way. The steel Everlight is more formal, and I would say it goes well with business attire. The gold-plated one with a slightly aged dial is warmer. It has a kind of family-like and festive charm. And that's why it will be on my wrist tomorrow for Christmas dinner. Happy hunting.