#TBT The Full Kit Medana "Pontife" Watch
An unusual vintage beauty under €100
It's not a price tag you are used to seeing on a vintage watch. And honestly, there are not many "special" pieces you can still buy under €100 today. Even fewer are available if you want to have a full kit watch with its original manual. I guess I was just lucky to spot the Medana "Pontife" at the right time…
I have gathered so many online sources where I can scroll through offers for ages. Simply put, I don't have enough time to pursue them all. One of them is the ChronoTrader that I hadn't visited for months. I don't how I found myself there in January, but I'm glad I did.
It was a pretty random visit. The first listing I laid my eyes on featured the Medana in the headline. Being a pretty unknown watch brand, many collectors don't even bother clicking on the link to see what's hiding behind it. Since I landed an early date Medana with a running second disc that we already featured on #TBT, I am truly fond of the brand. When I spotted the beautiful dial and spectacular "Pontife" hand, I instantly contacted the seller.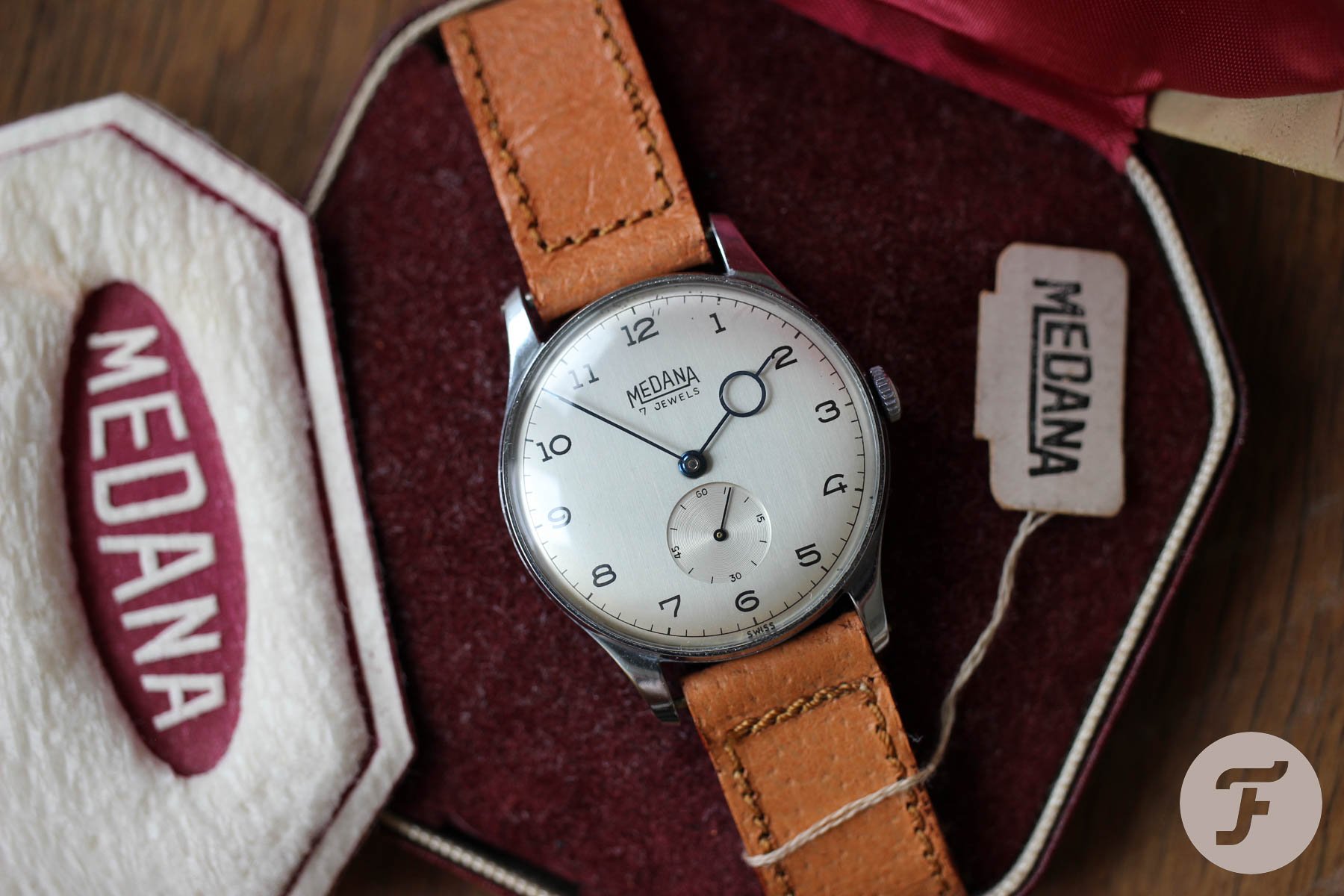 Medana "Pontife" bargain
There was only one picture available and it showed the Medana "Pontife" like it just left the factory. It was perfectly strapped around the suede pillow with an original brand tag attached on a thin lace. There was even a beautiful colorful manual under the pillow. I still could not believe the €100 price tag, so I asked what was wrong with the watch. The seller notified me that the watch was missing the stem and the crown, but otherwise, everything seemed right. He rewarded me with a motivating discount. With a final €90 price, it would have been quite stupid to back off. I could not wait to see it in flesh.
I-can't-get-enough-hands style
"Great hour hand. Just epic," said Mike, my fellow vintage watch nerd colleague, and friend, with whom I gladly shared my recent vintage findings. I could hardly find a better description than the one spontaneously thrown out by Mike. It's almost reprehensible that you don't see this hand style more often, today or in the past. Thin blue stick hands with their shiny and highly reflective finishings are nothing unusual and you can meet them in many elegant three-hander watches or chronographs. But just look at that oversized ring integrated into an hour hand that reminds one of old an old monocle.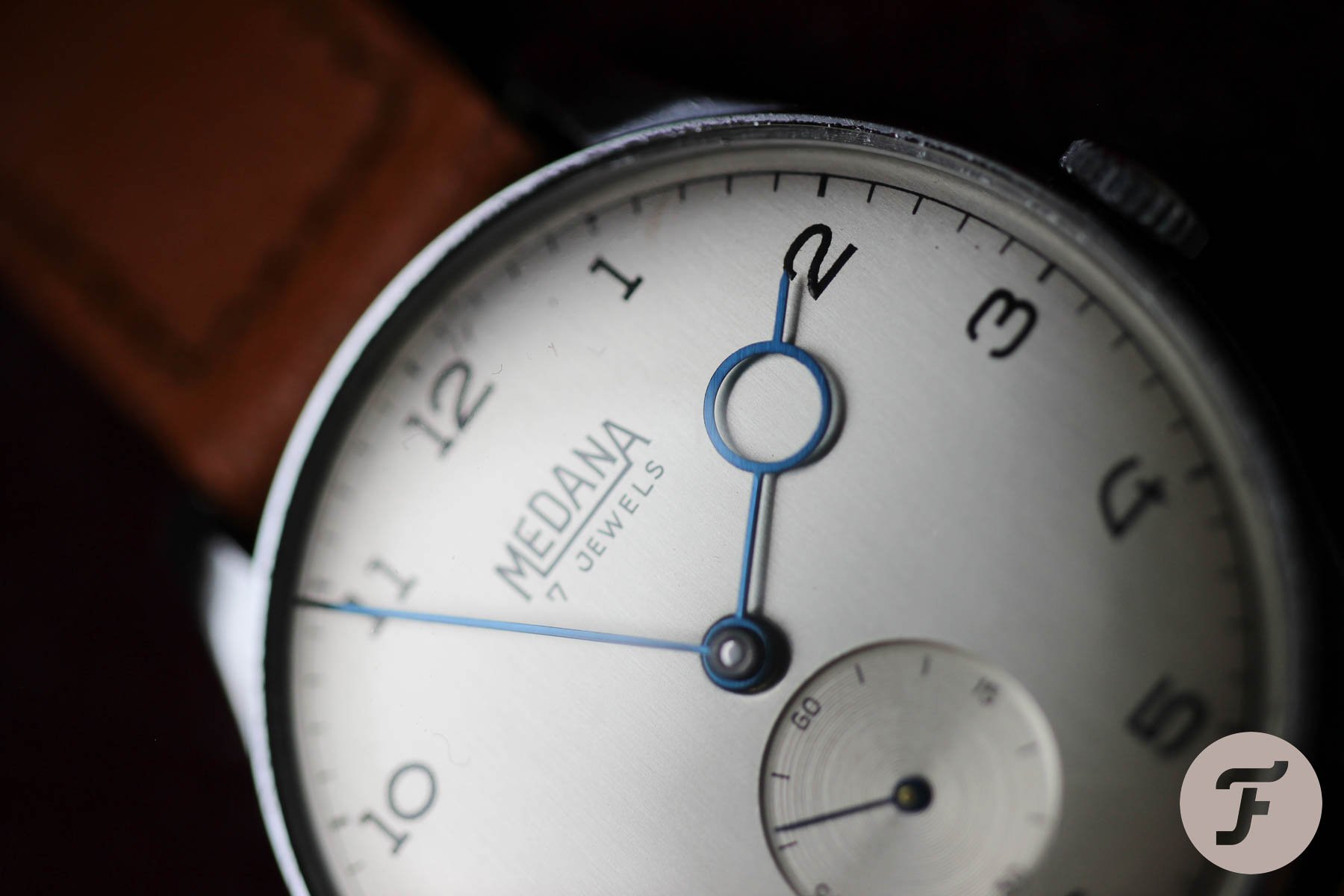 The daring proportions of the hour hand draw your eyes like a magnet. Your brain runs at the highest rpm possible as it tries to process the imbalance of the ring diameter and the stick-hand thickness, sorry thinness. The ring is so boldly big, that it negates all you saw before. The back of your brain wants to see a bit of a muscular "Mercedes" hand in it. When you realize that the "Mercedes" hand seems boring in comparison to this one, that's serious. The ring looks so big that you feel like the hand will break any second and fall down. But it won't. No matter how many days it patrols around the dial, it's always there to fascinate you.
It's not just a hand
The Medana "Pontife" doesn't just inspire awe because of one hand. No matter how simple and cheap Medana watches were back in the day, this piece was quite thoroughly thought through. Take a few dial details as an example. First, it boasts a typeface that even Gallet watches wouldn't be ashamed of. The numbers one, four, and seven are my favorite. Another subtle detail is the small second sub-register designed in a very clean and balanced way. Notice that the 15, 30, 45, and 60 numbers are printed in a small size that equals the size of the rest of the indexes. It's a real pleasure to see such a noble design that feels so self-confident and airy. It is, unwittingly, very contemporary.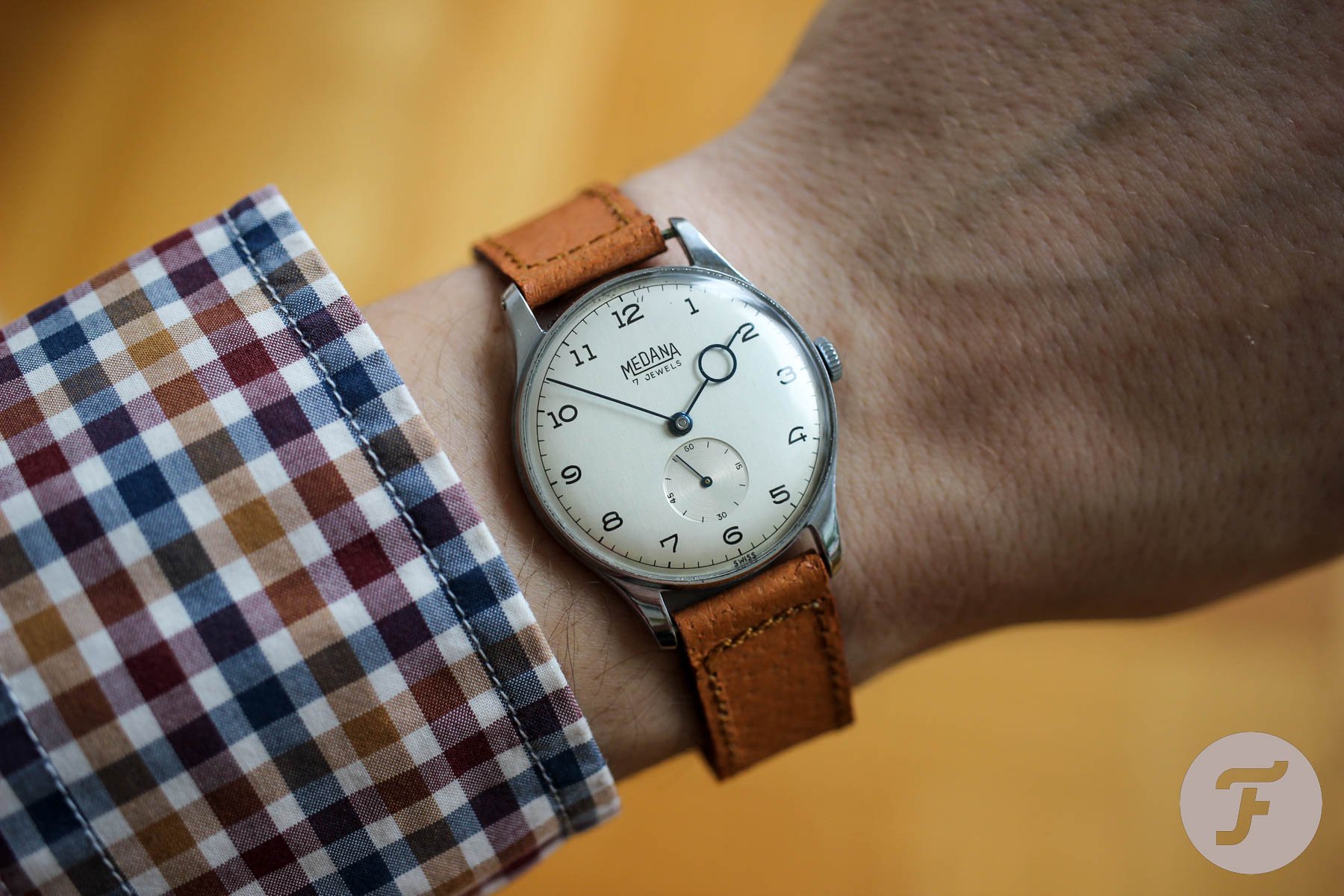 Bad news
When I researched a bit, I was surprised to bump into numerous dress Omega watches from the 1940s with this specific hands-style. I was almost ashamed I was not aware of the Omega "Pontife" model, whose value today climbs up to a solid €1,000. There are many variations of the dial, including Roman numerals, but the clean dial and "Pontife" hands always keep the unique DNA. That might explain how Medana ended up designing its own "Pontife" watch too. Similar to Omega, Medana too offered multiple designs and one is currently up for grabs on Chrono24. Don't think for too long…
Dating the Medana "Pontife"
I found no old Medana catalogs and so I was not able to date the Medana "Pontife" precisely. The Omega "Pontife" dates back to the mid-forties, but to be sure I contacted David Butcher, who has collected hundreds of Medana watches over the years and put them nicely on a dedicated website. "I have a watch with similar hands and fonts but in a center seconds slightly earlier caliber. I would estimate the early fifties, but given the slightly oversized case could be mid to later fifties, as large watches were a short trend around that time."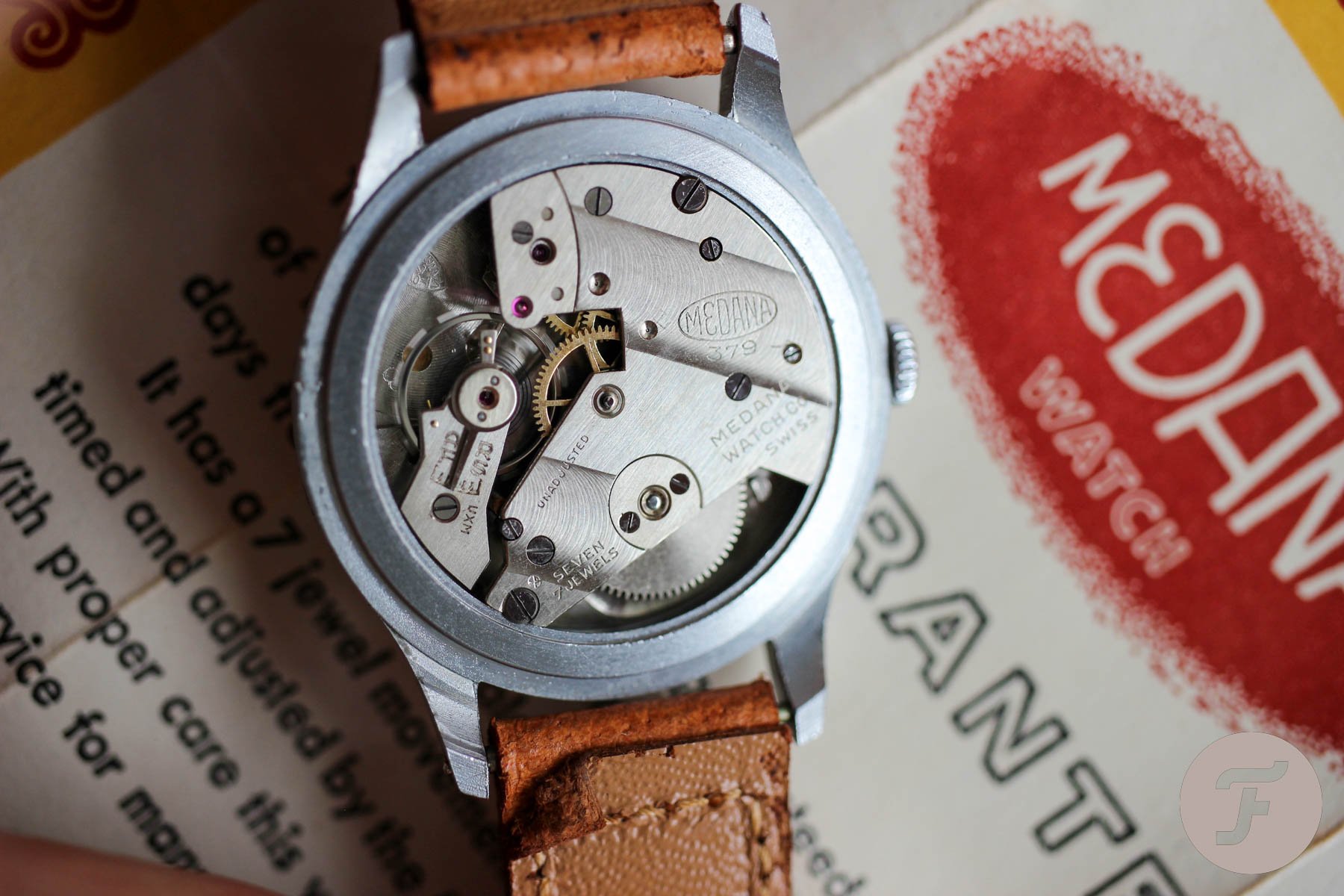 Stepping up the game
The previously featured Medana (also unusual) was powered by a simple cylinder movement. To put it mildly, precision wasn't its strongest feature. The Medana "Pontife" has a 7 jewel level higher pin lever movement stamped MST367. It was completely dry, so I rather had t it completely serviced. Anyway, I had to ask my watchmaker to manufacture a new stem which was a challenge for a couple of hours. After we found and fitted an era-correct crown, the "Pontife" was ready to meet my wrist.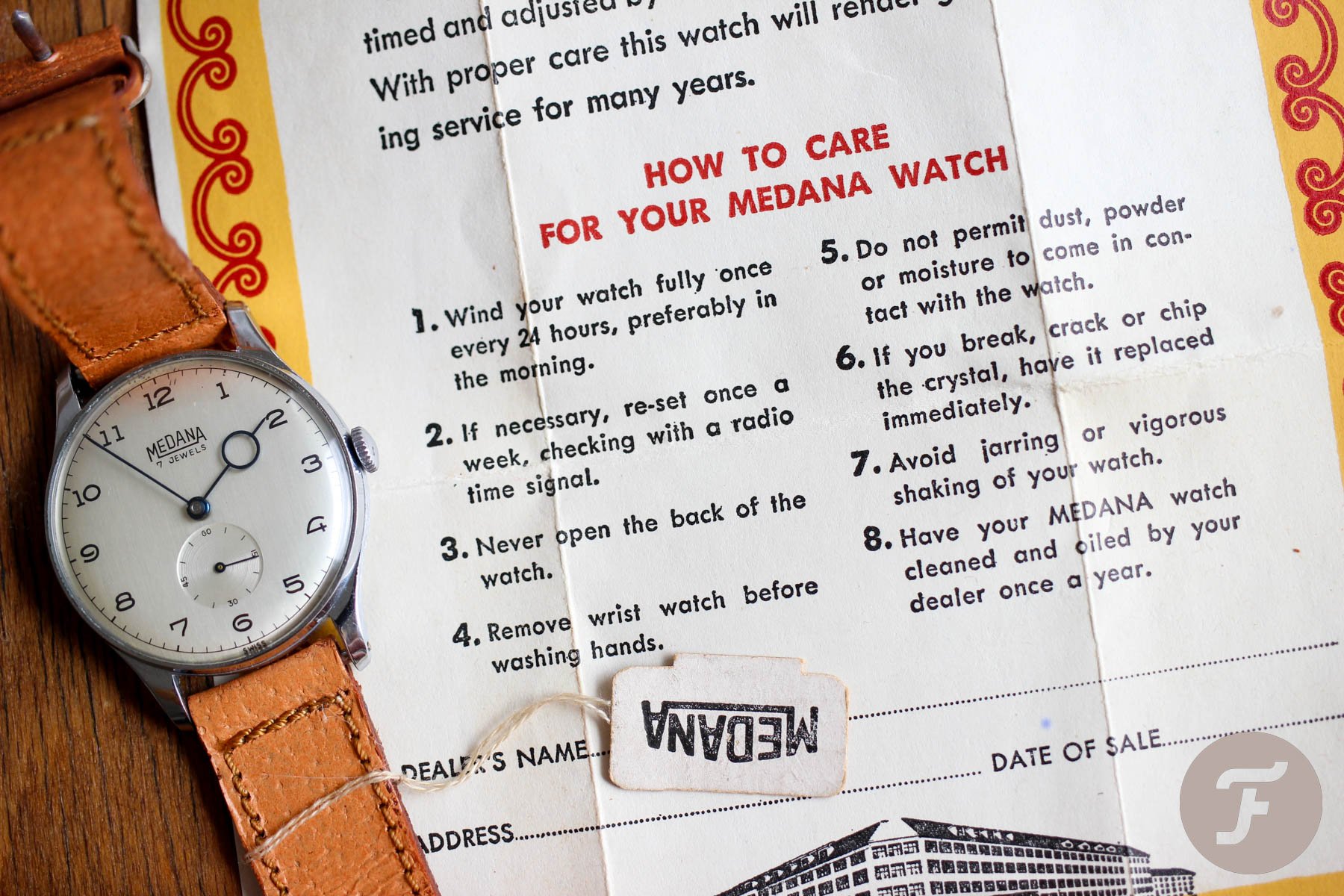 Shotgun notes
It was hard to believe the Medana "Pontife" is only 33mm in diameter, as it looks and feels much bigger. Seriously, I measured it twice, as I thought I made a mistake the first time. An original pigskin strap is quite stiff but contributes to the overall original charm. So do the original spring bars that fill the drilled lug holes perfectly. Notice also the case and lugs finishing, especially the contrast between the highly polished top and brushed sides. An unexpected bonus besides the quality watch box is an original and unsigned Medana Guarantee Certificate. Look at the photo above, it sheds some light on how these things were communicated seven decades ago. Pretty amusing reading, I have to say.
Final thoughts
How come we found a NOS watch with a stem and crown missing? I believe what my watchmaker suggests. Either the first owner or maybe even the jeweler pulled the crown out too strong and the watch ended up in a drawer and never got serviced. I am happy that I picked it up so I could show you (again) that there are still many interesting watches that won't break your budget. Happy hunting.