#TBT Three Interesting Quartz Watches Casio, Zeno, And Audi
The special ensemble too quirky to be ignored
A tough Casio MQ-30W from the 1980s, a quirky one-hander Zeno Solo from the 1990s, and a promotional "lugless" Audi from the early 2000s. Open your mind and have fun with three special picks from my collection.
It's listed in the 1984 Casio catalog. That makes it just one year younger than me. Coincidentally, it shares its birth year with my 1984 VW Golf II. The Casio MQ-30W is hidden in a section called "Analog Water Sports (50m water-resistant)". It sits next to a white-dialed companion and is described as Tough'n'smart. Blame the classy sector dial and unique protective bumper, I guess.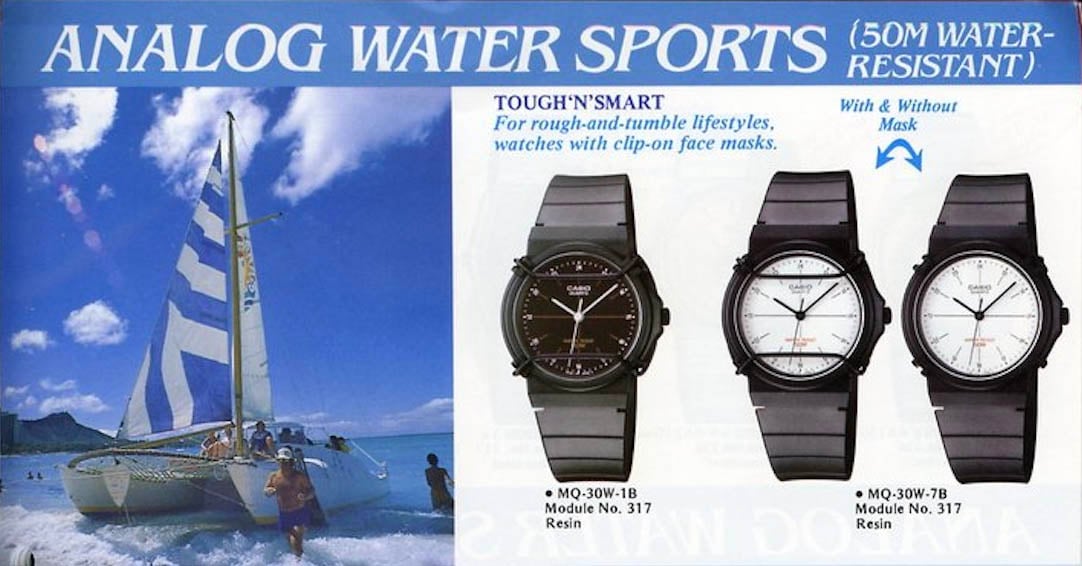 Hunting "Mad Max" Casio
To land this tough resin-cased gentleman is not so easy. Most of them lived life on the edge. Half of the offerings come with the bumper stripped to the bare metal or altogether absent. I waited a few months and bought the first decent piece that popped-up on eBay. That kind of purchase, is a lot of fun — when the extra 10 bucks shipping doubles the price. It arrived with the help of my family friend and a new battery brought it to life instantly.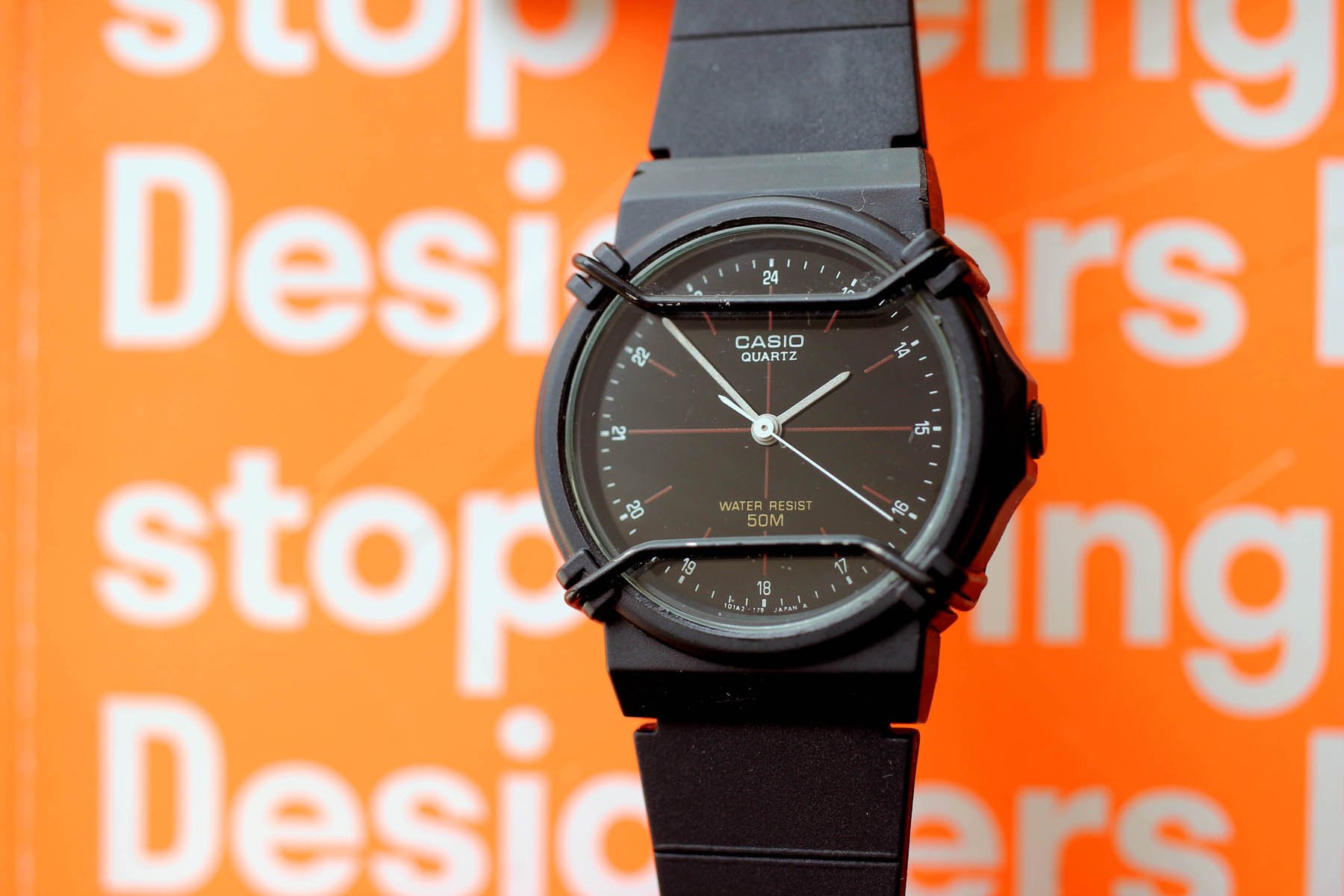 This Casio is "über" cool. It was also cool to prove to myself that I don't need to sink two months' salary into a timepiece I can enjoy. It's quite a safe choice if I am about to go to wash the car or play football with my nephew. Simple case and elegant black background with dark brown lines similar to old sector dials make the watch look quite smart. I also like small 13 to 24 numbering instead of hour indexes. Despite its small diameter, it doesn't feel lost on the wrist. And regarding the maintenance, it's quartz so it is simple and precise.
Original strap challenge
The dial reads perfectly even with its protective mask on. I actually never had an urge to take the bumpers off. I believe they are responsible for the MQ-30W's aura. To get an original strap is quite tough, so I opted for black rubber aftermarket. The tapered style fits it best.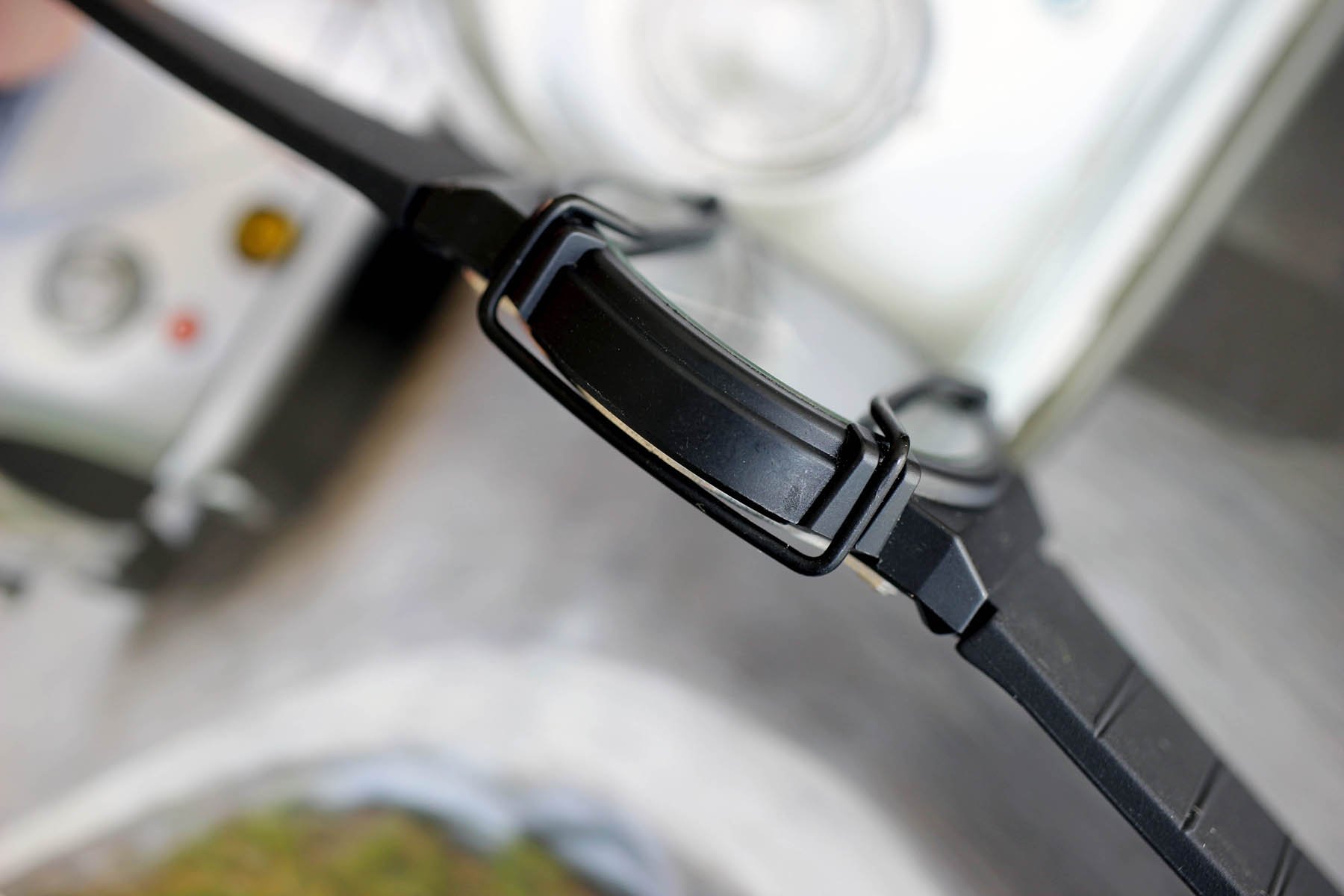 One-hander Zeno Solo
I saw this Zeno for the first time in a UK-based dealer from which I bought that crazy fortune-telling Astromatix. Miklos, the owner of the site, was so nice and he actually gifted me one of these Zeno Solo watches. I asked politely for a black-dial version fitted with a razor-blade-thin lemon-yellow strap. A funky combination I believed my wife would love.
Under the dial, there is 763 Rhonda quartz caliber, precise enough not to bother you to set the time even if you pull it out of drawer once a year. I can testify. More important, however, is the diameter. If it were 39mm rather than a delicate 35mm, it would see the light of day more often.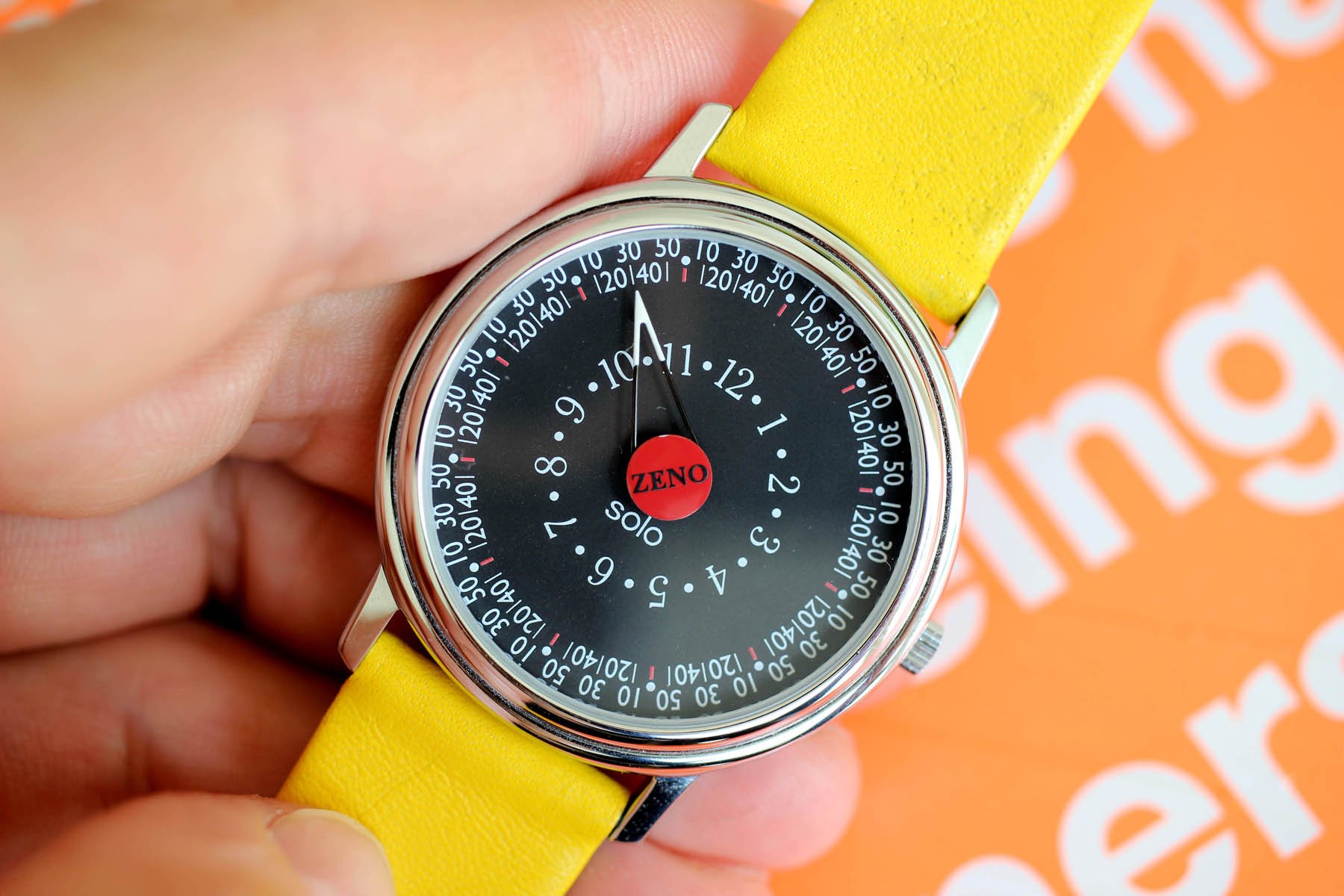 I just checked Miklos's truly retro website. He still has the last two models with unusual red and green cases available. What kind of experience could you expect for 75 euros? Quite a messy dial with a fat, mysterious-looking triangular skeleton hand. Think of it as a very poor man's Meistersinger. The one and only hand extends from a central red disk branded Zeno. I don't want to offend anybody, but reading time is easier and just as entertaining as looking at any 24-hour dial watch, including the Breitling Navitimer 809 I sported a few days ago.
My well-protected "no-lugs" Audi
Don't panic, AUDI didn't enter the watch market. I just give you the tip to go online and look for cheap quartz watches with a logo of a car you like, or even better, the car you drive. From time to time I type Honda, Ford, or Porsche into the search bar and the results are quite interesting.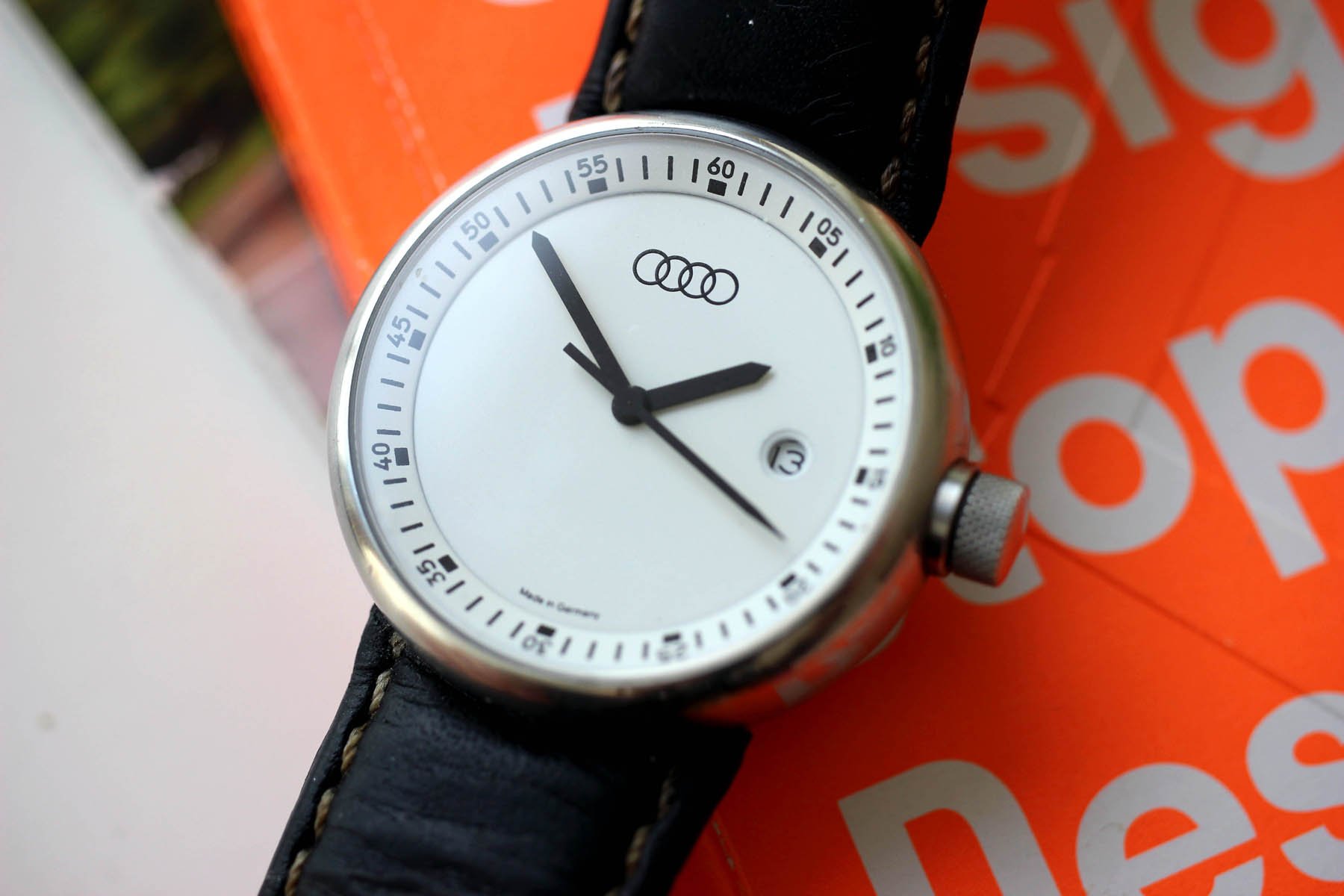 I own this Audi watch since 2004 and it reminds me of my early career. I was a magazine car tester back then and I got it as a present from Audi when they introduced the A6 to the market. I liked it and I wore it a lot. Clean lines, a clinical white dial, and a "seamless" watch case without lugs. It is all very German. Also, it is perfectly in line with the car brand it came to represent. The strap has holes and is affixed to the case by the same screws as those holding the transparent case back.
Now comes the fun part
It seems like it was yesterday, but it has been 16 years already. I forgot about the watch and I only took it out of the box just a few years ago. As I was entertained to find it after so many years, I started to research its background and looked up another one on eBay. I was surprised to see it was sold for a few hundred euros. Quite unbelievable. So here is the idea: if buying Bitcoin seems too risky, why not buy a few old quartz watches with logos of your favorite automotive brand? I remember I saw a few pretty cool VW, Saab, or Fiat watches… Don't thank me yet, but you can buy me a beer when you make millions on them in two decades' time.