#TBT A Single Owner Rolex 1680 Submariner
Last week, while over in the USA, I picked up a copy of Matt Hranek's A Man and His Watch, a wonderful ode to the wristwatch and its hold on the wearer. It was an appropriate acquisition because, while there, I found myself asking my father to pull out one of my favorite watches that he owns and defined a certain era of his life (or at least his activities), a Rolex 1680 Submariner. And while my Dad didn't write any prose or wax on about the watch's importance to him, this diver affected me when I was younger. Yes, today's #TBT will take a look at this well known Sub, but it also provides the opportunity to do a little story telling while using some of my Dad's "L'Eroica-era" bicycles, his true passion, as backdrops for most of the photos. I hope you enjoy it!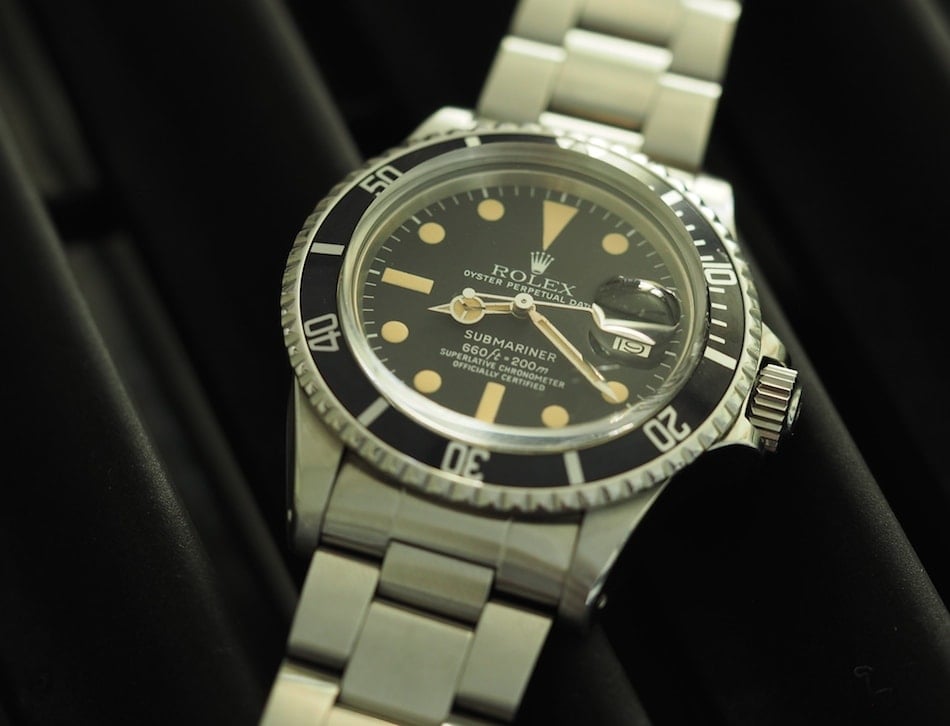 I've previously mentioned that I grew up in South Florida and had relatively frequent encounters with the ocean. My Dad also grew up there and beginning in high school – the late 1960's – began SCUBA diving. Now, it's easy to think about SCUBA diving during this period and into the 1970's and the mind's eye often drifts to scenes of Jacques Cousteau and others who were exploring the deep, but this was only part of the story. The reality is that diving during this period, for most participants, was fairly wild and wooly: somewhat of an experiment that was fraught with danger. It was about exploration, encounters with tiger sharks with knife in hand, going for lobsters and spearfishing. The craziness? The stories of dive tanks being filled at gas stations with tainted air in central Florida for use in unbelievably dangerous cave dives were commonplace – and a likely enabler of narcosis and many deaths.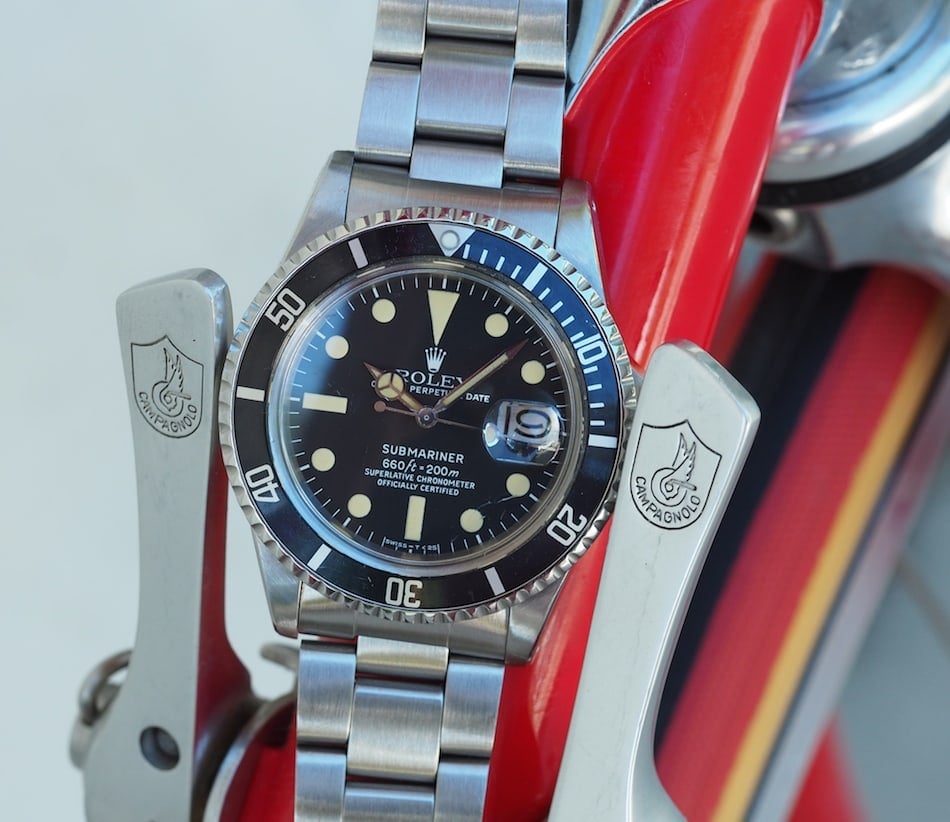 Dive licenses? Maybe, but regulations were in their infancy and most people learned in a swimming pool or, worse, by doing. Brands such as Aqua Lung, Cressi-Sub, Voit, and Tekna were commonplace in my childhood garage as well as tanks made of steel – yes, steel. And the watches? Well, most people, including my Dad, wore dive watches that you now find on eBay for $200 – 400, except that he paid $20 at Sears during high school (his watch still works by the way). But…if a good dive watch was important – and it used to be crucially important – just about everyone wanted a Rolex.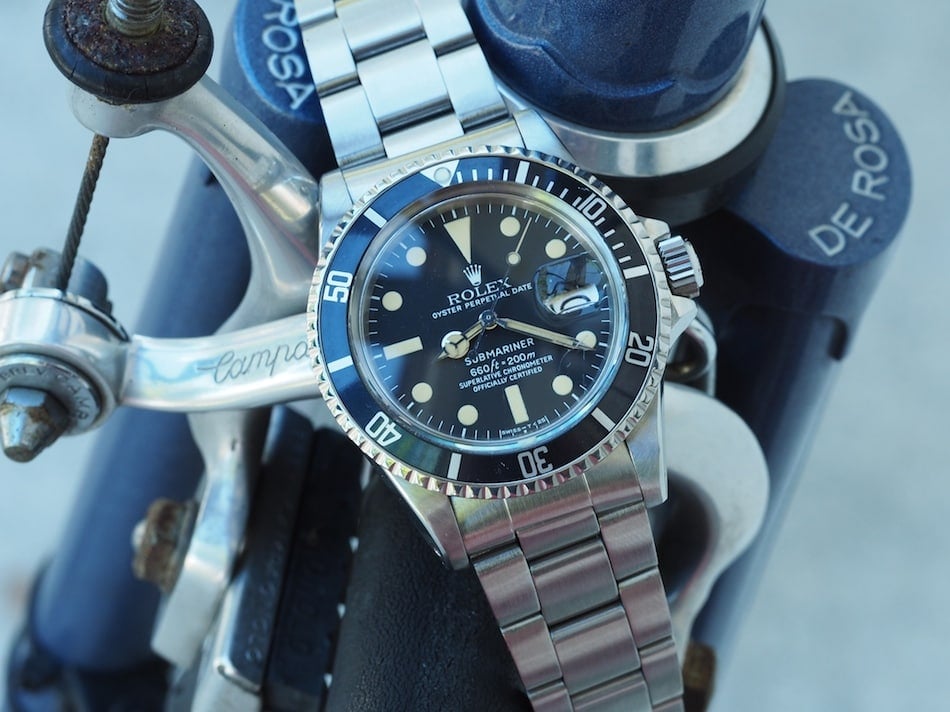 Other watch brands, such as Doxa and Omega, were well thought of and worn, but to hear it from my Dad, Rolex was really seen as the failsafe piece of equipment to own and it wasn't necessarily due to timekeeping accuracy. Despite the chronometer rating of most, including today's Rolex 1680 Submariner, I can remember hearing tales of Rolex's not keeping impressive time. Perhaps this was due to magnetism, but ultra accurate timekeeping wasn't really the point. No, the ability of a Submariner to stay watertight, avoid corrosion and to take a physical beating made it the perfect companion to all the other gear that would see duty. It was a piece of equipment that only differed in practicality from a thigh strap dive knife in that it could be worn outside the water as well.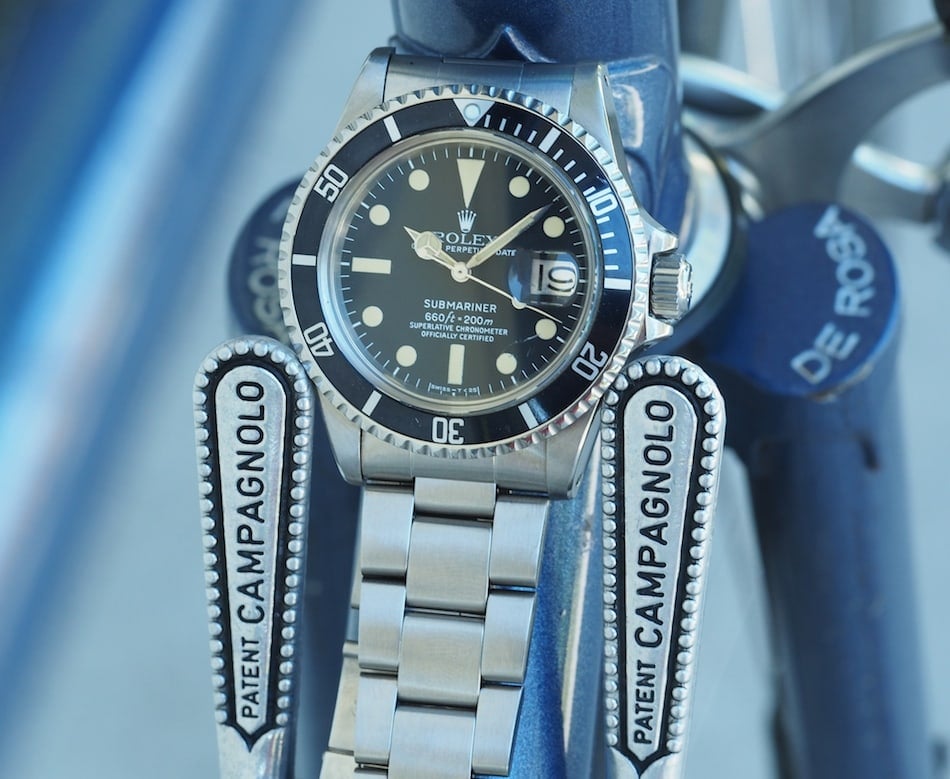 My Dad started his career in the early 1970's, but certainly couldn't afford a Rolex. As a dentist who was building his practice, he did find a way to obtain a Submariner, though, by the mid 70's. It's a story for another time, but a well-used 1967 reference 5512 "McQueen" made its way to my Dad in exchange for some dental work. I own and treasure that watch now. It looks fantastic and I like knowing that it did serious time in the Atlantic, but it was clear that my Dad wanted to buy his own Sub at some point.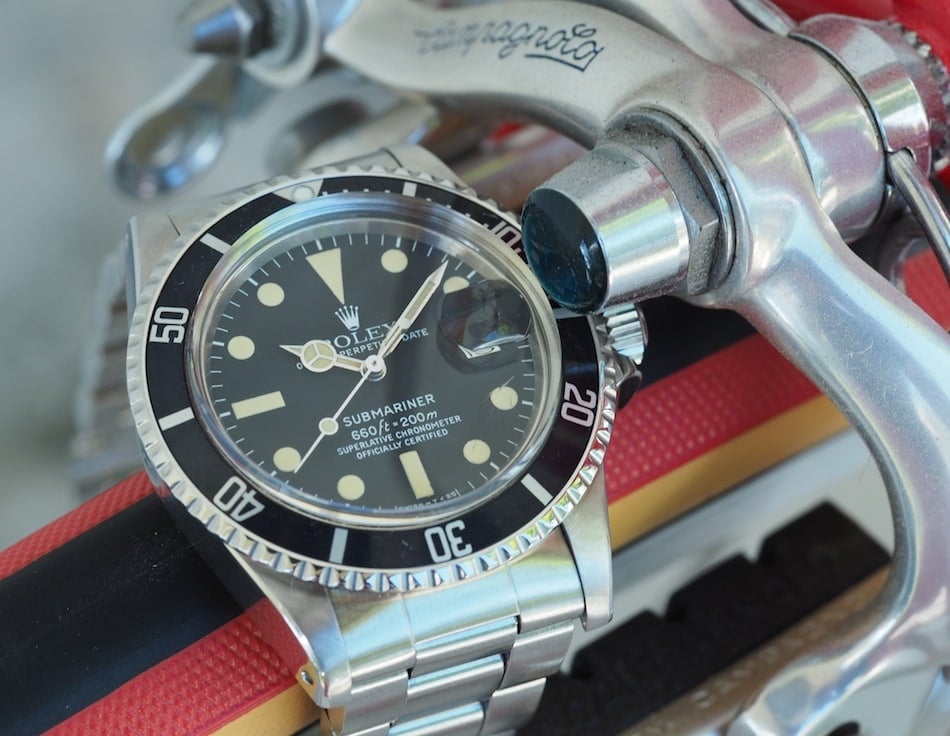 Fast-forward to 1978 and South Florida was undergoing some serious change. People truly began looking at the region as more than a seasonal or retirement getaway and this gave rise to that American invention, the shopping mall. For us, that meant Pompano Fashion Square and within this mammoth, at the time, building was Mayor's Jewelers. And so it was there that my Dad bought a new Rolex 1680 Submariner for the princely sum of $780. This was a lot of money during this time, but if we adjust for inflation it equals roughly $3,000 in today's money – or roughly 1/3 of what a new Submariner Date costs today! Yes, Rolex did make aspirational, but attainable, tool watches at one point.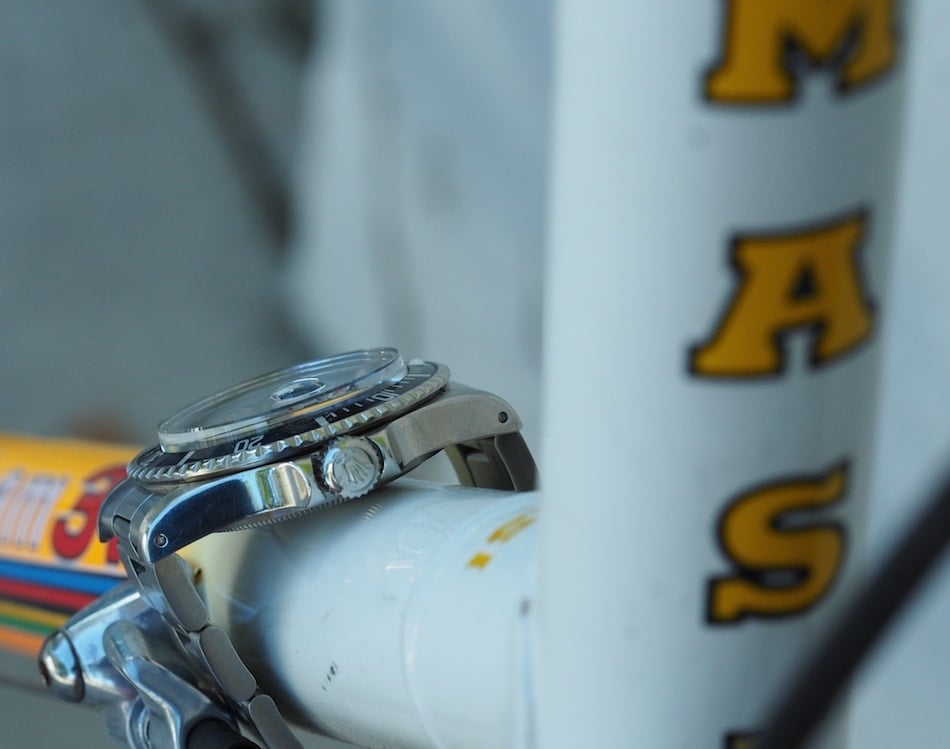 The original owner Rolex 1680 Submariner you see here was worn almost day in and day out for about 6 years and was the sole wear on dives, fishing trips and whatever else life threw at my Dad (such as us kids). I remember it fondly on his wrist – especially when he was driving and had his hand on the wheel. It was fully serviced once – replacement but original Top Hat crystal, replacement but original bezel and inlay, and movement check-up – but the dial and hands are fully original. The original Top Hat was really something, by the way, how it had basically chipped all the way around its leading edge due to its massive height.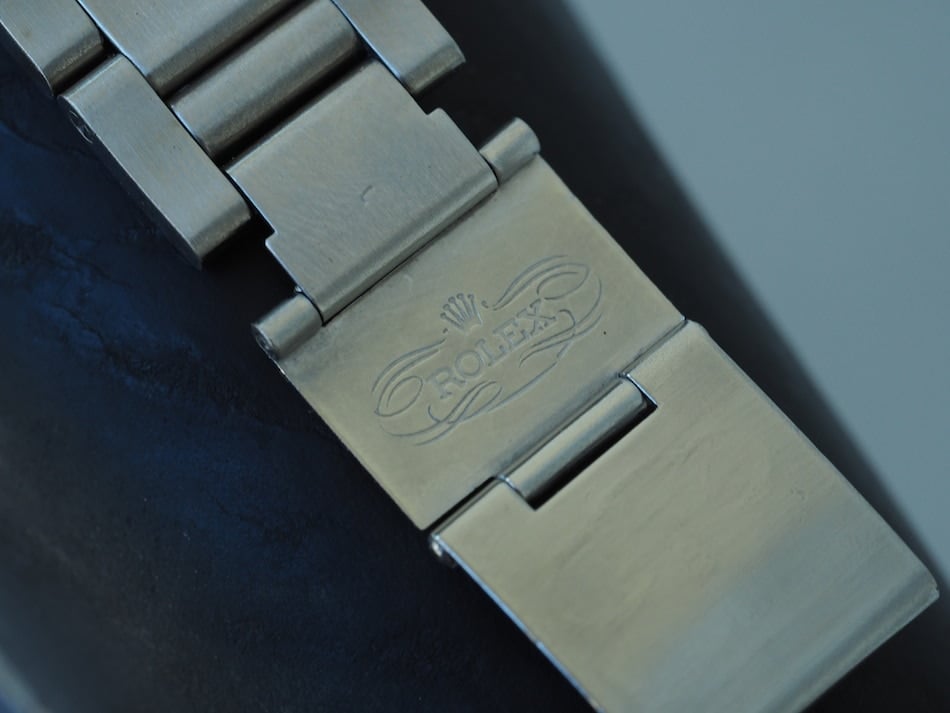 The watch received a sympathetic case polish, but it's essentially "all there" and the bracelet looks as new with its correct "VC" clasp code on the solid link 93150.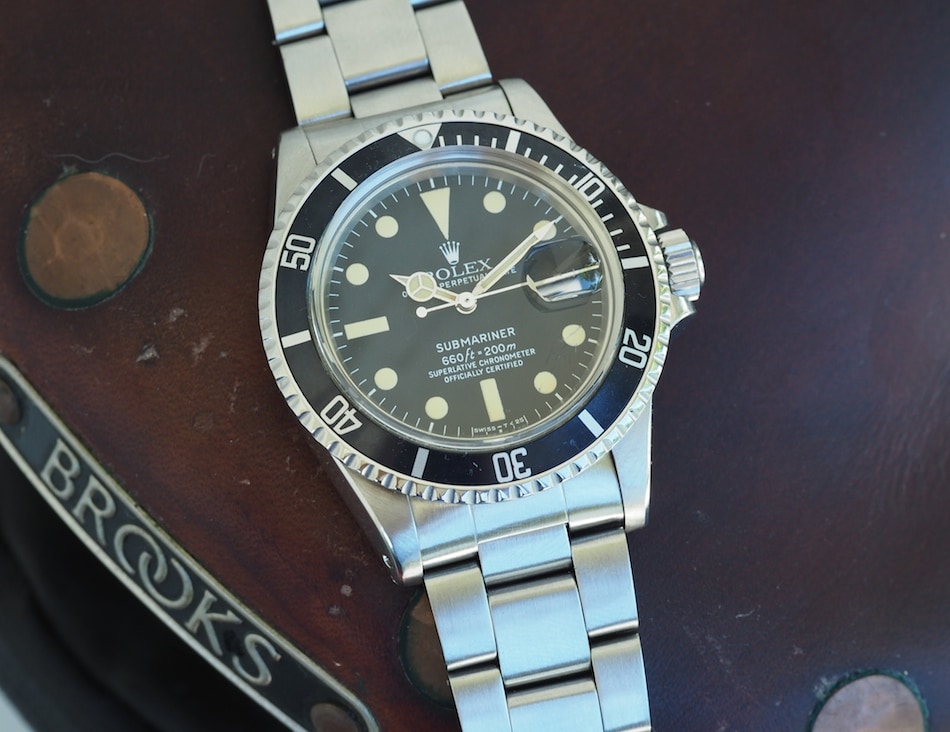 You can see that the hands and dial have aged evenly, which isn't a guarantee, into a nice warm vanilla color. Aside from that and some dial scratches, the Rolex 1680 Submariner still looks relatively new and ready to take its next plunge into the deep.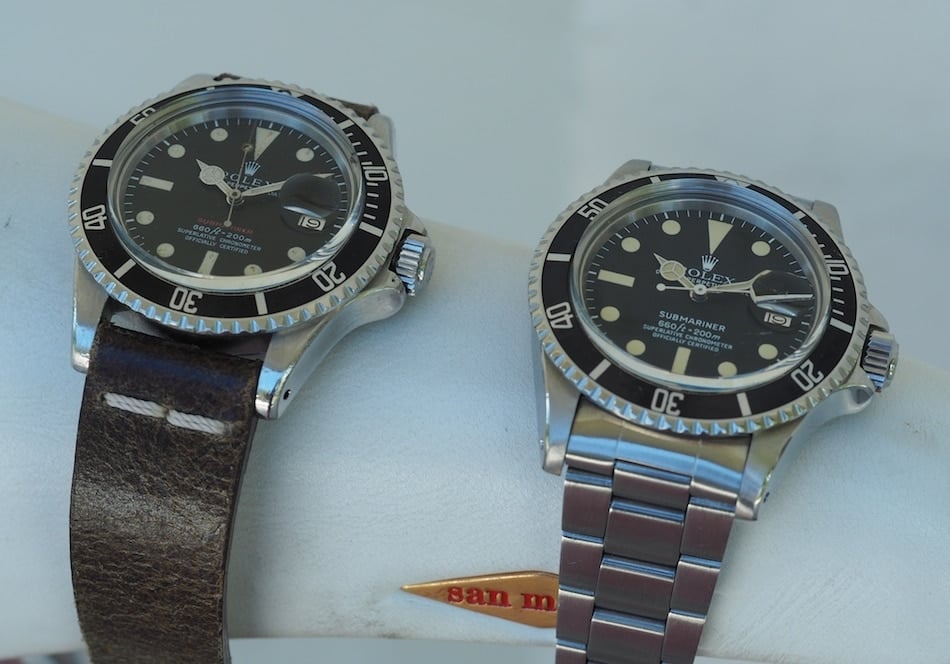 In contrast to the Red Submariner I own and previously reviewed, the all white version features the brand's tried and true Triplock crown. This was introduced in roughly 1974 on the Sub and adds an extra degree of water tightness. Speaking of the all white text, it's actually what comes to mind when I think of a Submariner. Versus the red version, it makes for a simpler look and it's one that has been continued faithfully through to today's versions.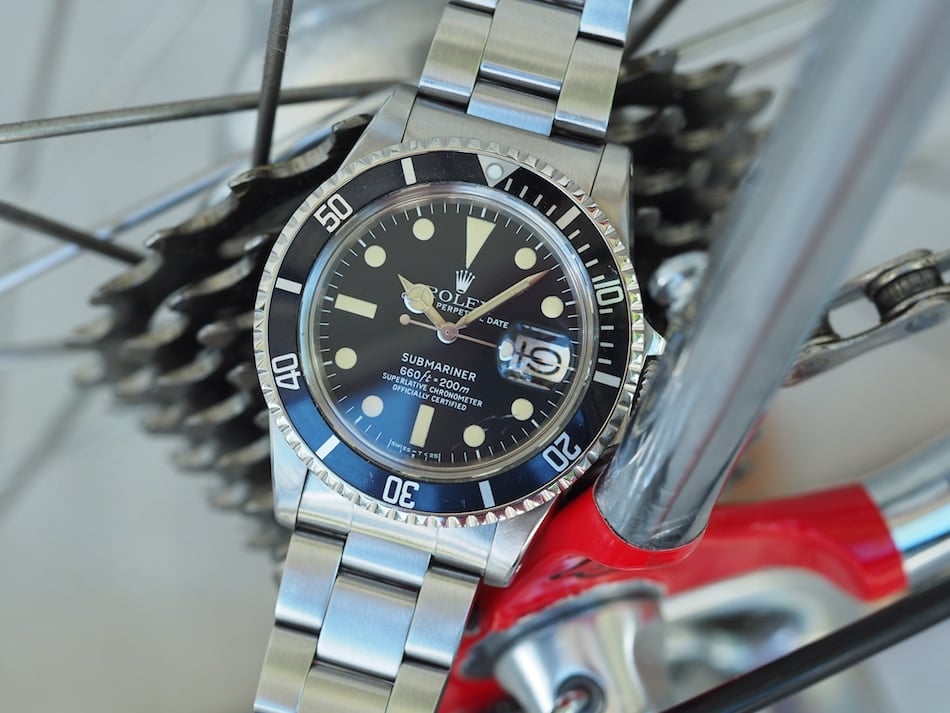 During the last 6-7 years of collecting, I've gone through periods of love and absolute indifference for watches like the Rolex 1680 Submariner. Subs with dates were, and are, so commonplace that they often struck me as unoriginal and too much of a safe play when choosing what to buy and wear. In fact, during a recent chat with James Stacey of TGN (and other sources) fame, we spoke about how Subs are often overlooked for being so common, but that there's just something about a well-loved vintage example.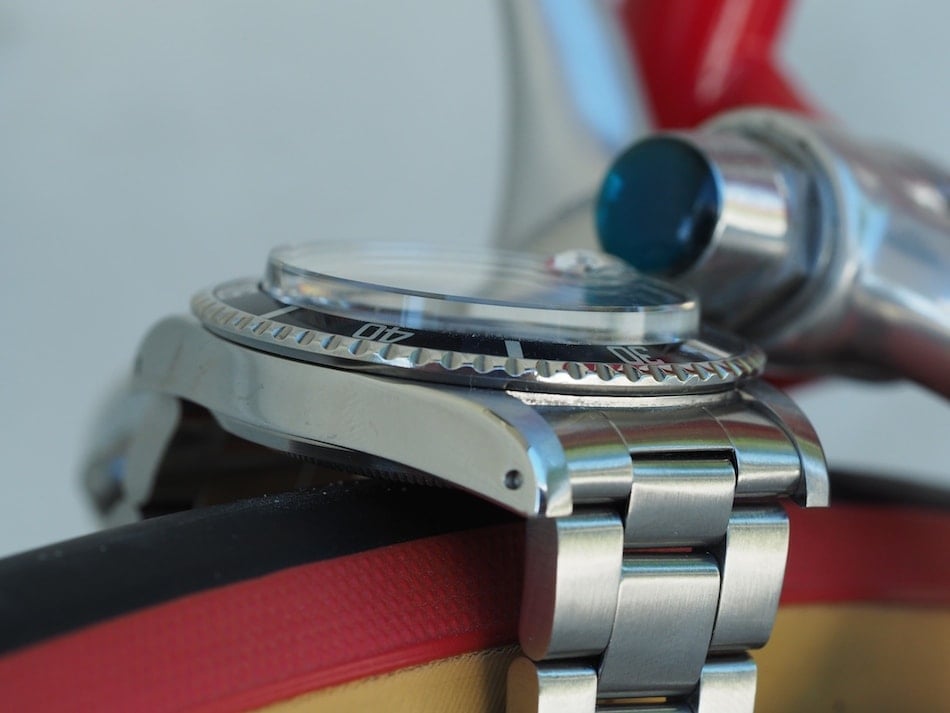 I've always preferred models without the Cyclops to the date versions and that's still true, but as mentioned in the Red Sub article, the warm lume plus the dated kitsch of the Top Hat crystal can't be denied. And, it's often repeated, but Subs simply contain a level of solidity that even makes older versions feel robust and relevant. It's the timeless looks and impressive build quality that would allow the piece you see here to easily trundle on for its next 40 years.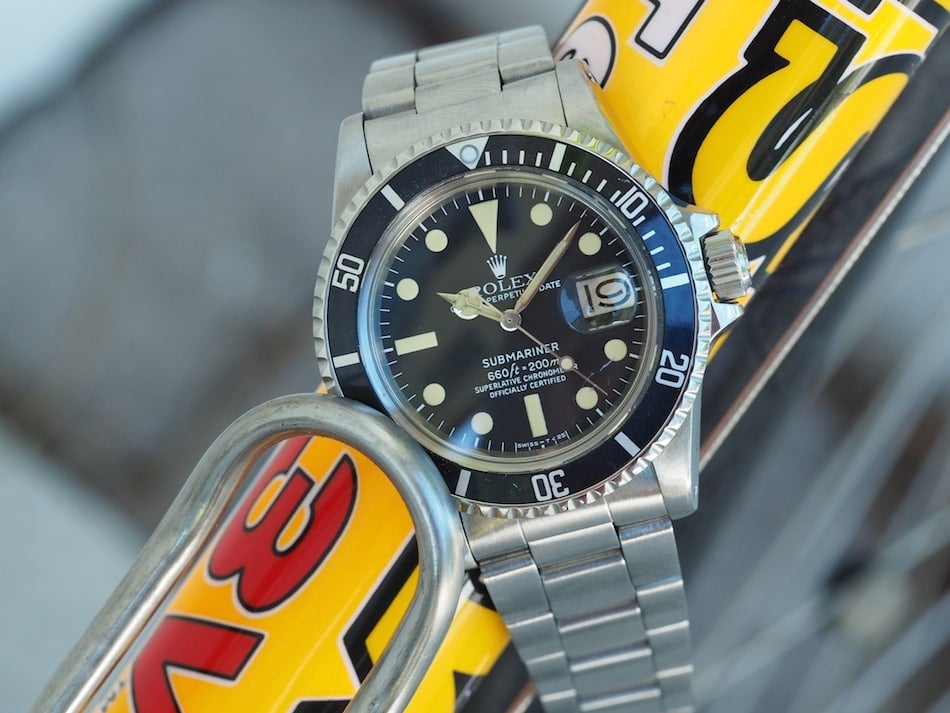 My Dad's Rolex 1680 Submariner doesn't get a ton of wear any longer, which is a bit of a shame, but he's moved on to smaller and more comfortable watches. It's funny that when he stopped diving, he stopped wearing the Sub; this was a big and heavy watch back in the 80's. By the way, right around the time my Dad stopped diving, he began another, arguably more accessible hobby and that was cycling – something he continues to enjoy today.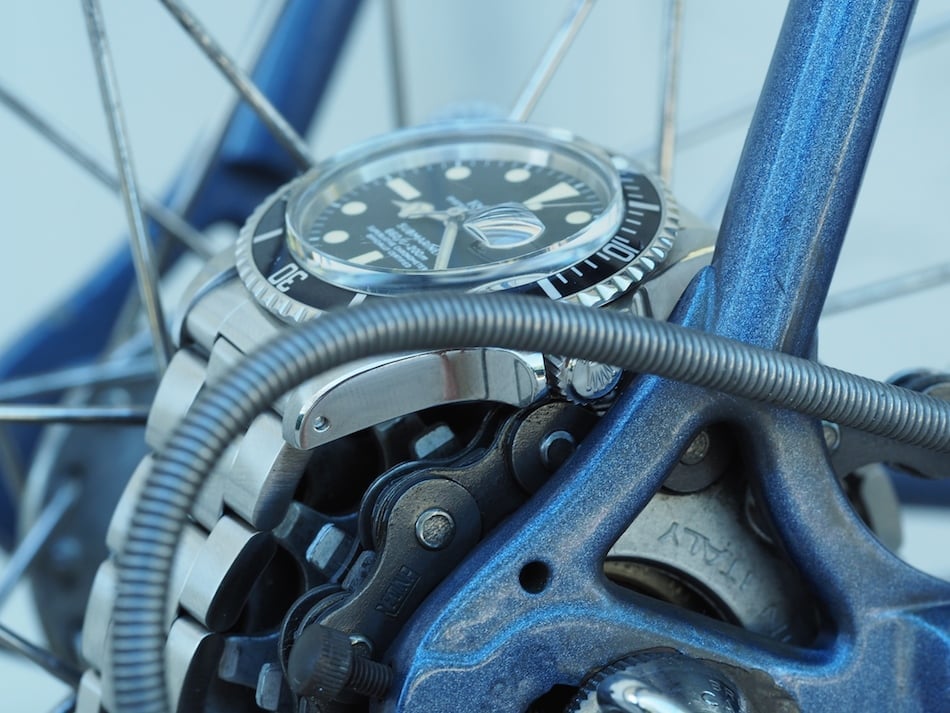 Therefore, I thought it was a nice opportunity to blend pictures of the Sub with some vintage bike frames and parts that he's used – more beautiful old school mechanicals, why not!? Sorry for the detour, but if you're a cycling fan, you'll note names like Regina, De Rosa, Cinelli, Masi, Campagnolo, Brooks and Binda. It was fun to play around with the bikes, but challenging to balance and shoot a watch on derailleurs and shifters – thankfully I didn't drop the watch!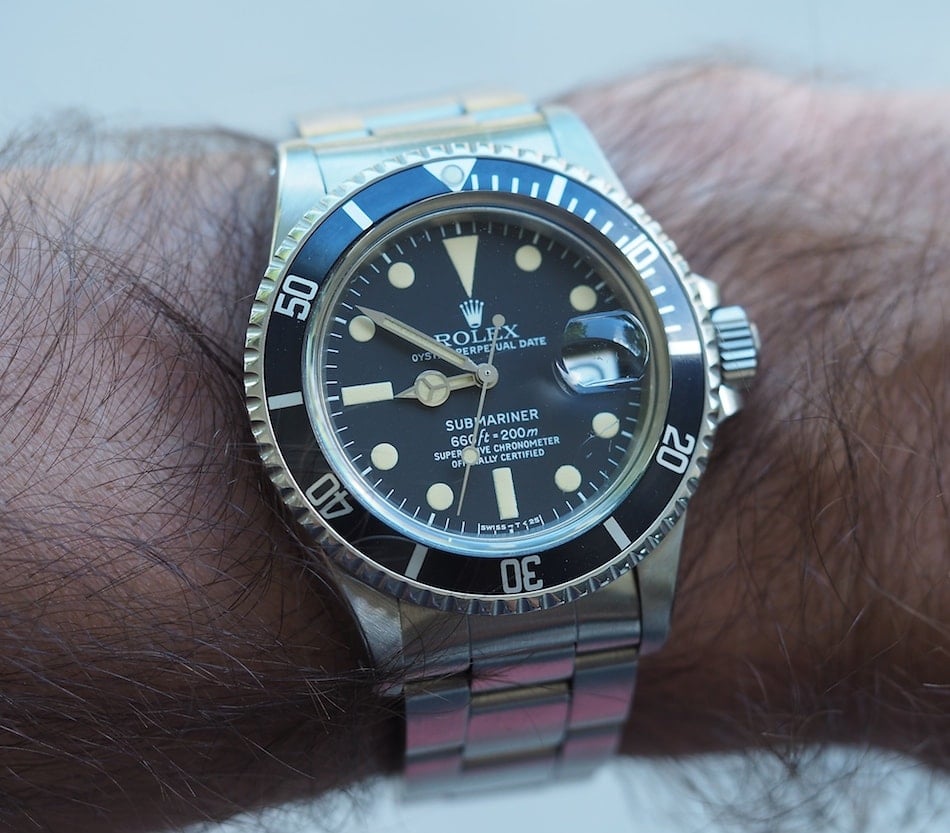 The Rolex 1680 Submariner was produced from roughly 1969 to 1979/1980. Sometime in 1974, Rolex made the switch from the red scripted version to the all white example like you see here. White versions were certainly more numerous and as it's stated in forums, red versions often lost their red dials to white during services. There were several versions of the later white dials and I'd suggest checking in with one of the forums to ensure that the dial is "correct" for the serial number. Common service parts on these Subs are bezel inserts (they should contain one of numerous styles of "fat font"), dials, hands, and bracelets. Also, finding a piece with the original Top Hat crystal – the crystal faces are damn near vertical with a very slight bevel at the leading edge – can prove difficult and NOS lenses are now quite pricey.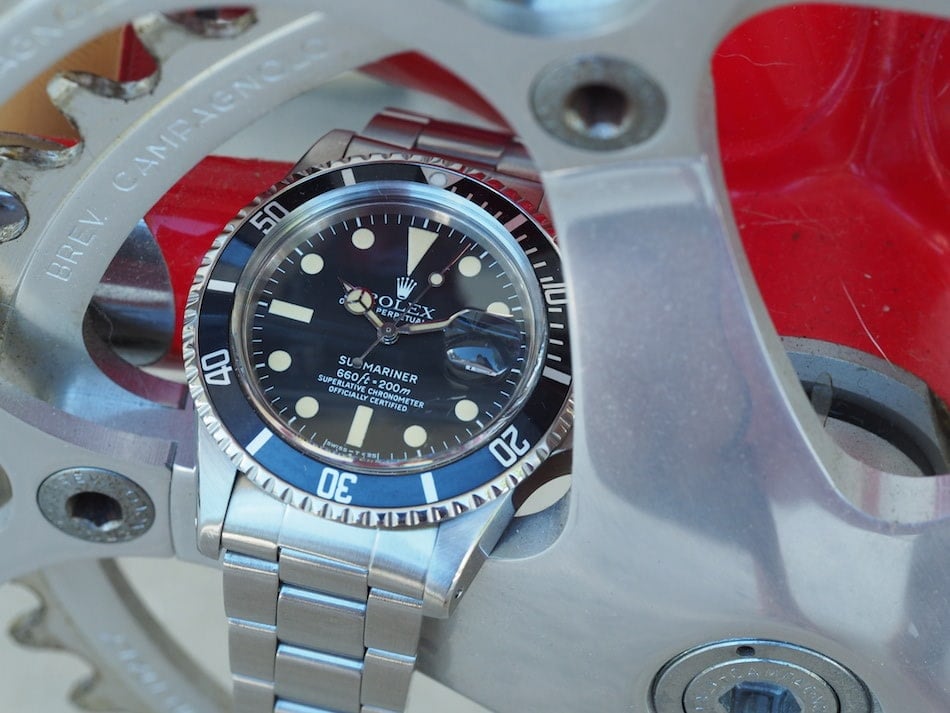 The same can be said for dials, hands and bezel inserts: it's Rolex after all. Pricing wise, white 1680's still remain as one of the last few bastions of relative affordability when it comes to vintage sports Rolex. But the word "relative" is awfully relative. Along with the long running dateless 5513, these pieces sat at around $6K forever, but those days are long gone. For a really nice piece, prices of $10K aren't surprising and I'd expect them to continue to climb. As the last acrylic crystal Sub Date (the 16800 followed this watch with a matte dial and sapphire crystal), there's a lot to like here.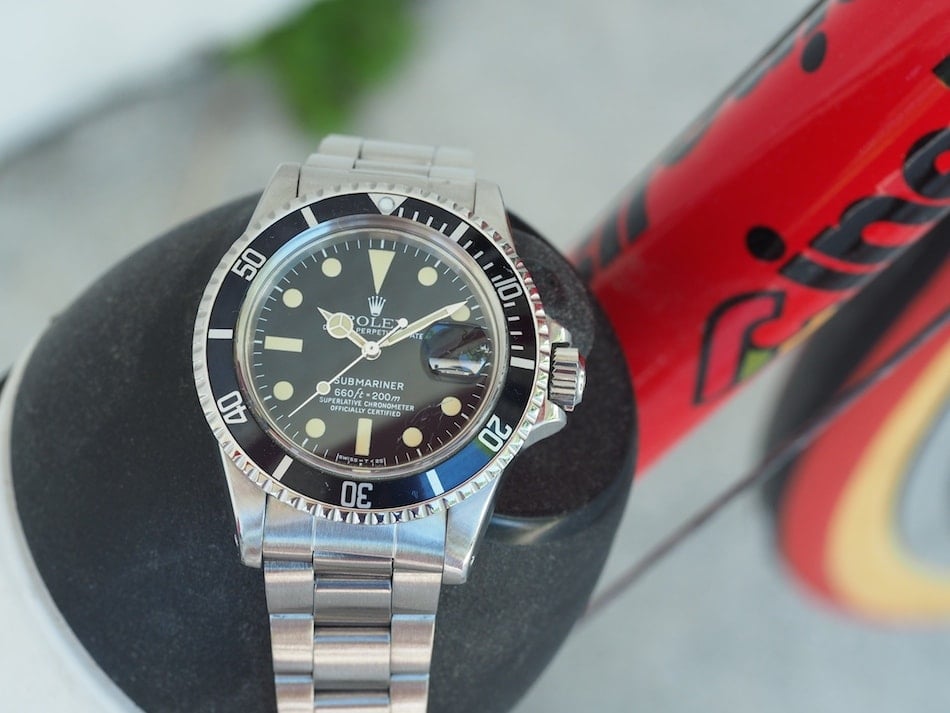 That's about all for this trip trip down (my) memory lane with the Rolex 1680 Submariner. My Dad's watch is one that I saw a lot of during the early part of my life. Furthermore, it's a diver that has matured into an icon, but that was originally purchased new solely because it was perceived as the best quality tool at the time. Judging by its current condition and the purpose it served, I'd say it was well bought.