#TBT A True Unicorn In The Vintage Watch Collecting World
Talking with Sandy about her eclectic watch collection
The term rare has been a bit devaluated over the years with tons of "rare" watches jumping up here and there. I will tell you now what's truly rare in the vintage watch world — finding a devoted female watch collector. Please allow me to introduce you to Sandy from Switzerland and her incredible vintage watch collection.
I have been buying vintage watches for a few years now, but before Sandy, I had never traded any watch with a woman. I wish I had, but there is no directory that would allow you to list watch offers by a seller's gender. Watch collecting has always been the realm of men. Yet I always thought women could bring a new dynamic to the business. I guess my urge to see more women collecting vintage watches subconsciously put Sandy in my path. Ironically enough, until we closed a strictly email-only arranged watch deal, it didn't click that Sandy is a woman. And if it wasn't for my wife, I probably wouldn't have realized it at all…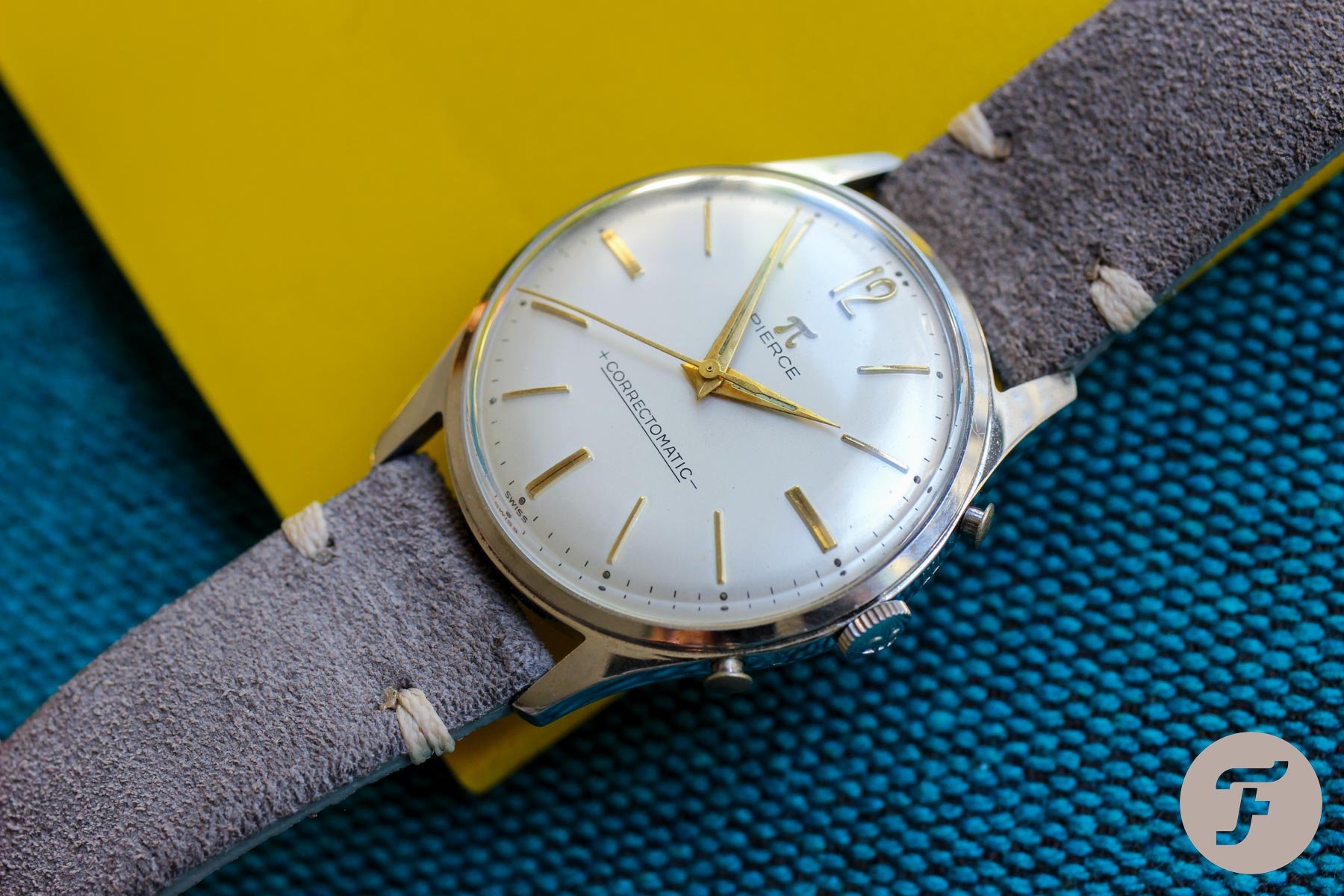 Today I am happy to be able to call Sandy my online watch friend. She has a pretty diverse watch collection and owns quite a few of the same crazy pieces as me. After I did my first ever watch swap with Sandy, who let go of her fantastic Pierce Correctomatic, I decided to ask her if she would accept an interview invitation to talk about the women-in-watches taboo. She happily accepted and we proceeded to have a great chat that I hope you'll all enjoy.
In one of our past discussions, you said half-jokingly that you are always the only woman between gray old men. What is it like to trade watches with men?
"They don't give you anything… *big smile* They are polite, but they never take you very seriously. Men often think that I don't know much about watches or that I do not understand them. From time to time I play their game and sometimes it helps to get the watch a little cheaper. But slowly they start to realize that I do know my stuff. For example, they ask me for advice or my opinion on divers and watches from the 1970s."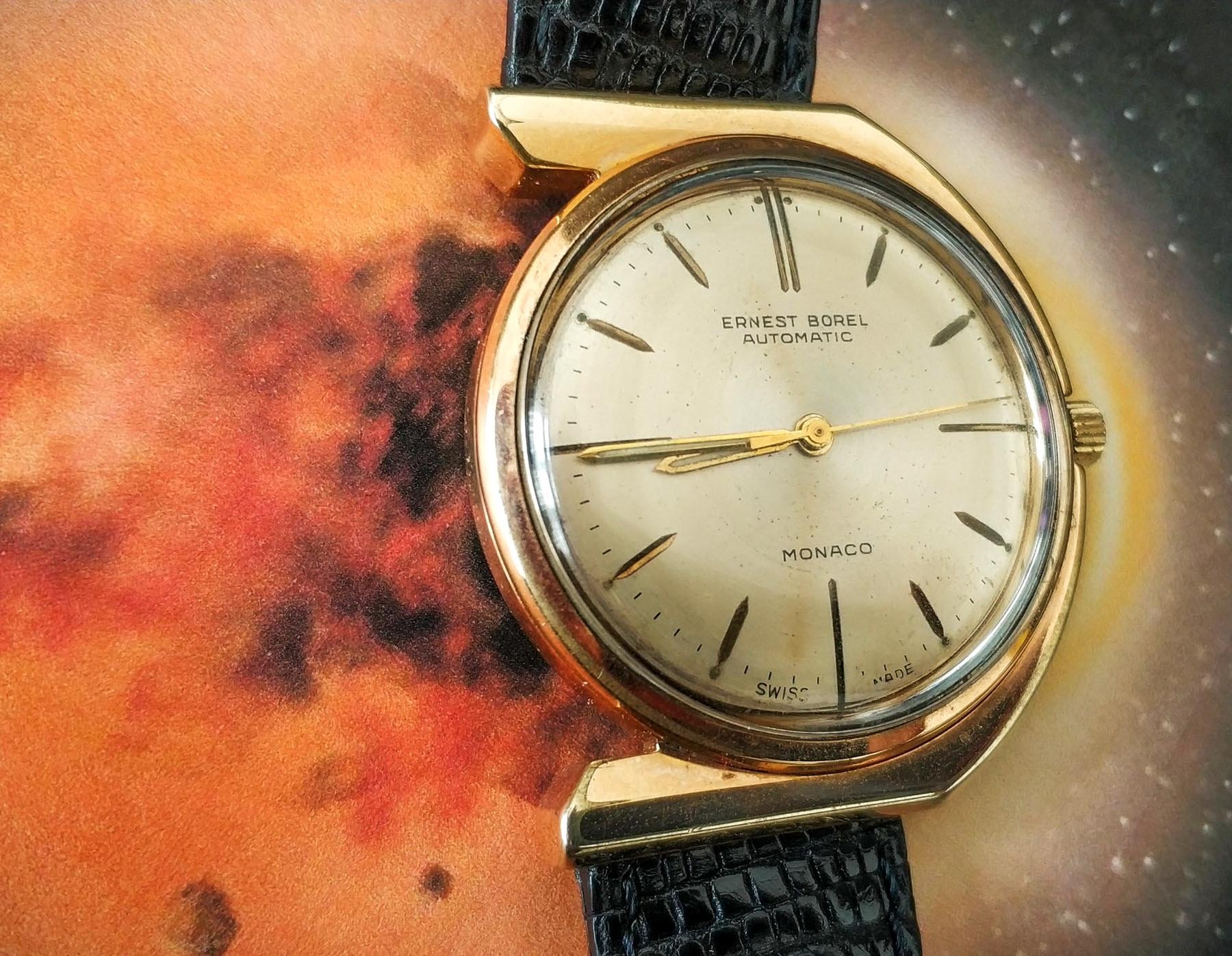 What do you think might be the reason behind there being fewer female watch collectors?
"Women have many ways to wear accessories: rings, necklaces, beautiful watches. Men usually only wear watches. It's a status symbol, which is more important for men. Second of all, it's also a technical issue. Cars or watches have to be taken to the garage or to the watchmaker. There aren't many women who are interested in classic cars either. I think women are just more pragmatic and prefer devices that are useful without much effort. Of course, they can be beautiful, but they have to function without much maintenance."
What could the "watch world" do to attract more women into vintage watches? 
"Advertising is very male-oriented. Similar to cars. The advertising is mostly about men, think about James Bond. More female heroes in advertising would be an idea? I also find that dividing watches as men's and women's is superfluous."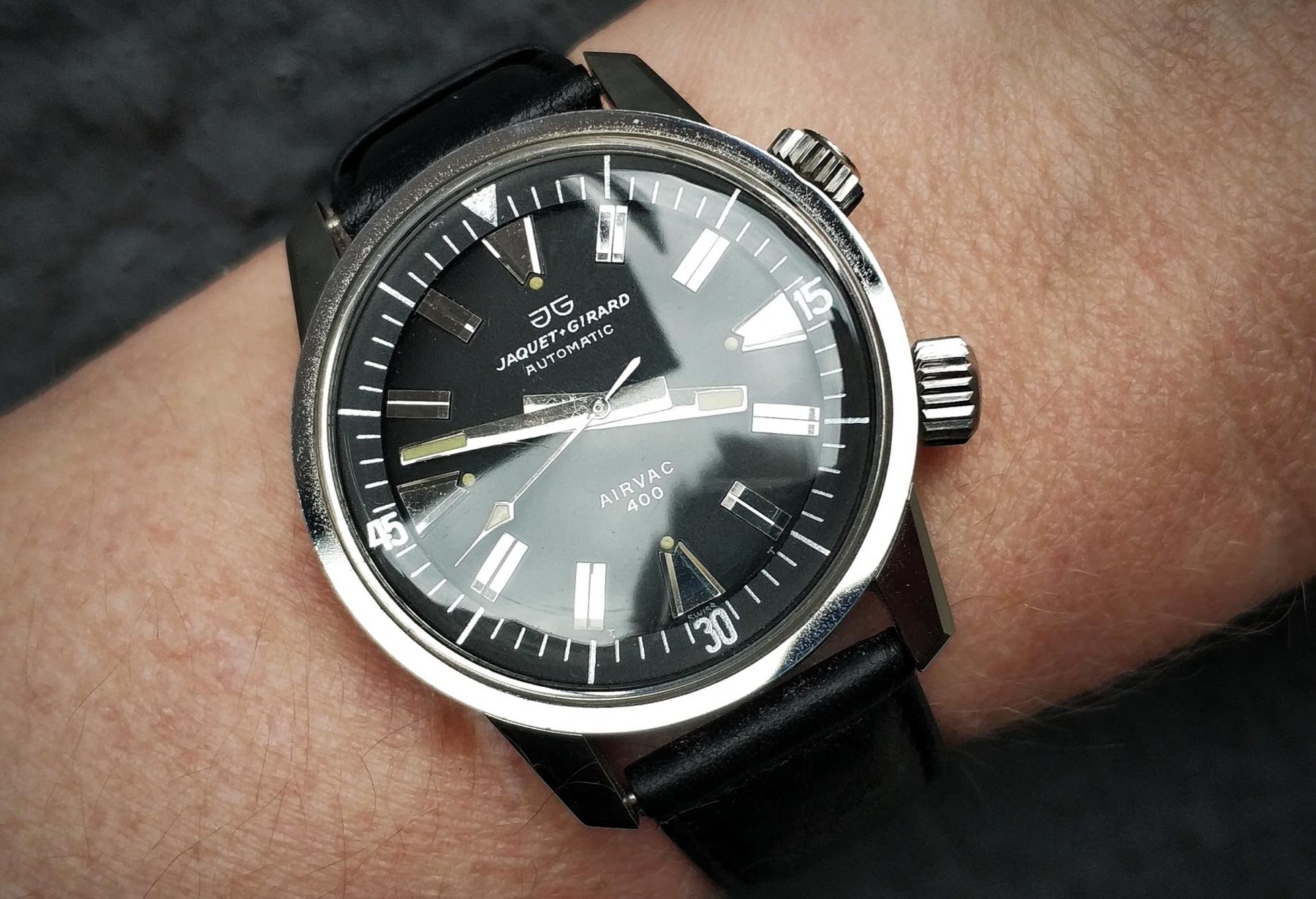 I am a happy collector as my wife loves vintage watches too. But there are a lot of men whose partners aren't very interested in their watch hobby. Do you have any idea what would be the best way how to get them into vintage watches?
"I have a theory. Some men do not want to share this hobby with their partners. It is a passion that they share with other men and keep amongst themselves. In Zurich, there is a cafe where collectors meet every Saturday to trade and sell watches. They talk about watches and cars and traders come by and try to sell their watches. There I think their belief is that a partner should not necessarily see how much money goes over the café table. I know some men who have their watches sent to the office so that the partner doesn't see how much it was bought for."
How did you fall in love with vintage watches?
"I started only three years ago. When I lost the diamond in a ring I got from my grandmother, I was looking for a replacement. Obviously, I ended up in a vintage market. That's where I picked up my first vintage watches. Since I always exaggerate a lot when it comes to hobbies, I started to study watches hard. I took watchmaking courses and hung out a lot on the Internet and around flea markets. That's who am I,  I needed to learn everything. I wanted to understand the technique, watch assembling, and the historical background. Today I am even able to perform small repairs such as changing the crown, resetting the hands myself."
Why do vintage watches fascinate you more than modern watches?
"I'm very interested in history. I love to research and every watch I have is extensively researched. The manufacture, the history of the brand, the advertising. It gives me a glimpse into the world of that time. Generally, I find it boring to go into a store, point at something and then buy it. Search, research, hunt… that's mine."
Do you have favorite watch brands when it comes to vintage watches?
"I love flashy and space-ish watches, I really like Rado and Zodiac from the sixties. Because of its elegance and accuracy, I like Omega watches too. I go crazy for space-age design. Generally, I like watches with quirky or pointless complications. Funky dials attract me in a magic way. Well, that's the way it is today and maybe tomorrow I will fall in love with a beautiful Constellation dress watch. Currently, I am in love with my Catena Spacesonic Chronograph from 1977."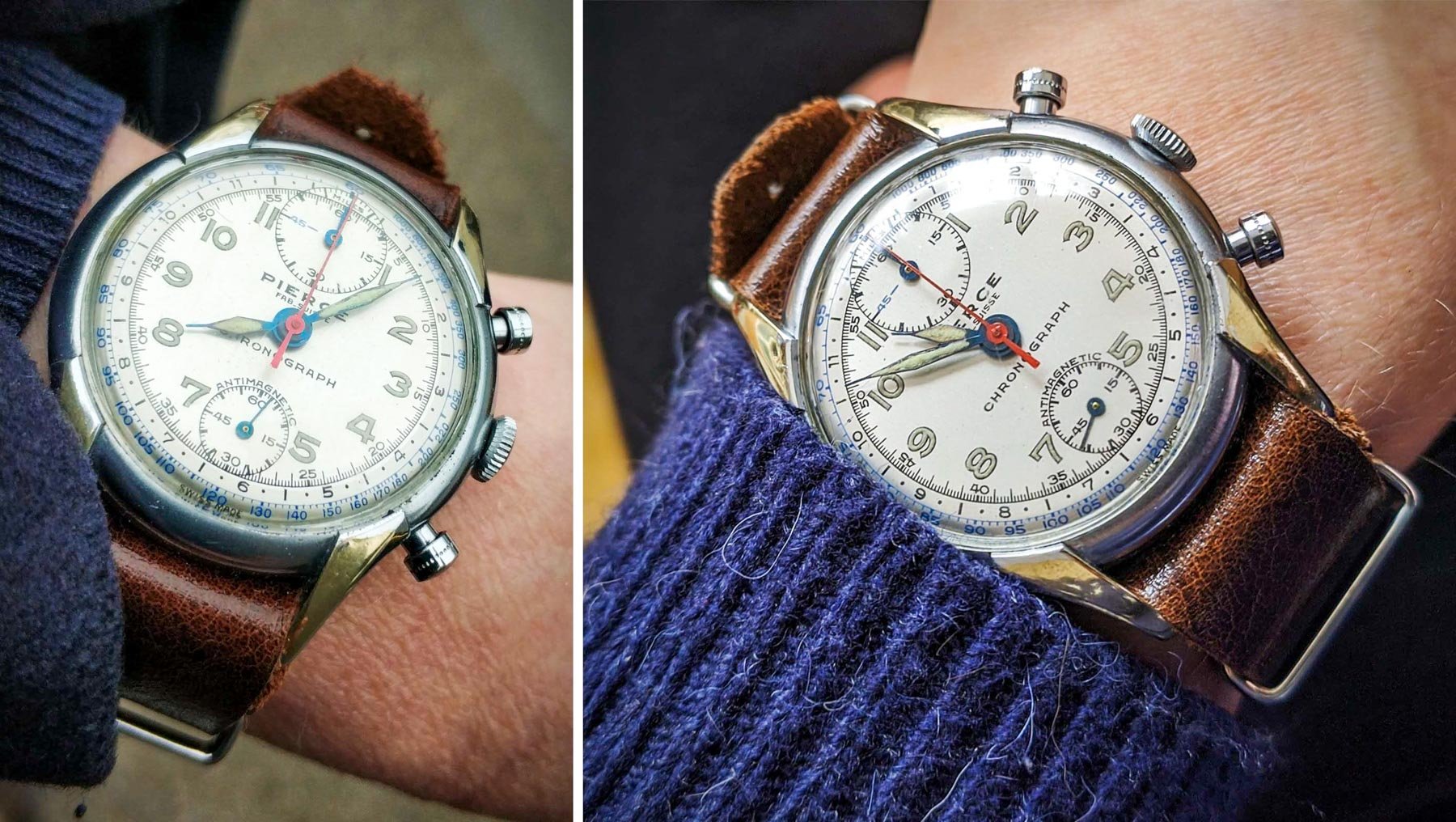 I diligently checked all your posts in UhrForum to check out your taste. And I have to say there are many more or less relevant timepieces we both share affection for. Name your top-5 vintage watches and what you love about them.
"Oh, that's difficult, very difficult. I will answer quite spontaneously, as tomorrow it might be something different. I choose the Pierce Chronograph, which was pure beginner's luck. Only later did I come to understand what exactly I had bought. I also love the Dulux Curvimetre which I first thought was a poor man's Hamilton Ventura. That is until I found out that it has a special complication, an integrated curvimeter."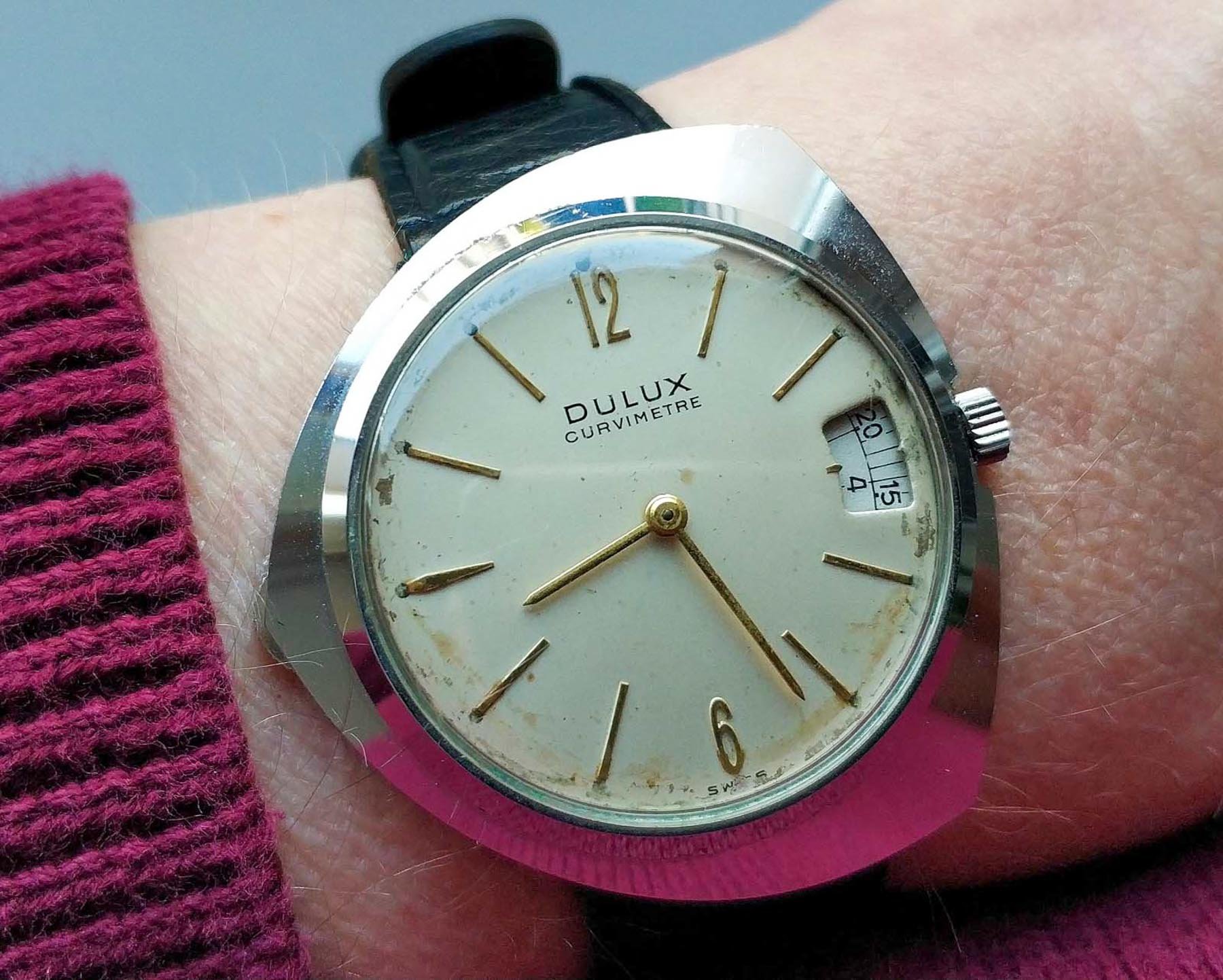 I have to say the Dulux Curvimeter got me too. That's pretty insane and I have never seen it integrated into a wristwatch before. What else do you keep close to your heart?
"A Paul Garnier MinuStop with a strikingly blue dial. I found it at a flea market and it is the most beautiful example I've seen till today!"
Well, I have to agree, it's much more vivid than the Vulcain MinStop I reviewed last year.
"I also like my Jaquet Girard Airvac 400, which I bought for little money from a friend. No one wanted it, because the name Jaquet Girard was pretty unknown. It's a very unique and beautiful SuperCompressor diver watch. Here is the Ernest Borel Monaco, which was love at first sight. I bought the watch from an older gentleman at a watch exchange. He was sad that all visitors were only interested in Rolex watches. When he saw I am different, he reached showed me the Monaco. I knew I was going home with her."
Do you have any particular hidden gem you are proud of?
"Let me think… Yes, I do. A designer watch from Ralph Destino. Do you know the Destino name?"
I am afraid you will have to help me here…
"I took this watch because I liked it. Only after I got it did I find the Ralph Destino Ltd. engraving on the movement. I found out that Ralph Destino Sr. and Ralph Destino Jr. founded Ralph Destino Ltd in 1958 as a jewelry manufactory in the USA. The son was a designer and the dad was selling his creations ranging from cufflinks and jewelry to watches. The father died in 1962 and the son continued the business."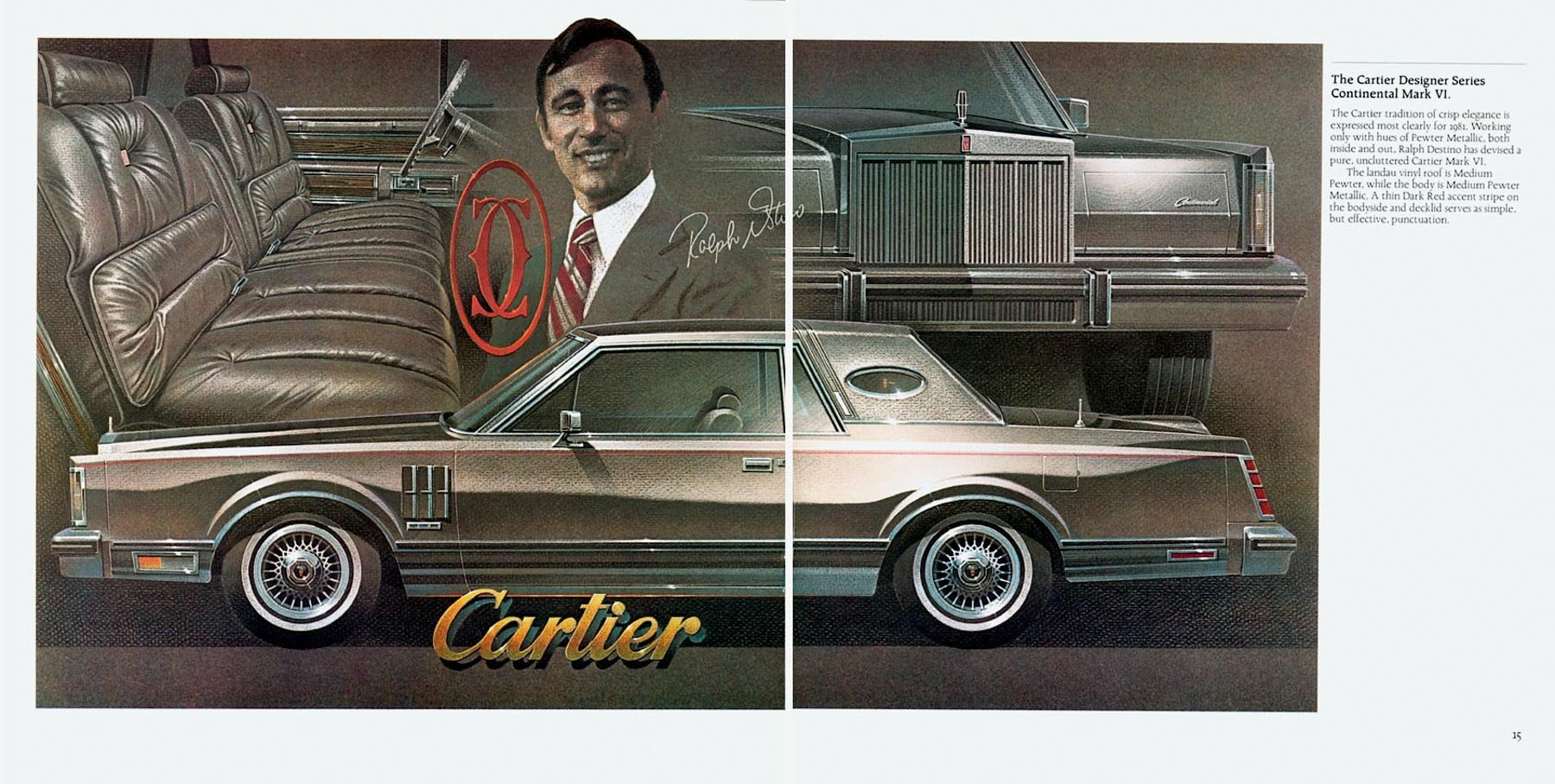 "In 1971 he sold the company and joined Cartier. He was the Asia Manager at Cartier in his beginnings and in five years he became a president. From 1990 to 2005 he was chairman of Cartier North America. In 1980 he also managed to design a special edition Ford Lincoln car. Currently, he is still on the board in Cartier as chairman emeritus and enjoys good health playing golf. What a cool story, isn't it?"
I dare to disclose that you also have an Aquastar, Zodiac Astrographic, Tissot PR516 Chrono, Zodiac Olympos, Bulova Accutron, and Sheffield Alarm watch (!) in your watch collection. But you have to tell our readers the story behind your "fine-tuned" dead-beat Olma Time Signal.
"I saw it at a dealer friend of mine who specializes in vintage Rolex. In the middle of all the Rolex watches, I spotted this watch with a skull scribbled on the dial and knew I wanted it. Price-wise, I was relieved when I realized it wasn't a Rolex. When I asked for a price, he said it had a special dead-seconds movement I had read about before. I thought that it's right up my alley and when he gave me a very, very good price, I took it."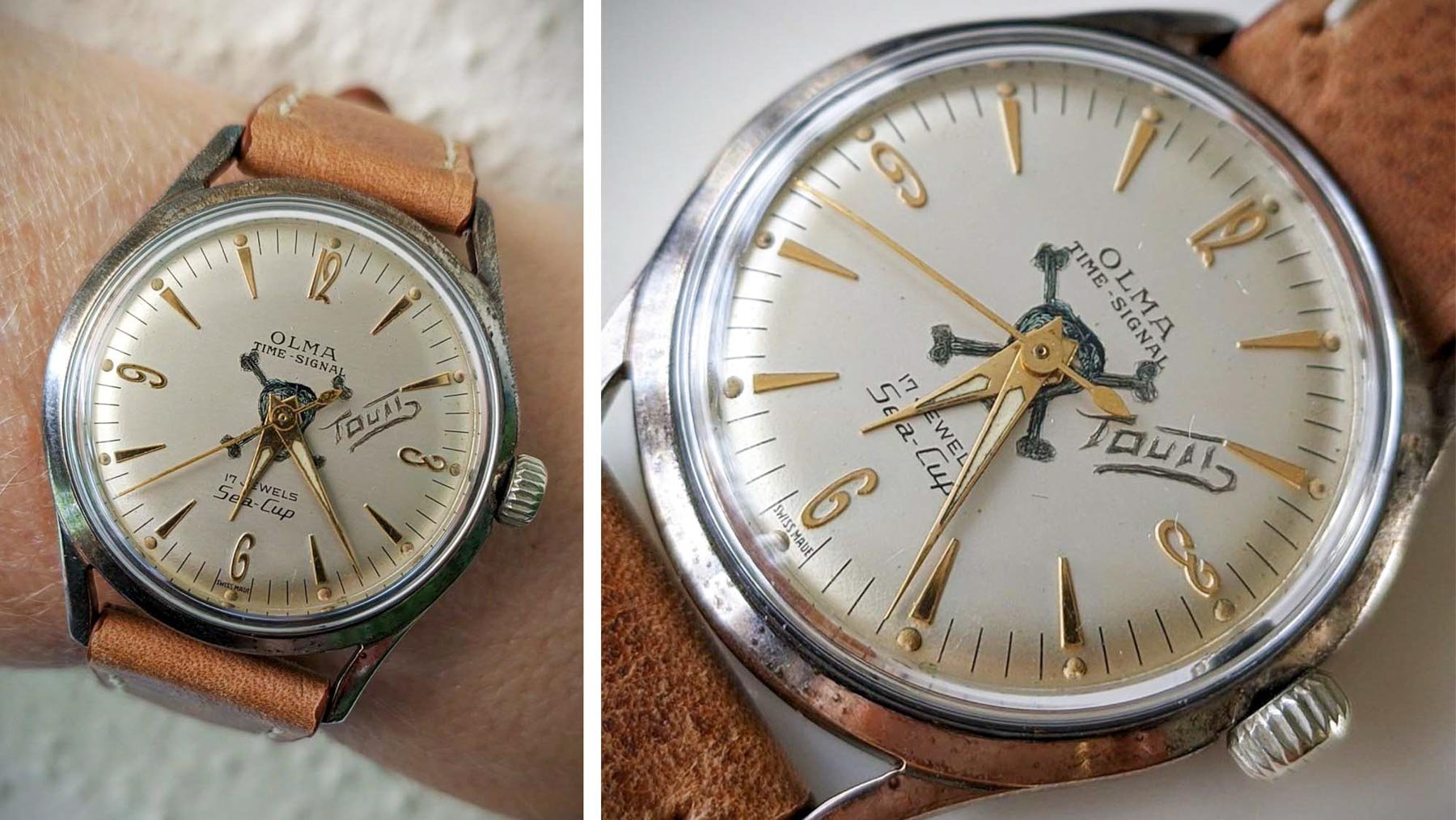 I recently wrote an article about DIY dial updates. Any idea who did this and why?
"I have no idea. Next to the skull, there is a Finnish word 'tauti' which means death or disease. Being written on a dead-seconds watch, whoever scribbled this on the dial had a sense of humor. I love everything about this watch, it suits me well. When other people spot this Olma on my wrist, they look at me, then they nod slightly and say what an exciting watch I have there."
You mentioned flea markets twice. I assume that's your secret where to get unique pieces. How often do you go hunting on flea markets?
"Very often. During COVID there were no markets so I browsed online markets for hours. The difference is that at a flea market, you have no time to research and you have to decide quickly. Of course, I've had bouts of bad luck, but mostly I was lucky. It's a real joy when you clean the watch, open it and see what a little treasure you found. These days I'm helping a good friend from time to time. He is a watchmaker and has a stall at the flea market in Zurich. He knows everyone. For example, his regular visitor is Aurel Bacs' father, whom my friend knows since his youth. It's funny when foreign tourists recognize him and take selfies with him. Well, and I learn a lot when old white-haired men philosophize about watches."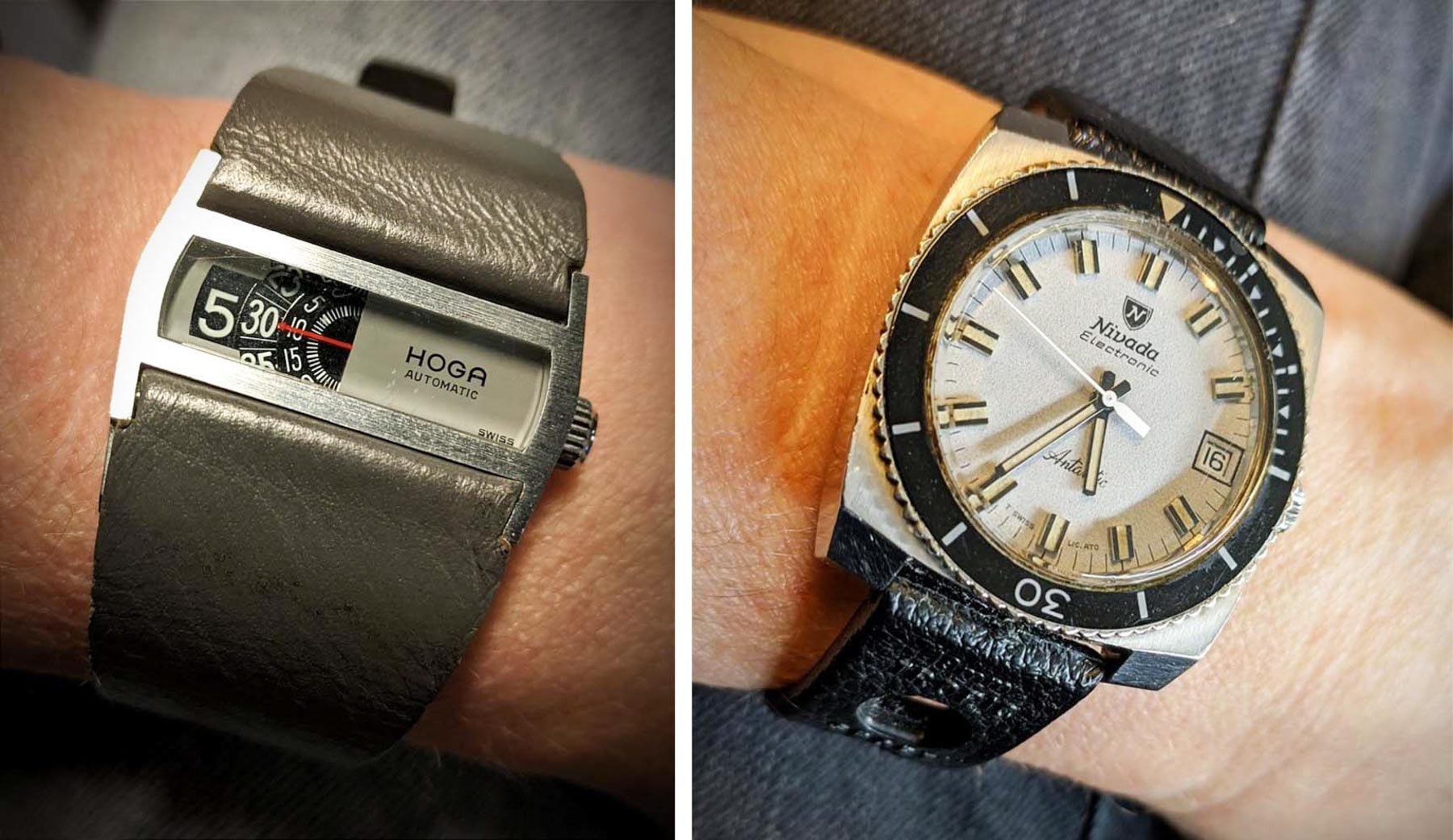 If you are not hustling on the flea market, what's your day job?
"I'm an IT Specialist, born in Zurich to a German mum and Italian dad. My job taught me how to navigate in a men's world. I was often the only female around and I stood out. And I have to say it has always had advantages for me so far. Even when looking for a job. My father taught me early to be independent, for example, to repair the car or fix the light. Maybe it's because I'm not afraid of men's things."
Do you remember your first watch? Have you always worn watches?
"Honestly, I don't remember wearing a watch as a child. I can remember the watch of my maternal grandmother, who died at an early age. I still own it today, it's a gold Tissot ladies' watch."
The last question: what about your grail watch, do you have one?
"I am currently in love with vintage diving watches, that's why I traded the Pierce Correctomatic for your Yema Navygraf. And my grail watch? I think an original Fifty Fathoms or Omega Seamaster 300 would be nice to have."
Thank you Sandy for taking the time to talk to us! Dear readers, if you want to keep an eye on Sandy's collection, you can find and follow her on German UhrForum, where Sandy is quite active.