#TBT Vintage Watches (Wish)List For September
Technos, Lyndamar and Jardur
Today we have a trio of watches: an Alien watch with a crazy faceted crystal, an unreal spider web watch from a brand you've never heard of before and a marine miracle and fascinating colorful dial.
Question of the week. Ehm, life.
One of the biggest riddles in a watch collector's life is to figure out the right number of vintage watches to have in one's collection. I can assure you there are a lot of approaches, opinions and recommendations on this topic. Rather than trying to solve the question for you, we will add some vintage inspiration that might reignite your collector's spirit.
Technos Kaiser Signal
Did you like our recent #TBT on the flashing red dot Mondia TopSecond? While browsing dealer offerings a few weeks ago, I bumped into another periphrasis on the same idea. Technos Kaiser Signal shares the same AS movement but tops the competition with some other out-of-this-world elements giving the watch a cool space charm.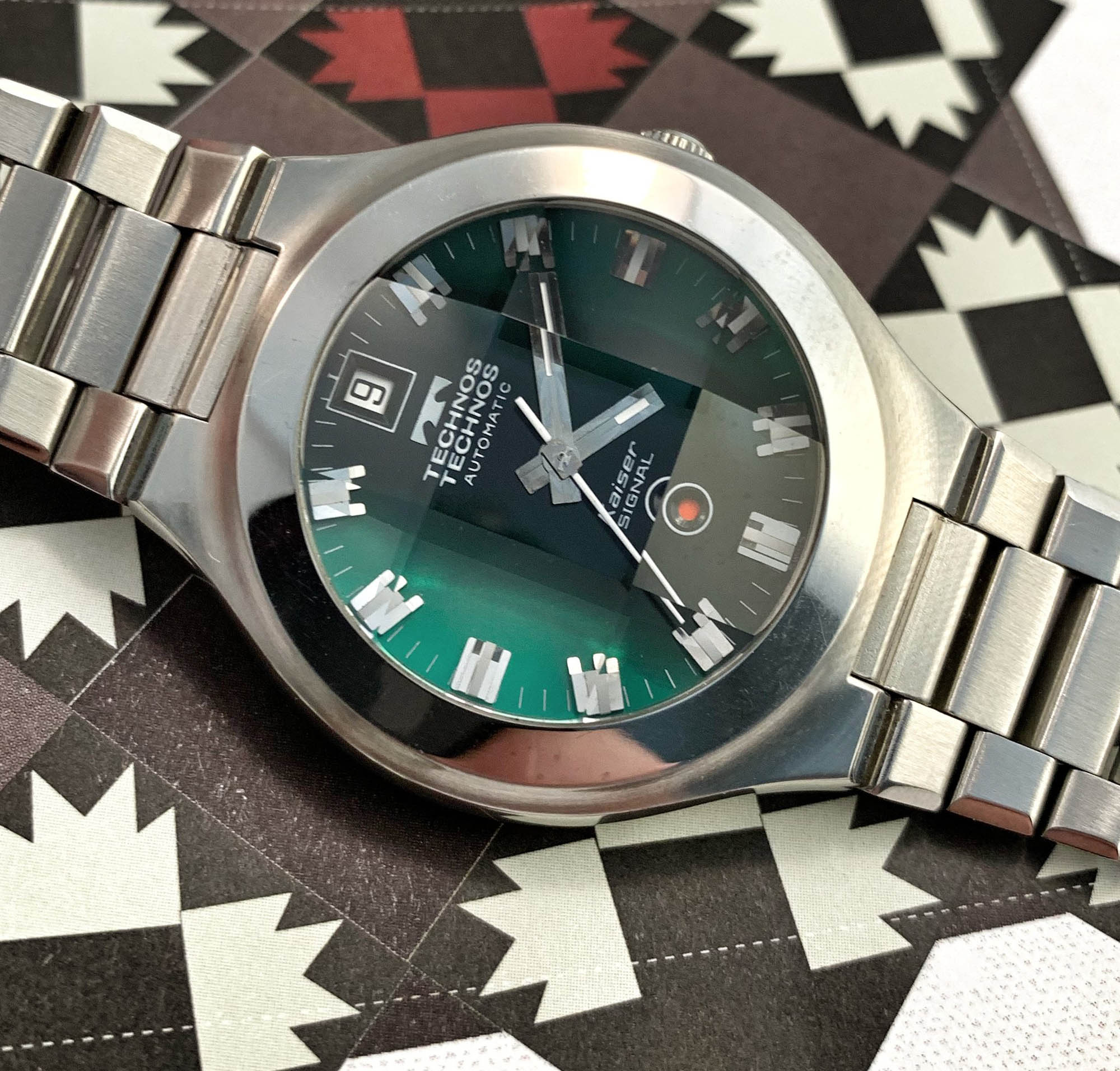 One of a kind crystal
Initially, I thought it was a damaged watch on the picture. Only after I started to read the watch description, I realized that the crazy (and a bit irrationally) faceted crystal is the real deal. Don't ask me how it makes you feel when reading the time. I haven't held it in my hands, but I feel dizzy just looking at the pictures. Nine edgy facets create a fascinating visual effect, that looks "Alien-like", especially with the deep green dial behind the crystal.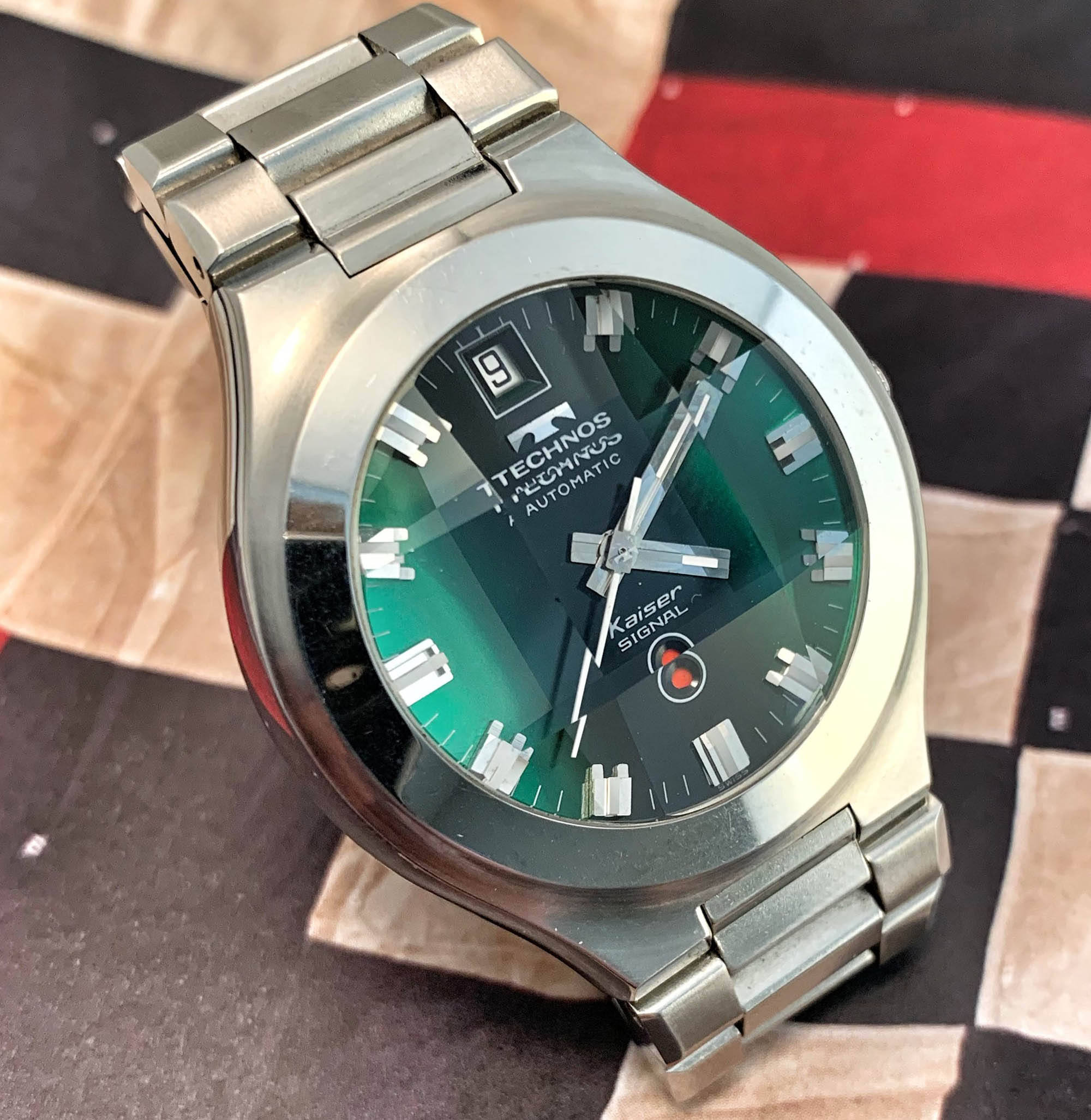 Sculptural watch
The seller very originally named the watch a sculpted beauty. It has a generous 38mm diameter, with the seller claiming it sits perfectly on the wrist. However crazy the watch is, at least it is consistent. The date at nine is written with a bit robotic typo. In combination with the original bracelet, it looks like you are wearing a small spaceship. You can also find faceted design traces on the bracelet that has a beautiful textured and signed clasp. Feel proud when you say your watch is triple signed? Well, think again when confronted with all six signatures of this Technos.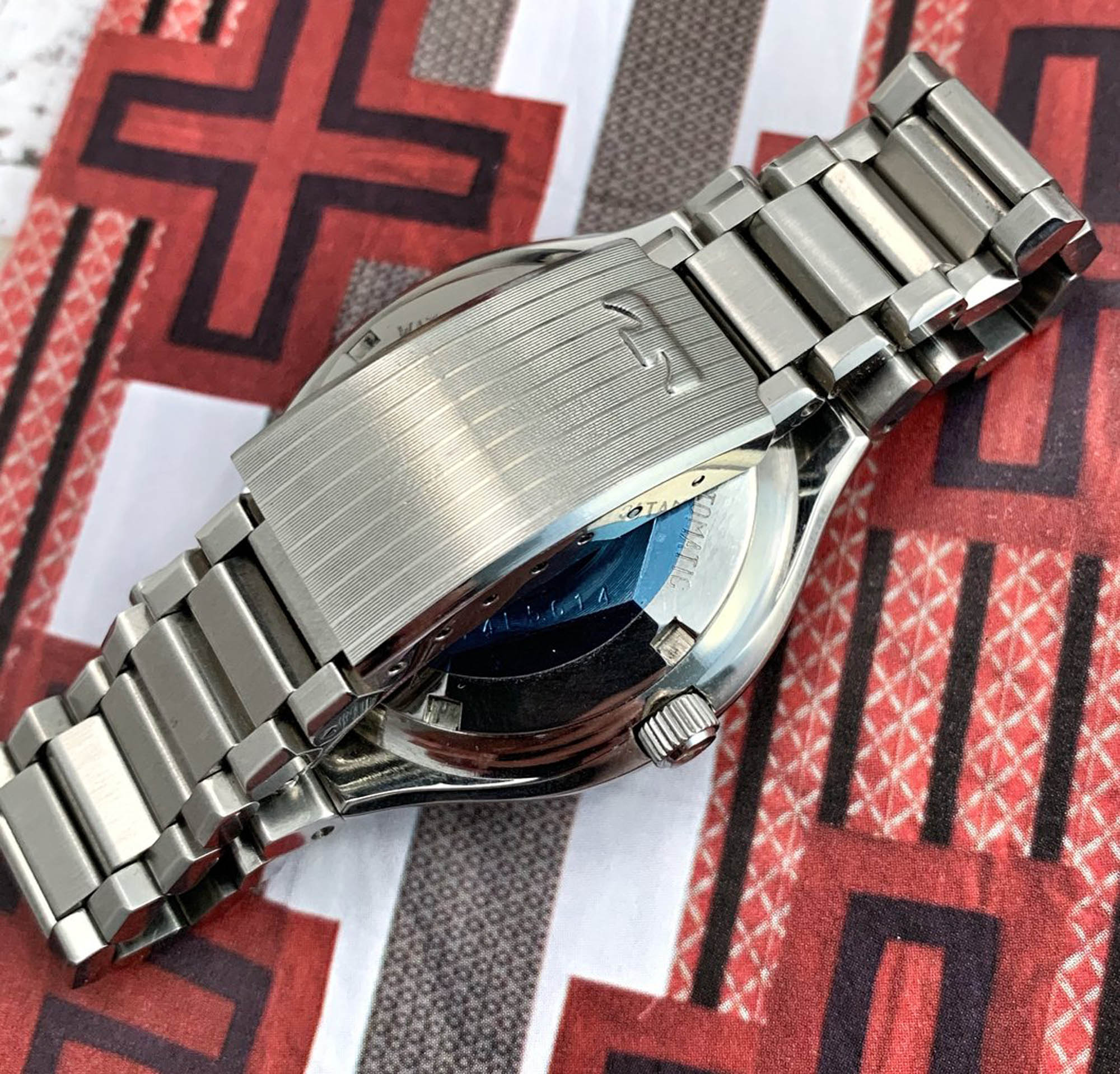 Do I need it?
Genuinely quirky, but in my opinion, all the crystal fuss kills the idea of the flashing second. If I hadn't seen the red dot shine on the square meter flat silver dial of Mondia before, I would have called this one a must-have.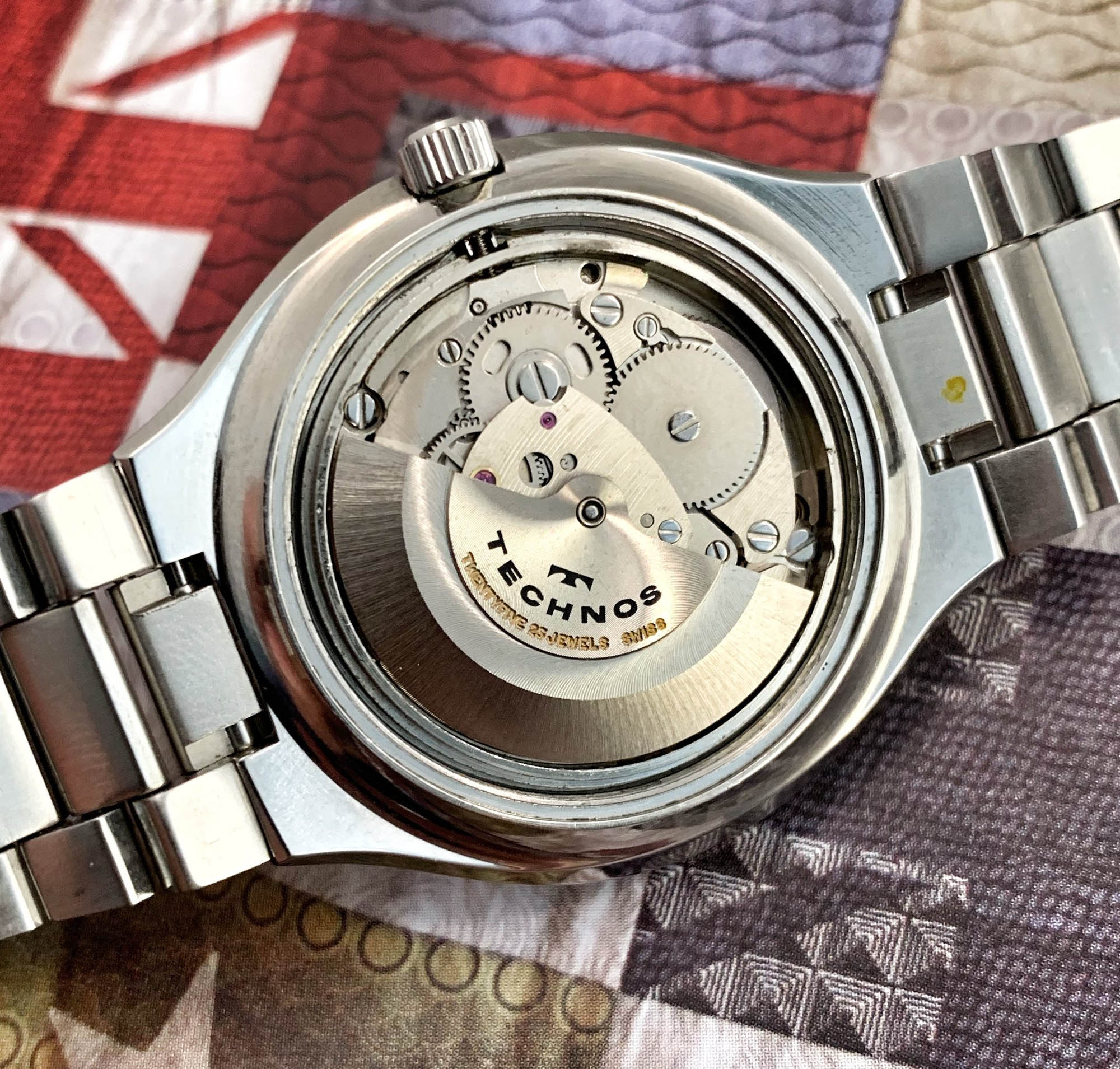 Spider web Lyndamar
How to put this gently: did you think your "spider web" Rolex hits the roof of the patina coolness chart? I might leave the answer to you folks, whether you see it as a pure imperfection or as a flaw. But I kind of like it too. But this is not the point. While we are on the topic of a spider web that might be presented as a result of planned action, not an unexpected consequence of aging, I offer my recent find called Lyndamar.
Wait, this is not Doxa
This Lyndamar without a reference or a name looks very slim. The strictly square 33mm case looks like a frame of an old barn that hasn't been touched for ages. Only a little spider made it his home and knitted a perfectly symmetrical spider web. Not sure if it comes with the golden ratio, but I like how the hands are off-center. Hope Doxa fans are not listening, but does it not look like a more original Doxa Grafic?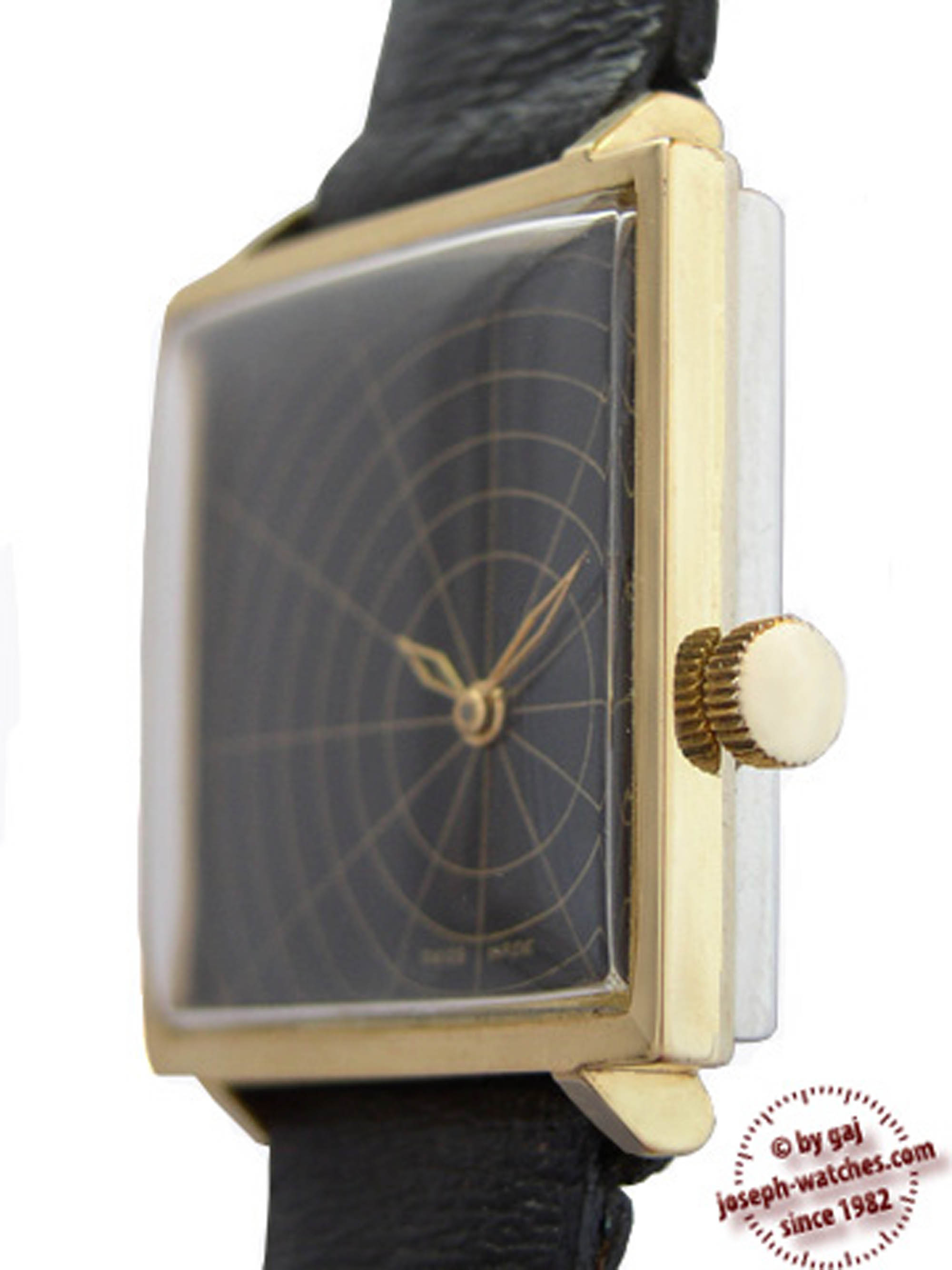 What's inside
Under the dial with skeletonized hands resembling spider legs (if you look at it for long enough you can even see cat eyes in there!) there resides a quite irrelevant 17 jewels 69-251 Fontainemelon (FHF) movement. At least it is manual. The seller dates the watch to 1961. By the way, did I say it is still available for 395 euros? The devil in me ruling my tastes for quirky vintage watches tried to make me buy it two times already, but I resisted. So rather rush before I change my mind!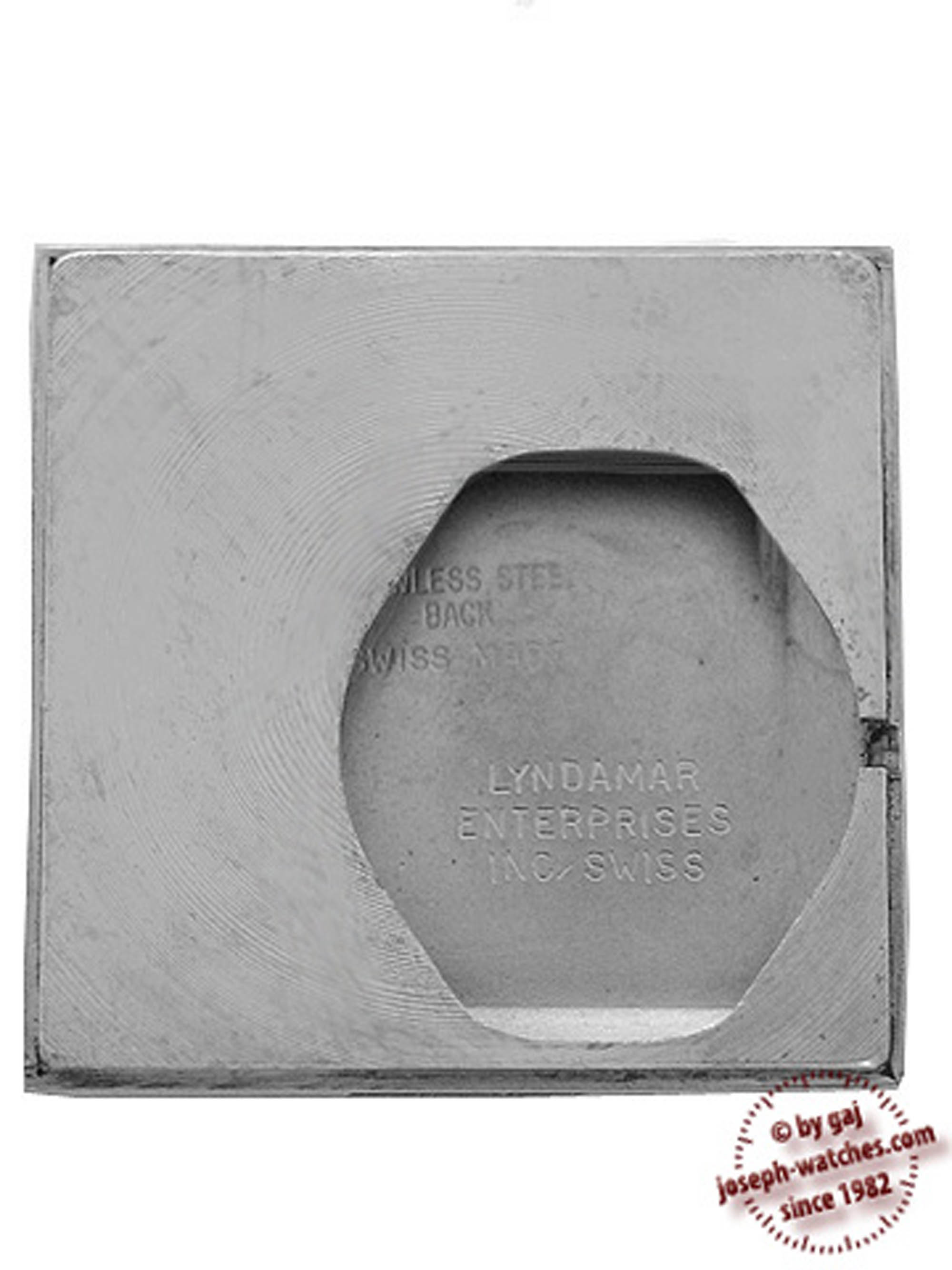 Disclaimer: Don't take my claim about the real spider web watch too seriously — Roger that.
Jardur Seatimer
While everybody is hunting down the legendary Jardur tri-compax chronograph, @johnswatches showed the world another pure stunner from Jardur worth looking for. To keep the cheerful animal mood from the previous listing, John says that a lot of people ask him why the word "DOG" is written on the dial of this 24-hour watch.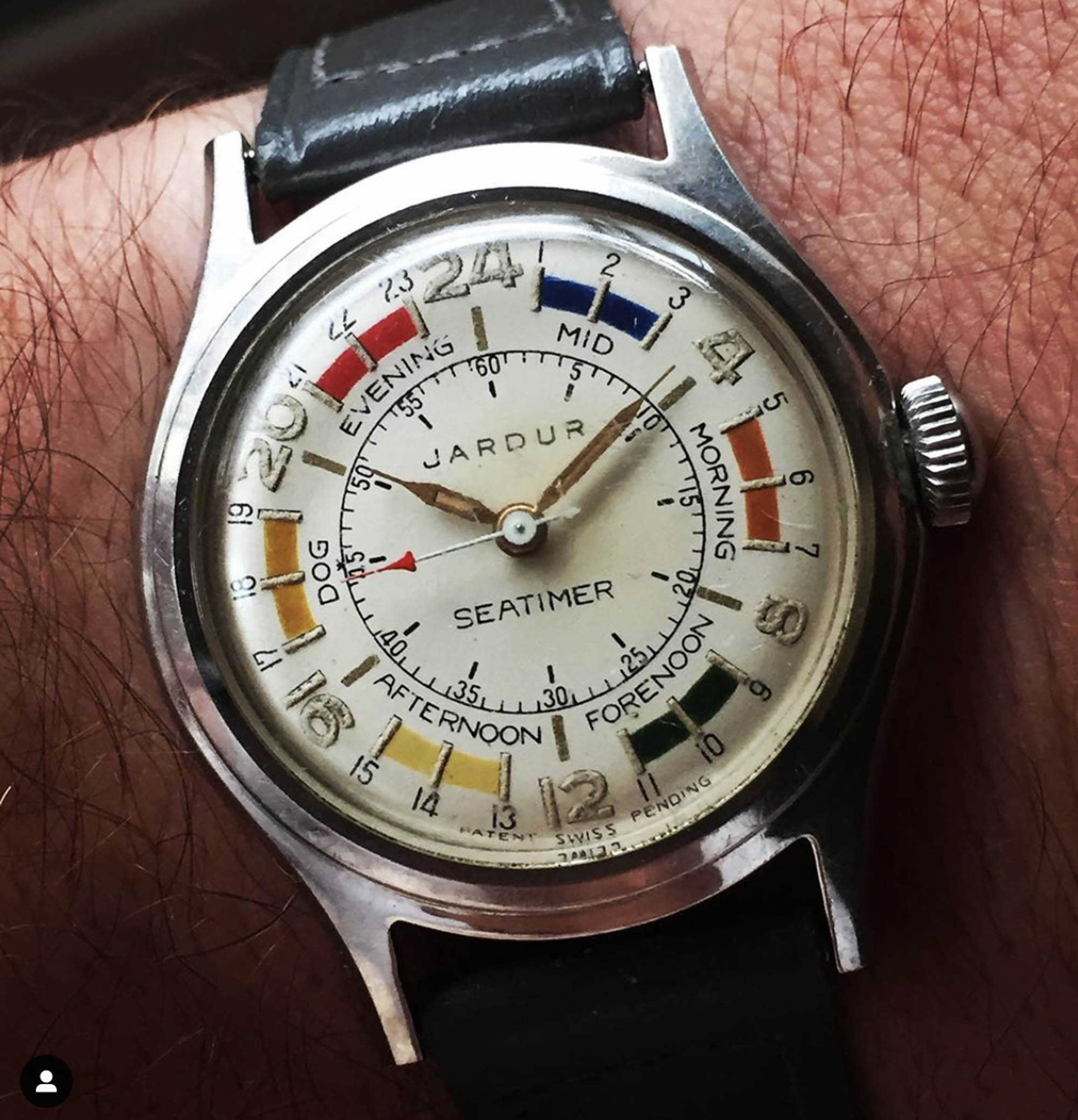 Mystery explained. Partially
John quotes Wikipedia saying that the Dog watch, in marine or naval terminology, is a watch, a period of work duty or a work shift between 16:00 and 20:00 (4 pm and 8 pm). This period is split into two, with the 'first' dog watch from 16:00 to 18:00 (4 pm to 6 pm) and the 'last' dog watch from 18:00 to 20:00 (6 pm to 8 pm). Each of these watches is half the length of a standard watch.
Design stunt by today's standards
Every detail about the Jardur Seatimer is highly likable and simultaneously debatable. We have seen 24-hour watches before, but this one sticks out more than any other. Big fat radium numerals, rainbow-colored toned arcs with an inscription next to each one describing the part of the day. Syringe hands short enough to tell the time. A white central second's hand with a red arrow tip as cute as the reading patent-pending below 12. Summarizing it all out loud for myself, I think I need one. The only problem is I have only seen two examples thus far.
Happy hunting and happy expansion of your watch wish list. Want to share your wish list or ideas, shoot me a note via [email protected] or a direct message on my Instagram account (@rosputinsky_tomas).