#TBT Zodiac Sea Wolf 1781W — A Highly Addictive Sunshine Watch
The next big-budget vintage Zodiac?
Rich, action-spiced brand history and an innovative and kick-ass design you would hardly place being 60 years old. I always wanted to try this Zodiac Sea Wolf, and now, here it is. In its full glory on an original Zodiac-signed JB bracelet. And it came with the box.
I am a curious subscriber to the vintage add-ons newsletter by our friends at Hodinkee. Like many of us from Europe who already know that we won't buy anything anyway due to huge import customs fees, I always open the email in no rush. Three years ago, in March 2018, a full-set Zodiac Sea Wolf 1781B appeared in the Hodinkee Shop and sold for a stunning $4,500. In July this year, another piece resurfaced on the Hodinkee Shop for another fat $3,900 price tag. If you are too lazy to check it closer, I'd like to highlight that this didn't have its original bracelet. I remember saying to myself, "Another watch that is getting out of my reach…"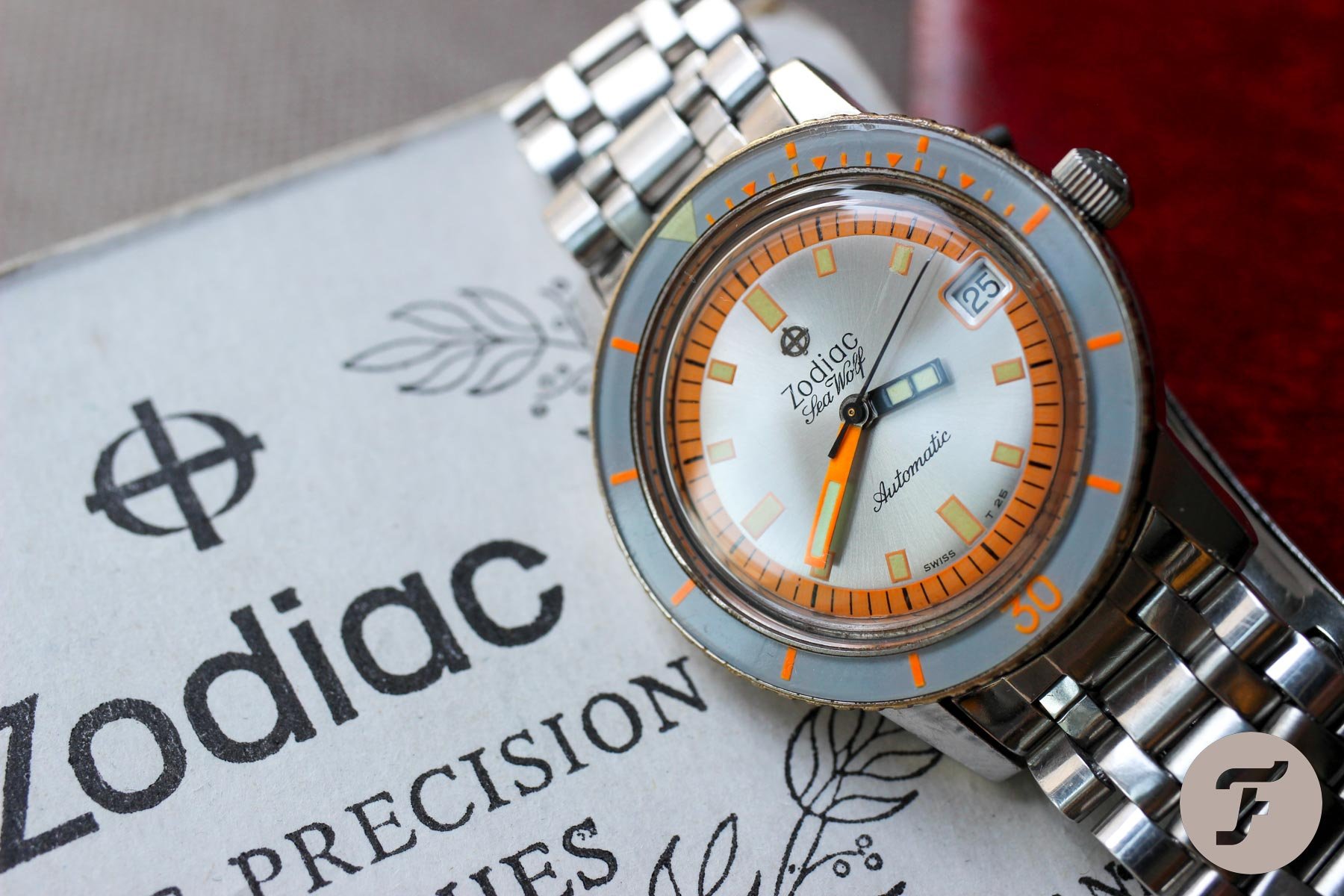 Why does a 35mm Zodiac sell for almost $5,000?
Where to start? It seems that the Zodiac Sea Wolf is starting to get some proper attention that it unfairly lacked. With prices of Rolex Submariners and Blancpain Fifty Fathoms climbing higher than you ever dared to imagine, the underdogs like Zodiac are coming out of the shadows. And I'm not name-dropping Rolex and Blancpain accidentally. The original Zodiac Sea Wolf was introduced alongside the Fifty Fathoms at Basel in 1953, one year earlier than the Submariner.
Diving design pioneers
Have you ever wondered why the first 15 to 20 minutes on a bezel are often highlighted? Probably not. You could probably guess it indicates when it's time to come back up from underwater. What might really surprise you, though, is that the Zodiac Sea Wolf was the first diving watch ever to feature the first 15 minutes highlighted on the bezel. Imagine you have a dinner where your curious friend wearing a Submariner spots your Zodiac. And you tell him that the bezel marking on his Sub comes from your Zodiac. All that without taking a single look at his wrist, just before you cut off another piece of your juicy steak with a big smile on your face…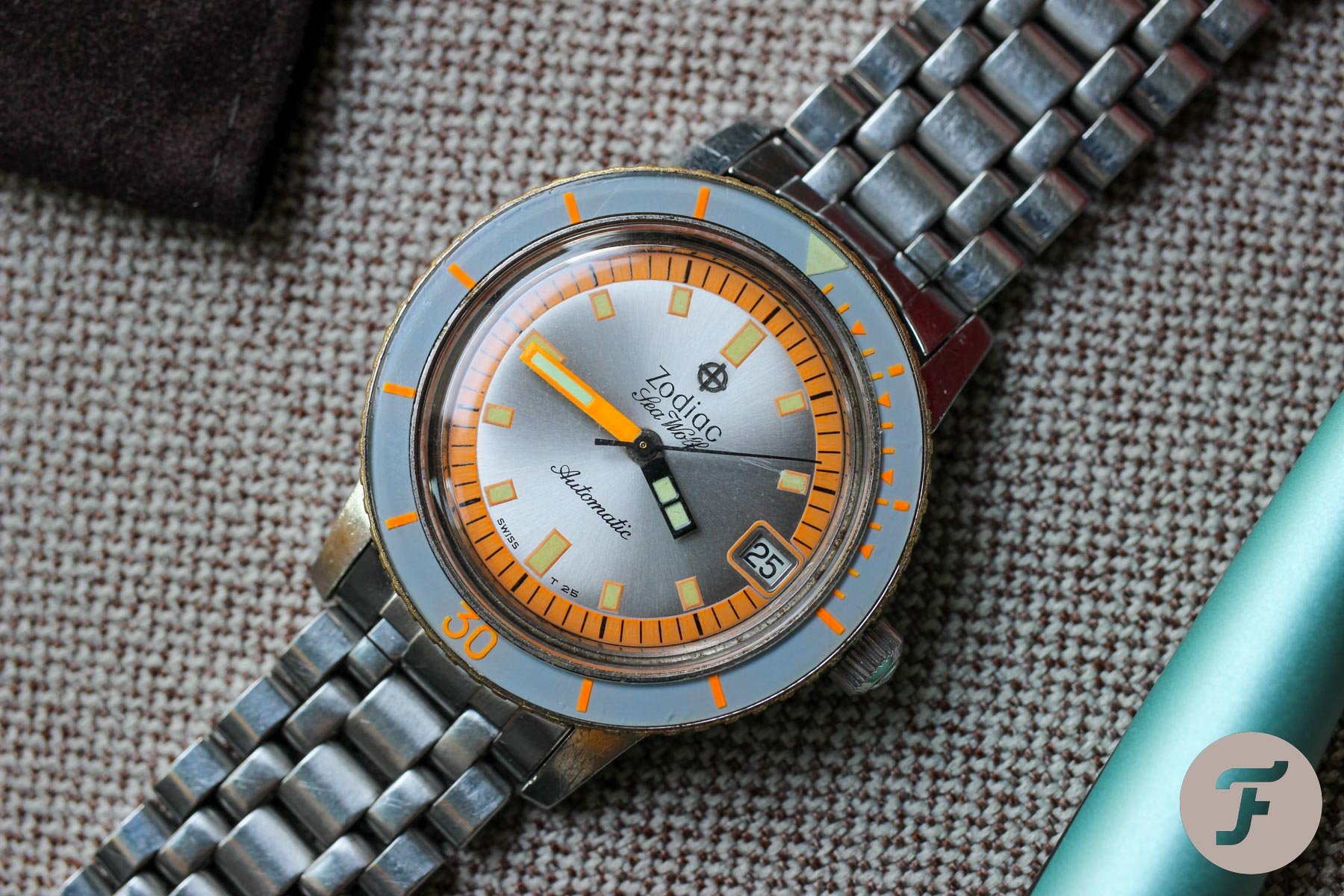 First-gen Zodiac Sea Wolf
Former #TBT torch holder Mike has one of the earlier Sea Wolf models. It has triangular markers at 3, 6, 9, and 12 o'clock, each with Arabic numerals inside. The big triangular hand that became a Zodiac signature has an additional middle line added to help to keep the lume from cracking or falling off. The earlier model also lacked hacking seconds and a quick-set date. It had a metal bezel, and color-wise, it didn't stand out at the time. Mike doesn't wear it much, and I was utterly bewildered to find out he never featured it on #TBT.
Interestingly, the Zodiac Sea Wolf was a solid seller at PX (Post Exchange) outposts, and it became a popular choice of many soldiers serving in the Vietnam War. A later, crazy Zodiac Super Sea Wolf with a "chainsaw" bezel was used by the Navy Seals. According to archival print ads, it became the official watch of the Naval Special Warfare's Underwater Demolition Team.
Greatest Sea Wolf model?
It's key to mention that the Zodiac Sea Wolf is one of the brand's perennial models that's alive to this day. Finding the "best model" might actually be an impossible task to accomplish. The currently revived line of the Super Sea Wolf counts 20 design styles and their iterations as GMT, World Time, or three-hand Automatic. At Fratello, we recently reviewed the Watermelon, which took its inspiration from my all-time favorite model, the Zodiac Sea Wolf 1781. There were two models that differed in dial background style and bracelet factory fit. The 1781B was the one mentioned before that sold over at Hodinkee this summer. It is also the hero I managed to land into my collection recently. Both models are stamped 722-946 on the inner side of the case back.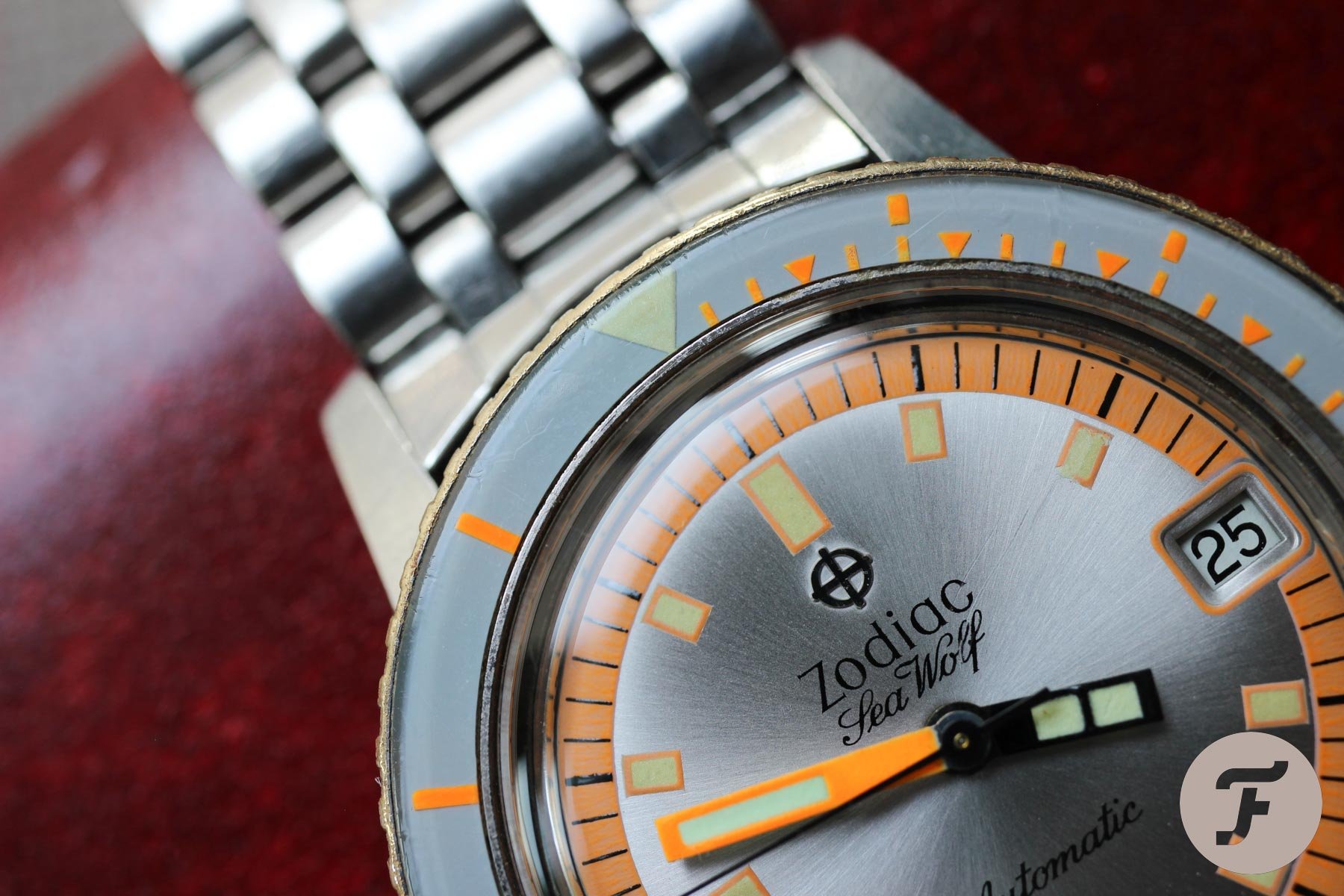 Acrylic bezel
I struggle to date it precisely, but sometime during the sixties, Zodiac also started to offer an acrylic, so-called bakelite bezel. Especially when combined with vivid 1781W/B dials, this combination is impossible to ignore or overlook on someone's wrist. I always claimed you should have at least one diver in your collection with a bakelite bezel, as it symbolizes the era and fragility well. Nevertheless, it's one of the best visual details to observe on vintage watches.
I struggle to recall watches with such a suggestive and captivating bezel.
I have to admit that in flesh, the bezel on my 1781W looks slightly different than it does in the pictures. The pale gray color is truly an unusual choice for a bezel. The striking orange accents look a bit "counter-complementary" and the result is a pretty hypnotizing effect. Also, notice the other unusual details. In addition to the 5, 10, and 15-minute markings there are also miniature triangles at 3, 6, 9, and 12. The only number printed on the bezel is 30, right at the bottom. I struggle to recall watches with such a suggestive and captivating bezel.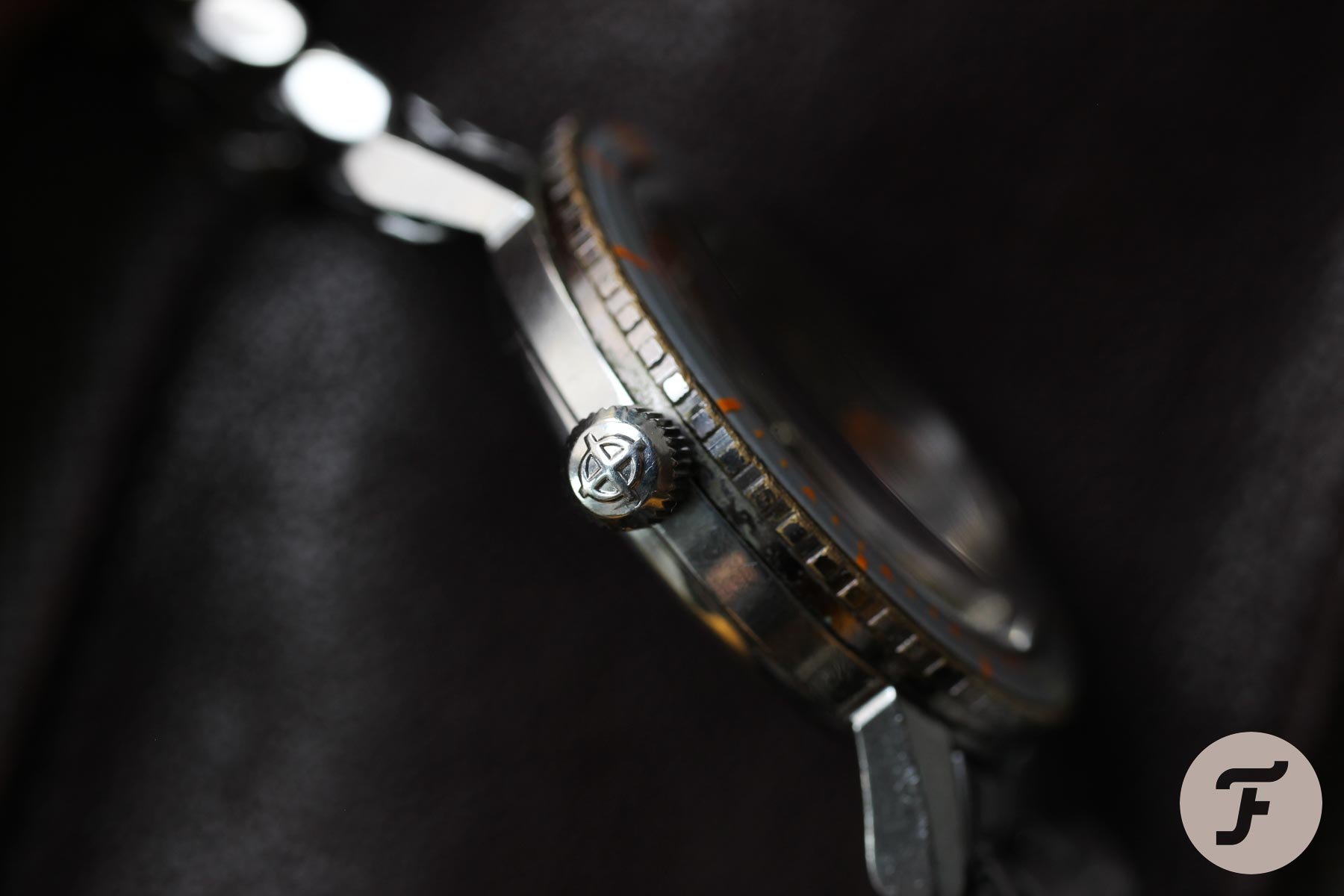 First impressions
I know I might make it seem like the watch is not legible. But honestly, that couldn't be further from the truth. The short, beefy hour hand and the lume therein are divided by a thin line that looks like a reference to the OG Sea Wolf hand. With a contrasting orange minute hand floating over the central pearl sunburst disk, reading the time is fast and precise.
Other than the applied Zodiac logo, there is no other shiny steel detail on the dial. Weirdly enough, it was only after a few days of consecutively wearing it that I realized I really like the black seconds hand. Usually,  the seconds hand on a simple three-hand watch doesn't make that much of an impression on me. It's also interesting considering that there are multiple elements in the dominant orange color, such as an extremely wide minute track, the hourly indexes border, or the date window frame.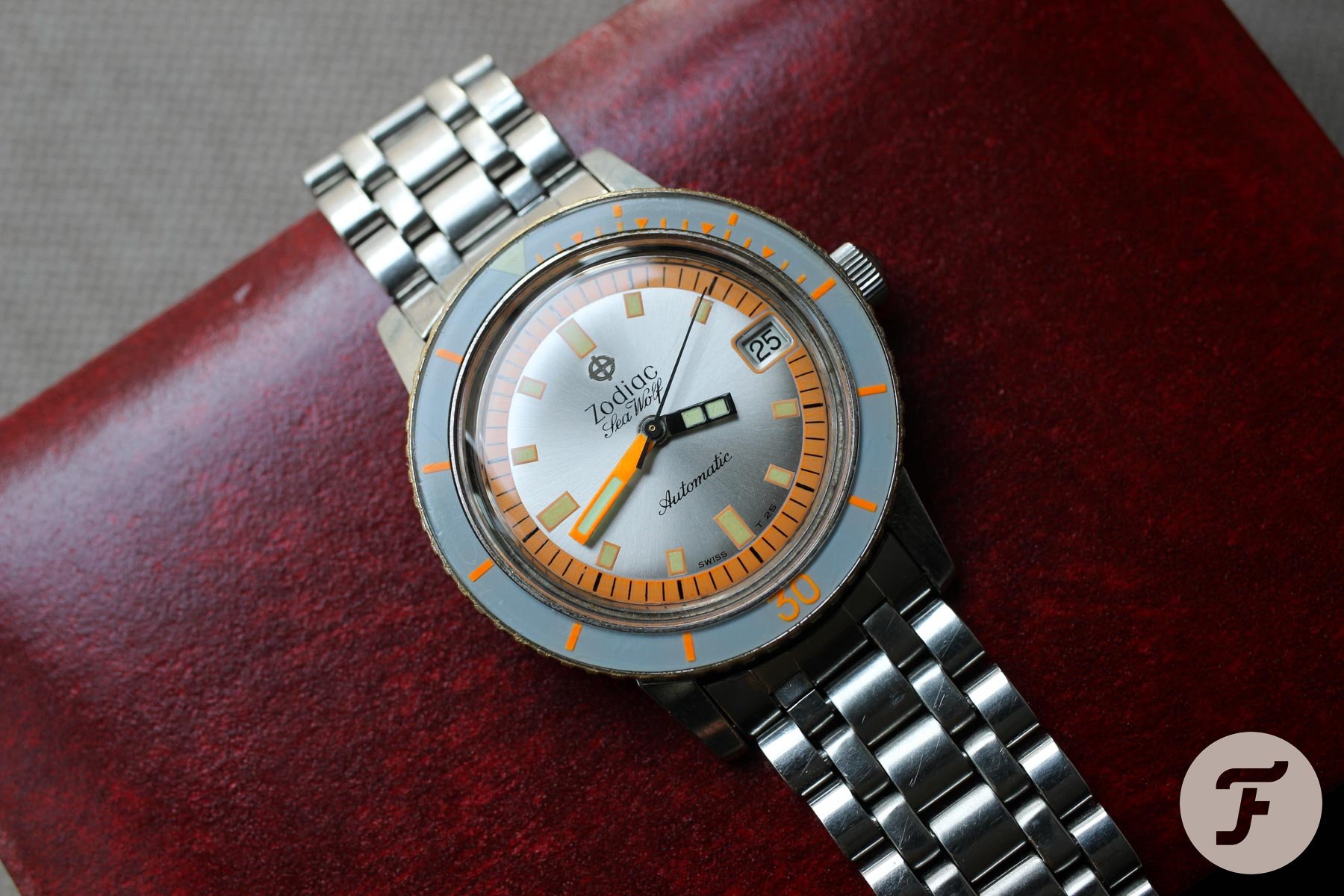 Shotgun notes
Both the early metal bezels and the acrylic ones are plated brass, so they show signs of wear easily over the top edge. But that's just as a side note, as I really don't mind. It doesn't ruin the visuals as dramatically as a chrome-plated case can. The font used for "Sea Wolf" and "Automatic" is pretty fascinating and is in line with the Zodia-Chron Hermetic, the Sea Wolf's chronograph brother. The signed Zodiac crown counts as another detail of the fine design.
Wearability
With no reservations, it's exquisite in all aspects. The simplistic, round shape sits close to the wrist. The thin, quite long, and steeply sloped lugs add a sporty feel. It's the kind of watch that will persuade you that you don't need to rock some big old behemoth, especially if fitted with an OG bracelet. In the 1950s, Zodiac entrusted J.B. Champion to create a range of around 20 reliable bracelets. All are signed JB on the inside and also bear a Zodiac logo on the clasp.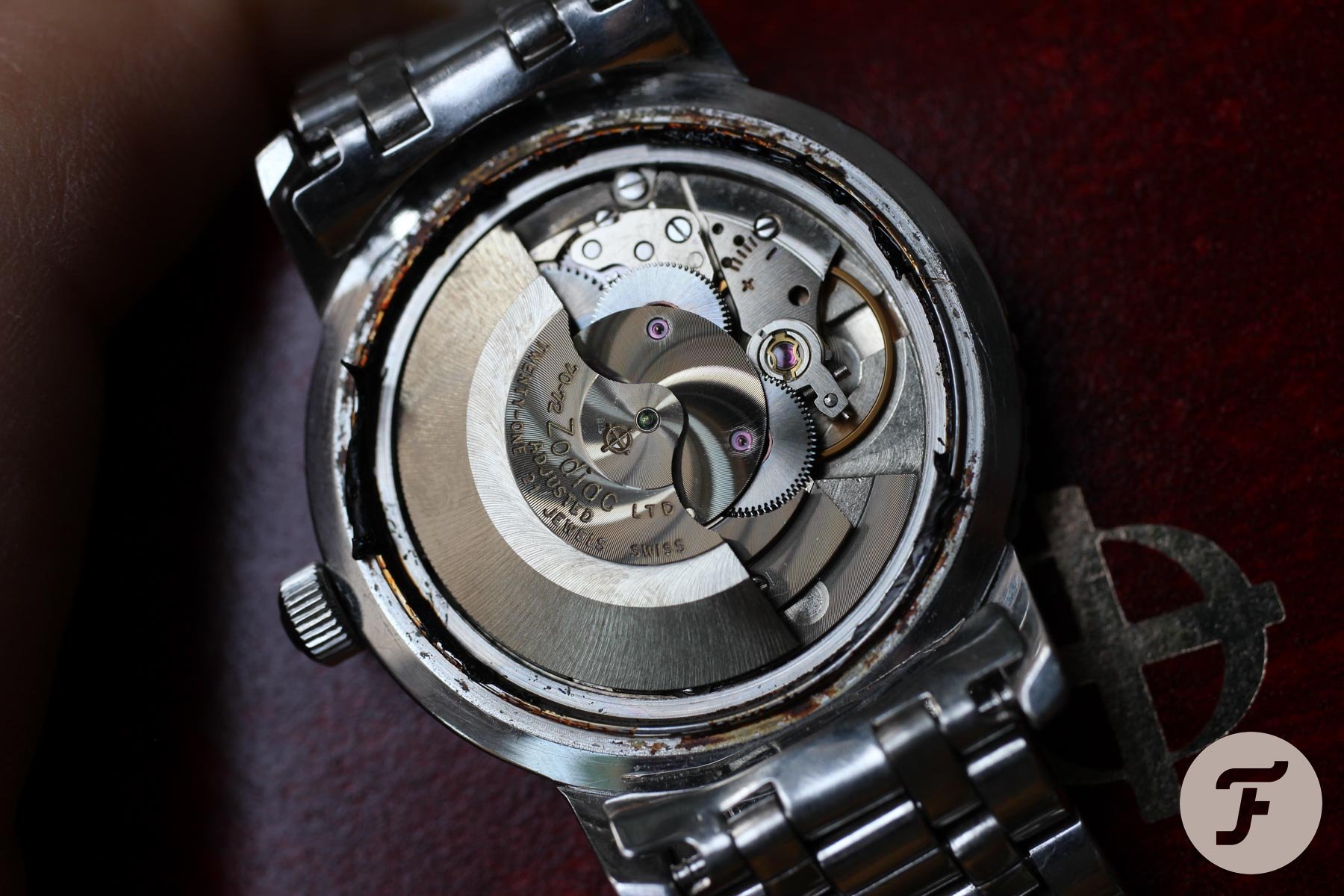 Last thoughts
I am so full of emotions. Starting this article, I was almost paralyzed, as I didn't know where to begin. The Zodiac Sea Wolf is sitting on my wrist right now. Well, it has been sitting there for five consecutive days already. My other (not only diving) watches must be dying from envy, as I am really in love with it. It's the biggest 35mm watch that you ever did wear. #TBT Zodiac Sea Wolf 1781W — A Highly Addictive Sunshine WatchDon't get one. If it finds you, I am afraid you won't let it go. Happy hunting.