#TBT The Zodiac Zodia-Chron Hermetic With A Mighty Valjoux 72 Caliber
Another academic example of vintage chronograph beauty
Don't have a caliber Valjoux 72 watch yet? It's about time you started looking around for one. If the classic 1960s Omega Speedmasters or Daytonas are past your budget, you might just find that the Zodiac Zodia-Chron Hermetic fits not only your budget but also that gap in your collection. I think you'll agree with me when I say that it's an extremely cool watch with a bit of both the Speedmaster and the Daytona DNA at its core.
Should you already be lucky enough to own a chronograph with this workhorse caliber inside, I still recommend you keep on reading. After all, there's no such thing as having too many Valjoux 72 caliber watches in one's collection.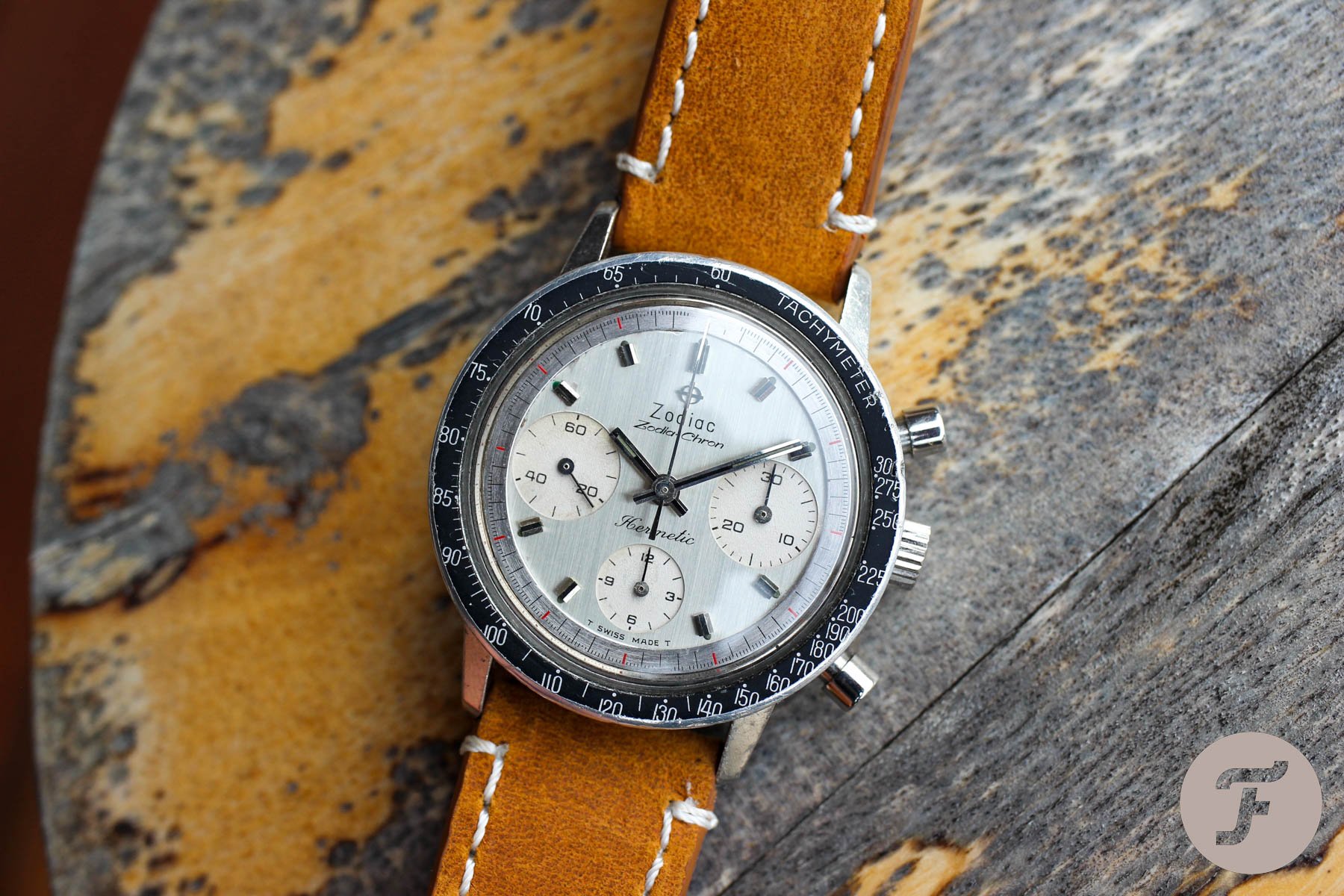 Zodiac matters
If you compare the number of brands that never made it through the 1970s or 1980s to those that are still alive today, you will find Zodiac to be on the lucky side. Despite one or two bumpy detours in the 1990s, Zodiac found a way out. Some other brands have been revived after a few decades of hibernation, almost always under new ownership. Yet they usually lose their charm and their watches are often (to put it mildly) just mediocre, if not ugly. However, the "new" Zodiac constantly returns to its earlier design language and re-interprets it in astonishing new ways. We can see a number of examples of this throughout their current portfolio. Personally, I wouldn't mind going shopping tomorrow and coming back with a Super Sea Wolf Watermelon or even last year's 68 Saturation.
Zodiac Zodia-Chron in the spotlight
Watching the fresh product line-up from Zodiac today, I generally consider their vintage pieces rather undervalued. I'm telling you, there is much to discover. And it goes beyond war veterans singing odes on their water-resistant Sea Wolfs. Just to help refresh your memory, let's travel back to the mysterious Zodiac Astrographic or the poor man's Heuer chronograph. Rewind the clock by another two decades and you can marvel at the 1949 Zodiac Autographic, with one of the most aesthetic and romantic power reserve integrations that I've ever seen on a watch dial. And if you asked me about the best Zodiac chronograph, I would turn your attention to the Zodiac Zodia-Chron every time.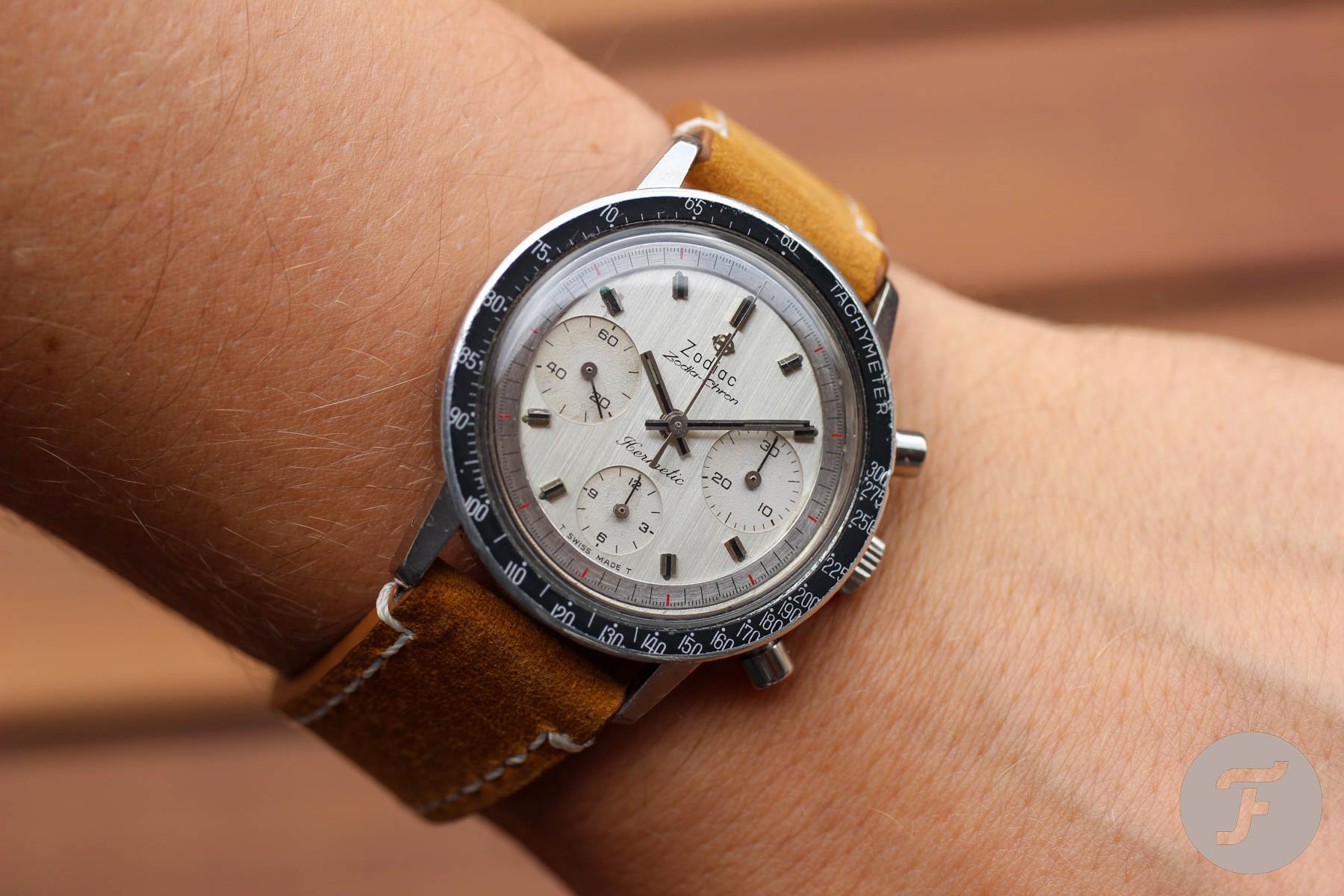 Obvious perfection
The Zodiac Zodia-Chron's magnificence is easy to see. A matte black fixed tachymeter bezel, pump pushers, and a playful Albino Panda triple-register dial with subtle black and red detailing. A signed crown, slightly angled lugs, the perfect diameter, and a genuinely detailed screw-down case back. Last but not least, the much-praised Valjoux 72 chronograph caliber that you will play with just because you can. And it will put a smile on your face when you do. Its precise and reactive mechanism giving a satisfying click every time you start, stop, then reset the chronograph.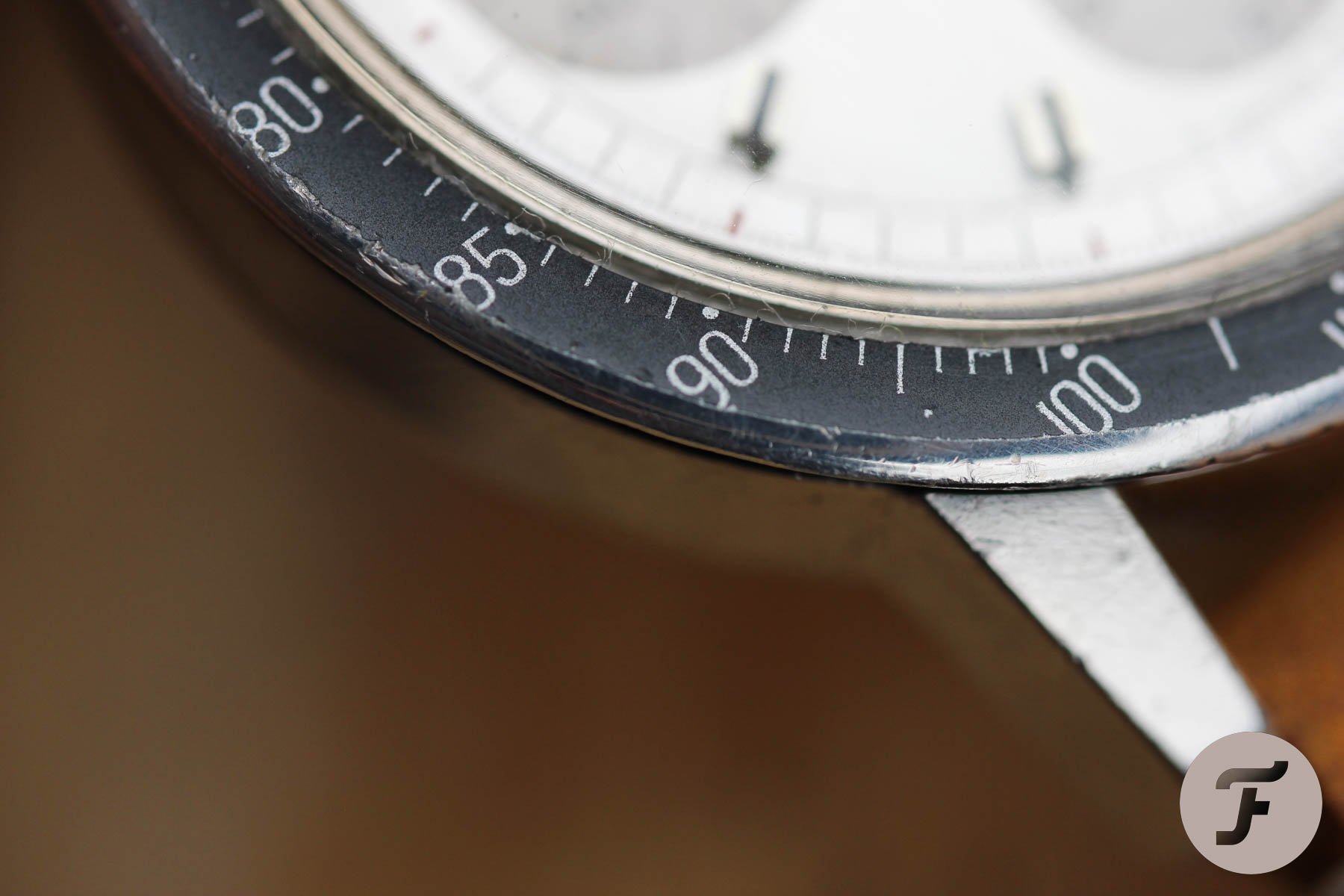 Is that a DON bezel, or do my eyes deceive me?
Yes, it is and it is beyond fabulous. We have all seen hundreds of bezels so we have plenty of material in mind to compare it to. It is slightly faded and gnawed through evenly by thousands of random punches collected over the years. Some hits left gentle scratches, others quite deep jabs, but the tachymeter remains perfectly legible. It almost feels like the product designers had tested the bezel to easily withstand over 60 years of wear and tear. I think that due to its brilliantly engineered design, this bezel was able to withstand abuse to a degree that would have left other bezels in a sorry state. If a big-name brand watch from that era had a bezel in this condition, it would be described as "presenting some light patina." What we see here is an honest, functional product that's well and truly built to last.
So much "white" space on the dial that you could write a War And Peace sequel on it.
The Zodiac Zodia-Chron dial also deserves some recognition. Its vertically brushed silver finish feels a bit more unusual and more premium. Additionally, the minute track with racing red detailing literally steps up the game and adds depth to the dial. My personal favorite touch is the slightly smaller diameter on the 12-hour sub-dial. Until you see it with your own two eyes, you might be tempted to think the hours sub-dial is too small. That it breaks the rhythm or disturbs the proportions of the dial. But when you look at it again, the opposite is the truth. This neat bit of dial layout design leaves so much "white" space on the dial you could write a War And Peace sequel on it. Keeping a potentially busy chronograph dial looking quite tidy and clean.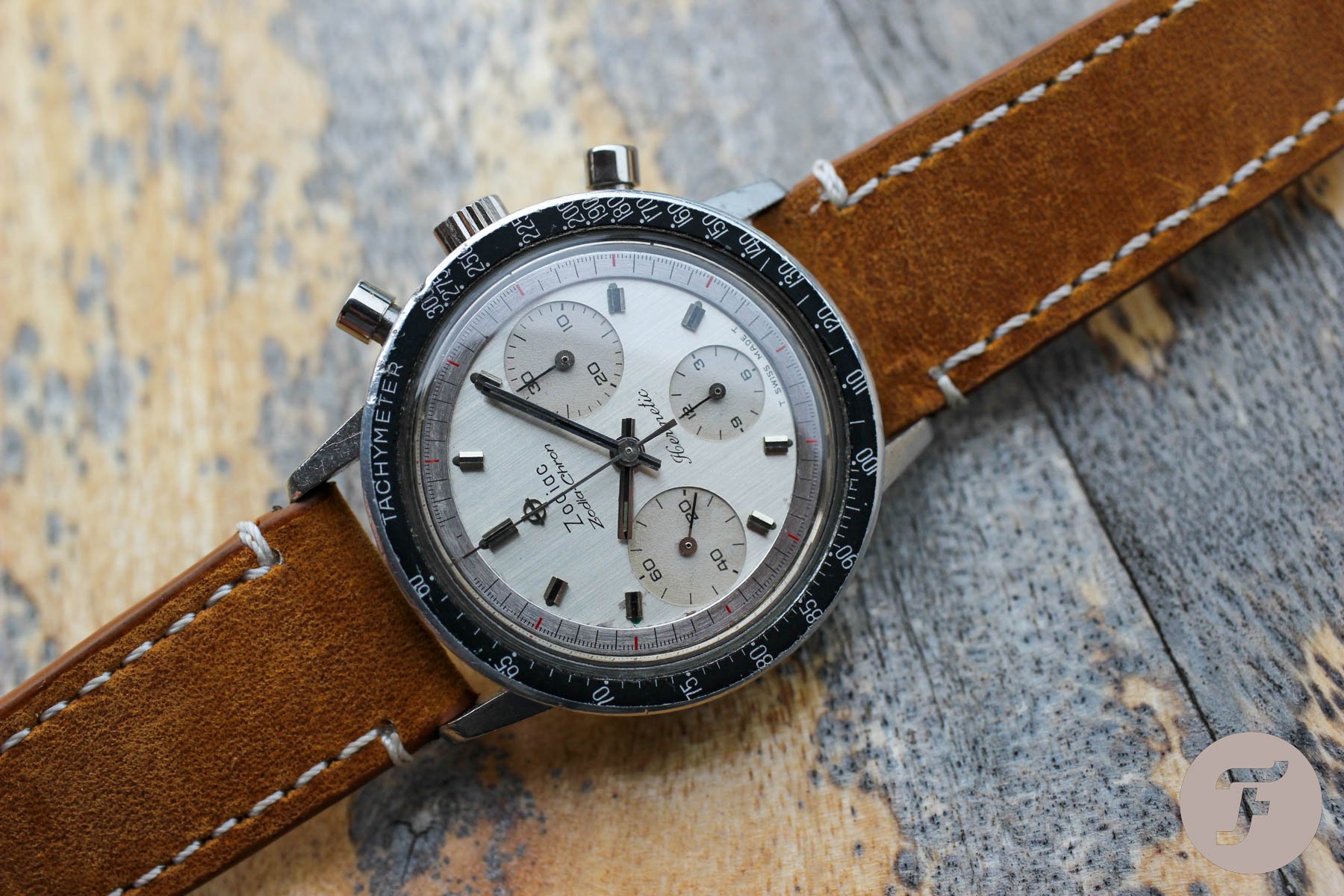 Back to reality
Further exploration of the dial with a loupe will uncover an applied logo, another small detail that gives this watch more of a premium feel. Unusual, but no less fascinating is the curly cursive font used for the word "Hermetic" on the dial, which refers to the Zodiac's diving ambitions. As beautiful as the Zodiac Zodia-Chron is, a better eye can notice a chunk of the minute track around the 12, 3, and 9 o'clock positions that have deserted the battlefield. This speaks to the fact that I collected this specific piece from an auction in a pretty neglected condition. The pusher caps ripped from the case and the crown missing, but as always, my watchmaker Tomas did a wonderful job here. I was just too lazy to source an original signed crown, but I take my writing of article as a commitment to finding one. Someday…
One comment on the case diameter
How do you spot a lazy dealer? If they write that the watch case diameter is "around" 38mm. Well, when it comes to this Zodiac I found three different diameters listed in past offerings from three different well-known and respected online dealers. A watch is not an apple and doesn't shrink with time, does it? I was so bewildered that I had to measure it myself. And it's definitely not 38mm, my caliper doesn't lie, and it reveals a case diameter between 36–37mm.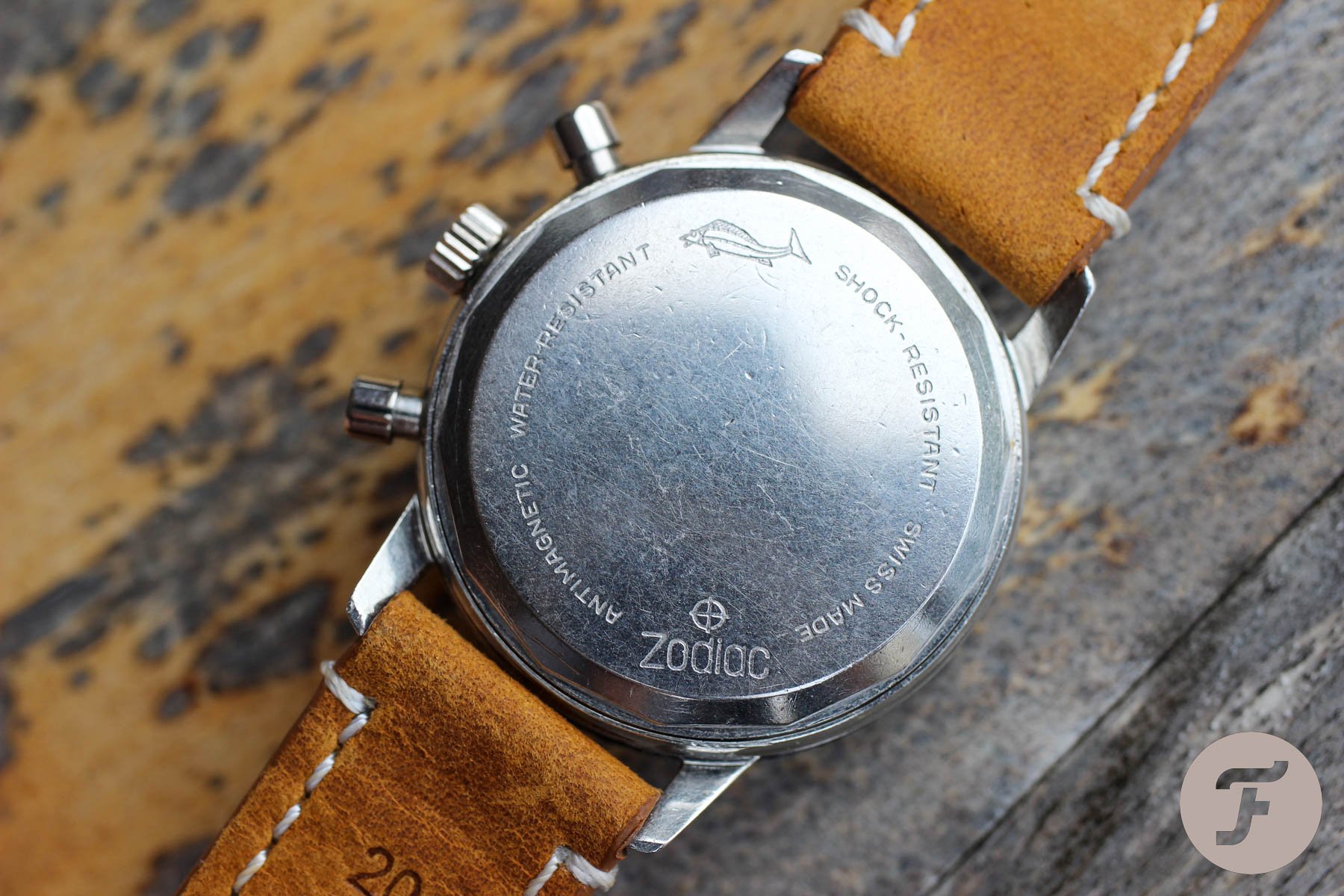 Shotgun notes
If you find a full-set Zodiac Zodia-Chron for sale, you might get it with its original Zodiac signed bracelet. I was not that lucky, but I am happier to wear my watches on leather straps anyway. I would say that the light brown fits it even better than steel. If you have doubts about the legibility of silver hands on a silver dial, don't. I can attest that the black on the indexes and hands provides more than enough contrast for your eyes. Something else your eyes will also appreciate is the case back engraving. No huge seahorse monster or any other emblem, just a small fish engraving integrated into simple lettering around the case back edge, as well as the famous Zodiac logo on the opposite side.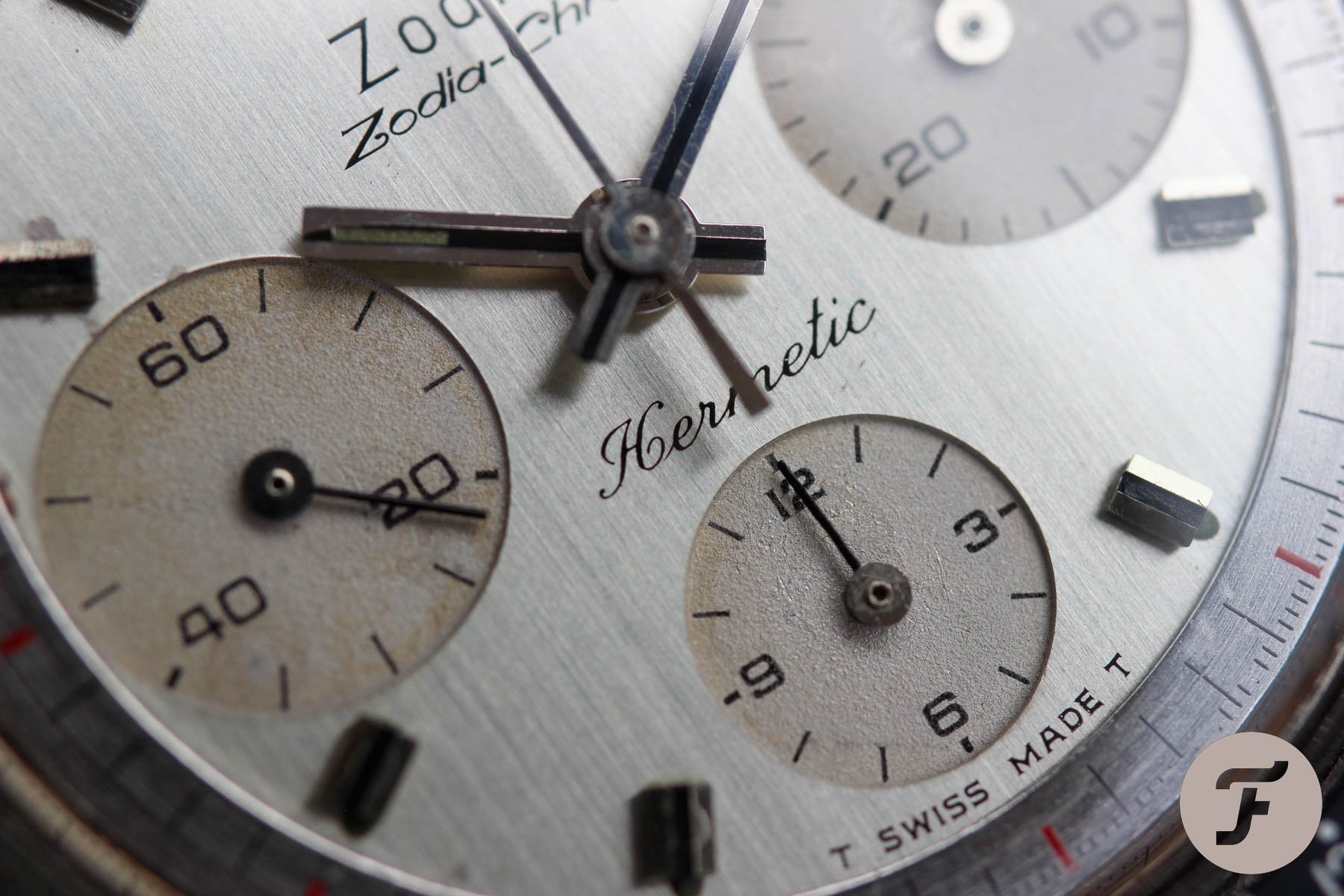 Last thoughts on Zodia-Chron
All three past listings that I have found ranged from $3,800 to $4,000, which is pretty reasonable for what you are getting. I bought mine for the simple reason of wanting a Valjoux 72 chronograph with a classy triple-register design in my collection. I started to discover all the details and its oddly satisfying charm only after it arrived and was strapped to my wrist. As classy as it might appear, in a line-up of 1960's Valjoux 72 chronographs, the Zodiac Zodia-Chron has an undeniably distinct charisma. But don't just take my word for it, discover it for yourself. Happy hunting.