The 5 Best Upmarket G-Shocks Available Right Now — From Gold-Toned Steel To Techy Titanium
Flying first class with a G is more tempting than ever
Premium tool watches are nothing new. Just recall the ascension of a diver's tool called the Submariner. But Casio G-Shocks have always been affordable digital cool with an enviable balance. On one end, they are the battle-ready wrist gear of Navy SEALS and off-roading enthusiasts with the Mudmaster series. On the other end of the scale, we have some of the coolest affordable collabs.
With a catalog that includes everything from €120 beaters to hot drops like the Bamford DW-6900BWD, a new dimension has opened up. Casio has lifted the brand to a new top tier where metallurgy and samurai-armor finishing is the name of the game. I have a €600 G-Shock as one of my best buys of last year, but at up to €7K, is a G-Shock a step too far up the ladder, or is it simply a 10+ on the cool scale and worth it? Here are five top pieces available in the premium book of Gs.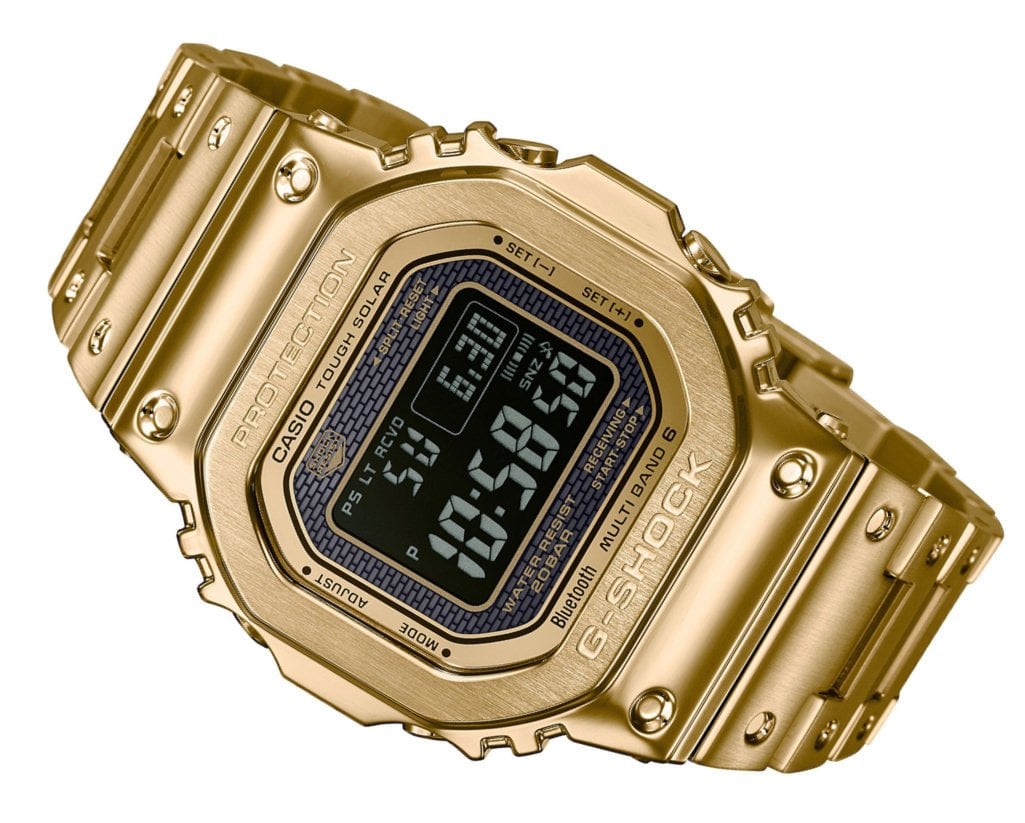 G-Steel GMW-B5000GD-9ER
The start of G-Shock's upmarket move came with the steel 5000 square OG. I am the happy owner of the chameleonic red-burgundy-purple version. The steel might be considerably heavier than resin but, unbelievably, sits softer on the wrist thanks to the articulated bracelet. It is still a large watch, but the 5610 module with its intensely legible black screen and hyper-accurate radio-controlled time make it my travel favorite numero uno. It actually works rather well as an accent to a blue suit jacket too, and it certainly attracts more attention than my more expensive pieces. Go full-fat with the ion-plated gold version, and the first touch of irony will be lost to familiar comfort. Is it over the top? Yes, but in a very good way, and the attention to detail is great for the price, including a very photogenic vertically brushed bezel. This one has a retail price of €599.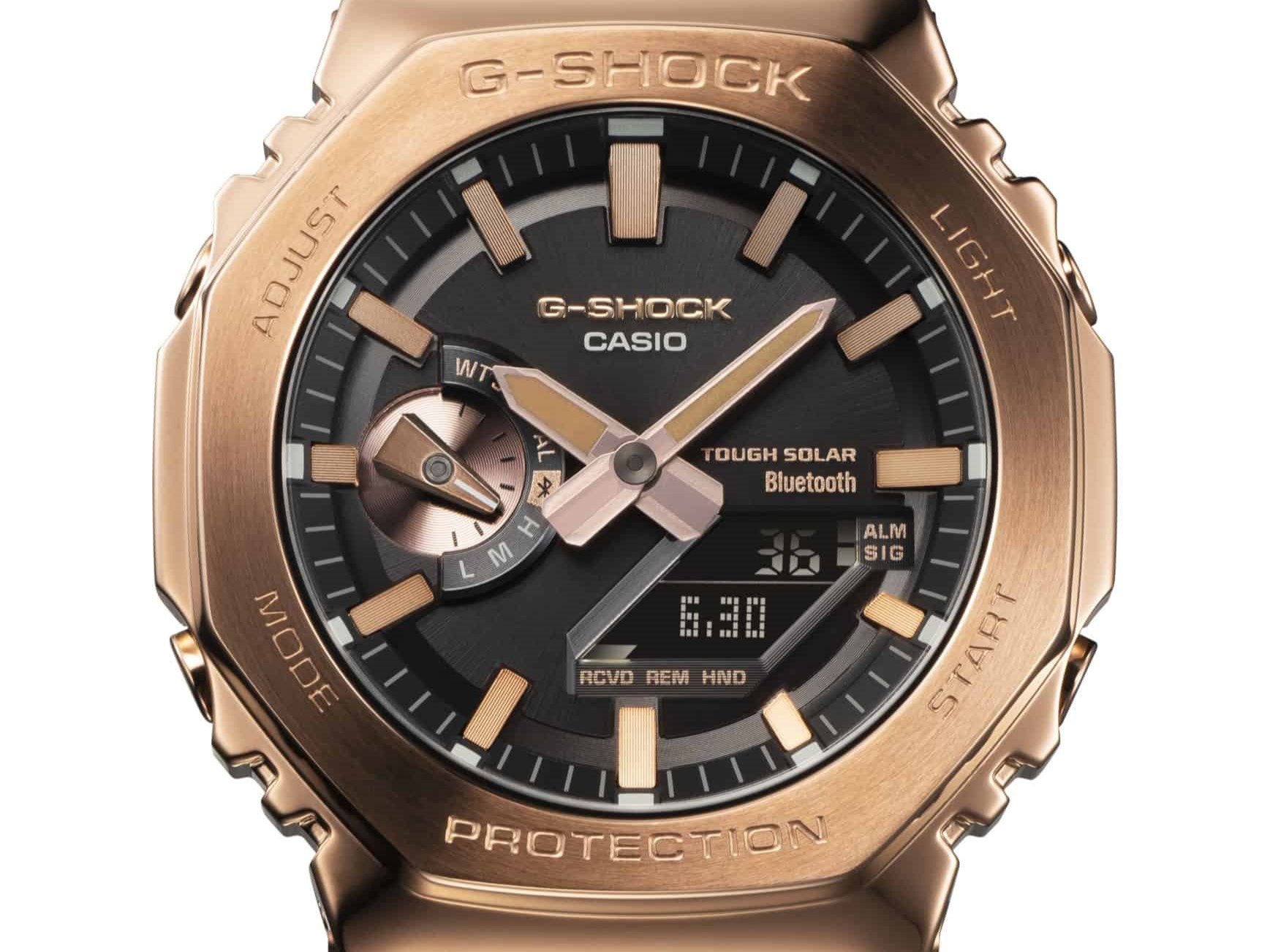 The all-metal "CasiOak" GM-B2100
Let's not have a "CasiOak" debate here; that has been settled. Many thought the octagonal cheekiness of Casio was a jab too far at the Swiss, but it wasn't a fad. Ever since its launch in 2019, the "CasiOak" has gained thousands of followers, but never in a full-metal jacket. This was left to cheap aftermarket knock-offs, and Instagram is awash with customized "oaky" Gs in all colors. The release of an official all-metal version was only a matter of time, and we got three. Versions in steel, black, and a lovely copper tone are ready to rock. At €549 in steel and €599 in black or copper, these are serious value, and the octagonal G sits sleeker on the wrist than a square. With its usual all-singing, all-dancing feature set, this is budget glamour packed with functionality, and I like it. All are available from the 12th of August.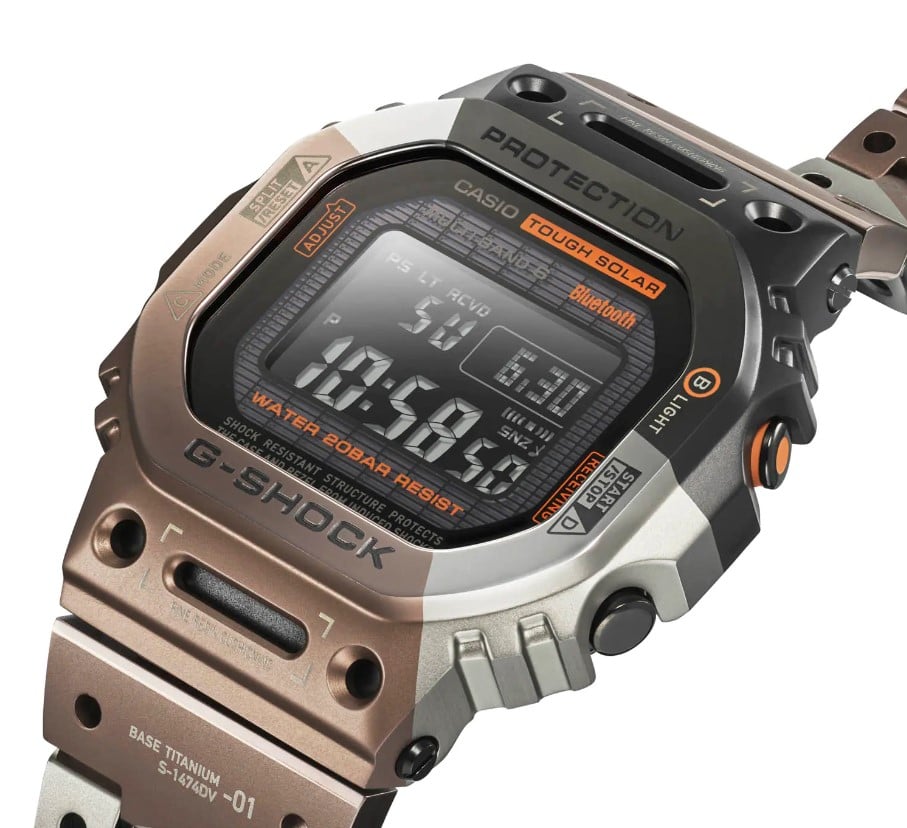 GMW-B5000TVB-1ER Titanium
Yes, this is inspired by the street cool of video games, but it's real, not a hyped NFT. I can see this as part of an upgrade bundle on Fortnite, and despite my years, I am inexplicably drawn to it. Just like the laser-etched blue camo version, the square origin gets transformed. With jet-fighter-edgy camo, this ion-plated cool will get you noticed more than a Tiffany Patek. That's not actually true, but around €1,700 buys you a hell of a watch. With its Bluetooth and Multi-Band time sync, this is all you need for accuracy while being achingly cool. Nope, we don't need the bracelet links numbered or every function spelled out with a weapon-like font. But the wealth of details and small orange pops will make you smile. As a dead-serious tool watch with a very Japanese manga-ish twinkle in its eye, it spells desire.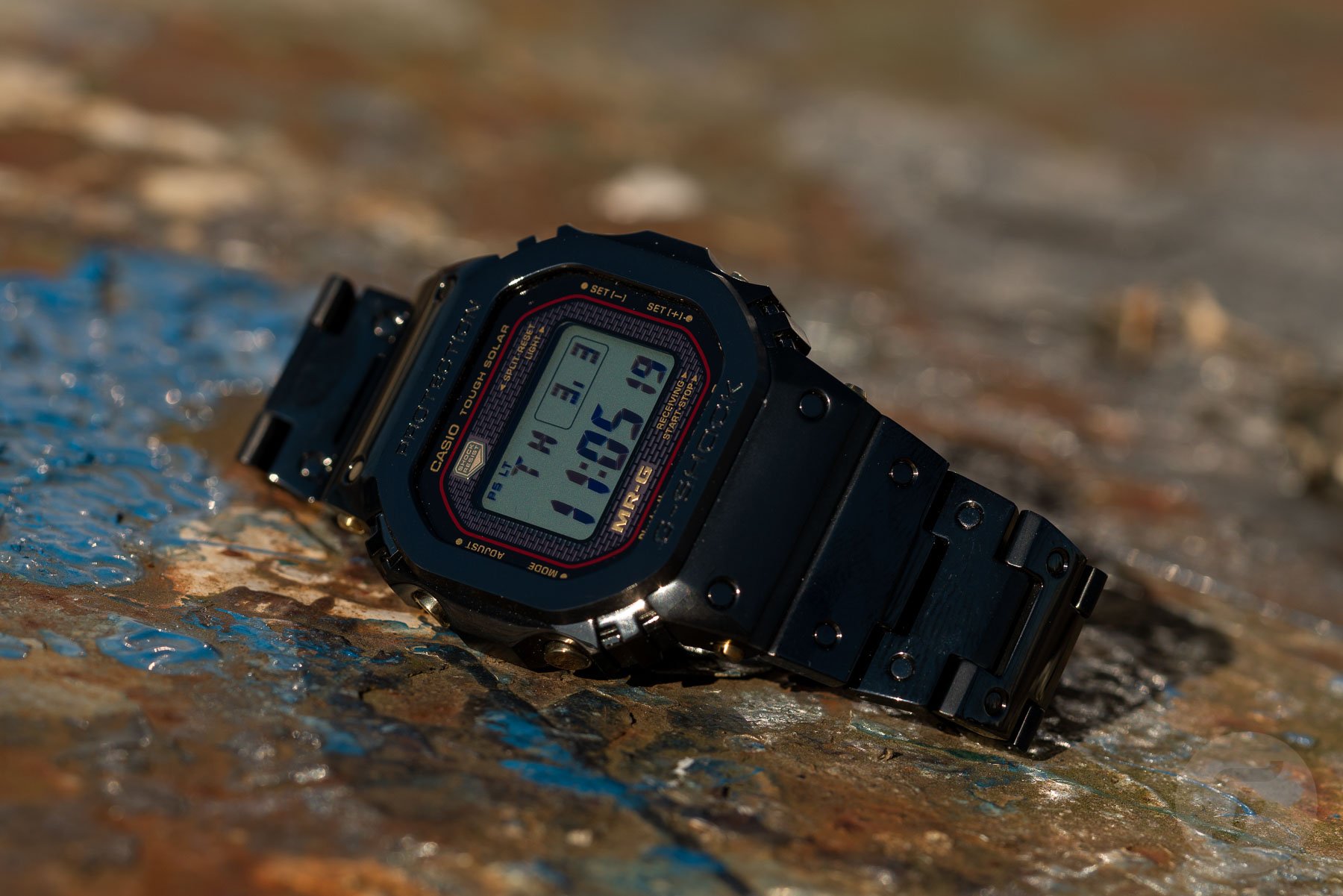 Casio G-Shock MRG-B5000B-1DR
Does the notion of spending about twenty times the cost of a regular square 5000-series G-shock scare you? That is a good question that won't get answered until you see the titanium skin of this dark G. Inside sits the best 5000-series module with solar power and Multi-Band accuracy, but it's about metal. Just as Grand Seiko makes Zaratsu perfection, Casio transforms the digital cool watch into metallurgic art. With its understated elegance, I love the under-the-radar richness of this MR-G. The premium game is only given away by a gold MR-G logo, and what better way to celebrate your '80s roots? The crystal is sapphire, while the multi-piece case is where the fascination deepens. The case and bracelet are high-strength TranTixxii titanium, and the bezel has an equally alien-sounding nomenclature — Cobarion. This is four times harder than pure titanium, but is it worth a Tudor-like €4,000? Yes, and I feel the need for digital stealth wealth.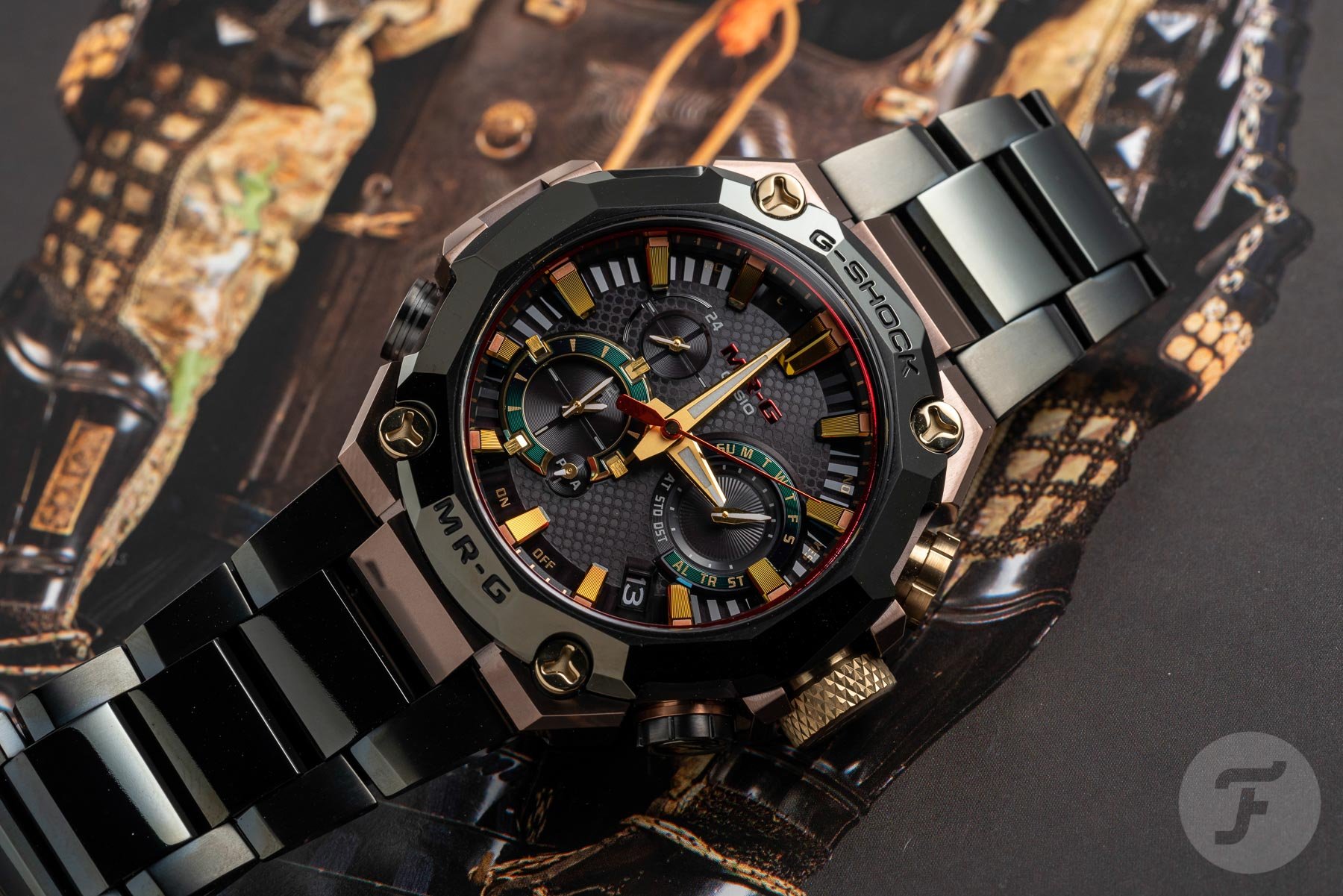 MRG-B2000BS-3ADR Hana-Basara Edition
Yes, I was dead jealous of Lex having this in his hands for review in 2021. This is intensely Japanese, inspired by samurai armor, and a colorful celebration of Casio's strengths. The Hana-Basara edition takes its name from the boldest and brashest of the samurai, the Basara Busho. A barrage of colorful DAT55-strength titanium parts in the flashy case and bracelet is offset by a rather special bezel. Like the MRG-B5000B-1DR, the bezel is crafted from Cobarion, a cobalt-chromium alloy. Who would have thought that Casio could almost touch Grand Seiko in its polishing expertise? The dazzle is mirror-like and ultra-dark green, making this my favorite faceted bezel of recent times. When you consider the execution of the maximalist panache, this G-Shock is in a sphere of its own at €7,400.
Is it entirely unjustifiable to spend €5K+ on a Casio G-Shock? Or is it a beautiful testament to the massive following these watches have built? The limited-edition MR-Gs do sell out, but is it for good reason? Let us know what you think, Fratelli, in the comments below.
Find me and follow me at @thorsvaboe