The Best Independent-Brand Watches For €1,000–2,000 — From Monta, Bravur, Typsim, And More
The most bang for your buck — or the most value you can get? 
For the past few months, I've been pondering something: is there a limit to how much value we can get in a watch? We might not be able to answer this question today, but I wanted to pose it anyway. And why have I been pondering this? Well, over the past three years, I've reviewed dozens of micro- and independent-brand watches. Today I'll share the best ones I've found that retail between €1,000 and €2,000, watches we can wear every day, not keep in a watch box or bank safe. You know what I've realized? I don't believe that spending more than this could get us that much more value. In other words, would spending €3,000 really make a difference? How much more can we get for the additional €1,000? Let's not even think about an additional €5,000 or €10,000 when it comes to everyday timepieces. 
Many brands arguably offer outstanding value. For example, Sinn, Tissot, and Airain are favorites among many watch enthusiasts and members of the Fratello team. But, as always, I can only speak of what I've experienced. This is why we're going to look at watches from Monta, Marin Instruments, Typsim, Wolf Creek, and Bravur. I won't give a full review of any of these watches today, but I will highlight the best characteristics of each one. Let's see what kind of value they offer for less than €2,000. 
P.S. This article is a follow-up to this one, in which I discussed what specs we can get at various price points from micro/independent brands.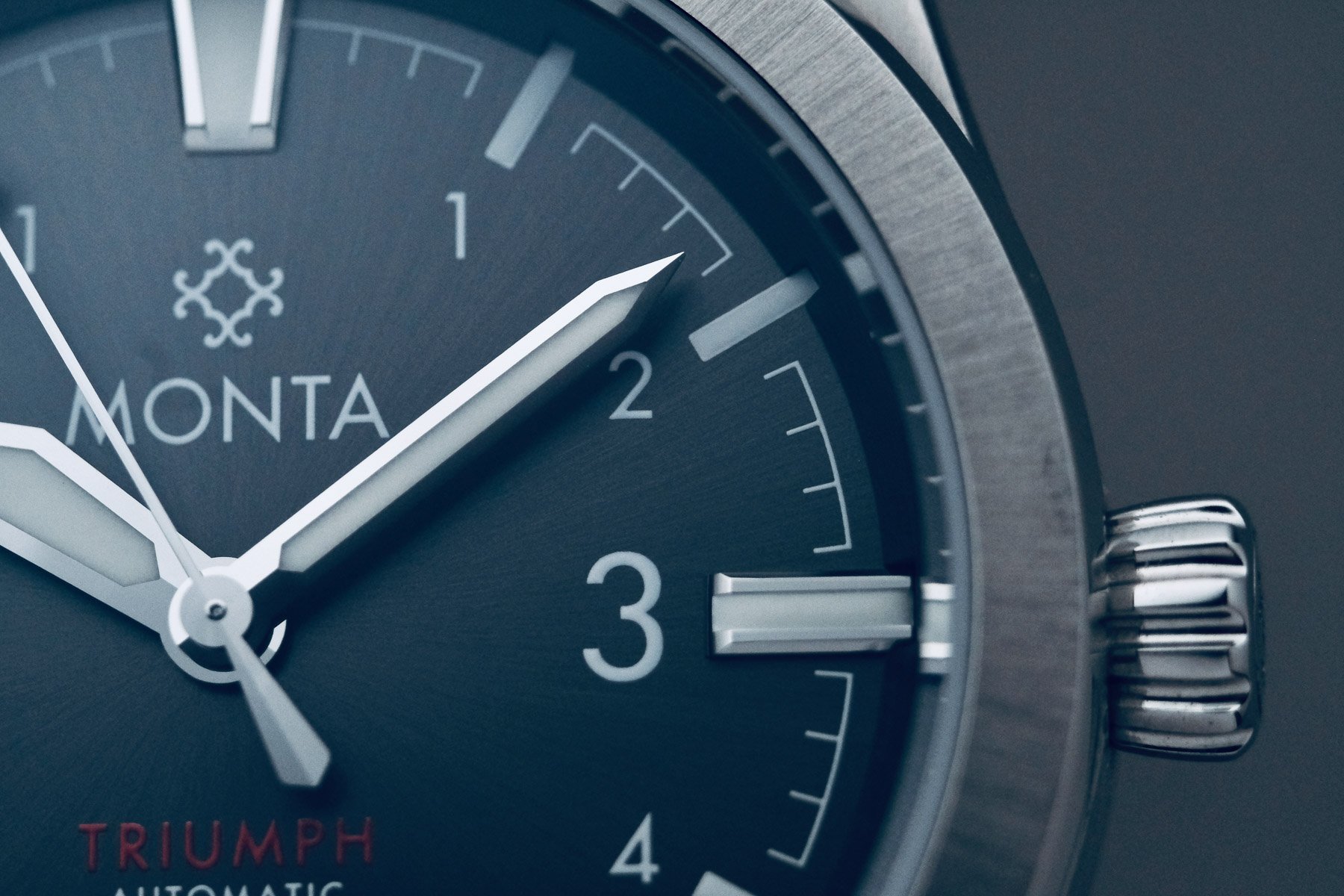 The best independent-brand watches for €1,000–2,000
It's fair to say that we don't all value the same things in the same way. For me, "good value" is a well-finished case, reliable movement, original design, and overall good construction for what I deem to be a reasonable price. I tend to spend between €500 and €1,000 on my watches, sometimes a bit more. And you may find it shocking how good a €500 watch can be. However, based on my experience, things get much better between €1,000 and €2,000. Now, I'm not talking about originality of design but, rather, parts and quality. Quite simply, this means better finishing, construction, movements, and bracelets. While a €500 watch most likely houses a Miyota 9039, a €1,500 one may have a top-grade Swiss caliber. Popular ones include the Sellita SW300, Soprod Newton, or a variation of these modified for the brand. I think you know where I'm going with this.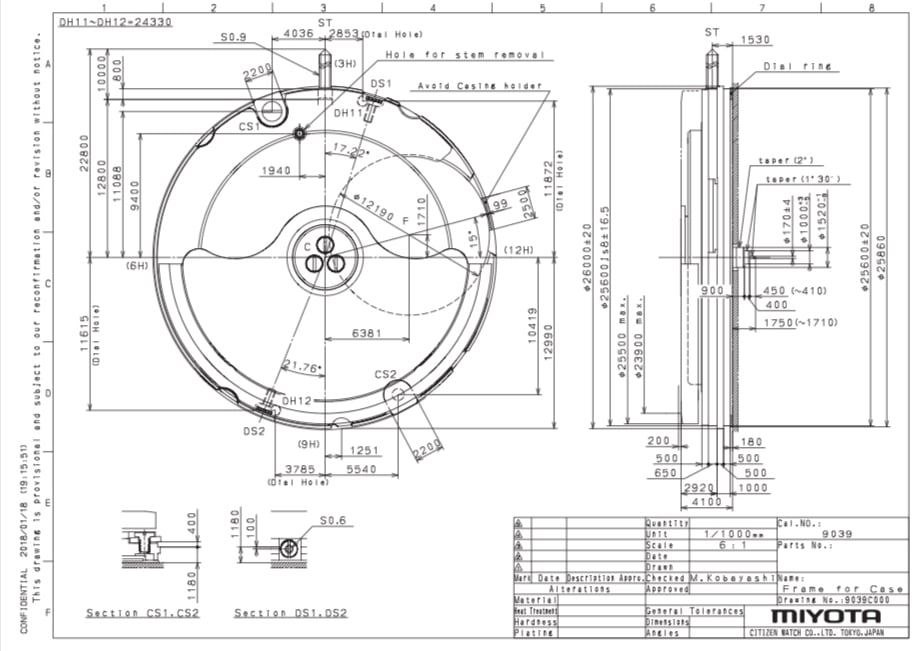 Therefore, what could differentiate a €2,000 from a €5,000 watch would be an in-house caliber, proprietary lume compound, or a dial made of rare material from outer space, collected by hand. While some of you prefer in-house calibers, they don't always justify the higher price tag. Please allow me to explain before you potentially take offense. I love GMTs, and the Seiko NH34 and Miyota 9075 calibers truly changed the game. Now we can get a Jack Mason Strat-o-timer traveler's GMT for US$999 or an NH34-powered Nodus Sector for US$450. Brilliant! Or you could get a €4,360 Tudor Black Bay GMT with an in-house caliber. But besides the heritage, how much more do you get from the Tudor that you don't from the Jack Mason? Both are well-made watches with good movements and powerful lume.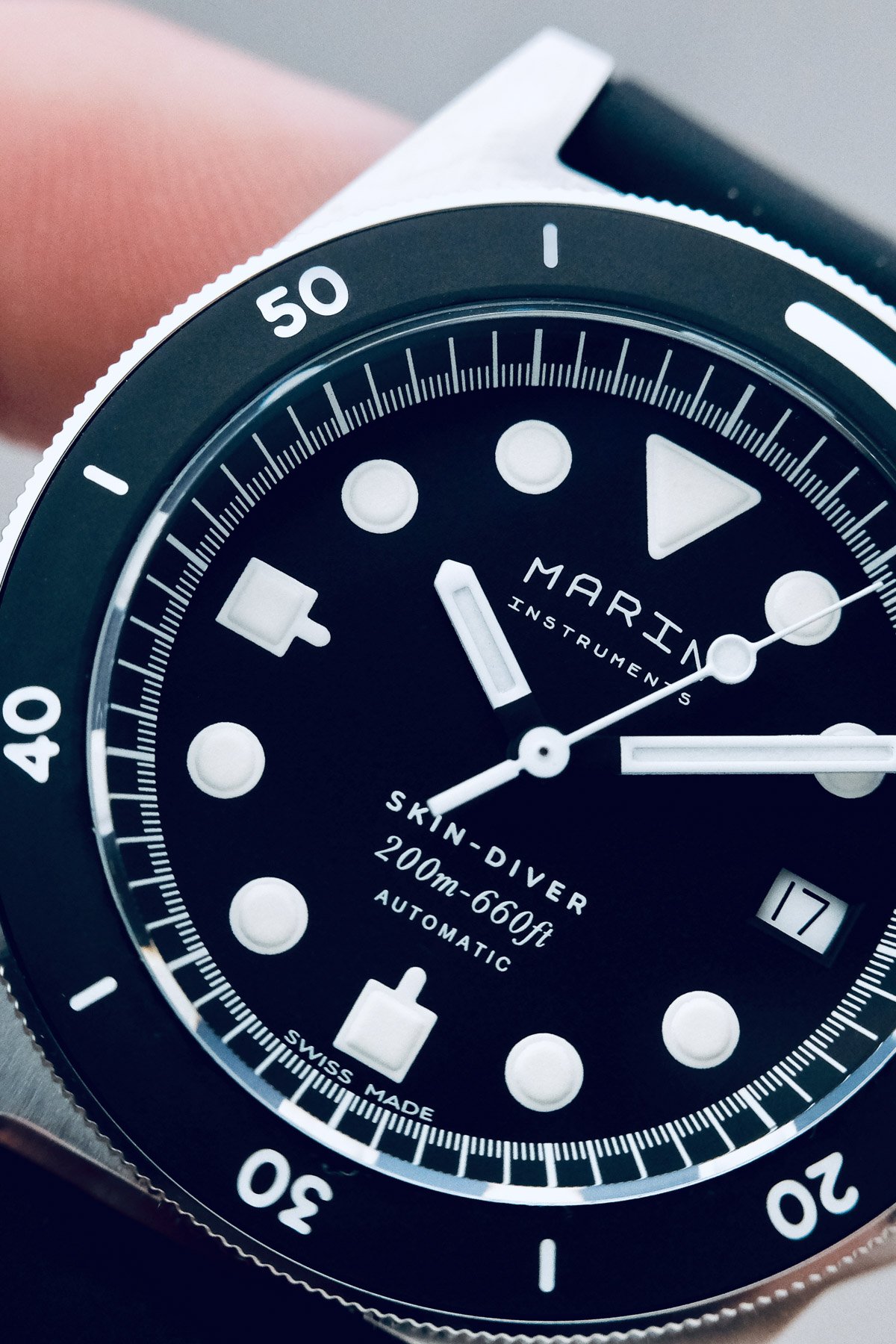 Marin Instruments Skin-Diver
I wanted to start this list with the Marin Instruments Skin-Diver. Marin Instruments is a young brand based in New Mexico, United States. Regardless of how you feel about the design, I find this watch to excel in a few areas. First, it's a well-constructed piece with tight tolerances on the crown, bezel, and strap. Everything fits perfectly and feels nice to the touch. The bezel action is premium and reminds me of a Serica 5303 or high-end Seiko diver. It's as precise and smooth as a Swiss safe, and the machining on the coin edge is top-notch.
The three-dimensional hour markers contain healthy applications of lume, and the printing of the text on the dial is crisp. Furthermore, Marin Instruments created a custom mold for the rubber strap so that it flares out at the lugs, tapers towards the buckle, and looks unique. Fun fact: a few brand owners told me that creating a mold for a rubber strap costs upward of €2,000! Anyway, the Skin-Diver runs on a Sellita SW200-1 caliber that, accuracy-wise, runs in the single digits. In other words, a lot of thinking went into making the Skin-Diver a complete package that retails for a meager US$1,150 (approx. €1,100). If you'd like to read my full review of this watch, you can do so here.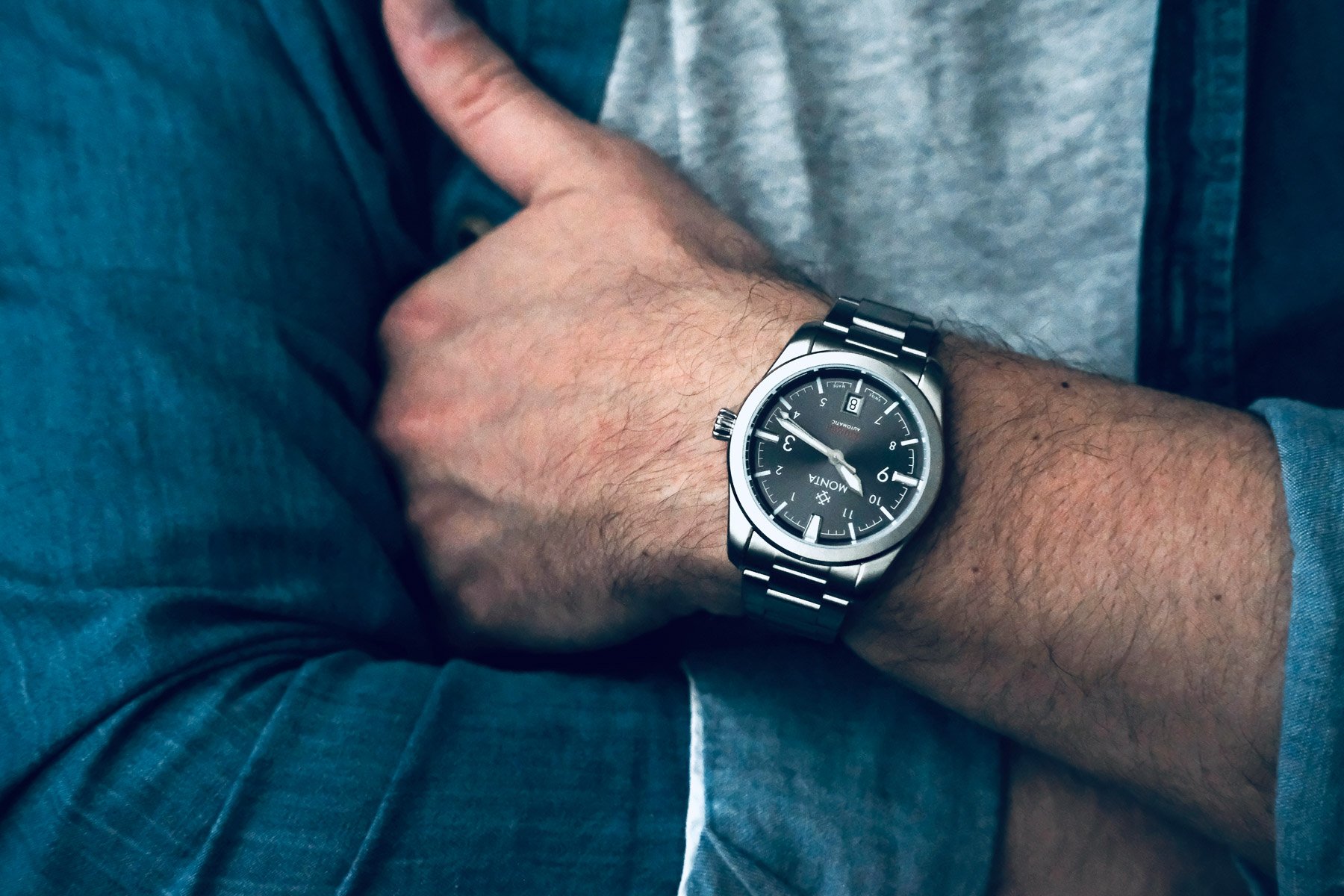 Monta Triumph
Monta needs no introduction here. Multiple articles about the brand have been published on Fratello, starting with this one from Michael back in 2017. A few months back, I got my hands on the Triumph, the brand's first model. I was impressed by how nice everything looked and felt. The Triumph retails for US$1,700 (roughly €1,650) and comes with a modified Sellita caliber that the brand calls "M-22." But it's the hands that constitute a huge part of what I like about this model. They are diamond cut (meaning no rough edges) and rhodium plated (they won't tarnish over time), and they look luxurious.
The applied hour markers at 12, 3, and 9 o'clock showcase perfectly executed mirror-polished chamfers and contain plenty of lume. The printing of the numerals on the date disc — where many sub-€1,000 models fall short — is very crisp, and the disc is centered. (I have a pet peeve for misaligned date wheels.) Furthermore, the case has outstanding finishing and seamless transitions, and the bracelet is better than many found on €5,000 Swiss luxury watches. The bracelet is even equipped with a secure toolless micro-adjust clasp that feels solid and durable. And the screws holding the links together are easy to remove and don't get damaged after a few uses. To me, the Monta Triumph looks and feels like a watch that could potentially last a lifetime.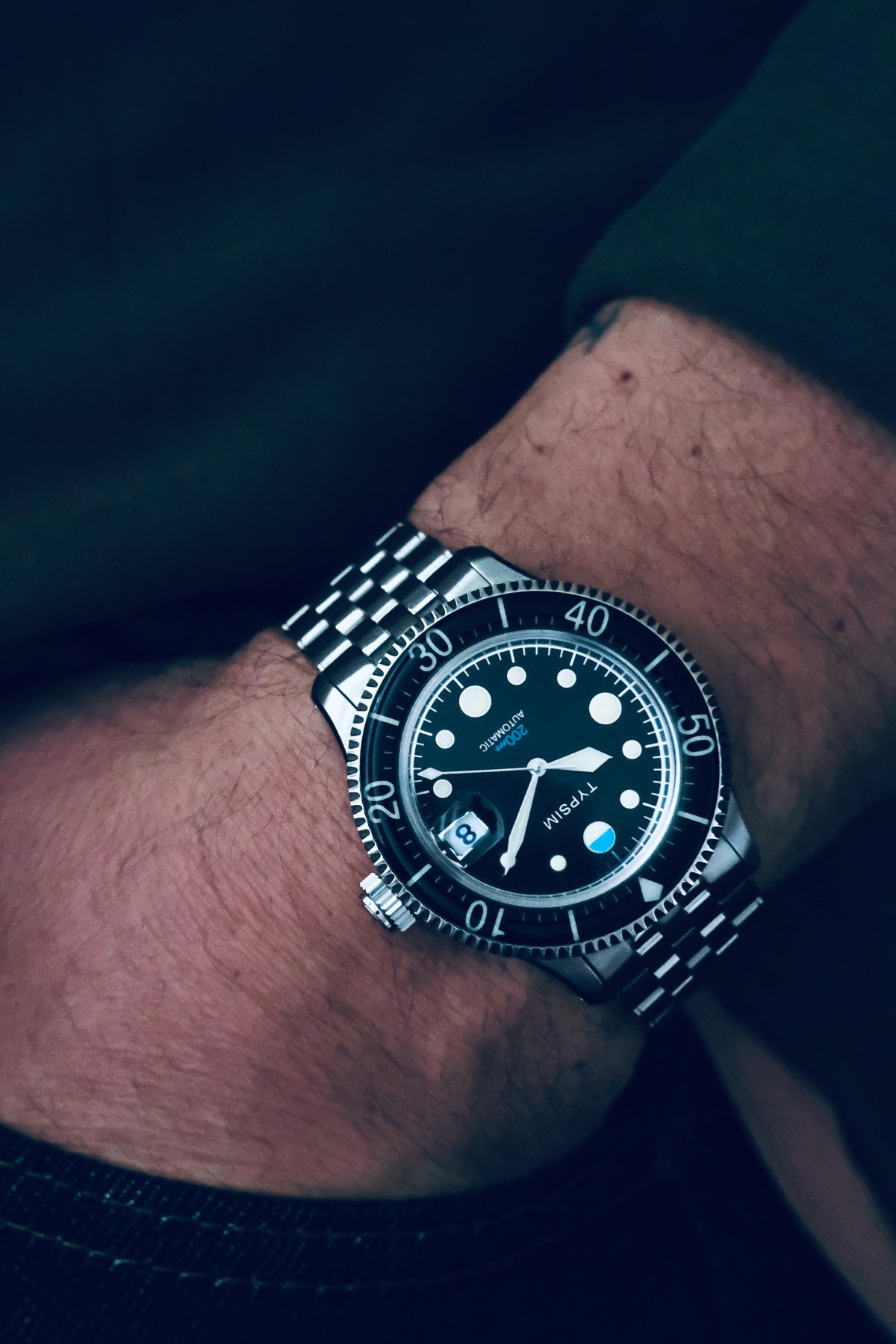 Typsim 200M
Typsim is a newer brand that has released four models so far. I borrowed a 200M for a few weeks, and it left me speechless. I do love the way it looks, although I understand it's probably not everyone's cup of tea. From a construction standpoint, the bezel has a crisp and solid action akin to that of a luxurious Swiss diver. The teeth are deep and expertly finished to a level that I've rarely seen before. The date magnifier is perfectly centered and works as well as that of a Submariner, which is not always a given at this price point.
The lacquered black dial has a negative-relief gilt construction — a supreme rarity these days — that looks vintage and elegant. This represents just how much effort the brand put into designing and manufacturing the 200M. The sword hands are perfectly cut and polished, a the lume is a proprietary blend made for Typsim. Inside the watch even beats a chronometer-grade (though uncertified) Sellita SW300-1 caliber. I was also impressed by the outstanding quality of the bracelet, even down to the faux rivets and screws. And to think you get all of this for US$1,199 (~€1,145).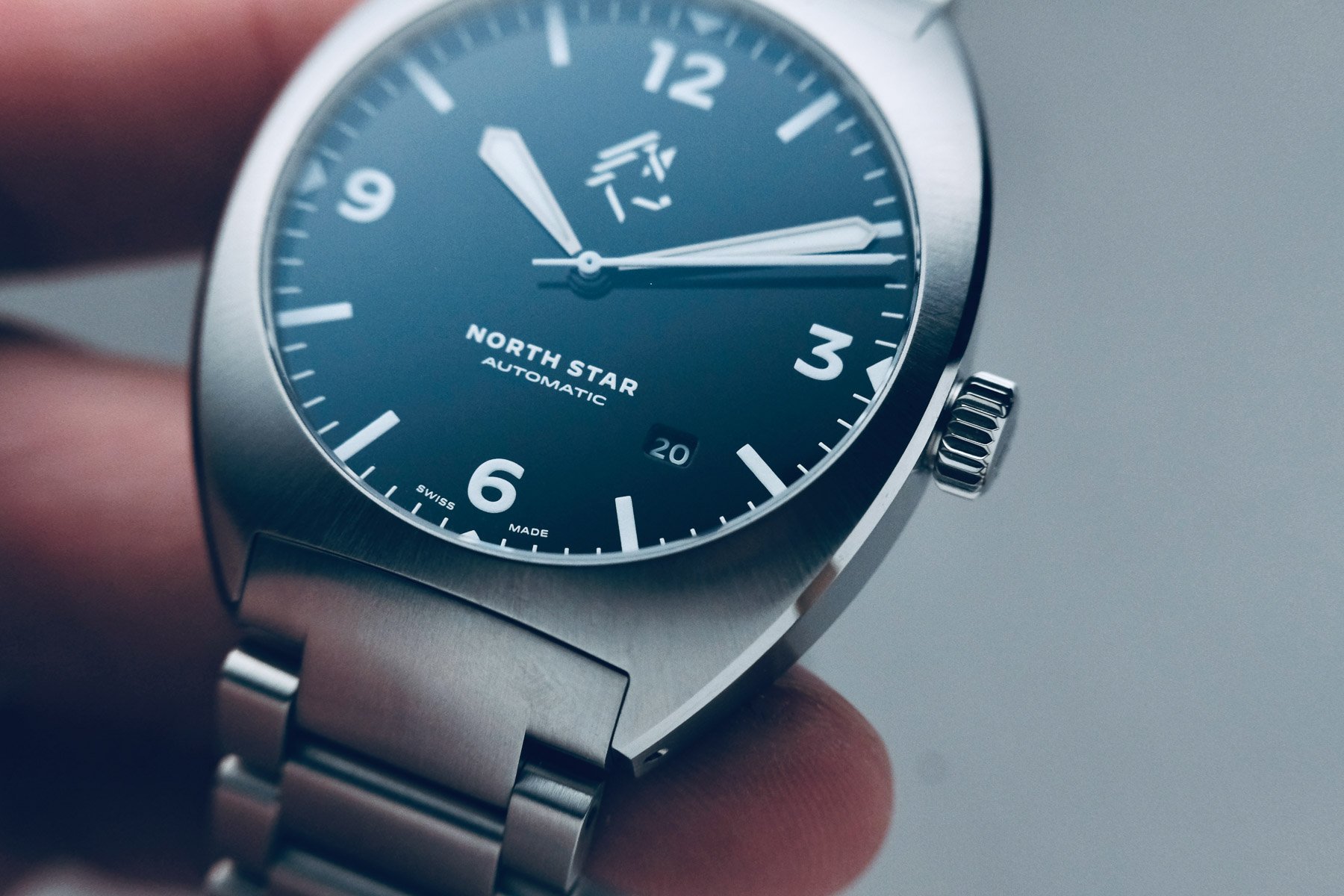 Wolf Creek North Star
Now let's look at a watch that has become one of my all-time favorites, the Wolf Creek North Star. Most likely, you have not yet heard of Wolf Creek. The brand is based in Minnesota, United States, and only has two models in its catalog. The North Star is a hybrid between a field watch and an everyday watch, featuring a legible dial and compact proportions. However, what's best about it are its specs. They start with a Top Grade Sellita SW300-1 caliber that, for me, has consistently been running at ±0 seconds per day.
Then we have a gasket made of Nitrile Butadiene Rubber (NBR) — a material used in the aeronautical, automotive, and nuclear industries — to protect the movement from shocks. Add to that a soft-iron cage, which makes the Wolf Creek North Star paramagnetic in the same way that an IWC Ingenieur is. The bracelet, which is fully machined, has links held together with hex screws. These are more solid and easier to remove than regular slotted screws. The printing of the hour markers and the minute track is very crisp, and the lacquered dial showcases immense depth. All of this can be had for US$1,275 (about €1,215). Oh, and the North Star is also made in Switzerland.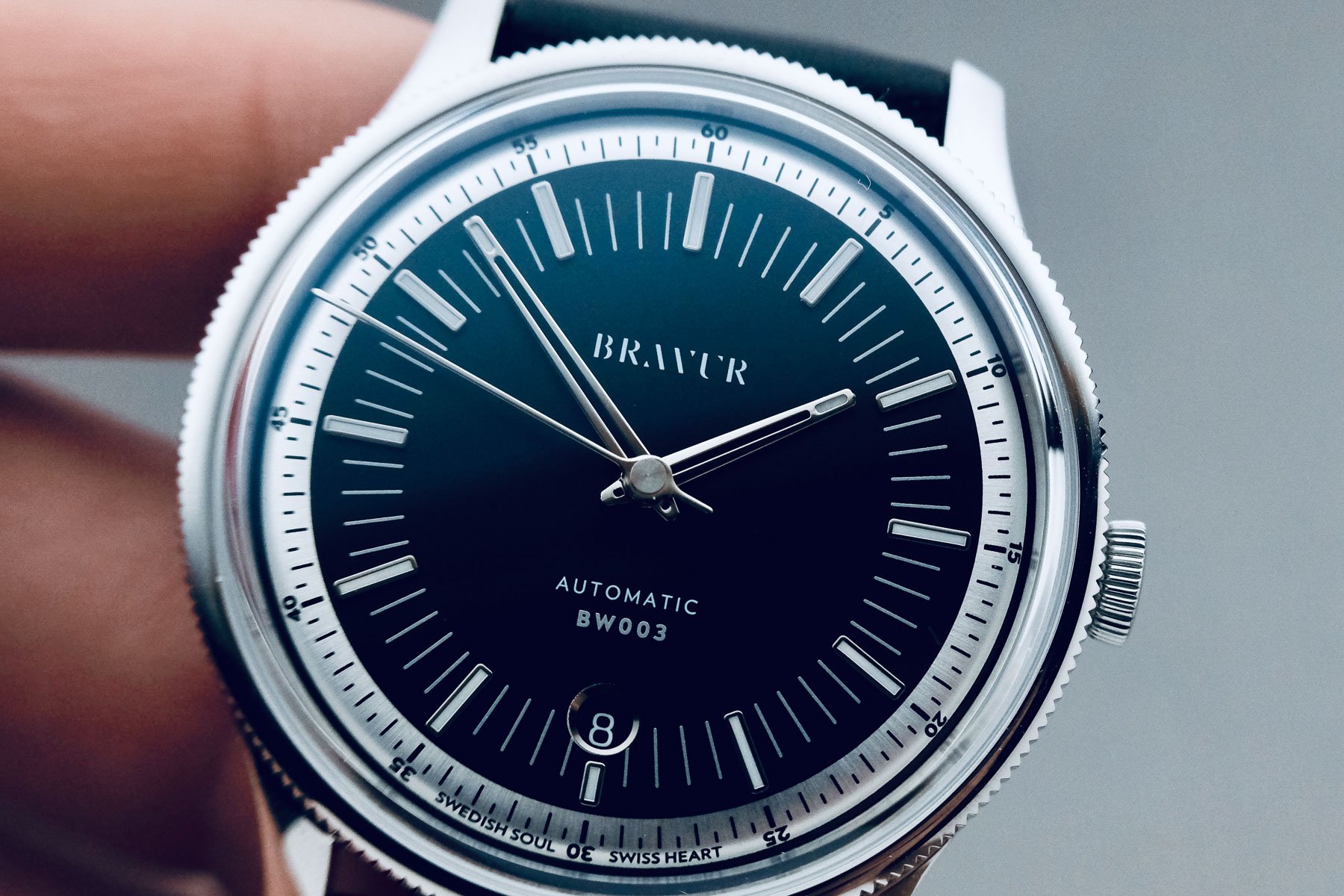 Bravur BW003
Last but not least on this list of phenomenal independent-brand watches, we have the Bravur BW003. Bravur is a Swedish brand that I've written about before. I spent some time with the BW003, which is, by all measures, an elegant everyday timepiece. Yes, here, I would dare say that spending more means getting a more original design. But more than the way it looks, the BW003 impressed me with the way it's made. First, the finishing on the case is much better than its price tag of US$1,100 (or €1,270) might suggest. The polished surfaces have an almost Zaratsu-like quality to them, and the brushed ones display a satin finish of the finest nature.
The coin-edged fixed bezel shows no imperfections, and the crown, although minuscule, has just the right amount of knurling. This perfect level of finishing and construction continues with the dial and hands. The former has perfectly polished applied markers and a brushed outer ring with flawless a finish. Visually, the Bravur BW003 is rather unique, and though I don't like using this word, it indeed looks "luxurious."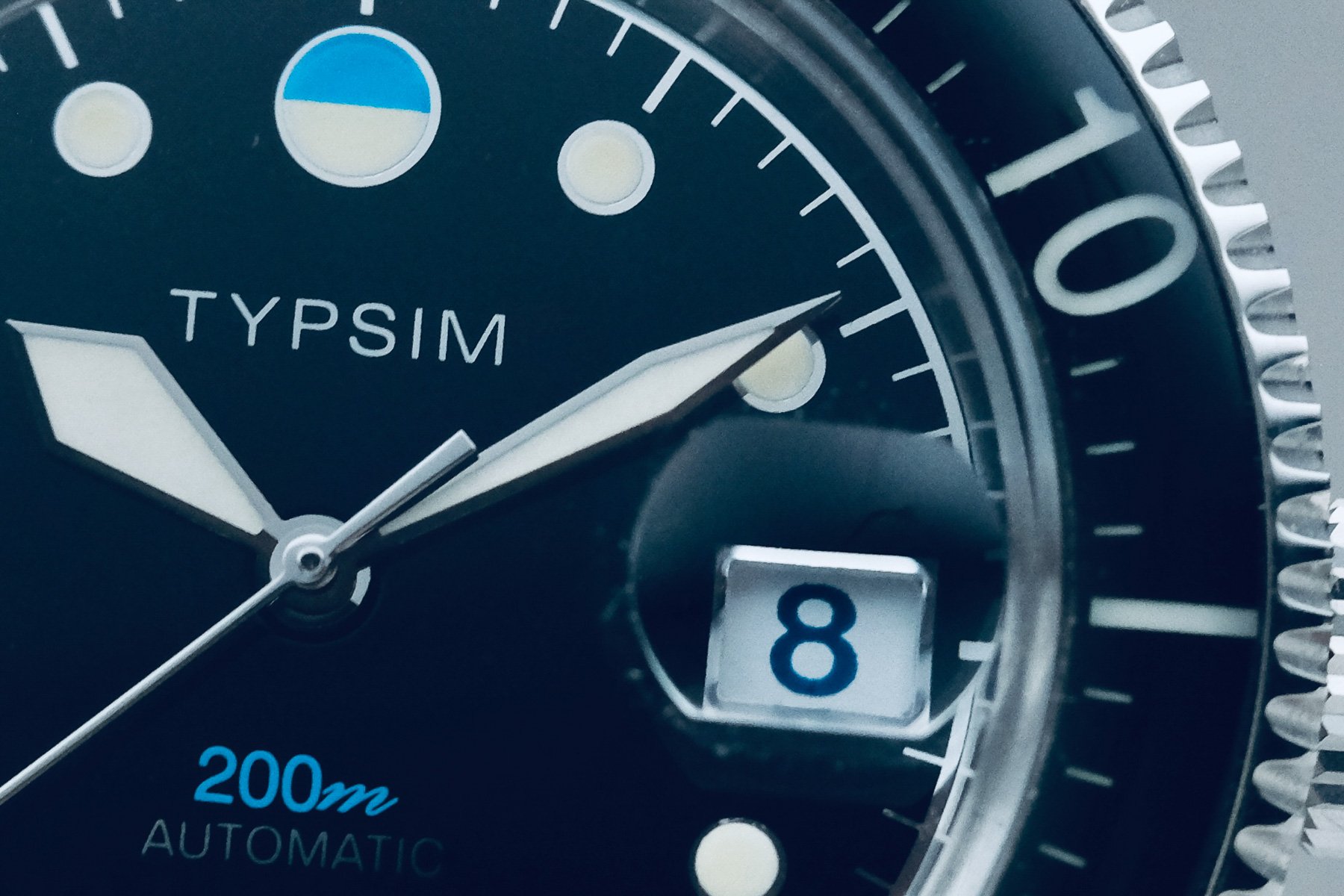 Final thoughts
Of course, we all have different budgets for watches, and we all value different things. You may value a COSC-certified in-house movement more than I do, and your best friend could value heritage more than you do. Heritage means a brand is famous for doing/making something unique. Think of the Rolex Oyster case or the Omega Speedmaster that went to the Moon. Their heritage comes with a higher price tag and, subjectively speaking, nonessential qualities that few of us can enjoy. Sure, having a COSC-certified caliber is great because it means precise timekeeping and reliability. However, as demonstrated above, non-COSC movements can be equally precise and reliable. In the same spirit, precious-metal hour markers will last a long time, but so will well-manufactured, high-polished surrounds made of stainless steel. In the former case, you pay an extra few grand for them, while in the latter, you don't. 
Living in times where brutal watch thefts are on the rise and inflation is squeezing our watch budgets, buying micro- and independent-brand watches of a certain caliber makes a lot of sense. To be fair, many of my €500 watches will last me a long time. However, I do believe that the ones that cost €1,000–2,000 will last longer. They are better constructed and are generally made with better components. This is not to say that we cannot find excellent watches for less. Not at all. However, looking at things from a broad perspective, I would posit that we do get more value by spending more. But — here is my "but" — the value we get does not multiply exponentially beyond a certain price point. Here, I believe that's around €2,000. 
These are my opinions based on personal experience. What do you think of all of this? Do you get more value by spending more? Do you feel there is a plateau at a certain price point? I would love to hear your thoughts in the comments section below.