The Charles Simon Spence Watch Box — Lifting The Lid On Luxury Watch Storage
For the collector who has it all
It's a watch collector's conundrum as old as time. Any of us that owns more than one watch is faced with it. Unless you're Diego Maradona, General Schwarzkopf, or Buzz Aldrin, most of us self-impose the limitation of wearing only one watch at a time. Therefore, you need to store your unworn timepiece(s). It's not too much of an issue when it's only one watch. But as soon as you have even a small collection to your name, it's already too late: you need a watch box. Like many, I opted for an inexpensive 10-watch box from Amazon. With a fake leather exterior, a crappy exhibition window, and even cheaper hinges — you know the one. However, I never bothered to look for a better solution until this year. In my search, I stumbled across the Charles Simon Spence watch box.
Charles Simon is a Canadian luxury brand specializing in watch boxes and accessories. My first time seeing its products was on Instagram, where the tasteful minimalist design of its products immediately caught my eye. I was thrilled. Without having looked too hard, I found the perfect option. Or so I thought until I made it to the brand's website and saw the price tag. From the pictures alone, I assumed these boxes might set me back a few hundred euros. Little did I know the level of craftsmanship and the materials that Charles Simon employs in creating its products. It's these materials and the craftsmanship which therefore inform said price point. Curiosity got the best of me, so I contacted the brand, who agreed to send one of its boxes in for review.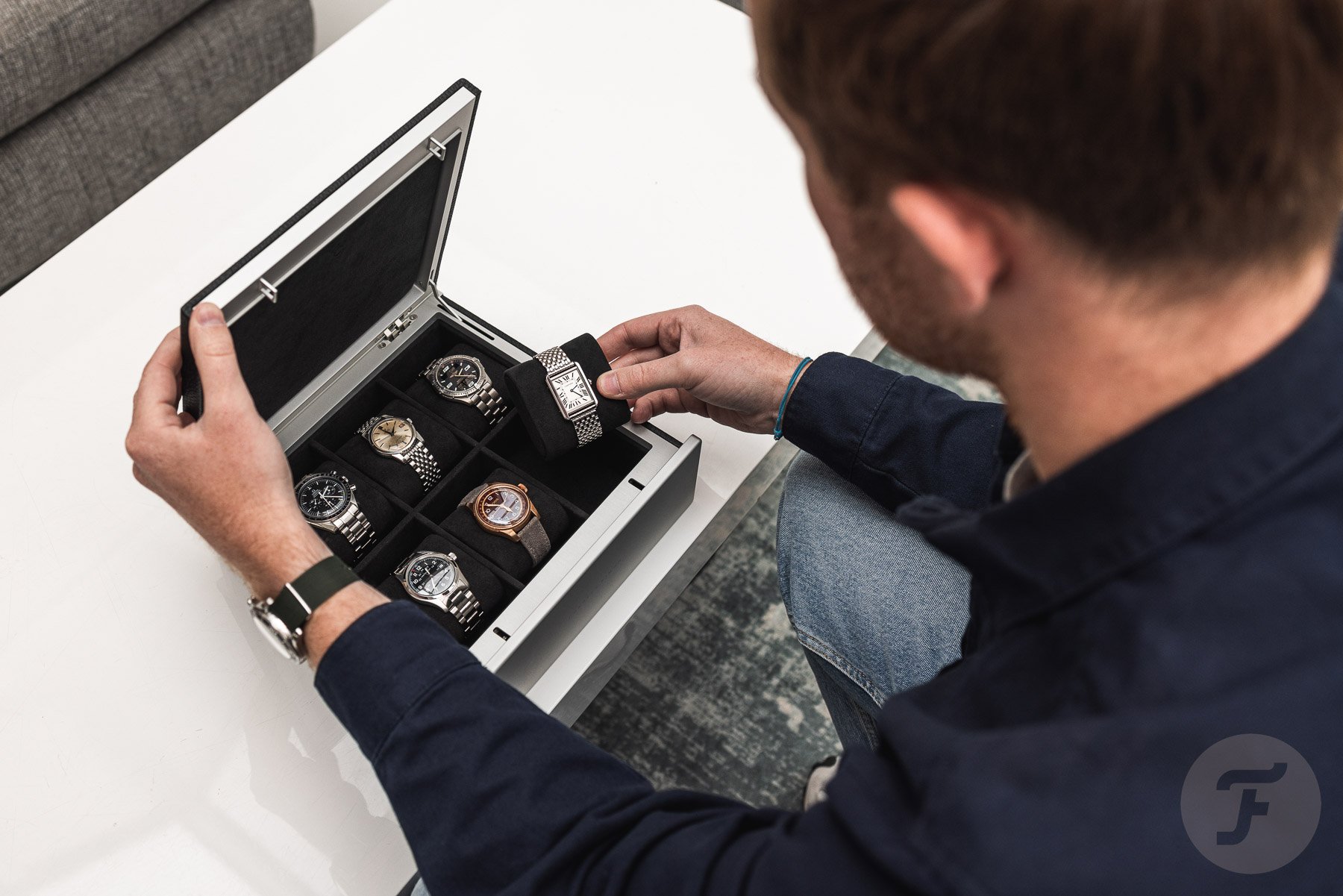 A high-end alternative
Before I tell you more about it, let's address the elephant in the room. This particular Charles Simon Spence iteration, a watch box designed to hold six watches, has a price tag of US$3,990 (approximately €3,710). Based on the fact that just one of my watches — my Speedmaster — has a higher price tag, I could already discard it as a product that's clearly not for me, at least not today. But as I mentioned before, curiosity got the better of me. So, given the chance, I decided to give it a go anyway and see what a high-end luxury watch box is like in person. I often review watches well beyond what I can afford. Still, I can appreciate them for what they are — well-designed and beautifully made objects of purpose. So why shouldn't I be able to do the same with a watch box?
Plus, the more I thought about it, the more it made sense. If anything deserves a luxurious storage solution, it's luxury watches. I know many collectors who own at least six watches worth more than €5–10K, a persona I'll have to adopt for this review. Most (if not all) of these collectors are Fratello readers, and I could easily imagine them opting for something like the Spence to store their watches. As I mentioned, I'm not there yet, nor do I necessarily aspire to be any time soon. But if someone handed me the keys to a Porsche 911 Carrera 4 GTS and told me I could test drive it as I like on Alpine roads (as my colleague Thomas did a couple of weeks ago), as out of place as I'd feel in that driver's seat at first, I'd still happily accept.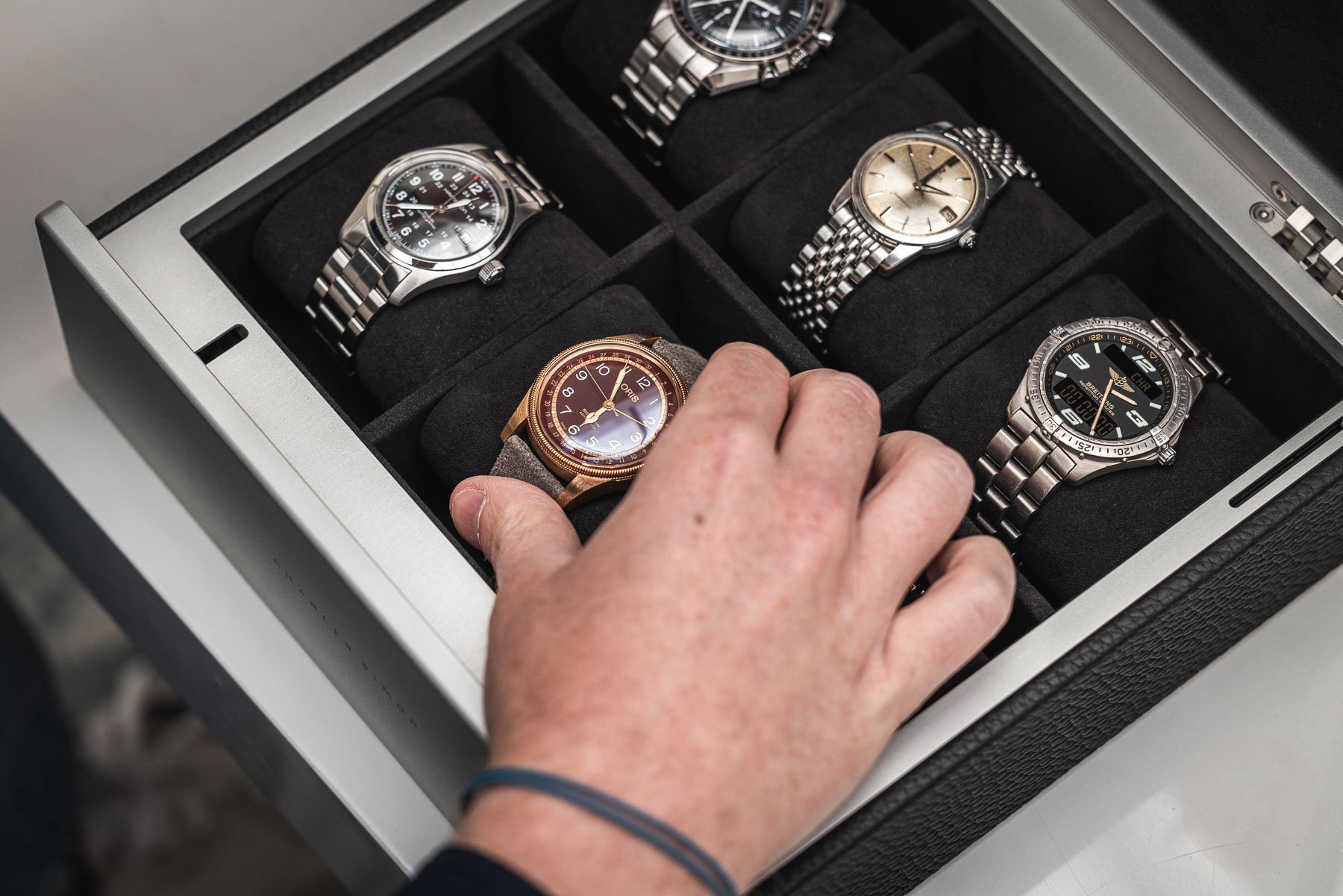 The Charles Simon Spence Watch Box
Let's start with the specs. The Charles Simon Spence holds six watches. It measures 25cm × 25cm × 8cm and features a base structure of anodized aluminum and carbon fiber. The model I tested was finished with black French bull leather. This material has a lovely, prominent grain and is very resilient to wear and tear. But black leather is not your only option; you'll find 20 models on the website alone. The options range from a brown leather outer to more exotic colors. Some feature black anodized aluminum details, a racing stripe, and matching accents on the cushions. You've already seen some of the options available above. Should you be feeling creative, you can also always configure your own. Speaking of configuration, you can also select to receive smaller cushions. The ones included are supple and will fit most watches, but it's always good to have the option.
The box is symmetrical, with two buttons on the sides and the brand's name on the front. Press the milled aluminum buttons simultaneously, and the lid will spring open with a satisfying click. The hinges are smooth and solid and stay open at most angles, thanks to the supporting brackets. These run along machined channels on the case's sides. Inside the Spence box, you'll find a simple grid interior lined with soft Alcantara leather. On the lid, you'll find the brand's logo subtly embossed. The six cushions fit with perfect friction to the sides, meaning that even heavy watches will stay in place. Remembering that these are handmade, the quality and attention to detail are fantastic. Every mechanical element has both a remarkably qualitative and sturdy feel.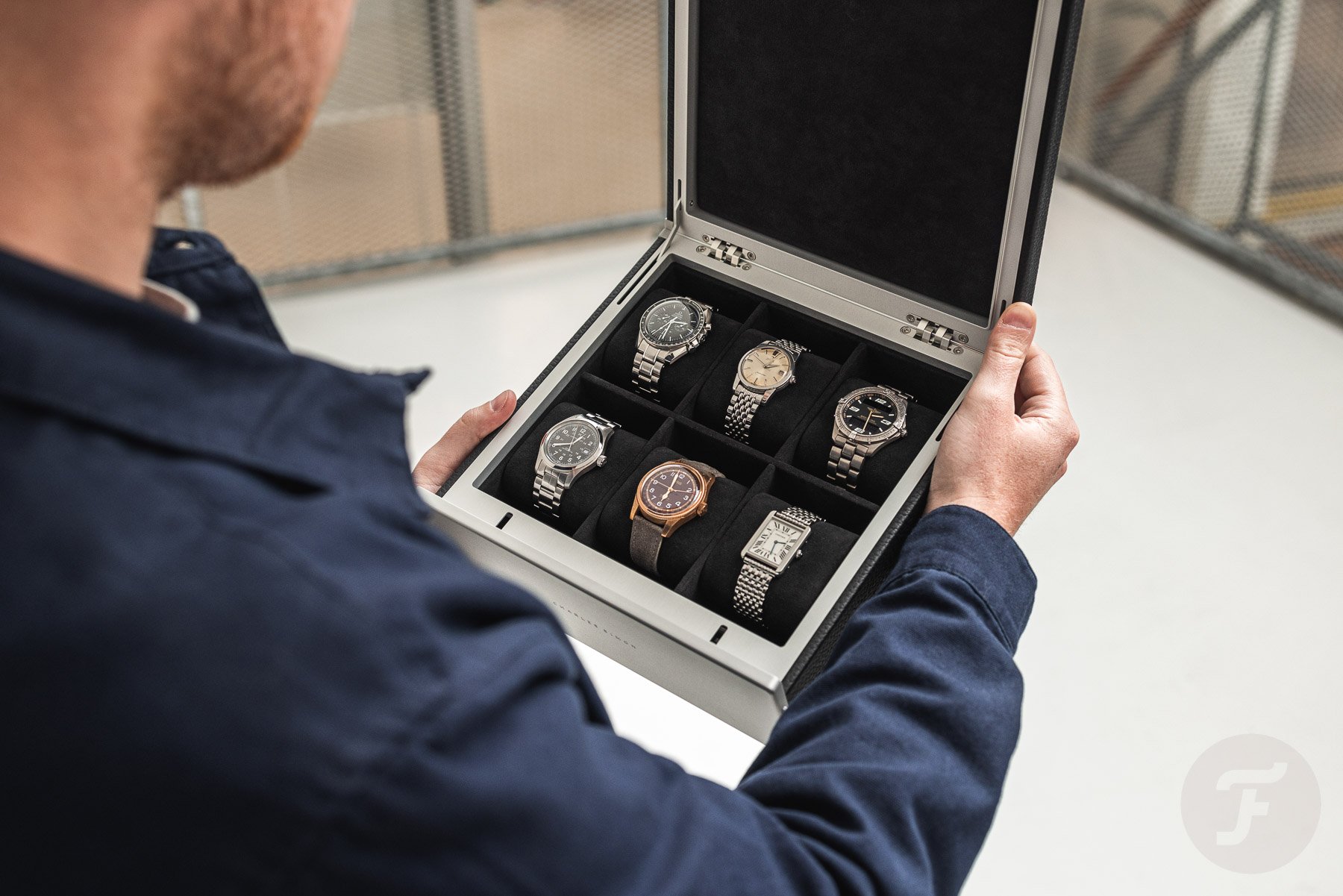 Final thoughts
After my joy ride, I can safely say this: the Charles Simon Spence is a thoroughly impressive product. Is it expensive? Sure. But honestly, if you have the watches worthy of filling it with, it's likely not out of reach. And if the quality of your watch box is as important as that of your watches, you need not look further.
I do have one minor gripe with the box, and it's the fact that it doesn't have feet. This means that the aluminum ends touch the surface onto which the box is placed. This is not a problem per se, but I found that when I wanted to move the box, it wouldn't glide nicely over the surface. Aluminum is relatively coarse, meaning it could leave a mark on a wooden surface. Again, this is just a minor thing; perhaps there's even a good reason for it.
As I already mentioned, this particular Spence model retails for around US$3,990, but prices vary depending on color, finish, and materials. For more information on the Spence and other products from the brand, check out the Charles Simon website.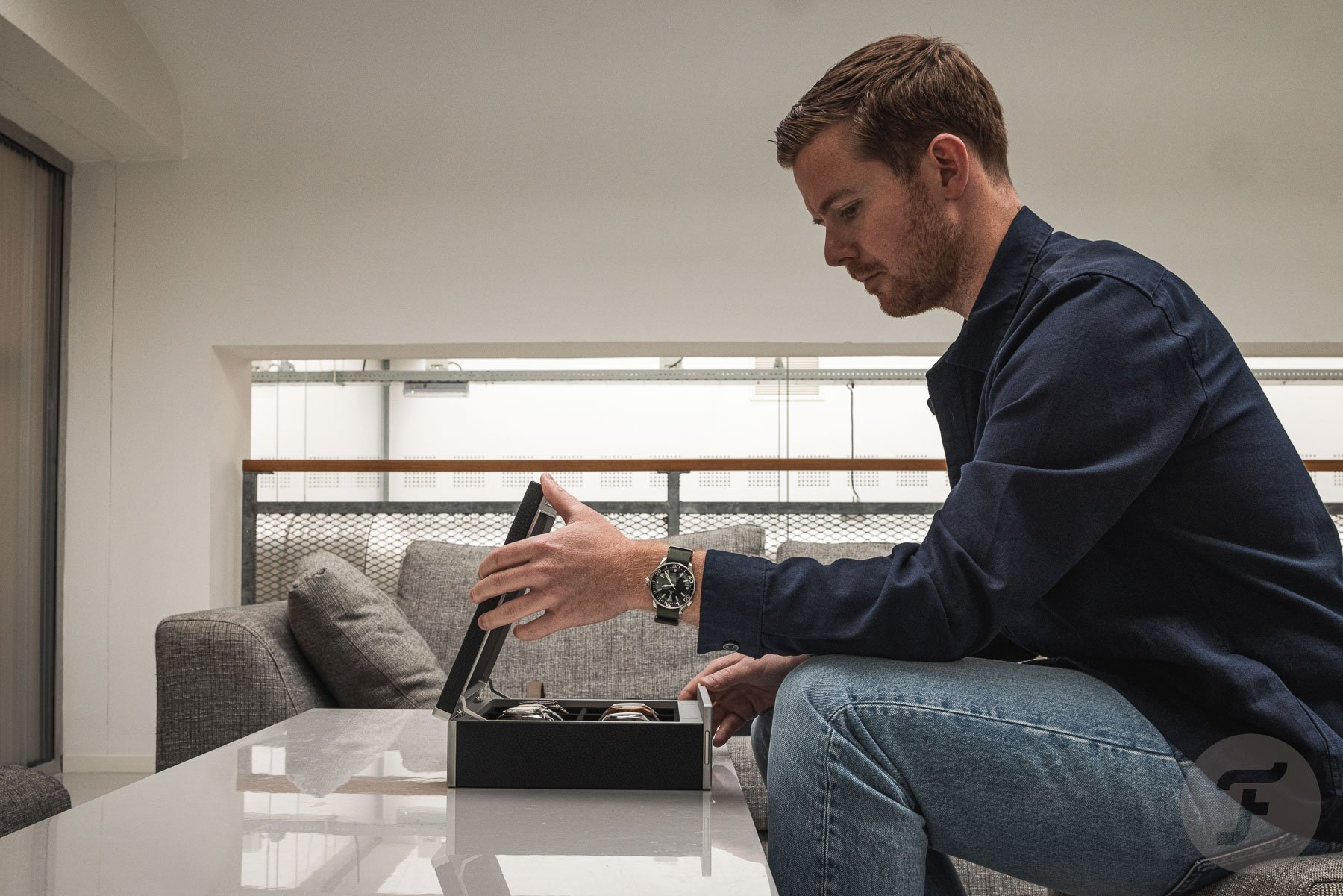 My opinion remains somewhat conflicted, so I'd love to hear your thoughts. Do you believe in paying a premium price for a premium product that serves to store your other premium products? Or do you set a hard limit on specific categories? Is the Spence a watch box you'd be happy to call home for your watches? Let me know in the comments below.