The Curious Case Of The Unimatic Modello Due S-Series
Once an onlooker, now an owner
It's been seven years since Unimatic first hit the scene, and guess who's been watching? Me, that's who. Yes, I've been an admirer of this Italian "microbrand" since the beginning, but always at a distance. All that changed recently, though, with a purchase of the Modello Due S-Series. Was "scratching the itch" worthwhile?
Seven years — that's how long I've watched Unimatic. This Italy-based small brand has been releasing watches on a regular basis in two case forms, and I've always liked them. Whether it's the more traditional Modello Uno with its external bezel or the no-frills Modello Due, the typically clean looks turn my head. The problem with Unimatic, though, is that the watches are almost always limited. As such, they sell quickly and I have been too slow to react. There has long been another nit to pick, though, which the Modello Due S-Series addresses.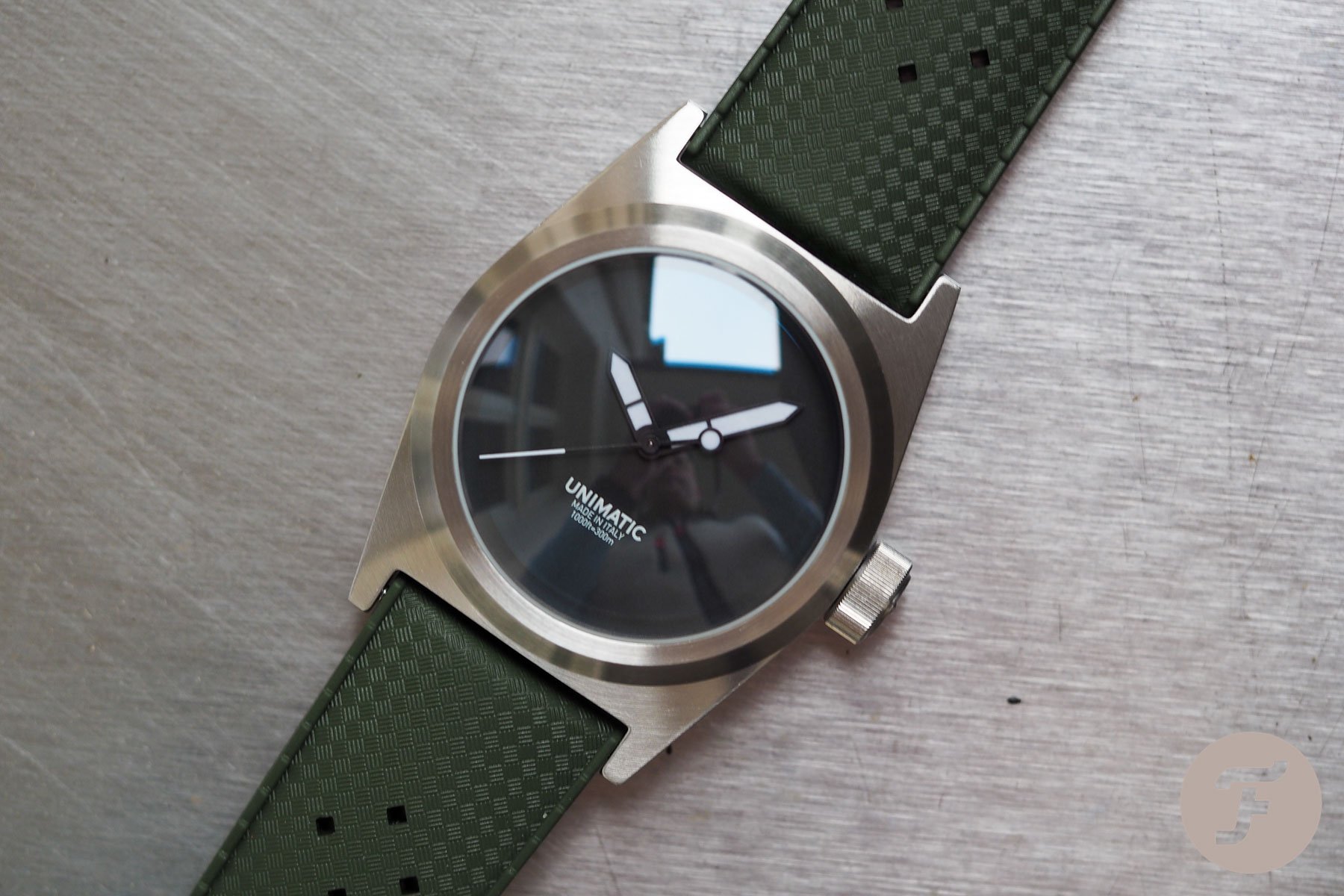 Unimatic — simply attractive watches with Japanese movements…
Up until the release of the Modello Due S-Series (along with a corresponding Modello Uno), Unimatic utilized the Seiko NH35A automatic. This movement is a "go-to" powertrain for many microbrands, and it does its job faithfully, if unspectacularly. The NH35 is based on the 7S26 series of movements, but it gets some upgrades such as hacking and hand-winding. It runs at +40/-20 seconds per day, so it's nothing amazing. It is robust, though. Did it keep me from buying a Unimatic previously? Perhaps, and that's a bit unfair because, seriously, there's no watch in my collection worn so frequently that I'd notice the accuracy.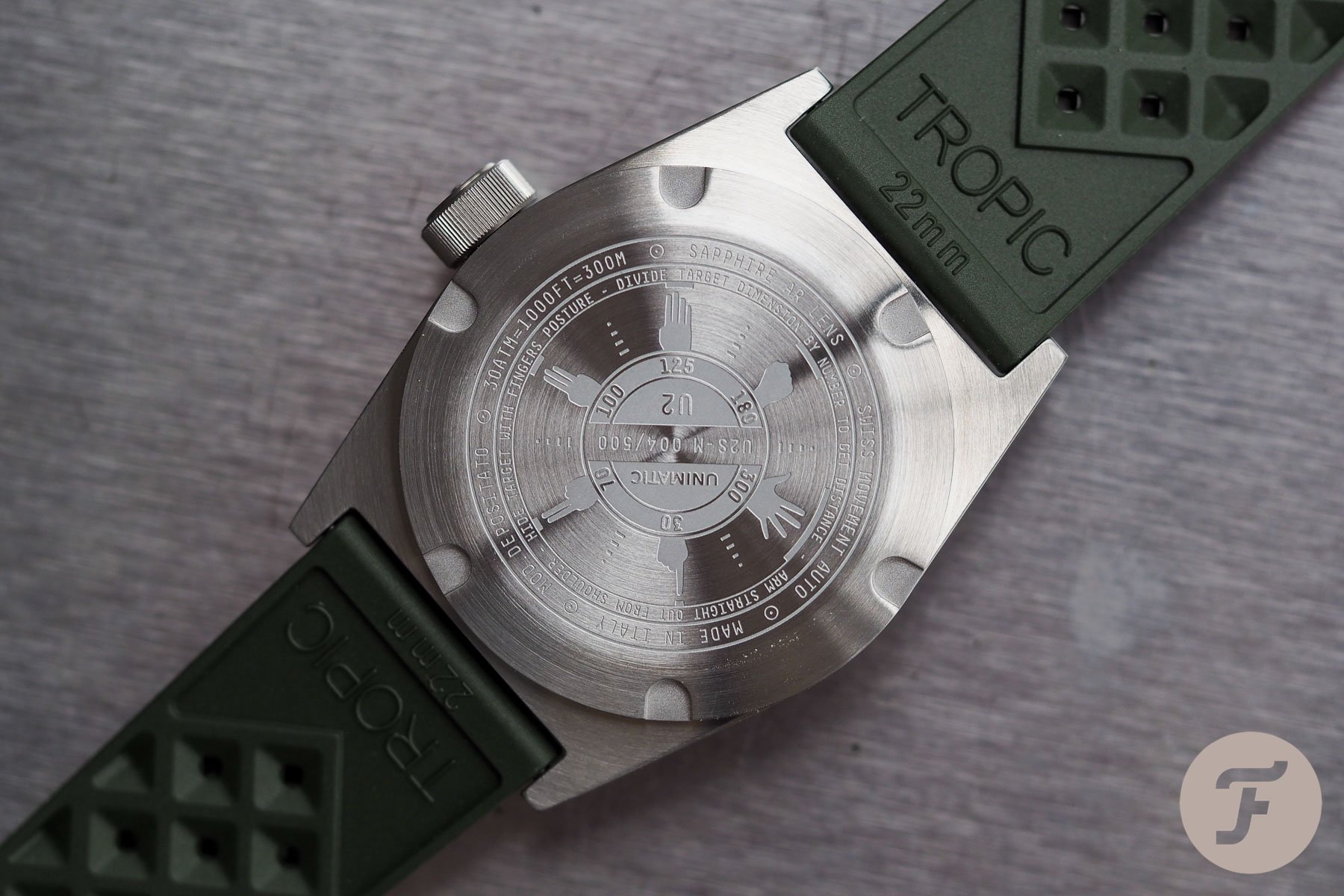 …until now: the Modello Due S-Series uses a Sellita
With the Modello Due S-Series, though, the brand moved a bit more upmarket and chose to use the Sellita SW200-1 automatic. Aside from being Swiss versus the Japanese NH35A, the movement brings in some additional changes, The frequency grows from 21,600vph to 28,800vph while the power reserve drops a few hours to 38. Accuracy seems to be marginally better, with call-outs of ±12 seconds up to ±30 seconds per day. Regardless, it's a difference-maker for many, and it was for me when I decided to pull out my credit card. Buyers should know that while there is no date wheel, the date-setting crown position has not been removed.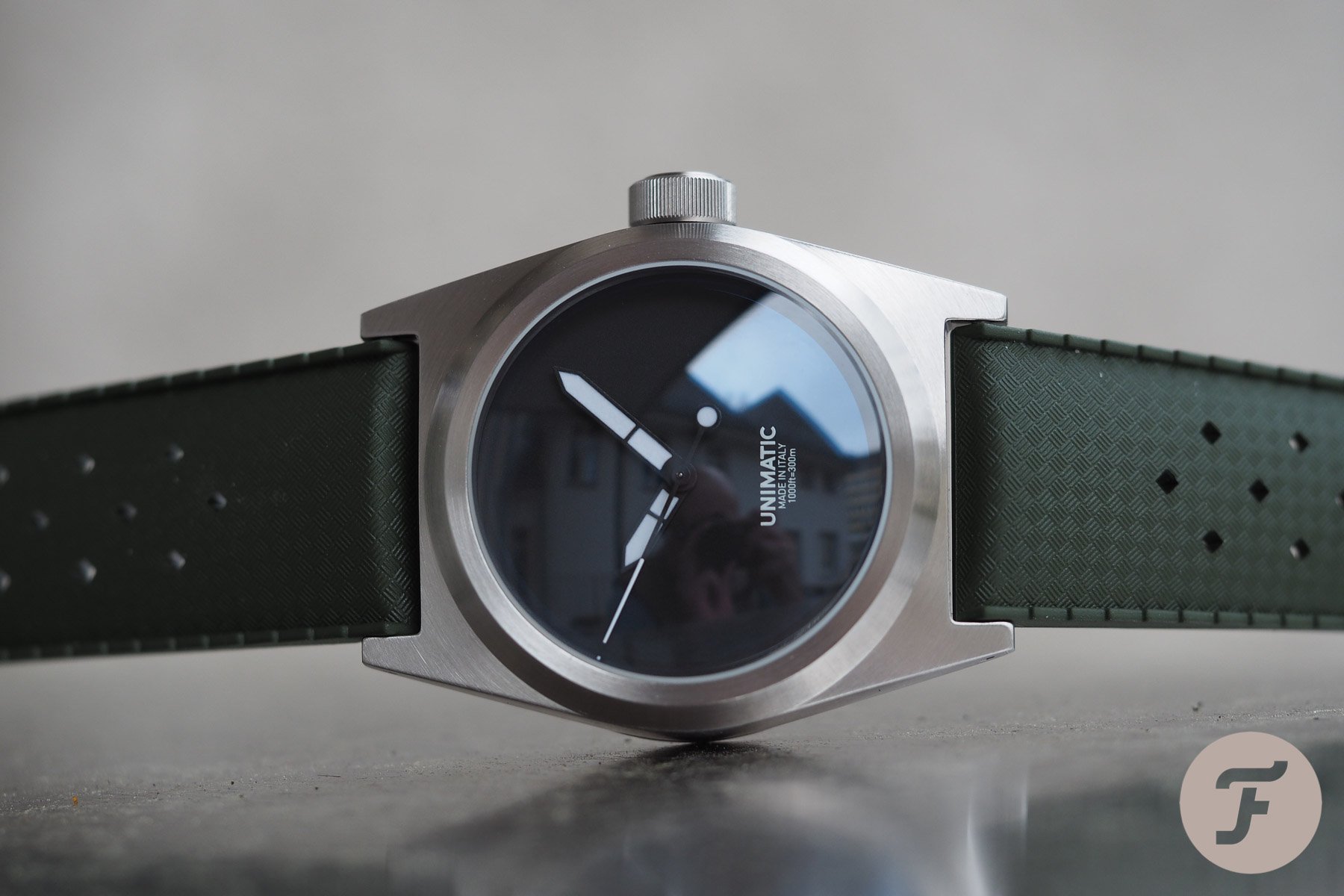 The other benefit that the Sellita adds to the Modello Due S-Series is its thinness. The Sellita helps bring the thickness down to just 11.6mm, which is roughly 10% less than an NH35-powered model. With my smaller wrists, that aspect definitely intrigued me. Oh, and if you're wondering about specs, this slimmer watch still keeps its screw-down crown and 300 meters of water resistance. Other specs remain, such as a 38mm case with 22mm lugs and a length of 47.5mm. With those specs out of the way, let's discuss the (controversial) dial, the finishing, and what it's like to wear this unique watch.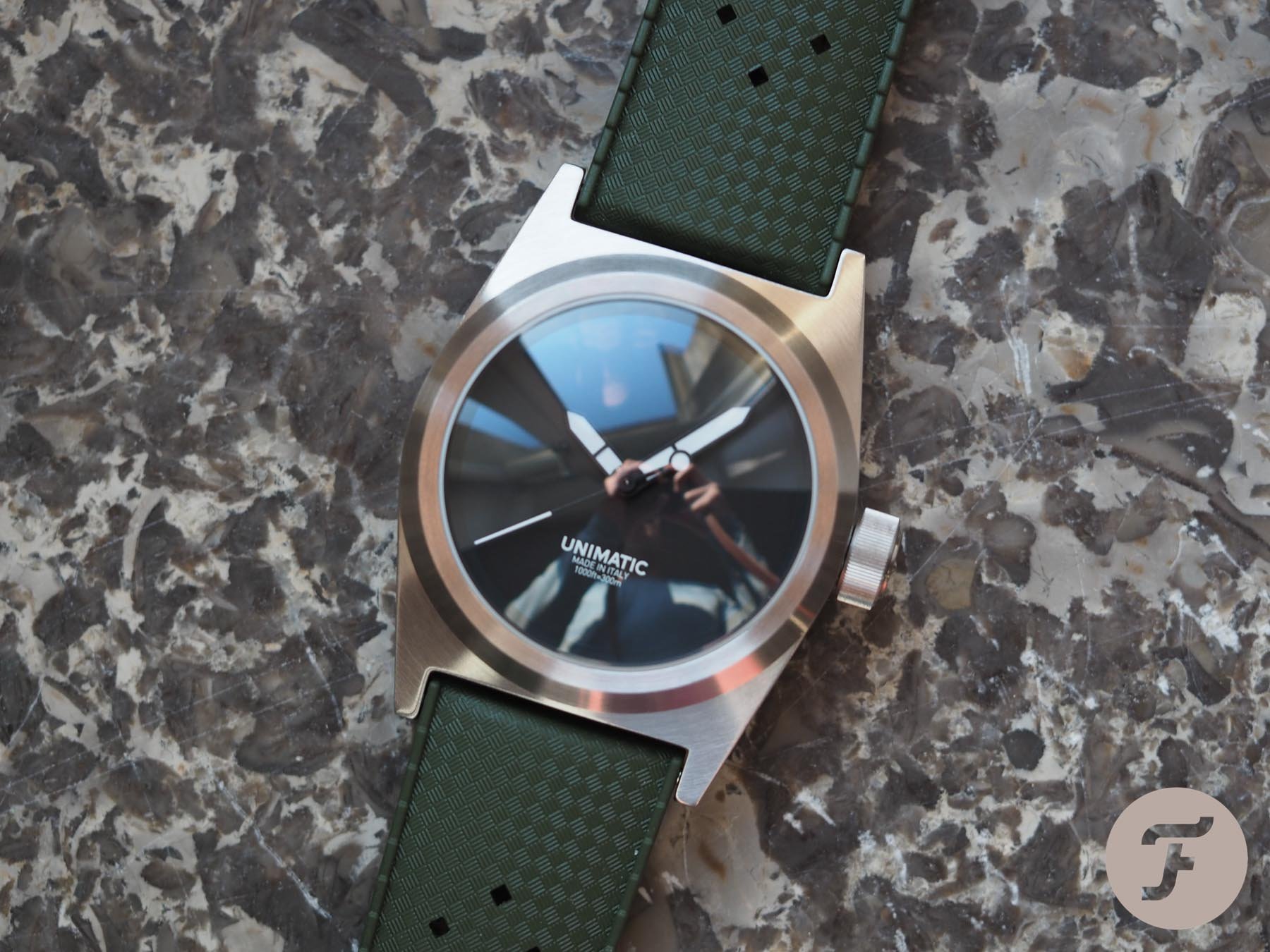 An all-black dial
Normally, Unimatic releases sell out rapidly, but the Modello Due S-Series has hung around a bit despite being limited to 500 pieces. I reckon that much of that has to do with the increased price of €730 (NH35-powered models are €400 — a big difference). The other detail here is that the dials are somewhat polarizing when compared to the typical Unimatic fare. Typically, a Unimatic has big, bold indices with lots of lume.
These watches, except for the lumed hands, contain an all-black dial with only a touch of white font with the brand name, origin, and depth rating. The only easy comparison is something like an onyx-dial Datejust or Day-Date. But, yeah, that's sort of pushing it. What do I think? Well, you know that I ordered one, so I like it. It is a bit tough to set the watch unless you're doing it on the quarter-hour exactly. But all in all, even if a traditional layout is more my thing, I took a chance because I already have so many traditional watches. Oh, and it's worth stating that this watch is truly difficult to photograph. The domed crystal reflects everything, and you get to see me in some photos! Thankfully, that's not really the case when wearing it.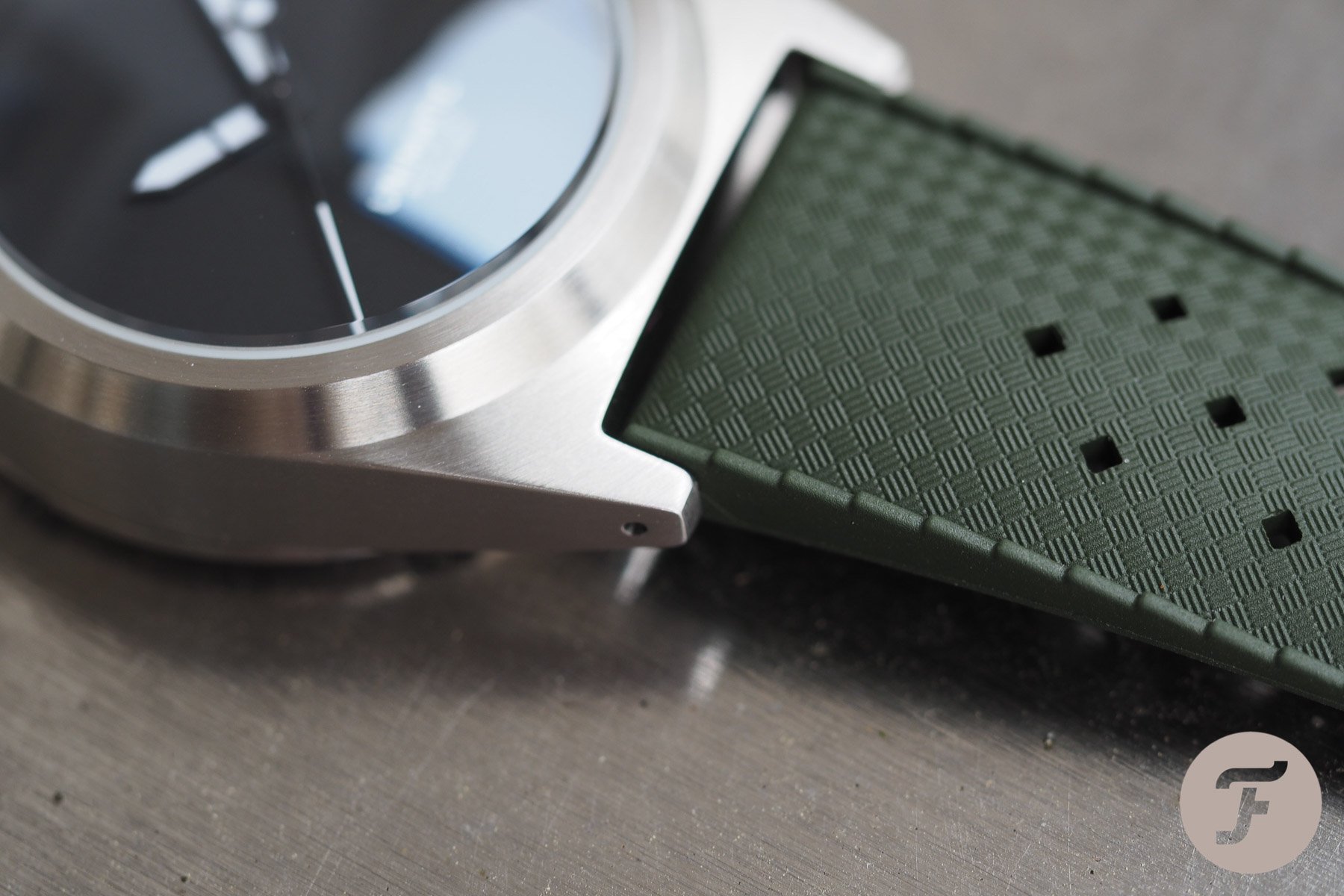 The finishing
Regarding the finishing of the Modello Due S-Series, I'd say that these watches box pretty well within their weight class. The radial brushing on the top of the case is uniform and nicely done. Ditto on the details such as the crown and the case back. I'm also a massive fan of the domed crystal, as it (and the overall case design, for that matter) looks like something out of a Jules Verne tale. If I have a couple of nits to pick, it's with the flanks and the operation of the watch itself.
The case flanks around the drilled lug holes aren't super sharp. Specifically, the edges of the holes themselves aren't incredibly sharp. The same goes for the actual corners of the case. I know that this isn't a watch costing four figures, but I'd like to see something sharper on what is a relatively straightforward design. I am a huge fan of the large tactile crown. Plus, the screw-down action is as good as any watch costing much more, so that's a nice, reassuring feeling.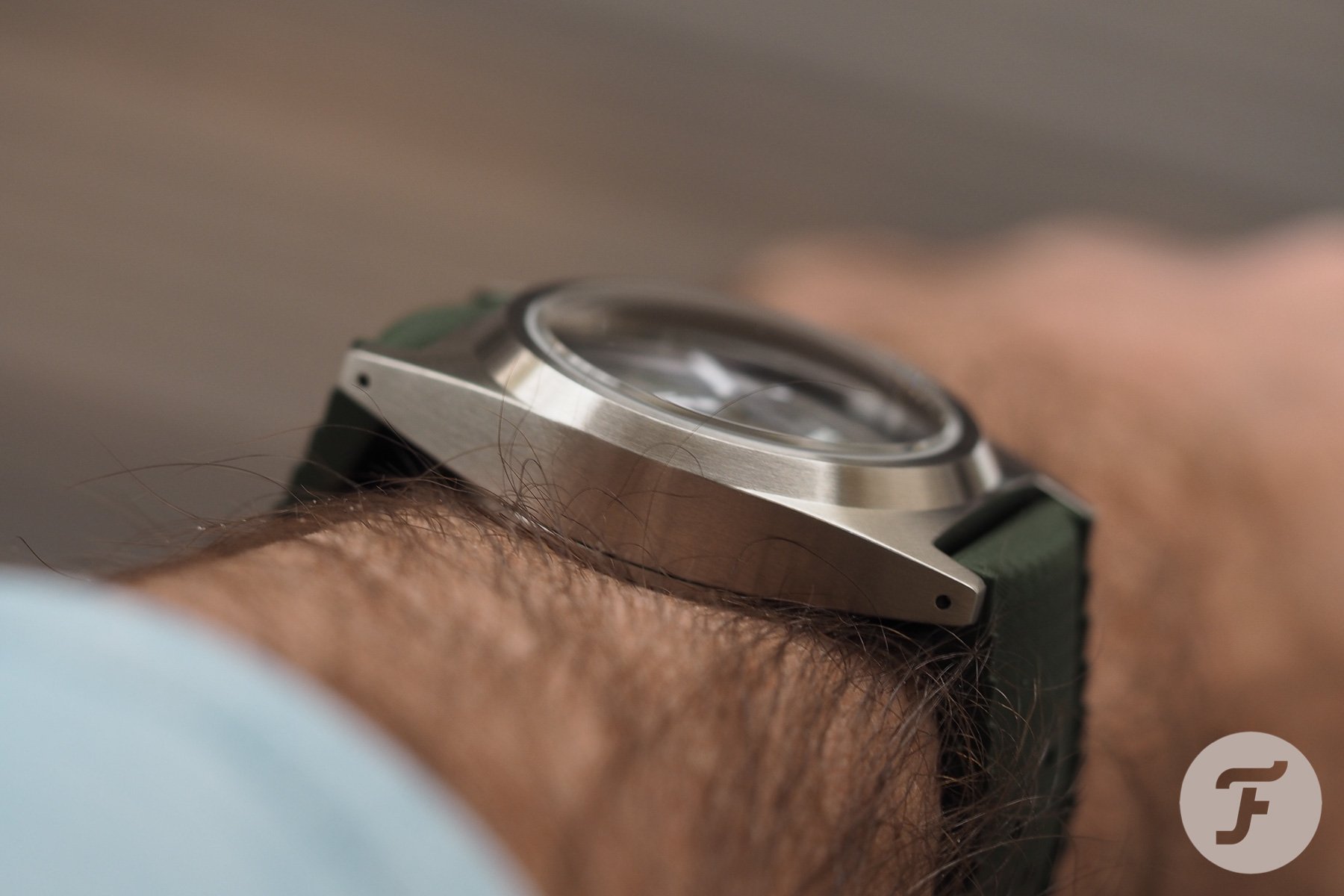 Wearing the Modello Due S-Series
So, when one reads the dimensions of the Modello Due S-Series, it seems perfect for someone with a small wrist like me. A sub-50mm lug-to-lug and a sub-40mm case size sound great, right? Well, for all of its on-paper qualifications, I can only say that this watch wears very differently.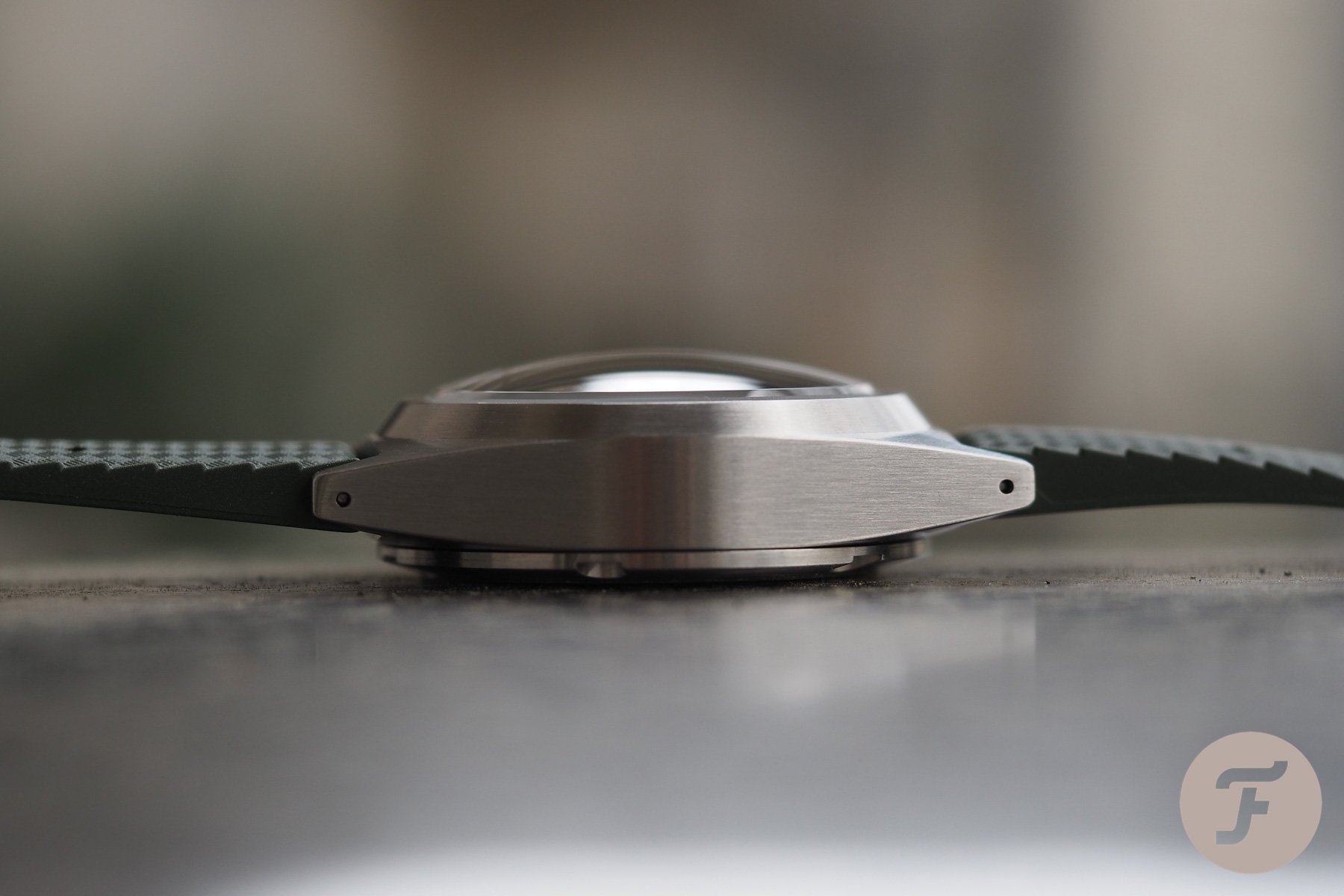 From the side, this watch looks like a lozenge with snipped ends. The effect is that lugs curve down when looking at the top of the case, but curve up from the underside of the case. It's confounding because the case back sits on the wrist while the rest of the watch effectively peels away from the wearer. The gap between watch and wrist is further exacerbated on a smaller wrist like mine.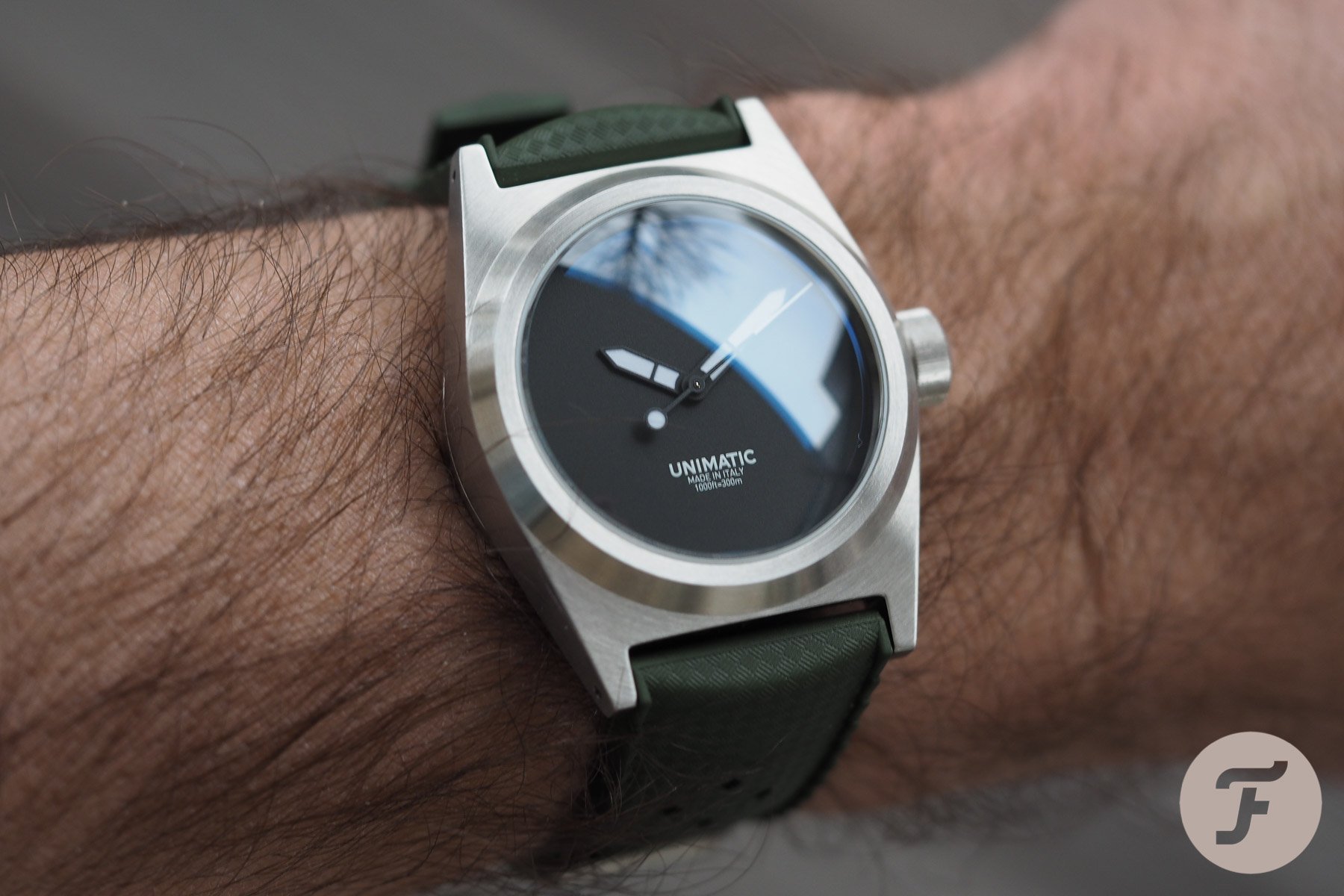 Weirdly, when viewed from the top, the Modello Due S-Series looks relatively normal. It even reminds one of a '60s skin diver to a large degree. From the side, though, it almost looks like the watch is performing an uneasy balancing act. Seriously, this is one of the more unique watches I've strapped to my wrist. Speaking of straps, Unimatic includes a 22mm-wide black leather strap and a two-piece black nylon strap. They're nicely made, but they don't taper much, and they didn't help my wearability concerns. Needless to say, things are better on a green Tropic for me, and I even like the color combo.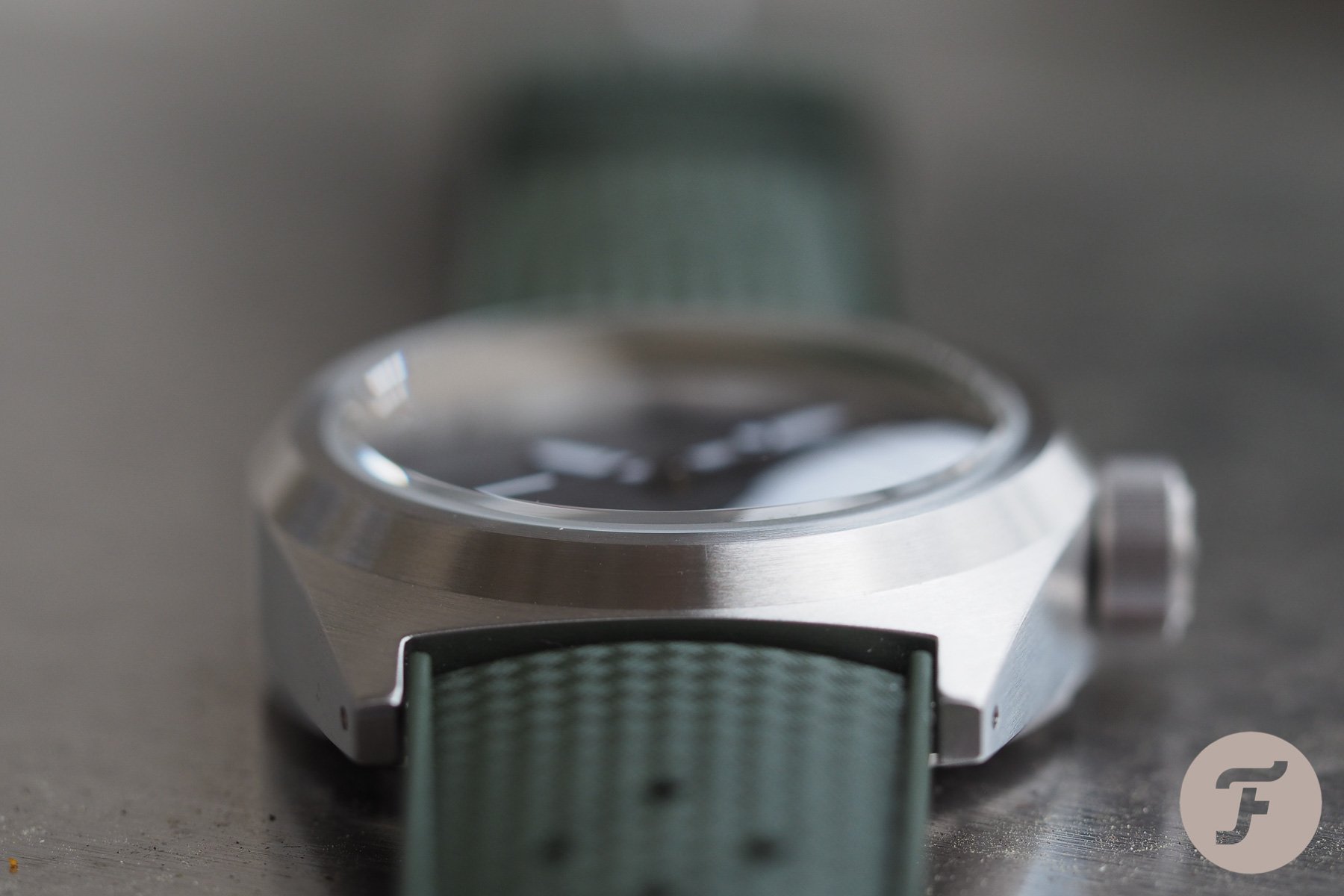 There is something else I'd like to leave you with regarding the Unimatic Modello Due S-Series. After wearing this watch one day, I laid it in a typical place where I keep my wedding ring. It's not a brightly lit area, but it's not dark either. I stepped away to leave and looked back at the watch that had puzzled me all day long. It was at that moment that I came to appreciate it for what it is to me — a really unique and beautiful object. At a glance, just laying there, I took in the bezel that smoothly transitions from the top of the case, and I had to smile.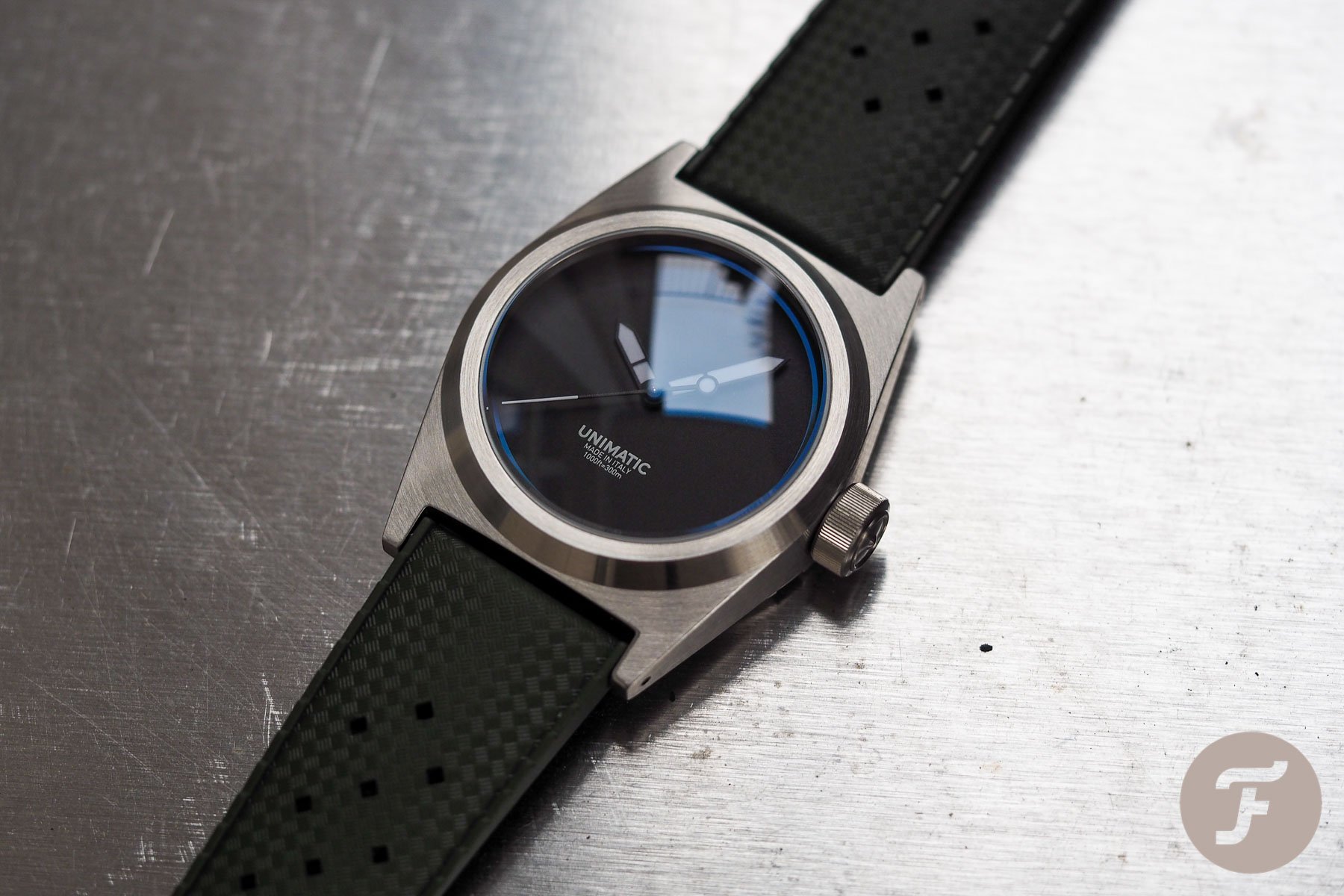 Final thoughts
After seven years of looking at a Unimatic, I finally took the plunge and picked up a Modello Due S-Series. Will I grow to appreciate the odd way that it fits on my skinny wrist? I'm not sure, but I'm willing to go on the adventure. Do I think it's one of the more interestingly designed watches that I own? Absolutely. If you have a larger wrist or find the fit of interest, a real positive is that buying a Unimatic doesn't represent a huge financial outlay. After scratching the itch, I'd say one is worth the gamble.
For more information and ordering, please visit the official Unimatic site. Also, feel free to let us know about your experiences with the brand in the comments.