The Fast And The Fratelli: Bamford B347 Versus Fortis B-42 Cosmonauts Chronograph
Two modern chronograph watches vye for your vote!
It's an odd thing to be writing about racing chronographs when I cannot yet legally drive. That said, it's been an odd few years, so pretty much anything goes these days. And I am more than capable of discussing these two fine watches today. I think that my two competitors are both excellent choices, fitting the competition rules and vying to take their place in the next round of The Fast And The Fratelli!
So, what are these rules? Well, suppose you've been following along with the competition so far. In that case, you're likely already aware, but it's always nice to get a wee refresh. The watch must have been produced in the last ten years (after 2011), it must be mechanical, and it must measure elapsed time for at least one minute. Oh, and it must feature a tachymeter scale somewhere too. It also goes without saying that the watches have to be cool. So, we've not excluded special/limited editions, and there's no price limit either. I tried to keep things down to earth and realistic, so I didn't go with a Rolex Daytona vs. Richard Mille like Ben did (shots fired!!).
After our Grand Prix is concluded and our winner has passed the checkered flag, one of our readers will also take home a prize! We are giving away a 1/10-scale RC car from Traxxas, the Bandit BlueX buggy. It's pretty much ready to run, with the battery pack, receiver, and all the necessities included in the box. Just unpack it, charge it, and you're good to go! But before we get there, let's get down to the pit lane and work out which of our competitors will make it to the starting grid.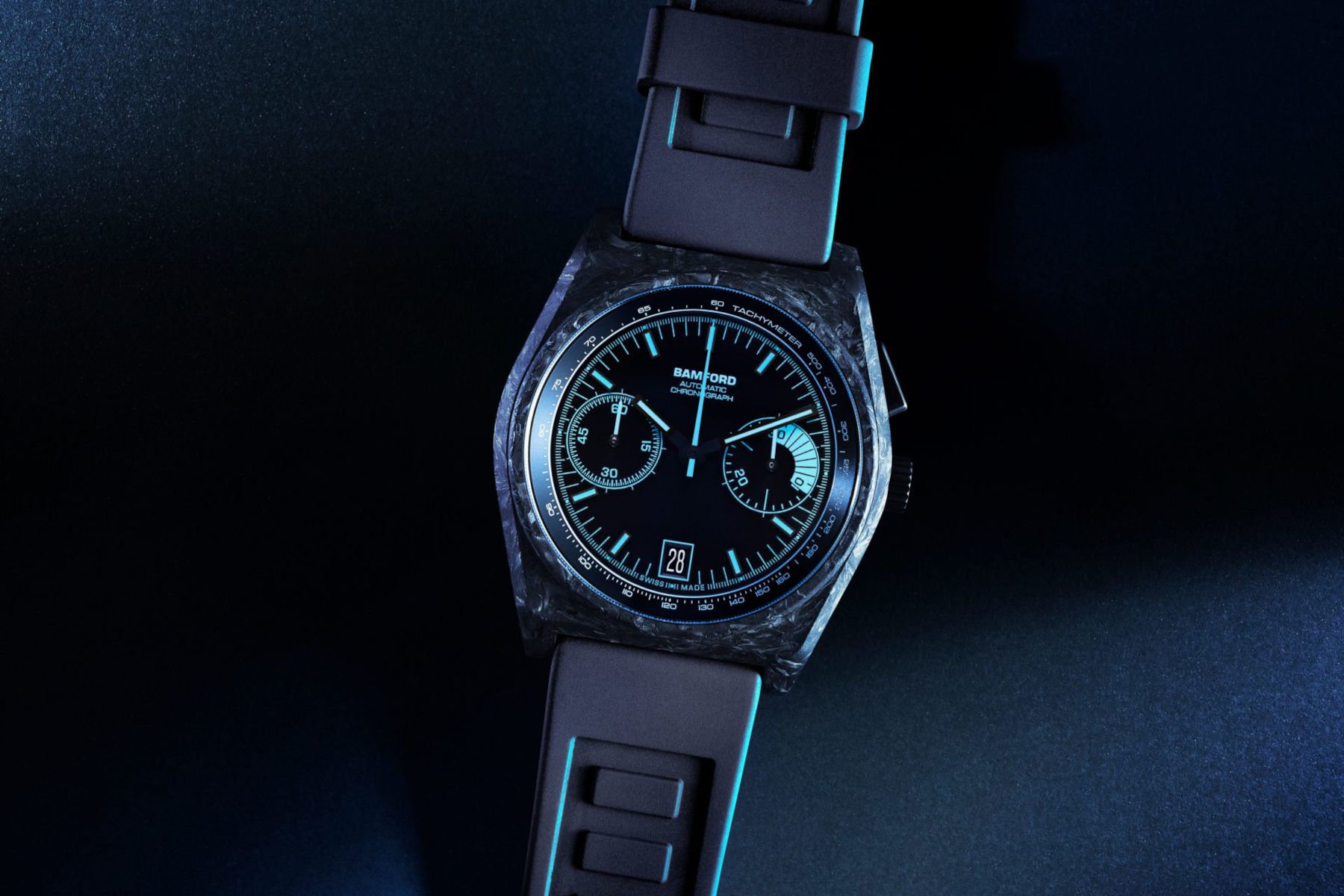 Bamford B347 mono-pusher chronograph
First up is the Bamford B347. While Bamford may be most well-known for its collaborations with the likes of Black Badger, TAG Heuer, and Zenith, George Bamford's design studio also has a small range of its own branded watches. Undoubtedly, the coolest model in its catalog is also the newest — the B347 mono-pusher chronograph! In my opinion, this is one of the most appropriate watches for this competition. It's a racing chronograph, but it's cool, sleek, black, and made of forged carbon!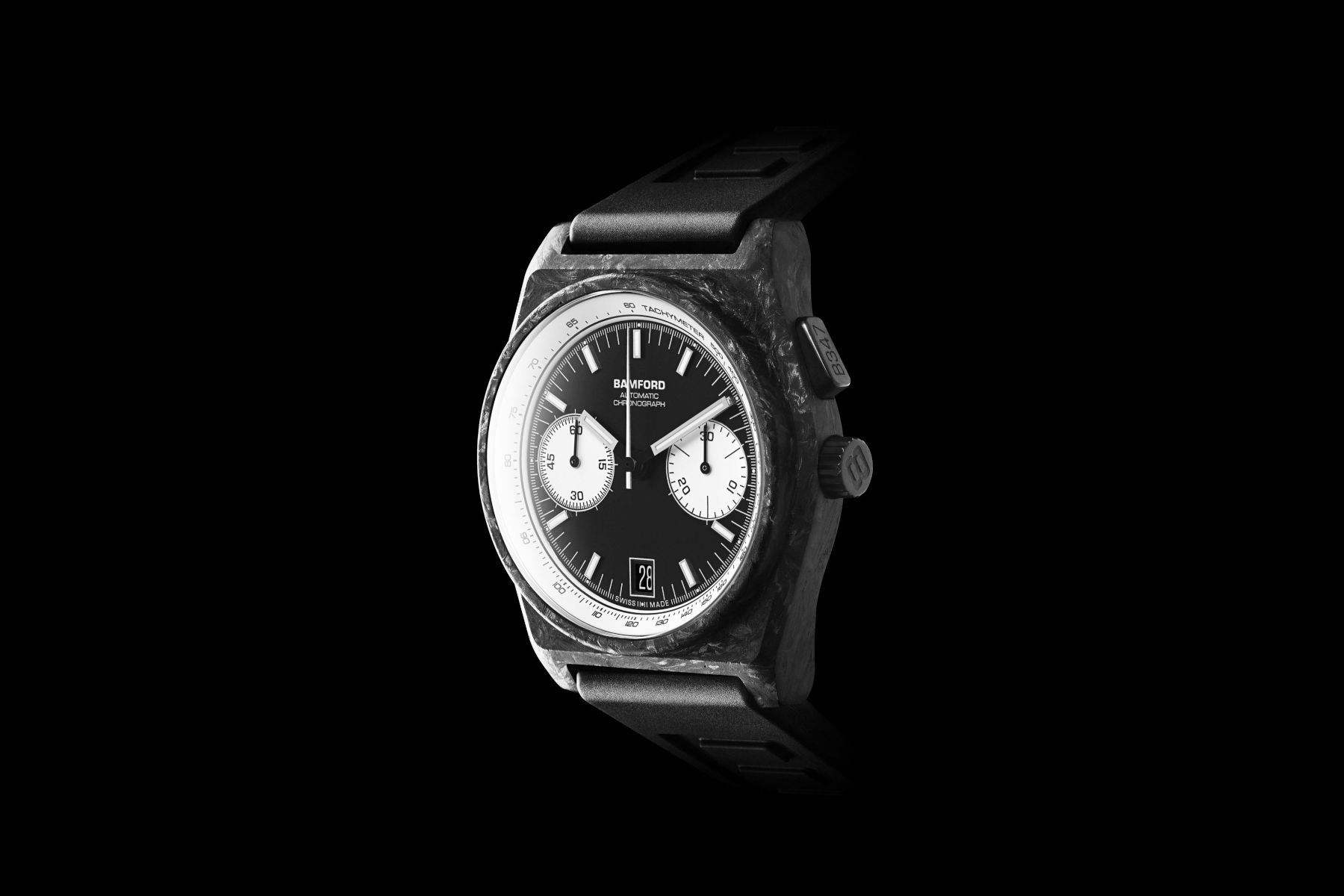 Developed for the automotive industry
Forged carbon was invented back in the mid-2000s. Lamborghini teamed up with Callaway Golf Company and the University of Washington to develop the material that had beneficial uses for both automobile and golfing technology. As you can see, this makes it somewhat rather appropriate for The Fast And The Fratelli! Bonus points to Bamford!
I've long been a fan of forged carbon watches. I just love the look of the material, but I fully appreciate that it is an acquired taste. Most people seem to either love it or hate it, with very little middle ground. Its random composition means every watch has a unique surface texture. The lightweight nature is just an added bonus. I remember when Bamford first dropped the B347, and I immediately loved the 41.5mm forged carbon case. It was "me" all over. I seem to remember a couple of friends sending me shots of the watch, asking me when I was going to buy it, as it was a typical "Dave watch." I haven't purchased one just yet, but who knows? My friends were right: it has my name written all over it.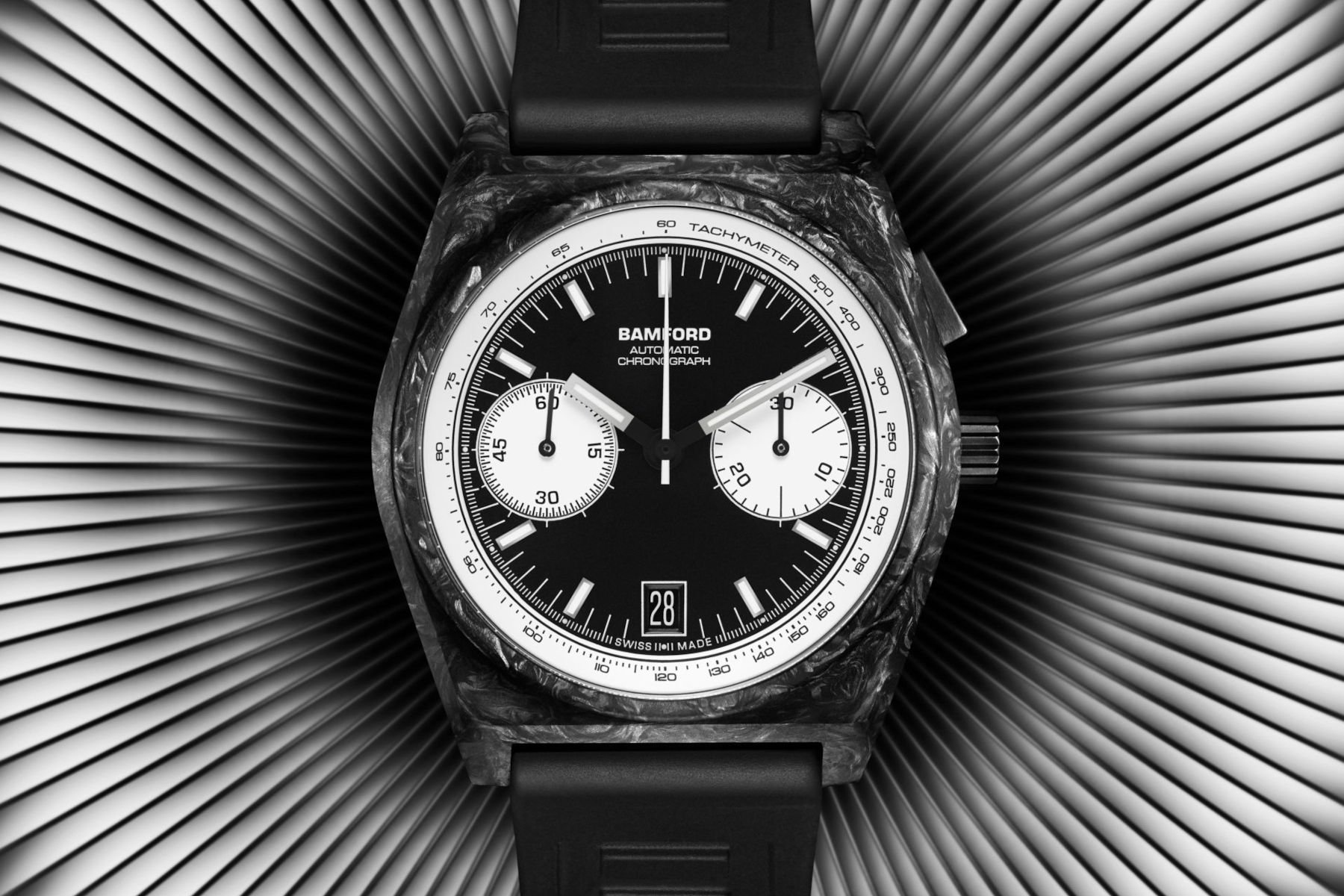 A mechanical mono-pusher racing chronograph
The watch itself is no slouch. It more than matches up to its competitor today and the other watches in the competition. The Bamford B347 is a Swiss-made automatic mono-pusher chronograph. In my opinion, the mono-pusher style makes for slightly easier chronograph operation, with no need to adjust your hand to use a separate reset button mid-use. Everything is done using one button. The solid and reliable Selitta SW-510 cam-operated automatic chronograph makes everything possible. This movement provides a rather-impressive 62 hours of power reserve too! Not too shabby considering the attractive price of £2,500.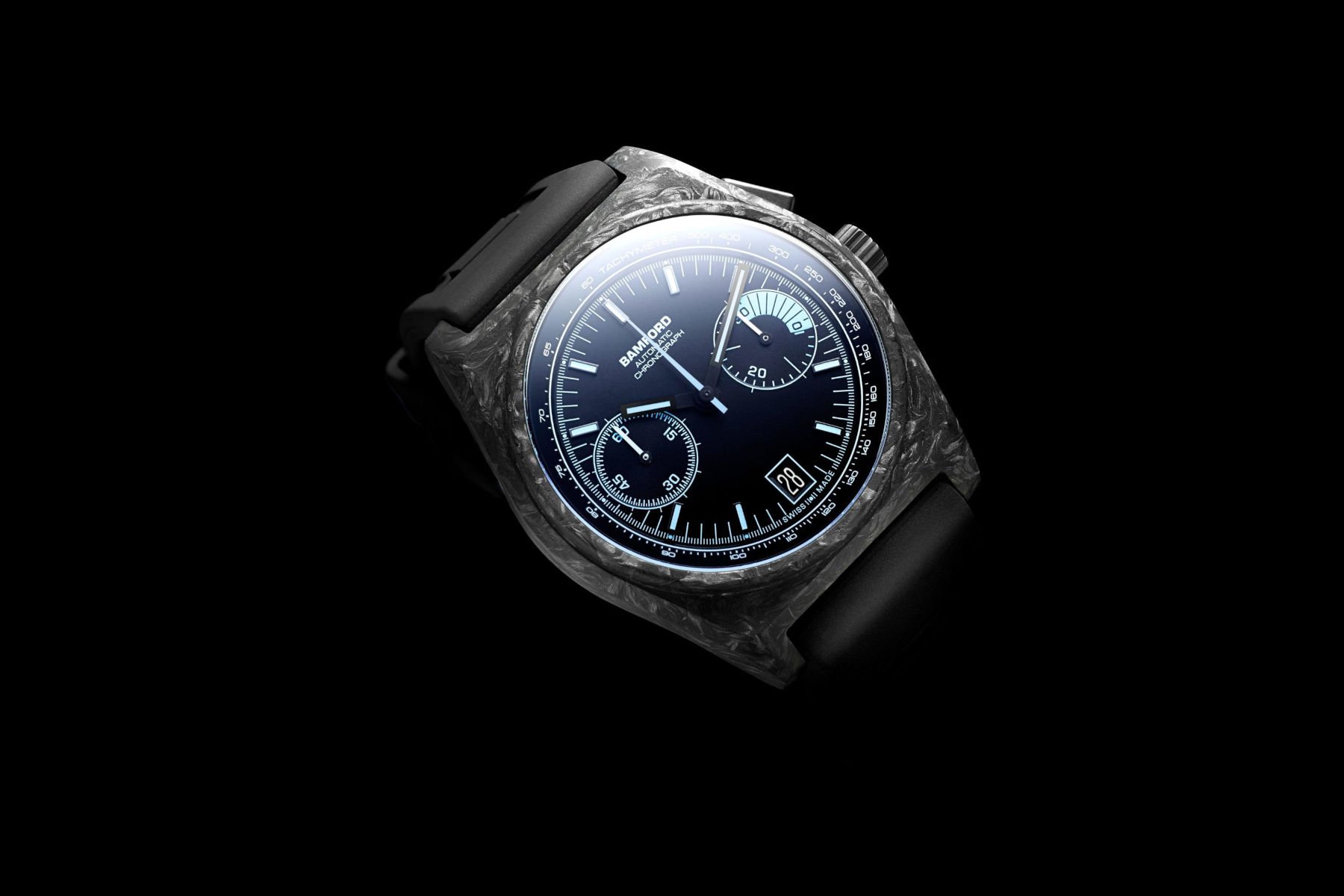 Are we good to go?
Now, in the Summer Splash, I accidentally fielded an ineligible competitor, so I'm going to double down and make sure each of my F&F watches are 100% legit. So, how does the Bamford B347 watch meet the criteria of the competition? Well, with Bamford only releasing this watch in the late summer of this year, we are well within the release schedule. It's a mechanical watch capable of tracking at least one minute of elapsed time, thanks to that tasty Sellita mono-pusher movement and its 30-minute counter. The tachymeter scale is present on the rehaut, so that's another check in the criteria column. I make that Bingo!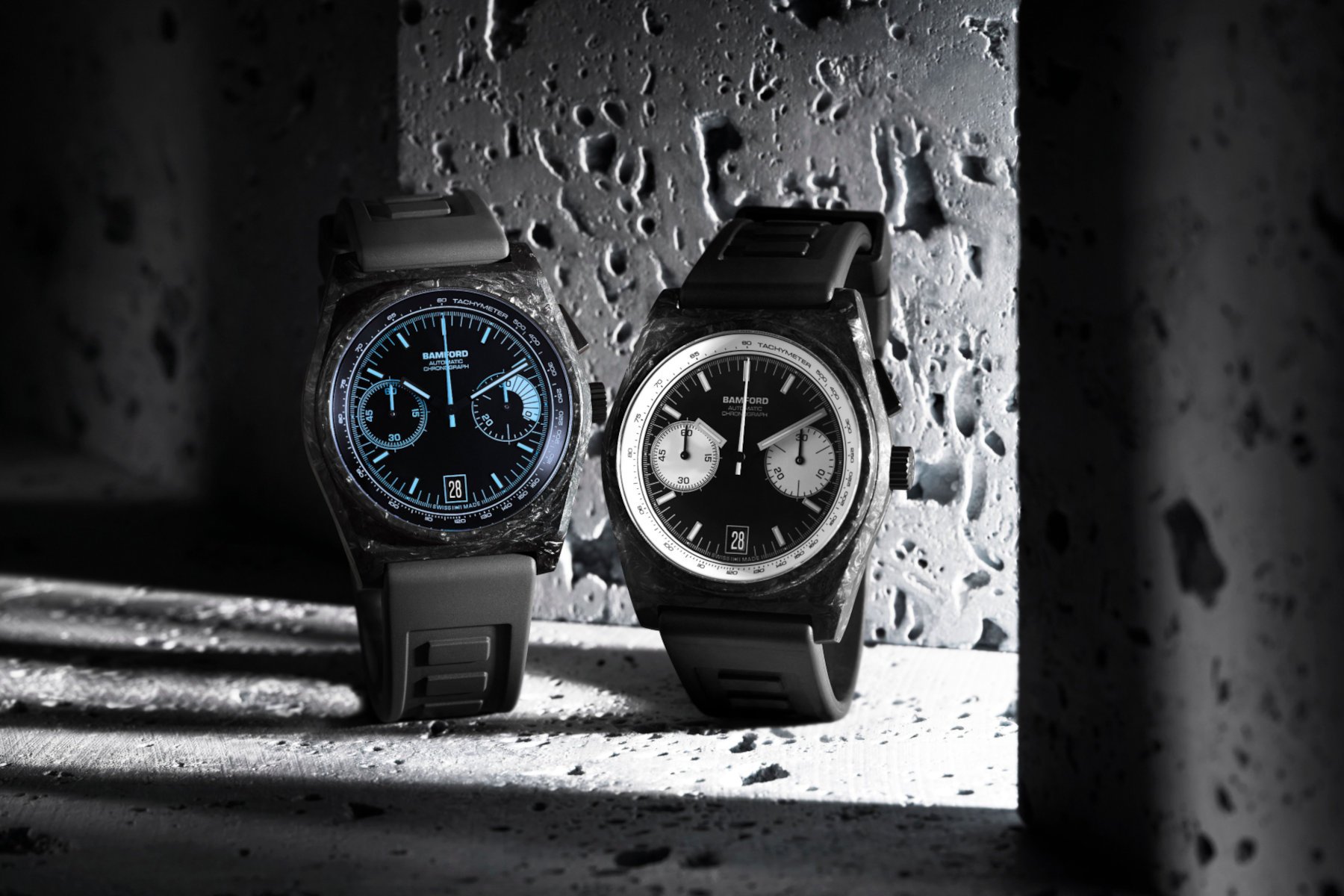 Choices, choices…
The only question left is which colorway to choose. Bamford introduced the model with two color options at launch: the reverse panda and the Bamford Aqua Blue. Since then, Bamford has dropped four new options, including a traditional panda, a stealthy black "Predator" model, a "Navy" blue dial with yellow accents, and a khaki green "Commando". You know what, give me the signature Bamford Aqua Blue. I'd probably swap the plain black rubber strap for something more fun, though. Any suggestions?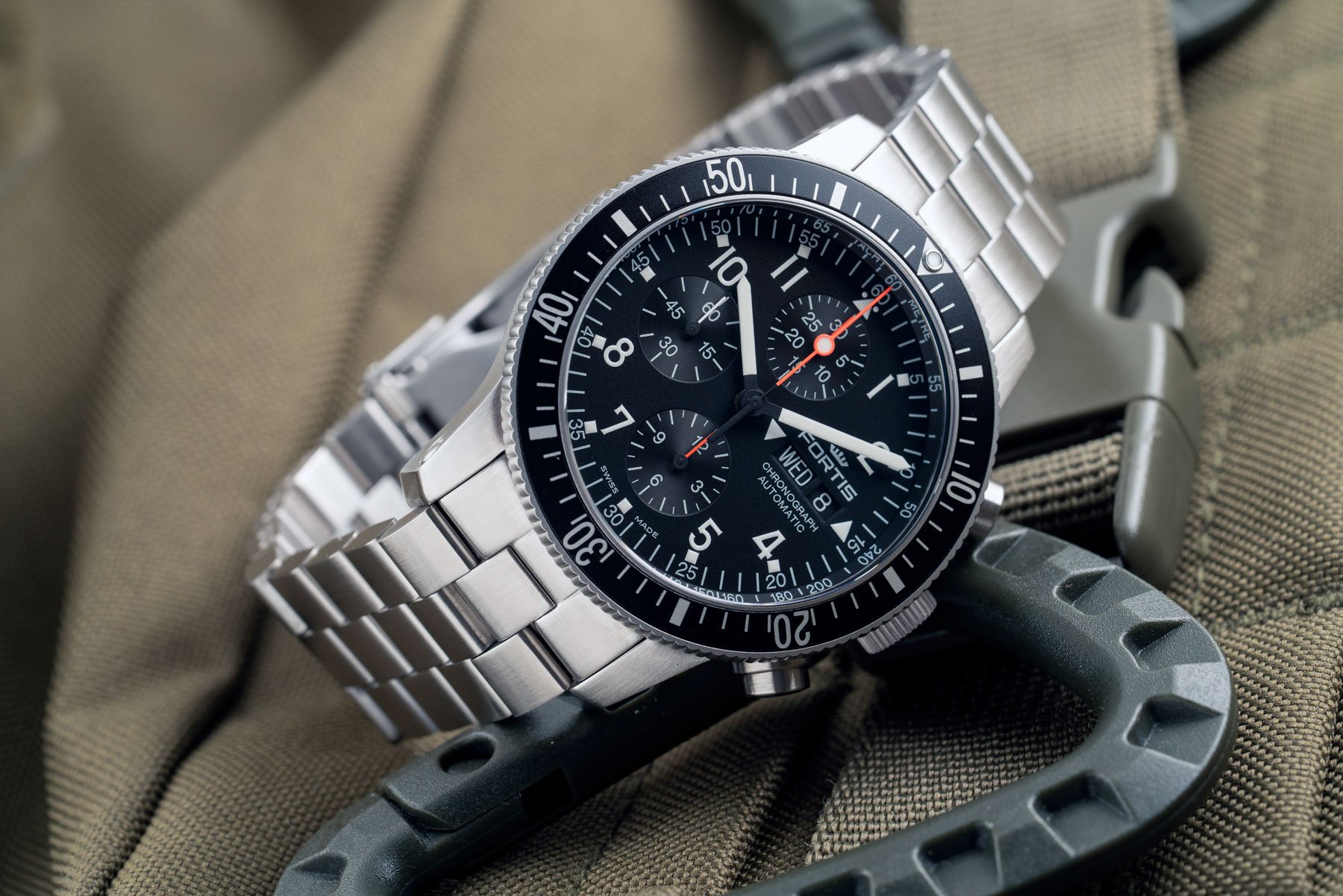 Fortis B-42 Official Cosmonauts Chronograph
OK, so my second competitor is not technically a "racing chronograph watch". Fortis designed the B-42 Official Cosmonauts Chronograph for a different type of race — the Space Race! That said, the watch is a very competent tool watch with all the features and capabilities that make it a serious entrant into The Fast And The Fratelli!
Fortis's involvement in space travel began back in 1994 when it first issued watches to the Russian ROSCOSMOS space program. Since then, the Cosmonauts Chronograph has been the key model in the brand's catalog. Even with the brand's change in ownership back in 2018, Fortis's dedication to the Cosmonauts Chronograph remained strong, and the watch has retained its flagship status. Fortis's connection to space still runs true, and you may have seen that Rob and I recently spent time at the Swedish Space Corporation base at Esrange in Kiruna, Sweden. Not content to rest on its laurels, Fortis continues to explore new ways to improve its space watches. But I digress. This competition is about racing in cars, not spaceships.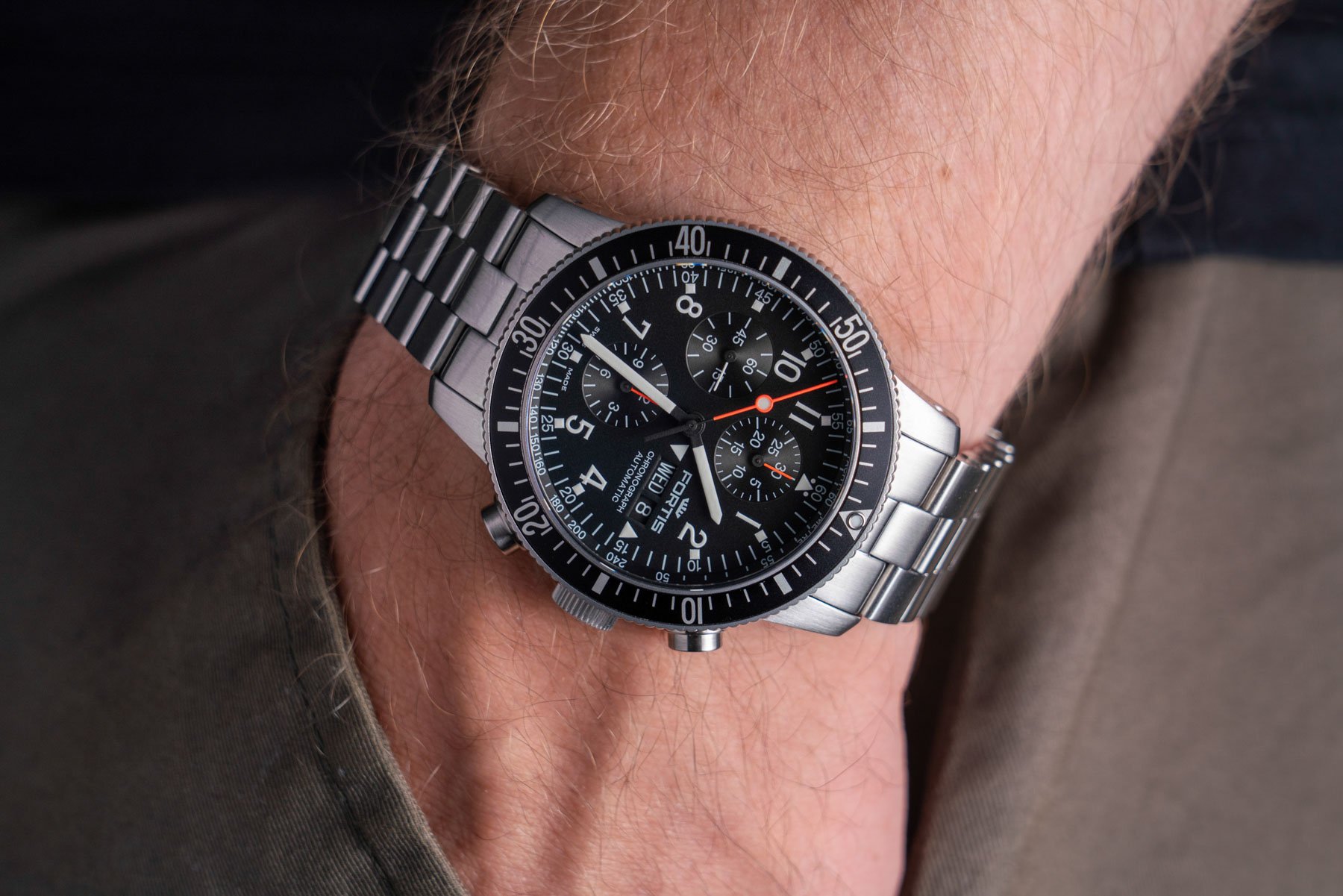 A worthy competitor!
The Fortis B-42 Official Cosmonauts Chronograph is an impressive watch on the wrist. Although the official size is 42mm (as the name suggests), it actually wears very slightly larger, in my opinion. That's because the bezel diameter is 44mm, making it easy to use. The bezel is one of the things I like about this watch. The B-42 Official Cosmonauts Chronograph has both an elapsed time bezel and the tachymeter required to take part in the competition. Usually, you get one or the other on a watch (of course, there are exceptions), so I like that this watch offers owners both functions. Obviously, the tachymeter is a little useless in space. Still, it certainly is helpful for The Fast And The Fratelli!
Keeping things ticking over on the inside is the Fortis caliber UW50, an ETA 7750-based caliber offering a power reserve of 48 hours. It's nothing remarkable, but it's undoubtedly reliable enough and easily serviceable. In a world where many folks are clamoring for incredible in-house movements, I always think ahead to the future and about the ease of service. A well-made ETA or Sellita does the required job far cheaper than an in-house movement, both in retail price and in service costs. That's a positive as far as I'm concerned!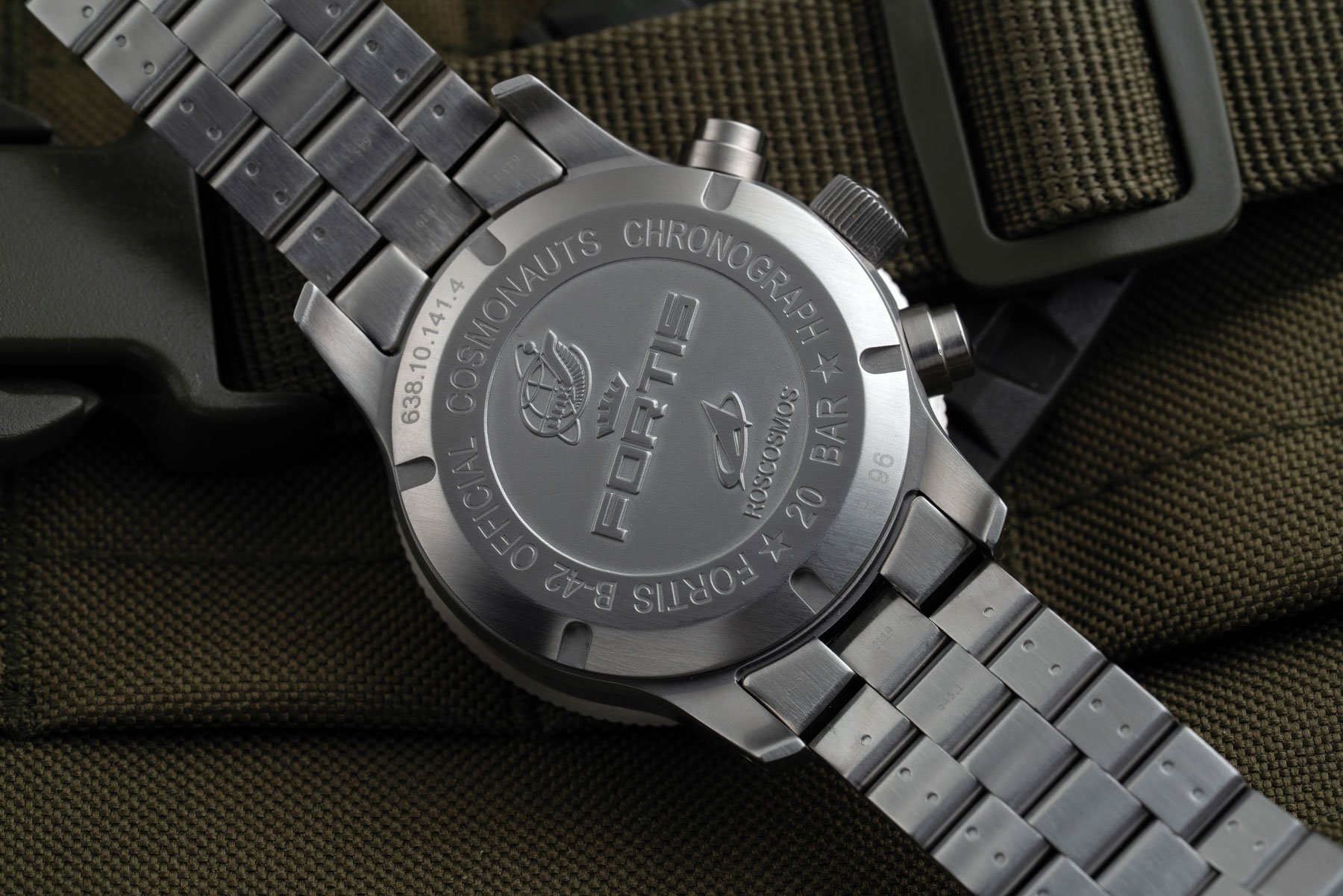 Are we good to go?
So, once again, let's check that the Fortis B-42 Official Cosmonauts Chronograph is qualified for entry into The Fast And The Fratelli competition! Was the watch released in the last 10 years? Yep, Fortis dropped the most recent iteration of the Official Cosmonauts Chronograph in 2018. That's well within our time limits. The Fortis caliber UW50 is indeed a mechanical movement. It allows the wearer to track elapsed time thanks to its 30-minute counter. We also have a tachymeter on the dial rehaut. By my calculations, we're good to go. No disqualifications for me this time! Hurrah!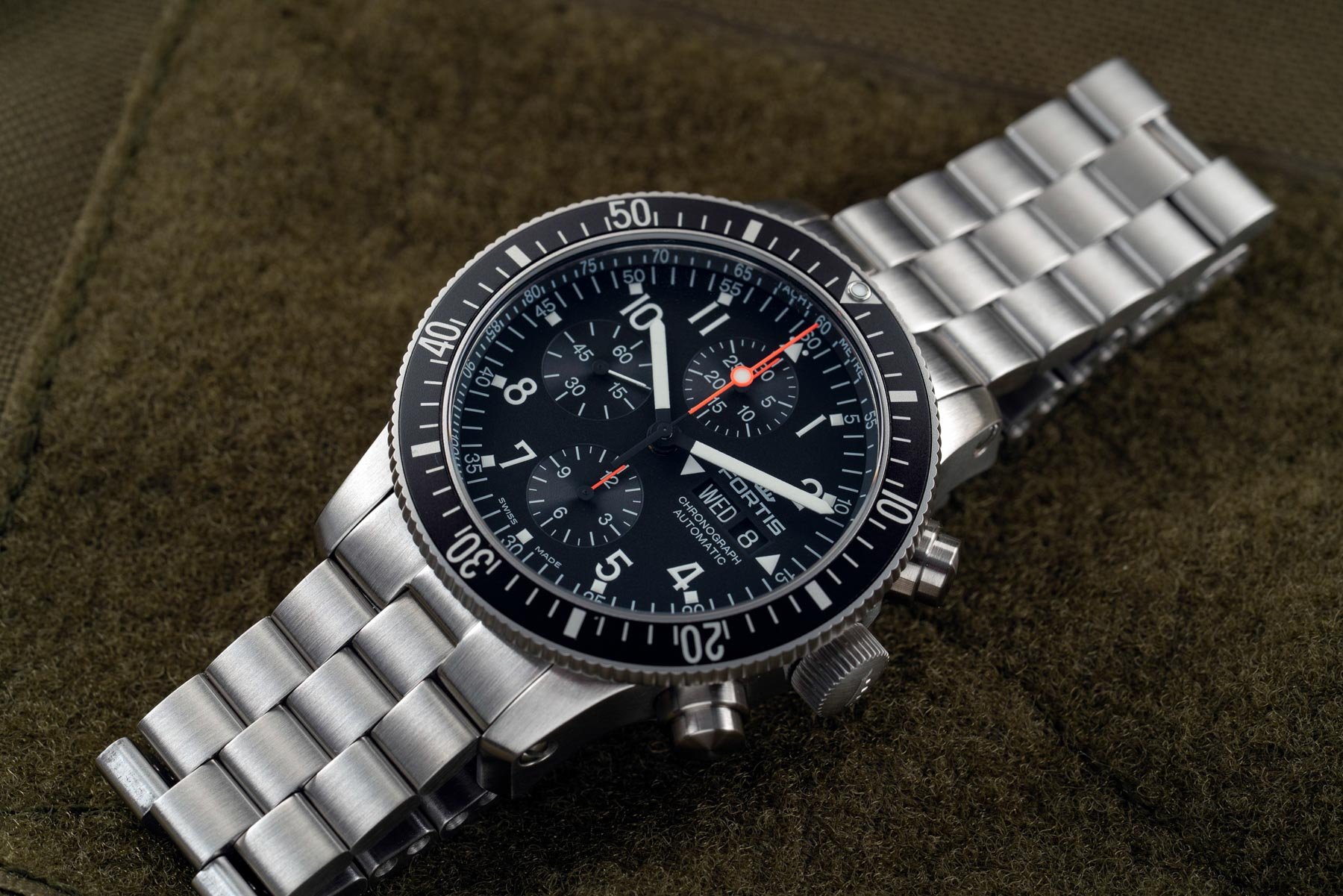 Staking a claim to move on!
The Fortis B-42 Official Cosmonauts Chronograph is a definite contender in this fight. It doesn't just meet the criteria, it exceeds them. This watch is a kick-ass tool watch and offers the wearer 200m of water resistance as well. So, if you take that hairpin bend a little too fast and find yourself in deep water, don't worry! Your watch will be fine. Additionally, if you're in the pit lane and find yourself without tools, do what a Russian Cosmonaut did and use your watch as a makeshift hammer. If it's good enough for an ISS crewman on a spacewalk, it's good enough for you in the pit lane!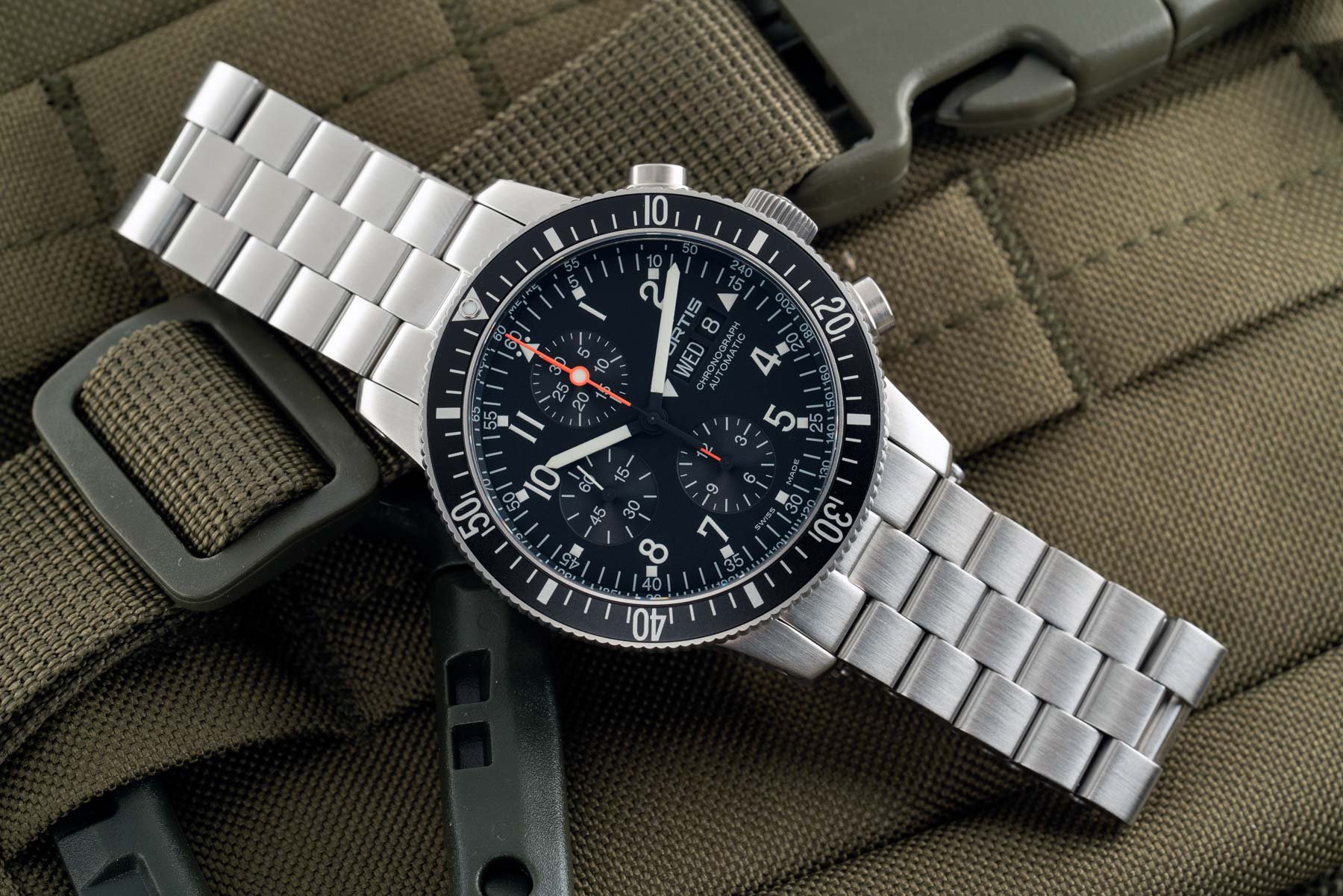 The Fast And The Fratelli — Which watch goes through to the next round?
Now it's time for you to vote on which worthy competitor will leave the pit lane to take its place in the next round. Will it be the Bamford B347 Monpusher or the Fortis B-42 Cosmonuat's Chronograph? It's up to you lot now!
The Fast And The Fratelli — Bamford B347 Vs. Fortis B-42 Cosmonaut's Chronograph
Follow me on Instagram: @davesergeant | @fratellowatches