The Most Unusual Watches Andreas Bought In 2020
A selection off the beaten track
We love to be surprised by little details in the design of a watch. We look for novel ideas that make a watch special to us. As such, we're often drawn toward things that qualify as slightly more…unusual, shall we say.
Some watch collectors like to focus on one style of watch and one style alone. Sometimes that could be a category of watches (like dive watches); sometimes it could be variations of one particular model (like Speedmasters, for example). I, however, buy all my watches to wear. Consequently, I prefer variety rather than collecting within a particular niche. It gives me much more versatility so I can match my watch to my mood, the occasion, or perhaps to what I'm wearing.
Looking for something different occasionally sees me fall in love with unusual or even downright quirky watches. These are my oddball catches from 2020.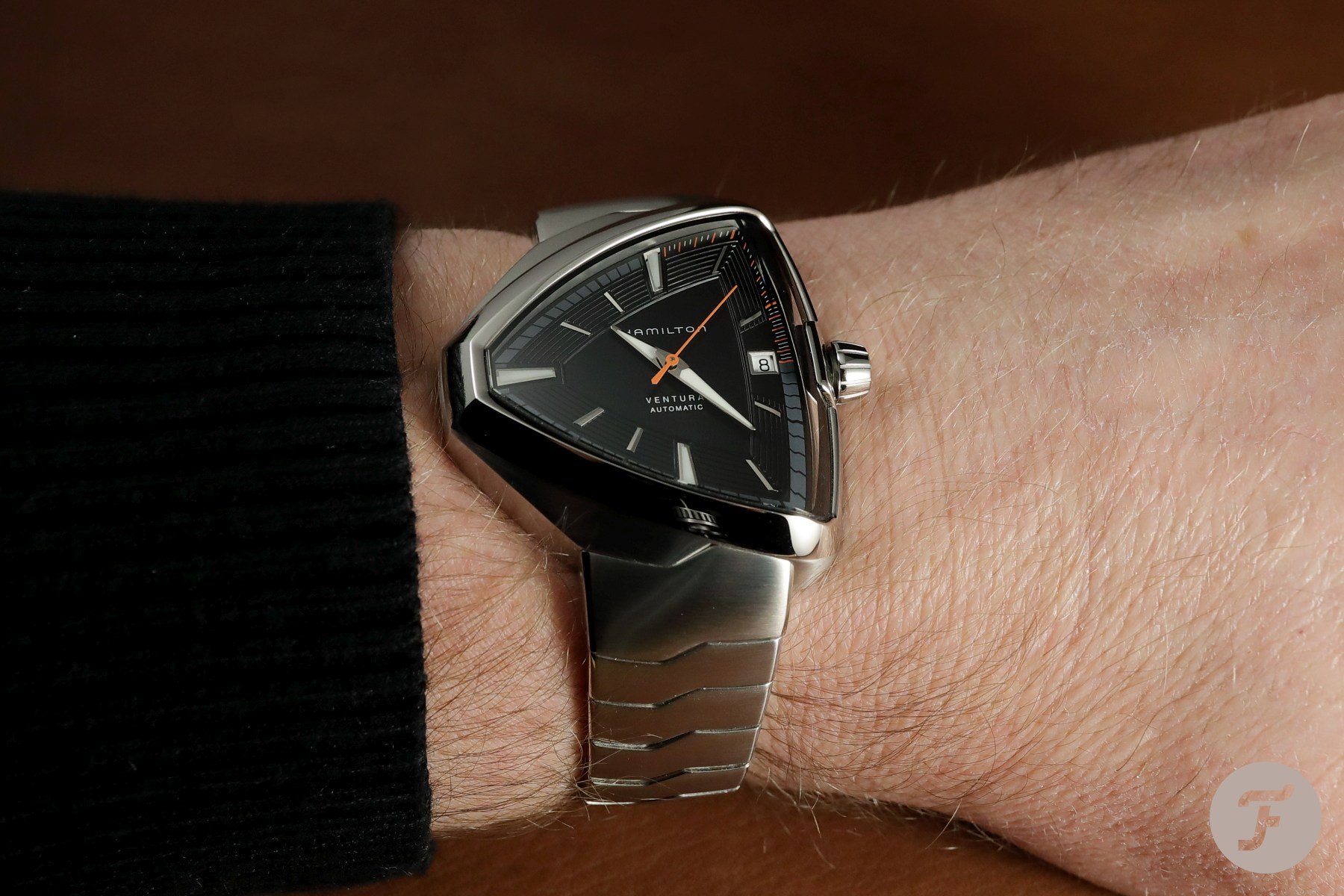 Hamilton Ventura Elvis80 Automatic
That's something special! The big version of Hamilton's Ventura is a statement of a watch. That big triangular case stands out. This is not just a timepiece. This is a futuristic accessory, and the steel bracelet perfects it.
Reading the time from this deformed dial only requires a short period of habituation. Without the date window, the dial would be even more harmonious. But, with the same color and framing as the hour indexes at 6, 9, and 12, this date window integrates well. The orange minute indexes between 12 and 3 are hardly noticeable. The orange seconds hand adds a wonderful contrast. The black dial's surface reflects light relatively strongly, which makes the dial appear lighter than it actually is. The advantage of this glossier finish, however, is that the reflections pick-out the lines along the dial's outer margin, which connect the hour markers.
Did you notice the extraordinary shape of the sapphire? Its curvature above the dial follows the shape of the case. At the right side, the crystal bends down dramatically, almost offering you a view of the dial from the side.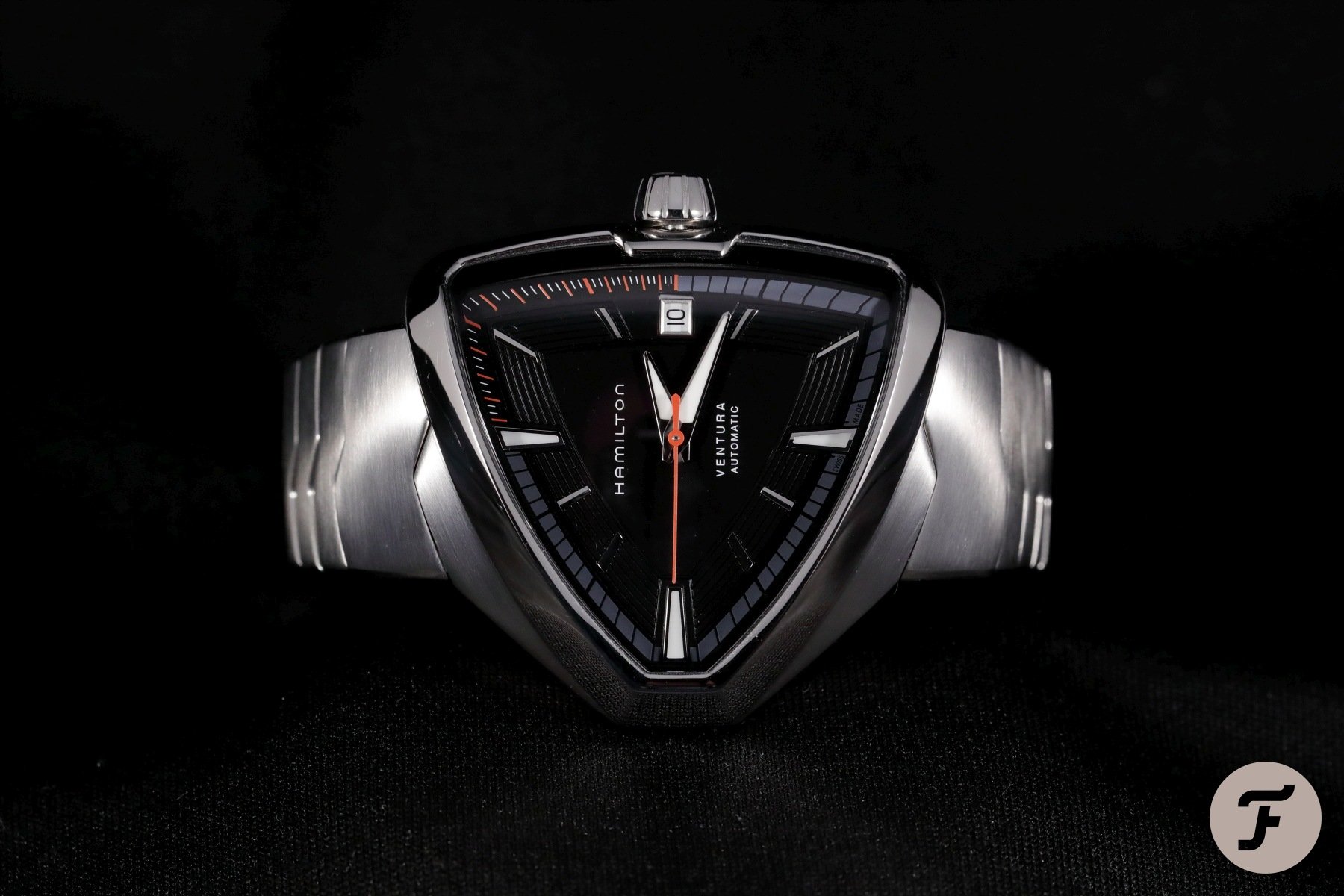 Let's talk about the bracelet
Wow! Now this is an integrated bracelet! The slightly brushed surface makes the steel appear very bright without being shiny. Only the edges of the links are polished to create some minor light effects and to join the bracelet with the case, which also has a few polished surfaces while the majority is brushed. The shape of the links lends the bracelet an appearance between organic and technical. Lovely! A double folding clasp functionally and optically closes it perfectly.
This watch most probably requires a large wrist.
This watch most probably requires a large wrist. But, if you have the wrist for this 42.5mm×44.6mm beast, it's terrific. The bracelet, due to the shape of its links, is not very flexible, which could pose a further problem for slenderer, flat-topped wrists that might otherwise have been able to get away with the case's proportions themselves (remember, it is not just about wrist size, but also shape). The watch is driven by Hamilton's H-10 caliber, which is Hamilton's version of the Powermatic 80, hence offering 80 hours power reserve. €1,445 is not a bargain for a fun watch, but absolutely appropriate for a gorgeous statement on your wrist.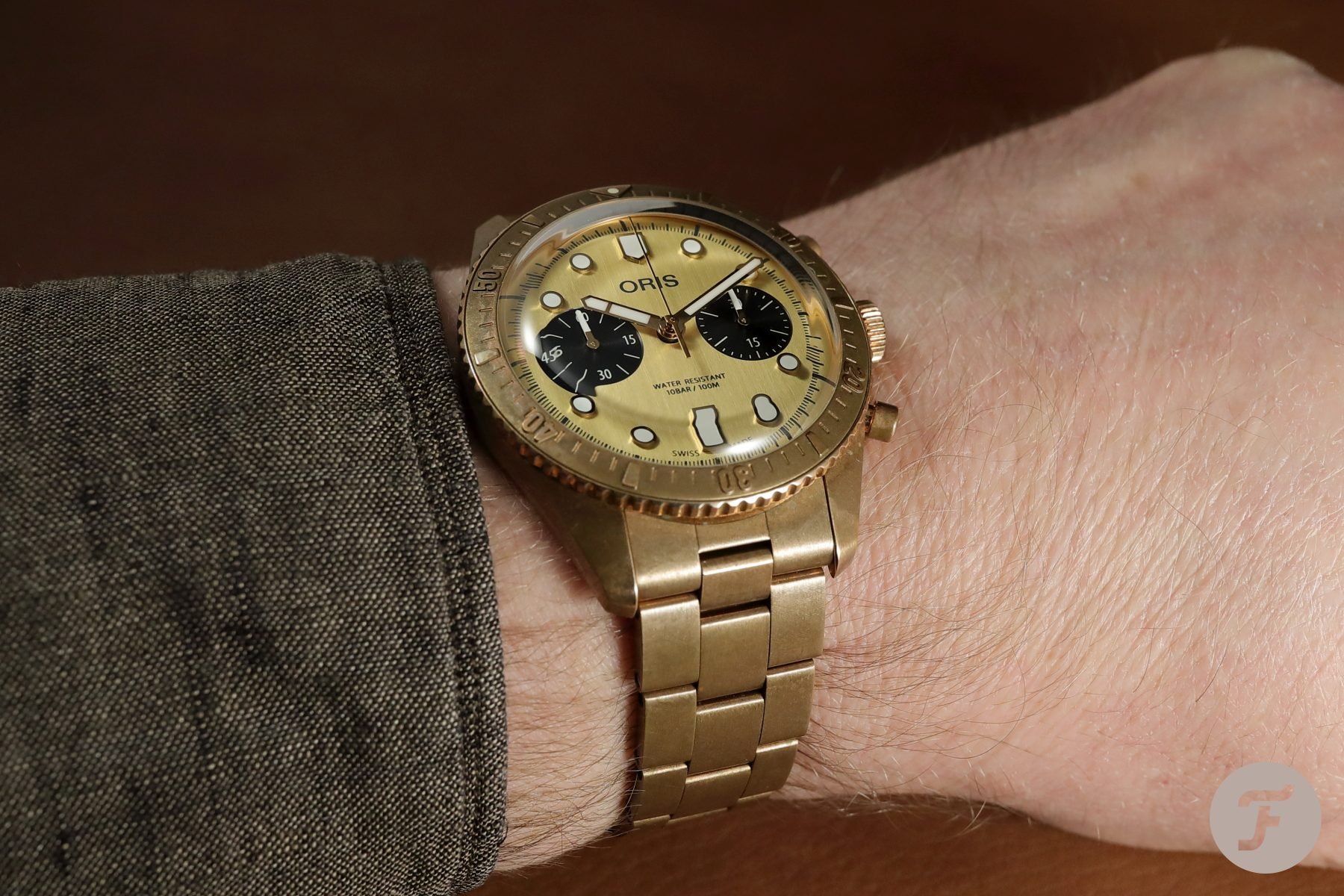 Oris Hölstein Edition 2020
Jorg wrote a review of this watch, and I wrote about it here and here. Hence, I'm not going to repeat any details of this watch or its background in this article. Instead, I will concentrate on why I bought it and my experience with it ever since it arrived in my collection.
At Fratello, we receive press material on new watch releases before an official embargo date enabling us to write articles ahead of time. This way, a brand can coordinate the launch of a new watch. Sometimes we receive a press release on a novelty long before the embargo ends. This was the case with the Oris Hölstein Edition 2020.
Consequently, I had plenty of time to think about this watch before it was available. As you might know, having plenty of time to think about a watch bears the potential of igniting a desire. I quickly knew that I wanted that bronze bracelet. I own Oris's Carl Brashear Chronograph, and my initial idea was to try to get the bronze bracelet as a spare part to mount it on that watch.
I had to imagine the watch's look when all the bronze parts had taken on a significant patina.
Unlike Robert-Jan, I'm not such a great fan of gold. Therefore, it took me a while to get used to the gilt dial of the Hölstein Edition 2020. I had to imagine the watch's look when all the bronze parts had taken on a significant patina. That image worked for me. Furthermore, I liked the engraving of the Oris Bear on the case back, which turns this watch into an entirely quirky package and a covetable collector's item for every Oris fan.
Putting my money where my mouth is
As I was aware of this watch long before the average consumer, there was a good chance to catch a particular limitation number. I wanted number 116 because this watch, being the Hölstein Limited Edition 2020, celebrates Oris's 116th birthday. In my view, this completes the status of this watch as a perfect collectible. I was lucky!
Meanwhile, my Hölstein Edition 2020 has taken on a nice patina, giving it the look I wanted. It still exhibits a metallic sheen but is not entirely brown or even green. The bronze surface now feels "soft" compared to polished steel. Only on a very few occasions, the bracelet stained my wrist. It seems that a few pieces of this limited edition are still available, so strike quickly if it appeals to you as it did me.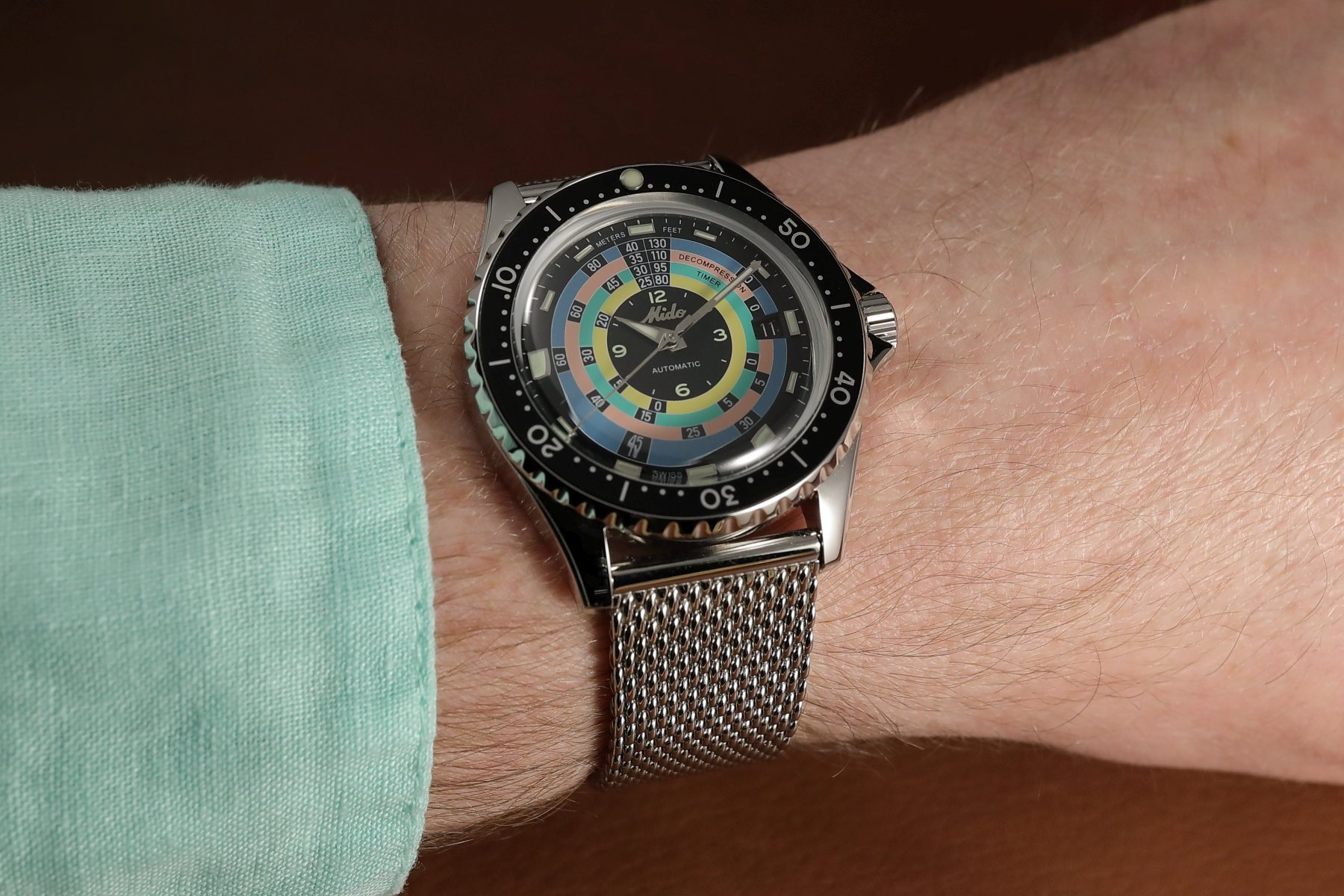 Mido Ocean Star Decompression Timer 1961 Limited Edition
When I saw the first images of this watch, it instantly made me smile. This mix of pastel colors on the dial was just too good to be true.
From Tomas, our vintage watch specialist, I learned there is a vintage model from Mido. That classic Ocean Star inspired the Decompression Timer 1961 re-edition you see here. As he writes in his article on that vintage watch, it is one of his favorites.
Being a diver, a decompression table on a watch dial is something that certainly attracts my attention. But I was almost sure that this dial would be too colorful for my taste. Besides that, the watch comes on a mesh bracelet, and I don't like mesh bracelets. Despite these doubts, I definitely wanted to see this watch in reality and try it on my wrist.
Face-to-face
When I got the chance to do so and looked at it in its box, I thought, "Yes, this is a quirky watch!" When I put it on my wrist, I was surprised to find out that it actually works. Then, I walked to a big mirror to check how it looks on me. That was the moment I fell in love with it. To my even greater surprise, I actually liked it on the mesh bracelet.
In addition to the mesh bracelet, the Decompression Timer 1961 comes with two leather straps. I find the plain black leather strap especially lovely because of its side stitchings in the four different pastel colors from the dial. But, in fact, I prefer the look of this watch on the mesh bracelet. This bracelet is also exceptionally comfortable.
I will probably not use this watch a lot for diving.
The combination of this handset on this dial doesn't make it easy to read the time as you would expect it from a typical dive watch. But, despite the decompression table on the dial and the 200m water resistance, I will probably not use this watch a lot for diving.
Find out all the details about the Decompression Timer 1961, including a comparison with the original vintage model that inspired it, in Tomas's review. Even though the volume of this model's limitation wasn't too small, it seems to be sold out at regular retailers.
Have I inspired you?
Or are you just wondering how anybody could spend money on such oddities and even wear them in public? Or did I miss the fanciest watch of 2020? Let me know what your boldest and weirdest acquisitions of 2020 were in the comments below. If this kind of topic interests you, I recommend you check out the book Retro Watches that Tomas reviewed recently. For not much money, this book offers a lot of fun and an abundance of information on the odder side of our craft.